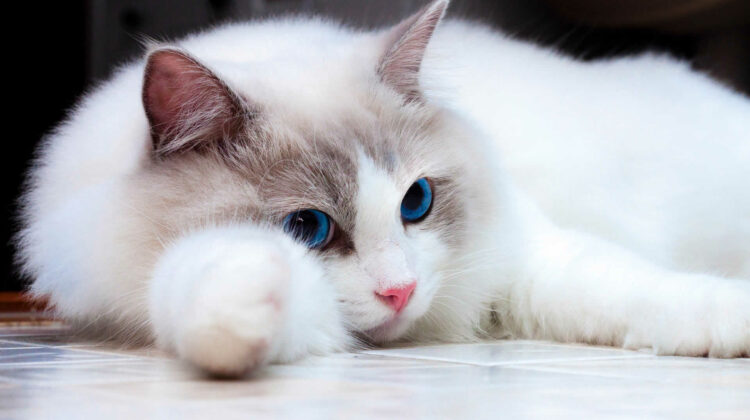 We often talk about obesity in cats and how it can predispose a range of disorders and diseases, but rarely talk about the opposite issue of a cat being too skinny. However, if a cat is severely underweight it can indicate an underlying medical condition that needs treatment.
It is important to note that cats are naturally slinky and slim creatures. My cat is so skinny I can feel her bones, but this doesn't indicate she is underweight. Besides, losing weight is a natural part of the aging process and many cats will become bonier in old age, so it is not always a sign for concern.
However, if your cat has no fat between her bones and skin or if you notice sudden and unexpected weight loss, it's best to get her checked out. Being underweight is indicative of everything from parasitic infections to cancer and from anxiety to diabetes.
If you're thinking "my cat is so skinny I can feel her bones" and you're not sure what to do, don't stress. From working out how skinny is "too skinny" and exploring the possible reasons why to my top tips on helping your cat gain some pounds, I've packed this article with everything you need to know.
How Skinny is Too Skinny?
Cats are agile and slim creatures naturally and as owners, we tend to give them a lot more food than we need to. This is why we hear more about cats being overweight than underweight – a shocking 59.5% of cats in the US are overweight! This gives us a warped perception of what being "too skinny" is, and, although it may surprise many, it's normal to be able to feel your cat's bones.
My cat is so skinny I can feel her bones on her rib cage. They feel like the bones on the back of my hand – I can feel them but they aren't overly protrusive. This is a sign of a cat that is a healthy weight, so if your cat feels like this then well done!
However, if her rib cage bones look or feel like your knuckles, things have gone too far. At this point, your cat is underweight and needs to gain some extra pounds. The same thing does with their spine – feeling the bones is normal, but if the vertebrae are extremely pronounced your cat is too skinny.
Feeling your cat's bones under the skin in the way is always easier for short-haired cats. In fact, whenever a short-haired breed is underweight, you'll likely visibly be able to see their protruding bones without the need to touch. But for long-haired breeds, this can be harder. However, these home tests are still useful for a rough estimate of how healthy your cat's weight is.
If you suspect your cat is underweight, book a follow-up appointment with your vet. They'll be able to weigh your feline and know if this weight is within a healthy range for the particular breed. If not, they'll be able to offer advice and diagnosis for any condition causing your cat to be too skinny.
Why Is My Cat Too Skinny?
If you've done these home tests and are thinking "my cat is too skinny I can feel her bones protruding", it can be troubling. However, try not to panic! Sudden weight loss can be a sign of a medical condition, but worrying won't help anyone.
Here I have listed all the common causes of weight loss in cats. Have a read through this list and check if they are showing any of the other symptoms to help you understand what's wrong. Of course, always get confirmation and an accurate diagnosis from a trained veterinarian professional.
1. Old Age
My cat is skinny, but she is thirteen and well into her senior years. It is normal for cats to start to lose weight as they age in this way. Their appetite will slowly become less and less, partially due to reduced mobility and partially due to dental issues and/or a loss of smell. They will also start to lose muscle mass as their activity levels decrease.
An old cat losing weight in its back legs and becoming skinny is not worth worrying about. If your cat is getting old and skinny, there is little you or a vet can do. Simply ensure they're being fed a healthy diet, care for them as much as possible, and enjoy the long and happy life you've had together.
2. Intestinal Parasitic Infection
When we think of parasites, we immediately think of fleas. However, cats can get intestinal parasites as well. In fact, in some populations of cats, the prevalence of these pesky parasites is as high as 45%!
There are a few different types of intestinal parasites that can be split into two categories:
Worm Parasites: Examples include roundworms, hookworms, and tapeworms. Roundworms are the most common, affecting 25%-75% of all cats, and are especially prone to causing infections in kittens. Worm parasites all live in the intestine and either feed of the food and nutrients consumed or your cat's blood.
Protozoan Parasites: Isospora, giardia, and toxoplasma are three protozoan parasites. Isospora rarely causes issues in adult cats but can result in weight loss in kittens. Giardia is much more common in multi-cat household or catteries and often cause weight loss, though some infected cats will be asymptomatic. Toxoplasma is unlikely to cause harm and rarely results in disease.
Worm parasites are most likely responsible for unexpected and sudden weight loss in cats, causing them to become too skinny. This is because the infected cat will have a loss of appetite and vomiting. Alternatively, you may notice that your cat has diarrhea but seems fine otherwise. In all cases, this means your cat isn't getting the nutrients they need from their diet and thus will lose weight.
3. Anorexia
Your cat may simply refuse to eat their food, causing them to lose weight. This is known as feline anorexia and can be split into two distinct categories:
True Anorexia: Where a cat doesn't want to eat and so won't
Pseudo-Anorexia: What a cat wants to eat but can't due to other complications.
If your cat is not eating much but acting normal, it may have anorexia. This can be caused by several medical conditions, such as cancer, stomach ulcers, throat tumors, dental disease, and more! Anything that causes pain, nausea, or stress can deter a cat from eating.
On the other hand, their lack of eating could be down to something as simple as them being finicky over food hygiene or their food being stale.
Cats are notoriously fussy creatures, and if you don't feed them what they, want when they want it, and how they want it, refusal to eat isn't all that unusual.
Has your cat stopped eating dry food but eats treats? This is further evidence that your cat can physically eat and probably just doesn't like what you've dished up for dinner.
4. Dental Issues
Dental issues are a common reason why cats refuse to eat. They may have inflammation of the gums or a cavity in one or more of their teeth. Gingivitis and periodontal disease are also extremely common dental issues that are present in cats.
In all cases, dental diseases can cause extreme pain when eating. As such, your cat may refuse to eat and lose weight as they aren't consuming the food and nutrients they need. Thankfully, there are a few other symptoms aside from a loss of appetite to look out for:
Gums that are red and swollen
Bad breath due to plaque build-up
Cat pawing at their teeth or mouth
5. Diabetes Mellitus
Is your cat losing weight but still eating? Your kitty may be suffering from a hormonal condition known as diabetes mellitus.
Diabetes is where your cat stops producing enough insulin or loses the ability to respond to it. This hormone plays a crucial role in regulating blood glucose, and without it, blood sugar levels soar. With glucose mainly accumulating in the blood, cats are unable to get it into the body's cells to use it as an energy source.
As a result, the body breaks down its own fat supplies to use these a fuel for the body instead, causing sudden and unexpected weight loss. This is typically seen despite an increase in appetite – the lack of energy causes feelings of hunger, but as the body cannot convert the food consumed into energy the excess eating doesn't cause weight gain.
6. Hyperthyroidism
Hyperthyroidism is another hormonal disease, this time caused by an overproduction of the hormone thyroid whose role is in metabolism regulation. This accelerates your cat's metabolism, causing them to burn energy quickly and lose weight.
İf your cat is losing weight but still eating, hyperthyroidism is a likely culprit. However, a decreased appetite is sometimes seen, but always with an increase in thirst. If you see a cat not eating but drinking, don't rule hyperthyroidism out.
Other symptoms you can watch for are as follows:
Vomiting and/or diarrhea
Hyperactivity and restlessness
Increased thirst and urination
An unkempt or matted coat
7. Anxiety
Whenever I think that my cat is so skinny, I always check for signs of stress and anxiety. Cats become stressed and anxious extremely easily which can have a huge impact on their appetite and weight. Examples of common stressors include:
Moving to a new home
Introducing new people or animals
Changing your working schedule
Switching to a new cat litter or cat food
Visiting the vets or traveling
I can always tell my cat is feeling anxious as my cat wants me to watch her eat, needing constant reassurance. She also becomes much more vocal and restless, grooming excessively and sometimes drooling from her mouth. Many cats withdraw from social interactions and often hide in dark enclosed spaces for a sense of security.
8. Heat Cycle
For female cats that haven't been spayed, they may be skinny because they are in heat. The heat cycle is an inevitable part of life and causes huge hormonal fluctuations. These changes in hormones often result in a reduction in appetite, which will return once the cycle is over. The stress of finding a mate can also be linked to weight loss during this period.
However, if your cat is in heat, loss of appetite will not be the first symptom you notice. Females become extremely vocal when ready to breed and will meow and yowl relentlessly. You'll also notice them rubbing against everything and rolling around on the floor as if they were in pain.
Although a little annoying, these symptoms will all subside either after successfully finding a mate or when the cycle is over. To avoid these strange behavior changes and unwanted pregnancies, getting a cat spade is a good idea.
9. Gastrointestinal Disease
Gastrointestinal diseases are a huge umbrella term that encompasses all kinds of digestive issues. Examples include feline inflammatory bowel disease (IBD), pancreatitis, or even food allergies. These all somehow disrupt the function of the organs that make up the GI tract, commonly affecting the intestines, pancreas, or stomach.
Throwing up food but acting normal is normal for cats with gastrointestinal diseases, as is diarrhea. On top of this, the discomfort or pain in their abdomen and feelings of nausea typically leads to decreased appetite or anorexia. Combined, all of these contribute to weight loss.
10. Cancer
May cats with cancer suffer from muscle wasting and weight loss. In these cases, the weight loss will be extremely gradual. Any weight loss will occur despite the cat eating normally, a condition known as neoplastic cachexia.
This condition can explain why a cat is so skinny but eats all the time – they need more energy and so appetite increases to provide the body with the fuel it needs. However, simultaneously, the breakdown of muscle and fat will occur as cancer competes with the body for its energy.
In addition, chemotherapy treatment and radiation can both cause nausea, vomiting, and diarrhea. This exacerbates the weight loss, reducing your cat's appetite and making it harder for them to get any nutrients from the food they do swallow.
How Can I Help My Cat Gain Weight?
If you know your cat is too skinny to the point where you can feel her bones protruding, you'll want to help her gain weight. When at a healthy weight, the body performs optimally and so this is crucial for all-round good health.
However, when a cat doesn't want to eat and refuses, it can make weight gain challenging! To help, here are my top five tips you can try to implement:
Visit the Veterinarian: If your cat is old and skinny or simply a fussy eater, a trip to the vet may not be necessary. However, weight loss – especially if a cat is losing weight but still eating lots – is a symptom of several serious medical conditions. Your vet will be able to diagnose and treat any underlying condition, which should in turn see your cat's appetite and weight return to healthy levels.
Feed Smaller Portions Frequently: Cats are fussy eaters and many won't eat food that has been left in a bowl for hours on end. If you're home throughout the day, try switching to smaller but more frequent portions intermittently and see if this helps encourage them to eat. If not, automatic cat feeders with timers can feed your cat while you're out of the house.
Create a Calming Home Environment: Appetite, weight loss, and stress are all closely connected. Try removing any unnecessary stressors from your home and introduce any unavoidable changes as slowly as possible. Moreover, providing plenty of places for your cat to hide and enough toys to keep them mentally and physically distracted can be a great help.
Reduce Food Competition: If you have more than one cat, there is often a more boisterous greedy cat and a more timid skinny cat. Try feeding your cats separately to reduce food competition and ensure none of your kitties are over or under-eating. You can purchase feeding stations with collar sensors that make this task much easier.
Try a Different Cat Food: Some cats prefer wet food, whereas others prefer dry food. On top, there are specific brands that your cat may love and others that they hate. Go through some trial and error and gradually introduce new foods to their diet to see which they prefer and then stick with this option.
MY FINAL THOUGHTS
First, do the home tests to determine whether your cat is too skinny or whether she's actually a healthy weight. Taking your cat to the vet can get this confirmed by a professional.
If you establish your cat is indeed underweight, try implementing my tips above to help her go up on the scales. With your help and a vet's medication to treat any underlying condition, your cat will be back to a healthy weight in no time.