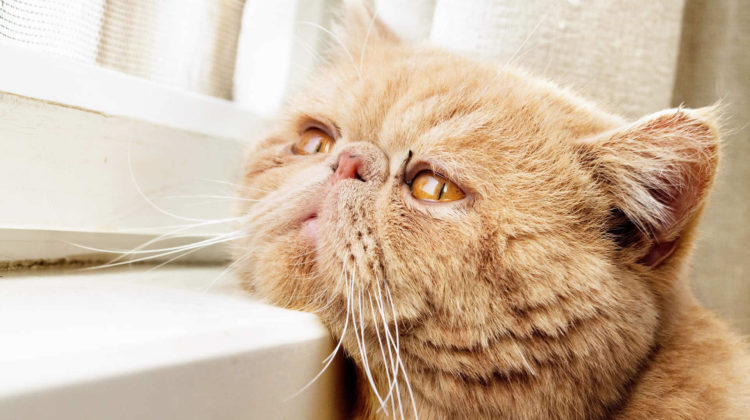 If your cat is acting normal but still isn't eating much, our best answer is that your cat is stressed. However, there could be other reasons for their lack of appetite as well.
Cats are fascinating and majestic creatures that can be demure or sassy, docile or overactive depending on their mood at any given moment.
As cat parents, we never really know what cat we're going to experience from day to day. Cats do their own thing, and it can be hard to keep up while they're gallivanting around the house or sleeping in the cupboard.
However, we do know our cats, and we understand when something is off.
While cats may act normally, they sometimes have an interesting habit of, you know, just deciding they don't want to eat.
There are many reasons why cats may choose not to eat.
There are some simple causes, but there can also be some deep, underlying issues we should be aware of.
Basic Causes for Cats Not Eating (But Acting Normal)
Many of the basic causes for cats not eating are thankfully not severe.
Even though we may think cats are being dramatic, they clearly think these are good enough reasons not to eat.
Food
The obvious reason your cat may not be eating, but it's acting normal is likely due to the type of food it's eating!
As cats age, their senses start to dull, and they may not be as interested in their normal food anymore. This can happen even if your cat has always eaten their food before.
Cats also might just not feel like eating that food anymore for no reason because that's what cat's do!
A similar reason is that you may have switched the food your cat is used to.
Perhaps you wanted to get a cheaper food, or a healthier one, or even a new one that is diet friendly for your chunky cat.
Either way, cats are very finicky creatures, and any change they don't agree with, they may rebel by simply not eating and waiting for you to give them their normal food.
Travel
Cats like to stay in their territory, so moving them to a new place or taking them on a trip can affect them negatively.
Not only might they hate their new surroundings, but they may also have been experiencing motion sickness on the drive or flight, which can cause nausea and loss of appetite.
This reason will likely resolve itself after your cat returns home or gets used to its new home or space.
Stress or Psychological Issue
Just like humans, cats can become stressed and anxious for a variety of reasons. 
Sometimes a change in routine or an addition of a new animal or human can cause your cat to become anxious.
Depression is another reason your cat may not be eating.
Cats that are overly stressed for a period of time will become depressed. Perhaps you haven't been around that much, so your cat is bored and sad, which can cause lack of appetite as well.
Cats can also react to the emotional states of their humans. If you're stressed and anxious, and your tone of voice changes, your cat will usually react to you. They often hide and stay away, but persistent exposure to stress can cause overwhelming stress and a loss of appetite for your cat as well.
Recent Vaccinations
If your cat's loss of appetite began shortly after your last trip to the vet for some vaccinations, likely those vaccinations are the cause for this change.
For some vaccines, cats might react adversely, and this can cause them not to eat. Usually, this issue will resolve itself after the side effects subside.
Major Reasons for Cats Not Eating
Cats can start feeling sick long before they start exhibiting major symptoms. Lack of appetite is often one of the preliminary signs your pet has a health or deeper issue.
Illness
Illness and disease are what all cat parents fear when their cat loses their appetite. And unfortunately, this is sometimes the case.
Some conditions such as infections, intestinal parasites, kidney failure, and the dreaded cancer may all be underlying causes for why your cat stops eating.
Dental Issues
Cats need regular dental care, and in fact, it's recommended that you brush your cat's teeth at least a couple times a week in order to prevent dental diseases such as gingivitis, which is the inflammation of the gums around the teeth.
Another serious dental issue is periodontitis, which occurs if your cat's gingivitis isn't fixed with cleanings.
Gingivitis is mildly painful, and periodontitis can be extremely painful, so if your cat has either of these issues, then they'll likely not want to eat because it hurts too much, especially if their main food source is dry, hard food.
What Should You Do to Get Your Cat to Eat
There are many ways you can try to get your cat to eat.
However, your most important job as a pet parent when your cat isn't eating is to make sure that it is physically well.
If your pet's loss of appetite lasts for more than a few days, then you should go to the vet.
Once you and your veterinarian have ruled out any physical issues or illnesses, then you can proceed with these tips.
New Food
Getting your cat to eat might be a simple change in food.
As mentioned previously, cats can become pickier as they age. So, picking canned food that is pretty smelly can get them to become more interested.
Rotating different flavors of canned food and different brands can also keep your cat interested because there is something new. Canned tuna or canned chicken might also be a good solution as they tend to be smelly and pique cats' interests.
Food additives like raw meat may also be a good idea to make your cat's food more interesting.
In addition, if your cat has any dental issues, changing their food from dry to wet might be an easy fix along with getting their teeth cleaned.
If you think the change is temporary, you may be able to add some chicken or other bone broth to their dry food to soften it. Adding cheese to their food might be another solution.
Reduce Anxiety
If your cat is picking up on your anxiety, try to do some cat yoga. This can calm you down, and it will help you connect with your kitty in a positive way.
If your cat is reacting to other environmental issues that make them stressed, it might be a good idea to remove the stressor, like a new pet or a new human, for a few days.
Once they return to normal, you can consider adding the new animal or person slowly back into their environment. Doing this slowly is the best process.
When necessary, you may consider using stress medication like CBD oil or relaxers to help your cat feel more comfortable during any transitions. Catnip might also be a good outlet for your kitty's anxiety.
Appetite Stimulants
You may have to work with your vet if your cat still is not eating after a few days.
Veterinarians can prescribe your cat an appetite stimulant that can control nausea as well help your cat regain its appetite. This type of stimulant can be put on your cat's skin and is safe and effective in helping your cat want to eat.
Normal/Healthy Cat Signs
As cats are very complex, defining their happiness is quite extensive as well.
Lots of Energy
From kittens to senior cats, healthy cats are typically very playful creatures with a lot of energy. Kittens, especially, will have a surplus of energy especially at their most active hours, which are dusk and dawn. Some cats may also be very active throughout the night.
Cats should also have plenty of energy when they are playing. The play sessions could last for 20 to 30 minutes without your kitty getting tired.
Cat Naps
Once cats have burned off all of their energy by playing or running through the house or exploring, they will sleep!
Because cats are crepuscular, they will primarily sleep during the daytime hours when they can bask in the random patches of sunlight coming through the windows.
Healthy cats will find warm, comfortable places to nap which may be cuddling up their favorite human's lap or in the towel cupboard.
While it's normal for cats to sleep, be aware of how often and how long they nap.
If they sleep for hours on end without getting up to get water, stretch, or look outside, they are probably sleeping too much. Normal cats will sleep for a couple of hours, but then they'll be up to their regular antics.
Meowing and Purring
Cats that are healthy tend to be very vocal.
Though cats use body language, facial expressions, and touch to communicate with other cats, they may also use their meows to communicate with humans. Cats that are happy will have a wide variety of meows that tell us what we need to know.
Offering up a couple of short meows is a sign of greeting, which is normal for cats to do when they see their humans. More meows that are slightly longer tell us that cats are excited and very happy to see you. Probably it's close to dinner or snack time.
A slightly higher pitched meow will tell us that cats are ready for their food. Extended meows can tell humans that cats want something like being let outside.
Low pitched meows and wailing, high-pitched meows can be signs of distress. For the low pitched meow, cats might be complaining about something or other. Maybe you're taking too long to open the door, their litter box might not be clean, or they might be done waiting for you to get them their food.
A loud, high pitched meow that hurts our ears is usually a sign of pain or fear. Pain might be from something like getting their tail stepped on or just a general sign of distress.
Cats that are healthy will also purr… a lot!
Happy and healthy kitties will purr when they are feeling comfortable and loved. Their purring might be accompanied by getting back or ear scratches, or they might just purr while cuddling in your lap.
Distressed or unhealthy cats or cats that aren't feeling well might still purr, but they may not purr as much, as strongly, or at all.
Good Tail Language
Cats that are feeling like their normal selves will hold their tails high and confidently. This high tail also shows that your cat is comfortable and happy in their environment.
It may also signal that they are feeling friendly and might be open to some friendly pats. When cats are especially content, the tips of their tails will twitch as they prance through the house.
When your cat's tail is high but curved, they might be sharing that they are bored and are in some serious need of play time. This is a good indicator of health, too, because cats who are healthy have the energy and desire to play with their humans or their fur siblings.
Cats with low tails that are tucked away, puffed up, or whipping back and forth, may be under some sort of distress of pain. If your cat constantly has their tail in one of these positions, it's likely that they're not feeling well and not acting normally.
Appearance
Cats that are healthy have a very specific appearance even though their hair length and color might differ.
Healthy cat coats will be silky, shiny, and smooth.
Healthy coats are maintained by a cat's regular cleaning schedule, so they will care enough to keep up appearances. Proper diet and nutrition also will contribute to their coat's texture and appearance.
A healthy cat will have bright, clear eyes that are observant, and they dilate, or widen, normally based on light exposure and mood.
Dilation of eyes can also tell us whether a cat is happy or even angry. Cats with wider, dilated eyes that stare at you are showing affection, which is a good sign that they are happy and healthy. Narrowed eyes might show they are gearing up for a playful attack.
Like their eyes, cats that are healthy will have ears that are aware of surroundings, so they will be facing forward to show your cat is paying attention to what's going on around them.
If cat ears are folded back close to their heads, this might be a sign that they are uncomfortable, scared, or even angry, which means forward-facing ears are a sign of happiness as well.
Body Weight and Composition
Going along with appearance, cats should have the appropriate body weight for their breed and age.
For most domestic breeds, kittens from 4 weeks old to 3 months old should weigh between 1 to 4 pounds. As they age, they should weigh more. By a year old, cats should weigh around 8 pounds. For adult cats between 2 to 7 years old, they should weigh about 14 pounds.
Senior cats, who naturally will be less active, will be heavier. From 8 years old to the higher age range, cats can be anywhere from 17 pounds to 21 pounds.
Keep in mind that smaller breeds of cats, like Siamese cats, should weigh less, while bigger breeds, like the Maine Coon cat should weigh more.
Given that the ideal cat weight can be so specific and hard to gauge, you can see if your cat is at a healthy weight by looking at its body composition or shape.
Cats with visible ribs and spinal bones with no visible fat are considered too thin, which means they aren't as healthy and happy as they could be.
Felines that have a rounded shape with a lot of fat deposits on their abdomen, lower back, and limbs are considered overweight. Some cats, especially ones that have trouble moving or may drag their bellies on the ground, are obese.
Often times, cats will become obese or overweight because they are fed too many treats or they don't get enough exercise. They also will not act as happy as other cats because they're prone to frustration and mood swings.
The ideal cat shape will be somewhere in the middle between too fat and too thin. These cats will be well proportioned, with a visible waist behind their ribs. These cats may have a little excess fat on their tummies, but it won't be enough to hinder their movement.
Good Appetite
Cats need the proper foods and nutrition to be happy and healthy.
Cats are natural carnivores, so they need plenty of high quality protein with some fats and carbs mixed in (just like us humans).
There are many different types of cat foods on the market, including dry foods, semi-moist foods, and canned foods. Some cat owners even choose to give their cat a varied diet of raw and homemade foods. Cat parents may choose one of those types or a mixture, but regardless of the food you choose for your kitty, they should have a healthy appetite.
For cats that weigh around 5 pounds, they should have a quarter to a third cup of dry food per day. For cats of around 10 pounds, they should be getting nearly a half cup of food. For larger cats, they can have up to three quarters of a cup of dry food.
Keep in mind that wet foods, semi-moist foods, and raw/homemade foods may have different feeding ratios based on weight. It's very important to read the food labels to make sure you're not underfeeding or overfeeding your cat based on the food you give them.
Like choosing food types, pet parents might have a specific style on how they feed their cats.
There are three major methods.
First, you can give your cat free choice. This means they will be able to eat whenever they want and be given a set amount of food.
You might also limit the time in which your cat has to eat. This is good for cats that are picky because they'll learn they only have a small window to eat, or they'll have to wait.
Then there is the traditional way of feeding your cat by giving them meals at specific times of the day.
If you choose this method, cats should be given food at proper intervals to match their natural feeding patterns. Typically, since cats will hunt during dawn and dusk, you should give your cat one meal in the morning and one in the late afternoon or evening.
While the weight and body composition helps us figure out proper feeding amounts, it also takes some trial and error. If your cat doesn't eat all of the food you've provided, it might be too much food. If your cat begs for more, you should consider giving your kitty a little bit more.
Bear in mind if your cat is prone to meowing and begging, then you should give extra food with caution. If their body starts to fill out, then stop giving them extra food.
Unhealthy Cat Signs
Now that we know what it takes to have a happy and healthy cat, we should look at some signs that cats are unhealthy.
Changes in your cat's appetite or water consumption may not be cause for alarm on their own unless it goes on for extended periods of time.
If your cat eats less, more, or nothing at all for more than a couple of days, and that change of appetite is paired with another sign, then it's time to seek veterinary assistance.
Cats may have some days where they're not feeling very well, either because they ate something they shouldn't and have indigestion, or they might have a cold. However, there are some serious symptoms of issues we should look out for, especially if they last for long periods.
Felines that have sudden changes in behavior like outbursts of aggression or are being lethargic could be experiencing reactions to changes in their environment or social structure.
Frequent vomiting and digestive issues such as constipation and diarrhea or changes in urination may also be tell-tale poor health signs.
If your cat has a cold, make sure their symptoms don't worsen to include persistent coughing, difficulty breathing, or wheezing. Sneezing or eye discharge are common with colds, but excessive amounts for long periods of time should be cause for concern.
Lameness, bumps and scabs, as well as itching and hair loss are also signs that your cat may be going through a bad health issue.
If your cat's loss of appetite corresponds with weight loss and weakness or any of the above symptoms, then it's a clear sign that your cat is suffering from some underlying issue.
CONCLUSION
If you've made 100% sure that your cat is healthy and acting normally, and the only way their behavior changes is just not eating, then our best answer for this is stress!
Remember that your cats can pick up on your emotions, and if you're stressed, it's very likely that your kitty will be too.
Not only could this stress make them disinterested in their food, but it could lead to other anxious behaviors.
If you've had a tough day at work, take a deep breath before you enter your house. Your kitty will thank you by eating its dinner.