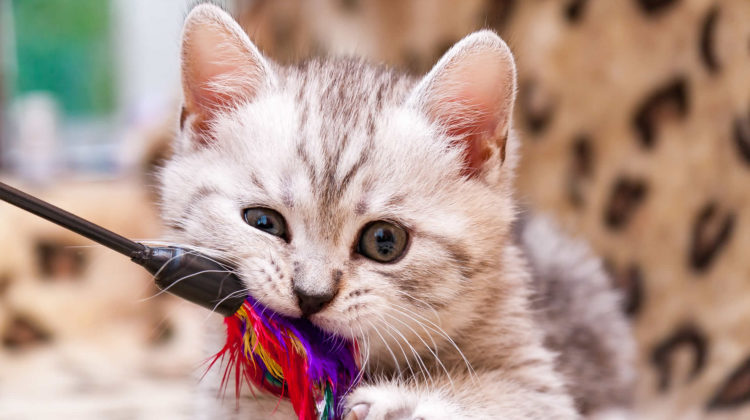 Cats can have a lot of energy, and even those that don't should be encouraged to play and keep active. This will keep your cat happy and entertained, but also fit and healthy.
Yet, waving around cat toy for hours on end can be exhausting and make your hand feel like it is going to drop off, and if you're out of the house all day, then what?
Automatic cat toys have been the answer to this problem for busy cat owners worldwide. Your cat can have the fun and exercise they need without requiring any of your time or energy. Automatic laser cat toys are a popular option and almost all cats will be unable to resist chasing the red dot around the floor.
I recently purchased an automatic laser cat toy for my cat as she has bundles of energy that I just can't compete with, and it's gone down a huge success. Not only is she trying to catch the light with her paws, but she is pouncing and running around the room too.
The automatic cat laser toys are worth every penny, and if you're looking for reviews, you'll find them right here.
My Top Pick
The best automatic cat laser has to be the Felix & Fido Playdot! Interactive Cat Toy. This toy has four different modes of play, three of which are self-play for your cat to enjoy while you're busy and one to enjoy together. It's also super lightweight, great for travel, and shuts down automatically after 30 minutes.
I bought this product for my cats and they go totally crazy for it! It's ideal for when I'm out of the house or when I'm busy doing other things and don't have time to play with them.
There are some other great products on the market too, so keep reading for an in-depth review of this automatic cat laser toy and five others.
Best Automatic Laser Cat Toys
You may be wondering what makes an automatic cat laser toy a great product – aren't all red beams of light the same? But actually, they're not, and there are several things that I looked out for when choosing a product.
Rechargeable Batteries: All laser cat toys require batteries and tend to drain them quite quickly, so I searched for a rechargeable automatic cat toy. That way, I didn't have to constantly buy or replace batteries which is both costly and time-consuming.
Cordless Design: Laser cat toys will have your feline running and jumping all around the room, so ideally the toy should be cordless so it doesn't act as a trip hazard.
Randomized Movement: To keep your cat engaged for longer, randomized movement is best. Your cat will never know what's coming next and will enjoy playing with its toy for longer.
Adjustable: The best automatic laser cat toys are also adjustable, both in terms of the speed that the laser moves and the range of activity. This allows the toy to be adjusted to both the size of your home and your cat's speed.
Automatic Shutdown: Cat laser toys can captivate your cat's interest extremely successfully, but this also means that they can be overstimulated and exhausted if let playing for too long. Therefore, automatic cat laser toys need to shut down automatically as well as move by themselves.
Safe for Cats: Laser toys also need to be safe for cats and use lasers that are Class IIIa or lower to ensure they don't cause damage to your cat's eyes.
With all these factors considered, here are the best automatic cat laser toys available on the market today.
I believe the best automatic laser pointer is the Felix & Fido Playdot! Interactive Cat Toy. Not only is this product pretty affordable, but it has almost every feature that the best laser pointers have.
Firstly, this laser toy has four different modes of play. Three of these are automatic modes that vary in speed. This means this product is ideal for cats of all ages and activity levels to enjoy while you're away from home. It shuts down automatically after 30 minutes so your pet never gets overexerted or exhausted. Plus, this helps to conserve battery life.
The fourth mode is a handheld mode. During this setting, you can hold the lightweight toy in the palm of your hand and move it around like a standard laser beam. This is a great feature as when you are at home you can play together with your kitty and strengthen your bond.
The only downside of this product is that it is not rechargeable. Instead, this automatic laser toy takes 3x AA batteries which aren't included. Thankfully, these are the most commonly used batteries and are easy to find at most stores. Besides, this does mean that the toy doesn't need to be plugged in. As such, it's safer for cats as there is no tripping hazard and no cord for your cat to chew on.
Pros
Three different speeds for kittens and seniors alike
Handheld mode so you can play together
Automatically shuts down after 30 minutes of use
No cords which can act as a trip hazard
Very affordable automatic laser cat toy
Cons
Another great rechargeable cat laser toy is the DAMGOO Automatic Beam Toy for Cats, which provides up to 15 hours of fun with one charge.
I like this toy as it functions both as an automated laser pointer and an interactive laser cat toy. This means when you're busy, you can set off auto mode and let your cat have fun, whereas you can also pick up the handheld device and play with your cat manually if you wish.
This product also uses a mirror to reflect and angle the light in certain directions, which is great for two reasons. Firstly, it means the light can easily be pointed upwards, downwards, left, and right in a randomized pattern, helping to keep your cat entertained. Secondly, as the light is reflected and not coming directly from the source, it is better for your cat's eyes.
As well as being able to adjust the range of the light beam, you can also choose from two speed settings, ensuring the toy is suitable for young and old cats alike. You can further control the speed and distance of the beam by placing it on a desk or table, rather than on the floor.
However, the major downfall of this product is that does not turn off automatically. This means that if you forget to turn it off, your cat will potentially become exhausted! This also makes it unsuitable for use while you're out of the house.
Pros
Two different speeds to suit all cats
Rechargeable and provides up to 15 hours of play
Automatic and manual mode
Eye protective light that is safe for cats
Randomized movement for increased engagement
Cons
Batteries are not included
Does not shut down automatically
For an exciting twist on a traditional laser pointer try Domgoopet Interactive Laser Cat Toy Ball.
This is a ball that moves automatically, which also has a red LED light that shines on the walls and floor as it rolls. The light will encourage your cat to chase the ball, while the laser shining on surfaces will further grasp their attention, making this toy hard for them to resist!
I love this toy as it rolls around automatically and in a sporadic movement, so your feline never knows what's coming next. It also has an intelligent design meaning it will find its own way out of tight spots and maneuver around obstacles.
However, the ball does not work well on plush carpets and can get stuck. On the other hand, as the ball is made from hard and durable plastic, using this toy on a hard floor can be noisy. Therefore, the best surface to use this toy is a thin carpet.
It is also rechargeable and fully charges in 1.5 hours, which can provide up to 4 hours of continuous play. It also automatically shuts off after 40 minutes so that your cat can take a well-deserved break!
Pros
Randomized rapid movement
Rechargeable and lasts up to 4 hours when fully charged
Automatically shuts down after 40 minutes
Soft LED light to protect your cat's eyes
Sturdy and safe material that won't break
Automatic smart rolling
Cons
Does not work well on plush carpets
Made from hard plastic which can be noisy on hard floors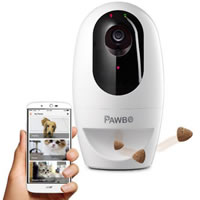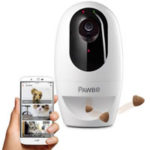 Are you looking for a laser pointer cat toy to keep your cat entertained while you're out of the house? If so, the Pawbo+ Wi-Fi Interactive Pet Treat Dispenser could be the product for you.
This product primarily functions as a pet camera, allowing you to keep an eye on your furry friend while you're in the office. It connects and streams live to your mobile device via the Pawbo Life app, and up to eight family members can access the camera at once.
Through the app, you can activate the laser chaser game. This can be controlled manually if you want to interact with your cat on the go, or you can set the light to auto-mode so that it moves around the room by itself. While the laser only points forward and not in all directions, it does have the ability to move up, down, left, and right.
As well as being both a camera and a laser toy, this product also dispenses treats for your pet and helps you keep your bond with your cat strong even from afar.
This red dot toy for cats also plugs into the mains. This is not ideal as the cords can be a trip hazard. However, if you fix the cord with tape or cable ties, the risk to your cat is reduced significantly. By plugging into the mains for power, you will also never need to worry about recharging or replacing batteries!
Pros
Allows remote play for when you're not home
Also functions as a pet camera and treat dispenser
Controlled via a mobile app
Permits eight members to connect to the camera at once
Automatic and manual laser mode
Plugs into the mains so no need for replacement batteries
Cons
More expensive than other laser toys
Overcomplicated if just looking for a toy
Has power cords which could act as a trip hazard
If you are looking for a cheap automated laser pointer cat toy, try the Nice Dream Automatic Cat Toy with LED Light. Despite being affordable, it still does a great job of keeping your cat entertained.
Firstly, the laser rotates 360 degrees which encourage your cat to run and chase the light, rather than just swiping their paws back and forth. This is great for keeping your cat happy and healthy! There is also a fast speed setting for active younger cats and a reduced speed for slower senior cats.
Alongside these two speed settings, there is also a randomized mode which will automatically switch between the two speeds, further grasping your cat's attention. Unfortunately, the LED laser does just move round in a circular motion, but this is a reflection of the price.
This toy is also safe for cats as it shuts down automatically after 15 minutes of use, ensuring your cat does not get overly exhausted. However, some users have said the automatic shutoff is not reliable and will sometimes stay on for more than 15 minutes. If you're at home with your cat, just keep an eye on it and turn it off manually if needed.
Pros
Extremely well-priced product
360-degree laser movement
Two speeds to suit both slow senior felines and active young cats
Random mode for randomized speed
Shuts down automatically after 15 minutes
Cordless design
Cons
Requires three AA batteries which are not included
Automatic shutoff is not reliable
The laser moves in a repetitive circular motion
Another of the best laser cat toys is the PetSafe Dancing Dot Laser Pointed Cat Toy. This is in the shape of a cat's head, which I love! The laser included is also Certified Class 1 so you know it is safe for your cat to play with.
Arguably, the best thing about this toy though is that it can be placed on any flat surface. You can even hang it on a doorknob! By doing so, the range of movement and its speed is altered. Therefore, you can find an appropriate height to place the laser toy so it's right for your cat's age and activity level.
You'll also like that this toy has two play modes. The first is a one-time play mode which sets the laser movement off. It then shuts down automatically after 15 minutes. The second is a "Play-All-Day" mode. When in this setting, the toy cycles through being on and off so that your cat can keep active and entertained while you're away. Rest modes between the play sessions prevent your cat from being overstimulated.
The main downside of this product is that it isn't rechargeable and requires 3x AAA batteries. These aren't included and you should be able to find them in most convenience stores. However, it does mean there is a small ongoing cost after the initial purchase of this product.
Pros
Automatic and interactive play modes
Scheduled breaks to prevent overstimulation
Certified Class 1 laser that's safe for cats
Place on any surface or hung from a doorknob
Speed and range of motion controlled by the height
Cute cat-shaped design
Cons
Requires 3 AAA batteries which aren't included
Automatic Laser Cat Toy Buying Guide
Finding the right automatic cat laser toy that is both enjoyable for your cat and works for your lifestyle doesn't need to be difficult. The above products are the best that you'll find, and here is how you can choose the one that's right for you.
Automatic Functions
All automatic laser cat toys use a motor to move the laser beam around the room so that you don't have to. However, some will be automatic in other ways too.
For example, most laser cat toys turn off automatically after 15 minutes. I would highly recommend for everyone to opt for a toy that has this function, as it means your cat won't get exhausted or agitated that they can't catch the laser. Plus, it helps conserve battery life. However, if you know you're busy or forgetful, having this function is even more important!
Some cat lasers will also turn on automatically, such as my top recommended product which runs for 15 minutes once every three hours. This is great if you will be using this toy to entertain your cat while you're at work, but is less important if you'll be at home all day. To decide what level of automation you need, think about why it is you're getting an automatic laser cat toy in the first place.
Batteries
Laser toys for cats require batteries and the majority work using built-in rechargeable batteries, but there is also the option to use regular batteries or find a laser pointer that plugs into the wall.
I personally think rechargeable toys are the best option, as it saves you money on frequently buying replacement batteries. However, you will need to remember to put the toy on charge. As such, the amount of charge the batteries can hold is also important, as the more standby power, the less frequently you will need to recharge the toy.
If remembering to charge up your cat's automated laser pointer seems like too much hard work, you could also opt for one that plugs into a wall. Bear in mind that if you decide to go for a product like this, you are more limited on where you can place the toy in the room as it needed to be near a plug socket. Additionally, be sure to secure the wire down so your cat cannot trip over it.
Regular battery-powered toys are another option, but this often ends up being more costly. If you do choose a laser pointer that needs batteries, choosing a product that takes AA batteries over rarer types can keep costs down.
Speed Settings
The laser beam on your cat's toy needs to move at a pace suitable for them so that they find it stimulating, fun, and entertaining, rather than frustrating or boring. The speed you need largely depends on your cat's age.
For example, young cats will have a lot of energy to release and will be able to run quickly, and so the laser should move quickly too. If the laser moves around too slowly, they may not show any interest in it or it may not encourage as much activity. On the other hand, senior cats will be slower and may not be able to keep up with a rapidly moving laser beam, which will just leave them frustrated!
By choosing a toy with different speed settings you can see what your cat responds to best.
Laser Pathway & Range
The pathway and range of the laser are also important. Randomized pathways are better than sticking to a repetitive circular loop as they will hold your cat's attention for longer. This better encourages play to keep your cat healthy.
Also, the larger the range in which the light travels, the better. Your cat will be encouraged to chase the laser beam, rather than simply swiping it with their paws, again helping to keep them active, healthy, and happy. However, automatic laser toys with adjustable ranges are best as you can tailor them to the space you have in your home.
Stationary or Moving Toy
Some automatic laser pointers are stationary and sit on a surface or table, whereas laser chasers will move around your home while pointing a laser behind them for your cat to follow.
The option that works best for you will depend partly on your flooring. If you have thick carpet, avoid laser chasers with wheels and opt for a stationary toy instead. Similarly, if you have a small home, laser pointers without wheels are better as they can shine the light beam on all surfaces for your cat to chase.
Conversely, if you have a larger home, plenty of free floor space, and a hardwood floor or thin carpet, a laser pointer with wheels could be a great option!
Automatic Laser Pointers vs Other Automated Cat Toys
There are hundreds of different automated cat toys out there to choose from, from flopping fish cat toys to motorized rolling balls, and they are all a fantastic option for busy owners or those who are out of the house for long periods. They provide great entertainment and encourage physical exercise, which is important for your cat's health and wellbeing.
But how do laser pointers compare to other types of motorized cat toys?
Advantages
In some ways, automatic laser cat toys are some of the best motorized cat toys out there.
Excellent Physical Exercise: Laser pointer cat toys provide some of the best physical exercises for your cat. Whereas a flopping fish cat toy is great for getting felines to pounce, a laser toy covers a lot more ground and encourages your cat to run and jump around the whole room.
No Space Restrictions: As lasers can be shone on the floor, walls, or furniture in your home, their effectiveness in encouraging exercise is not limited by space. Whereas owners living in a small flat may not have enough floor space to play with a motorized ball, a laser can be shone anywhere.
Increased Mental Stimulation: If you purchase an automated laser pointer cat toy that has randomized movement, it will be much more engaging than other motorized cat toys that follow a repetitive pattern.
Disadvantages
Of course, there are also disadvantages to laser pointer toys for cats too.
No Reward: Cats love chasing things – be that toy mice, feather wands, or laser beams – as they are natural hunters. However, laser beams can never be caught, and while this provides long-lasting entertainment and activity, there is no winning satisfaction.
Safety Worries: Lasers can also be dangerous for cats if you shine the light directly into their eyes. Therefore, while automatic laser cat toys are great at providing your cat with entertainment when you can't be bothered to move your hand around, they are best used when supervised. This means other motorized cat toys are better suited for cat's that will be playing when home alone.
Overexertion: As laser beams are so good at grasping your cat's attention and encouraging high levels of physical exercise, your cat can become exhausted both mentally and physically when chasing a laser beam for extended periods. Therefore, only let your cat play with a laser pointer for up to 15 minutes at a time.
FAQs
Q: Are cat laser toys cruel?
A: Some people think cat laser toys are cruel as your cat can never catch them. However, playing with a laser pointer for a short period is great fun and will add enrichment and stimulation to your cat's life.
Q: Why are cats so attracted to laser pointers?
A: Cats like lasers as they are natural predators and are instinctively drawn to anything that zips past them quickly. The moving red dot of a laser beam mimics the motion of a mouse, which is why they love lasers so much!
Q: Are laser toys safe for cats?
A: Cat lasers are perfectly safe for cats! In fact, laser toys are a huge benefit to your cat, providing them with heaps of fun while keeping them happy and healthy. When using a cat laser toy, be sure to not shine the light directly in your cat's eyes and only use pet-friendly lasers and you have nothing to worry about.
Q: What lasers are safe for cats?
A: For a laser pointer or automatic laser cat toy to class as being safe for pets, the laser needs to be a 5mW laser beam or less. This means that both Class II (0-1mW) and Class IIIa (1-5mW) are safe for use with your cat, but still never shine them directly in your cat's eyes.
Q: What is the best automatic laser cat toy?
A: The best automatic laser cat toy is the Felix & Fido Playdot! Interactive Cat Toy. This toy has a laser that is safe for cats, turns on and off automatically.
MY FINAL THOUGHTS
So, there we have it folks! If you are looking for a way to keep your cat active and stimulated when you're busy, automatic laser pointers are a godsend.
There is a lot of controversy over whether laser pointers are cruel for cats, but so long as you use the laser toy safely and for short periods, they are perfectly safe to use. They're great for any sized home, attract the attention of pretty much all cats, and encourage more exercise than most other types of toys.
The above reviews should help you source a great automatic cat laser toy that suits your needs, so what are you waiting for? Put some fun back into your cat's playtime and give your tired hands a break by picking one up today!