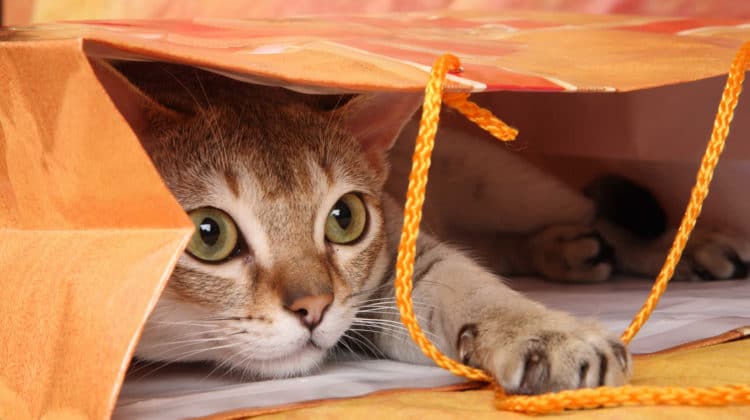 As a cat owner, one of your top priorities is keeping your feline happy, both for their enjoyment and so that your furniture doesn't get it instead!
One of the best ways to entertain your cat is by purchasing an interesting cat toy, which also helps to keep your cat healthy, active, and agile.
The catch? There are a lot of products to choose from – from feather sticks to cat kicker toys and everything in between. I've had several different cats throughout my life and truth be told every one of them was totally different. They liked different litter trays, different food, and different toys!
But one thing all my cats love are flopping fish cat toys. Whether it is the realistic look and movement of these toys or their enticing catnip scent, one thing is for certain: they are a definite crowd-pleaser.
I have trialed a few moving fish cat toys over the years and so compiled this list of cat kicker fish toy reviews so that you too can find a toy that your cat loves. Make your cat happy and healthy (and give your furniture a break) and purchase one of my favorites today!
My Top Pick
The best flopping fish cat toy is the ZALALOVA Moving Fish Cat Toy. Here's why: it's ultra-realistic, rechargeable, and motion-activated. You also get two fish in the pack, and they are stuffed full of catnip.
I barely even put this toy in front of my cat before she started playing with it! I've also had it for several months now it continues to be her new best friend.
I understand that this catnip fish toy for cats might not be for everyone, so I've also written flopping fish cat toy reviews for some other great products! Keep reading for all mine and my cat's top toys, and a handy buying guide so you can make an informed purchase.
Best Flopping Fish Cat Toys
As a cat owner, you probably already know the variety of different cat kicker toys on the market.
Some last for ages and others get torn apart in a day; some keep your cat entertained endlessly and others they are bored of within seconds; some are worth every penny and others are frankly a waste of money.
So, when making this list of the fish toys for cats, there were a few things I knew I wanted from the product. Here's the checklist of what I compared:
Rechargeable Batteries: I was fed up with my cat's kicker toys constantly needing new batteries, so rechargeable batteries with a long standby time are essential. Plus, it keeps costs down!
Motion Activated: Some of my cat's old toys had to manually be turned on and off which was frustrating and wasted battery life if I forgot to switch it off! When searching for the best flopping fish cat toy, a motion-activated one was preferable.
Smell: Some fish cat toys have pouches for catnip or other scents that my kitty loves! Therefore, it is also important to me.
Material: If you purchase the right cat kicker toy, your cat will be playing with it a lot. Therefore, I wanted a soft yet durable material so that the toy lasts a while. The material also had to be safe for my cat so that I didn't need to keep an eye on her while she plays.
With all things considered, here are my favorite cat kicker toys that both I and my cat love!
My favorite cat kicker toy has to be the ZALALOVA Moving Fish Cat Toy. This is the toy that keeps my cat constantly entertained, regardless of how many times she's played with it.
It's probably got something to do with the 100% organically grown catnip pouches that come with this toy. Slip one inside and your kitty will go crazy for it! This is also a realistic fish toy that moves just like a real fish. Along with the life-like design, this toy can fool any cat into thinking that they've caught a live fish for dinner.
That's why my cat loves this toy, but what about me?
Well, first off it is rechargeable, meaning I spend less money on batteries and don't have to remember to change them. It also is motion-activated which means I also don't need to worry about turning it off once my cat has had her fun. Plus, my cat can play with this toy even when I'm not home, giving her hours of entertainment.
If you're looking for great value, this toy also comes in a pack of two. This also makes it easy to always have a charged up toy – simply charge one up while your cat is playing with the second! Although, if you need to charge both up at the same time, there are also conveniently two charging cables.
The material of this toy is also fantastic. It is durable enough to last lots of kitty attacks but soft enough for my cat to comfortably sink her teeth and claws into. Oh, and there are no small or chokeable parts, so it is super safe without constant supervision.
Pros
Great value with two toys in the pack
Realistic look and movement
Durable yet soft and safe material
Filled with catnip to encourage cats to play
Motion-activated
USB chargeable so no more batteries!
Cons
Movement can be a little noisy
The second flipping fish cat toy I recommend is the BEANDI Wireless Dancing Fish Toy.
This cat kicker toy not only has a motion sensor and only turns on when my cat touches it, but also comes with a wireless controller where you can play, pause, and stop the fishes motor from up to 15m away, providing even more entertainment and helping you connect with your cat as they play. There are three different wiggle modes for endless fun, plus it's simple enough to control so kids love it too!
You'll also never need to waste money on batteries again as this cat kicker toy is rechargeable. If you're forgetful, I have more good news – this toy lasts on standby for up to 2 months. This means your cat will always have a toy to happily play with, without the need for frequent recharging.
What sets this toy above the others for me though is the sound, or lack of it! The main problem with motorized toys is that you can hear the motor whirring. This is frustrating as an owner and can scare timid cats. However, this cat kicker toy is one of the quietest I have found.
This toy also has a catnip pouch, but it only comes with one so you will need to purchase more once the smell starts to fade. However, this does a great job of enticing your cat to play with their new toy. My cats also love realistic-looking toys, and this one is above par on both lifelike movement and appearance.
The toy is also easy to clean – simply remove the battery and motor and wash it with water. This helps the toy last longer while keeping your cat safe from playing with bacteria-loving toys. Also, the durable material is scratch and bite resistant to stand the test of time.
Pros
Super quiet motor ideal for shy cats
Wireless controller
Rechargeable batteries with a standby time of 2 months
Realistic movement and appearance
Removable power pack for easy cleaning
Catnip pouch to encourage play
Multiple different "wiggle" modes
Cons
Does not come with spare catnip pouches
This is another realistic toy that my cats like best as it fulfills their natural hunting instincts. You can also purchase a carp, salmon, or grass carp fish – or all three!
This is another motion sensor interactive toy that starts moving when touched by your kitty. I particularly like this toy as it only moves briefly when first touched – this is all it needs to catch your cat's attention and saves energy.
This floppy fish cat toy is again rechargeable using a USB charger, so you won't need to purchase and replace any batteries.
When it comes to the material, this toy is made of durable fabric to withstand hours of play. It's also free from chemicals and completely safe for your kitty. You can remove the motor from the toy easily and even wash the outside layer, prolonging the toy's life and ensuring no bacteria are hiding on the fabric which could be bad for your cat to ingest.
My cat loves this toy as much as a live fish! The catnip helps to attract attention and means she is getting enough exercise in, all while helping calm my cat's mood. Win-win!
Pros
USB charging cable so no need to buy batteries
Outer plush layer can be easily cleaned
Moves like a live fish
Safe material that is free from chemicals and harmful substances
Contains catnip to attract attention
Motion-activated
Choice of three designs, or collect them all!
Cons
Does not hold charge for a long time
Coming in at number four is the PULEIDI 2 Pack Electronic Fish Cat Toy. My brother brought this toy for his two Tabbies and they love it! This product is also great value for money as not only do you get a dancing fish cat kicker toy, but also a spare fish cover for when the first gets worn down and a charging cable.
As with the other toys on this list, the toy is rechargeable which is a much better option than a battery-operated ones. It means you won't need to waste time or money buying batteries again. It also has a motion sensor so won't be left accidentally running for hours, and your kitty can have fun even while you're out of the house.
This toy is also made of great fabric as it is non-toxic and safe. My brother's cats love this toy and play with it all the time, yet months after purchasing this toy still looks brand new! The fabric is both scratch and bite-resistant and the motor is detachable for easy cleaning.
Your cat will also love this toy as it is infused with catnip. You will get one catnip pouch in the pack, but you can easily purchase more for cheap to replace the original one once its effectiveness fades.
Pros
Comes with additional fish cover and USB charging cable
Long-lasting rechargeable battery
High-quality print and lifelike movement
Tough material that is resistant to bites and scratches
Motion-activated movement
Cons
If you're looking for a cute flopping fish toy for cats, try the Peteast Electric Moving Wiggle Fish Catnip Toy. My friend's kids love Finding Nemo and selected this toy for their kitty – it's safe to say that their cat now loves Nemo too!
Aside from the design, this cat kicker toy has a touch sensor and is triggered to move when touched by cats. This one also has a sound to attract their attention, which is great for some cats but will put some timid cats off, so bear this in mind before purchasing.
This toy also avoids the need to constantly replace the batteries, having a handy USB charger so you can recharge the fish at home, from your laptop, or your car. The motor also detaches so you can wash the plush outer layer, helping to keep your kitty safe while making the toy last longer.
If your cat doesn't love this toy already because of the bright design, sounds, and automatic movement, the catnip pouch will sure win them over. You can purchase more catnip pouches once the original has lost its effectiveness, so your kitty never gets bored with this toy.
Pros
Looks like Nemo and is brightly colored
Has both catnip and sound effects to attract attention
Detachable motor for easy cleaning
Rechargeable battery with long standby
Activated upon touch
Cons
Sound could scare off shy felines
If you are looking for a gift for your cat or need to completely kit out your new pet with toys, the ETSP Flipping Fish Interactive Cat Toy is a wonderful option.
In this set, you receive a great cat kicker toy, plus three mouse toys, two feather sticks, and four nettle sticks. The dancing fish toy is also scented with catnip, plus you get four replacement pouches for when the smell starts to fade.
There is also no need to buy batteries with this toy as it is rechargeable. The only negative with this product is that there is no charging cable included. It does take a USB charger which most people will have in their homes already to charge other devices, but if not, you will need to purchase one separately. This toy also has an auto-standby mode and is motion-activated, so once charged it will last a long time.
If you have a shy cat, this fish toy is also super quiet. Sometimes loud noises can put cats off their toys, so if your kitty doesn't like loud sounds, this could be the ideal solution. The lack of sound also means it's great for your head.
This toy is also easily washed as the battery pack is detachable and it is made from high-quality cotton material, meaning it is super safe and comfortable for your cat, while still being durable to withstand many cat attacks!
Pros
Realistic dancing fish toy
Comes with additional feather sticks and mouse toys
Replacement catnip pouches included
Ultra-quiet motor, so great for shy cats and your head!
Rechargeable battery and built-in standby mode
Detachable power box for easy cleaning
Cons
Charging cable not provided and must be bought separately
This pack comes with not one, not two, but three electric fish toys!
They are all rechargeable and come with three charging cables so you can charge them all simultaneously. This is a fantastic deal if you have a multi-cat household or just want to give your cat even more entertainment and set them all off at once!
The fish are all hyper-realistic and help channel your cat's natural hunting instincts. What's more, they too all have motion sensors so only move when touched, helping save electricity and avoiding wasted power.
I also think these toys are made from great material. They are durable so can withstand hours of playing, but also soft so you know that you know your kitty won't hurt their paws. The plush fabric is also completely safe so you don't need to stress about your cat chewing on something that could potentially harm them.
Stuffed with catnip and with a squeaking sound to further attract attention, these toys are great for most felines.
Pros
Detachable motor for easy cleaning
Comes in a 3-pack so great value and ideal for multi-cat households
Stuffed with catnip to entice cats to play
Durable yet soft plush material
Squeeking sound to attract your cat's attention
Cons
Noise can be annoying to humans and scare off timid cats
Another amazing and realistic flopping fish cat kicker toy is the Ontel Flippity Fish Cat Toy, which has been featured on TV.
What I love about this toy is that although it is motion-activated which makes it great for your cat to play with when home alone, it also comes with a fishing pole to turn it into an interactive toy. Simply attach the toy to the end and play with the toy together – great for forming a close bond with your cat.
This is also a hyper-realistic design that looks and moves just like a real fish, guaranteed to attract your cat's attention. Plus, with a refillable catnip pouch inside, playtime just got even more exciting!
As far as material goes, the flopping fish cat toy is made from plush. This is soft and safe for your cat, while being durable and long-lasting, made to withstand hours of play. The cover can also conveniently be removed and placed in the wash to keep it clean and free from germs.
The rechargeable batteries in this cat kicker toy are also unbeatable, charging quickly using the USB charger included. Once fully charged, the battery life lasts for days, providing plenty of fun for your furry friend.
Pros
Great for solo and interactive play
Motion-activated and rechargeable
A full charge lasts for days
Realistic fish design and movement
Refillable catnip pouch
Soft, safe, and durable plush material
Removable cover for easy cleaning
Cons
Noisy compared to other products
Finally, if you're looking for a flopping fish cat for your kitten, try the PSRAT Flopping Fish Cat Toy. Unlike all the other cat kicker toys on this list, this flopping fish toy is not battery operated. Instead, you can make the fish flip and flop realistically by squeezing the air pump.
This is great for three reasons. Firstly, you will never need to worry about replacing the batteries or recharging the toy for your cat. Secondly, some motorized cat toys can be strong and could batter your kitty without meaning to, especially small cats or kittens! As the movement of this toy is completely dependent on you squeezing the air pump, you can determine when and how strongly the fish moves. And finally, no motor means there is no noise!
However, the downside is that this cat kicker toy is not great for your cat to play with when home alone as it is interactive. That being said, as you can play together with this toy, it can help to strengthen the bond between you and your cat.
This fish toy for cats is also made from high-quality plush which is soft yet durable, filled with organically grown catnip, and can easily be washed in water without the need to first remove a motor or batteries.
Pros
Great for kittens and smaller cats
Uses an air pump to control the movement of the fish
No need to worry about recharging or replacing batteries
Silent thanks to the air pump
Made from soft and durable plush
Easy to clean
Stuffed with organically grown catnip
Cons
Not ideal for cats to play with alone
Requires interaction for motion
Flopping Fish Cat Toy Buying Guide
These are just my recommended flopping fish cat toys, but there are so many on the market that you may also want to shop around yourself. Here are my top tips for choosing a toy that your cat will love, while also being convenient for you!
Catnip Scented Toys
Where possible, always opt for a fish kicker toy that is scented with catnip. This will encourage your cat to play with their new toy, helping them get the exercise they need and distract them from playing with your furniture instead!
Not only this, but catnip also helps to enhance the mood of your cat and relieve stress. This way, your cat will be better when in the house alone and will have fewer behavioral issues that could be caused by stress. You can buy toys with other cat-attracting scents, but catnip is natural and safe, so preferable over other enticing smells.
Realistic Movement & Style
Generally, the more realistic the toys, the more your cat will like them.
Cats love playing with toys as it is part of their natural hunting instincts, and so the more realistic the look and movement of the flopping fish, the better. Therefore, I suggest purchasing a realistic fish cat toy that moves like a live fish.
Rechargeable Batteries
Ever had a battery operated cat toy before that constantly needed the batteries replacing? Yes, me too, and it's so annoying and inconvenient.
I now only ever buy cat toys that have rechargeable batteries. This means I can save money that would otherwise be spent on an endless supply of batteries, and the time taken for me to run to the store.
Also, my cat has less time to wait before her favorite toy is functional again. Most flopping fish toys only take 30 minutes to recharge, which is much quicker than finding time to make a trip to the store and back.
Detachable Motor
One problem I have had with electric toys before is that they get dirty, yet because of the electronics, they are impossible to clean. Instead, opt for a toy that has a detachable and removable battery and motor. This way, you can wash the toy easily without worrying you'll break the mechanics.
This also means the toy will last longer as you can look after it properly, saving you money in the long run. You also can rest assured knowing your kitty is playing with a clean, safe toy and not one that potentially has bad germs and bacteria on its surface.
Material
You also need to consider the material of your fish toy for cats. The toy needs to be made from durable material so that your kitty won't rip it to shreds after its first use. However, it also needs to be soft so that your cat won't hurt their paws or damage their teeth, and chemical-free so it is safe for them to chew on.
You also need to keep an eye out for small parts. Zipper closes are better than hook ones, as the hooks can detach and choke your cat. Other small parts such as feathers or sewn on eyes can also be dangerous, so unless you want to keep an eye on your cat permanently as they play, avoid toys like this.
Motion Activated
Lastly, I would always recommend buying a cat kicker toy that is motion activated.
This is great for two reasons – 1) your cat can play with it when home alone and 2) you don't need to remember to turn it off which helps save on battery power and electricity.
It is also useful to choose a toy that can be turned on and off manually too. That way, if your cat is shy of the toy when you first purchase it, they can get used to playing with it before turning the motion-activated movement on.
Why Your Cat Needs Toys
You may be wondering why cats even need toys in the first place. They don't have toys in the wild, so why do domesticated cats need them?
Exercise
The first reason you should purchase toys for your cats is for exercise. In the wild, cats have to run and hunt every day to find their next meal. Domesticated cats have the luxury life of having all their meals served up for them, so they don't exercise as much as they are supposed to.
Toys encourage your cat to exercise, which can help them stay the correct weight and prolong their lifespan. Exercise is important for cats, and toys can be a great way to ensure they are getting enough of it.
Entertainment
Have you ever had your cat scratch your furniture to pieces? How about knock items off your coffee table? What about clawing your freshly washed laundry? I've had all three of these things happen, and it's annoying and frustrating.
Cats can have behavioral issues for several reasons, but often it is because they are not being entertained enough. All cats have natural hunting instincts, which if not satisfied can lead to a mischievous naughty kitty. By providing a source of fun for your cat, they'll probably forget about their favorite bookshelf they liked to scratch and turn to their new favorite toy when bored instead.
Happiness
Lastly, as an owner you want your cat to not only be physically healthy and well behaved but also mentally well and happy.
Toys help cats feel happy by providing enjoyment, and catnip scented toys really are the icing on the cake. It literally activates "happy" receptors in feline brains and helps them relieve stress. Therefore, a dancing fish catnip kicker toy can improve your cat's mental health.
Cats are all unique, so catnip may affect cats differently, but generally, you will get a less anxious and more mellow feline. This is also great if your cat hates being left home alone to provide extra comfort.
FAQs
Q: Do cats prefer motorized toys over still toys?
A: Yes, generally cats will have more fun playing with motorized toys than still ones as they mimic live prey. This is largely down to each cat, but interactive cat toys that move by themselves generally keep cats entertained for longer.
Q: How can I get my cat to play with their toys?
A: To help your cat warm to their new toy, turn it on in from of them and your cat will likely start playing with it by themselves. Do this for a few days in a row so they realize this is a new toy that they can play with.
Q: My cat won't play with flopping fish toy – what should I do?
A: If your cat won't play with their flopping fish cat toy, try encouraging the toy by spraying or rubbing it with catnip if it doesn't already have a catnip pouch. You can also help them by providing food or treats whenever they interact with the toy.
Q: What is the best flopping fish cat toy?
A: In my opinion, the best flopping fish cat toy is the ZALALOVA Moving Fish Cat Toy. This comes as a two-pack and has a rechargeable battery, smells of catnip (plus additional catnip pouches too), and has a realistic motion-activated movement. My cat loves it, and that's the most important thing for me.
Q: How do you refresh catnip toys?
A: Most catnip toys have a catnip pouch which can be inserted inside. If your toy doesn't come with spares, you can purchase more catnip pouches and replace the old ones easily.
Q: Can I leave my cat toys out all the time?
A: Yes, you can leave cat toys out all the time, so long as they don't have any dangerous small parts. Flopping fish cat toys are usually safe as they are made from a durable plush material with no small parts.
MY FINAL THOUGHTS
There we have it, folks – the best flopping fish cat toys that both me and, more importantly, my cat love!
If you do want to shop around, always use my buying guide to find a toy that will guarantee to provide your cat with entertainment, while making life easy for you.
Remember that each cat is different – some will prefer sounds and movement, others won't. However, from my personal experience, cat kicker toys are an all-round favorite. Seeing as they aren't too expensive, try picking one up today. Your cat will thank you for it!