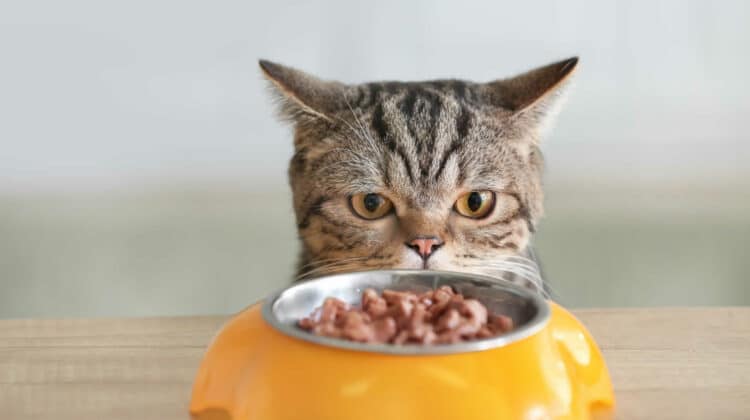 It is no secret that cats love chicken. My cat often hovers around me while I'm cooking, hoping to get even the tiniest morsel. When our furry friends show a liking to something, it is only natural to want to provide it for them, but we need to be careful, as "human food" can sometimes be harmful to cats. This begs the question, "Can I feed my cat chicken every day?"
The simple answer is yes, but you must correctly prepare the meat. Cats should only eat cooked, plain, boneless chicken to avoid adverse health consequences. The chicken must also supplement the rest of its diet, and the only time that chicken should make up your kitty's whole diet is when they are recovering from an illness.
In this article, I go over these considerations in detail so that you know how to feed your cat chicken every day safely. I also cover why feeding your cat chicken is a good idea and how you should cook it.
Read on to get all the know-how on providing your cat with tasty meals that are good for its health!
Can I Feed My Cat Chicken Every Day?
Cats are obligate carnivores, meaning they need to eat meat to survive. Meat is made up of amino acids, a molecule essential in building muscle mass that allows our cats to live their best lives! Although your cat can synthesize some amino acids in its body, other types need to be taken in through the diet by eating protein.
Chicken is an excellent source of lean protein, high in amino acids. It is also an iron-rich cat food. Iron is used to make hemoglobin, the protein responsible for carrying oxygen around the body. This means that chicken is an excellent addition to any feline's diet but may be especially beneficial for cats with iron-deficiency anemia.
Therefore, chicken is a healthy daily addition to your cat's diet. But some things must be considered before you start regularly feeding your cat chicken. I have gone into each of these considerations below so that you can be assured you are feeding your kitty the correct way:
1. Cooked vs. Raw Chicken
First up, we have whether you should serve your kitty chicken that is cooked or raw. As cats are natural hunters, some people support the idea of feeding raw chicken to their felines to mimic their natural diets. However, this is generally considered a bad idea as it can give your cat salmonella poisoning and other harmful bacteria.
Instead, it is much better to feed your kitty cooked chicken. Although cats can eat chicken that has been cooked in different ways, boiling is the preparation method I would always recommend, as other methods can result in health issues. For example, fried chicken is high in fats, leading to weight gain, obesity, and other related health risks.
2. Plain vs. Flavored Chicken
Now that I've established that cats should only be fed cooked chicken, it begs the question of whether that chicken should be plain or flavored.
As humans, we nearly always prefer well-flavored food, and chicken is no exception to that rule. I personally love chicken that has been marinated with BBQ sauce, and it's easy to assume that our furry friends would have the same taste.
However, even if your kitty loves the taste of flavored chicken, you should never give it to them! Common flavorings used on chicken, such as onions, garlic, and some herbs, are toxic to cats and can cause them to be ill. High salt levels can also be poisonous and may dehydrate your feline, and spicy food is also a definite no. In all cases, plain, boiled chicken is your best option.
3. On the Bone vs. Boneless
While you may think a cat can eat chicken on the bone with no problems, the opposite is true: cats should not eat chicken bones. If your cat tries to eat food with bones, there is a high chance that it will choke, and, in some cases, the bone may puncture its digestive tract. This means you should only ever feed your cat boneless chicken.
However, chicken bones can provide your kitty with extra nutrients. A great way to still incorporate these nutrients into your cat's diet is by giving it chicken broth for cats. This means a stock made solely from chicken bones, not the kind you find at the store. Putting down broth can also encourage your cat to drink water, which is very important if your cat only eats dry food.
4. Supplement vs. Whole Diet
Now that you know you can feed your cat chicken every day, it might be tempting only to give them chicken. Unfortunately, chicken should not make up more than 20% of your feline's diet. Although chicken is suitable for cats, it doesn't contain all the nutrients needed to thrive and be healthy. Therefore, feeding your kitty chicken as an everyday supplement or treat is much better!
If you don't have time to feed your cat multiple times a day, I suggest investing in an automatic wet cat food feeder. These allow you to sort out all your kitty's food at once and then set the times you want the food to be available to your feline. Try having a mixture of wet food and chicken portions so that your cat has a well-rounded diet.
5. Healthy vs. Sick
Although I just said that chicken should only ever be used to supplement your cat's diet, one exception is when your kitty is sick. If your cat is recovering from a digestive illness, it cannot stomach much, so it is entirely acceptable to give it a 100% boiled chicken diet.
Plain, simple food is always best when ill, as it is easier to digest. Chicken definitely fits this description, and it means that your kitty can still get some nutrients while it recovers. As chicken has high protein levels and few carbohydrates, it also makes excellent food for cats with constipation. However, this is a short-term fix, and you should always consult your vet before switching.
How Do I Cook Chicken for My Cat?
When preparing chicken for your cat, you need to make sure it is plain, cooked, and boneless. It should also be a supplementary part of your feline's diet unless it is having digestive issues. However, as long as you follow these rules, your kitty should have no problems eating chicken every day.
Below I have laid out a step-by-step process for preparing chicken for your cat. Of course, you don't have to follow my method, but I can guarantee that if you do, you're sure to meet all the requirements for making sure the chicken is safe for your cat to eat.
Place the raw chicken in a pot. If possible, go to a butcher to get your chicken so it is as fresh as can be. The fresher the meat, the more nutritious and tastier it is.
Add just enough liquid (water or cat-friendly chicken broth) to cover the piece of chicken.
Cook on medium-high heat until the chicken is fully cooked. It should not be pink inside and should have an internal temperature of 170 degrees Fahrenheit.
Let the chicken cool down to room temperature, then shred the chicken into small pieces using your fingers or two forks.
If you cooked the chicken on the bone, ensure no bits of bone remain before feeding it to your feline. These are brittle and can act as a choking hazard.
And that's all there is to it!
As I previously mentioned, ensure not to include garlic, onion, or herbs in the recipe (especially if you're using chicken broth), as these can harm your cat. Other than that, stick to my simple recipe, and you're all set to go.
MY FINAL THOUGHTS
So, there we have it. The answer to the age-old question, "Can I feed my cat chicken every day?" is yes, you can!
Chicken is an excellent protein source, something felines need to maintain their health and energy levels. However, some things need to be considered.
Firstly, the chicken must be boiled as eating it raw can give your kitty salmonella. You also need to make sure that the chicken is plain and boneless.
Check out my recipe above for the safest way of preparing it. You can store any leftover cooked chicken for 3-4 days in the fridge.
It's also crucial that you only feed your cat chicken as part of a balanced diet. Unfortunately, chicken doesn't have all the nutrients cats need, so make sure your kitty eats a range of foods. Commercial food is best as this has been specifically balanced to match the nutritional needs of cats, while chicken should be reserved as a small additional treat.
The only exception is when your cat is recovering from a digestive issue. At this time, plain food is precisely what your cat needs! It can help settle your cat's stomach and help them keep down some nutrients, but I suggest you still get a veterinary opinion before making the switch.