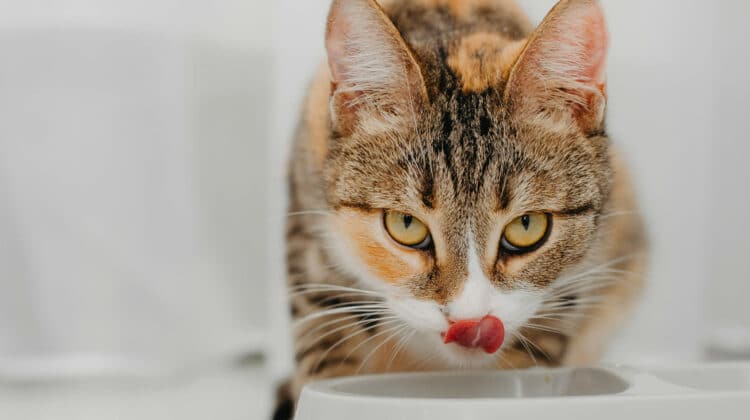 Is your cat suddenly lethargic and weak? Or perhaps you've seen your cat sleeping all day and not eating? If this is coupled with pale pink/white gums, it's a good idea to speak to your vet. There is a high chance your cat is suffering from iron deficiency!
Iron is an essential mineral that cats need for growth and development. It is needed to produce some hormones and, most importantly, to make hemoglobin (Hb). Hb is a protein found in red blood cells that carries oxygen. It picks oxygen up in the lungs and takes it to wherever it is needed in the body.
Most cats get enough iron through their usual diet to facilitate these needs. However, iron-deficient anemic cats or those with certain diseases need iron-rich cat food. These formulas contain more iron than most commercial cat foods, specifically formulated for cats with related medical conditions.
In this article, I review the four best high-iron foods for cats. You'll also find information on what you should look for when buying iron-rich food and everything else you need to know. Changing your cat's diet can be the simple switch you need to help improve their symptoms and condition!
My Top Pick
This is the iron-rich cat food I feed my kitty whenever her iron count is low. Blue Buffalo has made a delicious dry kibble made from the finest quality natural ingredients. It is packed with powerful iron-rich protein sources, with real chicken as its primary ingredient.
It's also 100% grain-free, contains nutritious superfoods, and includes veterinary-approved LifeSource Bits packed with all the vitamins, minerals, and antioxidants. Keep reading for the full review below and some other must-try alternatives.
Best High Iron Food for Cats
Before I reveal the best iron-rich cat foods, here is a quick look at the criteria I was assessing. Below are the features that all high-iron food for cats has to have!
High-Quality Protein: Lean meat is one of the best sources of iron. This is great as meat is found in pretty much all commercial cat foods! For a high-iron formula, real meat (rather than meat by-products) is a must for the highest iron content possible.
Type of Protein: The type of protein is also essential, as some meat naturally contains more iron than others. Organ meats (such as liver and kidney), red meat, turkey, and tuna are some of the best protein sources with high iron levels. Chicken and pork and other options.
Other Iron Sources: It isn't just meat that contains iron! Some superfoods can give an added burst of iron, along with either fiber, vitamins, or minerals. Examples include pumpkin, legumes, green beans, spinach, and broccoli.
Bioavailable Iron: Even when cats eat a high-iron diet, that amount of bioavailable iron only accounts for 14% to 16% of the total iron content. The bioavailability of iron can be increased by choosing lean red meat or by choosing an easily digestible food.
Some other considerations are whether you want wet or dry cat food. Your cat might have a preference for one or the other. Likewise, if you know your cat is intolerant to certain foods, make sure you avoid products with these foods on the ingredients list. I've included a selection of different products below, so there should be something for everyone!
The iron-rich cat food I recommend the most is this dry kibble from Blue Buffalo. This cat food is made with some of the highest quality natural ingredients. The first ingredient is real chicken meat, guaranteed to give your kitty a healthy dose of protein and iron.
In addition to chicken, Blue Buffalo has kept its formula 100% grain-free which makes it easier for your cat to digest. This doesn't mean they're missing out on any nutrients though. Instead, they provide vitamins and minerals through other quality superfoods, including antioxidant-rich blueberries and cranberries.
Also thrown into the mix are Blue Buffalo's unique "LifeSource Bits". These are a veterinary and nutritionist-approved blend of essential vitamins, antioxidants, and minerals. Not only is your cat getting an iron boost, but also a boost of all the other essentials it needs to support all its physiological systems.
Pros
Made from high-quality natural ingredients
Lists real chicken meat as the first ingredient
A grain-free formula that is easier to digest
Blend of superfoods for carbohydrates, vitamins, and minerals
Unique veterinary-approved LifeSourceBits
Promotes healthy muscles, skin, coat, and weight
Cons
Adult blend not suitable for kittens
Purina has proven that iron-rich food for cats doesn't have to be expensive! This cat food comes in both chicken and white fish flavors, and you can grab a whopping 14.4lb bag for an unbeatable price. They have smaller bags too, but buying in bulk is the best value.
Despite the low cost, this high-iron cat food is quality. It has a 35% protein content, upping the iron in your cat's diet. Purina has used real fish and real chicken (depending on which flavor you choose) as the number one ingredient. In fact, there is no poultry by-product meal in this food whatsoever.
It is another dry food, but there are tender meaty morsels thrown in with the crunchy kibble for an added protein and iron boost. This smart blend includes omega-6 fatty acids, four antioxidant sources, and vitamins and minerals for all-around good health. It's also totally grain-free so it's easily digestible, meaning your cat can extract as much iron as possible from this brilliant blend.
Pros
Available in two flavors: chicken and white fish
Contains 35% real meat protein
No artificial colors, flavors, or preservatives
No poultry by-product meal in the recipe
The perfect mix of tender meaty morsels and crunchy kibble
Added vitamins, minerals, and antioxidants
One of the most affordable options
Grain-free and easily digestible
Cons
Contains some plant-based fillers
Does your cat prefer wet food over dry kibble? If so, this is a wet iron-rich cat food from Blue Buffalo you might want to try. It comes in trout and red meat flavors; however, I suggest opting for the red meat cans. As mentioned, lean red meat carries more iron than white fish or poultry.
The red meat version is primarily a blend of beef and turkey. There are also smaller amounts of turkey liver, venison, and lamb – some of the best iron sources out there! This selection of ingredients supplies your cat with all the other essential vitamins and minerals it needs for good health, a strong immune system, and healthy hair and skin.
Importantly, the meat is high-quality and no by-product meals are used to bulk up the recipe. The food is also grain-free and contains no artificial colors, flavors, or preservatives. As a wet food, it even helps your cat get its daily hydration!
Pros
Made from iron-rich red meat and organs
Uses real meat as the first ingredients
Doesn't contain any colors, flavors, or preservatives
No poultry by-product meals or grains
Wet cat food that helps with daily hydration
A blend of meats provides all necessary vitamins and minerals
Cons
Some cats don't like the taste of red meat
Anemia is known to cause a loss of appetite in cats. But iron-rich cat food isn't going to help increase red blood cells and hemoglobin unless your cat eats it. Knowing how to get an anemic cat to eat is crucial for success, and this incredible cat food from Instinct could be the answer you need.
This food is made from freeze-dried animal protein and has 3x as much real meat and iron-rich organs as dry kibble. Therefore, your cat is getting more protein, minerals (such as iron and other essentials), vitamins, antioxidants, and amino acids with every mouthful. They can eat less than usual and still boost their bioavailable iron.
Raw food also makes up a cat's natural diet, so they're more likely to enjoy the taste and eat more. You can also feed dry or rehydrate the food to your cat's preferences, again encouraging them to eat. As Instinct's products are made using raw food, they're not as processed. They are also made without grain, corn, wheat, soy, or legumes as fillers, and you won't find any artificial colors or preservatives.
Pros
A great option for picky eaters
Contains 3x as much protein as dry kibble
Made from raw meat and other wholefoods
Minimal processing and made without artificial colors or preservatives
The option to serve dry or rehydrate the raw food
Nutrient-dense with iron and other minerals
Cons
More expensive than other iron-rich cat food
Iron Rich Food Buying Guide
You can purchase any of my recommendations easily online. You'll also find iron-rich cat food at your local pet store or supermarket. What you'll find is you're actually spoiled for choice – so many brands offer high-iron options, it can be overwhelming!
To help, here are the key things to look at when comparing iron-rich food for cats.
1. Ingredients
All good high-iron food for cats contains quality protein – and lots of it! Your best options are red meat such as beef and venison or organ meat like liver and kidney. Turkey, tuna, chicken, and pork are other options. This should be the first listed ingredients, and ideally should be real meat from a good source (look for phrases like "grass-fed" or "free-range").
Good cat foods also contain a balanced blend of vitamins, other minerals, and antioxidants. However, you'll want to avoid food that contains artificial ingredients, such as ethoxyquin and propyl gallate. Low sodium cat food and low ash cat food are other health-focused options to consider.
2. Digestibility
It is common for cats with iron deficiency to have digestive issues. As there is a lack of iron getting to the digestive organs, they cannot function as efficiently. You might see your cat throwing up food but acting normal, or your cat throwing up food after eating. Diarrhea or constipation are also likely.
Always search for iron-rich cat food that's easily digestible. This help to ease their sickness and means they extract more iron and other nutrients from the food they do eat. Digestible food is generally free from gains, as unprocessed as possible, and contains high-quality ingredients. Wet food is typically easier to digest, but either dry or wet cat food for sensitive stomachs is fine.
3. Additional Health Benefits
The main purpose of getting high-iron food for cats is to boost iron and improve red blood cell count. However, there is no harm in getting additional health benefits as well! Many quality cat foods contain superfoods and supplements that can help with weight maintenance, strengthen the immune system, and promote a healthy coat.
Below are some of the ingredients that bring these additional health-boosting benefits:
Superfoods such as cranberries and blueberries
Probiotics and prebiotics
Omega fatty acids from fish and soybean oil
Dietary fiber to help with hairballs
FAQs
Q: How do you know if your cat needs iron?
A: There are several signs of iron deficiency in cats. Some of the common symptoms include reduced appetite, weakness and lethargy, and pale pink/white gums.
Q: How to increase red blood cells in cats?
A: You can help increase your cat's red blood cell count by feeding them an iron-rich diet. My favorite high-iron foods for cats are listed on this page.
Q: What is the best anemic cat food?
A: The best cat food for anemic cats is one that is high in iron. Anemic cats often have an iron deficiency, so increasing dietary iron can help improve symptoms.
MY FINAL THOUGHTS
Iron-rich cat food is a must for any anemic cats or those that need to increase their iron count for another reason. Dietary iron can be absorbed by the body and used to help produce hemoglobin for red blood cells, along with making important hormones.
The top four available are all listed here, so choose the one you think is the best choice for your kitty! It is always advisable to seek veterinary advice before changing foods. Also, make sure you introduce the new cat food gradually so your cat takes to its new high-iron diet.