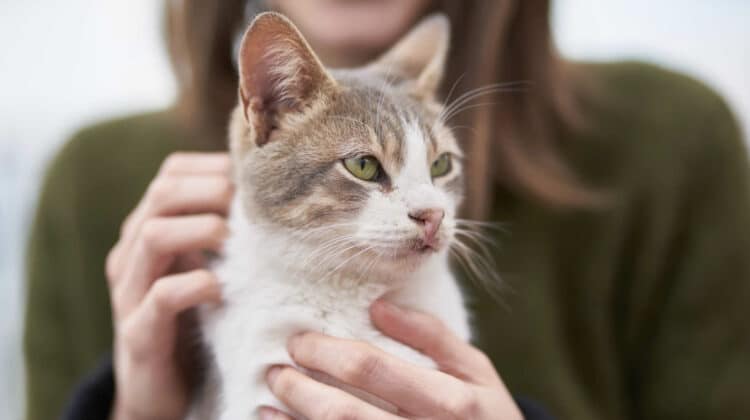 Have you ever been stroking your cat only for it to start grooming as soon as you stop? I have experienced this exact thing too many times to count, and the rejection never lessens. I often find myself wondering, "Why does my cat clean herself after I pet her?", "Does she hate it when I touch her that much?" and "Is she trying to wash away my smell?"
To put my mind at ease, I did some research. It turns out there are five main reasons why your kitty likes to groom itself after you've been stroking it: (1) it is showing mutual grooming, (2) you were petting a hard-to-reach spot, (3) your feline doesn't want to be petted, (4) it has an itchy skin condition, and (5) it is suffering from hyperesthesia syndrome.
In this article, I go into each of these reasons in detail so that you can better understand your feline's behavior as well! Read on to find out why your cat grooms itself, whether this really is an insult to you, and if your kitty's behavior warrants a trip to the vet.
Why Does My Cat Clean Herself After I Pet Her?
When answering this question, you first need to know that your cat is not trying to insult you! It may seem like it is trying to erase all traces of you from its fur, but there are five completely unrelated reasons why your kitty may clean itself after you pet it.
Let's explore each of these explanations in detail.
Mutual Grooming
Although you may associate grooming with your kitty's cleaning routine, there is also a lesser-known social aspect to it called mutual grooming. Also known as "allogrooming," this behavior helps to form a close and loving bond between two cats by mixing their scents.
When you pet your feline, it may interpret your repetitive stroking as grooming. If this is the case, your cat's instincts may kick in, leading to them grooming you in return. I like to think this is why my cat licks me when I pet him: he is trying to mix his smell with my own!
When you move out of reach of your feline friend, they may start licking themselves instead or appear to be licking the air. This is their way of performing mutual grooming when you are no longer there. You've essentially kickstarted a bonging ritual, so your cat loves you a lot!
Petting A Hard-To-Reach Spot
Another reason your cat might start cleaning itself after a cuddle is that you were petting a hard-to-reach spot. Cats are ridiculously flexible, but even they have their limitations. For example, most cats find the back of the neck and base of the tail particularly difficult to get to, and this only becomes harder if your kitty becomes injured, overweight, or too old.
When you pet these hard-to-reach spots, it can trigger your feline's grooming instincts for these areas. Because your kitty can't reach the place it wants to clean, it may start licking the air or grooming other more easily accessible body parts instead.
Doesn't Want To Be Petted
It may not be something you want to hear, but sometimes your cat may start grooming itself because it doesn't want to be petted. This could be limited to a specific part of your feline's body, but it could also be that your kitty isn't in the mood, period.
In some cases, your cat won't want to be petted because they feel overstimulated. This occurs when you repetitively stroke the same area for too long. When cats feel overstimulated, they often use displacement grooming to help them feel better.
Although cats purr when you pet them, they may continue purring even after they start to feel overstimulated, so don't let this catch you out! For example, my cat bites me gently while purring to indicate that our cuddle has gone too far. Sometimes, my cat bites me when I pet her, which is another common indicator that your furry friend needs some space.
Itchy Skin Conditions
Now we come to one of the slightly more serious reasons for your kitty's post-petting grooming: it is suffering from an itchy skin condition. There are loads of triggers for itchy skin conditions, some of which are relatively common among felines, such as fleas, mites, and allergies.
The intensity of your cat's reaction to your petting depends on whether its skin feels painful when touched or if it is merely itchy and annoying. If it is the latter, your furry friend will likely start grooming in an attempt to soothe the itching. However, if your feline is in pain, your touch may also cause it to flinch or act aggressively toward you.
If your cat grooms the same place every time you stroke it or appears to be in a lot of pain, I would book an appointment with your vet so they can work out what is going on. Most itchy skin conditions can easily be corrected with treatment, but a professional opinion is a must!
Hyperesthesia Syndrome
Finally, we have hyperesthesia syndrome, also known as twitchy cat disease. This condition causes a feline's skin to become hypersensitive. Once again, this means that your petting could be causing your cat discomfort or pain, which they try to soothe through overgrooming.
Some common symptoms of feline hyperesthesia you can look out for include dilated pupils, excessive vocalizations, and sudden unexplained aggression, such as if a cat growls but wants to be petted. I also note if my cat drools when I pet him, as this is another potential indicator of the disease.
If you think your kitty has hyperesthesia syndrome, I suggest you get it checked out by your vet as soon as possible. Although the condition may not seem too serious to begin with, it can quickly worsen. In severe cases, cats have even been known to damage or self-mutilate their tail as their skin sensitivity is so intense.
MY FINAL THOUGHTS
Believe it or not, cats aren't trying to be insulting when they clean themselves soon after you stroke them. It may seem like they're trying to wash away your touch, but the reality isn't quite so simple, which begs the question: why does my cat clean herself after I pet her?
Your kitty could be mutual grooming, trying to soothe an overstimulated area, or grooming after you pet a particularly hard-to-reach spot. However, your feline could also be suffering from an itchy skin condition or hyperesthesia syndrome, a condition that causes the skin to become hypersensitive.
In most instances, this behavior is nothing to be concerned about and may be seen as a good thing, such as in the case of mutual grooming. However, if your feline friend shows signs of hyperesthesia or an itchy skin condition, I highly suggest you take them to the vet for treatment.