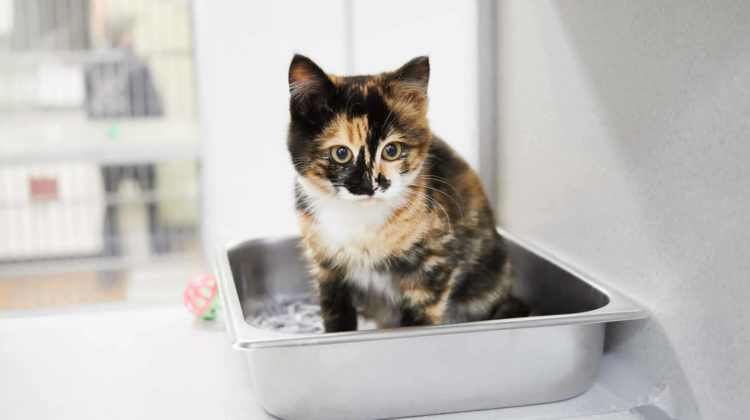 Cats can be perfectly comfortable and well-entertained in smaller apartments – if space is used smartly, well-ventilated, and clean.
However, caring for a cat (or multiple cats) in a small apartment does have its difficulties.
The most important issue in this regard is managing your cat's litter, or more specifically, preventing the notoriously powerful cat urine smell from taking over your whole apartment.
The most efficient method for dealing with cat pee odor -besides keeping it clean- is choosing a cat litter with effective odor control.
My Top Pick
My top recommendation is Naturally Fresh Pellet Unscented Non-Clumping Walnut Cat Litter because it is a dust-free, non-tracking, completely non-toxic, eco-conscious natural pellet litter that traps foul odors effectively.
A close runner up on my list is Frisco Unscented Odor Defense Clumping Clay Cat Litter because it is truly effective at odor control, pocket-friendly, and very low on dust. It's in second place only because it is a clumping clay litter, meaning that it contains sodium bentonite – not particularly great for your cat or the environment.
Another difficulty in caring for a cat in a small apartment is the space that litter boxes take up. Fortunately, there are many litter boxes on the market that are decorative, ergonomic, and useful for preventing foul odors and litter scatter.
My top choice of a litter box that satisfies these criteria is Frisco Flip Top Hooded Corner Cat Litter Box because not only is it cleverly shaped as a triangle to utilize corners, but it is also spacious, easily accessible for your cat and daily scooping, and helps control foul odor with its charcoal filter pads.
Below, you'll find a selection of the best litters and litter boxes for small apartments, my criteria in evaluating these products, useful tips for the placement of your cat's litter box, as well as things that you can do or adjust around your home to enhance your cat's living standards in a small spaces.
Choosing the Best Cat Litter For Small Apartment
There were three essential criteria that I looked for in my endeavors to select the best litters for small spaces:
Effective Odor Control
Pee smell can be a huge problem with having a cat in a small apartment. Whereas in larger homes the nasty smell dilutes, it can quickly become concentrated and intense in smaller homes. Therefore, litters that minimize pee odor can make a lot of difference in the way your apartment smells.
I made sure to find litters that work towards eliminating odor, rather than masking it with an overpowering scent of their own. For one, this is more effective. But secondly, artificial fragrances can also become overpowering in small houses and flats. This leads me to my next point…
Fragrance-free
Most litters that claim to control cat pee odor effectively actually work on masking it with a strong, artificial fragrance. Instead of minimizing the pee smell, they overpower it with a "fresh" scent that ends up assaulting your senses even more than your cat's pee.
This strong fragrance usually gets mixed up with the pee smell and produces an even worse odor that can take over your whole apartment. Fragranced litters can also be tough on your cat's respiratory tract, not to mention the possibility that their strong smell can repel her from the litter box.
Low Dust
Dust from cat litter can be a serious problem, especially in smaller and poorly ventilated spaces. Not only will it track all around the house, but constant ingestion of dust can trigger respiratory discomfort in you and your cat. Dust is particularly problematic for people and pets with allergies.
Small apartments can make the dust problem even worse than it already is. Therefore, I looked out for cat litters that were low dust. This also makes cleaning easier as you won't have to deal with big clouds of dust every time you empty the tray.
Best Cat Litters for Small Spaces
Keeping my aforementioned criteria in mind, I've gathered below a selection of the best litters for small spaces. I've listed them under three categories based on their material: clay-based, silica gel, and natural litters.
Top 5 Clay-based Cat Litters
Clay cat litter is the oldest type of commercial litter available. Clay is a great material for cat litter as it is super absorbent so can soak up a lot of urine quickly. It is also one of the easiest cat litters to clean as clay forms super solid clumps. This is why it is a favorite among owners.
However, it is known for having a lot of dust. Many clay litters also have artificial fragrances. When looking for cat litter for small spaces, neither of these features are great! Below you'll find the best litters that DON'T have either of these qualities, but still do boast great clumping qualities and odor control.
The Fresh Step litter is a conventional clay-based clumping litter that is unscented, low on dust, and has effective odor control. As you may have read here, cat pee smells so bad because the urea in it – which is odorless at first- starts to decompose due to the bacteria on the litter, giving off a strong ammonia smell.
The Fresh Step claims to prevent this bacterial odor with the aid of activated charcoal in its formula. One drawback seems to be that it doesn't clump as tightly as it claims, sometimes sticking to the bottom and sides of the pan.
Pros
Contains activated charcoal for effective odor control
Fragrance-free
Low on dust
Pocket-friendly
Cons
Doesn't clump very well
Not eco-friendly because it is clay-based
Not flush-safe
It can be toxic when ingested consistently over time because it is clay-based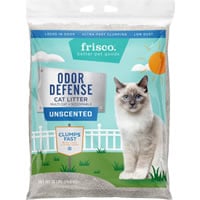 The Frisco Odor Defense is a clumping clay litter that reduces foul odors by working against the ammonia in cat pee.
This litter is unscented, clumps well and quickly, low on dust and tracking, and for multi-cat use – which is always a plus even if you have only one cat. Being formulated for multi-cat use means that it can endure more use in a given period, keeping fresh for longer when used by a single cat.
Pros
Effective odor control
Formulated for multi-cat use
Fragrance-free
Clumps well
Low on dust and tracking
Pocket-friendly
Cons
Not eco-friendly because it is clay-based
Not flush-safe
The Purina Tidy Cats Free&Clean is a clumping clay litter that is unscented and has effective odor control due to the activated charcoal in its formula. It clumps quite well and is low on dust, but apparently, it can track a little bit.
There is also a lightweight formula of this litter: Purina Tidy Cats Free & Clean Lightweight Unscented Clumping Clay Cat Litter. However, keep in mind that lightweight litters typically produce more dust and cause more tracking.
Pros
Contains activated charcoal for effective odor control
Fragrance-free
Clumps well
Low on dust
Pocket-friendly
Cons
Does track a bit
Not eco-friendly because it is clay-based
Not flush-safe
The Purina Tidy Cats 4-in-1 Strength Clumping Cat Litter ticks all the boxes. Its most impressive feature is that it guarantees to stop ammonia odor in as little as 2 weeks. This is crucial in small apartments as the horrible urine smell can quickly take over your home.
What's great as this litter actively works to remove bad odors rather than masking them. This means there are no overpowering fragrances. It is also dust-free, which is great for allergies and for keeping the mess contained inside the litter tray. With all of these features, this is arguably the best cat litter if you have multiple cats. Its intelligent odor-eliminating power is up to the challenge!
Cleaning is also a breeze as this is a clumping litter. I've tried clumping litter in the past though that make weak clumps that simply fall apart. You won't have these issues with the product. It really is max strength, locking soiled litter together so cleaning is even easier.
Pros
Forms tight clumps for easy cleaning
Removes ammonia odors in 2 weeks
Dust-free and no fragrance
Neutralizes smells rather than masking
Cons
Does track around the home a little
Our last clay litter for small apartments has to be the Boxiecat Extra Strength Premium Clumping Cat Litter. This cat litter is recommended by vets and ranked highest in an odor control study. If that's not proof this litter is effective, I don't know what is!
This litter removes smells before they start with advanced probiotic power. It is also dust-free so is ideal for small homes and people with allergies. And you won't be overwhelmed by any artificial fragrances either as this litter is completely fragrance-free.
Another huge benefit is that it forms rock-solid clumps. Daily scooping is therefore super easy. It also lasts 2x longer than regular cat litters, which is better for the planet and your bank account! And you'll only have to completely empty and clean the litter tray once per month.
Pros
Fragrance-free cat litter
Removes odors using probiotics
Recommended by vets
Performed best in an odor control study
Rock-solid clumps for easy scooping
Last 2x longer than regular litter
Litter only needs to be replaced monthly
Cons
Very fine clay particles so lots of tracking
Top 5 Silica Gel Cat Litters
Silica gel litters are a great alternative to clay clumping litters if your biggest concern is dust. These are almost entirely dust-free, so your home will be super breathable and fresh. It is also really lightweight so cleaning the litter box is easy. Plus, they usually produce less waste than clay litter.
The downside of this type of litter is that most are non-clumping, so daily scooping becomes harder. It also tends to be a little more expensive.
Litter Pearls Micro Crystal is a non-clumping silica gel litter that is unscented and low on dust (as many silica litters are.) The crystals are soft on your cat's paws, however, there does seem to be a bit of tracking. When Litter Pearls silica crystals absorb urine, they trap the ammonia odor while evaporating the excess moisture so that they can absorb more urine.
The Litter Pearls litter is also compatible with the self-cleaning ScoopFree litter box that I'll be mentioning in my selection of best litter boxes for small apartments.
Pros
Effective odor control
Produces little to no dust
Fragrance-free
Soft on cat paws
Compatible with ScoopFree self-cleaning litter box
Cons
Does track a bit
The non-clumping formula may be harder to clean
Pricey
The ScoopFree Sensitive litter is a non-clumping silica crystal litter that has its custom self-cleaning litter box, but you can also use it with any other litter box.
Silica gel absorbs a lot more urine than conventional clay-based litters, so silica litters are very effective at trapping foul odors. The ScoopFree is unscented, virtually dust-free, doesn't track, and is biodegradable!
Pros
Produces little to no dust
No tracking
Fragrance-free
Biodegradable
Has a custom self-cleaning litter box
Cons
The non-clumping formula may be harder to clean
Pricey when compared to clay litters
Another good option for silica gel litter is the Vibrant Life Cat Litter. Unlike many other silica gel litters, this litter uses mini crystals which are soft on your cat's paws. These crystals quickly absorb urine to trap and eliminate odors within seconds.
Like all silica litters, this is a low-dust formula. There won't be any big clouds of dust being kicked into the air every time your cat uses its tray. Plus, your home remains breathable. It is also unscented, so there are no distracting smells that can annoy you or your cat.
As with the other silica gel litters I have recommended, this one is non-clumping so might be a little harder to clean. Also, the small particles are comfortable for your cat but do track a little around your home as they're so lightweight.
Pros
Small crystals that are comfortable for your cat
Low-dust cat litter to keep the air clean
Quickly absorbs and eliminates odors
No distracting smells
Cons
Crystals can track easily
Non-clumping so cleaning is a little harder
Are you looking for a silica gel litter that clumps? The Ultra Pet Clumping Crystal Cat Litter is for you. This has all the perks of regular silica litters but also forms clumps when soiled to make cleaning that bit easier.
The crystals that make up the litter absorb odors immediately. This traps them from the get-go so there are never nasty smells floating around your home. There aren't any strong artificial fragrances taking over either, as this cat litter is completely fragrance-free. It is even 100% dust-free as well.
While the litter is low tracking, the manufacturer does suggest using a litter mat outside the box. The pieces are also more like fine gravel than pearls, which can be a little more uncomfortable on your cat's paws.
Pros
100% dust-free cat litter
Clumps for easy cleaning and scooping
Traps and eliminates odors right away
No artificial fragrances
Cons
Litter does track a little
More uncomfortable than silica pearls
Ultra Pet also has a non-clumping silica gel litter, their Little Pearls Original Litter. It is 99.9% dust-free, removes all nasty odors immediately, and doesn't have a fake artificial fragrance. Combined, these make this litter a great choice for small homes where you want to keep dust, odors, and mess to a minimum.
This is not a clumping litter, so cleaning is a little more challenging. All the pieces of silica gel are also pearl-shaped. This means they're very gentle on your cat's paws and less likely to get stuck to their fur, reducing tracking.
However, when the pearls do get on the floor, they can be a little difficult to pick up. Make sure you have a dustpan and brush handy to help!
Pros
Absorbs odors immediately
Low dust and fragrance-free
Pearl-shaped crystals are soft on paws
Very low tracking
Cons
Pearls can be difficult to pick up
Non-clumping so harder to clean
Top 5 Natural Cat Litters
If the environment is your main concern, all-natural cat litters are the way to go. Any cat litter made of plant-based products falls into this category, including litters made from wood, corn, walnut, wheat, and more! As they are natural, they're also a healthier option for your cat as there are no nasty chemicals.
However, some people don't like the scent of whatever the litter is made from. I personally quite enjoy it! There are also clumping and non-clumping options, so be sure to check before you buy.
The Naturally Fresh is a non-clumping pellet litter made from walnut shells. It is an eco-friendly litter that is completely sustainable and biodegradable.
Walnut shells are a super absorbent material that can trap foul odors effectively. Naturally Fresh is an all-natural and non-toxic litter that is also suitable for cats with respiratory sensitivities. This litter is also unscented, and as a top-quality pellet litter, it is virtually dust-free and doesn't track.
If you'd prefer, here is a clumping version of this litter: Naturally Fresh Multi-Cat Fresh Unscented Clumping Walnut Cat Litter.
Pros
Effective odor control
Fragrance-free
Low on dust and tracking
Non-toxic when ingested
Eco-friendly: biodegradable and sustainable
Flush-safe
Cons
Reasonably priced for natural litters, but more pricey than clay litters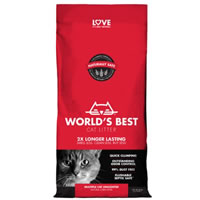 The World's Best litter is a clumping natural corn litter that is for multi-cat use. As I've mentioned before, multi-cat litters are a great choice even if you have only one cat because they can usually keep fresh for a longer period. Natural litters are typically pelleted, but this one has a clumping formula (minus the toxic sodium bentonite found in clumping clay litters.)
The litter clumps decently and it doesn't stick to the bottom or sides of the pan, although it may track a bit. This litter is also unscented, lown on dust, has effective odor control, and is eco-conscious. One thing you should watch out for with grain-based litters like corn is to store it well-sealed to prevent insect infestations.
Pros
Effective odor control
Fragrance-free
Low on dust
Clumps well and doesn't stick to the pan.
Non-toxic when ingested
Eco-friendly: biodegradable and sustainable
Flush-safe
Cons
Requires careful storage
Tracks a little bit
Reasonably priced for natural litters, but more pricey than clay litters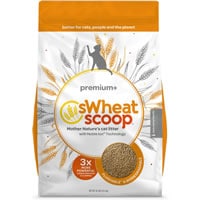 The sWheat Scoop Premium+ is a clumping natural wheat litter that has a unique way of fighting foul odors: it utilizes positive ions and wheat enzymes to cancel out the negative ions in the cat pee odor.
The clumping formula is achieved with starch, rather than toxic sodium bentonite contained in clumping clay litters. This litter is also unscented, low on dust, completely natural, sustainable, and biodegradable. As I've mentioned before about grain-based litters, you should store it well-sealed.
Pros
Uses plant extracts for effective odor control
Clumps well
Low on dust
Fragrance-free
Non-toxic when ingested
Eco-friendly: biodegradable and sustainable
Flush-safe
Cons
The Petfive Sustainably Yours Natural Multi-Cat Litter is made from two crops: corn and cassava. Both of these plants are natural, renewable, biodegradable, and compostable. The litter works hard to remove odors without using any added chemicals or smell whatsoever.
In terms of cleaning, this cat litter clumps hard and fast. You can then easily scoop the clumps out each day to keep the tray clean and fresh. Sadly, it has a sand-like consistency and does track a lot. But when it does, the litter is really light in color. This helps you to see it on your floors easily and know what needs cleaning.
I also love that this is dust-free litter. In small homes, keeping the air clean and breathable is a must. And with this product, it's made easy. What's more, every purchase supports the Rainforest Trust for an even more eco-friendly choice. You're truly doing your bit for the planet.
Pros
Completely biodegradable and compostable
Made from renewable corn and cassava
Traps odors immediately to prevent smells
Forms hard clumps quickly
Every purchase supports the Rainforest Trust
No chemicals or fragrances
Light in color and can easily be seen
Cons
Tracks a lot around your home
Finally, I bring you the OKOCAT Natural Wood Clumping Litter. As another plant-based product, this cat litter is better for the environment. It is made of biodegradable and compostable wood pieces, so great for our planet.
Wood fibers are a great material for cat litter as it binds to urine and prevents that foul ammonia smell from being released around your home. As soon as urine touches it, the litter will form hard clumps. This makes cleaning as easy as can be. The wood texture is also soft on your cat's paws, so is ideal for seniors or any kitties with paw issues.
Another must for small apartments is a low-dust litter. This one is 99% dust-free, so say goodbye to clouds of dust ruining the air in your home. It also doesn't use any artificial fragrances, chemicals, or toxic dyes. In fact, it is about as natural as it gets!
Pros
Made from biodegradable wood
An eco-friendly option
Binds to urine and neutralizes odors
Forms hard clumps for easy cleaning
99% dust-free for clean air in your home
Free from fragrances, chemicals, and toxic dyes
Soft on your cat's paws
Cons
Lightweight and so does track a little
Other products for odor control: There are secondary odor-control products that can help in minimizing the cat pee smell. These products include litter deodorizers (in powder form to sprinkle over the litter), and activated charcoal/carbon filter pads that you can place in or around your cat's litter box.
Choosing a Litter Box For Small Apartment
In addition to choosing the right kind of litter, you can also re-evaluate your existing litter box. Here are a few things to pay attention to when choosing a litter box for a small apartment:
Larger Litter Boxes
It sounds counter-intuitive but a larger litter box is actually better, especially for small apartments. Large litter boxes are better in preventing odor control because they stay cleaner for a longer period. They are also much more comfortable for your cat to use.
A smartly placed large litter box is much better than a poorly placed, tiny, and cramped litter box. Besides, many cats will refuse to use a litter box that is too small for them. This can mean your cat chooses somewhere else to go to the bathroom instead!
Hooded Litter Boxes
Hooded cat litter boxes are primarily useful for preventing odor control and litter scatter. Besides, they appear tidier and cleaner because they conceal the soiled litter. However, be sure that you remember to clean the tray daily. With all the mess concealed, it can be easy to forget!
With hooded boxes, you have so many options to choose from: split-hooded, top-entry, transparent or semi-transparent hoods, rectangular or rounded hoods, plus all kinds of different colored hoods. You can even choose to bedazzle it to your liking!
Self-cleaning Litter Boxes
This is not a must, but self-cleaning litter boxes can be very useful if you have a hard time sticking to a daily scooping routine or if you need to leave your apartment for a few days with no one dropping by to clean your cat's litter box. These boxes often have automatic or manually operated raking systems that sift the poop and urine clumps into a compartment in the box which you then throw away at once.
By helping you keep the litter cleaner, these boxes will ensure better odor control for your apartment. They're also a great option if you have multiple cats but not enough space for multiple litter trays. It keeps them clean throughout the day, so all of your cats are happy using their toilet.
Litter Box Furniture
If you want the litter box to be completely concealed in a decorative and/or useful fashion, litter box furniture is the way to go. You can place most kinds of litter pan in them and the furniture acts as a useful/decorative hood over the tray.
One thing to watch out for with litter box furniture is to choose one that is comfortable (well-ventilated, spacious, accessible) for your cat to use.
Best Litter Boxes For Small Apartments
I've gathered below a selection of the best litter boxes for a small apartment.
I've tried to include a broad range of boxes with different features so that you can choose one that suits your apartment best.
And don't forget to think about your cat either! The litter box needs to be the right size for your furry friend; otherwise, they might not use it. If you have a senior cat or young kittens, also consider how easy it will be for them to move in and out of the tray. In these cases, low-sided options are better.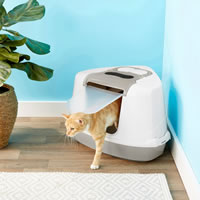 The Frisco hooded corner litter box is shaped like a triangle, which makes it a great option for utilizing the corners of your apartment. However, this shape also comes with drawbacks – it HAS to be placed in a corner. If you've not got one available, this isn't the product for you.
This litter box is amazing because it checks off everything on my list. It is hooded, quite large, and has disposable charcoal filter pads for odor control. Plus, it has a large opening from the front to the top, so you don't need to remove the whole hood for daily scooping.
Pros
Large entry for easy access and daily scooping
Triangle shaped to utilize corners
Comes with disposable charcoal filter pads for odor control
Spacious
Pocket-friendly
Cons
If you're not thinking of utilizing corners, this can be an odd-shape to deal with
Here are two other alternatives for a triangle-shaped hooded litter box: Nature's Miracle Just For Cats Advanced Hooded Corner Cat Litter Box and Cat Love Space Saver Corner Hooded Litter Box. Although, these two do not have the large entry that the Frisco litter box has.
The Modkat is a split-hooded litter box that has a very unique and elegant design. Its hood has two hinged doors on the top, which allows for easy access when scooping. You may choose to leave one top door open if you think your cat likes it better.
This box also has a little indent on its side to hold its custom scoop, which is practical and looks tidy. Another specialty of this litter box is that it comes with a custom reusable liner that you attach to hooks in its corners. This keeps the actual litter box as clean as new, and you don't have to deal with litter sludge sticking to the sides and bottom of the pan. You can remove the liner and clean it easily.
Pros
The split-hood system allows easy access
Has an indent on its side to hold its custom scoop
Comes with its custom reusable liner
Its entry is relatively higher up, so it prevents litter and pee scatter
Cons
Pricey
Its relatively high entry may be difficult for some cats that have mobility issues
This rounded litter box looks like it's from the future! The IPETTIE Nova comes with its custom scoop, carbon filter pads (for odor control), litter pad, and waste liners. The hood can slide back completely for easy access when scooping. It also has a hidden compartment in which you can store its scoop and waste. One drawback with this litter box is that there doesn't seem to be any openings other than its entry (which has a flap-door), which means that proper ventilation might be an issue.
If you choose to go for this box, I would suggest that you remove its flap-door permanently so that fresh air can get in. Otherwise, it's fully enclosed design is great for preventing odors and litter scatter. This box is kind of small – so it's best for smaller breeds.
Pros
Cool, futuristic design
Its hood slides back for easy access
Has a compartment to store its scoop and waste
Comes with its custom scoop, litter pad, and waste liners
Comes with carbon filter pads for odor control
Smaller size can leave more room in small spaces
Has three color options for its entry rim
Cons
Poor ventilation unless you remove the flap-door
Relatively small size won't accommodate larger cats
Pricey
The IRIS is a top-entry litter box that resembles a simple basket rather than a litter box. Top-entry boxes are great for preventing litter scatter. This box also prevents tracking because it has a grated lid. When your cat climbs out of the box, the litter stuck to her paws is removed and collects back into the box!
The IRIS box comes also with its custom scoop that can be hung on a little hook by its side. Although I've given you the link to a lovely white-mint green version, you'll see that there are other color choices. One thing to keep in mind is that kittens may have a hard time climbing in and out of this box.
Pros
Prevents litter scatter 100% because it is top-entry
Prevents tracking with grated lid
Comes with its custom scoop, which you can hang on its side
Lots of color choices
Pocket-friendly
Cons
Not suitable for kittens
May be difficult for cats to get used to, after having used conventional boxes
The PetSafe ScoopFree is a self-cleaning litter box that comes with its silica gel crystal litter and disposable trays. Its self-cleaning system is automatic – there is a rake inside it that moves back and forth when your cat is not in there. It also has a health counter that keeps track of the number of times your cat enters the box daily.
Since it comes with its own crystal litter like the Purina Tidy Cats, you are kind of bound to use it. However, the ScoopFree crystal litter is actually quite decent because it is fragrance-free, very low on dust, and biodegradable.
Pros
A practical, automatic self-cleaning system with disposable trays
Has a "health counter" to track the number of times your cat enters it
Custom ScoopFree crystal litter is good quality
Cons
Might not work with all litters (including crystal litters)
Very pricey, plus you need to keep on buying its disposable trays
The Purina Tidy Cats is also a self-cleaning litter box that comes with its customized pellet litter and disposable cat pads. There is no raking system, instead, the excess urine falls through the pellets into the sliding tray below the box, which has moisture-absorbing cat pads that you change regularly.
The customized pellets are made from silica gel and zeolite (an absorbent mineral), which makes them virtually dust-free. These pellets can even be washed and reused! What I really like about the Tidy Cats Breeze box is that the front half of its hood slides back over the back half, providing a large opening into it for renewing litter.
Pros
Sliding hood for easy access
Practical self-cleaning system
Comes with disposable cat pads for moisture and odor control
Custom pellets are good quality and can be washed and reused
Reasonably priced
Cons
Only works with some pellet litters besides its custom litter
Not particularly spacious
The Omega Paw Roll'N is also a self-cleaning litter box. Not only is it very straightforward to use, but it also has an aesthetic design. It has a very clever manually operated cleaning system: all you need to do is flip it up-side-down, and then back, right-side-up. While you do this, the poop and urine clumps collect into the removable tray, which has a handle for you to remove easily.
This box works with almost all clumping litters, however, it may not be as practical with pellet litters. This box is also quite large, which is comfortable for your cat.
Pros
Easy and straightforward self-cleaning system
Large and comfy
The collecting tray can be easily removed
Reasonably priced
Cons
Turning the box over on its head may require some space
The manual system still requires some effort from you- unlike automatic cleaning systems
May not be practical for pellet litters
Litter Box Furniture for Small Apartments
As I've said before, litter box furniture is an ingenious way of disguising your cat's litter box in a useful and/or decorative fashion.
Here are my top choices:
This is a very simple, elegant, and practical disguise for your cat's litter box. You can place this end-table easily around your house, as it is not a large piece of furniture. You can use its surface as you would a normal end-table because it is sturdy and won't be shaken by your cat's rigorous litter scattering.
Its material is recycled plastic and reclaimed wood, and it isn't easily damaged by moisture. It comes in a variety of shades to provide the best fit for your home. It has a completely sealed floor to prevent litter scatters or leakages on your actual floor. It has an opening on its side (other than its entry), so it is well-ventilated.
The one downside of the great ventilation is that odors can escape. If using one of my recommended cat litters, this shouldn't be too much a cause for concern. As long as you keep on top of regular cleaning, it will be fine. However, consider there could be a slight smell when deciding where you'd place this piece in your home… next to your couch might be a no!
Pros
Practical use
Well-ventilated
Easy to assemble
Spacious
Its material can endure moisture
Sealed floor to prevent leaks
Reasonably priced
Cons
Litter odors may be unpleasant If you place it very close to an area that you frequently spend time, like your couch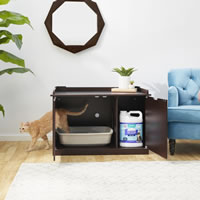 This one can be used both as an end-table and as a bench to sit on. It is wider than the ecoFlex Litter Loo and has a special compartment where you can store things like your cat litter, treats, and scoop. You can adjust the size of its compartments because the divider can be placed in three different positions.
This one also has openings other than its entry for effective ventilation. This furniture is made of manufactured wood and can be cleaned with a semi-moist cloth if needed. It is also very spacious, so you can fit in almost all types of litter boxes inside.
Unfortunately, this is a bigger piece of kit and so will take you a little while to assemble the entire unit. Nevertheless, if you can manage to put together a flat-pack piece of furniture, you shouldn't have any issues with this.
Pros
Has an additional compartment to store litter and other things
You can adjust the size of its compartments
Can be used as a bench and an end-table
Spacious
Well-ventilated
Made of manufactured wood that is easy to clean
Cons
Can be difficult to assemble
Kind of pricey
The Penn Plax furniture is a tall drawer that can be placed conveniently in any corner of your house. It has a full-length shutter-style door, so you can be sure that it's very well ventilated. Not to mention its lovely, cat-shaped entry!
This furniture has an inner shelf (aside from the visible top drawer) where you can store your cat's litter, scoop – or anything you want. This is super sleek and looks just like a regular piece of home furniture. However, it is taller and thinner than other cat furniture, so is only suitable for a smaller litter pan.
Pros
Has an inner shelf
Well-ventilated
Convenient placement options
Easy to assemble
Sturdy
Cons
Requires a relatively smaller litter pan
Pricey
The Bundle Bliss' design is truly ingenious – it looks like a really tasteful potted plant! It's not practical, but it does a great job of concealing your cat's litter box. It has a very wide entry and can be opened easily when you unlock the top half. One drawback is that this product doesn't have any openings for airflow, other than its entry.
Another thing you should know is that although it is quite spacious inside, its rounded form may limit your litter tray options. Other than that, this furniture is a great choice for truly hiding your cat's litter box.
Pros
True disguise of your cat's litter box in a decorative way
Very wide opening for easy access
Spacious
Reasonably priced
Cons
Doesn't have a practical use
Its round shape can limit your litter pan choice
Doesn't have any openings other than its entry
Where to Put the Cat Litter Box in a Small Apartment?
If you live in a small apartment, a good choice of cat litter and litter box are important, but just as crucial is your placement of the litter box.
Here are the essential things you should pay attention to when deciding where to place your cat's litter box:
Accessibility
This is by far the most important thing.
The rule of thumb is, don't place your cat's litter box in any place that is usually kept closed – like a closet, pantry, storage room, etc. Your cat should have easy and instant access to her litter box because otherwise, she may develop health problems – most commonly, UTI – and also become disheartened from using it.
Also, make sure that the litter box is not blocked by any furniture and clutter.
Seclusion – But Not As Much As You Think!
Seclusion is important because like you and I, cats like to get on with their business in peace.
Doorways, corridors, and similar places where there is a lot of foot-traffic are not great for litter box placement. However, don't go placing their litter box in far off, disconnected locations too.
Cats like to be in control, always observing things, and being aware of their surroundings. They also like attention – although they hardly ever admit it.
So, keep their litter box relatively secluded, but also not very far away from the heart of your living space. A good place can be the farthest corner of your living room or your bathroom.
Convenience
This is mostly for your sake – as long as your cat's essential needs are met regarding her litter box, you may consider convenient places that make your life easier.
For instance, placing your cat's litter box in the bathroom can be a smart idea -if you keep the door open at all times. Of course, you can close the door when you're using the bathroom, but the important thing is to make sure that the door always stays open otherwise. Bathrooms for placement are a smart choice for several reasons:
First of all, bathrooms are relatively secluded places with hardly any commotion – perfect for your cat's peace of mind.
Secondly, the odor from your cat's litter won't bother you as much as it would in any other place in your house. We're used to unpleasant odors in the bathroom, right?
Thirdly, cleaning the litter box will be easier if it's placed in the bathroom – especially with flush-safe litters: you can just scoop and throw it in the toilet. (Make sure to only flush the urine clumps and not the poop itself because of toxoplasma gondii bacteria commonly present in cat feces.)
Keep in mind:
Don't disregard your cat's comfort while trying to place the litter box "smartly" or to hide it away completely. A litter box out in the open is not such a bad thing – and remember, it's your cat's home too!
Placing your cat's litter box in a bedroom can be done, but isn't ideal. Not only will the constant ammonia smell make you miserable, but inhaling litter dust constantly (especially if your bedroom is small) can cause mild to severe respiratory problems (also depending on your choice of litter). There are other disadvantages as well: like stepping on litter scatter with bare-feet, or your cat making noise in her litter box at night when you're trying to sleep. If you must have it in your bedroom, try to place it as far away from your bed as possible.
Children's bedrooms are definitely off-limits. Toddlers especially are known to snoop around, touch, and taste everything they can get their hands on. Cat feces can be very dangerous because there is a high risk that they may contain Toxoplasma gondii – a parasite that they shed in their poop which can cause an infection called toxoplasmosis.
Caring for a Cat in a Small Apartment
Cats can be very comfortable and happy living in a small space, like a one-bedroom or a studio apartment.
As long as you keep their environment well-maintained and show them consistent attention and affection, they will be perfectly content. Think about it – this is way better than living in an enormous house but being ignored or forgotten.
With this being said, there are a couple of things you can do or adjust in a small space that will enhance a cat's comfort, overall health, activity level, and general enjoyment of the space.
Cat Furniture
There are some amazing cat furniture options that will turn your house into an amusement park for your cat without making it seem so to you.
Cat Trees
These essentially offer your cat a vertical climb with comfy perches along the way where they can sit and enjoy the view of your apartment from above.
Cats love to perch on high spots where they can observe and keep track of their environment like the royalty they are. If you're worried about appearance, rest assured – cat trees don't have to look like they belong in a second-rate pet store. They can be super elegant, modern, and classy.
Here are some great options for cat trees:
Wall Shelves
Cat wall shelves are especially great for smaller apartments because they don't take up any space on the floor. You can think of wall shelves as a cat tree plastered to the wall. If you are handy with tools, you can even consider making them yourself!
Here are two simple ones that you may like:
Window Perches
If you do not have a comfy windowsill (a favorite loafing spot for cats!), you may want to purchase a window perch. Window perches are mounted on the glass of your window so that your cat can rest comfortably while enjoying the outside view.
Here are two very different ones that I both liked:
Measures Around Your House
Besides ensuring your cat's enjoyment and utilization of the space, you should also consider your cat's comfort and health.
Make sure to pay attention to a few essential things when caring for a cat in a small apartment:
Good Air Quality
Keep your apartment well-ventilated, in ideal temperatures and with fresh air circulation, as best you can.
Small spaces are more prone to getting clammy and suffocating, especially with your cat's litter box in the picture. So, keep your windows open – or if you are relying on an air conditioner, consider getting a humidifier to modestly moisten the air in your apartment.
Litter Cleanliness
No matter how wonderful your choice of litter or litter box is, scooping daily is the most effective thing you can do to keep your cat's litter odor-free.
Not only that, but a well-maintained litter is more comfortable and healthier for your cat too. Most cats will refuse to use their litter box if it is not cleaned well and regularly.
No Strong Fumes and Scents
Don't light candles/incense, or use room deodorizers in small spaces.
There should also be no smoking, hairsprays, strong cleaning products in your cat's vicinity. Especially if your apartment is small – like a studio apartment, such things will affect your cat exponentially.
These strong scents and fumes are very dangerous for cats with respiratory problems like asthma and chronic bronchitis, but they are also risky for healthy cats because consistent exposure to them can cause the development of these health issues.
CONCLUSION
If you live in a small space like a one-bedroom or a studio apartment, caring for a cat can be difficult – the most obvious problem being foul odors emanating from your cat's litter.
Another problem can be the lack of convenient space for the litter box and the unpleasant visual of having to keep it smack in the middle of your living room.
So, yes, it can be more difficult and there are a lot more considerations – but if you make some smart choices regarding your cat's litter, litter box, and its placement in your home, there is no reason that it should be!
Just remember that cats can be perfectly fine and happy in small apartments. It's up to you to use the space in a way that pleases you and your cat.
Hopefully, my recommendations above can guide you into making that happen!