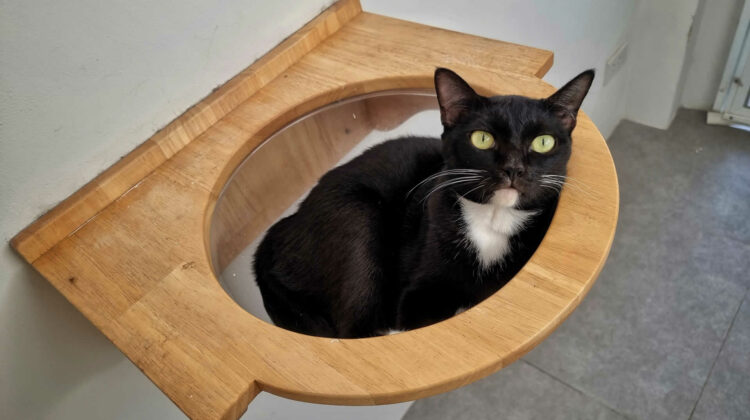 When we think of cat furniture, we think of plush-covered cat trees and big bulky scratching posts. Your cat might love them, but they aren't the most aesthetic and can totally ruin your home décor. Thankfully, a new trend is emerging that promises the perfect compromise of functionality and appearance: cat wall shelves.
Cat shelves mount to your walls just like regular shelves. Your cats will love climbing up to the uppermost perch, resting at the top, and surveying the room below. Many even come with sisal surfaces for scratching or cushioned tops to become the perfect lounging spot. They're also great space savers as they don't take up any floor space, and they look great in your home.
In this article, I share with you some more information about this fab new product that works perfectly in the modern home. I also share with you some of the cat wall shelves you can find on the internet. With a range of different designs, there is sure to be an option to complement your home and keep your kitty entertained.
Cat Wall Shelf Suggestions for the Perfect Home Decoration
Below is a selection of cat wall shelves available to buy online. Each is unique in its design, so you're bound to find an option that is perfect for your home and your cat. So, in no particular order, here are some products that will instantly upgrade your home interior.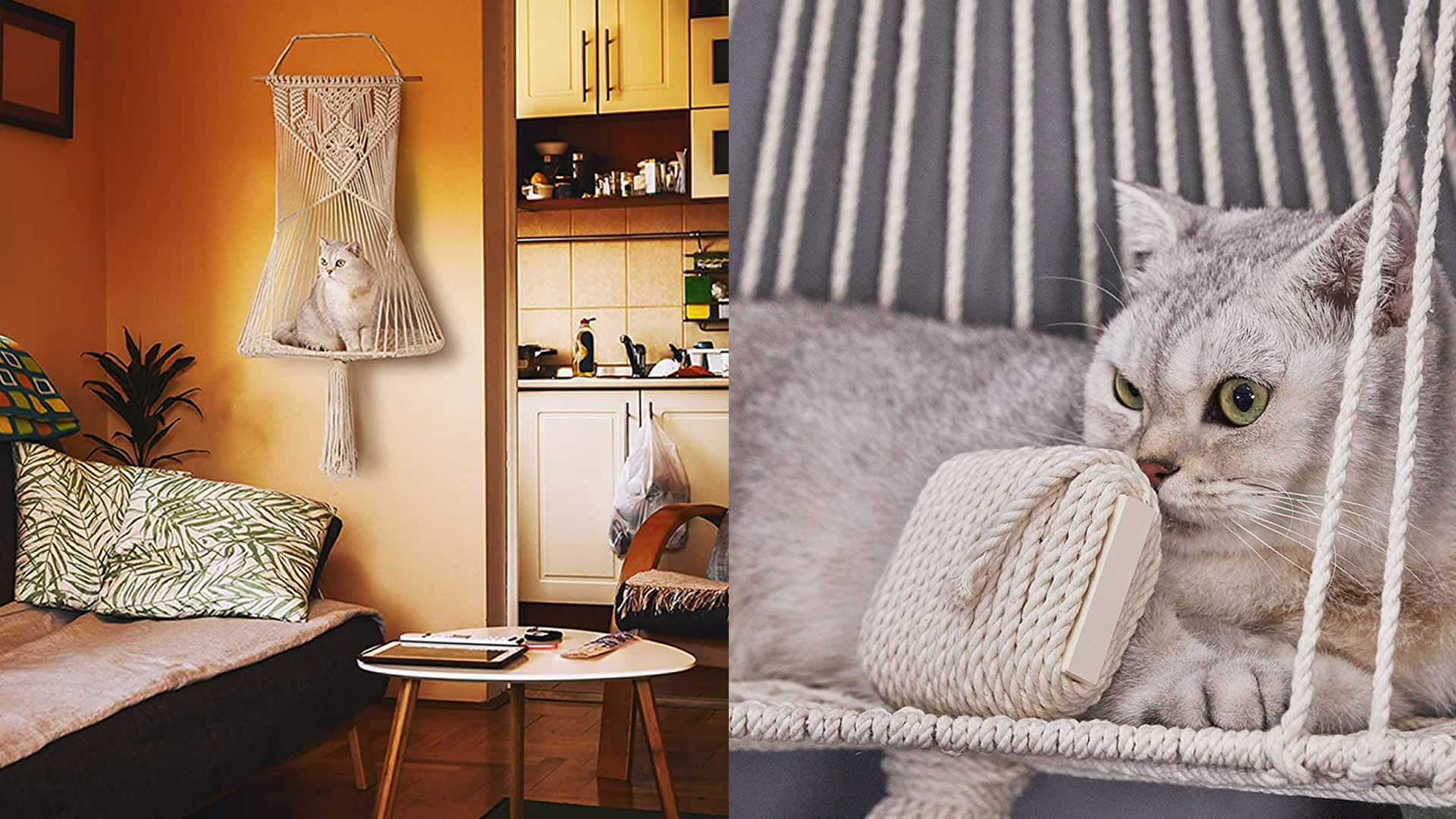 If you are going for a boho-style home interior, the LIFIS Macrame Cat Hammock Wall Shelf is the perfect addition. This is truly one of the most beautiful cat wall shelves on the market and a must if aesthetic appeal is your number one priority. It also makes a perfect gift for cat and macrame lovers!
As the name suggests, this cat shelf has stunning woven macrame support from which the shelf hangs. For those of you unfamiliar with macrame, this is a crafting technique where a rope is knotted to form intricate woven patterns. This shelf is made from a high-quality 100% natural cotton that is completely safe for cats and designed to last.
Below the elegant macrame pattern is the shelf itself. This acts as a perfect perch for your cat to laze on as they watch the world go by. They will love that it is elevated as cats are instinctively drawn to high ground. Plus, it is a space that is theirs and theirs alone, perfect for them to escape to if they feel stressed or overwhelmed.
Another great aspect is that you can hang this product from anywhere! It works well attached to a wall like a traditional shelf. But can alternatively be hung from the ceiling or anywhere else in your home. For small homes, this is of course another huge perk!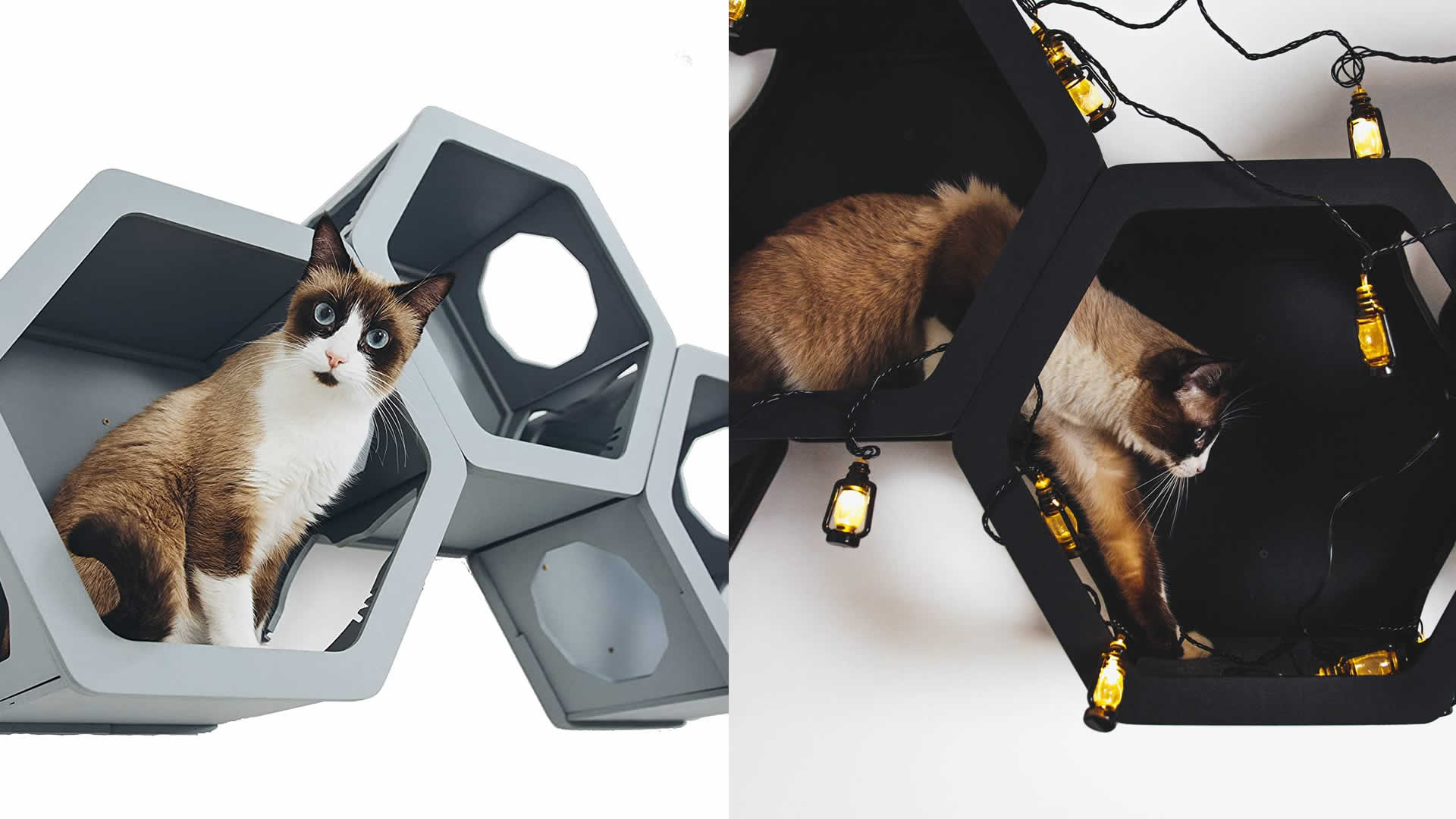 I love these Rustic Cat Wall Shelves by Enjoy the Wood Store. Each shelf is a hexagonal shape that is lovingly handcrafted from high-quality birch plywood. You can choose from six different colors – white, black, grey, light, walnut, or oak – so you can find a near-perfect match to any other furniture that you already have in your home.
One of my favorite features of this item is the hexagonal shape. This is super unusual for a shelf and makes the product an attractive feature piece in your home. The designer's choice of shape is also highly functional. It makes the shelves modular so that and multiple can be placed next to each other to create a wall feature of whatever size you wish!
This is great as you can tailor the cat wall shelves to your pet. If there's space, I suggest purchasing a few so you can give your cat an exciting place to explore. Your cat can climb between the shelves easily through the cat-shaped holes in the sides of each block.
For further personalization, you can choose add-ons for each shelf as well. The addition of felt acts as a scratching material for your kitty to file its claws on. Alternatively, a pillow transforms the wooden cat shelf into a cozy and comfortable bed for your cat to lie on. You can even print a design of your choice on an acrylic window to make the product truly unique.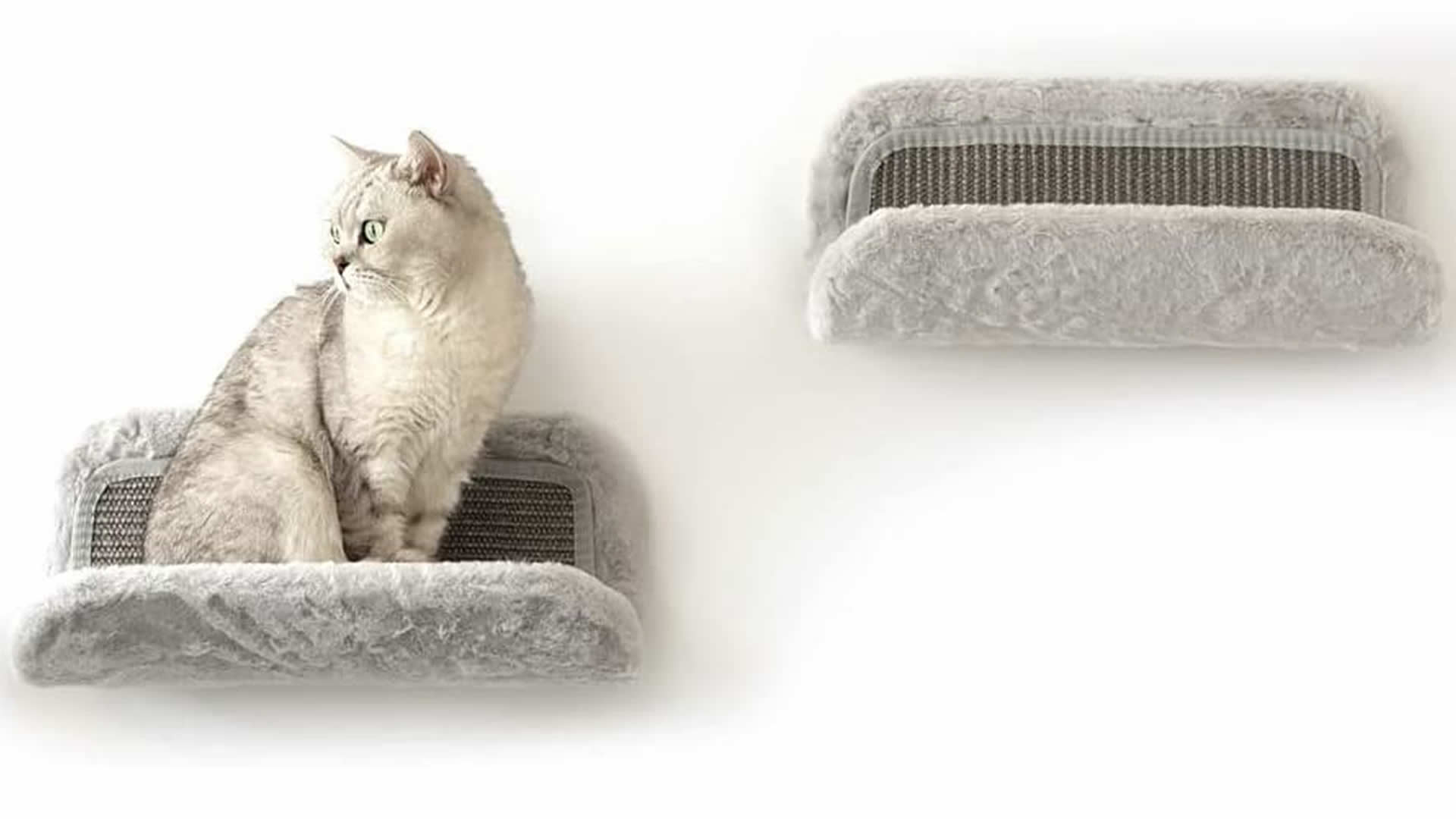 The BIG NOSE Cat Wall Floating Shelves aren't as decorative as the first two products on this list. Instead, they are covered in a soft plush material commonly used for traditional cat furniture. Still, they are a great choice for anyone with safety and comfort in mind – you won't have to worry about your cat when using these shelves.
What makes these cat wall shelves stand out is the unique curved shape which the brand calls "embrace". It makes these shelves safer for your kitty to climb as the raised edge helps to prevent them from falling off. The sisal covering further helps prevent energetic cats that are jumping at full speed from slipping off and hurting themselves.
At the same time, the intelligent curved design provides your cat with added comfort. It hugs your cat's body as they lay down and extends the sleeping area. This means they can curl up in nearly every position and move as they sleep without fear. This product comes as a pack of two shelves, ideal for two cats to laze on, or for one cat to run and jump between the two.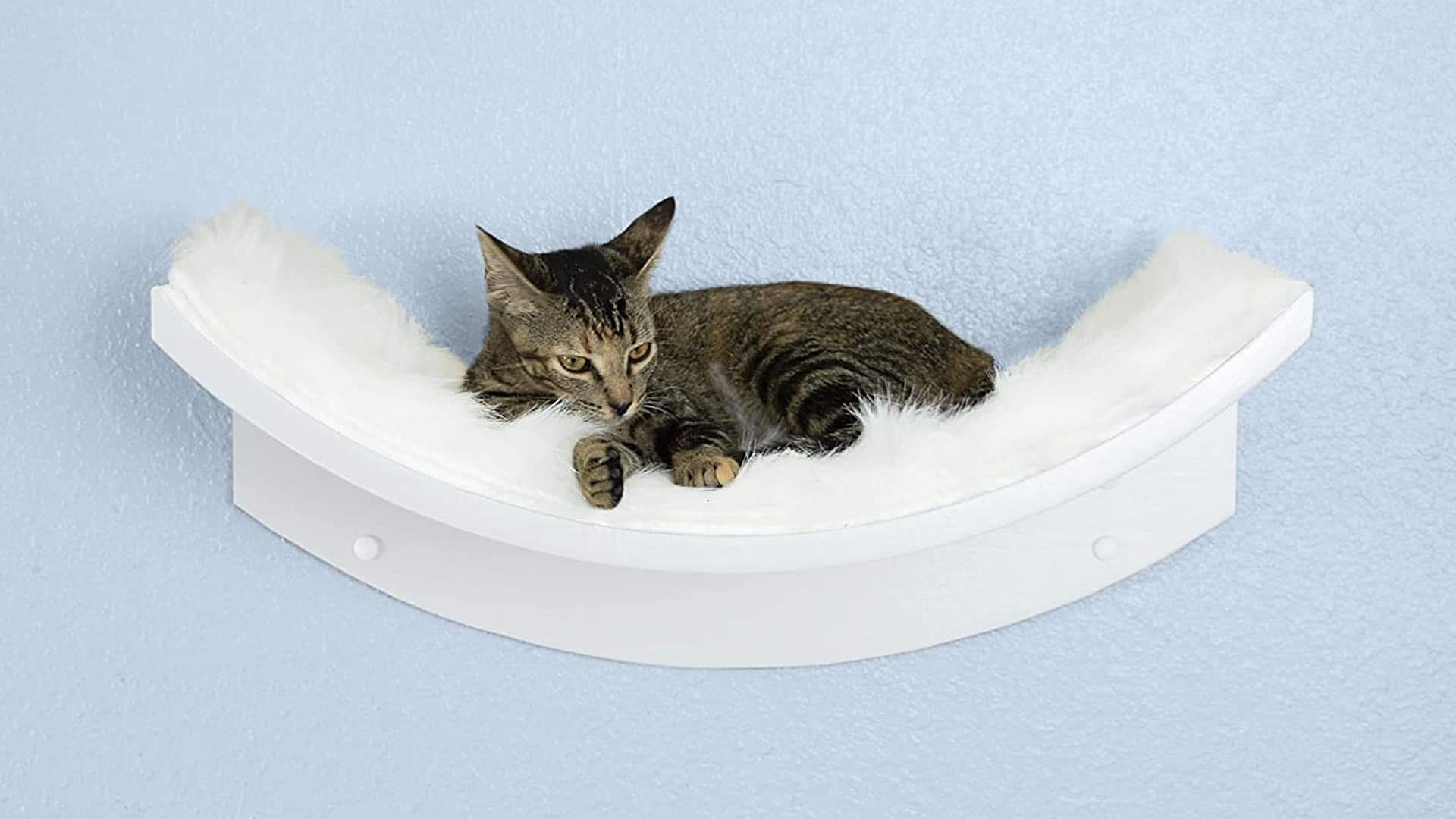 If you have a larger cat and are worried that a cat wall shelf won't support them, fear not! THE REFINED FELINE has designed this elegant shelf that attaches to your wall using four long screws. It is extremely secure and won't fall under the weight of even heavy cats. It also measures a huge 22 inches long, plenty big enough for all domestic breeds.
In terms of decoration, this cat wall shelf has a simple yet elegant design. It won't attract too much attention, but it does look sleek in any home with a distinctive contemporary style. I also love the subtle upward curve of the edges to give it a slight twist on your traditional flat shelf. You can even choose from four colors to find the perfect match with your other furniture.
Each shelf comes with a Berber carpet that attaches to the shelf with velcro. This helps to prevent your cat from slipping off as they climb. Additionally, your cat can scratch the carpet and sharpen its claws while giving your cat added comfort as they sleep. If you opt for the white model, the carpet is replaced with faux fur for an even more adorable finish!
You can purchase a few of these shelves if you have a fair amount of free wall space in your home. This can encourage your cat to jump and exercise while acting as a beautiful addition to your home. Say goodbye to bare walls and get several of these cat shelves today.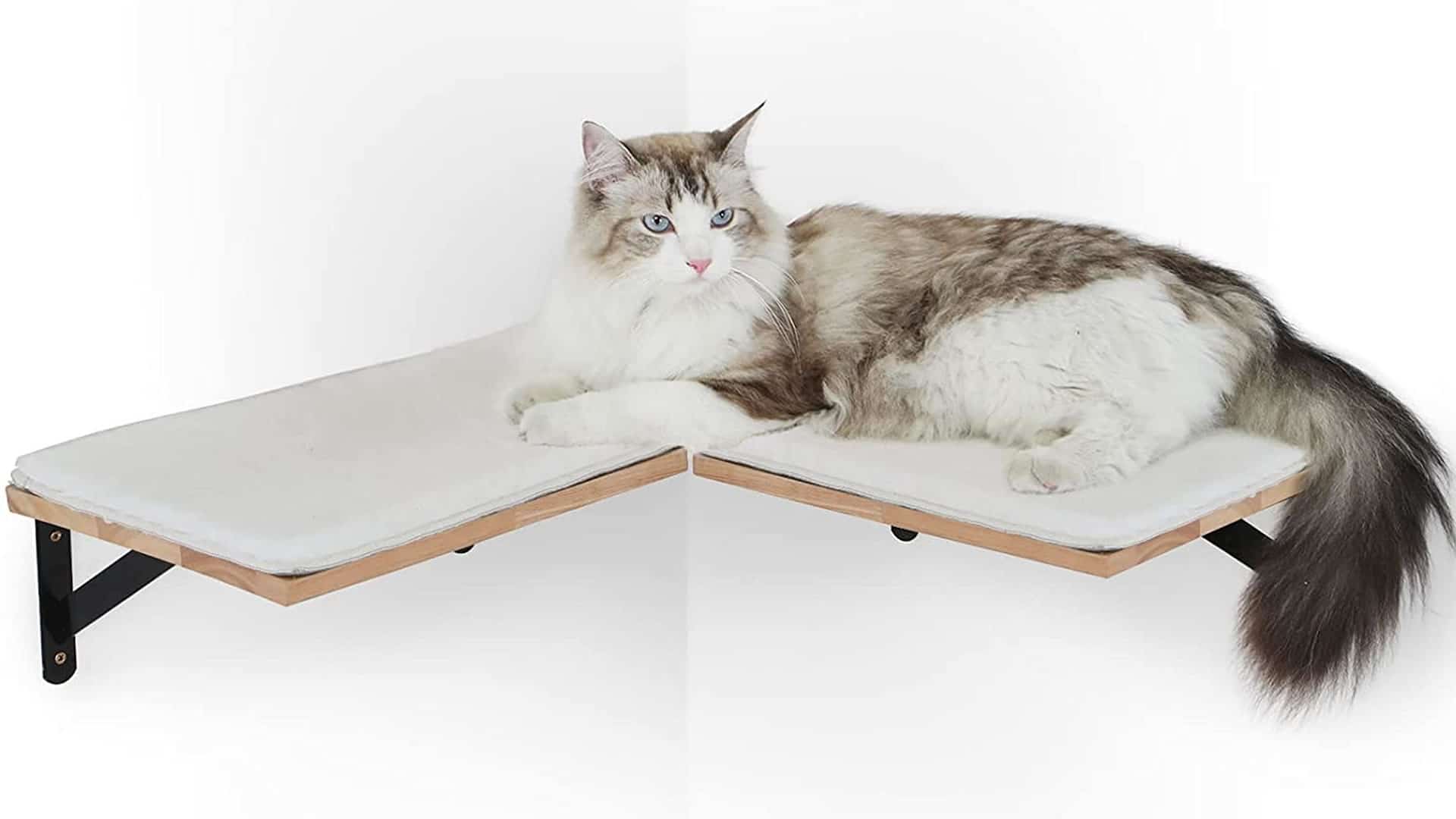 Aside from their aesthetic appeal, one of the main benefits of cat wall shelves is that they are great space savers. The FUKUMARU Corner Cat Shelf Furniture takes this perk to the next level. It neatly fits into any corner in your home so you can continue to hang artwork or other items from the center of the walls. For this reason, it is great for really small homes as you can make the most of every nook.
With home décor in mind, this shelf comes in neutral tones. The main shelf is made from natural wood with black supports and a white detachable fur cushion cover. This means the shelves will look great in almost any home and won't steal the limelight from other statement feature pieces.
You're not the only one that will love this cat shelf – your kitty will love it as well! Being positioned in the corner, your cat will have a great view of everything in the room. This will help them feel super safe and secure. What's more, the luxury fur lining adds comfort and warmth. This will be your cat's new favorite spot to laze around and watch the world go by.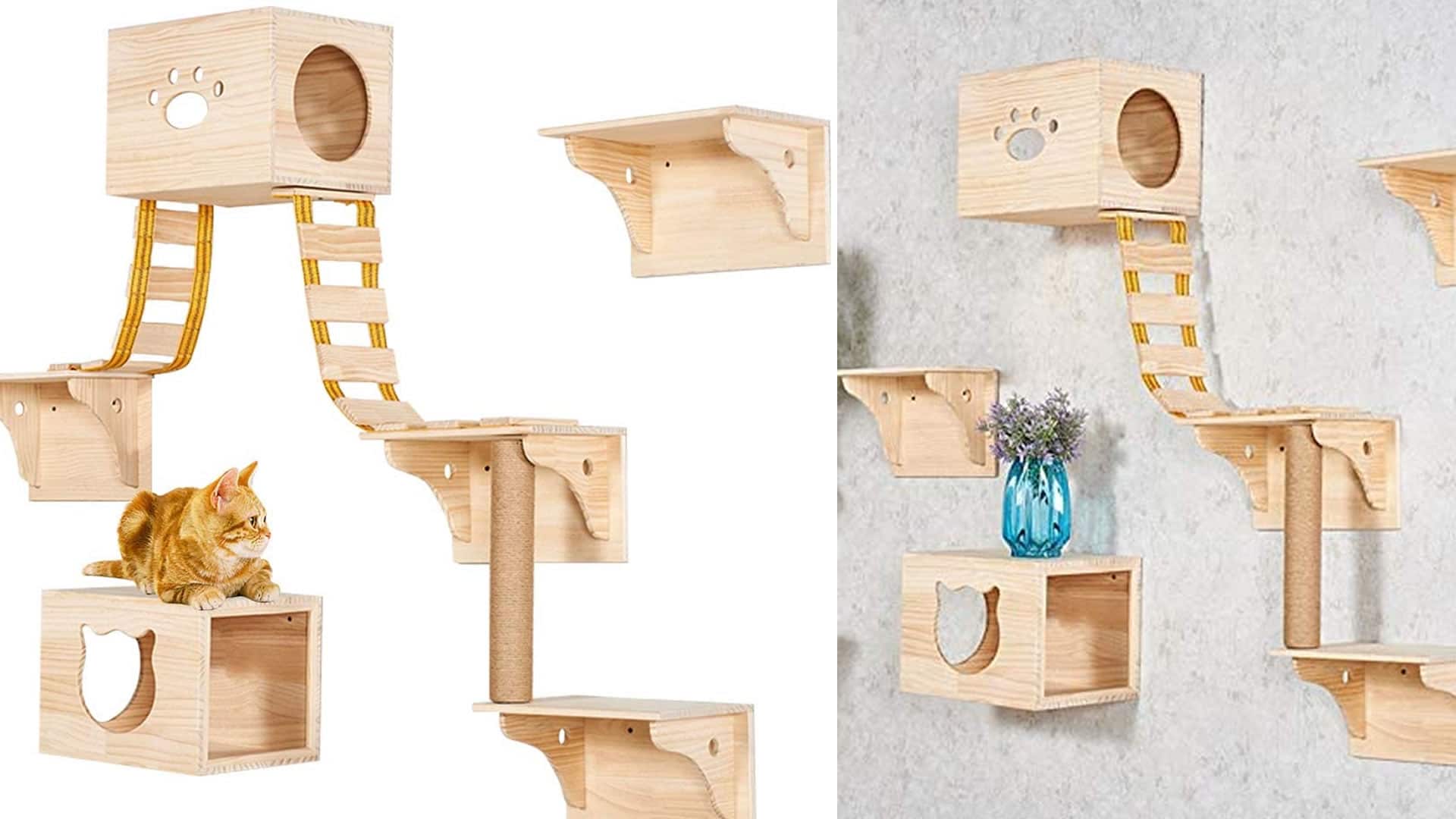 A more elaborate option is the TINTON LIFE 9pcs Cat Shelves and Climber Set. Included in this are four cat shelves, but you are also given two ladders, two cat condos, and one sisal scratching post. These parts combined make an exciting playground that active cats can have hours of fun exploring. And you get all this without compromising on floor space in your home!
I love that this product is all made from pinewood. This creates a finish that works universally in most homes. Pinewood is also a solid material that gives the cat climber set a good level of support. It won't quiver under your cat's weight, no matter how fast they leap from one platform to the next.
The wall-mounted design is also great for small apartments. It can be difficult to give your cat the exercise they need to be happy and healthy in small homes. However, this product takes things vertically and offers the ideal solution. It channels their instinctive needs to scratch, climb, and hide, all in one.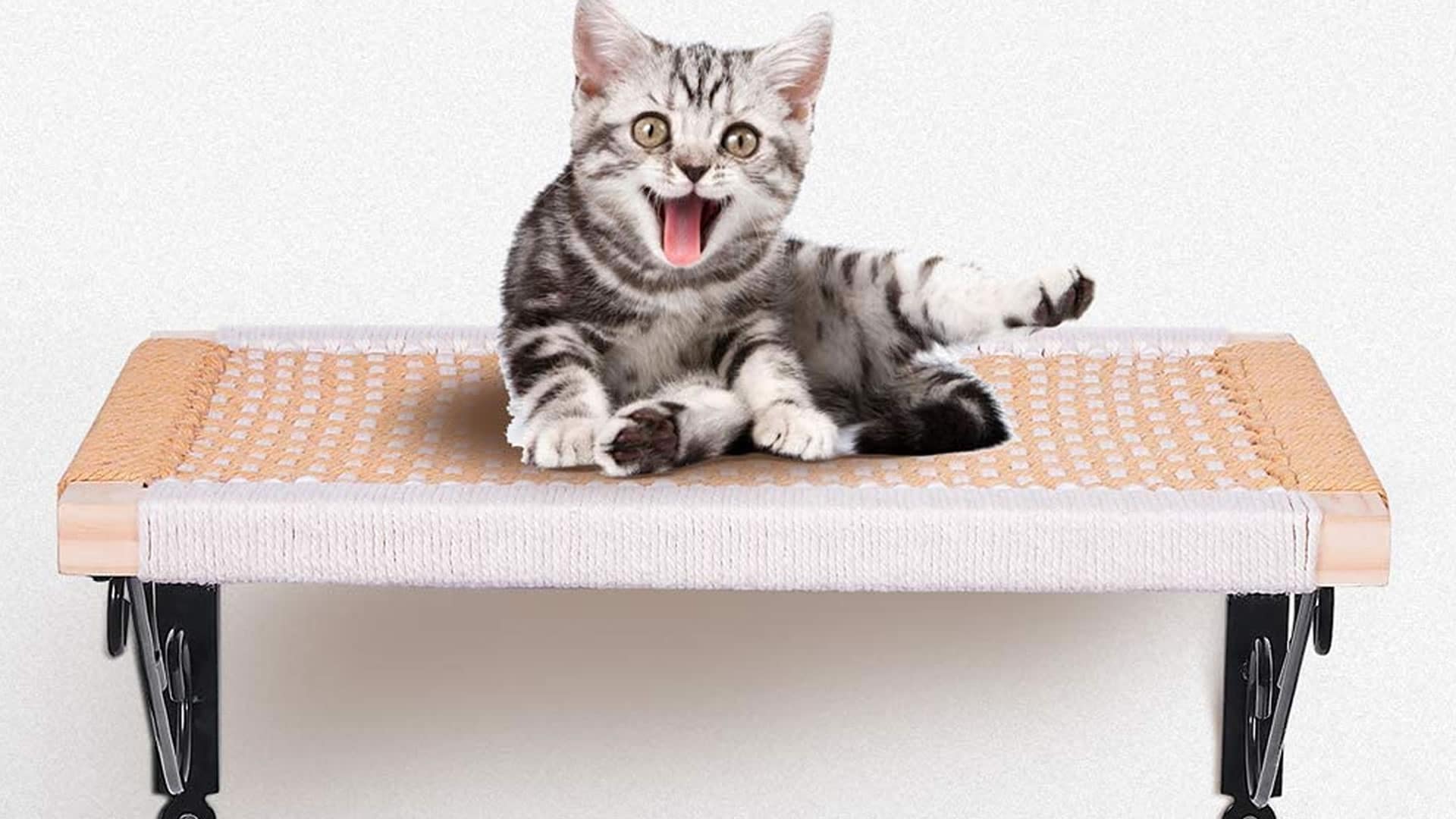 Another fantastic product is the Wood Cat Wall Shelf by Purife. This shelf looks almost identical to a standard shelf we would use to store belongings in our home. With two curved black brackets and a conventional straight design, it is extremely versatile. No matter what your home interior looks like, the classic design of this cat shelf means it will work.
Additionally, this cat shelf is versatile in its function. No matter whether your cat is looking to relax or play, this shelf does the job. Install a few together for your cat to jump and climb. Alternatively, put one high up for your cat to have an elevated lounging spot. They'll even love digging their nails into the woven surface or relaxing from a high vantage point.
I also love the high quality of this wall-mounted cat perch which means it will stand the test of time. The shelf itself is made of thick solid wood topped with woven cotton material for improved aesthetics. The metal brackets on the base are also 3mm thick and make this product sturdier than floating shelf designs. In fact, it can support up to 50lbs in weight!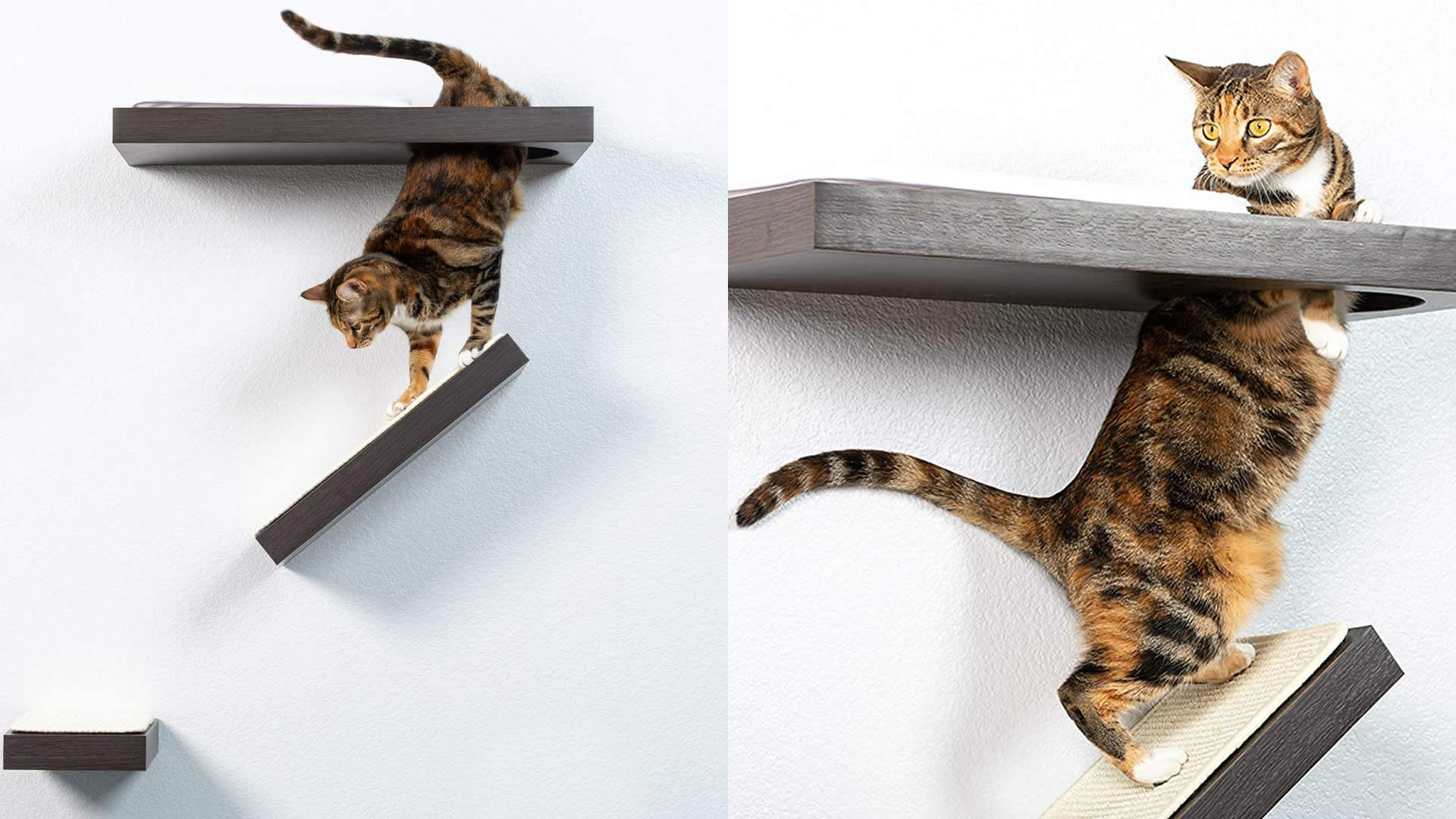 One of the biggest design trends in the modern world is minimalism. It focuses on simplicity, clean lines, and plenty of white space. If this is the look you're going for in your home interior, you'll love the PetFusion Cat Activity Wall Shelves.
This product consists of three shelves. The first is a tiny stepping-stone shelf to help assist your cat in climbing to the higher levels. There is then one that sits diagonally, and another larger shelf where your cat can perch up high. All three are floating shelves with no support brackets and no fancy detailing. They are minimalistic to the core.
Further adding to the simple and elegant design is the choice of color. The shelves are in a beautiful deep espresso brown which works well in most homes. Each is then topped with a cream removable carpet mat. Not only does this add comfort and warmth, but gives your cat somewhere to sink its claws into as well.
What's great about this product is the trio of shelves can be arranged in any layout. You can tailor them to the space you have available and the agility of your cat. PetFusion also sells both the 18" by 8" and the 8" by 8" shelves singularly. This means you can easily build up and create a more elaborate vertical playground for your cat if you wish.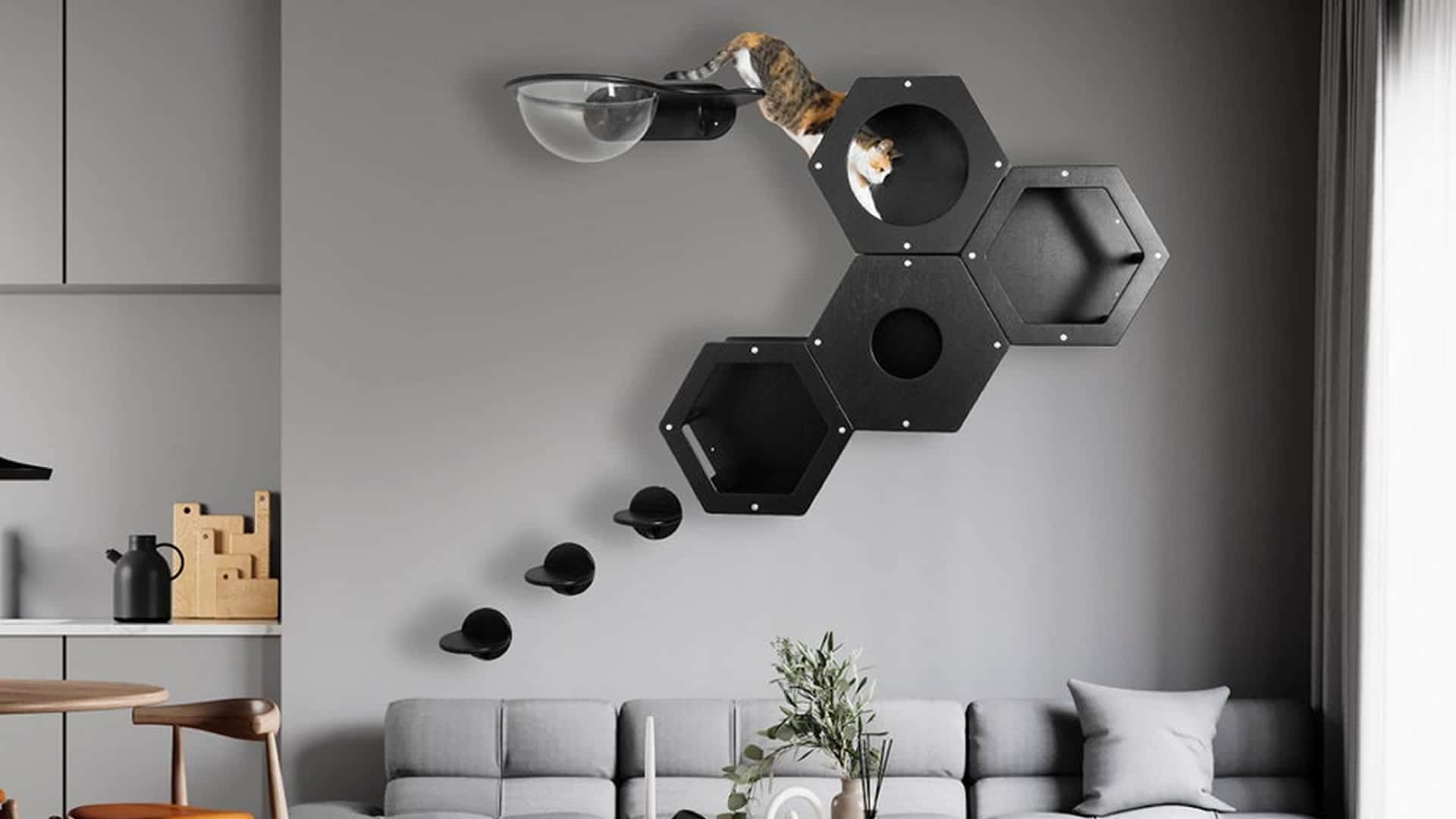 Always like to give your cat the best? This Cat Cave Modern Wall Shelf that is available on Etsy ticks all the boxes. The set comes with four honeycomb shelves with different shape and size holes for your cat to climb through. There are then three round steps and one drop shelf. Your kitty will have hours of fun navigating their new vertical obstacle course!
I love that the pieces that make up this kit can be placed anywhere along your wall. Space them out to challenge agile cats or have them leading to a window for the ultimate lookout spot. Alongside having a place to jump and play, the hexagonal shelves and drop shelf also make great resting spots. The enclosed space makes your kitty feel happy and safe.
Your cat isn't the only one spoilt with this product either. In terms of aesthetic appeal, this cat wall shelf adds a lot to your home. Choose from five colors so you can match the cat furniture with your current home décor. It makes a fantastic home feature as well, transforming a plain wall into an elaborate and exciting space that catches your eye.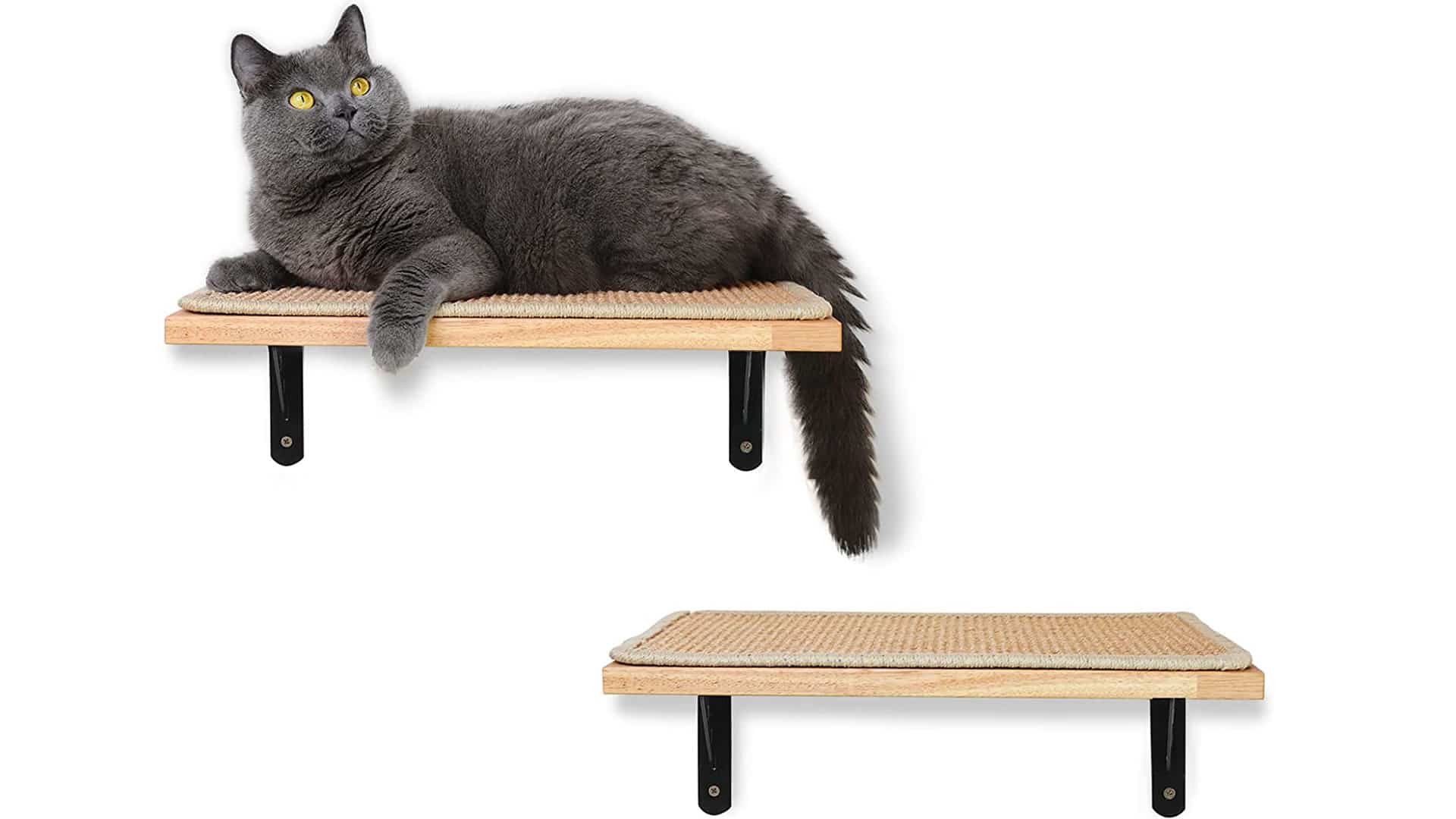 I usually always recommend installing cat wall shelves on a stud wall. This helps the shelf become more stable and avoid accidents. However, if you do only have drywall free in your home, try the FUKUMARU Floating Wall Shelf with Scratching Mat. The two shelves in this pack are both large with screws spaced 16 inches apart. This makes them much easier to install on the drywall in your home.
Both of these shelves are topped with scratching mats. Your cat will love filing its claws on these mats, thus helping to keep your furniture scratch-free. They also give the shelves more grip so you won't need to worry about your cat accidentally slipping off if they climb with speed.
Another great perk is that these shelves are made of beautiful solid rubberwood. Firstly, this will look stylish in any home and the neutral tones blend seamlessly with most interiors. The choice of material also means the shelves are designed to last. They are safe and durable, specifically made to withstand hours of play.
FUKUMARU sells a range of other wall-mounted cat products as well. All made from the same natural wood and sisal material, they work great together when installed on one wall. From scratching posts to ladders and hammocks, you can create an exciting cat jungle for your furry friend.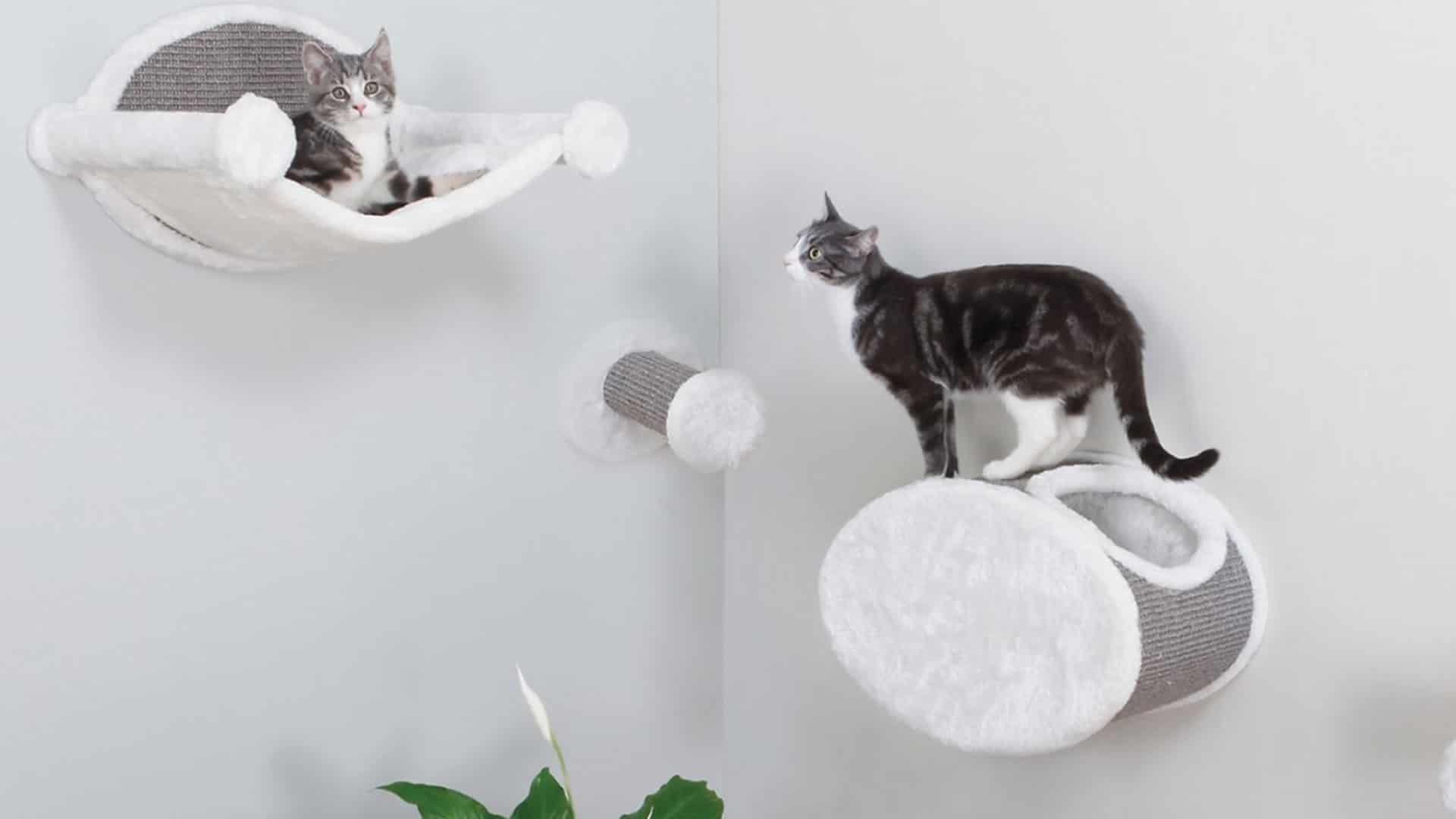 Is your cat more of a serial napper than a bundle of energy? The TRIXIE Lounger Wall Mounted Cat Shelves could be the perfect option for you. This set consists of two steps plus a cat hammock and a plush-lined cat condo with a removable cushion. Both the hammock and the condo are ideal sleeping spots made to be cozy and warm for your kitty.
You can place the components however you like. Most cats like sleeping on an elevated platform, so having the hammock or condo at the top of your wall works well. Plus, this means you can encourage a little exercise out of your lazy cat – they have to jump and scale the wall to reach their new favorite place to nap. After all, life is all about balance!
Being a wall-mounted product, these cat shelves can help save space in your home while keeping your cat mentally stimulated. You can choose between grey and brown colors, whichever best suits your home décor. Every component also has a sisal scratch mat. This way, the cat wall shelves not only add an extra element to your home but help prevent your current furniture from being clawed at.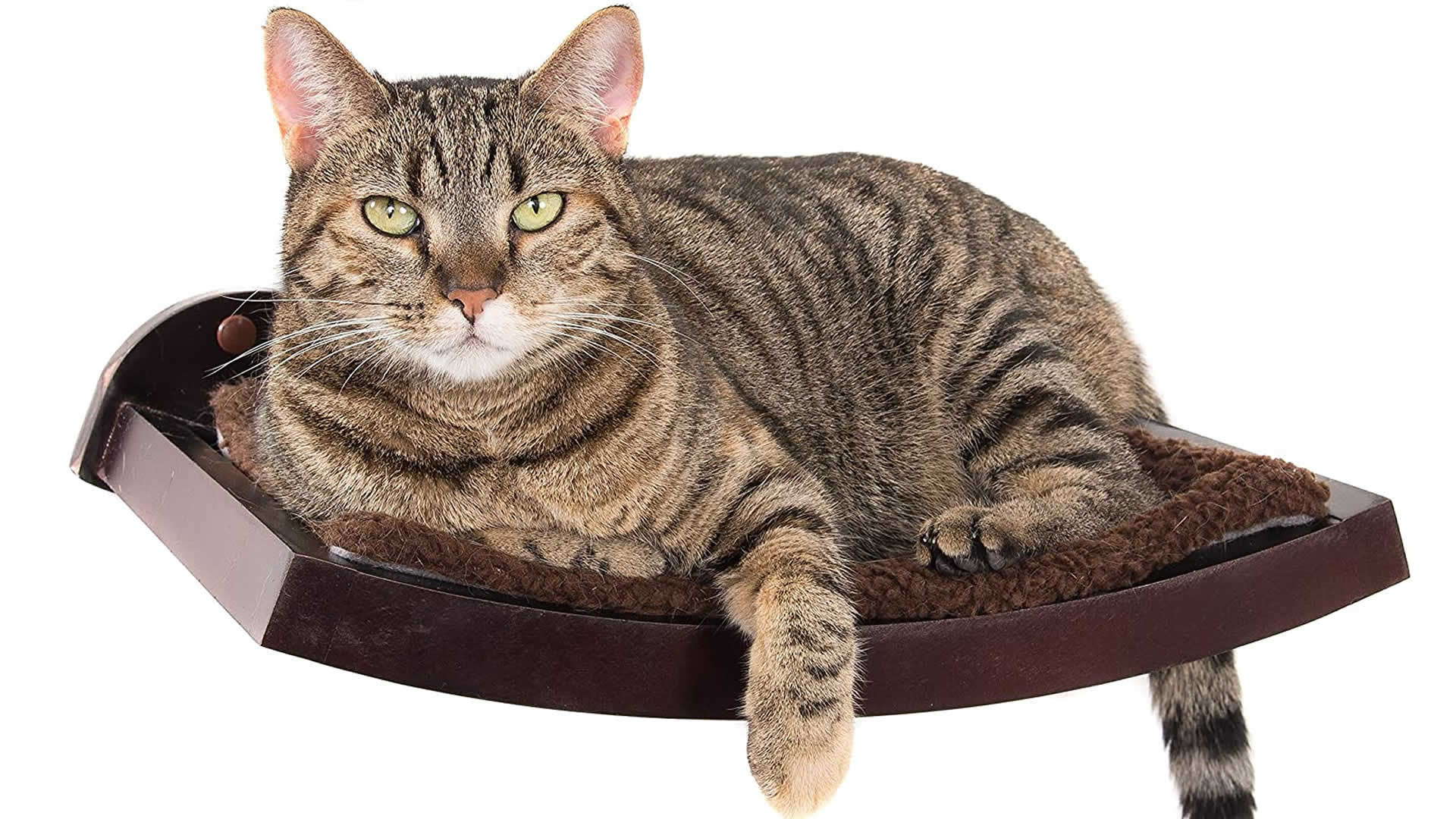 Art of Paws has made this gorgeous cat wall shelf that functions as a stylish bed for your cat. The shelf has a subtle curved design to mimic the shape of a hammock. This makes it much cozier and more relaxing. Combined with the soft wool cover, your cat is treated to maximum comfort.
I love the idea of installing this cat shelf at the same height as a window ledge in your home. This gives your cat a great lookout spot where they can watch the outside world go by. Alternatively, put the shelf near a radiator. Cats love curling up in the warmest areas of your home and so this will take their comfort to the next level.
Why not purchase a few of these shelves so your cat can climb up to the top platform? Cats instinctively love having an elevated place to rest in privacy. The shelves also come with a fiber-type cover that cats love to scratch. You can alternate between the topping you put on the shelves to make it exciting for your kitty.
Of course, we are only interested in cat wall shelves that look good, and this product doesn't disappoint. Its curved shape is pleasing to the eye. Plus, the polished wood finish gives it a sleek and modern look. It is an elegant addition to your living room, bedroom, or anywhere else in your home.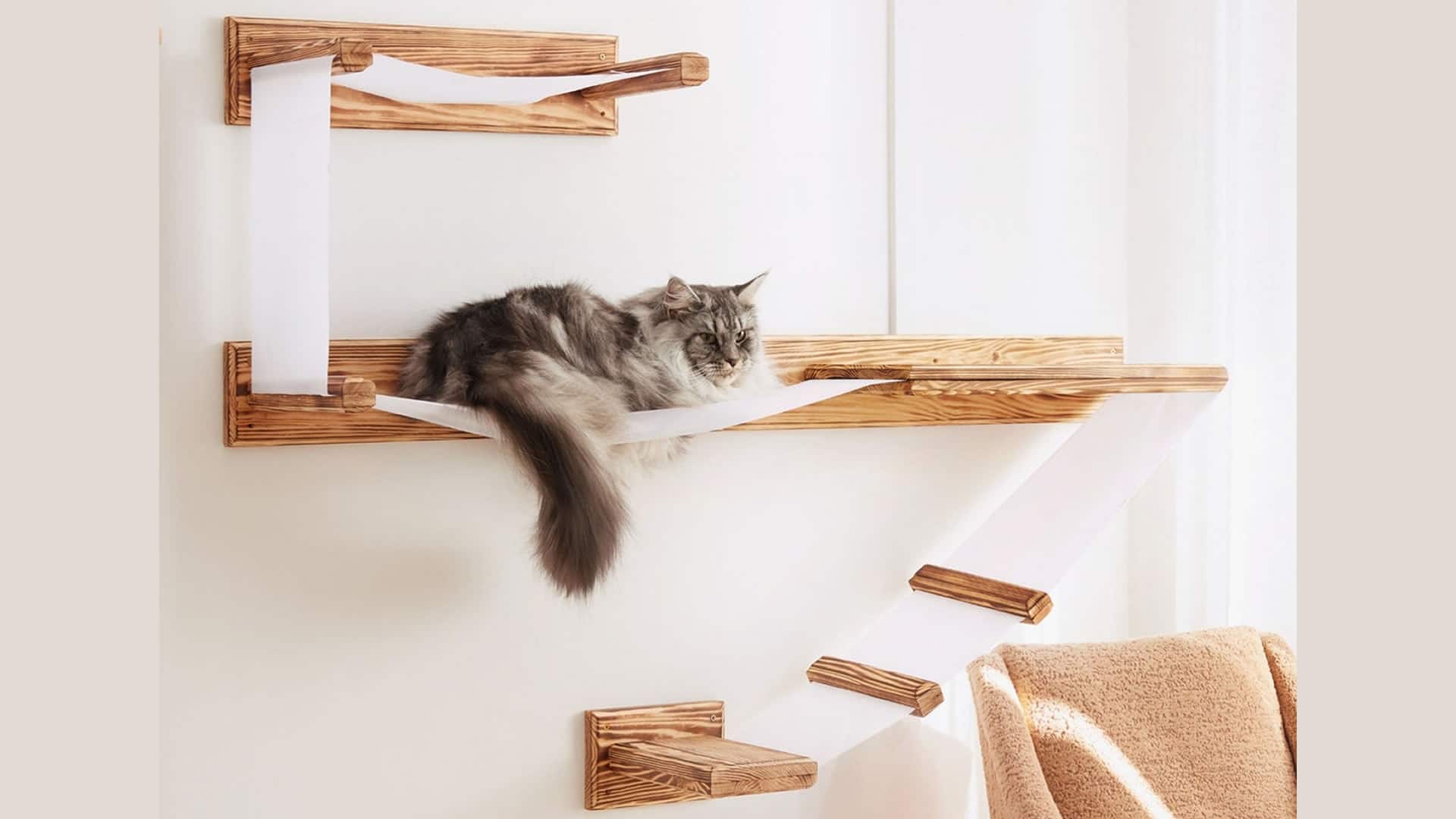 This product is for sure one of the most beautiful on the market. It is made from solid pinewood and is lovingly handcrafted. I love the look of the raw natural wood that works in many homes, but pairs particularly well with rustic décors. For anyone that feels like their home is a little lackluster, this cat wall shelf will be a welcome addition.
This piece of wall-mounted cat furniture is slightly different from others on this list. Rather than consisting of several pieces that can be placed in any arrangement, this multi-level shelf is fixed in position. Each of the three levels is linked by a white material. This creates a wonderfully cohesive look that flows effortlessly up your wall.
The white material also improves the comfort of your cat. They can climb up on the wooden parts but relax on the material. It bends slightly to hug their bodies and cradles them like a hammock. It is still super strong and sturdy though. Plus, I love the appearance of the soft white material against the wood, making for a beautiful contrast.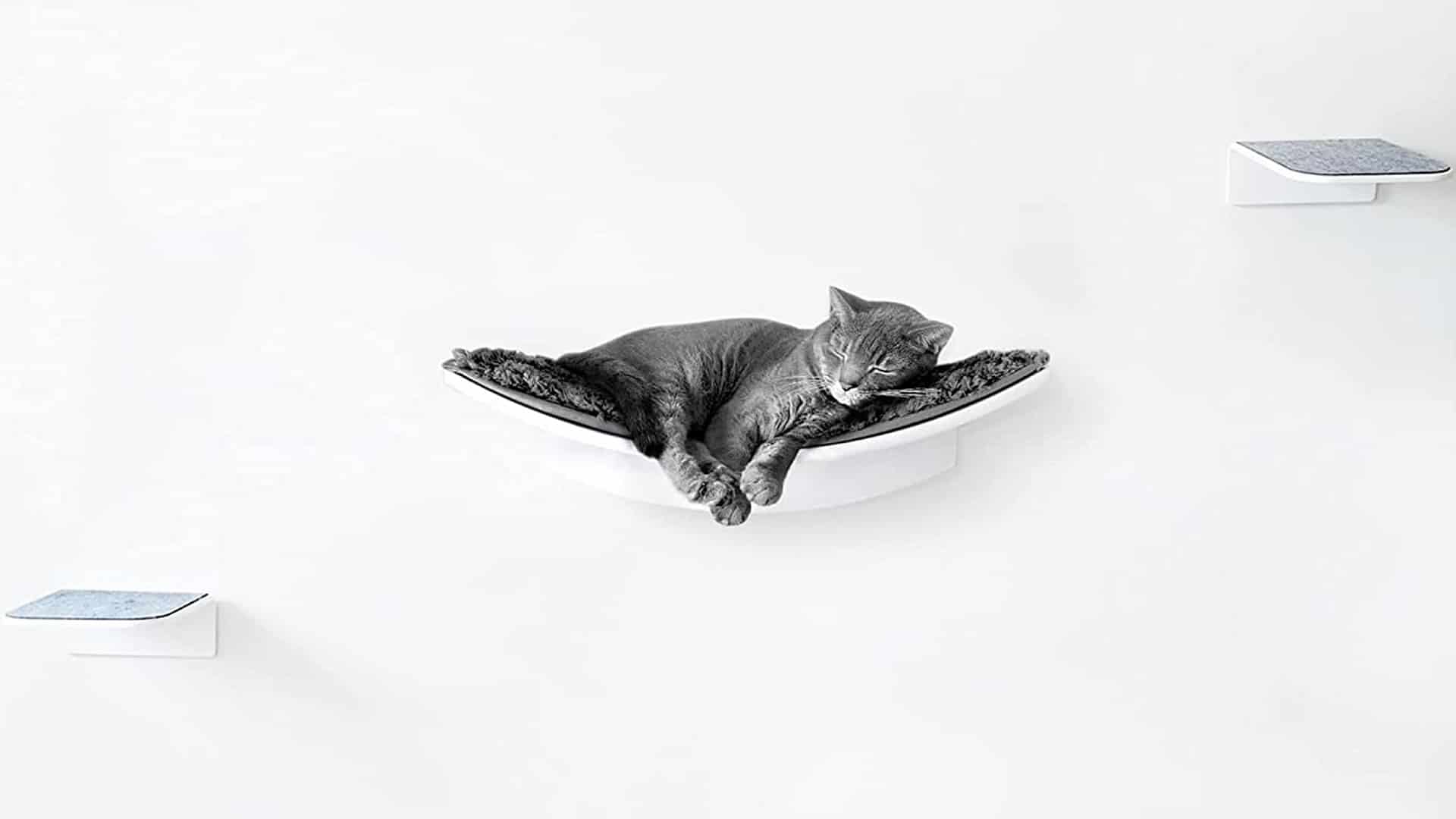 Another set of cat shelves that make an exquisite home décor addition is the BQW Cat Bed Wall Mounted Shelves. This consists of two small shelves your cat can use to climb, plus a large double-curved shelf. The larger shelf is covered in luxury carpet for added comfort. It is even removable for washing so you can keep it looking sleek and clean.
Cats will love using the stepping shelves to climb up to the main perch. From here, they'll have a great view of what is happening below and a space that is solely theirs. This will massively boost your cat's mood and help reduce stress. Climbing up to the top will also give them the physical and mental enrichment that they deserve.
One huge perk of this product is that it can support up to 60lbs in weight. While no domestic cat will ever weigh this much, it does mean these shelves are extremely secure. Big breeds and overweight cats can use them without any worry! They're designed to last and your kitty can have a lifetime of fun climbing and sleeping on these cat wall shelves.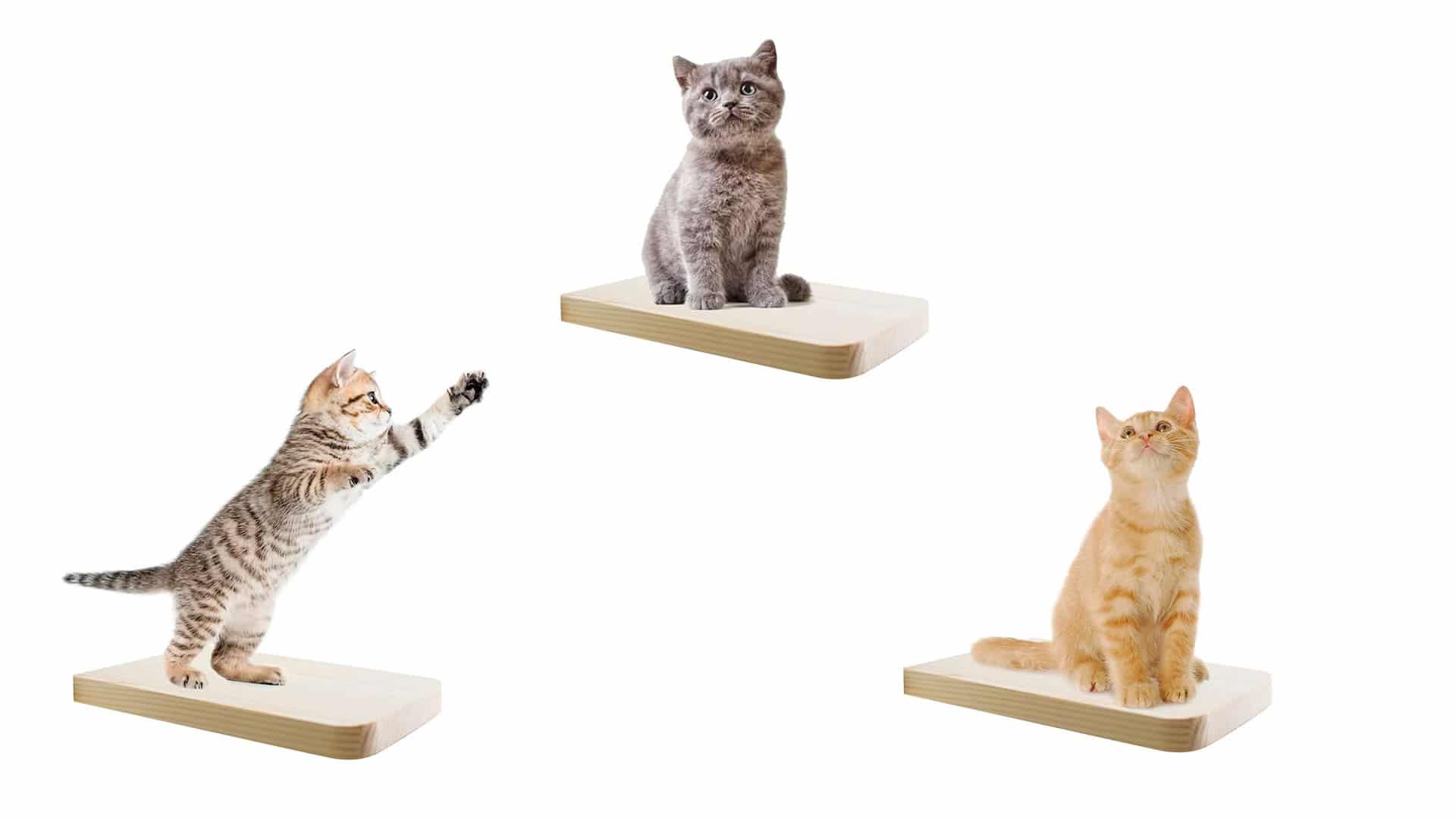 Finally, I bring you this three-pack of floating shelves by SnowTing. These have an extremely minimalistic style – each consists of a small wooden platform with curved edges. There are no extravagant details or fancy brackets in sight. They're plain and simple and thus work well in almost every home interior.
These are a great option if you have young kittens as they can hold up to 20lbs in weight. Many of the larger cat shelves are tailored with fully grown adult cats in mind. But, this trio of selves is small and gives your kittens an outlet for their bundles of energy. This is especially useful if you live in a small apartment and don't have much free floor space for your kittens to run and explore.
These cat shelves aren't made for scratching or sleeping on, unlike some other products I have mentioned. However, they aid your cat in climbing up your walls and reaching surfaces that were previously too high for them to climb to. This helps to meet your cat's instinctive love for finding high ground.
What Are Cat Wall Shelves?
Cat wall shelves are just as they sound. These are just like regular shelves that you can mount to any empty wall in your home. However, these shelves are specifically intended for cats to climb. This means many are much stronger than most regular shelves and have additional features such as sisal scratching pads or cushions.
I have recently bought some cat shelves for my furry friend and she loves them. What's more, I love them too! Cat shelves are designed to be decorative and improve your home interior. In fact, they're the perfect new trend for the modern home.
Below are just some of the benefits of cat wall shelves over traditional feline furniture:
Appearance: Of course, the main benefit of cat wall shelves is their decorative appearance. Rather than a bulky piece of cat furniture that can ruin your interior, cat wall shelves add so much. You can get ones made from rustic wood or others with a macrame-style hanging. They then come in a range of funky shapes and sizes. Whatever your home interior and personal style, you can find cat wall shelves to complement and add even more pizazz.
Save Space: Cat wall shelves are highly functional when it comes to saving space. The modern home is a busy home, and with so much going on many people are looking to save floor space at every opportunity. Cat shelves are a smart solution as they can be placed on any empty wall in your home. This makes them great in small apartments, but also a handy solution for even bigger homes that you want to keep looking clutter-free.
Tailored Experience: Cat wall shelves provide benefits for your cat as well. The main advantage is that they can be tailored to suit your cat and its needs. For example, if you have a young and highly energetic cat, you can purchase multiple shelves and place them far apart. This means your cat can get plenty of physical exercises as they leap between the different levels. Conversely, an older cat might better suit a single shelf that they can easily access. This level of personalization and flexibility isn't available with other cat furniture items.
Stimulation: Finally, cat wall shelves provide your cat with plenty of stimulation, both mentally and physically. In fact, they can cover pretty much all of your cat's wants and needs. They act as something for your cat to climb. They also give them an elevated platform to survey the room which helps them feel secure. Moreover, they can include features such as scratching pads and toys to channel other instinctive behaviors.
Cat Wall Shelves Buying Guide
As you can see, there are so many different cat wall shelves available. They are truly taking the market by storm! People love them for their undeniable elegant aesthetic appeal that boosts home interiors rather than detracting from them. They also provide cats with an elevated surface, one of their instinctive wants and needs. Plus, they're a great solution for smaller homes.
With so many options to choose from, it can be hard to know where to start! Below are just some of the features you should look out for when choosing which cat wall shelves to buy.
Stability and Maximum Weight Capacity
Stability is one of the most important considerations when purchasing a cat wall shelf. The last thing you want is your cat getting injured if the shelf falls off the wall. It could even land on a person or break items of furniture. Moreover, cats are less likely to enjoy using shelves if they quiver and wobble under their weight. There's no point in purchasing a cat shelf if your kitty refuses to use it!
For this reason, you should always check the maximum weight capacity of any shelf. Most cats won't weigh over 20lbs, but when jumping with speed the shelves can take a lot more force. Therefore, I only recommend purchasing products with a maximum capacity of 30lbs or greater. For overweight cats or large breeds, 50lbs+ is a better option.
Installation is also paramount if you want the shelf to be stable. You should always mount the shelf on a stud wall where possible, which will prevent the shelf from ripping out of place. Moreover, shelves with brackets tend to be more stable than floating shelves. Look for shelves made from good quality materials with long screws and drill holes placed 16 inches apart.
Size of the Cat Shelf
The size of the cat shelf is another important consideration before going ahead with a purchase. Firstly, you need to make sure the shelf is large enough to comfortably fit your cat. Start by looking at length. Generally, bigger is better as it gives your cat more space to lounge and play. Your cat can get more comfortable and curl up in any position they wish.
Don't forget about the depth of the shelves either! Cat shelves differ from regular shelves in their depth. Standard shelves for keeping books or decorative items on can be as small as 6 inches deep. However, all good cat wall shelves will be at least 10.5 inches deep. This gives your cat enough space to use them without risking falling off.
Size is important when considering the space you have available in your home as well. Don't cram cat shelves onto a wall. They'll look better positioned apart and with a little space surrounding them. Plus, keeping a bit of distance between shelves is more fun for your cat so they can run and jump between the different levels.
Coverings and Additional Features
Some cat shelves are literally just a shelf that is large enough and sturdy enough for cats to climb and lounge on. However, designers are getting more and more creative. Today, there is a whole host of different coverings and additional features you might be interested in.
One example is a simple scratching pad cover made from sisal or felt. This works as an anti-slip topping to help prevent accidents for cats that climb with speed. At the same time, your cat can use this covering to file their claws on. This is an instinctive behavior so is a great solution if you don't have space for a cat tree in your home.
On the other hand, carpet coverings make a shelf cozy and comfortable, transforming it into an elevated pet bed. Other products have incorporated hammocks into their design for even more comfort. Ladders, stepping shelves, and other features can transform a simple cat shelf into a vertical playground for your furry friend to explore.
Aesthetic Design and Appeal
Are you reluctant to purchase cat furniture because it doesn't fit with your home décor? Join the club! I put up with having a carpeted cat tree that ruined my home interior for years before finding cat wall shelves. I have now been converted. Cat wall shelves have an undeniable aesthetic appeal that works seamlessly with the rest of your home.
Of course, we all have a different opinion on what classifies as "good" home décor. Do you have a carefree boho-style interior with plenty of pattern, texture, and color? Perhaps you have gone for a modern minimalistic look? Or maybe you live in a rustic farmhouse adorned with wooden beams and oak finishings?
No matter what the design of your home, there are so many different cat wall shelf products to choose from. Before you make a purchase, think about how the product would blend with your current furniture and where it could be positioned for maximum effect.
Assembly and Installation
It is worthwhile considering how simple the cat shelves are to install in your home. Most will require a fair amount of time to install, especially if you do a proper job. This is the one drawback of wall-mounted cat furniture, but it is arguably worth it for the finished effect.
It may be obvious to say it, but the more components the product has, the longer it will take to install. If you are looking for simple assembly, one lone shelf could be your best option. This is also a better solution for rented apartments – your landlord will be more inclined to let you put up a single shelf than to drill multiple holes in the wall.
Conversely, there is no reason why you cannot treat your cat to a more elaborate climbing frame if you have a little time on your hands. All the parts required for assembly should be included, but double-check this before you buy. Also, you'll need an electric drill and a spirit level to get the job done as quickly and easily as possible.
Other Wall-Mounted Cat Furniture Products
Wall-mounted cat shelves are a great space saver that your cats will love. However, they aren't the only option if you're looking to take things vertically. There is a whole host of other wall-mounted cat furniture that you can combine with the shelves, giving your cat a whole new vertical world to explore.
Here is just a look at a few of the other wall-mounted cat furniture options you might be interested in. You'll also want to check out litter boxes for small apartments as well to help utilize all the available space in your home.
Cat Wall Feeders
Wall-mounted feeders are a popular item. These usually consist of a shelf with two bowls attached, one for food and one for water. They're great to combine with a cat shelf, especially if you have a small apartment as you won't need to find space for your cat bowls on the floor. Alternatively, they can be used as stand-alone items.
Aside from their space-saving benefits, wall-mounted cat feeders are great for picky eaters. They offer privacy when eating and help cats feel secure. They're also a clever way to keep cat food out of the way of dogs or other animals in your home. Plus, if you have a messy eater, these feeding stations can help reduce mess – your cat won't be able to push its bowls around the floor or tip them over.
Wall-Mounted Cat Trees
A wall-mounted cat tree is another great idea for small apartments. This gives your cat an exclusive space to explore as their own and channels all of their instinctive behaviors. They often consist of sisal posts for them to scratch, wall-mounted condos for them to hide, and several shelf-style platforms your kitty can jump between.
The benefit of these cat trees over traditional cat trees is that the furniture can be placed much higher on your wall. You can also adjust the height and vertical distance of each piece to suit your cat's level of agility. Moreover, free-standing cat trees often wobble and can topple over. With wall-mounted designs, you don't need to worry about this.
In some instances, a wall-mounted cat tree won't work. For example, perhaps you live in a rented apartment and don't want to drill holes into the wall. If so, don't worry – other cat trees for small spaces are available. From products that hang on the door to floor-to-ceiling options, your cat can get the exercise it needs no matter how small your home.
Cat Shelf Beds
Cats can sleep on cat shelves quite comfortably. They love being up high and find it easier to fall asleep when in a safe, private, and elevated platform. But if you want to treat your cat, a better option is a to purchase wall-mounted cat bed.
These practical pieces of cat furniture are similar to cat shelves but made with comfort in mind. They often have extra padding or cushioning. Hammock-style cat beds are also common. Their surface area is typically larger so your cat has more room to spread out. Again, combine with cat shelves or use stand-alone as a decorative alternative to a traditional cat bed.
FAQs
Q: Should I get cat wall shelves?
A: Yes – Cat shelves are a great addition to any home! Cats love having an elevated platform to climb to as it makes them feel safer. It also gives them a place to retreat when they are stressed while promoting exercise and play. You get all of these benefits without compromising on floor space.
Q: How much weight should a cat shelf hold?
A: A cat shelf should hold just over the weight of your cat. However, I recommend purchasing high-quality shelving that can hold upwards to 30lbs. While most cats will weigh less than 20lbs, this added weight allowance gives you peace of mind and helps to avoid any unnecessary accidents.
Q: Do cat shelves need to be mounted on stud walls?
A: Yes – Cat shelves should ideally be attached to at least one stud wall. This ensures they aren't going to fall off and can hold the maximum weight capacity with ease. If you only have a small cat that doesn't weigh much you might be able to get away with installing the shelf on a non-stud wall.
Q: Where should I install cat wall shelves?
A: Ideally, you will want to install cat shelves on a stud wall. You should also keep the shelves away from televisions, fragile items, or expensive items in your home. You don't want your cat jumping off the shelf and damaging what lies beneath!
Q: How far apart should cat shelves be?
A: The ideal distance between cat wall shelves depends on the agility of your cat. The more athletic your cat, the further apart they can be. If you are unsure, a horizontal spacing of 12-16" and a vertical spacing of 12-18" should work for most healthy adult cats.
Q: How do I get my cat to use a cat wall shelf?
A: You can encourage your cat to use its new cat shelf by enticing them with treats. If your cat responds well to catnip, you can alternatively use this to lure your cat up. In other cases, cats will explore the shelves at their own pace.
MY FINAL THOUGHTS
Cat wall shelves came about as a solution for small homes. They work vertically to provide your cat with somewhere to climb, sleep, scratch, and play despite a lack of floor space. However, cat wall shelves have become far more than just a functional piece of kit. Today, they are super stylish and can instantly vamp up your home interior.
As you can see from this list of products, there are cat shelves available in all colors, shapes, and sizes! Choose a minimalistic style if the rest of your home interior is packed with personality. Alternatively, opt for a product that complements your other design choices, or even makes your cat wall display a focal point of your home.