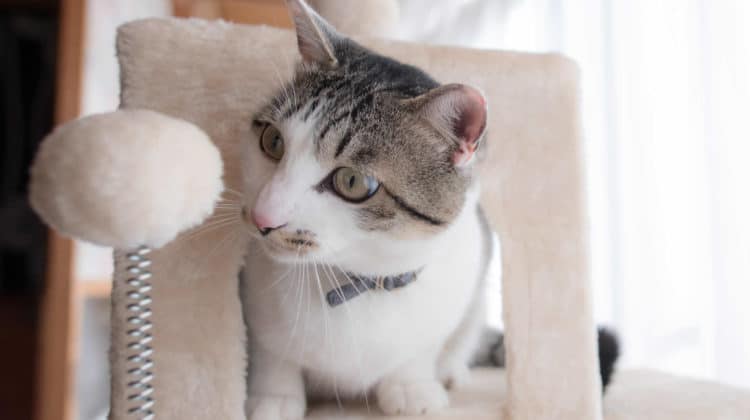 As a cat owner, it is our responsibility to make our cats' lives as enriched and exciting as possible. One way to do this is by providing a cat tree, which gives them somewhere to scratch, climb, hide, and play. This channels all of a cats' natural behaviors in the wild and can make them feel happy and content even when home alone, while also reducing any destructive behavior.
While this is all well and good, for anyone that lives in an apartment, finding an appropriate cat tree for small spaces can be a difficult and time-consuming task. It will need to be narrow and slim to work in your home, while also satisfying all of your cat's needs, taking into consideration their age, mobility, and preferences. Thankfully, I'd done the searching and hard work for you.
In this article, I have listed the space saving cat trees for cats of all ages and activity levels, so there will is something on here for everyone. Plus, I've included some advice on what to ask yourself before purchasing a product, to make sure you make the right purchase the first time around.
My Top Pick
When it comes to cat trees for small spaces, my top pick is the Kerbel XL Wall Mounted Cat Tree.
This is an elaborate and exciting design that your cat is guaranteed to love, with multiple platforms, sisal posts, a hammock, and a condo. However, thanks to its clever wall-mounted design, you can fit all of this into even the tiniest of apartments.
Being stable, durable, and long-lasting, while suiting all different sized and weight breeds, it's hard to find something bad about this product!
That being said, wall-mounted products aren't for everyone. So, you'll find the full review of this cat tree along with some other great contenders further down this page.
Best Cat Trees for Small Spaces
Before I crack on with the list of the best space-saving cat trees around, I want to disclose how I chose these products. In other words, what I was looking for in the perfect cat tree for a small apartment.
Space Saving: The fundamental thing I was looking for was a cat tree that didn't take up much space. There are wall-mounted options, over-the-door cat trees, or tall and narrow cat trees that don't take up much floor space, which are all great options for small apartments.
Enrichment: I also wanted a product that cats would find entertaining, so ideally it has places for a cat to climb, scratch, and hide, providing all-round enrichment.
Durable & Soft Material: Cat trees, or at least the right cat tree, will get a lot of use and have to resist a lot of scratching from kitty claws, so I needed a durable material. However, the platforms and perches should be soft so your feline can rest in comfort.
Sturdy: Lastly, it has to be sturdy. The last thing you want is your cat tree tipping over or breaking and your cat potentially injuring themselves. Narrow cat trees are less stable than larger ones, so this was a big one to look out for.
Now I've got that out the way, let's start with the product reviews so you can find the perfect cat tree for your cat.
In my opinion, the best space saver cat tree has to be the Kerbel XL Wall Mounted Cat Tree. If you're short on space in your home, wall-mounted designs are one of the best possible solutions as they take up no floor space and are often much sturdier than slim and narrower free-standing designs.
This product, in particular, is amazing as it has seven different platforms and levels, giving your cat plenty of excitement. Your cat should be pretty agile, as the cat tree is big and platforms spaced out. The smallest of the platforms also on average measure approximately 15 inches, which means even large cats can comfortably climb, play, and rest.
Holding all these platforms together are sturdy posts wrapped in durable sisal rope. This is one of the preferred scratching materials for cats as it is made to withstand kitty claws and has a texture similar to tree bark, which is where cats scratch in the wild. There is also a cat condo for hiding and a hammock, bed, and resting platform for lazing about and surveying the room from a height.
This cat tree comes will all the wall mounting equipment and screws needed to securely attach the climbing equipment to your home and let your cat play with confidence, knowing it won't wobble or fall under their weight. The downside is that you will need to drill holes into your walls, meaning this probably isn't the best option for rented accommodation.
Pros
Wall-mounted cat tree ideal for small homes
Suitable for large and small cats alike
Seven large and stable platforms for climbing
Durable sisal posts for scratching
Very spacious and perfect for agile cats with high energy
Cat condo, hammock, and bed included
Cons
More expensive than other models
Another great option for small apartments is the Big Nose Wall Mounted Cat Scratching Post. Not only is this product great for saving space, but it's also great for saving money, being one of the most affordable products on this list.
This wall-mounted cat tree is not as large or extensive as my top recommended product, but this does mean it requires less wall space. Measuring only 26 inches wide, it can be mounted in tight corners, next to a window for the perfect lookout platforms, or even on the back of a door. If you're looking for a floor-to-ceiling cat tree, combining two of these together is also an ideal solution.
It is also still exciting and enriching for cats despite its smaller size as it has three different levels, a long central scratching post wrapped in jute rope, and a thick and soft hammock for your cat to happily laze around in and watch the world go by. Each platform measures 9.9 inches by 13.8 inches making it great for medium-sized cats weighing up to 15lbs.
I also rate that this cat tree is made from natural solid pinewood, making it extremely durable and sturdy. However, this can be a little uncomfortable for your cat to lounge on, so I would recommend adding some cushions to give them an even better and more enjoyable experience.
Pros
Compact wall-mounted design that can be positioned anywhere
Ideal on corners, next to windows, or on doors
Multiple can be combined to create larger climbing towers
Made from durable pinewood
Can safely take cats weighing up to 15lbs
Three levels including a plush hammock
Very affordable price
Cons
Wooden surfaces are not the most comfortable
Has to be attached to the wall so not ideal for rented homes
If you have an unused corner in your small apartment, the Catry Large Activity Cat Tree may be just what you're searching for. This cat tree takes up only 19 square inches of floor space and thanks to its angled middle platform works perfectly slotted into the corner of a room.
This multi-level cat tree consists of four levels, a U-shaped hammock, and a half-pipe tunnel at the top, all covered in premium-quality carpet. There are also two hanging balls for added excitement, and while not all the posts are designed to be scratched, there are two paper rope scratch posts. Paper rope is a great alternative to sisal as it is more paw-friendly! However, it is less durable.
The quality of this cat tree is one of the best I have come across too. The base is made from durable MDF board which helps to keep the entire tower study, and its bottom-heavy design means even when your cat is on the top platform they're safe and secure. The whole tower is heavy, and it can comfortably take cats weighing 12lbs and up.
Pros
Made from high-quality premium materials
Works perfectly in the corner of a small room
Narrow cat tree taking up only 19" of floor space
Multi-leveled with four levels, a hammock, and a half tunnel
Two paper rope scratch post which is gentle on paws
Sturdy and secure, suitable for heavier cats
Cons
Paper rope is less durable than sisal or other traditional alternatives
Does require some free floor space
For anyone who is out of options – without any spare floor space, unable to drill holes into the walls or door, or with not doors suitable for hanging cat trees – you need to find a more temporary solution, such as the GOOPAWS Foldable Cat Tower.
This product has an intelligent and unique foldaway design, which is ideal for small spaces and can easily be put and taken down without the need for assembly. This allows your cat to have somewhere to scratch and play despite your lack of available space. Even when unfolded, it takes up a minimal 20.3 inches by 13.8 inches of floor space.
This cat tree is also great as it gives your cat plenty of opportunity to play, scratch, and explore. It has natural sisal sides perfect for digging their claws into, a hanging pompom toy to channel their hunting instincts, and a hammock for your cat to jump up to. The base also has a small condo and cushion for your cat to comfortably hide inside.
When it comes to quality, I also have no complaints. You'd think that a collapsible cat tree would be flimsy and unstable, but the egg-timer-shaped design helps ensure it is rigid and secure. Material-wise, it is also made of a soft but durable plush material designed to last with strong stitching holding everything in place.
Pros
Unique and innovative foldable design
No assembly required
Even when out it takes up minimal floor space
Scratching pads, pompom toy, cat condo, and hammock
Made from premium materials designed to last
Suitable for cats of all ages and activity levels
Cons
Not many climbing platforms
The tallest and narrowest cat tree you can get is the S-Lifeeling Cat Climber Tree, making it another fabulous option for anyone short on space in their home. This product measures only 10.6 inches by 17 inches and so takes up next to no floor space, but runs from floor to ceiling for an ultra-tall design.
Not only does the tall shape mean four climbing platforms can fit between the base and the top, but it also helps with stability. By wedging the cat tree between your floor and your ceiling, it helps to prevent it from toppling over and ensure it stays firmly in place. Plus, with the option to divide the cat tree into multiple sections, you can easily adjust it from 90 inches to 112 inches tall to fit the height of your ceiling and install it wherever you wish.
The structure is covered in a thick carpet covering which is durable and long-lasting while super easy to clean with a hoover. While it is not as good for scratching as sisal, the supplier does sell sisal rope separately for you to wrap around the posts if you did want this added feature.
The main downside is that this product is not suited for large cats and is designed with smaller breeds and kittens in mind.
Pros
Tall and narrow cat tree taking up minimal space
Floor to ceiling design for stability
Four fun platforms for climbing up and lounging on
Sisal rope available to make for a better scratching surface
Adjustable to fit the height of your ceiling
Cons
Not suitable for large breeds or overweight cats
Additional construction time if wanting to attach sisal rope
Basic design
Wall-mounted cat trees are undeniably a great option for saving space, but for anyone staying in rented accommodation, you may not have the authority to start drilling holes in the walls. If you know you'll be moving soon, it's also not worthwhile messing around with screws.
If either of these scenarios sound like your current situation, fear not – try the MiMu Door Hanging Cat Tower. This is an over-the-door cat climber which can easily be installed with no permanent fixtures or fittings and takes up minimal space in your home or apartment.
Although this product looks flimsy as it is made from material, it is actually made from scratch-resistant nylon which won't get torn apart by your cat. This also makes it perfect for traveling and if you ever need to put the cat tree into storage it will take up little space. However, it is less sturdy than other designs and only suited for kittens or small cats.
The tree itself has three separate platforms for climbing up to and two enclosures, ideal for your kitty to jump up, hide in, and take a nap. Unfortunately, it does lack any sisal poles or scratchable surfaces, so this won't help prevent any destructive scratching behavior and you'll need to purchase a separate scratching post for your cat to file their claws on.
Pros
Ideal for rented spaces as no permanent fixtures
Door hanging cat tree to help save space
Three enclosures to climb and nap in
Made from scratch-resistant nylon
Perfect for traveling and takes up minimal storage space
Very affordable price
Cons
Not the most sturdy and is more prone to breakages
Best suited for kittens or small cats only
No scratching posts
Does your cat love climbing and exploring new heights over lazing in hammocks, hiding in enclosures, and scratching at things? If so, they'll love the Midlee Cat Wall Furniture Climber. This is another product that requires no floor space as the different platforms and ledges are attached directly to your wall.
One benefit that this product has is that several different components are not attached to each other, meaning you can position them however will best suit your feline. For example, if you have an older and less agile feline you can place the platforms closer together. It also makes it easier when finding a vacant spot on the wall for it in your home.
Included with this product are six platforms, a cat shelf, a scratching post, and a flat scratcher that sits directly against your wall. You also get all the hardware and fixings needed to put this space saver cat tree up, but because of all the parts installation can be a little complex.
All the platforms are made from safe and durable wood, fantastic in ensuring the product lasts. However, if you have a particularly active kitty, watch that they don't slip on the surfaces when traveling with speed. If so, you may need to attach some carpet to prevent this.
Pros
Can be mounted on the wall so frees up space in your home
Includes multiple shelves and scratching pads
Pieces can be arranged as you wish to suit your cat and your home
Made from solid and durable wood
All fixtures and fittings included
Cons
Smooth surfaces so enthusiastic cats can fall off
More expensive than other products
Installation can be a little complicated
Intelligent and intuitive cat trees for small spaces – including wall-mounted options, over-the-door cat climbers, and collapsible designs – are all great options. But if you're after a more traditional-looking cat tree, you might love the Made4Pets Modern Cat Tree Tower.
As a more classic design, it is free-standing and does take up slightly more space than a thin cat tree. However, it still does a pretty good job and only covers an area of 19 inches by 21.3 inches. Sitting at a huge 61.8 inches tall, there's plenty of fun to be had with this elaborate design. Plus, its sleek and modern design makes it look clean and elegant and so it won't overwhelm your small space.
This cat tree offers six different platform levels, two enclosures each with a plush cushion for added comfort, and a cozy top perch for your cat to sit and observe the room. On top of this, you'll find 6 sisal-wrapped scratching posts to satisfy your cat's need to claw, and a pompom toy for added fun.
The entire structure is also sturdy and durable thanks to its bottom-heavy design and solid base. Most cats can therefore enjoy using this cat tree, with it being able to support up to 15lbs. However, large breeds or overweight felines may struggle with the size of the platforms.
Pros
Traditional cat tree design
Small dimensions so great for small homes
Modern and sleek as to not overwhelm your space
Multi-leveled with two condos, plush cushions, and scratching posts
Durable and sturdy design
Can easily support cats weighing up to 15lbs
Cons
Takes up more space than wall-mounted or narrow designs
Not suitable for large or overweight cats
If you live in a small apartment, finding a cat tree for a kitten or a small cat is much easier. For example, take this free-standing 67i Multi-Level Cat Tree Activity Tower.
This is a free-standing cat tree so you will need some floor space; however, it does only have a small footprint measuring 17.9 inches wide by 17.9 inches deep. There are also no hammocks or ladders protruding out the outside of these dimensions, making it easily slot into a tight corner and is perfect for a small apartment.
Despite being slim, this product is 55.11 inches tall and made up of four different levels for climbing, an enclosure for your kitty to hide in, and a ladder and hanging mouse toy for added fun. There are also several scratching posts wrapped in durable jute rope for your kitten to claw at to their heart's content, and a plush top platform for lounging around on.
Because of its small size, this cat tree is unfortunately only suited to kittens as it is lightweight. This means it is not sturdy enough to support large or overweight cats, and the platform and condo would be too small for them to comfortably climb and rest in.
Pros
Small footprint cat tree taking up only 17.9 square inches
Multiple levels, an enclosure, a ladder, and a toy
Multiple scratching posts wrapped in durable jute
Plush material for comfort
Perfect size for kittens to climb and play
Cons
Only sturdy and large enough for kittens
Very lightweight and needs to be against a wall or corner
Space Saver Cat Tree Buying Guide
This is a pretty extensive list of products, and you may be surprised by the number of great options and designs there are to choose from! In fact, it can be a little overwhelming, but here's a handy buying guide and questions you can ask yourself to help you narrow down your search and find the ideal product that is right for you, your cat, and your home.
Size of Your Cat
The first consideration you need to think about is the size of your cat. Unfortunately, most cat trees designed for small spaces are, well… small. When I say small, I don't necessarily mean in terms of height, as the majority work upwards to make use of the vertical space. However, the platforms and condos of narrow cat trees are often too small to comfortably fit large breeds or overweight felines.
As cat trees for narrow spaces are typically taller, they are also more likely to topple over as their center of gravity is higher. This means that not only are some of these products not large enough for bigger breeds, but they're also not safe for them.
If you have a large breed such as a Maine Coon or a Ragdoll, you need to be more selective about the stability of the entire unit and the size of the individual platforms. On the other hand, kittens and smaller cats should be okay using whatever.
Space in Your Home
Although there may not be much of it, you also need to establish what space you have available in your home. For most, floor space is the main issue. So instead, do you have a large empty wall where you can install a wall-mounted cat tree? If not, how about a door that has space behind it to attach a door hanging cat tree?
If you do have spare a corner you can tuck a cat tree into, get out your tape measure to determine exactly what size area you're playing with. And if none of these options work, it may be best to get a collapsible cat tree that can be put up and taken down as needed throughout the day. There is a solution for everyone, you just need to work out which solution works best for you.
Homeowner or Rented Apartment
The main caveat of many cat trees for small apartments is that they are often mounted to your wall or door to keep them safe and secure. While this should be no issue if you own the home that you live in, living in rented accommodation makes things a little more difficult, as your landlord probably won't be happy with this. Therefore, people staying in rented housing are best using freestanding cat trees.
Age of Your Cat
The age of your cat is also a key consideration as this will determine the size and activity level of your cat. For example, senior cats are more prone to joint and mobility issues, being less active than young felines. Because of this, they are well suited to cat trees with fewer levels and big jumps. However, as older cats will be fully grown and larger than kittens, they'll need a more stable cat tree.
On the other hand, younger cats are small and playful, and so would benefit most from an elaborate design with plenty of platforms for them to climb, surfaces to scratch, and places to hide. As long as the cat tree isn't too large, size is also not as important for kittens. However, if you own a kitten, you may wish to avoid a cat tree that permanently fixes to your walls. When your kitten grows, you may need to upgrade their cat tree to a larger and more intricate design, which is easier if it's freestanding.
How to Make an Apartment Cat-Friendly
Despite what many people think, cats are perfectly happy living in small homes or even studio apartments. Cats are naturally drawn to cozy spaces, which is why they love hiding in cardboard boxes and on little shelves up high and away from the action. However, you will need to make your apartment cat-friendly to ensure they stay happy and don't get bored.
The number one thing you can do is invest in a space saving cat tree, as these provide your cat with somewhere to climb, jump, scratch, play, and hide, providing them with plenty of enrichment. However, here are some other things you should do to ensure your small living space is cat-friendly.
Hidden Litter Boxes
To keep your cat happy when it's doing its business – and to help prevent toilet accidents around your home – the position of your cat's litter box is vital. However, in a small apartment, it can be difficult to find a private and secluded space for it, and quite often their litter box has to sit in plain sight.
I imagine having your litter box on full display is not the ideal look you're going for in your home! So, to help combat this, consider purchasing a litter box for small apartment which are designed to camouflage in with the rest of your home and help contain any mess and odors inside the tray. If you want to kill two birds with one stone, you can even purchase a cat tree with litter box attached to hide the litter tray in plain sight while making the most of your available floor space.
Collapsible Beds or Window Seats
Your cat should also be in comfort and have somewhere cozy to rest its head at the end of the day. But again, small living spaces can make this seem impossible. One way around this is to get a collapsible bed that can easily be tidied away in the morning and brought back out at night-time. This ensures your cat has somewhere safe and comfortable to curl up and retreat to while you're sleeping.
Window seats are another great option and many cats love spending their days looking out of windows and watching the world go by outside. Many adhesive options use suction cups to stick onto your glass panels. Alternatively, some beds and hammocks can attach to your radiators, giving them a warm place to rest without taking up much space.
Creative Feeding Solutions
Where you keep your cat's food and water bowls is also important. They should ideally be away from a lot of noise and foot traffic so that your cat can eat in peace. Plus, they should be kept far away from your cat's litter tray.
Achieving this optimal position in a home with limited space sometimes required you to get creative. A cat tree with feeding station is one option, but you could again take things vertically and place your cat's food and water bowls on a window ledge or on a shelf above other items of furniture in your home. Cats are not scared of heights and will quickly feel comfortable eating from a height.
Plenty of Toys
All cats need plenty of toys regardless of whether they live in a tiny home or a mansion. However, cats living in small apartments should have more. Thankfully, cat toys are typically small and won't take up much storage space, making it easy to provide your cat with lots of exciting stimuli.
Some cats also love playing and hiding in tunnels and boxes, which isn't as straightforward in a small home. However, just as there are collapsible beds available, there are also pop-up and fold-down tunnels and other play items that can be brought out when you need them, and easily stored away to free up floor space when you're done.
Lots of Places to Scratch
When cats get bored, one of the most common destructive behaviors seen is them scratching excessively, often using our furniture, couches, bookcases, or other household objects as their preferred scratching place. When keeping a cat in a small home, you therefore need to provide plenty of spots for them to dig their claws into to deter them from ruining your furniture.
Assuming you have a cat tree, that should already be one place for your cat to scratch. However, you can easily provide more. There are a range of wall-mounted scratching posts or even ones you can hang from door handles which take up little space. Plus, they're super affordable.
FAQs
Q: Are cats happy in a small apartment?
A: Yes, cats are completely fine in a small apartment. Cats are known for liking small spaces, hence why they love hiding in cardboard boxes! As long as they have somewhere quiet for their litter tray and a few options for climbing, scratching, playing, and hiding, your cat will be happy.
Q: Do cats get bored in small apartments?
A: Cats can become bored if they live in a small apartment, but as long as you ensure you provide them with toys and cat towers to provide entertainment they can have very fun and happy lives.
Q: How can I make my small apartment cat-friendly?
A: One of the easiest ways to make your apartment cat-friendly is by purchasing a cat tree, which satisfies their need to jump, climb, scratch, rest, and play in one swoop. Selecting a special cat tree designed for small apartments is great for homes with limited space.
Q: Where should I put a cat tree in a small apartment?
A: Ideally, cat trees should be put in a spacious room to give your cat the best view possible. However, with small apartments, this isn't always possible. In these cases, the corners of the room or next to a window will work well so your cat can have as broad a view as possible.
Q: What is the best cat tree for small spaces?
A: In my opinion, the best cat tree for small spaces is the Kerbel XL Wall Mounted Cat Tree. It has seven different levels, a hammock, a condo, a bed, and sisal scratching posts, which all mount to your wall to save floor space and make the most use possible out of the space you do have available.
Q: Do cats really need a cat tree?
A: Yes, all cats – no matter their age, weight, activity level, or health – need a cat tree. They provide your cat with space for them to be on their own, while also promoting exercise and channeling cats' natural behaviors. Plus, they help reduce destructive behavior, like them scratching your furniture!
MY FINAL THOUGHTS
Just because you live in a small apartment or have limited space in your home, it doesn't mean you can't get an exciting cat tree that your feline will love. From cat towers that mount on your door or walls to thin and narrow designs ideal for taking up minimal floor space, there really is something for everyone.
Your cat deserves to have fun at home and live an enriched life, so select one of my recommended products based on your cat and your current living situation, and they'll only thank you for it!