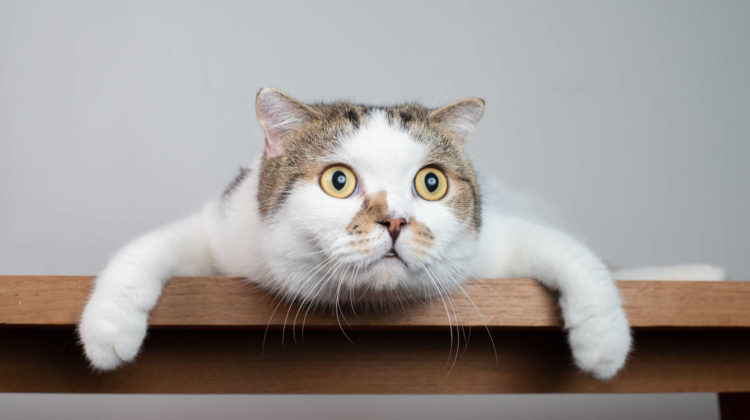 For any cat owner, a cat tree is a necessity for a happy, healthy kitty. They provide your cat with something to scratch, climb, and hide in, three instinctive behaviors that need to be met for your cat to live a fully enriched life.
Besides, this will deter your cat from choosing to climb and scratch your furniture instead! Win-win!
As cat trees are such a common household object for any pet parent, there is a huge variety of products you can choose from – of all shapes, sizes, colors, and materials. Cat trees with no carpet are my personal preference. They are sleek and look better in modern homes, plus they're much easier to clean and maintain, and cats love the natural material.
To help you find the ideal non-carpeted cat tree, I've reviewed some of the best products on the market in this article. Whether you want a carpet-free cat tree for small spaces, a larger feline, or a unique and aesthetically pleasing design, I've got something for everyone! So, let's get started.
My Top Pick
The non-carpeted cat tree that I personally use and love is the Sweet Barks Elegant Wooden Cat Tree. With three cushioned platforms, a cute cat condo, and several sisal scratching posts, this cat tree provided my kitty with heaps of enjoyment and comfort. The wood also has a luxury look and is super easy to clean, helping to keep the cat tree looking great and lasting longer.
You can find the full review for this cat tree further down the article, along with several other top contenders. In fact, there's guaranteed to be a carpet-free cat tree that you love on this list!
Best Cat Trees Without Carpet
Before I run through my in-depth product reviews, I wanted to let you know what I was looking for – aside from a carpet-free design – and what features put these seven products a head and shoulders above the rest.
Soft & Durable Material: The material that the cat tree is made from needs to be durable, as it will take a lot of claws from climbing, jumping, and scratching! However, I also wanted some parts of the cat tree to be soft for my cat to comfortably laze around on.
High Enrichment Factor: The best cat trees have posts for cats to scratch, multiple platforms for them to climb, softer perches or beds for them to rest, and condos for cats to hide in. I was looking for a product that ticked all these boxes.
Stable Design: The tree also needed to be stable so that my cat felt confident when using it. Also, this will prevent any nasty accidents as the last thing I was in my cat tree collapsing! If you have a large breed, stability is even more crucial.
Appropriate Size: The size of the cat tree you need depends on both how much space you have in your home and how large your cat is. As this varies from person to person, I have included a range of cat trees to suit absolutely anyone.
Now you know what features were essential when on my search, let's start with the product reviews!
The best cat tree without carpet that I use and love is the Sweet Barks Elegant Wooden Cat Tree. As the name suggests, this cat tree is super sleek and modern-looking, and a far cry from the old-fashioned traditional carpeted cat trees that never go with your home décor! The wood it is made from has a beautiful finish and adds a touch of elegance to any home.
Not only does the wooden material look great, but it is also a really strong and stable material that doesn't wobble under your cat's weight. Pair this with the tightly-woven sisal posts, another durable material, and you've got yourself a great-looking cat tree that will last a lifetime.
This product also comes with removable memory foam cushions which attach to the surfaces of the platforms. This is a huge pro, as often wooden cat trees are lacking comfort, and cats can even slide off the slippery wooden surface if climbing quickly. With this cat tree, these issues are completely avoided. The fact that the pads are removable is also great as they can easily be washed, keeping the cat tree clean.
Also, and arguably most importantly, my cat loves this cat tree. It has several posts for her to scratch and file her claws on, also encouraging her to leave my furniture alone! She also loves jumping between the platforms, whereas the spacious condo house is the ideal spot for her to curl up and get some privacy.
Lastly, this cat tree is amazing for both small space and big breeds. Usually, cat trees are either one or the other, so this is another huge perk! The design is compact and so can easily slot into a small corner of your room, but thanks to the study design and spacious platforms and condo, it can also easily house large cats such as Maine Coons.
Pros
Elegant wooden design that looks great
Study cat tree with a strong wooden base
Memory foam cushions for added comfort
Pads are removable for easy cleaning
Wooden surface easily wipes clean
Durable sisal material used for the scratching posts
Highly enriching with multiple platforms, scratch posts, and a condo
Reasonably priced for a wooden cat tree
Cons
The corners of the condo are a little sharp
If you have more than one cat, a great product is this Wooden Cat Tree Condo by Cat Forest. This product has multiple scratching posts, two cat condos so your kitties can both curl up in privacy at the same time, and two high platforms to climb up to.
As with my top product, this is another wooden cat tree that is perfect for wiping clean as it won't collect and hair and dust, besides looking a lot more attractive than a carpeted option. To prevent slipping off the platforms, the two at the top also have a lipped edge so your cat feels secure.
I would like to see comfort as a higher priority, but this is only me being picky. The cat condos do have a soft sheet inside each to make it slightly comfier than lying on hard wood, but I would like to have seen removable cushions. Nevertheless, you could purchase cushioned pads separately if you want to treat your cat to a little more luxury.
However, there is still plenty to love. For one, the stability of the cat tree is great. Despite being over 5-foot tall, the wide base and the strong wooden material means it won't wobble or collapse under the weight of your cat. The posts are also wrapped in sisal which too is made to be durable and stand the test of time.
The only real downside of this cat tree is that it's best suited to smaller breeds. The cubby holes are only big enough for small to medium-sized cats to comfortably fit in, and despite being study, the cat tree is not designed to take a huge amount of weight. Kittens or smaller felines will have a great time though!
Pros
Attractive and modern wooden design
Easy to wipe clean and doesn't collect dirt
Two condos and high platforms, great for multi-cat households
Lipped edges to prevent cats from falling
Durable sisal scratching posts
Wide base and wooden material for a stable design
Cons
Only suitable for smaller breeds
No cushions and so slightly lacking in comfort
If you are looking for a cat tree without carpet for a kitten, the Catry Wooden Cat Tree Condo is another fabulous option. I used this for my kitty until she outgrew it, and she loved it! It's also an affordable price so you won't need to worry too much about your kitten getting too large for it.
This is one of the most simple cat tree designs. The product consists of a cat house at the base, with a scratching post extending upwards and a higher perch for kittens to laze around on. While this certainly means it is not the most extravagant, it still channels all of your cat's instincts and teaches your kitten all the basic skills, while keeping them from destroying your furniture!
I also think this cat tree looks lovely! With no tacky and outdated carpet, it's a welcome addition to any home. It is made from high-quality wood and the scratching posts are reinforced before being wrapped in unique paper rope – a more sensitive and skin-friendly alternative ideally suited to delicate kittens.
This cat tree also oozes comfort. The condo at the base has a soft pad that keeps your kitten cozy but which can also easily be removed when you need to each it. There's also a mat for the center platform, and a fleece bed on top which can too be detached and washed.
Pros
Simple cat tree design that's perfect for kittens
Made from high quality and durable material
Skin-friendly jute paper rope
Multiple cushioned pads and a bed for comfort
Pads are removable for easy cleaning
Attractive and elegant design that fits with most décor
Extremely affordable for a wooden cat tree
Cons
Best suited to kittens and not large enough for big cats
On the opposite side of the spectrum, if anyone is looking for a cat tree for large felines, try the PAWZ Road Cat Tree Multi-Level Cat Tower. This product has been designed with our larger furry friends in mind, with extra-large platforms and cubby holes for them to play and laze in comfort.
This is also another great-looking design, with neutral tones and a sleek wood finish. Plus, the wood also makes the cat tree more heavy-duty and suitable for our bigger felines. It also comes with an added safety strap so you can anchor the cat tower to the wall and never fear that it may accidentally topple over.
In terms of enrichment, this product too provides it all. With two cat condos to hide in, three platforms to climb, a sisal scratching post and mat, a cozy top perch, and a dangling ball toy, what more could your cat want?! I also love that the toy is removable and detachable so you can replace it when it undoubtedly gets destroyed by your kitty.
Pads can also attach to the platforms, adding both comfort and a safety element to make the wooden surface less slippery. These are removable, as is the cushioned bed on the top, for easy cleaning and maintenance. The rest of the cat tree can simply be wiped clean.
Pros
Large and sturdy enough for big breeds
Attractive design in neutral tones
Extremely enriching with multiple elements
Removable pads and cushions for easy maintenance
Detachable and replaceable toy for added fun
Large cozy perch on the top
Cons
Difficult and fiddly to put together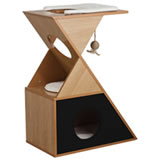 Next, if you're after a more quirky cat tree, try the Staart Modern Cat Toy Tower. This non-carpeted cat tree looks so sleek it's as much as a gift for you as it is for your cat! Made from solid wood there is not a bit of old-fashioned carpet in sight. It also comes in black or white so looks great no matter what your home décor, and has an unusual and contemporary angled design, which looks funky while being great at saving space.
The solid wood material and unique shape also make it extremely sturdy – did you know that triangles are the strongest shape? This cat tree has no high platforms balanced on weak scratching posts, and so you and let your cat can climb with confidence knowing it's not going to topple over, wobble, or collapse. In fact, it can hold cats weighing up to 25lbs.
Your cat will love it just as much as you do thanks to its three different levels for her to enjoy climbing, a sisal scratch mat that she'll love scratching away at, and a dangling ball toy. The base is also a cat condo for her to hide and rest in, and she can do so in comfort thanks to the three removable cushioned areas.
Pros
Unique and contemporary design
No carpet for easy cleaning and a modern look
Removable cushions for comfortable lounging
Compact so works well in small homes
Made from sturdy solid wood
Can support cats weighing up to 25lbs
Highly enriching with scratch pads, a condo, platforms, and toys
Cons
Cushions could be stuck on more tightly as they can come lose
Corners of the cat tree are a little sharp
For anyone wanting to bring some of the outside inside, the Downtown Pet Supply Deluxe Cat Tree could be the product for you.
Instead of being covered in carpet, each platform is covered with soft, green, faux grass. There are also decorative leaves wrapped around the entire thing to make this cat tree look something like a real-life tree. In the wild, cats do scratch at bark and wood, and so having a cat tree that looks similar to what cats scratch and climb in nature can be extremely encouraging for them to use it.
This is also a fab option if you are short on space in your home. The cat tree takes up only a small floor footprint of 14 inches by 8 inches and uses the vertical space in your home instead. However, you don't need to worry about stability – this cat tree secures to the ceiling to ensure it stays put!
There are a couple of cons to this product. Firstly, while this cat tree is great for scratching and climbing, there are no cat condos for your feline to hide inside. Also, the platforms are small in size, so most cats won't feel comfortable lazing around on these tiny platforms. Besides, they are also not suitable for large breeds or overweight cats.
Secondly, the posts are also made from cardboard rather than wood. This does make the cat tree less durable than the other products on this list. That being said, it is still a great product thanks to its affordability and how easy it is to assemble. But if you want something more long-lasting, wooden cat trees are better.
Pros
Looks like a tree with faux grass and leaves
Plenty of platforms for cats to climb
Small floor footprint, so great for small spaces
Attaches to the ceiling for added stability
Affordable non-carpeted cat tree
Quick and straightforward assembly
Cons
Made from cardboard so less durable
Not suitable for large cats
Does not have any cat condos or lounging platforms
Another and arguably better cat tree with no carpet for anyone tight on floor space is the Big Nose Wall Mounted Cat Scratching Post. This intelligent design mounts onto the wall, so no floor space is required whatsoever. This also means that there's no risk of it toppling over!
It is also not as extensive as some of the other all-singing all-dancing cat trees, but it does have a scratching post running the length of the cat tower, two solid wood platforms, and a cozy hammock at the top. This means your cat can climb, scratch, and laze around until its heart's content. I also love the idea of combining two on top of one another for even more excitement.
This cat tree is also made from natural solid pinewood and so is nice and sturdy, able to hold cats weighing up to 15lbs. Each platform also measures a relatively generous 9.9 inches by 13.8 inches, so medium to large cats will still have space to comfortably climb with ease.
One area that it is definitely lacking is comfort. If you buy this product, I recommend purchasing some cushion pads you can velcro to the wooden platforms so that your cat enjoys using this cat tree even more. This will also help to prevent them from slipping off the platforms as they climb. Otherwise, it's a pretty great product.
Pros
Most affordable carpet-free cat tree
Mounts to the wall, ideal for small spaces
Has a scratching post, multiple platforms, and a cozy hammock
Can combine multiple together for larger towers
Happily holds cats weighing up to 15lbs
Made from durable pinewood with sisal posts
Cons
Does not come with cushions and lacks comfort
If in rented housing, you may not be allowed to drill this into the wall
Unsuitable for cats weighing over 15lbs
Carpet Free Cat Tree Buying Guide
Each of the products I have reviewed have their pros and cons, but whether they are what best suits you and your cat depends on so many things: how much space you have in your home; how large your cat is; what you want the cat tree to provide for your cat… the list goes on!
So, to help you out a little more, here's my handy buying guide which will help you find the product best suited to your unique situation.
What is Your Budget?
The first thing to consider to help you narrow down your search is price. Cat trees are expensive, and cat trees without carpet tend to be even more so. If you don't have a huge budget, you can find cheap products that will keep your cat happy and active and your furniture scratch-free. However, these are more likely to break and are generally made from engineered wood or cardboard.
With cat trees, it is best to think of it as an investment, and if you purchase the right product it will stand the test of time. Solid wood is a premium material that is both sturdy and durable, but it does come with a larger price tag. Can you afford to pay more now and invest in a product that lasts? Or do you need a cheaper quick fix that may break in a year or two?
How Many Cats Do You Have?
You also need to consider how many cats you have. Your cats may all get along well, but they will still need their own space. Therefore, if you own more than one cat you'll want to look at getting a cat tree that has multiple platforms and preferably two cat condos for your felines to curl up in separately. The condos should ideally also have both an entrance and an exit, so none of your cats end up being cornered inside!
How Large is Your Cat?
The size of your cat also plays a crucial role in your decision. If you have a big breed such as a Maine Coon or a Persian, or an overweight feline, you'll need to look at cat trees for large cats.
How do these differ from regular cat trees? Well, for our bigger feline friends, the sturdiness of the cat tower is extremely important. If you don't purchase a product that can safely take their weight, the cat tree will wobble as they use it and deter them from using it altogether. In worse cases, it could also topple over completely or collapse, hurting and terrifying your little furball!
Aside from sturdiness, the size of the platforms and cat houses are also important if you have a big feline. They need to be able to comfortably fit on the different levels and get in and out of the condo with ease. Otherwise, your cat tree could end up being a complete waste of money!
What is Your Cat's Personality?
Each of our cats has their own quirky and unique personalities, which means when it comes to cat trees there is no "one size fits all" approach. To find a product that your cat will truly enjoy, you need to think about its unique quirks! For example, shy and more timid cats will hugely thank you if you get a cat tree with some cozy cat condos. They will feel safe and secure and love that they have their own cool hideout.
On the other hand, extremely playful and active cats are best suited to cat trees that have toys attached and plenty of platforms that they can energetically climb between. Yet, senior and less mobile cats will probably prefer a smaller cat tree that is lower to the ground and easier for them to climb. Toys are also less essential for senior felines, and you should prioritize some great lounging platforms and cozy bed areas instead.
Even the position of the scratching posts can alter how much enjoyment your cat gets from their cat tree. Does your cat like scratching things vertically or on an angle? Try to get a cat tree that replicates their ideal scratching position for almost guaranteed success! Also, if you have a cat that loves the outdoors, then cat trees that look like trees will probably go down extremely well.
How Much Space is in Your Home?
Lastly, you need to think about your home, not just your cat. If you don't have space for a giant extravagant cat tree, then there's not much you can do about it! Thankfully, there is a range of cat trees for small spaces that use all kinds of innovative designs to help reduce the amount of space they take up. Some will mount to the wall, whereas others will be tall and skinny. Shop around for something that works in your home.
Non-Carpeted Cat Trees vs. Regular Cat Trees
Having got this far, you may still be wondering why you should consider purchasing a cat tree without carpet instead of a traditional carpeted variety. Well, let me tell you now, there are loads of advantages! Here are just some of the reasons I have switched to wooden cat trees and why you should too:
Easy to Clean: Carpet seems to be a magnet for dirt, dust, and cat hair. No matter how clean you try to keep the cat tree, it always ends up in a mess! Non-carpeted cat trees are typically made from wood and can be easily wiped clean, especially if you purchase one with a laminate finish.
Look Great: Wooden cat trees are also much more aesthetically pleasing than traditional carpeted designs. They're sleek and modern, and the natural wooden tones easily blend in with most décor and furniture.
Long-Lasting: Carpet can easily get ripped, leaving your cat tree looking tatty and in need of replacing. Often, carpeted cat trees are also made from cardboard which is less study and more likely to break over time. However, cat trees without carpet are generally made from solid wood designed to last, and the cushioned pads are often removable so you can keep them in good condition. If they do get ripped, simply replace the pads rather than the entire cat tree!
Natural Material: Many owners think cats prefer carpet as it is soft and cozy, but in the wild cats climb and scratch trees made from wood. This is another reason why wooden cat trees are so great! It is the same as the material cats would be using in the wild, and they love getting their claws on it.
MY FINAL THOUGHTS
Cat trees without carpet are a great invention – they're modern, long-lasting, easy to clean, and cats love the natural wood material. Hopefully, this list of products will point you in the direction of a non-carpeted cat tree that you and your furry friend will love!
Before purchasing a product, be sure that you've taken your cat's wonderful personality into account so you can get them a cat tree they truly adore. It will provide them all the enrichment and excitement they need, helping them live happy and fulfilling lives.