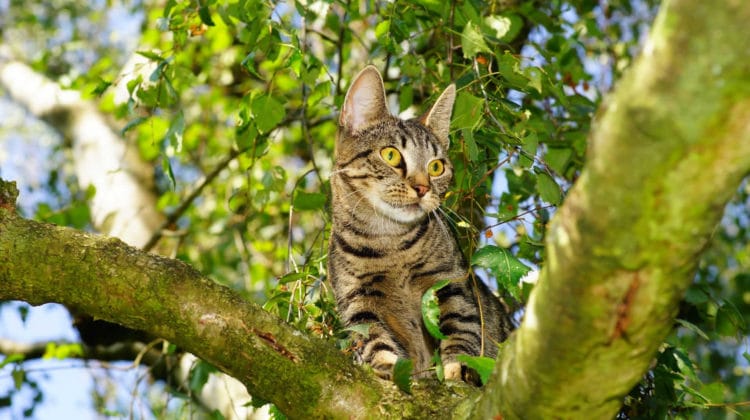 All cats need something in their home that they are allowed to dig their claws into – it's either that or the furniture gets it!
I love natural looking cat trees over regular cat trees. In the wild, trees and climbing are part of a cat's natural life, so why not bring them a bit of the outside inside? This provides a lifelike outdoor experience that channels their primal instincts.
My cats definitely prefer cat trees that look like a tree too, meaning my feline is happier and my furniture is less scratched up. Realistic cat trees are more like to where cats would naturally be climbing in the wild, so they capture their curiosity and make them feel at home.
There are loads of cat trees that look like trees available to buy, so I wrote this article to review the top products that I have used and researched far and wide to find the best cat trees out there. Here is everything you need to know about buying a realistic cat tree for your furry friend.
My Top Pick
Of all the cat trees available, I absolutely love the On2 Pets Cat Haven as it is one of the most realistic cat trees I have found.
As well as the cat tree, you also get two shelves covered in natural-looking leaves, providing the perfect hidey-hole for my cat. I also love the look of this tree and it's like having a real-life plant in my living room.
You may not want a cat tree like this, but fear not! I have looked at several different cat trees with leaves to find something to suit all budgets and all preferences.
Here are my top cat trees that look like a tree, which I'm sure you'll think are great too.
Best Cat Trees That Look Like A Tree
When it came to my search for the perfect cat trees that look like a tree, there were a few things I wanted to consider, and some boxes I needed to be ticked.
Here is what I based my search on.
Style: Having a realistic cat tree is great because it creates a unique experience for my cat. But I also love the look of them in my home. Therefore, I wanted one that was as stylish and natural-looking as possible that both I and my cat would love.
Material: Cat trees are designed to be climbed and scratched, so I wanted a material that was durable and strong. However, I also wanted a soft material for the perches and sleeping spots that is comfortable for my kitty to curl up and sleep.
Size: I have a relatively large space for my cats to play and lounge around in, so I wanted a large cat tree that could provide them the most enjoyment possible! However, I also considered the ideal cat trees for smaller homes.
Suitability for Larger Breeds: I have three British Shorthairs and so needed a cat tree that could support the weight of larger breeds easily, maybe even multiple at once. I've also got some options for smaller cats and kittens as well.
Number of Perches: As I have a multi-cat household, I also wanted a tree with multiple perches. This will also help to keep your kitty entertained with the cat tree even after you have had it for a while.
So, with all things considered, here we have the best cat trees that look like real trees, with leaves and all!
My number one cat tree is the On2 Pets Cat Haven, firstly because it looks hyper-realistic. So much so, you'll almost forget to not water it!
This cat tree has natural-looking leaves made from silk, a brown trunk, and even comes on a square of fake grass as the base. With this cat tree in your home, it really is like bringing in a piece of nature.
Secondly, this tree has two different platform heights and comes with two wall-mounted tree-like shelves for further climbing fun. This is also great for all of my cats to use at once, and it can support cats that weigh up to 32lbs, ideal for Maine Coons and larger breeds.
The design of this tree is also very private. Once my cats are on the platforms they are totally surrounded by a canopy of silk leaves, providing them the privacy and safety they need. The perches are also carpeted so are comfortable enough for my cats to lounge on all day.
I think that the material of this cat tree is also fantastic. The leaves are made of silk and are completely safe for your cats. If they're anything like mine, they'll love playing with and chewing the leaves, yet they seem to all stay intact.
Pros
Ultra-realistic design which both I and my cats love
Multiple platforms ideal for multi-cat households
Large perches suitable for bigger breeds
Additional shelving included for even more fun
Durable yet comfortable material
Provides plenty of places for cats to hide
Super easy to assemble
Cons
More expensive than other products
Designed more for climbing and hiding than for scratching
Next on my list is the Go Pet Club Cat Tree Furniture. I actually have both this and my number one product in my home as they are great for different things.
This cat tree is great for climbing too with an unbeatable seven different platforms. However, whereas the On2 Pets Cat Haven Cat Tree is great for hiding, my cats prefer using the Go Pet Club Cat Tree to laze around on, and the faux fur base makes it so comfy.
There is also a hanging toy attached which keeps them even more entertained, and the posts holding up the cat tower are scratchable as covered in natural sisal rope, so great for them to dig their claws into.
This is a cat tree with leaves and branches, but it does not look as realistic as my top pick. That being said, it's great to bring a touch of nature into your home which your cats will appreciate, without going overboard. Besides, with multiple different designs to choose from, there's bound to be one that you and your cats love.
The cat tree is also super stable and can support several cats at once, but is not made for larger breeds. Because of the huge number of different levels, this is an ideal option for a multi-cat household – your kitties won't be fighting over the cozy spot ever again!
With multiple different designs to choose from, there's bound to be one that you and your cats love.
Pros
Seven different levels so very entertaining
Perches, secluded spaces, and a toy
Legs are a great scratch post
Leaves give a realistic effect which cats love
Faux fur material is comfy and luxurious for cats to lay on
Suitable for multiple cats
Cons
Not ideal for larger breeds
The Downtown Pet Supply Deluxe Interactive Cat Scratching Post is the cat tree that my sister uses for her pets. She's only got a small apartment, but this cat tower that looks like a tree takes up virtually no floor space, only being 14" by 8" wide. This does mean it's not ideal for large breeds as the platforms are quite small but it is fantastic for use in smaller homes.
Just because it takes up a small space, this cat tree is not lacking in entertainment. There is space for four separate perches and the cat tree is extremely tall so gives you cats something to properly climb, just like a real tree! The post is also wrapped in sisal rope for cats to scratch and claw at.
I also love the design of this. It is a realistic cat tree with leaves wrapped around the post and grass platforms for bringing the feeling of nature, while still being soft on your kitty's paws.
This cat tree is also very sturdy, but if the tree did break you can purchase replaceable posts and shelves to enhance its longevity without having to splash out on an entirely new tree. Great for your cat and your budget!
Pros
Small base ideal for tiny spaces
Tall just like a real tree with natural-looking leaves and grass
Multiple platforms and sisal rope for scratching
Great for multi-cat households
Replaceable parts for when they start to wear out, saving you money
Cons
Platforms aren't large enough for bigger breeds
If you want to really spoil your cat, take a look at the Go Pet Club Cat Tree. This is a luxury product covered in faux fur for optimum comfort. It also has two secluded areas and several platforms for lots of climbing, playing, and sleeping. This will help to keep your kitty happy, healthy, and entertained.
The sisal rope posts also help to encourage your feline to scratch this cat tree and not your furniture, while looking natural. This, combined with the leaves and vines, gives your cats a whole forest to play in!
This is also a huge cat tree and the multi-level platforms make it perfect for many cats to use simultaneously. Plus, it is durable enough to support the weight of larger breeds. The only downside is the number of different platforms and posts means assembly can take a while. It's worth it though, as your cats will absolutely love it.
Pros
Huge cat tree with multi-level platforms
Great for multi-cat households and larger breeds
Realistic leaves and natural design
Built-in feeder and bowl
Luxury faux fur material for added comfort
Durable structure
Cons
Takes a long time to assemble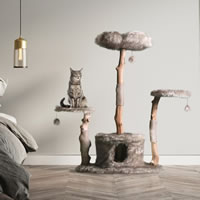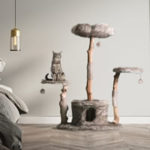 The Mau Lifestyle Leone Cat Tree also had to make it on this list, for the simple fact that it is actually made from real tree branches! This does mean it is more on the expensive side, but I think it's worth every penny.
For one, your cats will love digging their claws into the natural tree trunks, helping to channel their primal instincts. The design also looks great in your home – it is so unique and one of the most beautiful designs I have ever seen! Plus, the real tree trunks make it one of the sturdiest cat trees on the market.
There are three separate posts and platforms for lots of climbing, able to withstand cats that weigh up to 30lbs. It also is designed to stand the test of time – real-life trees last for hundreds of years and now your cat tree can too. Although it is a bit of a splurge, this is the only natural-looking cat tree you'll ever need to buy!
The two side perches are platforms, whereas the center one is a flower-shaped cushion, making it the ideal lounging spot for your cat. All the perches are made from faux fur for maximum comfort and a super chic design. You'll also notice three hanging pom-pom toys to provide even more entertainment.
Pros
So stylish and a unique minimalistic design
Made from real tree branches
Four different resting spots
Multiple scratch posts and toys
Can take cats that weigh up to 30lbs
Easy to assemble in no time
Cons
More expensive than other products
Cat trees are notoriously one of the more expensive pieces of kit you need to buy for your cat. However, if you are on a budget but want a tree-shaped cat tree, try the LUCKITTY Small Cat Scratching Post. It is shaped like a palm tree, a key part of a cat's natural environment.
It is not as extensive as other products and has a simple design, consisting of just two small scratch posts with a tree-like umbrella of leaves over the top. This may be large enough for some cats or kittens to perch on top, but most cats will use it solely as a scratching post and not as a perch. If you buy the larger version though, there is a handy hammock that your feline can relax in.
Its simple design also makes for super-easy assembly, and it can fit into a small home without looking overwhelming or ridiculously large.
The material of the perches and the hammock is also a super comfy eco-friendly plush, so it is safe for your kitties while being comfortable. The posts themselves are wrapped in jute rope which encourages scratching (and saves your furniture for getting it!).
Pros
Affordable price
Easily assembled within a few minutes
Conveniently small for even the tiniest of homes
Larger version comes with a hammock for lounging
Looks like a coconut tree
Eco-friendly plush material
Cons
Only suitable for smaller cats or kittens
Not great for multi-cat households
Another great budget cat tree is the Catry Cat Tree. Although not technically a tree-shaped cat tree, it is a cute sunflower design that still oozes nature. This helps to engage your cat and helps them relax and have fun. I also think it's a super cute design that can brighten up any room. I like the idea of having it in my home.
What I think is great about this design is that, despite it being small, this cat tree is adjustable so you can have it set up as a perch or a scratch pad, whichever your cat prefers. Also, while the perch is not large enough for big breeds such as Maine Coons or British Shorthairs to lay on, as the perch can be adjusted to function as a scratch pad, it is an all-round great option for all cats.
This scratch post is also easy to assemble, but once in place is durable and safe without the worries that your cat may topple off. However, the base could be heavier and large cats may accidentally knock it over while clawing.
The material also has a sisal rope around the post, felt making up the flower petals, along with jute and fleece. Curious cats will love the combination of textures and colors! They are also high-quality fabrics and so can withstand years of scratching and sleeping.
Pros
Cute flower design
Adjustable for use as a perch or a scratching pad
Small and compact so ideal for tiny homes
Sisal rope post perfect for scratching
High-quality durable material
Affordable price
Cons
Only suitable for single cat households
Not suitable for bigger cats or larger breeds to lay on
Can be knocked over as the base is light
If you have a large cat, it can be challenging to find a suitable cat tree. They need to be more stable to support the extra weight, besides having larger perches that they can fit on comfortably. But the Prestige Cat Trees cat tree is a great option.
This cat tree is super stable as it is made from solid wood. This means even the largest cats can jump and climb at speed without the cat tree wobbling. It also has a wide design which makes it even sturdier. Plus, it features wide perches and sits at 49" tall, perfect for big breeds.
I also love that this is a pretty realistic-looking cat tree. It features a green carpeted base to look like grass, a large brown carpeted central post to look like a trunk, and several green carpeted platforms to look like leaves. The carpet colors are all muted and natural-looking, like what we see in nature.
The carpet that covers this entire cat tree is extremely high quality. Not only does this mean that it's long-lasting, but also plush and comfortable for your cat. If you want to give your kitty the best, this cat tree is that!
The one drawback of that cat tree is its lack of scratching posts. Your cat can try to dig its claws into the carpeted surface, but it won't be as effective as sisal or jute rope. There aren't any cat condos either. Therefore, while it's great for climbers or cats that love to lounge, it's not a good solution for cats who need a place to hide or scratch.
Pros
One of the most realistic cat trees on the market
Super sturdy and made from solid wood
Covered entirely in comfortable and durable carpet
Suitable for large domestic cat breeds
Can be used within multi-cat households
Cons
Nowhere for cats to scratch and hide
If you have just adopted a little kitten, the BOSOZOKU Cactus Cat Tree Tower will be a great addition to your home. Kittens will have plenty of energy they need to expel by climbing and playing. They also need places to sleep after tiring themselves out.
This cat tree ticks all of these boxes! It has three separate levels for your little kitten to explore and a dangling ball toy to help develop their hunting skills. There are then three scratch posts and a scratch mat, a spacious condo to camp out in, and a hammock and bed for catching up on sleep.
The entire cat tree is green and will instantly inject a natural feel into your home. I also love the unique cactus theme which sets it apart from the other products on this list. The back scratching post has three little branches covered in chenille granular fabric for a realistic cactus-like aesthetic.
You'd think that a tree with this many components would be difficult to assemble. However, assembly is simple! You can put together the cat tree within around 20 minutes. All the parts are stamped for easy identification and are screwed together.
Despite being intended for kittens, this cat tree is also super durable and will last well into adult life. The base is made from solid thickened wood and all scratch posts are covered in premium sisal. The green carpet bed on the top perch is also removable so you can keep it clean.
Pros
Cute cactus design that looks great
Has a sturdy solid wood base
Covered in thick quality carpet
Provides somewhere to play, sleep, and hide
Multiple scratching posts to save your furniture
Easy to assemble in around 20 mins
Removable bed for easy cleaning
Cons
Not suitable for large cats
Last but not least, we have the Odoland Mushroom Cat Scratching Post. It is designed to look like woodland mushrooms picked straight from the forest. This makes it a fun decoration for your home. Besides, its quirky look is bound to capture your cat's attention more than a generic cat tree design.
As the name suggests, this is more of a cat scratching post than a cat tree. There isn't really anywhere for your cat to climb, sleep, or hide – only scratch! Yet if you're trying to offer your cat a place other than your furniture to sink her claws into, it does the job perfectly.
Both of the mushrooms are wrapped in sisal material. The designers have used white for the stems and brown, pink, or grey for the head to add to the natural look. What's more, the sisal has been carefully wrapped by hand. The base then features a natural-looking fake grass to complete the aesthetic.
Because of its simple design, this piece of kitty furniture can be assembled in a few seconds. Screw the mushroom stems to the base, then the heads to the mushrooms and you're ready to go. It's also small in size and so great for small spaces that need a bit of character adding.
The main drawback of this product though is also linked to size. It's only a small scratching post and so it is better suited to kittens. They can stand on their back legs and properly dig their claws in. However, even adult cats might struggle to truly benefit from this piece of cat furniture, especially if they're on the larger size.
Pros
Unique mushroom design your cat will love
Decorative piece that looks great in your home
Faux grass base for a natural look
Sisal is wrapped by hand
Choice of three different color mushrooms
Small design and great for small spaces
Cons
Suitable for kittens and small adults only
Only a scratching post, with nowhere to climb, hide, or sleep
Cat Tree Buying Guide
While these are my favorite realistic cat trees with leaves, they may not be right for you and your cat.
Therefore, if you do want to shop around elsewhere, I have also written a buying guide to help make the process as simple as possible.
When looking to purchase a cat tree house that looks like a tree, the following considerations should be taken into account.
Cost
Cost is an important consideration when purchasing a cat tree.
They are typically expensive to buy, and usually, it is worth spending more money. The more you spend, the better the quality of the material and the sturdier it is, meaning your cat won't have scary accidents from breaking it!
This will also extend the lifespan of the cat tree, meaning you will have to spend less time on repairs or buying new trees. Therefore, despite spending more initially, it is a worthwhile investment to purchase a more expensive natural looking cat tree.
That being said, if you are on a budget there are still options available, just be sure to check the maximum weight the cat tree can hold and be prepared to replace it in a year or two.
Size
Size is also essential, and generally the bigger the cat tree the better.
In the wild, cats would much rather climb large trees with lots of branches and interesting places to hide, than a spindly tree that isn't overly exciting. The same goes for cat trees in the home.
I recommend you opt for a tall cat tree to mimic climbing taller trees, and one that has multiple different platforms including perches and secluded areas. However, if your cat is very lazy and doesn't like to jump around or climb on the furniture much, or is elderly and less mobile, a smaller scratch post may be more appropriate.
Of course, the size of the cat tree you can get does largely depend on the size of your home. Cats will prefer cat trees that are in open spaces – this gives them a better view of the room when they are on their perch. Bear this in mind when buying a cat tree and find one suitable for the space you have available.
Material
Material is also important for several reasons. You need to know that the material your cat tree is made of is safe for consumption.
Cats might nibble on the tree, so ideally you want a natural, chemical-free product.
You also want a durable material, especially for the posts which your cats will scratch. Sisal rope is ideal and mimics real-life bark, although if you can opt for a cat tree that looks like a tree made from real branches, then even better!
Comfortability is also a key consideration. You should try to find a cat tree that is made from a soft and cozy material. This encourages your kitty to curl up and fall asleep there or lie there while watching the world go by for hours.
Design
Finally, the design is an important factor to consider, both for you and for your cat!
A cat tree takes up a large amount of space in your home, so finding a design that you like the look of and that compliments your home is essential. Most cat scratching trees come in neutral colors so can work in any home, but shop around until you find one that you like.
You also want to find a realistic design, as this is what your cat will like best. It should also have lots of different platforms and scratch posts, a few places to hide, and toys if possible to provide the most enjoyment.
Why Cats Need Cat Trees
You may be wondering what all the fuss is about – why is it cats even need cat trees in the first place?
In fact, there are several reasons why you need a cat tree in your home. They help your cats be healthier, happier, and help deter them from clawing at your furniture.
Entertainment
Firstly, cats need cat trees to provide entertainment.
This is important for all owners to provide, but if you are often out of the house for extended periods, it can provide enough stimulation to keep your cats happy in your absence.
Even old and lazy cats will want to be entertained, but you know your cat's personality better than anyone. Therefore, opt for a cat tree that best suits them. If they enjoy playing with toys, try to get one with hanging toys attached, whereas if they are mischievous and love climbing your furniture, multiple platforms are a must!
Exercise
Cats also need to exercise, and whereas in the wild cats would run to hunt for their prey, domesticated cats have the luxury of having their meals plated up for them every day.
This means our pets don't get half as much exercise as they're supposed to.
You can help encourage your cat to exercise more by providing a cat tree, offering exciting simulation that their bodies and minds need. Cat trees with multiple levels and toys can really encourage your cats to exercise as they should be doing, meaning they are healthier and happier.
Safety & Security
Cats, as much as they love attention, are also naturally solitary creatures and like to have their own space to feel safe and secure.
Cat trees are especially important for shy and timid cats who need a spot in your house which is solely theirs, where they can truly relax. They need their own territory.
For this reason, purchasing cat trees that have secluded areas and places to hide can really help your cats relax. This will, in turn, reduce bad behavior, such as climbing, scratching your furniture, spraying, or marking their territory.
If you have multiple cats, having a cat tree with several different layers can also help each cat to feel like they have their own space and avoid cat-on-cat conflict.
Sharpening Claws
Alongside marking their territory, being curious, and needing exercise, cats also scratch as they need to keep their claws sharp.
In the wild, cats need sharp claws as these are their first line of defense towards predators and their first weapon for catching prey.
Despite cats not needing to hunt or defend themselves at home, the scratching instinct persists. Therefore, cats need cat trees that ideally have scratching posts so they can keep their talons razor-sharp. This also helps keep your furniture from being scratched by providing a more entertaining option instead.
FAQs
Q: Where should I put my cat's cat tree?
A: It is best to place your cat tree in as open space as possible. This will make it easy for your cat to scratch and climb the tree, so they'll get more use out of it. They will also appreciate it being in an open spot so that they have a good view of the room when on their perch.
Q: How can I get my cat to use their cat tree?
A: If you have just bought a new cat tree but your kitty has not shown it any interest, you can try to encourage them to use it by spraying catnip on it. You could also place food or treats on each of the perches to entice them to climb to the top!
Q: Are cat trees dangerous to use?
A: Cat trees can be dangerous to use if they are not good enough quality, or if they are too small for your cat. If they are not sturdy then your cat tree could topple over and scare or hurt your cat. The same goes for larger breeds – they could easily break a cat tree that is too small and get a fright or get injured.
Q: Are realistic cat trees better than standard ones?
A: In my option, cat trees that look like real trees are better. Cats need scratching posts and different perches to channel their wild scratching and climbing instincts. The closer the cat tree is to a real-life tree, the more your cat will enjoy it. They are also sturdier if made from real tree trunks, so they last longer than cardboard alternatives.
Q: What is the best cat tree that looks like a tree?
A: I personally think the best cat tree that looks like a tree is the On2 Pets Cat Haven as it looks the most realistic out of the products I found, meaning your cats will love it!
Q: Are cat trees difficult to assemble?
A: Whether or not a cat tree is difficult to assemble depends on each individual design. Generally, they can be put together quickly, but the more platforms, scratch posts, and toys included, the longer it will take to build.
MY FINAL THOUGHTS
And there we have it folks, everything you need to know about finding the perfect lifelike cat tree for your feline friend.
I would definitely recommend trying the products on this list as I spent a lot of time narrowing my search to find you the ultimate natural looking cat trees. However, if not, the buying guide should help you make an informed decision that your cat will love.
The most important thing to remember is that cat trees should provide somewhere to perch, hide, and scratch.
You know your kitty best, so trust your judgment and help your cat be happier, healthier, and your home less likely destroyed by bored kitty claws.