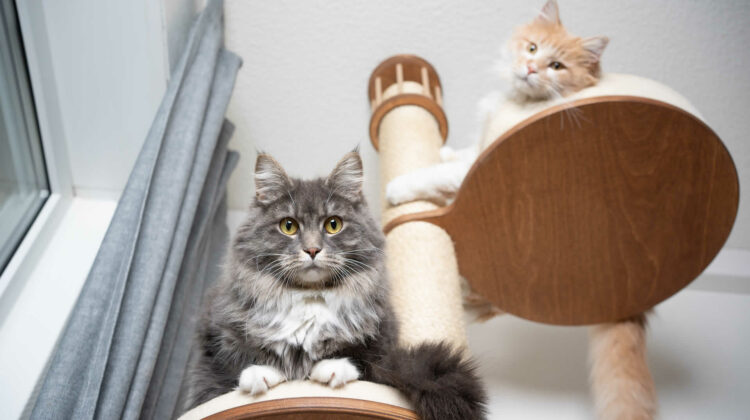 As a cat owner, purchasing a cat tree is a must. It keeps your kitty happy by channeling their instinctive scratching, climbing, and hiding behaviors. They also give something for your cat to sink its claws into so your furniture doesn't get it! But sometimes, a regular cat tree simply won't do.
Perhaps you have a super energetic cat that keeps tearing its old and flimsy cat tree to shreds. Maybe you have a Maine Coon or other large breed that simply needs a sturdier product to hold its weight. Perhaps you have multiple cats that need a stronger than usual cat tree. Or maybe you just want a good-quality product that will stand the test of time.
Whatever the reason, you're in the right place. I have searched far and wide for the best heavy-duty cat trees on the market and review this all on this page. So, if you're wanting a stable cat tree that's worth the money, keep reading!
My Top Pick
If you don't want to read all the in-depth reviews, go with this product. The BEWISHOME Multi-Level Cat Tree Condo is fantastic and ticks all the boxes. It is extremely heavy-duty, made from wood, and covered in durable sisal and plush. The design is well-balanced for extra stability and crammed full of everything your cat needs to be mentally and physically fulfilled.
Because of its large side and solid construction, this product works for big or small breeds and one cat or several sharing. However, it does take up a fair amount of space in your home. You can read the full review for this product below, plus others if you want to shop around.
Best Heavy-Duty Cat Trees
Before I delve into the product reviews, here is a quick look at the criteria I was looking for. Only the products that ticked all of these boxes made it onto the list:
Construction Material: Many cat trees are made from reinforced cardboard and pressboard. But if we are looking for a sturdy cat tree this simply isn't good enough. Heavy-duty cat trees are made from more solid materials, such as solid wood and metal.
Other Materials: The stability of the overall cat tree is determined by its construction material. But is a cat tree really heavy-duty if the scratching posts get ripped to pieces in minutes or the carpet comes off? No! So I looked at all the other materials used as well.
Stable Design: The material of a cat tree can only get it so far. Design is also crucial, as long thin cat trees or ones that are top-heavy are just being asked to be knocked over and break. I searched for a stable cat tree that won't wobble under your cat's weight.
Stability Straps: Stability straps up the safety factor even further. Many cat trees come with these straps which you attach to the wall. In the unlikely event that the tower does fall, it won't topple all the way to the ground.
Of course, there are other things you want to look for in a cat tree. However, these are more specific requirements that apply to anyone looking for a cat tree. One example could include how large it is and whether it is big enough for your cat to use. You might also be interested in the aesthetic appeal or the ease of assembly. Moreover, you'll want to tailor it to your cat's wants and needs as well.
I have reviewed a huge range of heavy-duty cat trees in this article, so they should cover all bases. You'll also find a handy buying guide further down the page to help you choose the right product. But for now, let's crack on with the reviews.
If you're looking for a great all-round product, the BEWISHOME Multi-Level Cat Tree Condo will keep most owners happy. It is the perfect compromise between price and quality while being extremely heavy-duty. Indeed, it's suitable for even large breeds and multiple cats to enjoy all at once. Several Maine Coons could even use this!
In terms of stability, the cat tree takes up a fair amount of floor space which makes the base sturdy. The higher levels are well-balanced, making it even less likely to topple over. It also has a super solid construction made from wood and is covered in durable plush and sisal. That's not forgetting the wall anchor strap for extra stability. As you can see, it really ticks all the boxes.
The product designers have crammed a lot into that cat tower too. There are two spacious condos, two baskets, two hanging ball toys, a cozy hammock at the bottom, and two further platforms up the top. Connecting all the levels are multiple sisal scratching posts for your cat to dig its claws into. This makes it perfect for cats to share or for one spoilt cat to enjoy all to itself.
For anyone concerned about how easy it is to put this giant cat tree together, you can breathe a sigh of relief. It is actually pretty straightforward to assemble and comes with all the tools you need to get the job done. In fact, the only minor downside I can think of is that this product is huge! If you have a small home or apartment, it might not fit. But if it does, treat your cat!
Pros
Solid construction made from wood
Well-balanced design with a wide supportive base
Covered in durable plush and sisal
Super easy to assemble and comes with all the tools needed
Large enough for big breeds and multiple cats sharing
Provides somewhere to lounge, climb, scratch, hide, and play
Cons
Too large for small homes and apartments
Many people assume that heavy-duty cat trees are only worth getting if you have a large cat. However, this simply isn't the case! Kittens can get up to all sorts of mischief and easily damage a cat tree within a few months of play. So, if you're looking for a kitten-friendly product that lasts, try the Wooden Cat Tree Condo by Catforest.
What makes this cat tree so sturdy is its solid pinewood construction. This gives the entire tower excellent strength and durability. It also has a thickened wide bottom plate for more stability and four contact points at the base. It won't wobble under the weight of even the most energetic kittens either. They'll feel safe and secure, and you won't need to worry about them having any accidents.
I also love the design of this cat tree as it is simply perfect for kittens. Why? It channels every need your curious kitten could have! There are several tall sisal posts for scratching, five different levels for them to climb and explore, and two cat condos for them to hide in. That's not to mention the ball toy that stirs up their hunting instincts.
This is a personal preference, but I am also a fan of the wooden finish. I do love cat trees without carpet, as I find plush trees can look a little untrendy! This has a sleek design though that looks modern and contemporary. Besides, you can easily wipe all the surfaces clean with a damp cloth – perfect for cleaning up kitten accidents and extending the product's lifespan even further.
The only thing I would say is that this is intended for kittens and won't be suitable for large breeds once they are fully grown. Also, it does lack the comfort factor. There are soft sheets inside the condos, but I'd recommend getting a bed or some cushions to go on the top perches so that your kitty loves it even more.
Pros
Made from 100% solid pinewood
Thickened bottom plate for enhanced stability
Scratching posts wrapped in durable sisal
Sleek and modern non-carpeted design
Channels all of a cat's natural instincts
Easy to wipe clean with a damp cloth
Cons
Not suitable for some fully-grown cats
Could be more comfortable
Another great option is the Solid Wood Cat Climbing Tower by New Cat Condos. As the name suggests, this product is crafted using solid wood for unbeatable sturdiness and stability. Unlike cat towers that have cardboard tubing, the wooden construction won't weaken over time. This means you'll have a good quality cat tree for years to come.
Because of its heavy-duty nature, this is a fantastic product for large breeds. It won't quiver under their weight at all! Besides, all of the platforms are perfectly big enough for cats on the larger side to use comfortably. It can support the weight of two cats as well and is a great option for a multi-cat household thanks to its multi-level design.
In terms of other materials, the wood is mostly covered in carpet. However, this isn't your usual cat tree carpet that gets destroyed easily. This is a household-grade carpet designed to last, and it's super soft for your cat too. There is then one long scratching post covered in durable unoiled sisal that is perfect for your kitty to dig its claws into.
Another huge benefit of this cat tree is that it comes almost fully assembled. That's right – take it straight out the box and you'll be good to go within 5 minutes. This is great news for anyone who struggles with construction and is worried about putting the tower together securely. You've got a choice of color as well so it should match almost every home décor.
Pros
Made from solid wood with a double-thick base
Covered in household-grade premium carpet
Durable unoiled sisal post for your cat to scratch
Strong enough for large breeds or multiple cats
Comes nearly fully assembled and ready to go
Option to choose from carpet different colors
Provides somewhere to climb, hide, scratch, and sleep
Cons
Looks a little bland as all one color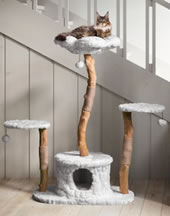 The gorgeous Mau Lifestyle Leone Cat Tree & Condo simply had to make this list! Firstly, we know this cat tree is going to be durable and sturdy as it is made from solid wood. But not just any solid wood – this product uses real tree branches in its design. Cat trees that look like a tree are no new idea, but this one truly takes this definition to the next level. It's gorgeous!
It would be a great addition to any minimalistic home, with a distinct rustic and natural feel. The minimalistic design doesn't mean this tree is lacking though. It has everything your cat could dream of: three pom-pom toys, three scratching posts, four resting sports, and a cushioned cave at the base where your cat can hide.
Indeed, if you know you have a lazy cat, this cat tree is perfect. There are four spots for your cat to choose from. Will she curl up in the cozy condo at the bottom? Or laze around in the luxuriously padded platform at the top? She has the option to do whatever she feels like! With so many resting spots, your cat is spoilt for choice!
Because of its tree-trunk construction, this is the perfect cat power for large cats. It can hold up to a maximum of 30lbs. This means three or so cats should be able to share with ease. Even a couple of Maine Coons can enjoy the luxuries of this design without any issues.
Pros
Super stylish and unique design
Very sturdy as made from real tree branches
Real wood scratching posts that your cat will love
Suitable for cats weighing up to 30lbs
Four resting platforms to choose from
Easily assembled using the screws provided
Cons
More expensive than other products
Best suited to one cat only
Most heavy-duty cat trees are made from solid wood. Yet I came across the Refined Feline Metropolitan Cat Tree & Condo and found another great and durable option: steel. That's right, this product has a frame made from powder-coated metal that won't even quiver under your cat's weight. There is also a security wall anchor to keep it firmly in place.
Aside from its stability factor, I love the polished aesthetic appeal of the steel frame. In fact, it looks almost like a bookcase at first glance. Plus, it is an impressive 62 inches tall, providing cats with the ideal place to climb. It is large enough and sturdy enough to support multiple cats at once. If you have the space, this is a great option for multi-cat homes.
Each of the five platforms is covered in fur, cushions, or sisal scratch mats for sleeping and scratching. Unfortunately, you can't choose which cover you get – it all depends on the color choice you decide to go with. Still, I don't see why you cannot add scratch mats or cushions of your own. You can remove each of these pads for washing as well to keep the cat tree in good condition.
The main downside of that cat tree is that it doesn't tick all the boxes for your cat. It may or may not have scratching mats depending on the color that you buy, and there are no enclosed condo areas for your cat to hide. However, if you mainly want a cat tree for lounging and climbing, this could be the one for you!
Pros
Made from extremely sturdy steel
Comes with a security wall anchor for added support
Suitable for multiple cats and large breeds
Pads are removable for easy cleaning
There's a range of different color options to choose from
Huge 62" tall and ideal for cats that love to climb
Chic and modern aesthetic appeal
Cons
Have to choose between cushioned, faux fur, and sisal coverings
Mainly for climbing and lounging, not hiding
Sturdy cat condos for large cats are notoriously expensive, but if you're on a budget the Hey-Brother Multi Level Cat Tree Condo is a good choice. It might not be as heavy-duty and durable as some of the other products on this list, but for less than $100 it's a great compromise. Plus, it is still miles better than some of the cheap and flimsy products you find online.
Now, this cat tree is not made from solid wood or metal, which is reflected in the price. Instead, it is made from natural particle boards. These have been strengthened with battens at the base to ensure overall stability. The materials covering the construction are also designed to last. Covering the scratch posts you have durable sisal, while all other areas are wrapped in a thick plush carpet.
To further enhance stability, this cat tree has anti-toppling fittings that you can attach to the wall. The design also helps to keep this cat tower stable. It is an XXL cat tree that has a wide and stable base. There are then four posts that run all the way to the top of the tower, keeping all the platforms securely in place.
Because of its impressive size, this is a great cat tower for large cats such as Persians and Maine Coons. It consists of multiple platforms and two condos, all of which are plenty large enough for the biggest of our furry friends. There is also a hammock for lounging and a ball for playing, so all of your cat's basic needs are met.
For those of you concerned about your home décor, you can also relax. This might not be as modern and sleek as some of the more unique cat trees for large cats, but it does come in three different color options. Choose the one that best suits your home. Besides, at least with quality materials, you know that this product won't end up looking worn and tatty any time soon.
Pros
Wide base and four-pillared design for good stability
Anchors to the wall for more support
Covered in durable plush and sisal materials
Available in three different colors to match your décor
Large and suitable for the biggest breeds
Offers somewhere to sleep, hide, climb, scratch, and play
More affordable than other heavy-duty options
Cons
Made from reinforced rather than solid wood
Do you struggle for space in your home but want to give your cat the best? If so, the HAPYKITYS Cat Tree Wall Mounted Climbing Tower is a great option. This product works vertically to take up very little floor space in your home. And your cat will love this setup – it is instinctive for cats to love to climb, so they'll love climbing all the way to the top.
The usual problem with tall yet narrow cat trees is that they aren't very stable. The higher something is from the ground, the more likely it will wobble. Equally, the thinner something is, the more likely it will wobble. However, HAPYKITY has solved this issue by adding two points where the cat tree fixes onto your walls. This isn't great for rented apartments but is fantastic for stability.
Making this cat tower even more sturdy and stable is its solid wood construction. This makes it great for large and small cats, or even multiple cats to share at once. They can all enjoy climbing this cat tower with no concerns over their safety whatsoever. The wood used is also free from paint and chemicals for a clean and eco-friendly finish.
The one thing I would say this product is missing is somewhere for your cat to curl up and sleep. They've got plenty of platforms to climb and one ultra-long scratching post to sink their claws into, but nowhere cozy for them to snuggle up. I would recommend attaching a padded cushion on the top platform. Cats love being in elevated spots, so make this perch more comfortable and it is perfect!
Pros
Made from sturdy solid wood
Durable sisal used for scratching posts
Perfect solution for small homes and apartments
Can support large breeds or multiple cats
Channels your cat's instincts to climb
Free from paint and chemicals
Easy to wipe clean with a damp cloth
Cons
Nowhere comfortable for your cat to lounge
Not great for seniors that struggle to climb
Wall-mounted so not ideal for rented apartments
The needs of older cats are slightly different from our younger and more active felines. Rather than needing an elaborate cat tree that's more like a jungle gym, they need a simple design. They need something that ticks all the boxes without being too elaborate. They need something like the PETMAKER 3-Tier Cat Tower.
This cat tree has a basic design – a base with a cat condo and two higher platforms. All of the levels are placed pretty close together, so it is easy for senior cats with mobility issues to climb to the top. There is also a long scratching post up the right-hand side, and even a hanging toy ball if your older cat feels a little playful!
In terms of materials, this tower is made from particleboard that is covered in a thick plush carpet. The carpet does make it a little harder to clean than other non-carpeted designs. However, a quick once over with the vacuum should keep it in good condition. Also, particleboard is not as strong as solid wood, and it won't be able to stand as much vigorous play. But this is reflected in the price, and it is much sturdier than other cat trees in this price range.
Moreover, the design combined with this construction makes it heavy-duty. In fact, the base is 21 inches long to provide a sturdy foundation for the rest of the tower. It can withstand the weight of large breeds and a fair amount of rough use. This is all you really need for senior cats that won't have half as much energy, power, and speed as younger cats.
Pros
Very good quality for such a low price
Ideal for senior cats as not too elaborate
Has places to climb, scratch, hide, and sleep
21 inch base to provide a sturdy foundation
Can withstand the weight of large breeds
Cons
Not made from solid wood
Carpet makes it more difficult to clean
Heavy Duty Cat Tree Buying Guide
All these cat trees have one thing in common – they're heavy-duty, stable, and sturdy. However, everything else about them is wildly different! So, how can you decide which is right for you? Use this buying guide to help point you in the right direction.
1. Size of the Cat Tree
The first question you need to address is what size cat tree you're looking for. Cat trees come in all different sizes, so getting this right is crucial and can quickly help to cut down on your available options.
The size of the cat tree you need is determined by four main things:
How large your cat is right now
How big your cat is going to grow
How much space you have available in your home
How many cats you have as pets
For instance, if you have three large Maine Coon cats, you will need an XXL cat tree. Assuming there is enough space in your home that is! When looking for a cat tree for Maine Coon cats, you must consider the size of the individual perches and condos as well as the overall size. On the other hand, anyone with a single Siamese cat would be able to get away with a much smaller cat tree.
2. Shape of the Cat Tree
Size is only one part of the equation… you also need to think of the shape of the cat tree. The most basic designs consist of one level and one scratching post. There may or may not be a condo at the bottom for your cat to curl up in. On the other hand, some cat trees are elaborate multi-level jungle gyms that reach extreme heights.
The shape of the cat tree you can get is largely limited by the available space in your home. For example, anyone living in a small apartment can make a smart choice and opt for a cat tree with a small footprint. Cat wall shelves are another good option, plus they're super stable as they mount directly onto your walls.
You also need to consider your cat's preferences when deciding on the shape, too. Young and energetic kittens might love a cat tree that lets them scale the walls and climb up high. But a senior cat? They won't enjoy this at all! They probably won't even be able to make it to the top. For them, a basic one-level cat tree is a much better option.
3. Features and Components
Lots of cat trees integrate a range of different components into the design. These will channel many of your cat's instinctive behaviors, which is why cat trees are so great – they fulfill many of your cat's needs at once.
Here are just some of the features I mean:
Sisal posts or mats for cats to scratch
Multiple levels for cats to jump and climb
Hanging toys for cats to hunt and play
Cozy cat condos for cats to retreat and hide
Hammocks and beds for cats to lounge
If you have already decided that a large and elaborate cat tree is best for your cat and your home, they'll likely have all these features. But if not, you might have to choose to drop some. To decide which are most important, think about your cat's current behaviors and use this as a guide.
For example, does your cat always seem to scratch your carpets and furniture? If so, a cat tree with plenty of scratching posts is a must. Does your cat always climb to the top of your bookcase? Many platforms to climb are best in this case. Or do you have a cat that is timid and hides under the couch all the time? She'll probably appreciate a cat condo over anything else.
4. Ease of Assembly
In an ideal world, heavy-duty cat trees would come ready assembled and good to go. Unfortunately, this isn't the reality for most cat trees. You will usually need to spend a little bit of time building your cat tree before it is ready to be used by your furry friend. And the more elaborate the design, the longer it will take to build.
From all my experience in building cat trees (and trust me, there's been a lot!) most models are easy enough to put together. Many come in two or three pieces and simply screw together using a screwdriver or drill. However, if you know you aren't a fan of construction, keep the ease of assembly in mind. There are also ready-made cat trees available, so if you really aren't up for the challenge, purchase one of these.
5. Cost of the Cat Tree
Cat trees can be one of the most expensive things you'll ever need to buy your cat. You might be able to get a flimsy one for less than $50, but any heavy-duty cat tree designed to last will come with an extra price tag. In my opinion, it is always worth paying more. Choose correctly and you'll only ever need to purchase one cat tree, so look at it as an investment.
However, if you are on a tighter budget, keep this in mind when browsing. There is no point in finding the perfect cat tree that you cannot afford! This will just lead to disappointment. Instead, search only for cat trees within your budget or save up a bit more so you can afford to give your cat the best. Do note that the cheaper the product, the less likely it will last forever though.
6. Style and Aesthetic Appeal
Finally, you will want to consider how the heavy-duty cat tree looks in your home. Does it match your home décor? Is there a variety of color options so you can choose the one that best fits? If you have a contemporary home, a cat tree without carpet might look more stylish. Or why not opt for a unique design and make it a focal point in your home?
Whatever you decide here is entirely down to you. Use your own personal taste and choose what works best. But in the pursuit of finding a cat tree that looks aesthetically pleasing, don't neglect your cat's needs. They should come first, and the design of the cat tree should be the final consideration you make.
FAQs
Q: What is the best material for a cat tree?
A: When looking for a stable cat tree designed to last, you want one made from solid wood or metal. This then needs to be covered in other premium and durable materials, such as sisal fabric for scratching posts and heavy-duty carpets.
Q: What is the sturdiest cat tree on the market?
A: There are several safe and sturdy cat trees on the market, all of which are detailed on this page. They all are heavy-duty and stable, designed to last for years and years!
Q: Why are cat trees so expensive?
A: Cat trees – especially heavy-duty cat trees – are expensive because they are made from high-quality materials that cost more. There is also a lot of design work and planning that goes into developing and manufacturing a cat tree, further increasing the cost.
Q: How tall should a cat tree be?
A: The ideal height of a cat tree depends on (1) the nature of your cat and (2) the space available in your home. For most healthy adult cats, a cat tree measuring 5 to 6 feet tall is a good place to start.
Q: What is the best heavy-duty cat tree?
A: In my opinion, the best heavy-duty cat tree is the BEWISHOME Multi-Level Cat Tree Condo. However, remember to tailor your cat tree to your cat, your home, and your budget. Read our hand buying guide for more help on finding the right cat tree for you.
Q: Do cats need cat trees?
A: Technically, cats don't need a cat tree. However, they are a great addition to their home and can drastically improve the physical and mental health of your cat, especially if you have an indoor-only cat. I highly recommend you purchase one!
Q: Why won't my cat use his cat tree?
A: The most common reason why cats don't use their cat trees is that they don't feel safe! This is why sturdy cat trees are essential. Alternatively, your cat might not find the cat tree comfortable. Try adding bedding and cushions to make it more appealing.
MY FINAL THOUGHTS
Finding a heavy-duty cat tree can be difficult, especially when you're shopping online. It can be hard to tell how solid and stable the design is and whether it'll be suitable for your cat. But hopefully, these product reviews and recommendations will point you in the right direction. Regardless of whether you need a cat tree for large breeds or one for a small home, there will be a heavy-duty option out there.
When you are choosing between products, make sure you consult the buying guide on this page. This will ensure your cat tree is perfect for your furry friend and your home. Your cat will be happy and stimulated! And by opting for a sturdy cat tree designed to last, you can make sure your cat is always happy and fulfilled.