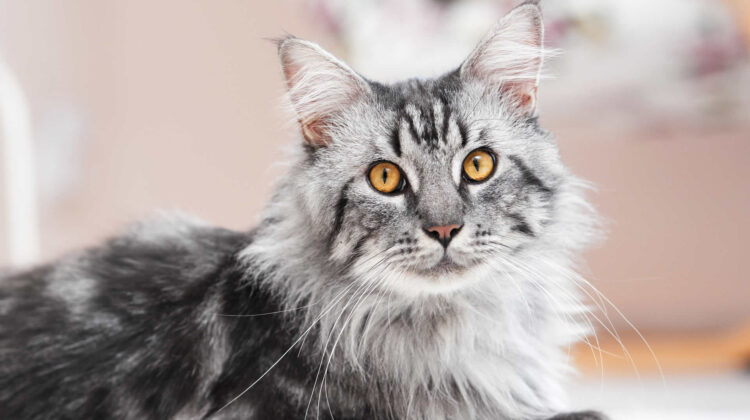 Maine Coon cats are arguably one of the best domestic cat breeds. They have extremely friendly and loving temperaments, not to mention a to-die-for fluffy coat and extreme size that makes them distinctive and unique. Unfortunately, this large size can also make it difficult when finding pet products, which are predominantly tailored to our smaller feline friends.
As a Maine Coon owner myself, one of the biggest issues I have had is finding an appropriate cat tree that is large enough for my kitty. It needs to be stable enough to support her extra pounds, with large enough platforms, scratch posts, and openings for her to use comfortably. But not many products seem to fit this specification!
Having spent a lot of time doing some trial and error, I finally came across an incredible cat tree for Maine Coon cats, alongside some other close contenders. They're large, they're sturdy, and my feline loves them! Besides, offering a cat tree to my kitty helps keep her out of trouble and hew paws and claws away from my furniture – win-win!
In this article, I've written reviews for all my top products and a handy buying guide. This should help all my fellow Maine Coon parents' lives a little easier – forget the endless Google searches and confusion, and get stuck into this article instead. There's bound to be a cat tree on here that you and your extra-large furry friend will love.
My Top Pick
The best Maine Coon cat tree has to be the BEWISHOME Multi-Level Cat Tree Condo. Supporting cats that weigh up to 23lbs, this product is perfect for our large and lovable feline friends. It is also comprised of multiple perches, condos, hammocks, and scratching posts to keep your cat entertained at all times.
This product is also super easy to assemble and made from a soft plush material that your cat won't be able to get enough of!
However, I understand that this cat tree for Maine Coons may not suit everyone. To find out, you can read a full review of this product and reviews for other great products further down this article.
Best Cat Trees for Maine Coon Cats
Before I give you the low down on what products you should look at, it's important we answer one question: What features does a Maine Coon cat tree need to have? By clearly pointing these features out first, it makes it easy to see which product does well in which category. So, here's all the features that the perfect product should have:
Large in Size: First and foremost, cat trees for Maine Coon cats need to be large. These kitties are among the biggest domestic cat breeds, and so they need a cat tree that matches their extra-large size. This includes the size of all the platforms and condos, as well as the overall size of the cat tree.
Sturdy & Stable: The size of the cat tree is essential, but even extra-large cat trees that cannot support the weight of a 15lbs+ cat are useless. The product could collapse under our cat's weight and give them a risk of injury! Therefore, stability is another must. Look out for cat trees that have high-quality construction and wall anchor supports.
Durable Material: Get the right cat tree and your Maine Coon will spend pretty much all their time on it, scratching the posts and lazing around in the condos. And, as bigger and acrobatic cats, the damage they can cause is much greater. As such, our ideal cat tree will be made from a durable material designed to withstand constant use.
Comfortable & Soft: As your cat will be curling up on the different levels and platforms, you also should be searching for a cat tree that is soft and comfortable for them to use. Having a soft covering will also make the cat tree safer as it is less likely for your cat to slip off a smooth hard surface as they climb to the top.
Entertaining: Finally, the cat tree needs to be able to effectively grasp your kitty's attention. They could have multiple platforms, toys attached, or plenty of areas to scratch. You need to work out what your cat enjoys doing most to find the product that's ideal for them. Tailor it to their needs and you're onto a winner!
Of course, these are only general features a cat tree for Maine Coon cats needs to have. There will also be other more personal factors you want to consider.
For example, cat trees do draw a lot of attention to themselves due to their size, so searching for a stylish design that matches your home décor may be a priority. Likewise, the size of your home will also determine how big the product can be. While bigger cat trees are generally best when searching for a product that is suitable for Maine Coons, sometimes this isn't always possible.
To tailor to every ones' preferences, I've reviewed a range of cat trees. No matter what type of product you're searching for, there's bound to be one that ticks all your boxes on this list. So, let's get stuck in with the reviews!
As mentioned, the Maine Coon cat tree that I use and love is the BEWISHOME Multi-Level Cat Tree Condo. The product designers and manufacturers have clearly got bigger breeds in mind when creating this product, and it is perfect for our larger furry friends. It's even big enough for use in multi-cat households!
Firstly, the cat tree is extremely sturdy and stable. The design is well-balanced, with a wider base and platforms that taper nearer to the top of the cat tree. This helps with stability and makes it less likely for it to topple over. It is also made from wood for super solid construction, and an anchor strap to attach it to the wall, further preventing any nasty accidents.
This product is also highly entertaining and complements all of your cat's instinctive behaviors. There are multiple sisal posts for scratching, two cushioned platforms to look out from, interactive jingly balls to play with, and two condos for when your cat needs a little privacy. There are also three hammocks for where your cat can lounge and relax in comfort, and multiple levels for your cat can channel their natural climbing behavior.
All of the platforms and the overall size of the cat tree are also big enough for Maine Coons. My cat weighs 20lbs and can easily fit inside of all the condos comfortably. The plush material covering the cat tree is also durable, with the hammocks easily being able to take my cat's weight without ripping. Besides, it's extremely soft and cozy for her to snuggle up against.
Finally, this cat tree for Maine Coon cats is straightforward to assemble and comes with all the necessary tools needed. Ensure you take your time with assembly so that the product is as safe and stable as possible! The only minor downside of this cat tree is that is it's very large, and won't work in smaller homes. Otherwise, this is a great product that our larger felines will surely appreciate.
Pros
Large and sturdy enough to support Maine Coons
Multiple levels for climbing and jumping
Targets all of your cat's instinctive behaviors
Made from strong and durable material
Covered in plush for cozy and comfortable lounging
Super easy to assemble and comes with all required tools
Large enough for use in multicat households
Cons
Won't work in small spaces
More expensive than other products
If you only have one cat, a great alternative to my #1 product is the Hey-Brother Cat Tree Multi-Level Condo. The cat tree is again designed with Maine Coons and large breeds in mind and it is equally stable and secure. It has platforms of a generous size and comfortably houses a big cat on all of the levels and in all the condos.
However, this cat tree is less elaborate, this time only consisting of two condos, one cushioned platform on the top, and a smaller hammock-style basket. For this reason, it is better suited to households that are home to a single cat. This way, there will be no fighting over who gets the top spot with the best view! Nevertheless, it provides all the entertainment your kitty will need, including the addition of dangling toy balls and sisal scratch posts – they can climb, claw, rest, and exercise until their heart's content.
I also rate that this Maine Coon cat tree is durable and designed to last. The tower itself is made from CARB-certified strengthened wooden boards that will last a lifetime, and this is topped with a durable yet cozy plush material that your cat will love. Sisal rope is also scratch-resistant, designed to withstand constant kitty scratches.
If style and your home décor are a priority, you'll be pleased to know that this cat tree is available in three colors – light gray, beige, and black. All being classic neutral tones, there's bound to be one option that looks good in any home. Not to mention the fact that the tree is easy to assemble, and the cushioned pad is removable so you can keep it looking clean and fresh.
The only downside of this cat tree is that the hammock may be a little small for larger Maine Coons, as it only has a diameter of 13.7 inches. My girl weighs 12lbs and can just about fit inside, but bigger cats weighing 20lbs and upward may struggle a little!
Pros
A stable design with reinforced wood and wall anchors
Large platforms and condos to fit Maine Coon cats
Made from durable plush and sisal materials
Cozy surface that your cat will enjoy
Available in three different neutral colors
Easy to assemble and clean
Cons
Hammock may be too small for 20lb+ Maine Coons
Not as suitable for multicat households
It's no secret that looking out the window is one of a cat's favorite pastimes. They enjoy feeling the warmth of the sun on their fur, viewing the birds and animals in your garden and simply watching the outside world. That's where the PetFusion Ultimate Cat Windom Climbing Perch comes in – a must-have for any Maine Coon that loves watching life outside.
Now, this cat tree is not as elaborate as some other designs on this list. It is simply made from a base, one tall sisal-covered scratching post, and a large cushioned viewing platform. However, what this cat tree lack in terms of cat condos and multiple levels, it makes up for in environmental enrichment. Designed to go in front of a window, it gives your Maine Coon the perfect view of the outside world.
To attach the cat tree to the window is simple. To do so, simply press the heavy-duty suction cups against the glass. This not only adds an additional layer of support and stability but also gives your cat the best view of the garden. They can happily sit on the perch and watch the world go by. If the view of outside isn't enticing enough, it also comes with catnip for further encouragement.
Another perk of this simplistic design is that the scratching post is 42 inches long. Some Maine Coons will struggle to fully stretch out and scratch the posts on cat trees that are crammed with different levels. However, this tree ensures your kitty can easily release their scratching instincts. Besides, the minimalistic design also looks super sleek and modern in your home, and assembly has never been easier.
The main downside is that this Maine Coon cat tree isn't appropriate for older felines or young kittens. With the only platform being 42 inches in the air, your kitty will need to be pretty agile to climb to the top. Many older cats or kittens won't be able to make it, so this product is pretty useless for them.
Pros
Provides environmental enrichment
Lets you cat view the outside world safely and comfortably
Minimalistic design that suits all homes
Super easy assembly within 10-15 minutes
Tall scratch post perfect for Maine Coons
The top platform is large enough for bigger breeds
Stable and secure thanks to the reinforced base and suction cups
Cons
Not suitable for kittens or senior cats
Not great in households with multiple cats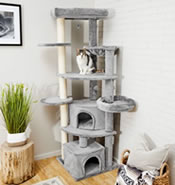 Is your Maine Coon constantly scaling your furniture, trying to find the highest perch possible? If so, they may well love the Frisco 76-in XXL Heavy Duty Cat Tree. When fully assembled, the cat tree is a whopping 76 inches tall and will satisfy the needs of most Maine Coons that love climbing great heights. They'll have the tallest spot in the room!
Not only is this cat tree tall, but it also comes out top in terms of stability. This is often an issue with taller designs – their top-heavy structure can make them more likely to topple over. However, with this product, stability isn't an issue. It has a high-quality construction being made from engineered wood, besides a wall mount for even more safety.
Aside from its huge overall size, each of the platforms and condos that make up this Maine Coon cat tree are also large. Even the biggest cats will be able to comfortably climb and relax atop any of the different levels. Overall, there are two condos, three landing levels, a hammock, and a cushioned top perch – enough to keep any cat entertained!
This cat tree also allows you to rotate the smaller platforms as you wish. This is a fantastic feature as often cat trees will have platforms that are too close to one another to allow for a Maine Coon to jump freely. This level of personalization means you can move the platforms out of the way entirely if you can an energetic and lively cat. Alternatively, swivel them round to give your less-agile feline a helping hand up to the top.
The main downside of this product is that only one of the three posts is covered in sisal rope. This probably isn't enough to deter your kitty from digging its claws into your furniture and other items around your home. So, on top of purchasing this mega cat tree, you'll probably also have to buy a separate scratch post for their scratching needs.
Pros
Tallest cat tree perfect for cats that love climbing
Platforms rotate to tailor it to your Maine Coon
High-quality construction and wall mount for stability
Extremely entertaining with multiple platforms, levels, and condos
Cons
Only one sisal post so an alternate scratching post is also needed
Cat trees covered in a soft plush covering are great for your cat. The carpet acts as a cozy and durable material that keeps your kitty happy. However, they do look a little outdated and old-fashioned. And I get it – you may prefer a stylish cat tree without carpet.
If this sounds like you, be sure to check out the Vesper Cat Furniture Cat Tree. The first thing you notice when looking at this cat tree is its unmistakable elegant design. It is made from high-quality walnut-look wood, though oak and black laminate varieties are also available. The wood is carved into unique cube shapes which only add to the modern and stylish finish.
Aside from the aesthetic appeal, another huge benefit of this cat tree is that it's easy to clean. Maine Coons are not hypoallergenic and often shed everywhere! Rather than dealing with old, dirty, and damaged carpet, you can wipe the wooden surfaces clean with a damp cloth. There are also memory foam cushions to add comfort so your cat isn't lying on hard surfaces. These are also removable for super easy cleaning.
The XL size of this cat tree also makes it appropriate for Maine Coons and other big domestic breeds. All the ledges and the condo are plenty big enough for even 20lb+ cats to lounge and relax in. There is also an extra-long seagrass scratching post, allowing bigger cats to fully stretch out and file their claws in an elongated posture.
Finally, another perk of being made from wood is that this cat tree is extremely durable. It can easily support the weight of Maine Coons without wobbling or frightening your kitty. If any part of this cat tree does break, you'll also be pleased to know that the supplier stocks replacement parts. Therefore, it's renewable and you'll never need to replace the entire cat tree, only the parts that are broken.
Pros
Elegant and modern design that comes in three colors
Sturdy and safe enough for large breeds to use
Memory foam cushion pads for added comfort
Easy to wipe clean and pads are removable
Large enough to house Maine Coon cats comfortably
Tall scratching post perfect for bigger breeds
Replacement parts available for a renewable design
Cons
Wooden surface can be slippery when climbing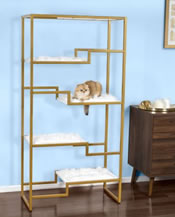 Are you constantly having to entice your cat down from the top of your bookcase? For some cats, cat trees just don't cut it – they'd rather spend their time climbing the furniture! In these cases, the Refined Feline Metropolitan Faux-Fur Cat Tree is a must. Designed to look just like a real deal, this cat tree will have your cat fooled.
This is a highly unique design that is comprised of five separate levels laid out like a bog-standard bookcase. The platforms alternate sides, allowing your cat to freely climb up the tower. Each platform either has a cushioned pad for them to happily laze about on, or a scratch mat to file those sharp claws down. Therefore, this cat tree successfully targets all of your cat's instincts.
Being made from powder-coated metal, this is also one of the sturdiest cat trees on the market. This makes it a great choice for Maine Coons and other heavier breeds. You can let your cat climb this tree with confidence, knowing it won't wobble or break. On top of this, there's also a wall-mounted anchor to attach it to the wall for even higher safety measures.
Size-wise, this cat tree is also big enough for Maine Coons. They can easily fit on any of the platforms and climb between them with ease. Thanks to the sheer size of this cat tree, it is also a great choice if you're the parent to more than one furry friend. There are enough stable platforms for them all the enjoy this cat tree at once.
You and your guests will also appreciate this product, as it is as attractive as it is functional. Looking like a bookcase, this cat tree will blend in perfectly with your other items of furniture. It also comes in five different colors so you can find the ideal match. However, with all these impressive features, this cat tree does, unfortunately, come with a rather hefty price tag.
Pros
Ideal for cats who love to climb the furniture
Made from metal for a super sturdy construction
Sleek design that looks attractive in any home
Large enough for Maine Coons and multiple cats
Provides a space for climbing, scratching, and sleeping
Can easily attach toys from the bars if needed
Cons
One of the most expensive cat trees on the market
Older cats often have joint and mobility issues that can make it difficult for them to get the most out of their cat trees. Jumping up to high platforms can be painful and seemingly impossible! However, if you have a senior Maine Coon, it's guaranteed that they'll love the Amazon Basics Cat Tree with Platform.
This product is perfect for older felines thanks to its step-like design. Leading up to the top perch, there are three different tiered platforms arranged in a clever way to facilitate your cat easily stepping between them. You could say it looks like the beginning of a spiral staircase. This way, your senior kitty can reach the top of the cat tree with minimal pain and no frustration.
This cat tree is also perfect for large breeds such as Maine Coons. Each of the platforms is big enough for them to step on comfortably. Plus, the top viewing platform provides a cozy spot that easily fits most Maine Coons. With that being said, one review said that the top bed is too small for her 18lb cat, so it is better suited to Maine Coons on the smaller size.
In terms of sturdiness, this cat tree also satisfies. There is a large support base to prevent any movement as the cat climbs to the top. It's also easy to assemble and made from good quality materials, with all the necessary tools included. The elongated scratching posts are also covered in durable sisal rope, and their long length is perfectly suited to larger cats.
The main downside of this cat tree is comfort. Although covered in a plush carpet layer, there is no cushioning in the top resting area. To make your cat as comfortable as possible, I would recommend purchasing a cat bed of an appropriate size and putting it on the top perch. Trust me, your cat will thank you!
Pros
Tiered step design is perfect for senior cats
One of the most affordable products
Platforms large enough for most Maine Coon cats
Large stable base and sturdy materials
Elongated scratching posts perfect for larger breeds
Easy to assemble and comes with all the necessary tools
Cons
Zero cushioning on the top platform
It may be too small for Maine Coons weighing 18lbs+
For anyone conscious of their impact on the environment, you may be interested in the PetPals Cat Tree & Cat Condo. This cat tree is made of natural recycled paper rope, making it a fabulous eco-friendly option. I also love the aesthetics of the end result, which is a beautiful black and white woven-style design that works well in many types of homes.
This cat tree consists of four different levels. The ground level is where you'll find a huge cat condo, offering your furry friend the perfect spot to snuggle up. There are then two further climbing platforms, before a cushioned basket at the top. All of the support poles also function as scratching posts, providing plenty of places for your kitty to sink her claws into.
In terms of size, the manufacturer only recommends this cat tree for felines that weigh up to 15lbs. This means that most female Maine Coons can comfortably use the product, whereas larger males may be better suited to an alternative. With that being said, one reviewer said her cat weighs 23lbs and happily uses the top platform without any issues, so you may get on just fine.
When it comes to assembling the product, it is also extremely easy. All the necessary hardware is included with the cat tree, and you'll have the product fully assembled and ready to go in as little as 10 minutes. Its bottom-heavy structure also makes it stable, further enhanced by the use of high-quality and durable materials.
Pros
Eco-friendly and made from recycled paper rope
Provides a place for your cat to scratch, hide, climb, and sleep
Large enough for Maine Coons weighing up to 15lbs
Unique and stylish woven design
Assembles extremely easily and within 10 minutes
Cons
It may not be suitable for XL male Maine Coons
Finally, another great cat tree for Maine Coon cats is the PetPals New Paper Rope Natural Bowl-Shaped Tree. They offer two different versions – their original and their taller 29.1" design. For anyone with a Maine Coon or other big breed, the taller model is perfect. It has an elongated scratch post to give your kitty plenty of space to stretch and scratch, besides giving your furniture a break!
Alongside the scratch post, there are two baskets. These are plenty big enough for large Maine Coons and provide them with a safe space to sleep. This simple design is perfect for less active felines and a good option for smaller homes. As there are two different places for them the cats to sleep, it also works if you have two cats as they can both have their own platform.
Unfortunately, this simple design does mean that the cat tree is missing some features. There is no condo or enclosed spaces for your kitty to hide if they feel anxious. If your cat is extremely energetic and loves jumping and climbing, this cat tree may also be a little disappointing.
Nevertheless, it's still a great option for Maine Coons thanks to its large size and high stability. According to the manufacturer, it can easily fit pets that weigh up to 25lbs! It also has a reinforced base to make it even more stable and a bottom-heavy design that won't topple over. Made from jute and paper rope, the material is also designed to last.
I also love the look of this cat tree. The design uses neutral colors of beige and cream, which are modern, timeless, and easily complement any home. Although the base is covered in fleece, the woven design also looks modern and will soon become one of your favorite pieces of furniture!
Pros
Extra-long scratching post ideal for big cats
Two cozy beds for your kitty to sleep on
Large and stable enough for cats weighing up to 25lbs
A good option for small homes and apartments
Neutral colors and modern woven design
Cons
No condo for if your cat needs to hide
Not many different platforms so not a great choice for climbers
How to Choose a Cat Tree for Maine Coon Cat
Before you purchase one of the above products or shop around for your own, there are a few considerations you should take into account. When purchasing a cat tree, it is not a "one size fits all" solution. You'll need to take several things into account.
So, I've pulled together this handy buying guide, guaranteed to help you find the perfect product the first time round!
Overall Size
As Maine Coons are such large domestic cats, their pet products need to be XL to match. Just as a Maine Coon litter box needs to be extra roomy, a cat tree for Maine Coons also needs to be big. In an ideal world, the larger the better. This will give your big feline lots of space to explore, play, and relax. However, the appropriate overall size of the tree is also governed by several other factors.
If you have more than one cat, you'll definitely need the biggest cat tree for Maine Coons that you can get your hands on. This will allow each of your kitties to have their own space and enjoy the cat tree at the same time. However, kittens will benefit better from a smaller product, as will seniors who may be less active and struggle climbing to the top of a ginormous cat tree.
The available space in your home will also dictate how large the cat tree can be. It can seem like a challenge finding a Maine Coon cat tree for a small apartment, but it is possible! Look for specific cat trees for small spaces, such as those with narrower designs or wall-mounted products to make the most use of any available space.
Size of the Platforms & Condos
With Maine Coon cat trees, it is not only the overall size that matters. Each of the platforms has to be big enough for your cat to comfortably climb between and lounge about on. Similarly, there is no point in having cat condos that are too small for your feline to curl up inside.
Again, the bigger the platforms and condos the better. This means that even as your cat grows older and larger, they will still be able to use their cat tree with ease. When comparing sizes, the area of the platforms is a more important consideration than the size of the openings – you'll be surprised what tight spots your Maine Coon will be able to squeeze into!
Safety & Stability
Of course, size is only half the issue – the cat tree will also need to be able to support the weight of your Maine Coon cat. For every cat tree, the manufacturer will recommend a weight limit that you shouldn't go above. This limit is in place for safety reasons. As long as you're within this range, your kitty should be able to use the tree without it toppling over or breaking under her weight.
The weight limit you're looking for depends on how big your cat is. Female Maine Coons weigh 8lbs to 12lbs on average, and most XL cat trees will comfortably support them. However, males are typically larger can weigh between 15lbs and 25lbs. If you know your cat is big-boned or overweight, pay extra attention to the weight limits.
To help improve the stability of the tree, you should also look for wall mounts to provide additional support. Cat trees made from reinforced wood are also stronger, while a design that has a wide base and tapers at the top will naturally be more stable.
Type of Entertainment Offered
You'll also want to consider what type of entertainment you want the cat tree to offer your Maine Coon. Cat trees can target multiple different sources of entertainment – scratching, climbing, playing, sleeping, hiding, and surveying the room. Which of these do you want to target?
If you're hoping that a cat tree will deter your kitty from scratching your furniture, then make sure it has plenty of sisal scratching posts or mats. On the other hand, if your Maine Coon cat is always climbing to the top of your cabinets, a product with lots of height and plenty of levels is a must! If they love watching birds out the window, then the window-mounted product I recommended is a good option. Pay attention to what your cat likes and try to choose a product that has incorporated this into its design.
If you really want to pull out all the stops, then a cat tree that has condos, multiple platforms, dangling toys, and scratching posts will keep any cat entertained. More unique cat trees for large cats such as cat trees that look like a tree may also grasp your cat's attention more easily than regular designs.
Style & Color Options
Your cat is unlikely to have a preference for a particular style or color of cat tree. As long as it's got some platforms for them to climb between and additional features to keep them entertained, they're happy! However, you will have to look at the cat tree every day and it takes up a lot of space in your home. Therefore, you may also wish to consider the style and color of the product.
If you have a sleek and modern home, then a cat tree without carpet can look a lot more contemporary. Likewise, the cat tree that looks like a bookcase has a unique modern style that blends in with your furniture. Even if you wish to stick to the more traditional plush carpet designs, there are always color options to choose between, so why not search for one that looks great with the rest of your home décor?
Price Range & Budget
Finally, the price of the cat tree and your available budget also need to be considered. Cat trees are not cheap pieces of kit, especially for a large, high-quality one that is big and stable enough to support a Maine Coon. And, if you can afford an expensive Maine Coon as a pet, chances are you have a little money spare to make her life more comfortable.
I would always recommend spending a little more on safety and quality. Besides, you'll likely end up spending less in the long run as the cat tree won't need replacing a few months down the line. However, there are cat trees on a budget for anyone a little tight on cash, just be prepared that these won't last a lifetime.
Why Do Maine Coons Need Cat Trees?
We've now gone through an extensive list of product recommendations and some considerations to think of before purchasing a Maine Coon cat tree. However, you may still be wondering: Why do cats need cat trees in the first place?
You'll be pleased to know that owning a cat tree actually has many benefits, both for you and your feline! Let's take a closer look – if you weren't convinced about purchasing one before, you certainly will be after this!
Provides Mental Stimulation
One of the major benefits of owning a cat tree is that it provides your Maine Coon with mental stimulation. Cat toys also do this job well, but a cat tree is a much easier option as they require minimal effort. Once you've assembled the cat tree in your home, you can sit back and relax as your cat entertains itself.
Therefore, cat trees can literally save your cat's sanity. This is especially true for indoor cats that don't have access to the exciting outside world. Indoor cats can easily get bored, but having an entertaining cat tree diminishes this issue. You will have happy, healthy, and mentally alert cats that love their lives! And if your cat is happy, you're happy too, right!?
Offers a Place of Refuge
Maine Coons are typically described as confident and sociable cats. However, each cat has its own personality and some will be more shy and timid than others. This is often especially true with strangers or if there are sudden changes to their environment. Your cat can come become stressed and wish to retreat.
Even the most confident cats can feel stressed at times too, but a cat tree provides the ideal place of refuge. Next time your cat is feeling anxious, they can climb to the top of their cat tree. They know this is a safe spot that is entirely theirs which helps them to calm down. Being at a good vantage point also allows your cat to see all of her environment, further making her feel at ease.
Cat trees that have cat condos are also good for this reason. All cats feel most comfortable in small spaces. Have you noticed your cat hides under the bed or behind the furniture when she's scared? With a cat tree, snuggling up in the condo provides this same feeling of safety. It truly acts as a safe haven for whenever your cat needs help relaxing.
Encourages Exercise & Play
Having a cat tree in your home will also encourage your cat to exercise. They will love jumping between the multiple platforms. Often, cat trees also have toys dangling from the upper platforms. Your kitty simply won't be able to resist batting these with her paws and having a whole load of fun!
Exercise, as well as keeping your cat entertained, is also highly beneficial for good health. As your cat runs, jumps, and plays, it will be using a variety of different muscles and bones. Therefore, the more they move, the better their overall muscle and bone health. It will also help to ensure good coordination for when they hunt and stalk prey or toys.
Moreover, the more your cat exercises, the easier it will be for them to maintain a healthy weight. This can reduce the likelihood of many medical conditions and diseases, including diabetes, cardiovascular issues, high blood pressure, and even arthritis. By doing so, your cat will have a better quality of life, you'll have less stress, and your vet bills will be kept to a minimum.
Reduces Cat-on-Cat Conflict
If you have more than one pet cat, having a cat tree in your home can also help to minimize conflict between your furry friends. For example, your cats may all want to be on the window ledge staring into your garden. However, as cats are naturally territorial creatures, it will often end up in your cats trying to assert their dominance and can end in conflict.
Even cats that get on well with each other most of the time can get aggressive towards one another in certain situations. Felines are known for being independent and truly pride having a space that is theirs and theirs alone. If you have more than one cat providing a space for each of your cats is essential. Yet, it can sometimes be difficult, especially in small homes.
Yet again, cat trees have the answer! Cat towers typically have several perches, allowing multiple cats to share a small area while still feeling like they have their own space. This allows all of your cats to feel safe and at home while still being near each other.
Minimizes Bad Behavior
Finally, cat trees are beneficial to you as they help to reduce bad and destructive behavior, such as scratching your furniture. This is one of the biggest problems cat owners have. You'll end up buying a new couch or splashing out on your favorite bookcase, only to find it is destroyed in a few weeks. With more than one cat, the damage is even more severe.
If you want your cat tree to reduce the damage to your furniture, you'll need to get one with sisal scratching posts or scratch pads. To ensure your cat uses the cat tree instead of filing her nails on your furniture, you can place it next to her favorite place to scratch. Alternatively, you can use catnip to make it more enticing for your feline and encourage her to use it.
Although scratching is the main bad behavior that cat trees can curb, they're also effective in preventing others. These could include excessive vocalization, peeing outside the litter box, acting aggressively towards people or other cats, or chewing items around your home.
Most bad behavior isn't a result of your cat trying to be naughty and annoy you – it is because they are bored, scared, anxious, or frustrated. As cat trees provide entertainment, refuge, and enrichment, it follows that their quality of life and mental wellbeing is improved. They will then feel less bored, scared, anxious, and frustrated, and these bad behaviors will diminish.
FAQs
Q: Why do Maine Coon cats need cats trees?
A: All Maine Coon cats will benefit from having a cat tree. This is especially true for indoor cats or ones living in small apartments. Without the stimulation from the outside world, cats can get bored and becomes lazy. However, cat trees are a perfect way to keep your kitty entertained, healthy, and agile.
Q: What is the most important consideration when buying a Maine Coon cat tree?
A: When purchasing a cat tree for Maine Coons, size and stability are the most important considerations. It needs to be big enough for your cat to use comfortably, and strong enough to withstand its weight and energetic behavior.
Q: Are cat trees supposed to wobble?
A: Cat trees may wobble a little if your cat lands on one of the higher platforms at full speed. However, they should not be wobbling a lot. If you notice your cat tree looking fragile, you will likely need a larger and more stable one to safely hold the weight of your Maine Coon.
Q: Will Maine Coon cats tip a cat tree over?
A: Maine Coons are big and active cats, so they may be able to tip a regular cat tree over. This is why it is essential to only purchase a product that is made specifically for large breeds. They will be made from heavier and more stable materials and should be mounted to the wall to further enhance the safety measures.
Q: What is the best cat tree for Maine Coon cats?
A: In my opinion, the best cat tree for Maine Coons is the BEWISHOME Multi-Level Cat Tree Condo. It is XL in size and stable enough to support large breeds. It also has multiple platforms, condos, and scratching posts incorporated into its one-of-a-kind design. My Maine Coon loves this cat tree, and I couldn't recommend it more!
Q: How can I stop my Maine Coon from tipping over the cat tree?
A: If you have purchased a specific cat tree for large cats, then you shouldn't have an issue with your Maine Coon tipping it over. However, you can help by anchoring the cat tree to the wall or screwing it onto the floor. Also, choose products made from heavier materials and with a bottom-heavy design.
MY FINAL THOUGHTS
Just because Maine Coon cats are huge, it doesn't mean finding a cat tree is impossible! In this article, I have written reviews for some of the best products on the market. Regardless of whether you have a senior cat, a small apartment, or more than one of these majestic felines, there will be a cat tree on this list that is perfect for you.
When trying to determine which product to buy, be sure to consult my handy buying guide. Also, consider their size, age, and preferences. This way, you know you'll have a cat tree that is perfect for your Maine Coon, that both of you love. You'll give them a more fulfilled and happy life. And if your cat is happy, you'll be happy too!