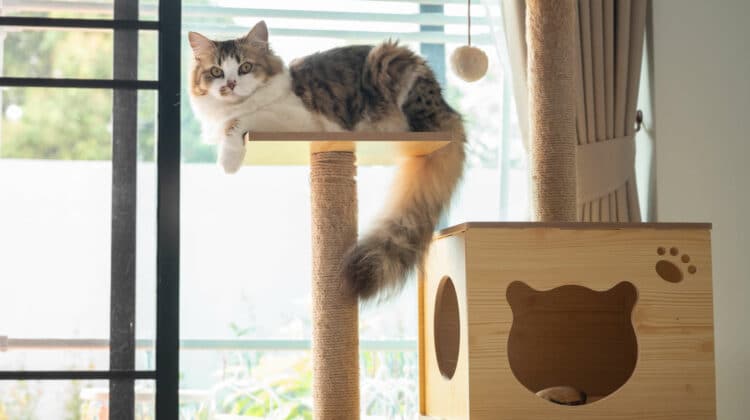 All cats benefit from having a cat tree in their home. These large pieces of kitty furniture are designed to channel all of your cat's essential needs. They provide somewhere for cats to climb, jump, play, hide, sleep, and scratch. What's not to love?
Well, unfortunately, most cat trees are ugly as hell! They're typically covered in unappealing plush carpet that easily gets tatty and torn with use. What's more, cat trees a pretty big! There is no way to keep your cat tower in a hidden corner – every guest that enters your home will see this big, ugly eye-sore. It totally ruins your home aesthetic!
As a pet parent and style-conscious homeowner, I decided to go on a hunt for a nice-looking cat tree. And thankfully, I found three excellent options that are as functional as they are beautiful. Here you'll find all of my reviews of these fabulous cat trees that aren't ugly. Keep reading to find out more!
My Top Pick
If you're looking for a cat tree that isn't ugly, look no further! The SPRICHIC Indoor Cat Tree Tower is a gorgeous product. It has a traditional Scandinavian design that works well in any home. Design aside, it also provides everything you need to keep your cat entertained. Plus, it's durable, easy to clean, and will get your guests talking.
Keep reading for a full review of this product – there's plenty more to love that doesn't fit in this quick overview. Plus, you'll find reviews for two more unbelievably nice-looking cat trees.
Best Aesthetically Pleasing Cat Trees
Before I jump in with the product reviews, I want to let you know what my selection criteria were. Style is, of course, a top priority and every cat tree listed here is elegant and chic. But what else? What was it about these three products that helped them make the list? Here are all the must-have features of any good cat tree:
Durability: Cat trees take a lot of wear and tear! Therefore, all good products have been designed to be as durable as possible. This not only keeps your cat tree looking good but also means you won't need to purchase a replacement any time soon.
Material: I wanted cat trees made from a more aesthetic material than carpet. However, the material is also important when it comes to functionality. All good cat trees are comfortable yet durable, and ideally non-slip so your kitty won't accidentally fall off.
Enticement: Finally, the best cat trees need to provide enough entertainment for your cat. I looked for products that channel all cats' natural instincts, giving them somewhere to climb, sleep, hide, play, and scratch!
Now I've got that out the way, let's crack on with the reviews. Some of the most eye-pleasing and decorative cat trees are listed below, so choose your favorite for your home. They ensure your cat will be happy and content, without ruining your home style and interior.
Minimalism is big in design right now! Therefore, this minimalist cat tree from SPRICHIC just had to make the list of the chicest cat trees – the word "chic" is even in the brand name! It has an undeniable Scandinavian aesthetic and looks the part in almost any modern home. You even have the choice of three different colors.
Aesthetics aside, this cat tree will surely keep your cats entertained. It consists of four platforms for your cat to jump between. The first is covered with replaceable cardboard for your cat to scratch, the second contains ceramic bowls for food and water, and the top two are covered in a soft cushion for your cat to lounge on all day.
The main framework for the cat tree is made from metal, which is a great choice from the design team. Not only do cat trees with no carpet look sleek, but they're also extremely strong and durable. The height of each platform can also be adjusted to suit the needs of your cat, which I love!
Finally, this cat tree is easy to clean and maintain, so will look like new long after you have bought it. The metal framework can simply be wiped down, while the cushioned platforms and bowls can be removed and washed separately. Even the cardboard scratch pads can be removed and replaced!
Pros
Beautiful minimalist Scandinavian design
Everything that your cat needs to be entertained
Metal frame so extremely strong and durable
Removable cushions, bowls, and scratch pads
Looks great even after loads of use
Cons
Not big enough for large cats to use comfortably
If you live in a small apartment, you're going to love this cat tree from PETEPELA. This cat tower stretches from floor to ceiling, making use of all the vertical space in your home. Therefore, you don't need to worry about not having enough floor space – this cat tower takes up a tiny amount!
Despite not taking up much floor space, it channels all of your cat's essential needs. It is made of five different levels so your cat has plenty of places to climb and explore. There is also a cozy cat condo where your cat can hide, dangling toys to encourage hunting instincts, and a full free-standing sisal scratching post for your cat to claw at.
This is also an elegant cat tree, and there is no plush carpet in sight! Instead, this product is made mainly from wood and looks much more sleek and aesthetic. I also love the neutral color scheme which works in all homes. Besides, its small footprint means it's not going to attract too much unwanted attention.
Although it is tall and narrow, this cat tree is surprisingly stable. The top of the tree attaches to your ceiling, and the base is made from a thickened wooden base. This means it is durable and suitable for cats of all shapes and sizes.
Pros
Uses vertical space so is ideal for apartments
Sleek wooden design in neutral tones
Stable, durable, and designed to last
Suitable for cats of all shapes and sizes
Channels all of your cat's essential needs
Cons
Instructions are unclear and make assembly difficult
Not suitable for older or less agile kitties
Third in this list of cat trees that aren't ugly is this product from MidWest. Rather than being made from metal or wood, this product is made from woven rattan. This gorgeous natural texture works well in any home, but it's particularly complimentary with boho-style interiors.
Like the other products on this list, it channels all of your cat's instinctive needs. There's a cozy cubby at the bottom lined with faux fur, a resting bench in the middle, and a comfortable bed at the top. Dangling balls also help to encourage play, while the sisal-covered scratch posts help to keep your furniture free from kitty scratches!
This product is also pretty resilient and designed to withstand even the most ferocious cat attacks! However, the rattan material will become more easily damaged than metal or wood. But for such a gorgeous product? I think it's worth it!
Pros
Beautiful rattan design perfect for boho interiors
Facilitates all of your cat's instinctive behaviors
Stable and durable, able to support large cat breeds
Cons
Rattan damages easier than metal or wood
Buying Guide
I think all the above products would make a stylish addition to any home. However, you can't choose a cat tree based on aesthetics alone – you also have to consider how practical it is. And what is practical for you and your cat might not be suitable for someone.
Thankfully, you can use my handy buying guide below to help you evaluate the practicality factor of any cat tower before you make a purchase.
Size of the Cat Tree
How large your cat tree is important for two main reasons:
Available Space: There needs to be enough space in your home to fit the cat tree. If you live in an apartment, look specifically for cat trees for small spaces. There are some pretty intelligent space-saving creations, such as cat wall shelves and other designs that use vertical space. On the other hand, anyone with a larger home can be more flexible on size.
Size of Your Cat: The cat tree needs to be large enough for your cat to use. Large cats might struggle to fit onto the platforms, inside the condos, or get comfortable. If you have a big breed, look for a cat tree for Maine Coons. Domestic cats don't get bigger than this, so you know the tower will be large enough for any kitty.
Choosing the right size cat tree involves balancing these two factors. I suggest getting the largest cat tree you can based on the space you have available.
Entertainment Factor
You want your cat to love any cat tree you purchase! Unfortunately, your cat isn't going to be too bothered about the design. Your cat tree could be a stunning example of mid-century modern cat furniture or one of the realistic cat trees that look like a tree. In all honesty, your cat doesn't care!
The only way to entice your cat is by ensuring the cat tree you choose has as many features as possible that channels their instincts. For example, dangling toys channel hunting instincts, sisal posts fulfill their need to scratch, and cozy condos provide the perfect hiding spot when scared. The more features, the better!
With that said, there are some exceptions to this. For example, older cats that have mobility issues won't be able to scale tall cat trees, and climbing and jumping hurt their joints. These cats might prefer products that focus on providing cozy places or somewhere to survey the room, so think about the specific needs of your cat.
Durability & Material
Cat trees are expensive bits of kit, so you want them to be durable and long-lasting. Durable cat trees also tend to be more stable and shake less as your cat climbs to the top. This is important in terms of safety, but will also encourage your cat to use the tree as they feel safer.
For the highest level of durability, search for heavy-duty cat trees. There are made from the strongest materials and are designed to last a lifetime. They're also a great option for bigger breeds and are designed to withstand their extra weight. Ideally, you're looking for products made from metal or solid wood over reinforced particleboard.
FAQs
Q: Do cat trees that aren't ugly exist?
A: Yes! Although traditional cat trees aren't aesthetically pleasing, many modern designs are currently available. I've given you three great examples on this page, but there are many more, too!
Q: What is the best nice-looking cat tree?
A: It is hard to say which cat tree looks the best, as design choice is largely down to personal preference. However, in my opinion, the best aesthetic cat tree is the­­­­­­­­­­­ SPRICHIC Indoor Cat Tree Tower. It has a gorgeous minimalistic design and many features your cat will love!
Q: Does my cat really need a cat tree?
A: Cat trees are not essential, but they can make your cat's life more fulfilling. They provide your cat with somewhere to climb, a sense of privacy, and a surface to scratch. These are all instinctive behaviors that need to be met for your cat to be happy, and a cat tree is a great way to ensure this.
Q: Where is the best place to put a cat tree?
A: You should try and put a cat tree in a spacious room where your cat has a clear view of everything that's going on. With one of the most aesthetic cat trees on the market, you can show it off in any room that you like!
MY FINAL THOUGHTS
Although it might seem like a challenging task, it is possible to find cat trees that aren't ugly! In this article, I've offered three of the most elegant cat trees that will complement most home interiors. Before purchasing any product though remember to keep your cat in mind. Design is important, but not as essential as practicality and functionality!