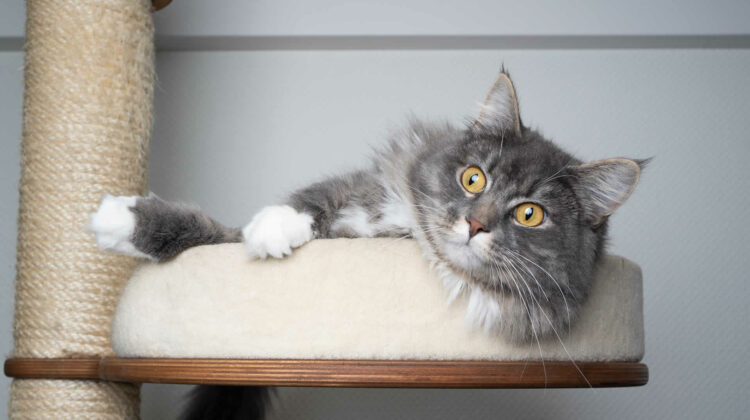 Mid-century modern design has been popular in home interiors for the last couple of decades. The elegant style has been around since the middle of the 20th century. And despite it being around 75 years since its conception, the modernist movement isn't going out of fashion.
When most people decide on their home interiors, cat furniture isn't high up their priority list. But some carpet-covered cat trees destroy your carefully planned home décor! They don't fit with the mid-century modern style whatsoever. In fact, wouldn't it be great if there was mid-century cat furniture available instead?
As it turns out, there is! The design-focused cat owners among us have access to a great selection of mid-century modern cat trees on the market. Here I review some of the options for cats of all shapes and sizes. Keep reading to find the best cat tower you and your kitty will love!
My Top Pick
My favorite mid-century cat tree is this product from Made4Pets. It has an elegant modern design, sturdy wooden construction, and is made to last a lifetime. Its design also satisfies all of your cat's natural instincts, with places to rest, play, scratch, climb, and jump.
The carpeted sections on each perch can be removed as well and washed separately, while the wooden surfaces are simply wiped clean. This ease of cleaning further enhances its longevity and gives your cat a playground for life.
However, it isn't the best for large breeds. Therefore, I have reviewed several other great products down below to suit cats of all sizes. There are also cat trees to suit different sized homes, different budgets, and to satisfy the different needs of your cat. And all of them have an incredible modern design that you're going to love!
Best Mid-Century Modern Cat Trees
Before I get into my reviews, I want to let you know what criteria I marked each cat tree against. Only the mid-century cat trees that scored high in each of these areas made it onto the list:
Design: Of course, a mid-century cat tower has to have a mid-century design! This design craze is characterized by clean lines and streamlined form without any unnecessary embellishments. Therefore, all cat trees I reviewed had to hit this mark.
Strong & Stable: Design aside, all cat trees need to be functional. Strength and stability play a large role in this. Cats will only jump and climb furniture they feel safe on that doesn't wobble or shake under their weight. As such, only strong cat trees made the list.
Designed to Last: Most cat trees don't come cheaply. With this in mind, it is important to consider how long the piece of furniture will last. The more durable the cat tree, the more it is worth spending money on and the less it costs in the long run.
Exciting for Cats: All cat trees have to be exciting for cats, otherwise, they're redundant! Mid-century modern design is simplistic, but it can still be exciting. The best cat trees that made this list had to have multiple perches, condos, scratch posts, and more.
Aside from these four core factors, there are other considerations when purchasing a cat tree. For example, large breeds such as Maine Coons require heavy-duty cat trees that can handle their weight. On the other hand, someone with a small apartment should look at cat trees for small spaces.
Therefore, I have tried to include a range of products that suit all cats, all homes, and all budgets. So without further ado, here as the best cat tree options for a super stylish home.
Out of all the products I reviewed, this one from Made4Pets is my favorite mid-century modern cat tree. Rather than an ugly and extravagant design, it is made from wood and has an immediate contemporary feel. I love the sleek edges of cat trees with no carpet, and the muted color scheme only adds to the great aesthetic!
The fact that this cat tower is made from wood has functional benefits, too. It is far more sturdy than the low-quality cat trees on the market and won't wobble under your cat's weight. This makes them better enjoy using their cat tree, and it's given my cat hours of fun.
The use of wood also ensures this product is long-lasting. Once you've bought this product, you won't need to purchase another for a while. The carpeted sections on each perch can be removed as well and washed separately, while the wooden surfaces are simply wiped clean. This ease of cleaning further enhances its longevity and gives your cat a playground for life.
It also channels pretty much all of your cat's essential needs. There are sisal posts for your cat to scratch, four platforms for your cat to climb, and a cozy hammock for your cat to sleep. There's even a cat condo your cat can curl up inside when she needs a little privacy.
Pros
Sleek and modern design made from wood
Beige color scheme that works in most contemporary interiors
Made from solid wood and so is extremely sturdy
Can simply wipe clean and wash cushions separately
Durable cat tree designed to withstand hours of play
Includes scratch posts, cat toys, hammocks, and condo
Cons
Platforms can be slippery for energetic cats
Not suitable for large adult breeds
Have you got a large breed? Perhaps you're looking for a cat tree for Maine Coons? If so, look no further than this amazing product from the REFINED FELINE. This cat tree is made from stainless steel and so is perfectly designed to handle even the heaviest fur babies.
You'll also notice immediately that this cat tree looks nothing like a traditional design – quite the converse! It looks like a stylish modern bookcase that works well in any home. More than that though, its sleek frame-like design, single color scheme, and minimalistic aesthetic make it perfect for the modern home.
Another thing I love about this product is the size. It features five different levels, giving your cat plenty of space to run and climb. Your kitty will adore sleeping on the highest perch or running to the top at sonic speed. There are even comfortable faux fur pads to make your cat feel cozy and snug.
The one thing this cat tree is missing is a scratching post. If you're looking for somewhere for your cat to sink its claws into, this product won't quite cut the mustard. Nevertheless, it is robust, designed to last, incredibly elegant, and the perfect addition to any stylish interior.
Pros
Perfect for large breeds or multiple cats
Extremely sturdy as made from stainless steel
Clear mid-century modern aesthetic
Plenty of climbing fun for your kitty
Cushions are removable for easy cleaning
Robust and designed to last a lifetime
Cons
Doesn't have any scratching surfaces
Large and so unsuitable for smaller homes
Kittens don't need a large and extravagant cat tree and often struggle with bigger designs. Therefore, the Catry Kitten Activity Center is perfect if you've got young and playful kittens. It channels all of their natural instincts, providing somewhere to play, scratch, climb, and hide. However, it isn't too large and intimidating for our little kitties.
Of course, this cat tree also has an undeniable mid-century style. It is covered in natural jute fiber which is much less garish than plush carpet and a lot less slippery than wood. This also gives it a sleek and contemporary feel, which coupled with the neutral color scheme works well in most homes.
The interior of this cat tower is made from high-quality particleboard. While not as strong as solid wood or steel, it is sturdy enough for kittens. The cat tree will also last well throughout kittenhood and into adulthood when it'll need replacing for a bigger and more adult-friendly alternative anyway.
The only downside of this cat tree is that it's harder to clean. With that said, it does capture less dirt than traditional carpeted products and can be hoovered to keep it looking fresh. I also love how soft the paper rope and jute fabric is on your kitten's growing paws, while still being an inviting texture to play with.
Pros
Smaller design that is perfect for kittens
Simplistic and very modern
Provides somewhere to scratch, hide, climb, and play
Sturdy as made from high-quality particleboard
Materials are gentle on your kitten's paws
Cons
Not suitable for adult cats and needs upgrading in adulthood
Harder to clean than wood or stainless steel designs
If you have more than one cat, this cat tree from PAWS Road is a great option. Like all the other products I have received, it has a sleek and modern aesthetic. The combination of wood, straight lines, and rounded circular shapes makes it stylish and attractive.
Aesthetics aside, this cat tree is perfect for two kitties sharing for several reasons. Firstly, it has two cat condos – all cats need a private area they can retreat to when scared, and this cat tree provides just that. It is also wide and spacious so your cats can climb up and down at the same time.
Additionally, this cat tower is very sturdy. It's made from sleek wood which is one of the strongest materials. There is also a security strap to anchor the cat tree to the wall, and it features a well-balanced design with a wide base that naturally tapers. This is essential when multiple cats are sharing to add stability and avoid nasty accidents.
I also love that this piece of cat furniture features multiple parts. There is a scratching post, dangling toy, multiple perches, two cat condos, and a bed at the top. Therefore, all of your cats' essential needs are met – I can almost guarantee your kitties will love it!
Pros
Sleek and elegant design
Two condos and wide platforms, perfect for sharing
Sturdy, well-balanced design made from wood
Provides a place to climb, jump, scratch, hide, play, and sleep!
Durable construction that is designed to last
Perfect height for watching birds outside the window
Cons
Only suitable for cats weighing under 15lbs
Is more challenging to assemble than other designs
Mid-Century Modern Cat Tree Buying Guide
Having scoured the internet for the best mid-century cat towers on the market, I am almost certain you'll love one of the products I have reviewed. However, choosing the right one for you and your cat is crucial. There is no "one-size-fits-all" answer and you need to think carefully about your needs.
Thankfully, I've written a helpful buying guide you can use to determine which is the best product for you. Consult this before purchasing any product, be that one on this list or another from elsewhere.
Size of Your Cat
The size of your cat is arguably the most important consideration before purchasing a cat tree. There are several reasons for this. Firstly, large cats will struggle to fit on the perches or inside the platforms of cat trees that are too small. Secondly, these products also won't be strong enough to support their weight. This can deter your cat from using the tree, or could result in nasty accidents!
Therefore, always think about how big your cat is when choosing a product. For example, a cat tree for Maine Coon cats has to be much larger and sturdier than a product being used by a Munchkin cat. Consider its maximum weight capacity, the size of the perches, and the space in the condos.
You also need to consider how big your cat will be when fully grown. A kitten might prefer a smaller cat tower that you can upgrade at a later date to match their growing size. But if you want a cat tree that is going to last into adulthood, you must compensate for how big your cat will become.
Prices and Budgets
Mid-century cat furniture – or any cat furniture for that matter – generally doesn't come cheap. Cat trees and towers are often elaborate playgrounds with multiple perches and features. Therefore, it is worthwhile saving up before making a purchase.
With that said, cheaper cat trees are available online. Some of these have a lower price tag because they're smaller and less elaborate in design. This is often all kittens or senior cats need, so they work perfectly. However, many are made cheaply and will become damaged easily over the years.
If this is all you can afford then that's fine, but do bear in mind that you might need to replace cheaper products in a year or so. Investing in a more expensive product initially could work out better long term. Another option is to look for cat trees with replaceable parts so you can upgrade your current cat tree rather than splurge on a new one.
Size of Your Home
Your cat tree must be large and stable enough for your cat to use. However, you cannot forget the amount of physical space available in your home. If you live in a flat and are short on space, don't panic – there are special cat trees for small spaces that could be the solution you're looking for.
I personally love cat wall shelves as a space-saving alternative. Rather than a free-standing unit on the ground, these products consist of several wall-mounted shelves that take up vertical space instead of valuable floor space! Shop around and get creative with your options.
Colors and Design
Seeing are you're researching modern cat furniture, it's safe to say design is probably a factor you're bothered about. You've already considered the style, but what about color? What materials complement your interior? Is there any firm no's you know don't want when it comes to design?
Cat trees come in all shapes and sizes. You can find some incredible unique cat trees for large cats, or even cat trees that look like a tree! You really can let your imagination run wild and find a product that's as stylish as it is functional.
FAQs
Q: What is the best mid-century modern cat house?
A: In my opinion, the best mid-century cat tower is the Made4Pets Cat Tower. I love the sleek wood design, neutral color scheme, and the hours of fun it provides my kitty! All my other favorite products are reviewed on this page, too.
Q: What should I consider before purchasing a cat tree?
A: You need to consider how big your cat is (or will grow to), how much available space there is in your home, and what design you want. You also need to think about the construction and material as this impacts the stability and durability of the cat tower.
Q: What is mid-century modern furniture design?
A: The style is difficult to describe, but generally refers to the furniture produced in the mid-1900s. These pieces generally feature clean lines, muted tones, and graphic shapes.
MY FINAL THOUGHTS
A mid-century cat tree is a great addition to the home of any style-conscious cat owner. I love the sleek appearance and simplistic look. Yet despite being stylish, these cat trees don't compromise on function! They provide cats with hours of fun and channel all of their natural instincts to climb, jump, hide, sleep, and play.
These reviews and my buying guide have hopefully helped you on your search for the best modern cat tree on the market. Remember, consider the size of your cat, home, and budget before rushing and making any old purchase!