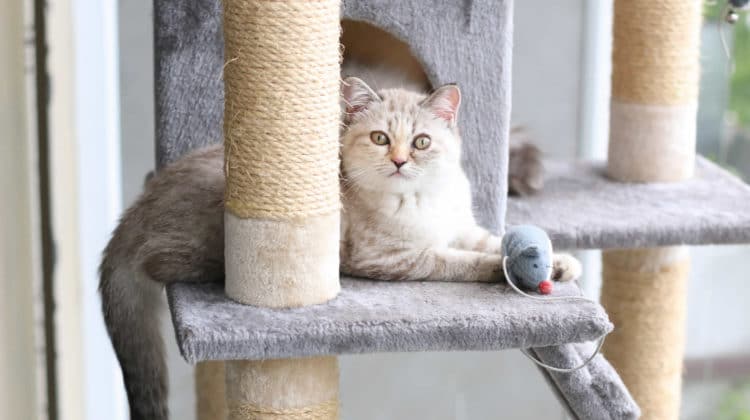 It is instinctive for cats to climb, scratch, and laze about, and if you want to keep your cat from using your furniture for this, you should invest in a cat tree.
Cat trees give your cat something to scratch at, climb up, and lounge about on without causing damage to your home, and the more unique, the better! Unusual and unique cat furniture will grasp your cat's attention for longer and make a great and stylish alternative to traditional cat trees.
However, if you've got an extra large cat or a bigger breed, you can't just choose any old cat furniture. You need to buy a unique cat tree for large cats so that it can support your cat's heavier weight and have platforms and hidey-holes large enough for them to enjoy comfortably.
Thankfully, with two large Maine Coons myself, I have spent hours trying to find a unique cat tree that is durable and sturdy enough to support my cats, and that is exciting and unusual enough to keep them entertained and away from my furniture. So, here we have the best unique cat trees for large cats that will make your feline happy and your home scratch-free.
My Top Pick
My favorite unique cat tree for large cats is the IBUYKE 63" Cat Tree Tower for Large Cats.
With sisal-covered scratch posts, two hammocks, two condos, and three perches at the top, my cats have endless fun with this product. It is a whopping 63" high and has a sturdy supporting tube along with wall anchors, making it one of the strongest cat trees I have come across. This makes it perfect for large breeds. Since using this cat tree, my cats have not once looked at climbing my bookcase or clawing my curtains. They're happier, and so am I!
I understand that this cat tree may not be for everyone, so I have also reviewed some other fantastic products that will provide your cat with heaps of entertainment.
Best Unique Cat Trees for Large Cats
Before I give an in-depth review of all my recommended unusual cat trees, I want to run through what I was looking for.
Sturdy Design: First and foremost, as an owner of two Maine Coons, I needed a sturdy cat tree that could hold their weight. This makes it safe for them to climb and avoids nasty accidents.
Large Perches & Enclosures: The perches, platforms, and enclosures also need to be large enough so that your feline can comfortably lounge on them. The bigger the cat, the larger the perches must be.
Unique Style: My cats deserve the best, so I was looking for a unique cat tree, whether that be an extra-large size, a funky shape, or something totally different altogether! There's a huge variety of products on the market, so I wanted something different from your traditional cat tree.
Durable & Soft Material: Cat trees are designed to be climbed and clawed at, so I kept my eyes peeled for a cat tree that was made of a material designed to last a lifetime. That being said, I also wanted a material that was soft and comfortable for my cat to curl up on.
On top of these factors, you also need to decide what your cat likes. Do your cats love to scratch and claw up your carpet? Or do they prefer climbing your bookcase? Or perhaps sleeping all day? Tailoring your cat tree to your cat's behaviors will ensure that they love it!
Therefore, I have put a range of different products on this list so whatever your cat prefers, there will be a unique cat tree for them.
This is a fantastic product as it suits any cat, offering plenty of posts to scratch, levels to climb, and perches to sleep on. Altogether, this unusual cat tree has two condos, one hammock, one circular basket, and three rest perches, along with more climbing platforms in between. Combined with several scratching posts and a slide, it provides enough entertainment for all cats to enjoy!
This is also a huge cat tree, measuring 63" tall. Cats will love being up this high and enjoy the climb to the top. Made with big breeds in mind, this cat tree can support them with ease. Plus, the platforms are wide, and the condos have large openings to make bigger cats comfortable.
Often, taller trees are less stable and come with the risk of toppling over, but this is far from the case with this cat tree. This cat tree has a well-balanced design with battens at the bottom to ensure stability, so it will never accidentally topple over. It also comes with anti-dumping wall anchors for added security.
Lastly, this cat tree has a durable 400g skin-friendly plush covering on all platforms and hammocks to be both safe and comfortable for your cat. There is also natural sisal on all of the scratch posts, which is a perfect natural material for your cats to dig their claws into. Both materials are fit for their purpose and long-lasting, which is ideal!
Pros
Exciting design with multiple levels
Sturdy enough for large breeds
Soft and skin-friendly 400g plush covering
Natural sisal scratch posts to mimic bark
Large perches suitable for large cats
Cons
Next, I recommend the Vesper Cat Furniture Cat Tree. This is such a unique design as rather than being made of typical plush material, this unusual cat tree is made of wood. I love the elegant and sleek feel of this design, and the cubes make it incredibly unique, so it gets a thumbs up from me.
It also provides great entertainment for my cats, and the cubbyhole is large enough for my Maine Coon to fit inside. While not as tall or with as many features as my first pick, it does have two platforms, some hanging toys, and an extra larger scratching post. If your cat is a scratcher, they'll love this unique cat scratching post!
Lounging cats will also appreciate the high observation platform so that they can survey the room. Plus, this and all the other platforms have memory foam coverings for dream-like comfort for your cat. They can also easily be removed for washing, or you can purchase separate replacements if they get worn out.
Lastly, as this unique cat condo is made from wood, it is extremely sturdy and can easily take the weight of large breeds. Pair this with the option of three different wood designs and you'll have a sleek piece of furniture that looks incredible in your home while enriching your cat's life.
The only minor downside of using wood is that it can be slippery, especially if your cat has been outside in the rain and is damp. That being said, most cats can use this cat tree without a problem.
Pros
Elegant wooden design
Unique cube-shape style and extra-long scratch post
Sturdy and can hold the weight of large breeds
Memory foam cushions for added comfort
Replacement parts sold separately
Easily assembled in 20 minutes
Cons
Replacement posts not available
As we are in mid-December and getting ready for the holidays, why not add some extra festivity to your home this year with the Frisco Holiday Reindeer Scratch Post. This is by far one of the most unique cat trees for large cats that I have ever seen and will be sure to bring some Christmas cheer to your cat and your home this winter.
This product is comprised of two sisal-wrapped scratch posts, a cozy cat tunnel, and a dangly toy as the reindeer's tail. Designed to hold up to 35lbs, this is also perfect for most large cats and stable enough to take their weight.
While the toy and scratch posts provide your cat with entertainment and the tunnel a cool spot to hang out in, there are not many different platforms and perches to jump between. Therefore, this product is fantastic in bringing some festive charm to your home and is perfect for cats that love to claw and scratch, but cats that love to climb will prefer a taller and more complex product.
Pros
Reindeer design perfect for Christmas
Can hold pets weighing up to 35lbs
Ideal for cats that love to claw and scratch
Faux fur and sisal material
Cons
Not suited towards keen climbers
Best only for owners with one cat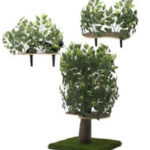 If you want to bring a taste of the outdoors inside, the On2 Pets Kitty Jungle Cat Tree & Wall Shelves is a fantastic solution. This is a cat tree that looks like a tree with realistic leaves and branches. Cats would be climbing trees in the wild, making this product ideal for cats to channel their primal instincts.
This cat tree is one of the most realistic tree-like designs you will find. The leaves are made from silk for a hyper-realistic appearance, the base is covered with a layer of fake grass, and the post is designed to look like a tree trunk. With this tree in your home, it's like bringing in a piece of nature.
I also love that this unique cat tree for large cats has two different platform heights, plus two wall-mounted shelves, which are both complete with foliage too. All the platforms are large and can support the weight of up to 32lbs, making this a perfect life-enhancing solution for big breeds.
The design of this product is also focused on providing privacy. The leaves shield the carpeted platforms from the outside world and offer a comforting and safe place for timid cats to rest at ease. Also, the shelves can be placed at whatever height you wish, making it perfect for climbers.
However, there isn't much in the way of a scratch post, so if your cat loves to claw, you will need to purchase a separate cat scratching post or a cat tree that has one included.
Pros
Realistic tree-like design that cats love
Multiple platforms great for climbers
Large perches ideal for bigger breeds
Easily assembled
Additional shelving for added height and more fun
Silk leaves provide the ultimate privacy
Cons
Not designed for scratching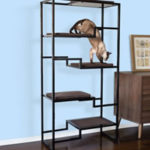 Do you always find your cat lurking on the top shelf of your bookcase? Those days will be long gone with the Refined Feline Metropolitan Cat Tree & Condo.
This is an incredibly unique cat condo that has five different platforms for your cats to climb and enjoy, all at different heights. Each platform is covered either with a padded cushion, a plush faux fur pad, or a sisal scratchpad, making this cat tree perfect for climbing, scratching, and lazing around. You can add toys to the frame too if your cat is playful!
This is also one of the safest and sturdiest cat trees you'll find, as it is made from powder-coated metal and is designed to be strong and durable. You can also attach the shelving to your wall by using a security anchor, ensuring that the cat tree will never topple over and harm your cat, which is a particular worry for owners with larger breeds.
I also love that this cat condo looks like a chic piece of furniture, and is as attractive as it is functional. Standing at 62 inches tall, you'll be proud to show off this incredible unique cat tree condo.
Pros
Made from sturdy powder-coated metal
Anchors to the wall for additional support
Chic design that works well in any home
Perfect for scratching, climbing, and lounging
Strong and large so ideal for big breeds
Toys can be attached if needed
Ideal for multicat households
Cons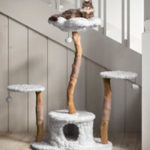 I also have to recommend the Mau Lifestyle Leone 50" Cat Tree, which is made from real tree branches for an individual and beautiful design. Cats will love digging their claws into real wood, which mimics a real tree trunk that they would use to sharpen their claws in the wild. Such a gorgeous design is also going to look incredible in your home!
This unusual cat tree consists of three different posts and platforms, ideal for scratchers and climbers alike. The two side perches are platforms, whereas the center one is an elevated flower-shaped cushion and is the ideal spot for your cat to lounge. There are also cat toys hanging from each for additional entertainment and enrichment.
Being made from real tree trunks, this cat tree is designed to stand the test of time. Real trees last a lifetime and outlive us all, so now your cat tree can be just as durable as well! Plus, the wooden posts are supportive enough to easily withstand heavy cats that weigh up to 30lbs.
Each platform is also coated in faux fur for maximum comfort for your cat while looking elegant and unique in your home. This cat tree really will be a talking point in your home!
Pros
Stylish and unique design
Three platforms and toys for entertainment
Made from real tree branches
Suitable for cats weighing up to 30lbs
Easily assembled
Cons
More expensive than other products
Not great for multicat households
Anyone with funky style will love the MidWest Stylish Cat Tree. It has a super unusual circular design – everything from the base to the platform is rounded. Even the tunnel-shaped hidey-hole is arched. The scratching post that holds the perches in the air also has curved lines and shapes.
To match the unique shape, the platforms are covered in a bold monochrome floral print material. It is a stand-out design great for anyone wanting to add some pizazz and find a cat tree that is out of the ordinary.
Another reason this cat tree is so great is that it has features that cover all of your cat's needs. There is a durable sisal scratching pad so your kitty can sharpen her claws and two platforms for her to jump and climb. To encourage play and exercise, there is also a hanging ball toy. Your kitty can even get some privacy thanks to the tunnel perch at the top.
As far as size goes, this product is perfect for bigger cats. The cat tree is huge with more than enough space for large breeds to enjoy. It is also extremely stable made with a solid base. The shape of the sisal scratch pad further provides extra stability thanks to its added width. However, the sisal post is made from pressboard (recycled bits of paper pressed together) which can disintegrate when wet. For this reason, I'd avoid this cat tree if you have a spraying cat.
Pros
Funky floral print and rounded design
Facilitates all of your cat's needs
Super sturdy with a solid base and wide supporting post
Large enough for big breeds
Easily assembled in a few minutes
Cons
Pressboard sisal post disintegrates when wet
Are you are after a more simplistic yet unique cat tree for large cats, instead of a loud and flamboyant design? If so, why not get the PetPals New Paper Rope Bowl Shaped Cat Tree? It is made of a natural woven material unlike what I've seen before. However, the color and style make it subdued and not too flashy. It's a great addition to any modern décor.
This cat tree features two scratching posts of different heights. On top of each lies a perch. The lower one is a rounded bowl-shaped platform that contains a fleece cushion. This makes it the ideal spot for your kitty to catnap throughout the day. The higher platform is also rounded but with shallower sides and makes the perfect elevated lookout spot.
Dangling from the upper platform is a toy ball hanging from a string. This encourages play and helps to keep your cat fit and healthy. Combined, your cat will get everything they need for enrichment and stimulation from this product.
According to the manufacturer, this PetPals cat tree can accommodate felines weighing up to 25lbs. This means that even a large Maine Coon cat can enjoy all that this product has to offer. Made from high-quality materials and a sturdy base, you'll have no worries about it wobbling or breaking under their weight. It is even suitable for two cats to share at once thanks to the double platform.
Pros
Suitable for cats weighing up to 25lbs
Can accommodate two cats at once
Unique yet subdued woven design
Neutral colors that work with any home interior
Scratching posts, cozy perches, and toys for enrichment
Easy to assemble the cat tree
Cons
Not very tall so not ideal for climbers
When we think of a traditional cat tree, a large structure covered in thick plush carpet comes to mind. However, The Refined Feline Lotus Cat Tower Furniture redefines what cat trees look like.
It is sleek, modern, and truly beautiful, made from real oak veneer and no plush carpet in sight! I also love its flowing wave-like design which definitely beats a traditional cat tree with straight posts in terms of aesthetics. Available in espresso brown, mahogany, or smoke, there is bound to be an option that blends with all contemporary interiors.
To achieve this beautiful look, there has been no compromise on functionality. There is a large and spacious cat condo at the bottom for your cat to hide in when it needs some privacy. Above this, there are four other levels reaching 69 inches tall. This gives your cat plenty of observation points and perches to climb up to. A sisal patch on the central post further acts as a place where your kitty can file her claws.
As this cat tree is made from oak veneer, it is also one of the sturdiest products on the market. According to the manufacturer, each platform can hold up to a whopping 50lbs. Therefore, it is ideal for large breeds like Maine Coons. You'll even be able to have multiple bigger breeds sharing this cat tree at once!
The main drawback with this product is its price – it is a splurge! However, with its strong structure, it will be the only cat tree you ever need to buy. If you can afford this much in one go, it will undoubtedly work out cheaper over the years as you'll never need to buy a replacement.
Also, the lack of carpet covering the surfaces means this product won't look worn after a few years – it is designed to look as good as new permanently. The only points which could show real signs of wear are the carpeted platforms which are there for added comfort. However, you can buy new carpet only from the manufacturer if it starts to look tatty.
Pros
Super sleek and sophisticated design
Made from real oak veneer
Unique flowing wave-like structure
Each platform can take up to 50lbs of weight
Perfect for big breeds and multiple cats at once
Facilitates climbing, hiding, and scratching
Replacement carpet mats are available if starting to wear
Designed to last a lifetime
Cons
Much more expensive than other cat trees
Are you a fan of the game Tetris? Well, the KATRIS Modular Cat Tree will be right up your street. This product consists of five separate blocks, each with a unique angular shape. These all slot together in any which way you can imagine. Securing the blocks together once you have come up with your shape is straightforward. All you need to do is fix them together using the 10 clips that come with the blocks.
This gives you great flexibility and control over the final design so you can personalize it for your cat and the space you have available in your home. It is also a fun activity to see what shapes you can make up and gives you a chance to get creative. You can even purchase more than one set to make huge and extravagant designs that your cat will love!
The blocks themselves come in six color options. Whether you want a more subdued neutral tone or brightly colored rainbow blocks, the choice is yours. They are also extremely strong and study with each able to hold up to 300lbs. This means that they are fantastic for larger breeds such as Maine Coons and Himalayan cats.
Unfortunately, the blocks are made of cardboard. Although strong and sturdy, they can get ripped apart as your kitty uses them to file her nails and aren't designed to last forever. Nevertheless, KATRIS uses ultra-strong cardboard which is much more long-lasting than competitors.
Pros
Modular design to suit your cat and your home
Allows you to be creative and make a truly unique cat tree
Blocks are easily held together with clips
Each block hold up to 300lbs
Stable and large enough for big breeds
Made entirely from cardboard so plenty of surfaces to scratch
Available in six different colors
Cons
Made from cardboard so won't last forever
Could disintegrate if soaked so avoid it if your cat sprays
Are you a fan of outer space? If so, you and your cat will love the PEQULTI Rocket Cat Tree Spaceship. It is elaborately designed to look just like a space rocket complete with a nose cone and tail fins. Watching your pet in this cat tree is truly adorable and looks as if they are an astronaut that is about to blast off on an adventure to another universe!
Aside from looking awesome, this product is highly functional and is made of four condos. On the ground floor, the condo has a cushioned base ideal for sleeping. The second floor then has holes for you to play with your cat through. The third floor has a glass bubble window your cat can observe the room out of. And finally, the fourth floor is an ideal place to hide some treats to congratulate your kitty on making it to the top.
This is also a very large cat tree and is appropriate for big breeds. Each condo is spacious so that all cats can enjoy their space exploration. Furthermore, the product is made from CARB-certified particle boards. Although not as strong as solid wood, it still makes for a super sturdy structure.
Another perk of the PEQULTI Rocket Cat Tree Spaceship is how easy it is to maintain and keep clean. The hard surfaces can be wiped with a damp cloth. There are cushions for comfort and scratch mats for your cat to sink her claws into, but these are all removable. Stick them straight in the washing machine when dirty and your cat tree will look as good as new!
The only real downside of this product is the assembly time. The design is complex and elaborate, so you'll need at least an hour set aside to put the cat tree up. However, the instructions are easy to follow, and, in my opinion, it is worth the time investment.
Pros
Incredible elaborate spaceship design
Multiple condos to channel all your cat's instincts
Very big and suitable for large breeds
Made from sturdy CARB-certified particle boards
Easy to wipe clean with a cloth
Removable cushion and mats for easy cleaning
Cons
Takes around one hour to assemble
Instead of a traditional free-standing cat tree, the HAPKITYS Wall Mounted Indoor Cats Climbing Tower mounts onto a wall in your home. It is a great solution if you have a large cat in a small apartment and need to think outside the box. By working vertically, this product utilizes all possible space.
The cat tree has a simple yet truly elegant design. It consists of one extra-long central scratching post with four different perches branching off. The highest sits at 73 inches tall giving your kitty the perfect spot to survey the room. They'll also enjoy the journey to the top, channeling their instincts to climb to find a vantage point.
Most wall-mounted cat trees are not suitable for large cats as the platforms can easily get ripped from the wall under their weight. However, this product has a central pole that touches the floor for added stability and strength, plus a dual wall mount. Additionally, all the platforms are made from solid wood so won't bow under a large cat's weight. Each is also big enough to comfortably fit larger breeds with ease.
Moreover, I prefer wooden cat trees over carpeted ones as you can keep them clean and well-maintained for longer. However, the platforms aren't the most comfortable for your cat to snooze on. It is also a shame that there is no condo or enclosed area as your kitty's need for occasional privacy isn't met.
Pros
Unusual design as it mounts to the wall
Elegant and modern finish that complements modern interiors
73 inches tall which climbing cats will adore
Utilizes vertical space so great in small homes
Strong and large enough for big breeds to use
Easy to clean and maintain
Cons
No enclosed area for your cat to hide
Platforms are not the most comfortable to sit on
The PAWMONA Three Story Cat Tree Condo Barrel is another unique cat tree for large cats you may be interested in purchasing.
As the product title suggests, this is a tube-shaped barrel design. Within the barrel are three different condos. Your cat will love hiding and sleeping inside these as they're super cozy and lined with fleece. Each also has a dangling ball toy hanging from the entrance to encourage play and exercise, hitting two birds with one stone.
On top of the barrel is a cozy cat bed with high sides for your cat to sleep inside. The cushion here is removable and can be put in the washing machine. This helps to keep the cat tree clean, hygienic and smelling fresh as a daisy.
What's great about this cat tree is that the entire outside is covered in a natural sisal material. This means there is so much surface area for your cat to file its claws on. It also makes the product highly durable as this is a resistant material designed to last.
This is a large cat tree and a great option for big breeds. All the condos are spacious and it has a wide 18-inch base. This offers good stability and ensures that it won't topple over – even with a huge cat perched on the top! For anyone that isn't great at following instructions, you'll also be pleased to hear that this cat tree comes fully assembled. Simply take it out of the box and you're good to go!
Pros
Unusual barrel-shaped design
XL in size so perfect for large breeds
Wide 18" base for added stability
A trio of condos perfect for hiding and sleeping
Cat bed with removable cushion for easy cleaning
Three hanging toys to encourage play
Covered in sisal for a huge scratching surface area
Comes in one piece fully assembled
Cons
Slightly overpriced for what it is
Next up is the Prestige Unique Cat Play Tree. Like the fourth product on this list, this cat tree is designed to look like a real tree. However, this is much more abstract which some of you may love. It is a truly unusual design perfect for people wanting a little extra.
Another unique feature of this product is that it is nearly entirely covered in carpet. This is not the usual cheap carpet you get on cat trees though, it is a thick and luxurious household carpet. There are two benefits of this: (1) it is much more cushioned and comfortable for your cat and (2) we use household carpet in our homes as it is durable and designed to last.
The post that runs up the middle of this cat tree is made from solid wood. This is again a premium material and means this product is stable and long-lasting. This is important when it comes to the safety of your cat as you don't want the cat tree collapsing or toppling over. With large breeds, this added stability is even more crucial. Additionally, it is designed to last and thus saves you money long-term.
Other positives include that this cat tree is designed and made in the USA. It also only takes a few seconds to assemble – simply joint the two halves together in a few seconds and it is ready for your cat to use.
Pros
Beautiful design and looks like a real tree
Made from premium household carpet and solid wood
Both materials are durable and designed to last
Super stable and great for bigger and heavier cats
Designed and made in the USA
Only takes a few seconds to assemble
Cons
No enclosed area or condo for hiding
Finally, we have the Rolife Wooden TV-Shaped Cat Condo. Made from solid wood, this product is designed to look like an old-school television set. When your cat sits in the condo, it looks as if they are on TV! Get your camera out as you will be able to capture some adorable pictures.
Aside from looking cute, your cat will love its new condo as it is enclosed and private. There is also a plush cushion for warmth and comfort, making it the ideal spot for them to curl up and sleep. To the right of the TV, there is also a natural linen panel for your kitty to scratch until her heart's content.
If feeling playful, you cat and jump onto the top of the condo and play with the fury ball toys. However, this surface also sits at the ideal height for a coffee table or bedside table. If you're short of space in your home, this dual-purpose is extremely convenient. Thanks to the sleek wooden finish, it will work well with most of your other furniture.
In terms of size, the condo measures a huge 19.7 inches by 11.4 inches, and the opening is nearly just as large. This means even big cats can use this cat tree with confidence. The design is also low to the ground so it won't topple over. Besides, being made from solid wood, you can rest assured it is durable and safe.
Pros
Looks like an old-school television set
Provides somewhere to hide, scratch, sleep and play
Made from durable and stable solid wood
Cushioned area for warmth and comfort
Doubles up as a coffee table
Large in size so perfect for bigger felines
Cons
Takes around 20 minutes to assemble
Only two platforms so not the best product for climbers
Cat Tree for Large Cats Buying Guide
Although I think these are all great products and I have tried to include something for all cats – whether they be a scratcher, a climber, a cat that loves to lounge, or all three – and to suit all budgets, I understand you may wish to have a shop around yourselves.
Therefore, I have written this handy buying guide so that you know what questions you need to ask yourself before purchasing a product. This way, you'll end up with a product that your cat loves, that keeps your furniture from being destroyed, and that is unlike anything you'll find elsewhere!
Cost
As you have seen from the range of products I pulled out, cat trees can be expensive. Expensive cat trees are generally better, especially for larger cat breeds, as they will be made from higher quality materials that are designed to be stronger and sturdier. The more expensive the cat tree, the bigger it generally is too, which provides your feline with more places to run, jump, and hide.
That being said, you can purchase unique cat trees built for larger cats for cheap. Just be sure to check the maximum weight limit that the cat tree can hold so that your cat doesn't have any nasty accidents! Also, be prepared to replace the cat tree in a year or two, as cheaper cat trees are made from less durable materials which will likely get ripped and unraveled.
As cheaper cat trees will need more frequent repairs or replacements, if you can afford a more expensive one, it generally does end up being cheaper in the long run as it will be more long-lasting.
Size
For your cat to get the most out of their cat tree, you also want to purchase the biggest cat tree you can with the space you have. This is because in the wild, cats prefer to climb big trees with lots of branches, and so the more intricate and interesting the cat tree you buy them, the more likely they'll enjoy it.
I always recommend you opt for a cat tree with multiple platforms for added entertainment. That being said, if you have a senior or less mobile cat, a smaller unique cat scratching post could be a better option. Likewise, cats prefer cat trees that are in open spaces so that they have a better view of the room, so only buy a product that is appropriate for the size of home you have.
Platform Size
If you have a large cat, not only is the size of the cat tree as a whole important, but also the size of the individual perches and cubbyholes.
Your cat needs to be able to lie on any perch comfortably. This means that they will enjoy using their cat tree more, and will minimize the chance of them accidentally falling off. If your cat tree had tunnels or hidey-holes, also consider the size of the entrance. You'll want your cat to be able to get in and out smoothly.
Stability
When looking for a cat tree for large cats, it also needs to be extremely stable. Whereas some less stable cat trees may work perfectly for kittens or small cats, they could easily give way and collapse if used by larger cats. Not only will you then need to purchase another, but your cat could get badly hurt.
Stability often goes hand-in-hand with cost, with more expensive cat trees being more stable, but you can find cheaper options. Cat trees that are made from metal or solid wood are the best option. Depending on the type of cat tree, you could also get one that attaches to the wall with an anchor.
Also, tall and thin cat trees are not ideal for larger breeds. Instead, opt for products with a wider base that are less likely to be knocked over. This shape ensures the tree is stronger. Whatever you do, always check the weight limit of the cat tree to check they are suitable for your cat.
Material
The material coating your cat tree is also important. Platforms and perches should be covered in a soft and comfortable material. This way, your cat will love curling up and lazing around on the cat tree all day long. Ideally, any cushions should be removable for easy cleaning.
Despite being comfortable, you also want a durable material. This is particularly true for the scratch posts as they need to withstand being clawed and scratched again and again. Sisal rope is a great option and mimics real-life bark. Alternatively, a scratch post made from real wood or branches will also do a fantastic job.
Also, always check that the material is safe for cats and chemical-free.
Unique Design
Last but not least, your unique cat tree must have a unique and exciting design.
Cats will appreciate an unusual design as they will be more curious about the product and enjoy exploring it more. If they have an old cat tree that they've gotten bored of, a unique cat tree could also re-spark their interest.
You will also benefit from a unique design. Cat trees do take up a lot of space in your home, and so having a design that compliments your home is important. Unique designs can add an interesting dimension and turn your cat tree into a talking piece, rather than purely a piece of cat furniture.
Why Do Cats Need Cat Trees?
Many owners may not see cat trees as an essential accessory. However, having one can help improve the life of your cat and give some benefits to your home.
Benefits for Your Cat
Cats benefit from cat trees as they provide both entertainment and exercise, as well as safety and security.
Whereas simulation for your cat can be provided by playing with toys, cat trees are a great alternative as they require minimal effort from the owner and can keep your cat happy while you're not home. Your cat can get exercise from playing with toys too, but a cat tree can further encourage your cat to be active. For both of these reasons, cat trees will make your cat happier and healthier.
Similarly, cat trees often have secluded areas such as playhouses or cubbyholes. Cats need these spaces to feel safe and secure, as despite being affectionate, they are naturally solitary creatures. This is especially true if you own more than one cat, as they will enjoy having a space that is solely theirs where they can completely relax. Therefore, having a cat tree can also help to avoid cat-on-cat conflicts and make them feel more at ease in your home.
Benefits for You
You as the owner will also benefit from having a cat tree.
For one, your cat will be happier and healthier, which in turn will make you happier! What's more, if your cat loves to claw your carpet, climb your furniture, and pull on your curtains, you will also find having a cat tree deters cats from these bad behaviors.
While having a scratch-free home, opting for a unique cat tree over a traditional design can also bring a lot to your home and compliment your living space. Be that the reindeer cat scratching post to add some festive flair, the sleek bookcase-style cat tree for a classy accessory, or a cat tree that looks like a real tree to bring some nature into your home, unique cat trees can become a real talking point in your home.
FAQs
Q: How big should a cat tree be?
A: When it comes to cat trees, the bigger you can fit in your home, the better. As a minimum, a cat tree should be large enough for your cat to climb, and the perches large enough for your cat to comfortably sleep on. However, if you have an elderly or less mobile cat, a smaller tree will suffice.
Q: Will large cats tip a cat tree over?
A: Any cat can topple cat trees over accidentally, but larger cats are more prone to as they are heavier and more boisterous. By purchasing a cat tree designed with bigger breeds in mind, they will be made from heavier materials to try to prevent tipping.
Q: How can I stop a cat tree from toppling over?
A: If you're worried about your cat tipping over their cat tree, you can purchase cat trees that anchor to your wall which makes this impossible. Also, opt for heavier cat trees which help to weigh them down, or add weights to the bottom platform. Alternatively, screw the cat tree into the floor if possible.
Q: Are cat trees supposed to wobble?
A: Cat trees will wobble slightly when your cat jumps on it at full speed, but if they are wobbling a lot or when moving touched lightly, then there is a problem. Large cats should have a cat tree specifically designed for big breeds as these will be stable and can safely hold their weight.
Q: What is the best unique cat tree for large cats?
A: I think the best unique cat tree for large cats is the IBUYKE Cat Tree Tower. It is strong and durable, has multiple platforms, a playhouse, and hammocks, and is a one-of-a-kind design. My cats love it, and I'm sure yours will too!
Q: Why should I get a unique cat tree?
A: Unique cat trees are better than traditional designs as they bring something different to your home, and you can purchase one that compliments your living area. Your cat will also appreciate a more unusual design as it will spark more curiosity in them and keep them entertained for longer.
MY FINAL THOUGHTS
If you have a large cat, purchasing a unique cat tree is a great way to keep them entertained while ensuring they're safe and comfortable. What's more, a unique and interesting design will not only look incredible in your home but is also what your cat deserves!
Regardless of whether you purchase a cat tree I have recommended, or use my handy buying guide to find another incredible product, remember to keep your cat in mind. The most important consideration is to think about what your cat likes, after all, you know them best. Trust your judgment and you'll end up with a happier, healthier cat, a stylish new piece of furniture, and a scratch-free home.