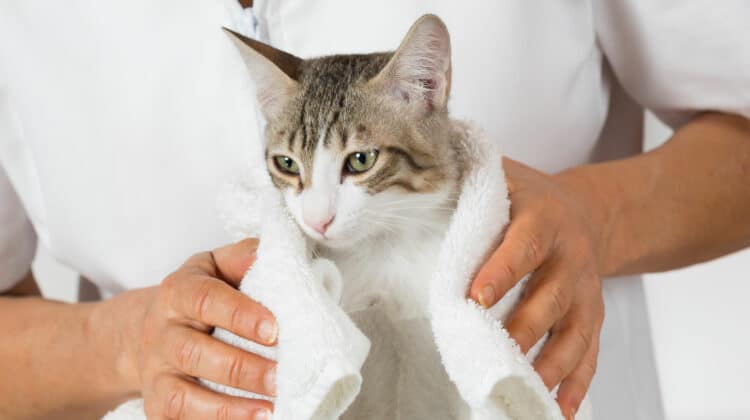 Has your cat recently been neutered? Or maybe you're considering going ahead with the procedure? In either case, you probably have many questions about the healing process.
I firmly believe in neutering your cat: it has many benefits for you and your kitty! Unfortunately, there is also the possibility that the neutering incision becomes infected. Although only 5.8% of cats develop an infection following their surgery, you must know how to spot the signs so that your kitty doesn't suffer further complications.
The main signs of infection after neutering a cat are a buildup of fluid, severe pain, bleeding, redness, abnormal heat, and unpleasant odors. If your cat has diarrhea but seems fine, is lethargic, or lacks appetite, it may indicate that the infection is spreading. In this case, I highly recommend getting your cat treated as soon as possible.
In this article, I go over each of these signs so you can easily distinguish between a healthy and an infected wound. I also cover the types of neutering incisions available, what you should do if your kitty's wound is infected, and how infection can be prevented.
Types of Neutering Incisions In Cats
Although you may think that all neutering incisions are the same, various methods can be used to close the surgical cut. The type of incision that your kitty has depends entirely on your vet's preferences!
When my cat was neutered, my vet closed the incision with a row of stitches on the skin's surface. This common closing method can easily be identified by the visible stitches or staples at the incision site. In some cases, another trip to the vet may be required to remove these stitches. For me, this occurred after ten days, but the sutures can be left in for up to 2 weeks.
The other main method of closing neutering incisions is by closing each layer of the cut individually. During the neutering procedure, different layers of a cat's body are cut, not just the skin. This includes the subcutaneous tissue and the abdominal muscles. Therefore, your vet may decide to use intradermal (buried) stitches on each layer that needs to be healed.
If your vet does use this second method, your kitty's stitches won't be visible as they are buried beneath the skin. This means you don't need to worry about having the sutures removed: an absorbable material will be used so that they dissolve on their own, reducing the likelihood of any aggression-related injury occurring before or during the follow-up appointment.
What Are The Signs of Infection After Neutering A Cat?
I highly recommend that you get your cat neutered, but one possible complication you should be aware of is an infected incision site. This results from harmful bacteria from your feline's mouth or the environment entering the healing wound.
Unfortunately, an infection can delay your feline's healing, so you must understand the signs of infection to watch out for. Below I have gone through these signs in detail so that you can detect infection early and alert your vet:
1. Buildup of Fluid
The look of your feline's incision site shouldn't change too much after the surgery. Of course, the wound itself will slowly heal, but other than that, the area should remain mostly the same. So, if you notice any unusual changes in the wound, they should not be ignored. This includes a sudden buildup of fluid around the incision sight.
When fluid builds up around the wound, it appears as though the incision site is swollen. A pocket of fluid (called serum) has formed just under the skin. This is known as a seroma, and although it is typically painless, it does put your cat at risk of infection. I would speak to your vet if you think your kitty has a seroma, as they should be able to drain the fluid.
2. Signs of Pain
After surgery, it is normal to feel a little pain and discomfort. No wound heals instantly, including a neutering incision. During the recovery period, it is common for a cat to experience some irritation around the incision site, but this should slowly go away as the cut heals. If your kitty seems particularly uncomfortable, I suggest you offer it veterinary-prescribed pain medication to help.
It is when your cat appears to be in severe pain that you should start to be concerned. If your cat randomly meows and flinches when touching the incision site, it could indicate infection. Other common signs of pain in felines include shaking and excessive hiding.
3. Bleeding
All wounds bleed, so don't be concerned if a little blood oozes out of your feline's incision. Small amounts of blood leakage are entirely normal for the first 24 hours post-surgery. It can be tempting to try and wash the area clean when this occurs, but I highly recommend you only do this if advised to do so by your vet.
If your kitty's bleeding continues after these 24 hours, or the bleeding becomes excessive, there is a high chance the incision has become infected. I would contact your vet immediately if you think your feline's bleeding is abnormal. Even if the wound isn't infected, a different complication could prevent the incision from healing correctly.
4. Excessive Redness
When your cat is still in the early stages of recovery, it is normal for the skin around the incision to appear faintly red or pink. Your feline has just undergone a surgical procedure, so it is not unusual that its skin is slightly irritated and inflamed. This is a sign of healthy healing, as the body needs the immune system to kick into action and facilitate tissue fusion and regrowth.
However, as the wound heals, the skin should slowly return to its usual color. If your kitty's skin becomes more discolored, I suggest you contact your vet. Excessive redness (or any other noticeable discoloration) is not normal and is a common sign of infection.
5. Abnormal Heat
You'll have to touch your kitty's incision site to notice this next infection sign. When doing this, make sure to be very gentle and apply as little pressure as possible. All that matters is that you can feel the temperature of the skin in that area.
If your cat's wound is healing correctly, it should feel warm to the touch but be at a similar temperature to that of the rest of the body. However, an abnormally hot incision is a concern as it could indicate an infection. Don't try to treat this issue yourself, as this could make the situation worse. Instead, talk to your vet about the best course of action.
6. Unpleasant Odor
Any unpleasant odors that appear to be coming from the incision site should also be taken seriously. If your feline's wound is clean and healing as it should, then there should be no smell. However, an unpleasant smell is a likely sign of infection.
Foul odors may not be discernable unless you are relatively close to your kitty, so I recommend you check the incision site daily. You don't need to get your face close to the cut to do this. Any unpleasant odors should be noticeable as long as you smell the general area when your cat is resting.
7. Other Complications
If your feline's wound is infected, the infection may spread to other parts of the body. Common signs include your cat throwing up undigested food, having regular diarrhea, and appearing overly lethargic. These are all uncommon after surgery, so the development of such signs is typically not good.
If your cat is asking for food but not eating, you should also take notice. A cat not eating or drinking for 3 days is particularly worrisome, so I strongly advise you to book an appointment with your vet as soon as possible. If your cat only eats a little at a time, there is less of an issue. Just monitor their eating so you can ensure they are still getting the food they need.
It is also not a good sign if your cat is eating and drinking but not peeing. Cats should urinate around twice per day, so any less than this is an indicator that something is definitely wrong. If I ever notice that my cat keeps trying to pee, but only a little comes out or that my cat's stomach is bloated and hard, I make sure to take her to the vet straight away as it could be a sign of a urine infection.
What To Do If A Spay Incision Gets Infected?
If you notice any of the signs I went through above, you first should stay calm and contact your vet. Make sure you continue to monitor the infected area until you receive instructions so that you can notify them if the situation gets worse. The treatment that your vet recommends will vary depending on the severity of the infection, so this is highly important.
If your kitty's infection is fairly minor, a prescription of oral antibiotics is likely all that is needed to rectify the situation. However, more severe cases can require another surgery to remove the infected tissue or a drain to decrease fluid buildup. Unfortunately, hospitalization and intensive care are needed if your cat is diagnosed with septicemia.
Although it can be tempting to try and clean your feline's incision site, this is usually unnecessary, so I would only do so if advised by your vet. If you need to clean the wound, only use warm water or a prescribed disinfectant solution. Harsh chemicals, such as alcohol or hydrogen peroxide, should always be avoided.
How Can I Prevent An Infected Incision In Cats?
When your cat gets neutered, your vet will provide you with post-surgery instructions that help prevent infection. You must follow these instructions carefully so that your kitty's wound heals as quickly as possible. Here are some additional tips for preventing an infected incision site in your cat:
Monitor The Incision Site: One of the best things you can do after neutering surgery is to monitor your feline's incision site closely. I recommend checking the wound once daily to ensure the incision looks like it should. If possible, count how many stitches there are so that you notice if one goes missing. Make sure to inform your vet of any concerning changes.
Use An Elizabethan Collar: Cats are amazingly flexible and can easily groom most of their body. Unfortunately, this includes your feline's incision site! And cats' mouths are full of bacteria that could cause infection. An Elizabethan collar can prevent your kitty from licking at its wound, reducing the chances that harmful bacteria come into contact with it.
Restrict Movement: The movements that are usually a part of your cat's everyday life (e.g., running, climbing, and jumping) can put unwanted strain on the incision. To allow proper healing, I suggest you limit your feline's movements for the two-week healing period. This might mean you need to confine your cat to a small room so you can keep a closer eye on it.
Keep The Incision Dry: As I previously mentioned, you should only clean your kitty's incision if asked to do so by your vet. When a wound becomes wet, it not only attracts certain bacteria but can also impact the effectiveness of the surgical glue that is helping to keep the wound closed. This means it is super important that you keep the incision dry at all times.
MY FINAL THOUGHTS
To summarize, there are two main ways in which your vet can close a cat's neutering incision: by stitching the wound closed at the surface of the skin or by using sutures on each layer of the cut. The method used depends entirely on your vet's preferences.
Unfortunately, there is a chance your feline's incision site will become infected no matter which closing method is used. The signs of infection after neutering a cat include a buildup of fluid, severe pain, bleeding, redness, abnormal heat, and an unpleasant odor. Other symptoms of illness, such as lethargy, vomiting, and diarrhea, indicate that the infection is spreading.
I would contact your vet as soon as you notice a sign of infection. They can provide your kitty with the treatment it needs for the wound to heal correctly. If your feline isn't yet infected, follow my top tips to ensure the incision remains infection-free!