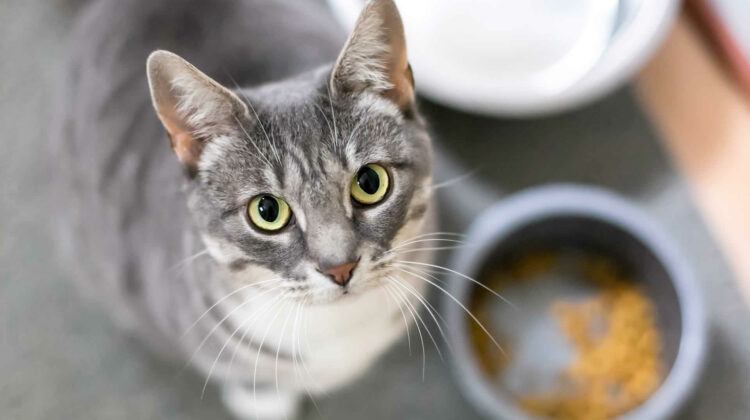 Seeing a pile of cat vomit on your living room carpet or your expensive hardwood floors is not the best sight in the world. It's also very worrying to see your favorite creature throwing up undigested food. This is a situation when many cat parents get worried, especially since vomiting is such an unspecific symptom that is linked with many medical conditions.
So, when one of my cats started throwing up recently, I was both scared and surprised. The only question I had in mind was, "Why is my cat throwing up undigested food?". So, after calling the vet, I started doing my research and got all the information I needed to write this blog.
Thankfully, in my case, the solution was simple. However, some pet parents have to go through a lot before discovering why their cat keeps vomiting. Even though the vet is the best person to communicate with, you should still know the factors that can cause your feline to throw up and how to prevent them. And here I share them all with you.
Why Is My Cat Vomiting Undigested Food?
If in doubt, you can take your cat to the vet for a professional examination. However, you shouldn't jump to conclusions before reading the common reasons below. I talk about the things that can cause your feline to throw up in the guide, so it will be much easier for you to understand the causes of this unexpected symptom.
1. Eating Too Quickly
Is your cat throwing up but acting normal? One of the most common reasons behind this behavior is eating too fast. I often see my cat throwing up after eating because she gulps down her dinner in seconds! If your feline also likes to snack at the speed of light, this is likely the cause of the vomiting.
When a kitty eats too quickly, its stomach gets full very fast. This causes it to swell and your cat starts to feel sick, and vomiting is a natural reflex. As the food has only just arrived in your cat's stomach, there is no time to digest the food before it makes a reappearance. This is why the cat will throw up undigested food instead of runnier vomit.
Notice how I am using the phrase vomit here rather than regurgitate. Although the words are often used interchangeably, there are important differences between cat regurgitation vs. vomit. Vomiting happens from the stomach as just discussed. On the other hand, regurgitation is when the expelled food hasn't even reached the stomach.
Both vomiting and regurgitation can happen if your cat eats too quickly. Pay attention to when your cat throws up to help you decide whether or not this could be the cause. Does the vomiting occur right after feeding or not? If so, you've probably found got your reason why!
Nevertheless, although the reason sounds innocent and easy to deal with, that's not always the case. Cats are stubborn creatures, so it can take a while before you teach them how to eat slowly. Thankfully, there are various tricks you can use to make the process smoother, but I'll get more into detail about how to deal with this issue in the next section.
2. Hairballs
Hairballs can be a huge issue for cats, especially long-haired breeds such as Maine Coons and Persians. Felines are meticulous groomers and use their rough tongues to rid their fur coats of dirt and debris. However, each time they groom, loose hair also gets stuck to their tongue. They end up swallowing a large part of their hair with every lick!
These ingested hairs enter the stomach. If healthy, your cat gets rid of most of them through the feces. However, if for some reason the feline removed more hairs than usual and large clumps have formed, they might not pass through the stomach to the intestines.
When this happens, the only way out for the hair is up through the esophagus and out the mouth. Thankfully, hairballs are a normal occurrence, so there is no need to worry in most cases. As long as they happen occasionally and your cat doesn't show signs of pain, then your cat is probably fine.
With that said, is your cat throwing up hairballs daily? That's not a good sign, and you should call the vet immediately. When the vomiting happens occasionally, chances are it's because your cat simply can't get rid of all the hairs and has to throw them up. However, if the vomiting appears every day, it might be a sign that there's another underlying issue or digestive disease.
3. Food Allergies
Unfortunately, many cats struggle with food allergies. This can be one of the reasons that cause them to throw up undigested food. The most common ingredient that causes food allergies among felines is protein, such as chicken, beef, and fish.
At least one of these protein sources is found in most commercially available cat foods, meaning allergies are pretty common. It is also important to note that cats can develop food allergies at any point. Therefore, they can be allergic to the cat food you've been feeding them their whole life!
When the allergen arrives in the stomach, the cat's immune system recognizes it as a foreign body, reacting by attacking it. This causes the feline to vomit, which means you'll potentially see undigested food. Some of the food might be partially digested, but don't be surprised if you notice entire pieces.
Thankfully, if your cat is an allergy sufferer you will usually see other symptoms alongside regular vomiting. These common signs include:
Vomiting and other digestive upset
Skin inflammation and redness
Itchiness and excessive scratching
Weight loss due to vomiting
Lethargy and general weakness
Whenever you notice any of these signs, you should act fast and contact the vet. They'll ask what symptoms you have noticed and ask you to change the cat's diet according to their instructions to determine what foods cause the reaction. In addition, the vet will also perform other tests to rule out other medical issues.
4. Diet Changes
Diet changes can strongly affect your feline. When you notice your cat throwing up food but acting normal, it might be because you bought new food, changed the feeding schedule, or simply served more food. Even the smallest changes can make your gorgeous pet throw up or regurgitate.
Many pet parents make the mistake of introducing new foods too fast. Some felines are more sensitive to changes, so their stomach might react more intensely and cause the cat to vomit. The reason can also be ingredients in the new food, but you can't really be sure until you call a vet.
Therefore, you must be very careful when adding new food to your furry friend's diet. Start by adding very small amounts of the new food, and mix it with the old. You should do this for at least ten to fourteen days and see if the cat likes it or not. Most will transition well by using this method.
However, some felines will refuse to eat the new food and only pick the old one from the bowl. If you see that the kitty isn't happy with the new choice, you should consider trying a different brand and food type that your cat prefers.
5. Gastritis
Gastritis is a condition that describes an inflammation of your cat's stomach. Many factors can cause inflammation and irritation, but a common cause is your cat eating foods it shouldn't have. This is usually human food or another non-food item the cat found around the house.
Since the stomach can't tolerate the food or foreign material, it will try to remove it through vomiting. It will do this as quickly as possible in an attempt to prevent the item from passing into the small intestine. If there is any undigested food in your stomach at the time, this will be thrown up as well.
Some cats might even vomit blood or bile. Unlike throwing up undigested food, this is a sure sign that things have taken a turn for the worse. Make sure you get in touch with the vet right away. Gastritis can become even worse if not treated, meaning that you have to figure out what causes it and how to prevent it as quickly as possible.
6. Eating Grass
Have you seen your cat munching on grass and wondered why? Felines enjoy eating grass, which is a very beneficial thing for them. This is because grass contains folic acid, an ingredient your cat needs to get more oxygen in the blood.
Although the reason why these furry friends like the grass aren't completely clear, there are a few theories. One of the reasons cats enjoy grass is because it potentially helps their sore throat. Others speculate that these furry creatures eat grass because it helps them get rid of intestinal parasites. Another possible explanation is that they simply like the taste and smell of it.
The most widely accepted cause though is that felines munch on grass when they're sick because the grass can make them vomit. The long blades can irritate the stomach and cause your cat to throw up the grass soon after they eat it. Most of the time, the grass is mixed with partially digested food.
As you can see, this is nothing scary or urgent. Grass isn't toxic to cats, nor will cause any real damage. However, if your cat has been vomiting for a few days and won't stop, you should consult a vet. Frequent vomiting can cause dehydration, so it's crucial to get in touch with a professional.
7. Gastrointestinal Obstructions
When your cat keeps gagging but nothing comes out, you should contact your vet. One of the most common causes of a cat struggling to throw up without a result is gastrointestinal obstruction. This is a serious situation that can threaten your cat's life.
Digestive obstructions can happen due to different objects around the house or the outdoors that the cat swallowed. Cats are curious creatures, which means they can eat toys, random items, cotton threads, and anything else they can get their paws on. Some smaller objects can pass through the body, but larger items can partially or completely block the intestines.
Since the feline can't get rid of the item through the bowels, it will try to remove it through the mouth. In some cases, you'll also that your cat is struggling to poop but nothing will come out. Since liquid feces can pass around the object, you might also notice your cat has diarrhea. Obstructions are a serious medical condition and the blockage needs to be removed by a vet ASAP.
How To Stop My Cat Throwing Up
If your cat frequently throws up undigested food, you need to book a veterinary appointment. After diagnosing the cause of vomiting, the vet will assess the situation and might prescribe medication. It usually happens if the cat has been vomiting for a while and the symptoms persist.
But how can you help your cat at home? And how can you prevent your cat from throwing up after eating again in the future? Although you can't 100% prevent medical conditions that cause throwing up, you can do a few things to avoid fast eating, overeating, and hairballs. Try these tips and you should see an improvement.
1. Puzzle Bowls
Puzzle bowls are perfect for fast eaters. Although these bowls might not always solve your problem, they have been a successful technique for many pet parents. You can use these cat food bowls to slow down eating, giving your cat time to digest its food and preventing vomiting.
This type of design makes your cat work to get its food. They might be bowls with soft spikes sticking up from the base or a silicone mat you can squash wet cat food into. Either way, it means your cat needs longer to finish its meal. Therefore, the stomach will have time to process the food, and you won't see vomit around the house.
You can choose from the many available puzzle bowls, toys, and feeders because they come in various designs. In addition, you'll quickly find one that fits your budget and your feline likes. Alternatively, feeding your cat from a plate instead of a bowl is another cost-effective solution.
The bowl makes the food more accessible to the cat so that it can munch on it much faster. A flat plate will be more challenging because the food might move around, and the feline will have to chase it. This can potentially slow down your cat and prevent vomiting.
2. Automatic or Smart Feeders
Another simple way to deal with this issue is by using an automatic feeder to deliver your cat smaller and more frequent meals each day. By decreasing the portion size per meal, it doesn't matter as much if your cat gulps down its dinner as much.
Some feeders are pretty intelligent, and smart cat feeders allow you to connect the device to your phone, laptop, or tablet and set the times and amounts of food you want your cat to have. This save you having to pull out your cat weight scales each mealtime to measure the right amount. Most of these feeders also have a camera so you can supervise your feline even when you're not at home.
Automatic cat feeders are even more of a godsend if you have multiple cats as they do the time-consuming job of feeding your cats for you. Most automatic cat feeders for two cats divide a pre-set motion amount into two separate bowls, one for each of your furry friends.
If you struggle with conflict around feeding time, a cat feeder with a collar sensor is another potential solution. The collar will let the cat with a matching microchip ID access the food inside the bowl. This prevents one of your cats from stealing food from the other, removing the stress and pressure of eating. Therefore, the cat that usually gets barged out of the way can enjoy its meal at its own pace.
3. Elevated Cat Bowls
The next thing to look at is an elevated anti-vomit bowl. These bowls can be very beneficial for cats when compared to regular bowls for two reasons:
Bowls located on the floor are easier to access, so the cat will be able to eat food faster and eat a lot of food. Therefore, elevated bowls help to slow down feeding.
Cats are hunched down when eating from regular bowls, so food can get stuck in the esophagus more readily and make the cat regurgitate. Elevating the bowl better aligns the stomach and the mouth so regurgitation is less likely.
Again, there are various sizes, shapes, and prices, so you can easily find one that works for you.
4. Diet Adjustment
If the vet says that your cat is allergic to certain foods, it's time for a diet adjustment. The first step is to find out which food causes the allergy. You then need to eliminate it from the diet.
Since most cats are allergic to protein, most vets recommend a hydrolyzed diet. This diet adds hydrolyzed protein which is already broken down amino acids that won't cause an allergic reaction while still ensuring your cat gets all the essential amino acids it needs for good health.
Another thing to keep in mind is that you should always introduce new foods slowly. You should start by adding just a little of the new food and mix it with the old. The process should last for around two weeks. That way, you can ensure that your cat's stomach doesn't react with vomiting.
5. Regular Brushing
Regular brushing is the best advice for all pet parents who forget how important it is to brush their feline's glamorous coat! If you have a short-haired cat, you should brush it once or twice per week. However, medium and long-haired breeds need more care, and vets recommend that you brush them every single day.
Although this sounds like a lot of work, it's the only way to prevent your feline from throwing up hairballs daily. It's also the best way to avoid having your home and clothes covered in hair. Cats might be very diligent about grooming, but they can't always get rid of all the extra hair.
The issue with brushing is that many felines don't like to be brushed. Thankfully, your vet will advise you on how to set a brushing schedule and approach your cat the right way. You should start the process when the cat feels relaxed and comfortable. Target the body parts when she likes to be petted, and stop if she ever shows signs that she doesn't feel comfortable.
In addition, there are many supplements and gels that you can get to help your cat get rid of the hairballs. You can also ask your vet about the best products to buy, but this doesn't mean that you should skip brushing. Besides, brushing is a great opportunity for you and your feline to bond.
MY FINAL THOUGHTS
Why is my cat throwing up undigested food? If you're as scared as I was when I saw cat vomit on my carpet, this article is the guide you need. Felines are more sensitive than you think, and they can struggle with allergies, hairballs, diet changes, bowel obstructions, gastritis, and much more without noticing them.
In many cases, the unspecific symptom is vomit, so that's when the alarms go off. Calling the vet is the right thing to do whenever you see vomit. Your vet will do the necessary exams to figure out the reasons and give you advice on how to treat it.
In most cases, your cat will be in good health and simply ate too quickly or ingested something it shouldn't have. However, it is always better to be safe than sorry. It is worthwhile ruling out medical conditions before trying any of the preventative tips in this article.