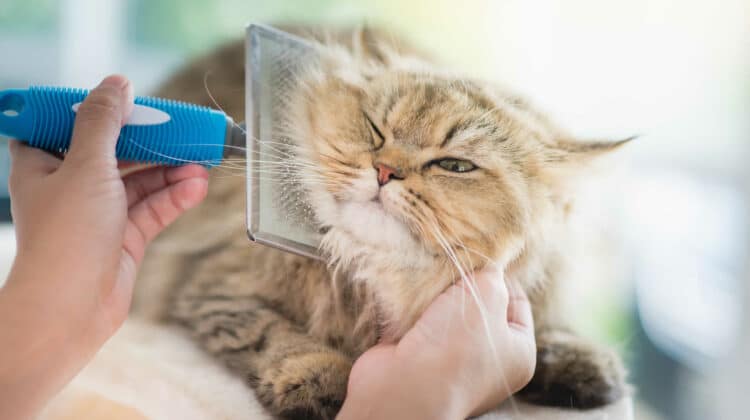 Cats might be obsessive groomers, but even the cleanest kitties need a helping hand occasionally. If you've been blessed with a long-haired cat, you'll already know that their coat requires a little extra care than most. It can help keep their coats looking beautiful while preventing tangles and mats.
Investing in the brush for long-haired cats is the smartest thing you can do to help promote good coat health. And having two beautiful Persians of my own, I went on a hunt for the best brush around – and I finally think that I've found the one! Actually, I discovered seven great options, but you'll have to keep reading to find out what the fuss is all about.
This article will give you reviews of all these top products. Plus, I'll teach you all there is to know about caring for your long-haired cat, how to find the ideal tool for you, how often to practice brushing, and much more. Your cat's coat can and will look amazing!
My Top Pick
In my opinion, the Safari Cat Self-Cleaning Slicker Brush is the best brush for cats with long hair. Why did I enjoy using it so much? The thing that got me hooked is the long yet gentle stainless steel bristles that effortlessly brush through extremely long and thick fur.
I also love that the brush is lightweight, has a self-cleaning feature, and removes extra hair within seconds. None of my cats have complained so far, which means the purchase is an absolute win. It is gentle to the skin and won't ever scratch or hurt your beloved furry friend.
Best Brushes for Long-Haired Cats
How do you choose the best brush for long-haired cats? The task won't be easy, but the more you know, the more secure you'll be in your choice. Below you'll find some of the factors to consider when shopping for the perfect brush. I reviewed each product against these criteria to ensure only the most effective grooming tools for long-haired cats made it onto my list:
Comfortable to Hold: If you want to avoid wrist pain, the brush should be comfortable for your hand. The design should be lightweight, and it's beneficial when the handle is padded. Since most of us are used to ordering online, take a good look at reviews to see if other customers find the brush heavy or hard to hold.
Easy to Grip: All great brushes for cats are easy to grip. You don't want to be pulling their hair through a large knot only for it to slip out of your hand! Ideally, the handle should be equipped with an anti-grip surface. These factors make the experience easier, especially if you have more than one cat to brush.
Gentle on the Skin: Many pet parents struggle with cats that have sensitive skin and therefore avoid being brushed like the plague. The best brushes for cats that hate to be brushed have soft bristles and are padded. These products also have rubber tips on the bristles that provide a gentle approach.
Suitable for Long Fur: Long bristles make a brush ideal for long fur. If you get a brush with short bristles, it will only work on the surface layers of the coat and won't target the matting that happens in the undercoat.
Brush Type: When looking for a brush for long-haired cats, you'll stumble upon many different types, sizes, and shapes. Which one you should get depends on the purpose. I have included all different types of brush types in the reviews, and there is a handy section further down the article to help you know which is right for you.
Ease of Cleaning: Imagine being able to push a button to clean your brush. Well, that's actually a feature multiple brushes offer, and pet owners are obsessed. This makes the brushing process so much easier for people because it removes the coat within seconds. All good brushed make cleaning the hair and dirt you've just removed as simple as possible.
Now that you know more about the different brush types and features they should have, it's finally time to talk about actual products. I spent months brushing and brushing to let you know which brush is worth your money.
There is a little bit for everyone in this review, so you'll find more affordable and expensive alternatives, brushes for sensitive cats, and products made of different materials. So, dive in to find out what's best for your beloved feline.
If you have a stubborn Persian cat like mine that doesn't want to touch a brush with a barge pole, this product might be your solution. The Safari Cat Self-Cleaning Brush has been a staple in my household for a while. I've had it for a fair bit of time now, and I wouldn't change it for any other tool.
One of the most important things about the Safari brush is that all of my cats feel comfortable while I'm brushing them. That hasn't always been the case with other test products. Some cats will love it, while others won't be happy. With this one, everyone lets me do my job of helping them maintain those gorgeous coats.
It is also perfect for longer fur. The stainless steel pins are long enough to get to the undercoat and remove the excess hair. Although they're metal and hard, they're pretty gentle and don't damage the hair or skin. This makes it a great brush for cats who hate to be brushed – at least, my cats seem to love it anyway!
The handle is also grippy, which means it will feel great in your hand and you won't have to put much effort into grooming. Cleaning the brush is also effortless! As the name suggests, this cat brush is self-cleaning and all hair and dirt can be removed with the press of a button.
This is also a great option for larger cats, so if you have a massive Main Coon around the house this brush will work a charm. However, it isn't too large and is also perfect for smaller cats, short-haired breeds, and everything in between!
Pros
Effortless self-cleaning feature
Removes extra hair from undercoat with ease
Comfortable in your hand
Gentle to the skin and hair
Grip handle for easy grooming
Durable, sturdy design
Cons
Can hurt if you press too hard
Brushing a cat should be a fun experience for you and your beloved feline, but a brush also needs to get deep into the fur and do a thorough cleaning and detangling job. If you've been struggling with many brushes that don't perform well, you need to try this product; its long bristles will reach the undercoat and easily eliminate all the extra hair!
One of the things this brush has and others don't is a silicone loop on the handle. Most of you will be wondering why a loop is so important. I have several cats and many brushes, so I need to find tools that I can easily store. Thanks to the loop, I can hang the brush wherever I want and easily find it whenever I need it.
The following advantage is the thick bristles that never break or bend. Although I was scared that the brush would be too harsh for the kitties, that wasn't the case. The bristles have rubber tips that provide a gentle approach and a massage-like feeling.
The Aumuca brush is a better alternative for smaller cats due to its size. That doesn't mean you can't use it for large cats, but it can take longer. Therefore, you might consider purchasing a larger brush if you have a huge Maine Coon or multiple cats in your home.
Pros
Durable design that will last a long time
Thick bristles that won't bend or break
Self-cleaning feature
The bristles have rubber tips for a gentle approach
Handle equipped with a silicone loop for easy storage
Comes in three colors
Cons
Not ideal for large cats
Grooming multiple cats will take a little time
If your matted fur is your main concern, you have just stumbled upon a winner. I've tried many expensive brushes with complex features, but most of them don't even come close to this one in terms of effectiveness. So, why did I like this dematting brush so much?
First of all, it does exactly what it says on the tin, successfully removing extra hair from the undercoat. It also features a dual head, one side with fewer teeth and one with more teeth. I start combing my gorgeous cats with the side with fewer teeth to target the knots and tangles. I then continue with the side with more teeth to finish the job, so you essentially get two tools for the price of one.
Additionally, the detangling part reaches the undercoat and targets all the excess hair. Although the brush is made of stainless steel, it's pretty lightweight and easy on the hand. It never makes my wrists tired, even though I comb all of my cats multiple times every week.
Another huge pro is the fact that the edges are rounded and won't hurt the cat. Many pet owners fear stainless steel tools because they look quite aggressive and don't feel right for their felines that already despise brushing. That's not the case with this one; on the contrary, my cats have been more than happy to get a grooming session.
Pros
Affordable price compared to other brushes
Comes in two color options
Suitable for cats and dogs with long hair
Successfully reaches the undercoat
Dual-head design – two tools in one!
Cons
If there's one brush that serves as a gold standard for long-haired cats such as Maine Coon, Himalayan, Persian, and Norwegian Forest cats, then it is this one. I avoided getting it for a while because I had too many brushes, but now I feel guilty I didn't listen to people around me sooner!
My best friend is the one who first tried the Hertzko Self-Cleaning Brush while on the search for a brush her Persian would like. She got the "small" version of the brush that's more suitable for sensitive cats, and it was an absolute win. But there is also a larger size with longer, harder bristles if your kitty isn't as delicate.
The main perk of this brush has to be its self-cleaning feature. The self-cleaning feature is superb! It only takes seconds for the brush to be clean of all loose hair, dirt, and debris. I also love that the handle is equipped with an anti-slip feature, so you'll never feel like the brush is falling off your hands.
Another advantage is that the metal bristles are long enough to treat long-haired breeds without much effort. However, the brush is pretty big and isn't the best choice if you have a smaller cat. You might struggle to properly groom their hard-to-reach areas.
Pros
Superb self-cleaning feature
Works great for long-haired cats
Durable and stands the test of time
Easy to hold thanks to the anti-slip handle
Rounded bristles that work well for sensitive cats
Comes in a smaller size for sensitive skin
Cons
Not the best option for smaller cats
Here's another simple, double-sided brush that will encourage you to brush more. The BV Cat Brush is affordable and is excellent for long-haired cats! This brush has two sides; one covered with pins to reach the deep layers and the other covered with bristles.
The side coated with pins removes the extra fur from the undercoat and targets knots and tangles. The pins finish with rubber tips, which means the brush won't hurt your feline's coat or skin.
The other side is covered with soft bristles that spread the natural oils and leave the coat shiny. These bristles also remove the extra hairs in the overcoat. So, it is a great 2-in-1 tool!
The only con I have to mention is that the pins could be a little sturdier and might break if you apply too much pressure. Therefore, you need to make a conscious effort to be gentle. However, the brush is lightweight and doesn't tire my hands while working. In addition, the handle features grooves that make it easier for you to hold it without straining your wrists.
Although I included it in a guide for long-haired cats, it is also worth mentioning that this brush is suitable for short and medium-haired felines. You can even use it on your dog! So, if you want a bargain that works with any pet of any size, this is the one.
Pros
Double-sided to reach the undercoat and add a finishing touch
Ergonomic handle with grooves for better grip
Affordable purchase
Round tips on the pins for a gentle approach
Lightweight and easy to hold
Suitable for long-haired and short-haired breeds
Can also be used on dogs
Cons
The pins could be sturdier
Owners that are ready to splurge on their gorgeous cats should look into this product. Although it's a little more expensive than the rest on the list, I can assure you that it will last a very long time. Therefore, it is arguably worth spending more knowing you'll never have to buy another brush again!
I love it because of its sturdy construction and dual-side nature. One of the sides has fewer teeth and is perfect for dematting. The other side with denser teeth works on the undercoat and eliminates tangles. Thanks to this feature, you won't need to buy multiple tools – this one does everything you could wish for in a brush for long-haired cats.
I also can't get over how comfortable the GoPets comb is when you put it in your hand. That's thanks to the ergonomic handle that's covered with a non-slip silicone gel. Plus, it's lightweight and won't tire you. The tool is comfortable for your cat as well. Since the edges are rounded, they can't scratch the skin as some other brushes and tools do, so there's no need to worry.
This might be a premium choice, but when you consider that you get two tools in one, it's much better investing in it than buying two others that will damage fast. So, if you can afford to treat your cat, I'd recommend making the splurge.
Pros
Dual-sided product – 2 tools in 1
Silicone handle for better grip
Rounded edges that are gentle to the skin and coat
Lightweight and very durable
Successfully removed mats and detangles long fur
Cons
More expensive than other products
Finally, I recommend the Atlamia slicker brush. This brush is living proof that not all products have to be expensive to be efficient. It's equipped with curved bristles that are gentle enough for all cats and won't cause any damage or scratching.
The bristles have round plastic tips that have a relaxing massaging effect. This boosts the blood flow, disperses the natural oils, and makes the fur shinier. Despite being in a lower price range, it's also surprisingly durable and lightweight, with sturdy construction.
Another of the best features of the Atlamia slicker brush is the self-cleaning feature. With a single button press, your brush will be completely clean. As a result, there's no need to spend hours cleaning it anymore, and you'll save plenty of time.
The handle is also ergonomic, which means you can use it for a long time without feeling wrist pain. I used it to brush three cats in a row, all long-haired, so you can imagine the effort it took. Thankfully, my wrist was fine when I was done, and my fingers didn't hurt at all.
Pros
Self-cleaning feature that cleans the brush in seconds
Curved bristles are gentle and have a massaging effect
Disperses natural oils and makes the coat shinier
Extremely affordable price
Ergonomic handle for a great grip
Cons
Not successful for matted fur or large knots
Buying Guide
As you can see, there are so many different brushes for long-haired cats on the market!
Now that you got familiar with several different products and learned about their features, you're probably a bit more educated on what you should pay attention to. However, it's still very challenging to choose a single brush if you're unfamiliar with all the details.
This buying guide will take you through all the features a product must have to find its way to your shopping cart. Use this as a guide to help you find the best brush for you and your kitty.
Type of Brush
There are many different types of cat brushes that can be used on long fur coats. It is recommended to get a mixture of the different brush types to tackle different coat-related problems. Here is a brief look at all the different types of cat brushes you might come across:
Molting Comb: A molting comb is one of the must-have tools in your drawer if you have a long-haired feline. The purpose of this tool is ideal for thick, long fur because it has different length pins. The longer pins reach the undercoat and help with shedding, while the shorter pins target the top layers.
Bristle Brush: A bristle brush is the most common type you can use for all coat lengths. If you have a long-haired cat, you should start the grooming session with a molting comb and then a bristle brush. The comb will capture all the dead hairs, get to the undercoat, and remove the parts cats can't reach. Since the bristles of this brush are soft, they deliver the finishing touch and leave the coat smooth and shiny.
Pin Brush: A pin brush is the next brush type to try. This tool is a godsend for cat owners who constantly struggle with knots and tangles. The bristles of these brushes go through long coats with ease, target all the problematic areas, and prevent matting. You can use them every day, and they are ideal for long-tail cat breeds.
Glove Brushes: Rubber glove brushes are the easiest to use but won't reach the undercoat. These gloves are best for cats who aren't fans of brushing because the process is very much like petting them. All you need to do is put on the glove and go over the coat with your hand.
Slicker Brushes: Slicker brushes have short metal bristles that mainly target the surface layers of the coat. They are best for short-haired cats but can work for long-haired felines for the finishing touch. After you brush the cat with a comb, you can go over it with a slicker brush that will leave it smooth and spread the natural oils.
Flea Combs: A flea comb is probably the last tool you want to use; however, you still have to own one. A flea comb has fine teeth very close to one another, meaning they can grab fleas and remove them with ease. These combs are also great for dirt and dead hairs.
Comfort & Grip of the Handle
Brushing a long-haired feline means spending at least five to ten minutes each day repeating similar motions with your hand. If you've already had a brush, but it hurt your wrists, you need to change it with a more comfortable one.
The brush handle is an essential factor to influence your decision. I recommend finding a padded one because you won't have to grip it so hard, and it will feel comfier to your fingers and palms. In addition, most padded brushes are lined with memory foam, making them lightweight. Search for non-slip surfaces too so you don't have to grip onto the brush as hard.
Brushes with plastic, wooden, metal, or rubber brushes are less comfortable to grip and can cause more stress to your hands. However, that's not always the case, especially if the brush is lightweight and easy to move around. Comfort is a personal thing, so see what feels best for you.
Single Or Double Sided Design
Long-haired cats do need different brush types to tackle the separate layers of their coats. So, should you opt for a single or double-sided brush? This mainly depends on your budget and whether you prefer a single tool to do the job or you don't mind buying two separate brushes.
Most double-sided brushes have longer teeth on one side that reach the undercoat and take care of tangles. The other side is made of shorter teeth that spread the natural oils and leave the coat smooth. A 2-in-1 tool can end up saving you money and means your cat gets all of these benefits, rather than the benefits of one vs the other.
On the other hand, one-sided brushes only have bristles on one side. Depending on the length and design, it can be a brustle brush, pin brush, or slicker brush, and they all have different purposes. You'll need more than one of these brushes to maintain the fur of your lovely feline.
Easy To Clean & Maintain
Since you'll be using this brush multiple times per week, you should find a design that's easy to clean and maintain. Besides, long-haired breeds like Maine Coons and Norweigan Forest cats are known for shedding a lot! Their hair will quickly accumulate in the bristles and needs to be removed.
I personally love self-cleaning brushes. Many brushes on the market have this feature, making them effortless to use. In other words, after you get tired from the bruising session, all you have to do is press a button, and the brush will be clean. However, if you don't mind picking the hair out with your hands, brushes that require manual cleaning are still a great option.
The material of the brush should be also durable because you'll have to wash it to keep it clean. If the brush is made of cheap plastic or rubber, cleaning solutions and hot water can damage it. That's why you should always rely on trusted brands and high-quality materials.
Bristle Type and Length
Long hair requires a brush with long bristles. If you get one with short bristles or teeth, they will only reach the coat's surface and make it smooth. Short bristles can't get to the undercoat where most tangles, knots, and matting happen. This is why you should find a tool with long bristles that will penetrate the long, thick coat.
Unfortunately, long bristles can be painful, especially for cats with more sensitive skin. If you're on the hunt for brushes for cats that hate to be brushed, then you should opt for a design specifically made for sensitive cats. These tools are usually equipped with gentle bristles that avoid irritation and have a very gentle approach.
Another great idea for cats who hate brushing is a glove with rubber bristles. These are the same gloves I mentioned before. You just put them on your hand and start petting your bestie. Although it won't be enough for long-haired beauties, it's a good way to start and get your cat used to the brushing process.
Gentle on Your Cat's Skin
As already mentioned, bristles also play largely into the sensitivity factor. Sharp metal bristles are a no! Instead, find a brush with bristles that end with round tips. They will apply gentle pressure on the skin that feels like a massage and won't cause any irritation.
Aside from finding a brush with soft bristles for sensitive cats, you should also search for a cushioned product. Some cats are more sensitive to brushing, so you won't be able to do your daily duties if you buy the first brush you see. Padded brushes don't feel as harsh on the skin and won't cause any unnecessary irritation.
What are the Benefits of Brushing Cats?
Brushing is an important activity every cat owner should practice, regardless of the breed or length of your cat's fur. All cats with undercoats need a nice brushing and combing session, but felines with long fur are more likely to experience issues because of the length.
Even though most cats are meticulous groomers, all of them need a helping hand for this tiring job of looking fabulous and being healthy. Therefore, I wanted to highlight the significant benefits that coat brushing delivers for cats so that all owners are even more involved and willing to do it regularly.
Brushing Prevents Matted Fur
Long-haired breeds like Maine Coon, Ragdoll, Siberian, Norwegian Forest, and flat-faced cats are particularly susceptible to matting. With such long coats, it is easy for small knots to form. And a tiny knot or a few entangled hairs that can quickly turn into a problem and torture your beloved kitty.
The best way to prevent and remove mats is with frequent brushing. Every time you brush your cat, you will remove these small knots and tangles before they become problematic. Therefore, regular brushing can prevent mats from forming and avoid all related complications, such as dry skin, irritation, and inflammation.
That's why you should practice brushing at least two times per week and do it with the right tools. But, of course, the ideal scenario is brushing long-hair cats every day. This is particularly important during the hotter months of the year when cats are shedding – cats losing their undercoats makes mats and tangles much more likely.
However, if you haven't been consistent with brushing and just noticed huge mats, you should first get in touch with a groomer. Pulling and trying to remove them can cause pain to your feline! Always seek professional help if you've left it too late and mats have already formed.
Brushing is a Bonding Activity
Is there a better feeling in the world than your gorgeous feline laying on your legs and purring? Coat brushing isn't for health purposes only; it can also become your favorite bonding activity that you practice daily.
As life gets crazier and busier, spending quality time with your pet might not happen as frequently as you like. However, once you realize that brushing your feline's long hair is your obligation, you'll also spend more time together each day. And the more time you spend together, the closer the bond between the two of you will become.
In addition, many kitties enjoy being brushed. They will purr, relax, and have the best time ever. Brushing is very much like a massage for them that boosts the blood flow and makes their coat shinier. Even cats that hate to be brushed can learn to love it with the right tools and a little patience.
You Can Spot Skin Conditions Early
If you brush your cat regularly, you'll be able to catch skin conditions as soon as they appear. This activity also helps you check them for parasites such as fleas and ticks. Unfortunately, these parasites can transmit diseases. Therefore, it's essential to protect your cat with flea and parasite prevention products.
Noticing symptoms like bald spots, skin irritation, and redness is a sign that you should schedule a vet visit. These issues can be related to allergies, parasites, diet, etc. Most of these cats also tend to overgroom, so the sooner you see the symptoms, the faster you'll stop your cat from licking its fur off.
Brushing Reduces Hairballs
Hairballs are the worst thing ever! If you've ever seen your cat struggling to throw up hairballs, you already know how scary the situation can be. Felines might be born groomers, but they can't always get rid of all the hair they ingest. Besides, hairballs in the tummy aren't a good sign and can lead to digestive issues, intestinal blockage, vomiting, loss of appetite, and other health complications.
If you don't help them with grooming, cats ingest more hair than they should, resulting in throwing up and hairballs all over the house. Regular brushing will take care of the loose undercoat hairs that your feline can't groom and lowers the chances of nasty hairballs. Your cat will be appreciative, and you'll have less mess to clean up!
Brushing Maintains Beautiful Fur Coats
Every cat is gorgeous, but they become even more fabulous right after a brushing session. Their fur is more luxurious and shinier, and they reach their full potential. And aside from looking and feeling great, brushing also helps improve their overall coat health.
For one, brushing removes knots and tangles to make the hair look silky. The brushes you'll use also reach the undercoat and spread the natural oils over the entire body. These oils make the coat shinier and more hydrated. In other words, it's very much like taking care of your hair. If you treat it right, it will be more luscious and shiny.
If you don't practice frequent brushing, matting and tangles will reduce the airflow between the hairs. This can eventually lead to dry skin, irritation, and sensitivities. Your cat's coat won't look as beautiful, and they won't be feeling their best either.
Your Home is Cleaner
Ah, how we all wish for a neat home without having to vacuum several times a day. Well, I have a simple solution that can help. If you want to stop seeing hair everywhere around your house, it's time to start brushing your long-haired beauty every day or at least two to three times per week.
I have to mention that there will still be cat hair around the house – no amount of brushing will prevent all hair from getting onto your carpets and surfaces – but there won't be as much and your life will be made easier. Brushing that fabulous coat means not having to vacuum as frequently and having more free time for other activities.
If you're still finding cat hair everywhere with regular brushing, I also have another solution: an air purifier for cat hair. These are units that capture and remove all hair from their air. Our long-haired felines do make a mess, so it's a worthwhile investment (though not a substitute for brushing!).
Helps Immobile and Sick Cats
Finally, brushing is crucial if you have a cat with mobility issues. Felines with mobility issues usually have trouble grooming and reaching all the body areas. This is why they require their pet parents to spend more time brushing. Doing so helps avoid mats, skin irritation, and other problems.
Many sick cats also stop grooming. So, aside from medical help, they need you to help them with the coat. Similarly, overweight cats aren't as flexible and they might not be able to tackle all the parts of their bodies. This is where you come in – pick up the brush and go over all parts of their fur coats that they cannot reach themselves.
How Do I Brush a Long-Haired Cat?
Once you have found the best brush for cats with long hair, you need to use it on your furry friend. But that can be easily said than done! Brushing is a tricky activity and can take a lot of time and patience. In some cases, you might need to only work on the areas your cat allows you access for a while before she lets you brush her entire body.
Be prepared for a lot of back and forth, since many cats aren't very happy when you want to help them groom. Of course, people with cats who like to be brushed have it so much easier! But for the ones that don't you can follow this handy guide below for effortless brushing.
1. Create A Comfy, Cozy Environment
Cat parents out there know how difficult it can be to brush a cat that doesn't want to be brushed. Some kitties are so horrified by the thought of brushes and combs that they escape the scene as soon as you get the grooming tool from the cupboard!
One of the easiest tactics to get your cat to agree to brush is by creating a cozy environment. This means you should practice this activity when the feline is relaxed and wants to cuddle. The best time to approach is right when your cat is waking up from a nap and is still in a very sleepy state. Start petting your cat before getting the brush out and using it on its coat.
If your cat still appears to be fearful, let it smell the brush and interact with it. Felines are curious creatures, so the more they know about the brush or comb, the more likely they'll feel more comfortable around it. You can also try giving your furry friend treats once they become more courageous around the grooming tools.
2. Be Gentle And Strategic
Always start the brushing session with petting to convince your cat that there is nothing to worry about. You can then continue with gentle brush strokes. Always target the areas where your feline enjoys being petted, such as the chin, back, and head.
Once they are comfortable with you using the brush here, you can move into other areas. Start from one part of the body, then finish with the legs and belly. Be careful never to use pressure, especially if you notice that the brush isn't moving. Pulling can be very painful, and you don't want your cat going through that.
Another great idea is to begin with your fingers by gently going over the entire coat. This will remove a part of the tangles, and the brushing session will be more enjoyable. It's also a great way to avoid hurting your cat or pulling on the skin and coat.
Regardless of whether you are using a brush or your fingers, always use stokes in the same direction of the hair growth. When you notice a knot, work on it slowly and be very gentle. There are excellent detangling sprays for cats, so you can try one and see if it makes the job easier.
3. Finish The Job
Once the cat becomes comfortable with the brushing, you can continue with the troubled areas. This refers to the belly, which is sensitive, and many felines don't even want to expose it. However, if you got this far, then chances are you'll also have the pleasure of brushing the belly.
Some cats do get fussy when you approach this holy area; therefore, you shouldn't be persistent. Instead, go back to the parts you targeted before, such as the jawline, between the ears, and the back. If the feline ever starts moving away, you should abort the mission and try again later or the following day.
In addition, sticking to a schedule can be helpful. Cats are creatures of habits, so they'll know what to expect each day. Having a routine makes them feel more comfortable, and as time goes by, they'll get used to the brushing.
4. Treat Time!
For even better success rates, you need to turn brushing into a positive experience. If your cat associates it with treats, it is more likely to put up with the brushing just to get the reward. So, instead of just leaving her there hanging, award her with a treat once you're done.
Another way for her to understand that brushing is good is by taking out her favorite toy. She'll be more than excited to see it, and she'll know that you'll play again the following day – but only after brushing. To your cat, this seems like a fair sacrifice to make.
How Should I Deal with Matted Cat Fur?
Long-haired cats are undeniably beautiful. However, their thick coats are prone to mats and so you need to know how to deal with these tangled clumps. These knots can be quite dangerous and matted cat fur causes serious problems if you don't take care of them right away.
Below is a step-by-step guide on what to do if you spot matted fur when brushing your feline. Make sure you follow this process – brushing mats can be extremely painful and hurt your cat!
Check the Size: The first thing you should do is check how matted the area is. If it's a small area and isn't too tangled, you can try detangling it with a wide-tooth comb and then continue with a brush.
Use a Comb: If you've established the matted fur isn't too tight, take the cat comb for long-haired cats and use short, quick strokes to try and loosen the knot. Make sure to hold the fur closest to your cat's skin in your other hand to stop it from tugging and causing pain. Always start from the part furthest from your cat's skin and gradually work your way closer.
Use a Dematting Comb: I've given you a great dematting brush on this list, and it is the perfect solution for cats with more stubborn matted fur. They work exceptionally well to remove mats that are longer than they are wide and actively cut through the hair.
Speak to a Professional: You should consult with a groomer if your cat has a large matted area or the knots won't come loose. They'll be able to use specialized tools, detangling sprays, and clippers to remove the matted clump. You might need to see a vet after the skin under the mat has become irritated or infected.
FAQs
Q: How do I brush a long-haired cat?
A: Ensure your long-haired cat is relaxed and comfortable, then start to move your fingers through the fur to remove loose knots. Pick up the brush and start brushing areas your cat likes to be petted and gradually work up to other areas. Make sure you use gentle strokes in the direction of the hair.
Q: How often do I need to brush a long-haired cat?
A: You ideally need to brush a long-haired cat every day, but 2-3 times a week should be enough if you're a busy owner. If you find yourself asking "Why is my cat shedding so much?" this is a sure sign that your long-haired feline needs a little more TLC.
Q: Which is the best brush for cats with long hair?
A: In my option, the best brush for cats with long hair is the Safari Cat Self-Cleaning Slicker Brush. It comes at an affordable price, it's easy to hold without causing wrist strain, and most importantly gets all the excess hair.
Q: What qualities should a good brush for cats with long hair have?
A: An excellent brush for long-haired cats has long bristles to reach all the extra hairs. It should also be lightweight, easy to hold, and gentle on the coat and skin. I also love brushes that come with a self-cleaning feature.
Q: Do all cats need brushing or just long-haired cats?
A: All cats with undercoats need brushing. This includes cats with curly hair but doesn't include hairless cat breeds such as Sphynx. If your cat has hair, it needs to be brushed! However, long-haired breeds need more frequent sessions due to the thickness and length of their coat.
Q: Should I wash my long-haired cat?
A: You don't need to wash your long-haired cat unless your vet recommends it. Cats are notorious groomers, so they bathe more than you can imagine. If you practice regular brushing sessions and your feline is healthy, there is no need to wash her.
Q: What are the tools I need for my long-haired feline?
A: Although there are no strict rules or types of brushes that you have to use, there are a few different styles you should purchase. Consider getting a pin brush and slicker brush as a bare minimum. A wide-tooth comb is also useful for dealing with bigger knots, whereas a flea comb is a must for every pet parent to help keep those pesky parasites at bay!
Q: Can I make my long-haired cat stop shedding?
A: No, even if you brush your cat frequently with the best brushes, it will continue to shed. This is a normal part of their life, and it's completely natural. Cats will always lose fur and it's your job to help them keep it healthy and shiny.
Q: Should I purchase a deshedding brush?
A: If you're fed up with your cat's shedding, you will benefit from a deshedding brush. Regular deshedding with brushing and combing removes the extra hair and lets new hair grow instead of it. You can use a deshedding tool that looks like a rake or use a brush. These tools remove a large portion of the hair, so you'll see less fur around the house.
MY FINAL THOUGHTS
Do you look at your cat grooming all day and wonder why she does it so often? Felines are obsessed with taking care of their fur. However, they also need extra help from their favorite humans. This is especially true for long-haired cats.
Long-haired cats are blessed with the most luscious coat, but they can't reach all the undercoat areas when grooming. Therefore, they need you to help with an excellent brush for long-haired cats. This is the part when you'll need to pick one of the fantastic finds that I listed in the review and get educated from the detailed buying guide.
Grabbing just any brush or comb won't do the job. Long-haired beauties have longer and denser coats. If you want to prevent matting and tangles, you have to be very specific with the choice. My personal favorite is the Safari Cat Self-Cleaning Slicker Brush, but another might be better suited to you. With the right tool, your kitty will have a fabulous coat and always look her best!