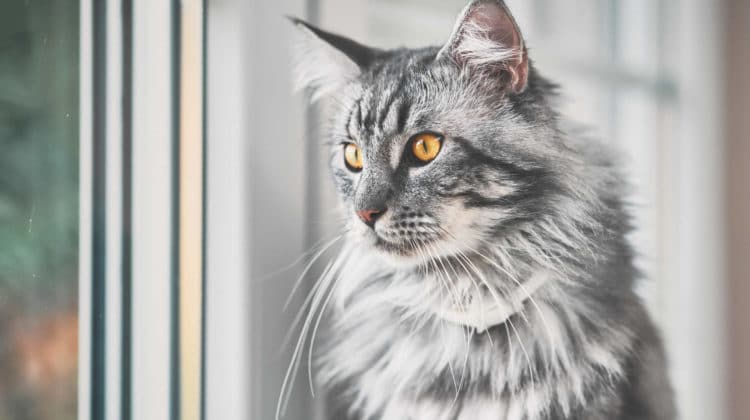 Did you know that a cat has an average of 60,000 hairs per square inch on the back and 120,000 hairs on the underside?
All these hairs belong to a specific type of coat and play a specific role, with most cats having two layers that form their coat: an undercoat and a topcoat.
These two layers offer protection and play an essential part in your cat's health. However, not all cats have these double-layered coats. If you are wondering whether your furry friend has an undercoat and how to care for cats with undercoats, you are in the right place.
In this article, you will learn more about the various coat layers, why undercoat removal is so necessary, the tools and techniques you need to use to remove it, and the mistakes you might be making while grooming your cat. Learn how to properly treat your furry friend and you'll achieve a healthy, tangle-free coat.
What is an Undercoat?
The undercoat often referred to as down, is the inner layer of short cat hairs that grows as a base layer and is covered by longer hairs that make up the topcoat.
This is the part of the cat's hair closest to their skin – it's fluffy, short, soft, and requires care, no matter the cat breed. The primary role of the undercoat is for insulation, helping to keep your cat warm whatever the season. It adds a layer of protection to help your furry friend better handle the cold.
Other Layers of a Cat's Coat
Aside from the undercoat made from down, several other hair types make up a cat's topcoat. It is important to know about these hairs as the type of coat partially determines the temperature that cats like. So, understanding your cat's coat can help you create the ideal environment for them.
Guard Hairs
Guard hairs are a part of the topcoat. These are long, coarse, and stiff hairs. However, guard hairs are not equally long and thick among all cat breeds. Also, tiny kittens don't have guard hairs, but this layer starts to appear as they grow older.
This hair layer is responsible for protection. It can repel liquid, protect cats from the sun and radiation. It also determines the primary color of the fur, together with the gloss. The guard hairs also help cats find out about various stimuli that come from their surroundings.
Awn Hairs
Awn hairs are also part of the topcoat and make up the bulk of the fur we see on our felines. In some cases, it's not uncommon to read that cats have a triple coat. That's mainly because some tend to list the intermediate coat that the awn hairs create as a separate layer, but most sources agree they are part of the topcoat itself.
Awn hairs adopt the roles of both the down hairs and the guard hairs. This hair type protects the cat from the cold and keeps it safe from water, sun, and radiation. Awn hairs are usually half the length of the guard hairs but are longer than the down hairs. They typically start growing at the same time that the guard hairs do.
Vibrissae
The only other type of hair you will find on cats is vibrissae – otherwise known as whiskers! A cats' whiskers are found on their faces – either side of their nose and above their eyes – and on the edges of their legs. Whiskers act as a sensory organ and help your cat to navigate around.
Different Types of Cat Furs
If you are wondering "Does my cat have an undercoat?", the easiest way to tell is by looking at their fur. Cats can be divided into four categories according to their coat type and hair length, from the hairless and unique Sphynx to the glamorous long-haired Main Coon.
As a general rule, if your cat has fur – no matter whether it is short, medium, or long – you likely own a double-coat cat. Below, you can learn more about each coat category and find out which breeds don't have an undercoat.
Hairless Breeds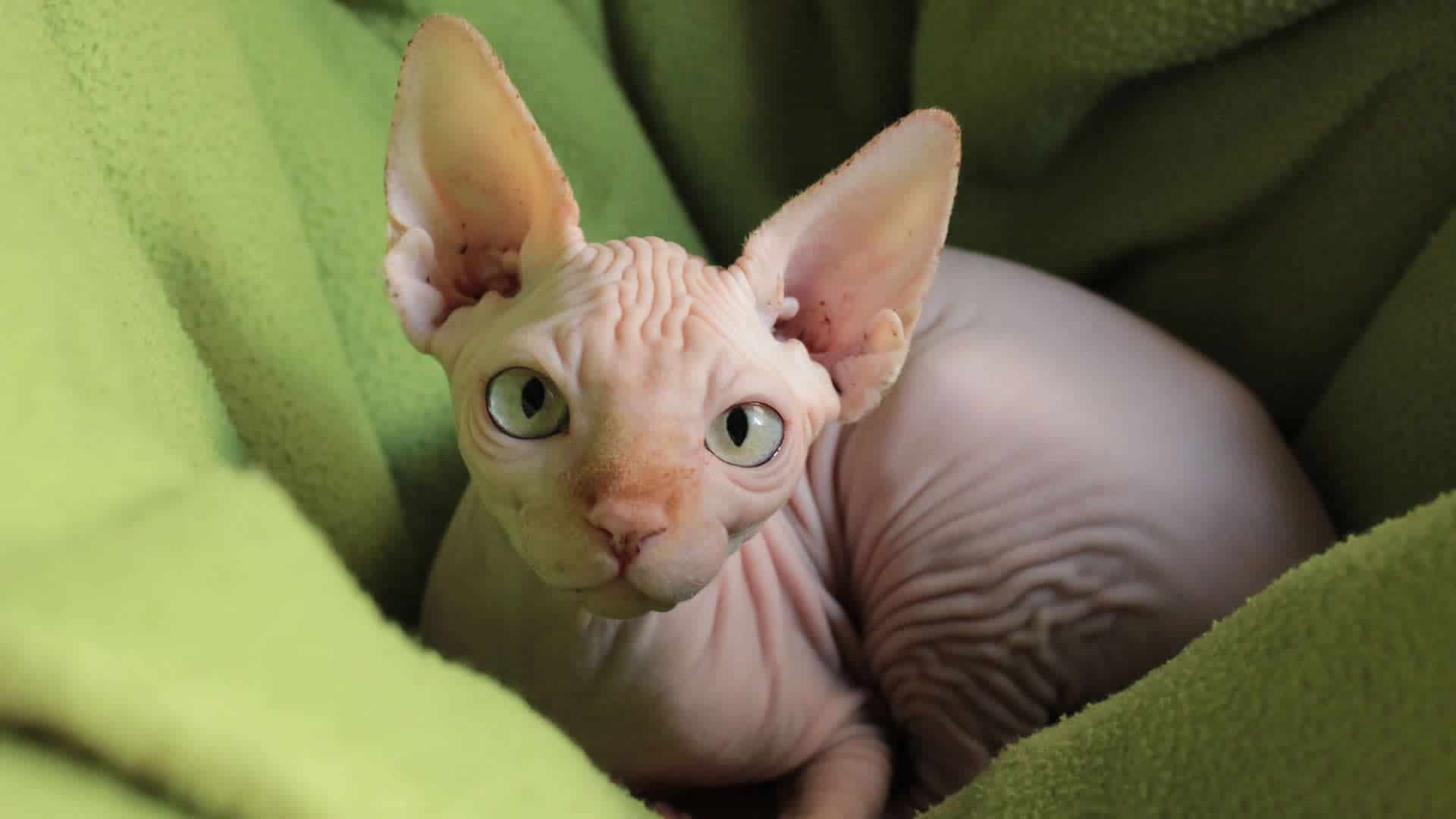 You've probably seen those hairless, stunning breeds called Sphynx cats. Sphynx cats are not covered with a two-layer coat. Instead, they only have a very fine layer made from an entirely different type of hair to any other cats known as vellus, comparable to baby hair in humans.
The lack of undercoat explains why Sphynx cats and other hairless felines struggle more to regulate their body temperature when it is cold – they don't have this additional layer to provide insulation. This is why if you own one of these gorgeous creatures, you should help them stay warm when it's cold by providing a blanket, dress them up when going on walks, and provide proper body hygiene.
This is also true for other lesser-known hairless cat breeds, such as the Bambino, Donskoy, and Peterbald.
Curly-Haired Cats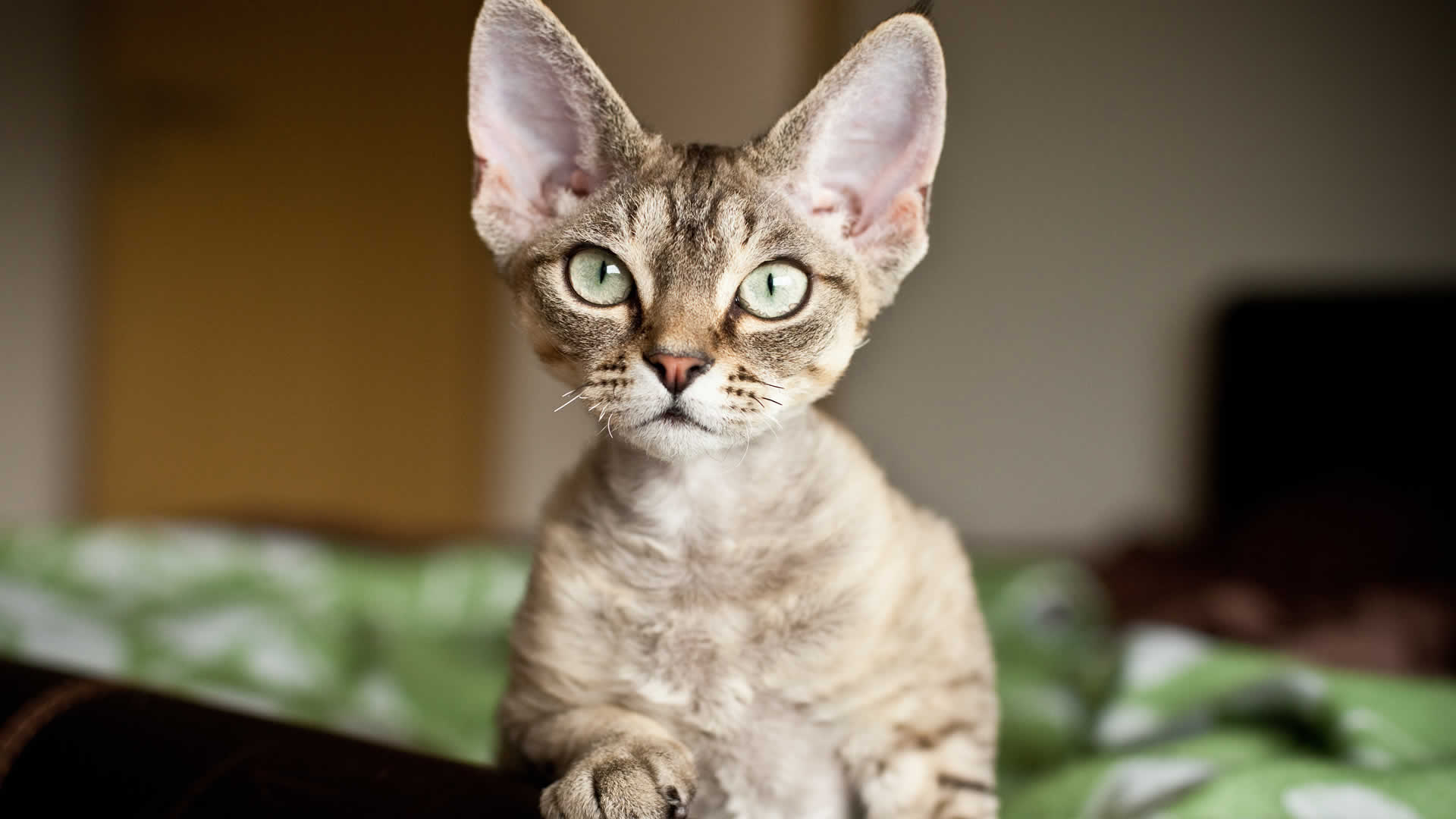 Devon Rex's are adorable cats that everyone falls in love with instantly! These cats have a unique curly coat that appears due to a genetic variation called the "rex mutation". Their coat is soft, curly, and is made up predominantly of down hairs, along with a few gauge hairs. Therefore, these cats do have an undercoat, but they don't have much of a topcoat covering it! Therefore, they are not double hair cats.
Devon Rex cats are pretty rare, so if you decide to buy one, you'll probably have to splurge a lot. They don't shed as much as short-haired and long-haired cats, which is great news for many owners, especially people with cat allergies. In fact, it's thanks to their specific appearance and the minimal level of shedding that people are obsessed with Devon Rex's.
Short-Haired Cats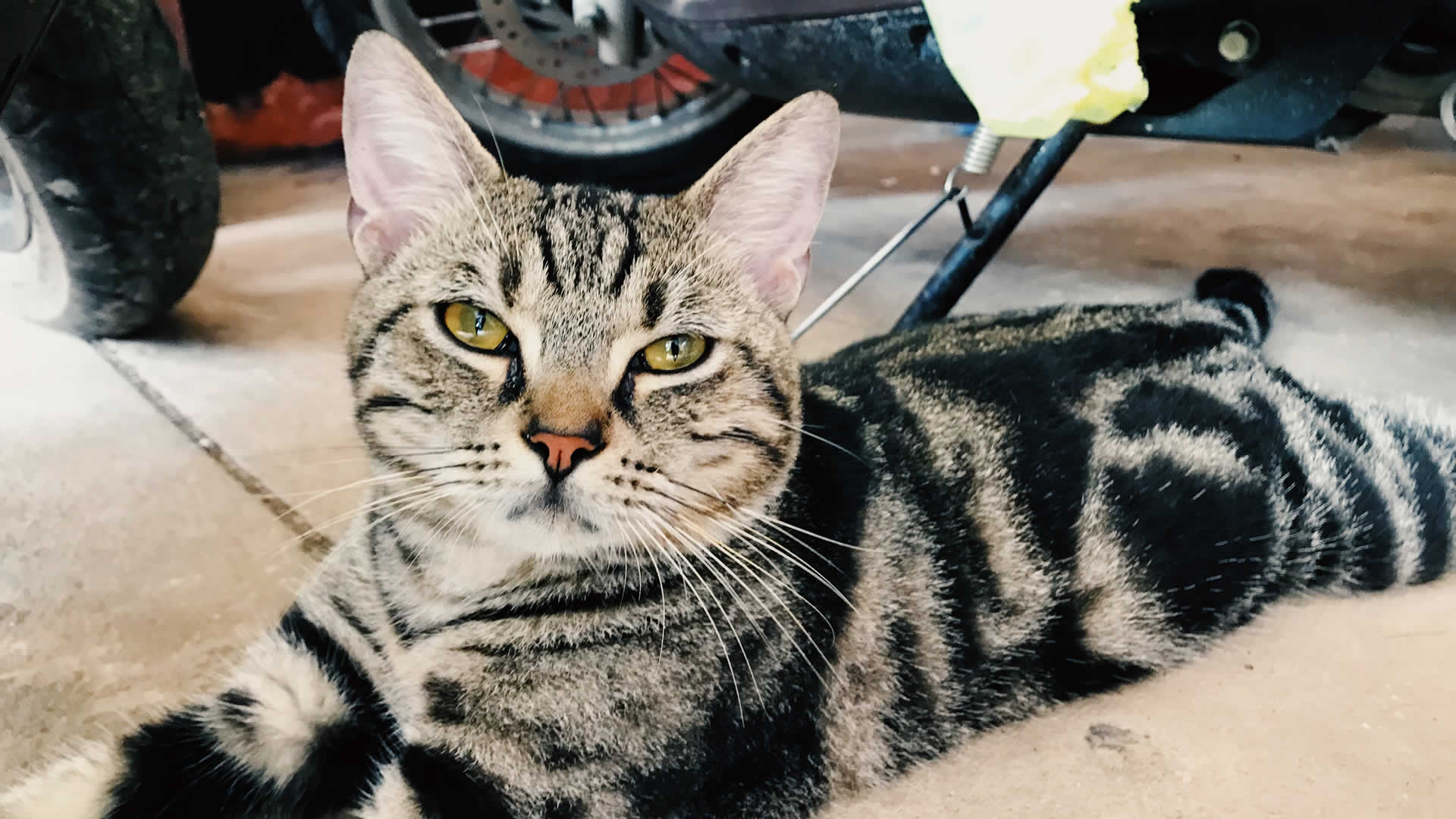 Probably the most common type of domestic cat is the short-haired cat. They have the typical double coat, made of a topcoat and an undercoat. The undercoat is meant to keep the cat warm, while the topcoat has a protective role. The hair length of these cats goes up to two inches long.
When it comes to their maintenance, it's essential to know that short-haired cats shed. You won't see as much hair as you would with long-haired cats, but shedding still happens. The best thing about this cat type is that they are pretty easy to maintain and the brushing process is fast. You'll find it much easier to check these cats for ticks, fleas, and other bugs.
Long-Haired Cats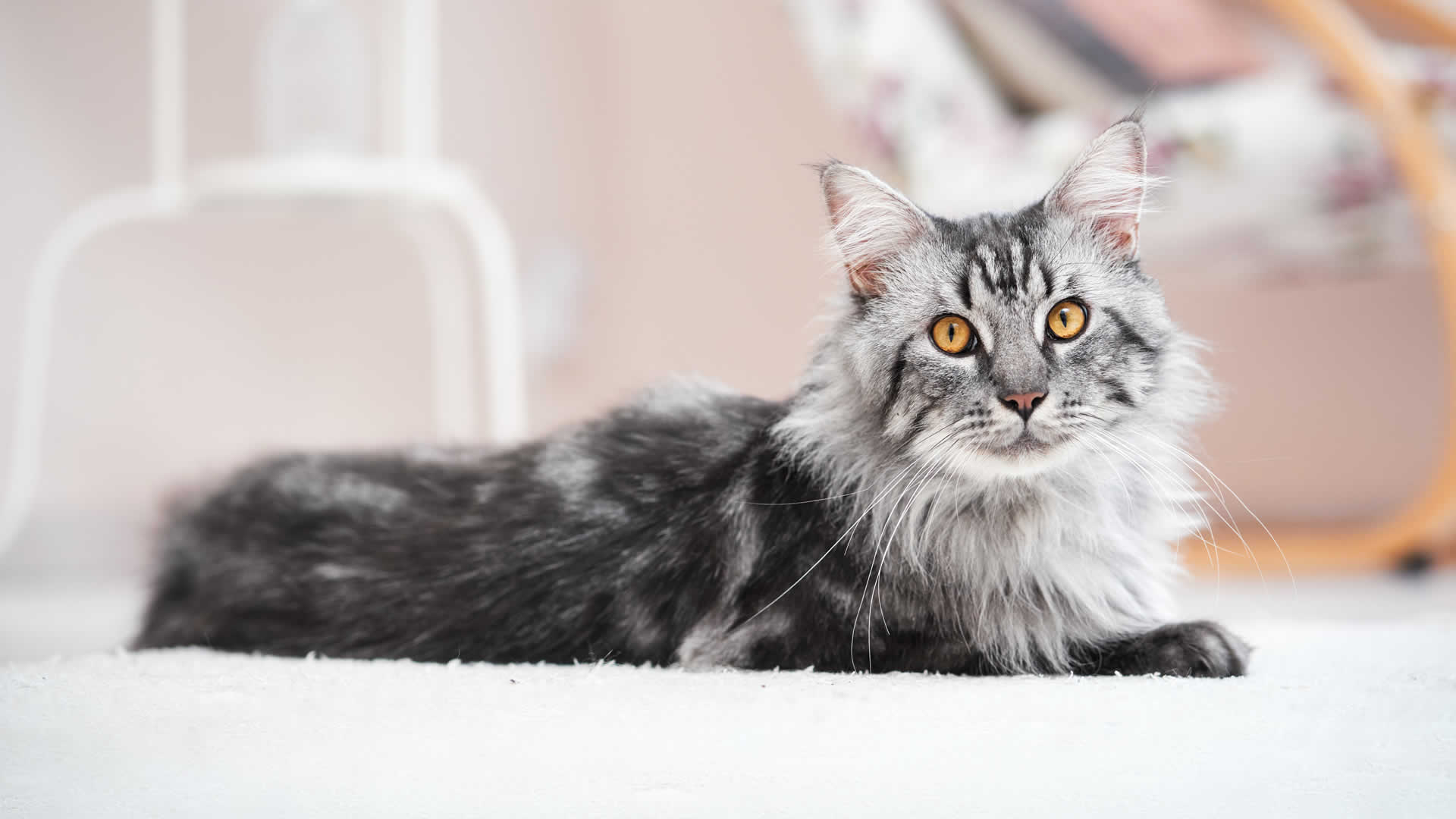 Long-haired cats also have a double coat made of an undercoat to keep them warm and a top coat to protect them. The hair length of this cat type varies and can go up to nine inches in length! The world record for the longest cat hair goes to a Himalayan-Persian cross which had 9-inch long fur. Other long-haired cat breeds include Maine Coons, Ragdolls, and Norwegian Forest Cats.
Long hair requires more care, including frequent brushing and grooming. Yes, cats groom themselves all the time, but they still need a little help, especially if their hair is long. If you don't practice regular brushing, a cat's coat can become tangled and cause further problems. You'll often see them cough up fur balls since they tend to self-groom, and they also shed quite a lot.
Why Is Regular Undercoat Removal Important?
If you have a cat with an undercoat, you may be wondering whether you actually need to remove it. In most cases, yes. There are numerous benefits of regular undercoat removal and it is essential to prevent tangles, mats, skin irritation, and more. You can help to remove the undercoat by regular brushing.
The one exception to the rule is if you have a Devon Rex or other Rex cat breed. Although these cats have coats made from down, they are not double hair cats. The lack of a topcoat means they can easily shed their undercoat without your help. However, for long-haired and short-haired breeds it's a good idea.
Here's a closer look at all the benefits of removing a cat's undercoat.
1. Reduces Tangles
Tangles happen when your cat can't get rid of all the extra hair. They are easier to remove than mats and knots if you act fast. All you need to do is brush your short-haired cat once or twice a week and two to three times for a long-haired cat.
2. Reduces Mats
Matting happens if the fur becomes knotted or entangled. It's much more common among long-haired cats, but it can happen to medium- and short-haired cats as well. Additionally, during shedding season, mats are more likely to appear.
Not removing the undercoat is one of the main causes of matted cat fur. Matting can eventually lead to a lack of moisture, dry skin, irritation, and more. As you can see, it's pretty significant to remove the undercoat consistently to reduce or completely prevent matting. By brushing regularly, you'll get rid of tangles and matted hair that could cause health problems to your cat.
3. Reduces Hairballs
If you don't regularly remove your cat's undercoat, you'll probably notice multiple hairballs. Although cats spend a lot of time grooming themselves, sometimes they can't remove all the loose hair and end up struggling with the amount of hair they ingest.
If a cat ingests numerous hairballs, the balls can get stuck in the intestinal system and cause problems. If you ever notice your cat throwing up hairballs, it might be a sign that it needs a helping hand with the fur. Grooming will remove a portion of that loose hair and help your furry friend finish the job without having extra hairballs stuck in her tummy.
4. Improved Fur Health
A well-groomed cat is also a beautiful cat! You've probably noticed an immediate difference in the appearance of your cat's coat right after you've brushed it. It's more stunning than ever, right? Aside from the improved appearance, regular undercoat removal can boost fur health.
Tangles, mats, and knots can impair the airflow of the fur, limit the flow of oxygen and lead to dry and sensitive skin. This can further cause irritation and several skin conditions. When you pay attention to undercoat removal, the skin's natural oils will reach everywhere and provide proper hydration. These oils are essential in keeping the fur soft, shiny, and beautiful-looking.
5. Cleaner Home
If you're exhausted from constantly vacuuming and cleaning fur from all over the house, it's time that you start brushing your cat more often. Removing the undercoat means fewer hairs around the home, so you won't have to clean as often.
How to Properly Remove Undercoat
All cats with a double coat, no matter if short-haired or long-haired, need regular brushing and removing the down hairs. To do this, you need the right tools. A brush or a comb with long, stiff bristles is great as it can reach the down coat layer, which is even more important for cats with long hair. Avoid tools with short bristles because they might not get to the undercoat.
The best undercoat brush for cats is one specifically designed for this purpose and can also get rid of tangles, knots, and mats. Straight combs are also convenient. When you're unsure what tool to purchase, it's best to consult your vet for professional advice.
Once you've got your tools ready, it's time to start grooming! Unfortunately, many cats are not fans of grooming time! They prefer to do things themselves and can be irritated when you're trying to brush them. You'll need to be patient and try to schedule regular brushing sessions. However, follow these steps and you should have no major issues:
Take your cat into a room with no distractions and wait for them to relax
Allow them to smell the tool to get used to it
Start petting your cat from the head to the tail until they seem content
Using gentle stroking motions starting from the head and moving towards the tail, start brushing in the same direction that the cat hair grows
It's recommended that you brush short-haired cats once or twice a week, while long-haired cats need to be brushed once or twice a day. Shedding season means that you should increase the number of grooming sessions during the day and week.
Undercoat Removal vs. Deshedding
One common question cat owners might have is whether undercoat removal is the same as deshedding. Actually, whereas these two things are quite similar, they are not the same.
The process of undercoat removal means using the right tools to remove the extra and loose hair located in the undercoat layer of a cat's fur. For this, you will need a special comb that can reach the undercoat, take care of the loose hairs, and prevent tangles, knots, and mats. Combing the undercoat should be a regular thing in your household, no matter the length of your cat's fur.
Deshedding is the second step after undercoat removal. It's also something that you should constantly do if you want to avoid tangles and mats. Deshedding includes combing and brushing the extra loose hair located all over the two coat layers. It will eliminate any clumps and tangles that might have happened if you missed combing the undercoat for some time.
These two techniques together work fantastically for cats with double coats.
Mistakes You Might Be Making When Brushing Your Cat
Even the best cat parents can make mistakes! This can happen if it's your first time owning one of these magnificent creatures or simply if you haven't spent enough time educating yourself on how to take care of their fur.
You Don't Brush Your Cat
Many people are under the impression that cats can take care of themselves because they self-groom. That's why they never brush their fur. It's definitely one of the biggest mistakes you can make, but there's still time to fix it. Even short-haired cats still need an occasional grooming and brushing session to remove the loose and extra hair. Long-haired cats need brushing at least once a day!
As cats get older, they self-groom less and less. Elderly cats find it more challenging to take care of themselves and need a helping hand in keeping their fur healthy. Another reason why your cat might stop self-grooming is because of health issues, such as mouth conditions, obesity, or arthritis.
You're Not Brushing Often Enough
Brushing once every few weeks won't cut it!
Long-haired cats need more attention and require brushing one to two times per day. It sounds like a lot of work, but it usually only takes a few minutes of your time. When you get a cat, you have to be aware that it comes with responsibilities.
Once shedding season arrives, you'll need to make the brushing sessions more frequent. This is the time when your cat needs the extra help to prevent tangles, mats, and healthy, shiny fur.
You're Not Using the Right Tools
Grabbing any brush or comb to groom your cat won't do the job. The undercoat requires special tools with long enough bristles to reach the base layer successfully through the topcoat hairs. Tools with short bristles are fine when you want to remove the loose hair from the topcoat or tackle minor tangles.
Shaving the Undercoat
Shaving the undercoat is a no!
As I said, the primary role of this coat is to keep the cat warm. If you shave your cat, you will remove both layers, meaning that you'll leave it without protection against water, sun, or without a system to insulate the heat. If there are any stubborn mats, don't cut or shave them. Instead, turn to a professional grooming service.
Tips on How to Remove Tangles and Mats
Cats with undercoats are more likely to have tangles and mats than cats without an undercoat. Removing them can be a tricky job, especially if your furry friend is not a fan of grooming.
Tangles are usually easier to remove and take less time. You'll need a wide-tooth comb and gentle combing to untangle the hair. Start from the end and work your way closer to their skin to limit the tugging and pulling. Once the tangle is gone, you can continue using a brush.
Suppose there is a mat to remove, roll up your sleeves and get ready to put in the extra effort. Mats are much harder to brush because they are made of fur, dead skin cells, debris and form large blocks of hair. They can be pretty irritating to the cat, so you need to find a solution as fast as possible.
Start with a wide-tooth comb so you can slowly and gently untangle parts of the mat. If this technique is not working, don't cut or shave the mat. Many people think that bathing a cat will help remove mats, but this actually makes the issue far worse! If you cannot get the mat out from brushing, call your vet or your groomer to get professional help.
CONCLUSION
Cats with undercoats, no matter if short-haired or long-haired, need frequent brushing and grooming. Although these glorious creatures are fastidious groomers, they still require extra help from their owners to remove loose hair from the undercoat.
The tools you need for this are long and hard-bristled combs and brushes to reach the base coat. Short-haired cats are low-maintenance and require brushing once or twice a week, while long-haired once or twice a day. The benefits of regular undercoat removal include a cleaner home, reduced tangles, mats, knots, and improved fur health.
Some of the most common mistakes people make are thinking that they shouldn't brush their cat at all, not brushing often enough, not using the right tools, and shaving the undercoat. After reading the guide, these possible mistakes will be a part of your past. Just remember to spare a part of your free time to take care of your cat for a healthy coat without tangles and mats!