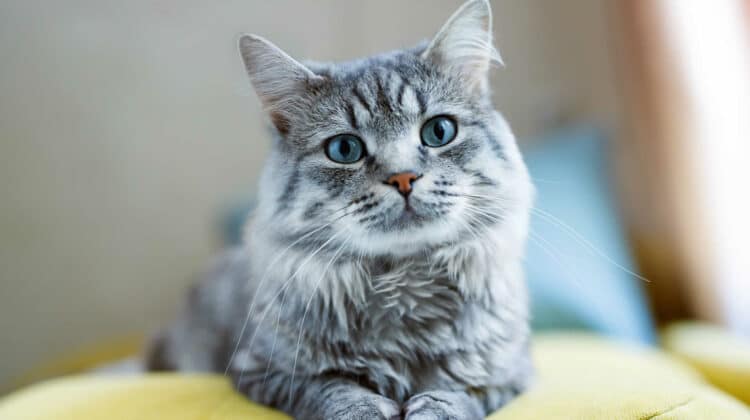 All cat owners understand the importance of grooming their furry friends. Regular brushing helps their coats look shiny and healthy, preventing mats and tangles in long-haired breeds. Brushing also captures loose fur from your cat's coat to prevent it from spreading around your home.
As all cats have different coats, different grooming tools are required depending on the breed. However, almost all cats have undercoats – the inner layer of hair that grows at the base – except for hairless and curly-haired breeds. This needs to be removed by an undercoat brush for cats.
If you're looking for one of these grooming tools, you're in the right place! There are hundreds of undercoat brushes available, but here I've got reviews of the best four options. Keep reading to discover these top-rated products and other considerations before purchasing.
My Top Pick
The best undercoat brush for cats is this professional grooming tool from GoPets. It effectively clears all mats and tangles with two different bristle densities depending on the severity of the knots. The teeth are sharp to cut straight through tangles, while their rounded tips are soft on your cat's skin.
This brush is also super comfortable to hold with a silicone gel handle that molds to the shape of your hand! It can also be used on cats and dogs, perfect for households with multiple pets. You can find the full review further down, plus three other fantastic products to choose from.
Best Undercoat Brush for Cats
There are so many undercoat brushes for cats on the market it can be hard to choose the best option. Below are the selection criteria I used for all my reviews. Only the brushes that score well in these four aspects made it onto my list of recommendations.
Ease of Cleaning: The best undercoat brush must be easy to clean. When removing your kitty's undercoat, you will brush out a lot of hair! You want to easily be able to clean the brush before using it again and without getting the hair and dirt all over your home.
Gentle on the Skin: Many cats despise brushing because it hurts their sensitive skin. Brushes for cats that hate to be brushed as specifically soft and gentle to avoid this discomfort. This makes it less likely that your cat will fuss about brushing.
Comfortable to Hold: The best undercoat brushed for cats must be comfortable to hold. A lightweight brush with a padded handle is usually your best option which means you can brush your cat's fur without any wrist pain.
Easy to Grip: You also need your ca's grooming tools to be easy to grip. When brushing cats with undercoats, you might come across mats and tangles. Combing through these parts becomes challenging if you don't have a tight enough grip on the brush.
Aside from these four must-haves, there are some more personal considerations to make. For example, the best brush for long-haired cats is entirely different from the best for short-haired cats. You might also want to consider the price range you're looking at.
To cater to all types of buyers, I've provided a little something for everyone in this article. From budget buys to the best brushes for flat-faced cat breeds, here you'll find it all. And if you're still unsure about the best undercoat brush for your cat, skip ahead to the buyer's guide below.
My favorite undercoat brush for cats is this product from GoPets. This grooming tool is double-sided, each side having a different density of bristles. The higher-density side is perfect for removing your cat's undercoat quickly and effectively, while the other side doubles as a dematting tool.
The blades on both sides are made from stainless steel. The base is rounded to reduce the discomfort and irritation on your cat's skin. However, the upper side of the bristles are incredibly sharp and instantly cut through knots and tangles. This prevents you from tugging and pulling on the fur, reducing the discomfort your cat feels.
You'll also be comfortable when using this tool. The handle is easy to hold and is made from non-slip silicone, ensuring you never accidentally let go of the tool. Plus, it's lined with gel that molds to your hand, providing ultimate support for your hand and wrist.
Because of the sharp and relatively long bristles, this brush is effective for longhaired cats. However, you can also use it on shorthaired breeds and cats of all sizes. It is a highly versatile tool and one we can app appreciate. Unfortunately, these perks make it a little expensive – but for the quality and effectiveness, it's arguably worth every penny.
Pros
Effectively remove undercoats on all cats
Second lower-density side that's perfect for dematting
Stainless steel blades cut through mats and knots
Rounded bristles are gentle on the skin
Ergonomic handle that's comfortable to hold
Easy to pull hair off and clean with warm water
Cons
More expensive than other undercoat brushes
If you cannot afford my top-rated product, this affordable brush from UPSCOOL is a fantastic alternative. This brush consists of several rows of pin bristles. These are firm enough to reach down to the bottom layers of your cat's coat and remove all loose hair. Your cat's coat is left looking beautiful and shiny.
Unfortunately, the pin-bristle design means it is not the comfiest and might irritate cats with sensitive skin. It is also better suited for longhaired breeds – the longer bristles can easily reach their lower levels but may irritate cats with short fur coats. Nevertheless, it is a precise tool and is great for smaller breeds.
Other perks include the comfortable rubber handle, non-slip design, and multiple color options. It is also made from quality materials, with 32 rust-resistant stainless-steel teeth. These bristles have rounded ends to reduce irritation and can easily be washed clean with soap and water.
Pros
Effectively reduced shedding by up to 95%
Extremely affordable compared to other products
Easy to clean with soap and water
Comfortable and non-slip rubber handle
Rounded bristle tips to reduce irritation
Long enough bristles to use on longhaired breeds
Small and precise grooming tool
Cons
Pin-style bristles may hurt cats with sensitive skin
Not as well suited to shorthaired cats
The FURminator is a brilliant deshedding tool for cats! This grooming tool is specifically designed for medium or large cats (weighing more than 10lbs) with short hair. However, you can also purchase a FURminator for large longhaired cats, small longhaired cats, or small shorthaired cats.
The versions for large cats have bigger surface areas, so you can entirely de-shed your cat within minutes. It also has a special deshedding edge that reaches beneath the topcoat to the undercoat layer beneath. Here it captures and removes all loose hairs, knots, and tangles.
Once the brush has captured all the loose hair, you don't need to worry about them flying around your home and settling on multiple surfaces. The brush holds the collected fur until you hit the ejection button. This makes the FURminator one of the easiest tools to clean – all you need to do is press a button, and the job is done!
I also love how comfortable this brush is for your cat. It has skin guards to prevent it from digging in and has a slight curve to its design that conforms to your cat's natural shape. The handle is also comfortable and ergonomic, so you're also comfortable throughout the grooming process.
Pros
Especially designed for large, shorthaired cats
Effectively removed the undercoat
Holds onto all hair until the ejection button is hit
Comfortable, ergonomic handle
Curved design and skin guards
High-quality construction designed to last forever
Cons
More expensive than other brushes
Does your cat hate to be brushed? This usually happens when the bristles are harsh against your cat's skin or tug on mats and tangles. It can be tempting never to brush your cat to avoid upsetting it, but failure to brush is one of the leading causes of matted cat fur!
Instead, you need to find a gentle brush your cat likes, such as this product from Aumuca. The head of the brush features a series of metal pins made from durable stainless steel. They all have rounded metal tips on the end that massage your cat's back without scratching their skin.
The pins are long enough to reach the undercoat and remove all the loose fur and debris. After cleaning, simply press the button, and the brush hair gets pushed off the metal needles. You can then merely remove the clump of hair and wipe the brush clean. Unfortunately, the handle isn't as comfortable as others, but this is the only real drawback.
Pros
Gentle and massages your cat's skin
Rounded tips prevent irritation
Effectively brushes and removes the undercoat
Super straightforward to clean
Suitable for long and short hair
Cons
Handle is not as comfortable to hold
No non-slip material on the handle
Undercoat Brush for Cats: Buying Guide
As you can see, there are many different undercoat brushes to choose from. They all have long, stiff bristles that easily reach down to the lower layers of your cat's coat, but all other design aspects vary hugely. So, which is the best one for you to purchase?
This depends on your cat, the type of fur they have, and your personal preferences. Use the buying guide I've curated below to help you find the best option. And if you're still unsure, consult your veterinarian for professional advice.
1. Longhaired or Shorthaired
When choosing an undercoat brush for cats, the length of your kitty's hair is an essential consideration. Selecting a brush suited to your cat and their coat type will make it more effective at removing the undercoat. It will also make brushing more enjoyable for your kitty.
The longer your cat's coat, the harder it is for the brush to reach the bottom layers. As such, longhaired cats need to have brushes with slightly longer and stiffer bristles. Only then can they dig deep and effectively remove all loose hair and dirt caught at the bottom layers.
On the other hand, it is relatively easy for the bristles of any brush to reach the base layers when your cat has short hair. However, using an undercoat brush with too long bristles can hurt your feline. This is especially true for cats with sensitive skin that already hate to be brushed! For shorthaired breeds, short yet firm bristles are your best option.
2. Comfort When Holding
Removing the undercoat from a cat can be time-consuming, especially when you haven't touched their undercoat for months. I'm always surprised by how much hair comes out on the brush! And as such a time-intensive task, you need to find a brush that's comfortable for you to hold.
When purchasing brushes over the internet, it can be challenging to figure out which feel nice on your hand. Moreover, comfort is a personal preference and depends on your hand size. I think all the brushes recommended in this article are comfortable and avoid putting strain on the fingers or wrist, but you might disagree.
I suggest considering the brushes and tools you already use and know you find comfortable. See if you can find an undercoat brush for cats with a similar shape. You might prefer a brush with a long handle, a block-style brush, or a more conventional brush-like design. The choice is yours!
3. Ease of Cleaning
One of the perks of removing my cat's undercoat is to prevent my cat shedding so much and getting fur all over the house. You'll be amazed by how much fur is removed when you brush your cat's undercoat. A considerable amount of hair comes off the tool with every brush, especially if you have a longhaired breed!
However, the removed fur can easily still make a mess of your home if you don't clean the brush correctly. Some brushes are a nightmare to clean and should be avoided, but many brushes on the market today have a self-cleaning function – push a button to eject all hair! I love these brushes as it makes cleaning super straightforward.
You also want to consider how the material of the brush impacts cleaning. All the brushes on this page are from trusted brands and use high-quality materials. There are cheaper products on the market, but this low-quality plastic or rubber can easily damage in hot water or cleaning solutions.
4. Size of the Brush
Undercoat brushes come in all shapes and sizes! Giant breeds such as Maine Coons or Norwegian Forest Cats benefit from a larger brush. With a bigger surface area, you'll be able to comb through their entire coat much more efficiently, helping to save you time.
On the other hand, smaller cats are better suited to smaller brushes. It would be impossible to get into all the smaller and more fiddly parts of your feline's body with a brush that is too large! Choosing a grooming tool that suits your cat's size ensures the job is done quickly yet correctly.
FAQs
Q: What is an undercoat on a cat?
A: An undercoat is the base layer of fur on a cat that grows closest to the skin. The hairs here are short, fluffy, and soft. It mainly insulates your furry friend and ensures they stay warm in the colder months.
Q: How often should I brush my cat's undercoat?
A: How often you need to brush your cat depends on their breed. Short-haired cats are low maintenance and can be brushed 1-2 times per week. On the other hand, long-haired breeds benefit from daily brushing to keep their fur free from mats and tangles.
Q: What are the benefits of removing a cat's undercoat?
A: There are many benefits of removing a cat's undercoat! It prevents the fur from matting, reduces hairball formation, and improves the overall coat health. It also removed dirt, debris, and external parasites from your cat's coat.
Q: Can you remove too much undercoat from a cat?
A: Yes, you can remove too much undercoat from a cat. Always use the brushes as instructed and never more than once a day for longhaired cats and once a week for shorthaired cats. For more advice, speak to a vet or a professional groomer.
Q: How do you brush a cat's undercoat?
A: Brushing your cat's undercoat is easy! Purchase one of the tools recommended in this article and wait until your kitty is relaxed. You can then gently start brushing from head to tail. Apply slight pressure with your other hand at the base of the hair to stop it from pulling on your cat's skin.
Q: What is the best undercoat brush for cats?
A: The best undercoat brush for cats depends on your cat's fur. However, the best overall product that works on most hair types is the GoPets Dematting Comb. You can read the full review further up this article.
MY FINAL THOUGHTS
Purchasing an undercoat brush for your cat is a fantastic idea. Regular brushing is the best way to prevent mats and tangles, ensuring your furry friend always looks their best. All the products here are brilliant options, but be sure to consider your cat's size and fur length before making your choice.