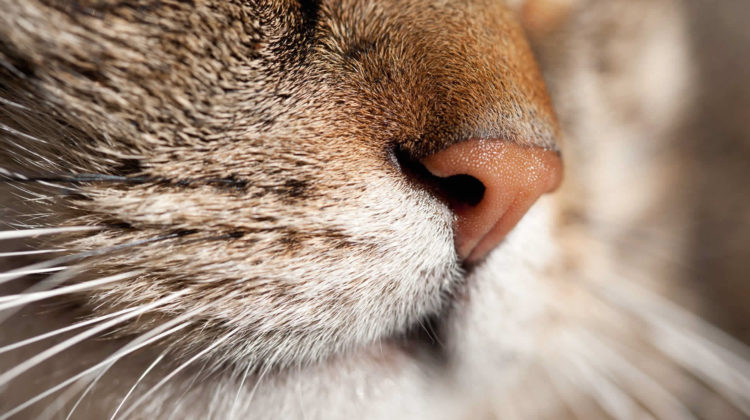 Having a cat that suffers from asthma can be traumatic for both you and them.
Seeing your little furry feline hunched over and wheezing is distressing and having to be there to provide asthma medication at any second can be a lot of pressure, especially causing worry when you're not home. One of my cats suffers from mild asthma, meaning she struggles to breathe at times and has the occasional asthma attack, so I know how upsetting it can be.
You may be wondering if there is anything you can do to reduce the frequency of your cat's asthma attacks and improve their mental and physical wellbeing, and, thankfully, there is: purchase a humidifier. Humidifiers keep the air moist, which helps to reduce asthma attacks which are generally caused by excessively dry air irritating the lungs.
With something as important as your cat's wellbeing, for obvious reasons, it is essential you choose a great cat humidifier product. So, to help out, I have done a lot of digging to find the best humidifier for cats with asthma that has been tried and tested with my furry feline, along with some other handy tips for helping your cat's asthma ease.
My Top Pick
The best humidifier I found is the UCAREAIR Cool Mist Humidifier. I love this humidifier as it has a capacity of 2L, meaning it can run for hours before the water needs topping up. However, if you forget to top it up, the machine turns itself off, which means it's totally safe being left on while I'm not home! With an ultra-silent motor too, I cannot fault this humidifier.
Best Humidifiers for Cats with Asthma
Before I dive into reviewing some of the products on the market, I want to walk you through what I based my search on and what features I wanted to see.
Tank Size: The larger the quantity of water the humidifier for cats can hold, the better. This is because larger tanks need refilling less frequently, ideal for when I'm out of the house for a longer period or overnight
Noise: Humidifiers can be pretty noisy and annoying, so I wanted to find a product that was ultra-quiet so as not to disturb me or my cat
Pet Friendly: This humidifier needed to be safe for my cat, so I looked out for features such as automatic shutdown and a preference for cool mist humidifiers over hot ones in case of any accidental spillages
Ease of Cleaning: Despite humidifiers only ever having water inside, they can get dirty. Therefore, I was in search of a product that was easy to refill and clean
You may have different criteria that you want to meet when searching for a humidifier safe for cats, but these were the essential factors for me that I took into consideration. The most important thing is cat safety and this cannot go a miss. So, without further ado, here are my top picks for the best humidifier for cats with asthma.
My absolute favorite humidifier that I trialed was the UCAREAIR Cool Mist Humidifier, as it ticked all the boxes I was looking for, and for a very reasonable cost. It helped ease my cat's asthma, and also left me feeling more refreshed and well too!
First off, this humidifier holds 2L of water, which allows the machine to run for 25 hours straight when on the low mist setting. This was perfect for my lifestyle, as I got into a routine of topping the tank up every morning and could then leave it running throughout the day for my cat to enjoy while I was out of the house. It also lasted through the night, and it wasn't until the next morning I had to refill the humidifier, making it easy to integrate into my routine, so I always remembered to keep it full.
However, if the humidifier does run out of water, it shuts off automatically, which gave me total peace of mind. If one morning I did forget to refill the tank, I could rest assured knowing the machine won't be running dry which could be a hazard. Also, despite leaving it on pretty must constantly, there was never a puddle left on the shelf.
What I also love about this product is that it is a cool mist humidifier, making it ideal for houses with pets as there are not going to be any accidental burns. The mist also travels and provides 200 ft² coverage, which is plenty to cover an entire room. At an affordable price, if your cat spends a lot of time around the whole house, you can easily purchase a couple for different rooms. There are also two mist settings, high and low, so depending on the severity of your cat's asthma or the dryness of the air, you can set the humidifier accordingly.
One of the best features of this product is that it is almost completely silent, therefore causing no disturbances to me or my cat. It is also extremely easy to clean and refill, as the cord detaches, and the humidifier is small enough to carry with one hand to and from the sink.
Pros
Very affordable product
Holds 2L of water so can run for up to 25 hours
Produces cool mist covering a 200 ft² area
Next to no noise when running
Shuts off automatically when water levels are low
Simple to clean and refill
Cons
Light on the front can be annoying when trying to sleep
Next on my list is the Homech Cool Mist Humidifier, which is again another fantastic product, and for similar reasons.
This humidifier's tank holds a whopping 4L, which lasts for up to 50 hours. Even on the highest mist setting, a full tank will still last you 12 hours, making it fantastic to run throughout the night. The humidifier is also ultra-quiet causing no disturbances if placed in the bedroom. As with my first recommendation, this product also turns off automatically when water levels are low to prevent overheating, making it a humidifier safe for cats.
On top of this, the cool mist travels 360° and up to 430 ft² when on the highest mist setting, meaning it can easily cover an entire room. The nozzle also helps direct the mist upwards and gets it to circulate with the air in the room, ensuring it adds moisture to the air rather than making your desk wet and damaging furniture.
Compared to the design of other humidifiers, I also love the sleekness of this model and believe it looks very modern. There is also a convenient handle so you can carry the humidifier easily, even when full with 4L of water! The only downside I would say is that whereas the opening is 95mm wide, it can be difficult to clean the inside, especially with the black color making it harder to see where dirt is hiding.
Pros
Holds 4L of water, running for up to 50 hours
Extremely quiet when running
Sprays cold mist at various spray settings
Rotatable nozzle for 360° misting
Turns of automatically to prevent overheating
Sleek and modern design
Cons
Next, I have the Geeni Soothe Wi-Fi Smart Humidifier, which simply had to make the list. Here's why: you can control the humidifier through a mobile app, plus it is compatible with Alexa and Google Assistant. Now that's one fancy humidifier!
Aside from the smart control being pretty cool, it's also extremely convenient for cat owners. You can set schedules or turn the device on and off using the app, as well as setting desired humidity levels. I love this feature as firstly, I can control the condition of the air in my home even when I'm not there, ensuring my cat is in constant comfort. Secondly, the ability to set specific humidity levels is great for cats with asthma, as having air that is too moist could also exacerbate the illness. This humidifier ensures you get that balance spot on.
You can also receive notifications through your mobile when the water levels are running low, a helpful reminder to refill the tank. However, with a capacity of 2L, the humidifier can run for 24 hours straight without needing a top-up, while still being small enough to conveniently fit in any space.
The main downside of this humidifier is that there is no way to direct the spray nozzle, meaning some items around the humidifier can get wet when on the highest setting. However, as long as the humidifier is kept on a shelf away from paper and other materials that don't do well in a high-moisture environment, the convenience of the app control arguably makes it worth it.
Pros
Control from anywhere using a mobile app
Cool mist so safe for cats
Set room to the desired humidity
Receive notifications reminding to refill the tank
Holds 2L and lasts up to 24 hours
Ultra-quite when running
Cons
The nozzle cannot be adjusted
Can leave furniture damp
Another amazing and high-tech humidifier for cats with asthma is the iTvanila Cool Mist Humidifier. This is slightly more expensive than other humidifiers that I have mentioned, but it is an intelligent product. My sister actually brought this for her newborn baby, but it also works great for cats with asthma.
Firstly, there is an auto-control function which sets the room humidity between 40% and 60%. Having this window is essential when trying to treat asthma, as having air that is too moist can exacerbate the breathing problems or create other issues entirely. The humidifier's three different mist levels mean keeping the room in the right range is simple for this intelligent machine.
What's more, there are LED lights on the side of the machine that indicate how the humidity levels are doing at that specific moment, meaning you can tailor the humidity levels further if desired. A red light indicates 30% or less, green for 40%, and blue for 50%. Based on this, you can adjust the settings using the handy remote control to create a room humidity that is best for your cat.
Aside from these handy control features, the tank holds 4.5L of water and lasts for up to 50 hours, ideal if you are forgetful or busy as you won't need to fill the tank up often. It also automatically turns off when water levels are too low, again helping prevent damage and avoiding safety hazards. With its whisper-quiet motor, you cannot go wrong with this product.
I also love that this machine just sits on the floor. Cats love to climb shelves and knock items off, but as this can handily stand on the floor, it is less likely to be accidentally knocked over by your cat. Additionally, despite the awkward shape, there is a convenient handle at the top to make transportation easy.
Pros
Auto-controls room humidity to 40-60%
Can be adjusted using a remote control
Whisper-quiet when running
Stands on the floor so great for households with cats
Holds 4.5L and can run for 50 hours
Turns off automatically when water levels are low
Cons
More expensive than other products
Lastly, I give you the HiAir Ultrasonic Cool Mist Humidifier, which is a great option if you're on a budget.
This humidifier has a 2L capacity which, on the lowest mist setting, can last up to 30 hours. This is great as you can leave it on for your kitty all day and all night knowing it won't run dry. And, if it does, you can rest assured knowing that the humidifier automatically turns off when low on water to prevent damage from overheating.
You can also set a timer on this humidifier of either 1, 3, or 6-hour periods, after which the humidifier will automatically turn off. This is great if you know you're heading out for a few hours and don't want the machine running non-stop, while also helping to keep your energy bills down.
I also like the design of this humidifier. It may not be as modern and high-tech as some of the other products I have mentioned, but it is still sleek and it's small enough to fit onto any surface without taking up too much space. The arc-shaped reservoir also fits comfortably in your hand so you can carry it around easily to move its placement or for a refill.
Besides these positives, this bargain product also runs nearly silently and so won't disturb your or upset and timid felines! You can control the direction of the mist with the 360° nozzle and rest assured your surrounding furniture will not be getting wet.
Pros
2L capacity so can run all night long on high
1-, 3-, and 6-hour timer
Ultra-quiet when running, causing no disturbances
Easy to carry and clean
Simplistic design with everything you need
Super affordable price
Cons
Lightweight so could get knocked over
Humidifier Buying Guide for Cats with Asthma
Whereas these are my top five pet friendly humidifiers for cats with asthma, I understand that you might still want to shop around and search for products yourself.
Therefore, I have put together this handy buying guide of all the considerations you need to make to ensure you're happy with your purchase.
Large Tank Size
The size of the water reservoir is an important consideration when selecting a cat humidifier. In my opinion, the bigger the better. It will be easier for you as you won't need to remember to fill the tank up as frequently which is a great perk.
It is also great for your cat, as the larger the water reserve, the longer the humidifier can run. Therefore, you can leave the humidifier running overnight or even when you are out of the house all day, helping to reduce the severity of your cat's asthma continuously.
Low-Noise
Any product that has a filter and pumps water is going to make some noise, but the quieter the humidifier, the better. This is especially true for shy and timid cats who don't like strange noises, as the humidifier could startle and stress them out at home. When the reason for purchasing the humidifier is to make your cat's life better, stressing them out is the last thing you want to do.
If your cat is less nervous, finding a quiet humidifier is less important for them, but on a personal note, I would still consider it essential. Yes, I would do anything to alleviate my cat's asthma, but if I can avoid getting a headache in the process then I'll do it!
Cool Mist Humidifier
Commonly, people are unsure whether it is best to buy a warm or cool mist humidifier for cats. No matter what, you should always opt for a cool mist humidifier. It can be tempting to get a warm one, especially if you live in a colder region, but this simply isn't safe for your cat, and their safety has to come before our comfort.
Warm mist humidifiers can boil water, which can be hazardous to pets, especially if left in the house alone or a different room overnight. Therefore, the best humidifier for cats with asthma will always be a cool one. This way, if they did go near the mist or knock the humidifier over, they won't get burnt.
Automatically Turns Off
When purchasing a humidifier for cats, you also need to ensure the product turns off automatically when the water level gets too low. If not, the humidifier can overheat and becomes a potential fire hazard. Not only is this dangerous for your cat, but also your home! If you accidentally leave the humidifier on while you're out of the house without filling up the tank, the outcome could be devastating. So, give yourself peace of mind and opt for a humidifier safe for cats that turns off automatically, just in case.
Ease of Refilling & Cleaning
You also want to purchase a humidifier that is easy to refill and clean. If you have a cat with asthma, chances are you will have the humidifier running most of the time, meaning lots of refills and cleans will be needed.
To help this, look out for handles on the products designed for easy lifting, especially if using a larger tank size as the humidifiers can get very heavy when full. Also take note of how the water tank fits into the humidifier, and how easy it is to wipe the inside and keep it clean.
Other Ways to Help Cats with Asthma
Vets will typically prescribe medication to cats to help with symptoms, but there are things you can do at home to help alleviate symptoms. Purchasing a humidifier for cats is one way, but here are some other changes you should try to make life easier for your kitty.
Change Your Cat Litter
Asthma can be caused by several things, but often it is down to allergies. This could be anything from pollen to smoke, but it could also be the dust from your cat litter that is irritating your feline's lungs. Some cat litters have more dust particles than others, which can be a cause for asthma attacks. Even if your cat's asthma is caused due to another allergy, the dust particles could be exacerbating the symptoms.
When choosing a cat litter, vets advise steering clear of clay cat litter which is bad for felines with any respiratory problems. For more advice, check out our article on the best cat litter for cats with asthma for our top recommended products.
Minimize Other Irritants
Alongside changing your cat litter, there are several other changes you could make your cat's condition less severe. For example, if you are a smoker, it could also be the smoke from your cigarettes which is aggravating your cat's lungs and causing them to have trouble breathing. By making a simple change and smoking outside could drastically improve your cat's asthma.
Similarly, environmental irritants such as dust mites, mold, or pollen could be what is triggering the asthma attacks. By cleaning your house more regularly you can minimize these irritants and improve life for your cat. When choosing cleaning products, it is important to bear in mind that perfume can also aggravate cats' lungs, so don't use overly scented products or air fresheners.
Reduce Stress Levels
Stress can also trigger asthma attacks, and so make sure your cat feels as stress-free as possible. To do this, ensure your feline has a few private places that they can retreat to when needed. Also, make sure their litter tray is kept clean and not near a noisy area, which can also elevate stress levels. Cats are naturally solitary and clean creatures, and so can feel highly stressed if they don't have a clean home and some privacy. This can really make a difference to your cat's mood, reduce the frequency of asthma attacks, as well as helping solve other behavioral issues.
Purchase a Dehumidifier
This may seem entirely counter-intuitive seeing as I have just spent this article explaining why you should make the air in your home more humid, not less. However, the truth is that you need to find an optimum air humidity, as just how dry air can trigger asthma, overly humid air can also exacerbate the condition. Ideally, air humidity should fall between 40-50%. Most homes will benefit from a humidifier, but if you have an overly damp house you may need the opposite solution.
You can purchase a hygrometer which measures the humidity of the room and see whether you need a dehumidifier instead. However, you can usually tell whether you need to purchase a humidifier or a dehumidifier by looking at other factors. Does the room feel damn and grows mold quite quickly? If so, you probably need a dehumidifier. However, if your skin gets relatively dry and you wake up with a dry mouth in the mornings, you likely need a humidifier to add more moisture.
FAQs
Q: Can I use a humidifier for my cat?
A: Yes, you can use a humidifier for your cat. They help your pet to breathe more easily and eases the congestion of mucus by keeping their airways moist. This is great for cats who suffer from asthma and can ease their symptoms.
Q: Will a humidifier help my cat's asthma?
A: Yes, humidifiers add moisture to the air to make it less dry, and dry air commonly triggers asthma attacks. Therefore, purchasing a humidifier can help your cat's asthma.
Q: Should I leave my cat humidifier on all day?
A: You can leave the humidifier on all day and many are designed to be left running continually. However, keep an eye on the humidity of the air in the room, as if it gets too high, the dampness may also exacerbate your cat's asthma. Finding a balance is essential.
Q: Can a humidifier help with cat allergies?
A: Humidifiers cannot treat cat allergies, but they can help alleviate the symptoms. Often, allergies in cats will trigger trouble breathing, along with coughing and wheezing. A humidifier will not treat your cat's allergies but adding moisture to the air will make any respiratory problems caused by allergies less severe.
Q: Are humidifiers safe for cats?
A: Humidifiers are safe for cats, but with pets in the home, it is advised to purchase a cool mist humidifier, not a warm one. Warm humidifiers can produce boiling hot steam and burn your cats, whereas cold humidifiers do not carry these risks and are entirely safe.
Q: Is a warm or cool mist humidifier for cats best?
A: For homes with pets, it is always best to get a cool mist humidifier. These are far less dangerous and mean your cat won't be accidentally scalded.
Q: Are humidifiers good for cats with asthma?
A: Yes, humidifiers are good for cats with asthma as often asthma is made worse by dry air, causing excess wheezing and coughing. By making the air moist, humidifiers can help your cat with asthma.
Q: How can I help my cat with asthma?
A: You can help your cat with asthma by purchasing a humidifier that adds moisture to the air and makes breathing easier. You can also change your cat litter to one with minimal dust, as well as cleaning the house more regularly, avoiding smoking inside, and steering clear of heavily-scented perfumes and cleaning products. If you have a damp home, a dehumidifier may also help.
Q: What triggers feline asthma?
A: Asthma in cats is often caused by an allergy, such as dust, pollen, smoke, cat litter, or cleaning products. Stress may also trigger asthma attacks if there is an underlying condition.
Q: What are the symptoms of asthma in cats?
A: Symptoms of asthma in cats are similar to the symptoms in humans. You will notice wheezing, coughing, and a general difficulty in breathing. You may also see your cat in a hunched over position, notice that they have blue lips and gups, and notice they are lethargic.
MY FINAL THOUGHTS
For owners of asthmatic cats, it can be a distressing and difficult time when your feline is having an asthma attack. Therefore, I couldn't recommend purchasing a humidifier more. Although my cat only has mild symptoms, having one in my home improved her asthma and left her much happier, meaning I was happier too!
All of the products I have recommended are fantastic, but if you do shop around, ensure you follow the buying guide so that you end up with a product that you love. With a few subtle adjustments around the home, you really can improve your kitty's life!