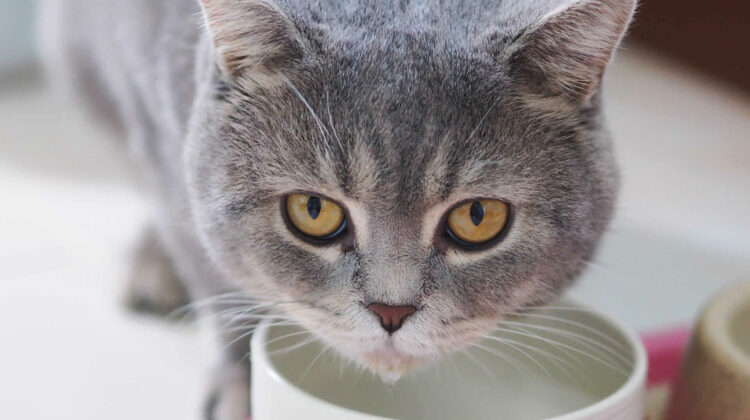 Does your cat cough after drinking water? I have experienced this first-hand, so I understand how worrying it can be. Why is my cat choking when she drinks? And more importantly, do I need to worry about it? After all, I don't want my cat to be discouraged from drinking as she chokes each time!
I did some digging and there are several reasons why cats cough after drinking water. It could be something such as drinking too quickly or wearing a collar too tightly. These are simple problems that you can solve in a matter of seconds. However, gagging after drinking can also indicate that something more serious is wrong with your cat.
In this article, I run through all the possible reasons why your cat is choking on their water and what you can do to help. You must put try and put this gagging to a stop – it can deter your cat from drinking which will only lead to dehydration and a whole host of related health complications.
Why Does My Cat Cough After Drinking?
1. Your Cat is Drinking Too Quickly
The most likely reason that your cat chokes when drinking is because it is drinking water too quickly. When drinking fast, it is common for a little water to enter the windpipe by mistake instead of traveling straight down the esophagus. This will cause cats to splutter and cough.
This in itself isn't an issue – as long as your cat coughed the fluid out its lungs then there is harm done. In fact, if your cat has just finished a long play session and is a little worn out, it is beneficial for them to drink a lot in a short space of time. They're trying to replenish the water lost through exercise and rehydrate all the cells in their bodies.
However, cats notoriously don't like drinking! When cats regularly drink quickly and gulp down water like there is no tomorrow, it can be a sign something is wrong. Below are just a few examples of why your cat is drinking so fast:
Your cat has kidney disease
Your cat has a urinary tract infection or blockage
Your cat has consumed too much salt
Your cat is too warm and is trying to cool itself down
Your cat has diabetes
These can all lead to dehydration, and so cats will drink lots of water very quickly to compensate. It's a good idea to take your cat to the vet to get these medical conditions ruled out.
2. Your Cat's Collar is Too Tight
Another possible explanation is that your cat's collar is on too tight. This can press down on your cat's throat and interfere with the usual passage of water down the esophagus. Therefore, cats can cough and choke after taking a drink.
Thankfully, this one has an easy fix! Take a look at your cat's collar – is it too tight? Although the collar should be firm, it shouldn't be at all restrictive. As a general rule, make sure you can easily fit a finger or two underneath your cat's collar. If you can't, loosen it up a little and see if their choking stops. I bet you more than anything it will!
3. The Water Tastes Bad
Cats have a pretty strong sense of taste! Water might not taste like much to us, but cats can taste everything inside the fluid they drink. This could include everything from hardness in tap water to cleaning agents. Plastic water bowls can also cause water to taste funny over time.
Have you ever eaten something that tastes so disgusting it makes you recoil and choke? Water that tastes really bad could have the same impact on your cat. As soon as they swallow a mouthful, they'll instantly cough and choke the water straight back up.
This is all to do with the neurological pathways that are stimulated when drinking something they don't like. The vagus nerve will send a message to the brain telling it to reject the fluid. The brain then sends a signal back to the cat's throat to trigger a gag reflex.
Coughing up water because it tastes bad might seem extreme. Yet this neural pathway is important for survival in the wild. Just like how cats like running water as it is less likely to be contaminated, this gag reflex ensures if they do eat or drink something funky their bodies will eliminate it right away. This means they're less likely to fall sick and their chances of survival are increased.
If your cat coughs after drinking water because it tastes bad, you might want to try these tips:
4. Your Cat Swallowed a Foreign Object
We are used to seeing a cat throwing up after eating if they've eaten something they shouldn't. This might be a piece of fabric, a small toy, or any other foreign object. Cats are curious creatures, and can get their paws on all kinds of things!
But foreign objects can also end up falling into your cat's water bowl. A common example is a small piece of string – this might be so small you hardly notice it, but if your cat swallows this when drinking it will make them cough and choke.
If this is why your cat coughs after drinking water, it will also be a one-off occurrence unless they're extremely unlucky. You can prevent this from happening in the future by ensuring you replenish the water in their bowls a couple of times per day. This will also help keep it tasting fresh and more appetizing for cats.
5. Something is Obstructing the Throat
If your cat does swallow a foreign object when drinking, coughing will usually dislodge it before it causes any issues. However, the object can get stuck inside your cat's throat. Next time your cat takes a drink, the blockage will cause them to cough and splutter even more!
Foreign objects are just one example of throat obstructions. Other possibilities include:
Hairballs which are particularly common in long-haired breeds
Undigested food which is often a problem in cats with dental disorders
Small bones from meat that you had fed your cat
Tumors and polyps growing inside the throat cavity
If your cat is suffering from a throat obstruction, coughing up water isn't going to be the only sign. You will likely notice your cat throwing up food but acting normal as well. I suggest you take your cat to the vet ASAP. Depending on the severity of the blockage, obstructions can become a medical emergency. So, it's always better to be safe than sorry!
6. Your Cat Has Respiratory Infection
A more generalized cause of coughing in cats is upper respiratory infections. Two of the most common viral respiratory infections in cats are Feline Herpesvirus (FHV) and Feline Calicivirus (FCV). Bacterial infections such as Feline Chlamydia and Bordetella are two other common diseases.
The presence of any of these viruses or bacteria in your cat's upper airways will trigger an immune response. As a result, the throat and airways will become inflamed. Cats will often cough when drinking water as it passes through these inflamed and swollen passages. However, general coughing is another symptom of these infections.
Other clinical signs of upper respiratory infections are comparable to those of a standard human cold and include all of the following symptoms:
There is discharge coming from the eyes and nose
Your cat has difficulty breathing or sounds congested
There are ulcers in the mouth or nose
Gagging and drooling from the mouth
Some respiratory infections will treat themselves. This is the case with FHV and FCV, neither of which have any treatment. However, most bacterial infections need to be treated with antibiotics. There is no way of knowing which infection your cat has until they are looked over by your vet. Take them in for a checkup and get any treatment required before the infections worsen.
7. Your Cat Suffers from Allergies
Finally, there is a chance your cat coughs after drinking water as it suffers from allergies. Like respiratory infections, allergies cause more generalized coughing. You won't only notice your cat coughing after taking a drink – they're be coughing much more in general.
There are also other clinical signs to watch out for, including:
Sneezing, coughing, and wheezing
Vomiting and diarrhea
Red and inflamed skin
Itchy skin and eyes
Discharge from the nose and eyes
Sensitive and swollen paws
If several of these symptoms apply, there's a good chance your cat is allergic to something. I suggest taking your cat to the vet for a firm diagnosis. However, it might take a little while for your vet to deduce exactly what is triggering this immune response as cats can be allergic to all types of things.
Food allergies are pretty common in cats and will worsen after eating. If your cat's food and water bowls are next to each other, this could make it seem like they cough more after drinking. It is recommended to put your cat on a food elimination diet to try and work out what exactly is causing the allergic response.
Environmental allergies are another possibility. Examples include allergies to pollen, dust mites, and cigarette smoke. Even some pet products can cause allergies. High-dust cat litters with strong artificial fragrances are known to be particularly problematic. Steer clear of these products if you know your cat is an allergy sufferer – they're only going to aggravate your cat's symptoms.
Should I Worry That My Cat Coughs After Drinking Water?
If your cat coughs after drinking water occasionally, I wouldn't worry too much. Your cat has probably just gulped down their liquid a little too quickly and spluttered some of it back up. The same goes for if your cat has always coughed after consuming water. There is a chance your cat has a funny way of swallowing which makes them choke with every mouthful.
In these cases, there is usually no need to panic. As long as your kitty seems fine and shows no other symptoms she's likely happy and healthy… assuming your cat is hydrated that is! Unfortunately, coughing when drinking can deter some cats from intaking enough fluids. If you can't get their coughing to stop, you can encourage drinking by:
Swapping to a water fountain if you see your cat paw at her bowl
Adding broth or tuna juice to the water to make it more appealing
Refilling the water bowls twice per day and washing them once per week
Moving the location of the bowls to low-traffic areas in your home
Keeping the bowls away from your cat's litter tray and food bowls
Providing more than one bowl for your cat to choose from
With that being said, you should take your cat to the vet for a checkup if either (1) your cat has suddenly started coughing after drinking, or (2) your cat constantly coughs after drinking rather than it being a single occurrence. Your vet will rule out medical conditions such as respiratory infections, allergies, and obstruction of the throat and prescribe treatment if necessary.
MY FINAL THOUGHTS
Some cats cough after drinking water and this is totally normal for them. Perhaps they are just fast drinkers or swallow unusually. But if your cat suddenly splutters after every mouthful of water, take them to the vet. Your cat might be 100% fine, but it is better to go for a checkup just in case.
You can also try some of the tips in this article and see if this helps stop your cat's choking. Make sure their collar isn't too tight, ensure the water tastes as delicious as possible, and limit the number of known allergy-causing substances in your home.
The most important thing is to ensure your cat is well hydrated, as dehydration can lead to a load of other health complications you want to avoid.