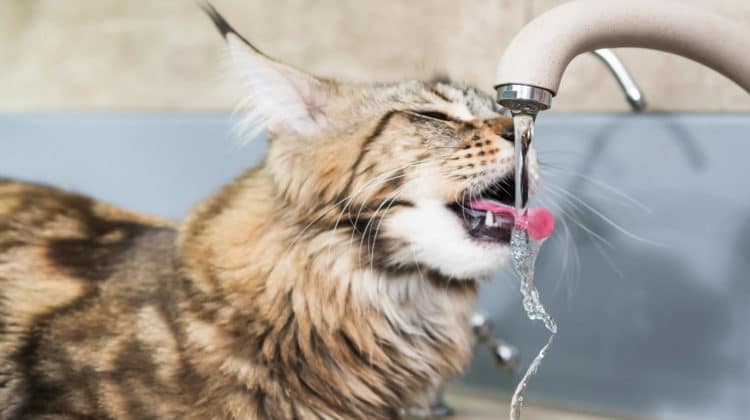 Our cats must drink water to ensure that they stay in good health.
It can help them flush toxins out of their bodies through their kidneys and prevents their organs from being dehydrated. To ensure your kitty stays happy and healthy, they need to have access to fresh water at all times.
Unfortunately, cats are pretty fussy. No matter how fresh the bowl of water that's just been laid down, stubborn cats simply won't drink from it. My cat used to point-blank refuse to drink out of her bowl, then later I'd find her up on the worktop where she's not allowed with her head under the sink faucet, trying to catch droplets from the tap.
My sister told me to purchase a water fountain to encourage my cat to drink more, and just like magic, it worked! I tried a few different fountains to find one that my cat loved which also wasn't too noisy or expensive.
Ceramic cat water fountain came out on top every time, so I thought I'd review my favorite products to help you decide which one to purchase to help get your cat's water intake up.
My Top Pick
Of all the ceramic cat water fountains I have tried, and from talking to my fellow cat-loving friends, the fountain I swear by is the iPettie Tritone Ceramic Pet Drinking Fountain.
It's got a large water storage capacity, is ultra-quiet to run, and my cat loves drinking from it. I've had it for three years and it's still going strong. What matters most though is that my cat is happier and healthier than ever!
In case this isn't the product for you, I have written some other ceramic cat water fountain reviews for more great products that you might love. From big to small and from high-end to value, here are the best ceramic water fountains that you can buy for your pussy cat.
Best Ceramic Cat Water Fountains
Before I get onto the products, I just want to let you know what factors I considered to be important when curating this list. Choosing a great ceramic water fountain for your pet is not as simple as you may think!
As well as choosing a design that entices your puss to drink that much-needed water, I also wanted a fountain that had several other features. So, these are the factors I looked for in every fountain I trialed.
Enticement: First and foremost, I needed a fountain that lured my kitty in and tricked her into drinking more water so that she was as happy and healthy as ever!
Noise: As much as I want my cat to drink more, I don't want to get a headache in the process. Therefore, finding a fountain that makes as little noise as possible when running was at the top of my priority list
Capacity: How much can the water fountain hold? I wanted a fountain that I could leave running without needing to top it up multiple times a day. If you are looking to buy a fountain because your cat is guzzling down the water in their bowls and you are constantly having to refill them, capacity should also be an essential factor for you. Likewise, if you have multiple cats, then capacity is key!
Cleaning: One of the reasons I love ceramic filters over plastic ones is because they are easier to clean. For that reason, I also wanted a design that was simple to clean with no corners or grooves that are difficult to get into
Filter Type: Linked to cleaning, the type of filter in the water fountain can either make it a dream to clean or it can make it a challenging job. Filters are also important in making the water clean for my cat to drink safely
The cost is also an important factor, but from the list of products I have reviewed, you will find a fountain to suit every budget possible. So, buckle up! Here are the best ceramic water fountains that your cats will love as much as you!
The iPettie Tritone Ceramic Pet Drinking Fountain is the best ceramic water fountain for cats I have tried, and both I and my cat love it!
Firstly, when it is running, there is next-to-no noise coming from the fountain. One product I tried before this was so loud when it was turned on and had added noise coming from bubbles. This filter is virtually silent with only the occasional hum or splash of water, which I can deal with.
What I love about this product most though is the 3-stage purification system. This is one of the best filtration systems available on the market for pet fountains and catches all strands of hair and pieces of debris so that my cat has fresh water to drink. It also helps to remove bad tastes from older water which my cat sure is grateful for, and reduces odors coming from the fountain, meaning she is more likely to drink from it, and I have a fresh-smelling home.
The filter also softens the water, so if you live in an area with hard water this can help reduce the limescale build-up on the fountain, making it easier to clean. I find the fountain easy to disassemble and the smooth ceramic surface means I can wipe the fountain clean in no time.
Lastly, this fountain holds up to 2.1L of water which lasts for around 2 weeks. I always try to refresh the water before then so that my cat has clean and healthy drinking water, but if you constantly forget to fill up your cat's bowl, this keeps you free from frequent replenishment. Plus, the advanced filtering system means you can leave it a little longer between refills. If you have a multi-cat household then the large size is even more ideal!
Pros
Minimal noise when running
Holds up to 2L so perfect for multi-cat households
Provides up to 2 weeks worth of water without the need for replenishment
Triple filtration to keep the water clean
Easily disassembled for cleaning
Increased my cat's water intake substantially
No nasty smells or tastes
Cons
Needs to be plugged into a power socket
Before buying the iPettie Tritone Ceramic Fountain, I ordered the PetSafe Cat & Dog Water Fountain. I was initially drawn to this fountain as it is super stylish, and the square design means it can neatly be tucked away in the corner of your room. Plus, the 5.5" long cord meant placing it near a power supply was easy.
This fountain also has a great capacity of 2L which, depending on how thirsty your cat is or how many cats you have, is plenty to last for a week or so without needing to be replenished. The two-tiered design also means there are two levels for your pets to drink from. This is great for old arthritic cats who struggle to bend down to reach their water bowl.
While the fountain is a low-noise product, there is a bit of sound when the fountain is running. It is not so loud that it will keep you up, and once used to the noise I did faze it out. While I prefer a quieter fountain, this made the product perfect for my friend who has a blind cat and had difficulties finding his drinking bowl, while simultaneously not disrupting her.
This fountain is also a dream to clean and is dishwasher-safe. The foam filter does a good job of keeping hair out the pump, but the pump itself can also be cleaned in three easy steps. Nice and straightforward!
Pros
Super stylish two-level design
Two levels make it ideal for cats of all sizes and health conditions
Large capacity of 2L
Long power cord
Easy to clean pump and dishwasher safe fountain
Cons
Next up, I have the YIL Intelligent Ceramic Pets Water Dispenser which I spotted at my friend's house and fell in love with. It is a Japanese cat water fountain made to look like a delicate blue porcelain fishpond with tiny decorative fish. It's so cute that it looks more like an ornament than a water dispenser for my pet!
The fountain also holds 1.8L which is plenty of water for a few days without needing to replenish it, and as the water is circulated and filtered it stays fresh. There is actually a quadruple filtration system designed to block everything from hairs and large debris to small impurities, bacteria, and metal ions.
When it comes to cleaning, the bowl shape means there are no hard-to-clean nooks and crannies. The filters also help soften the water to prevent the build-up of limescale, helping the fountain stay as beautiful as when you first bought it.
The pool design also means that the fountain is quiet and doesn't disturb you or your pets. However, it does not entice my cat as much as free-falling water designs and is not that dissimilar to a drinking bowl. If your cat is quite happy drinking from a bowl, but you want to purchase a product that will give them fresh, clean water without the need for constant replenishment, then this is the cat water fountain for you.
Pros
Beautiful ornamental design
Holds 1.8L so doesn't need replenishing every day
Quadruple filtration to remove visible and invisible impurities
Provides clean and fresh water
Quiet without causing a disturbance
Cons
No free-flowing water so not as enticing for cats as other designs
Short 2-3" electric cord
The Wistwoxxon Cat Water Fountain takes the place at number 4 as the cutest and tiniest one yet, making it ideal for kittens. This water fountain has an oriental style that I love, and it comes in multiple different designs, so you are sure to find one that you love too!
This is a very small ceramic cat water fountain sitting only 4.7" high and holding 0.6L of water. If you have got more than one cat, you will definitely need a bigger fountain, so this isn't the product for you.
However, I actually like the small design – it looks good in my home, provides plenty of water for one cat, and it makes me replenish the water more regularly. No matter how good a fountain's filter is, the water should still be refreshed every few days. Whereas with bigger fountains I sometimes overlook this, the Wistwoxxon Cat Water Fountain's small size ensures my cat has fresh water all the time.
The filter in the fountain does a decent job of removing debris, bad odors, and nasty tastes which is great for me and my cat. While the filtration system is not as advanced as other products, it does a good enough job of keeping the water clean.
If you're on a budget, this is also one of the cheapest ceramic water filters you can buy which is a huge bonus!
Pros
Cute oriental design in multiple colors
Small capacity so helps remind you to refill it with fresh water
Tiny so can conveniently fit into small spaces
Free-falling water which cats love
Excellent value for money
Cons
Not great for multi-cat households
Noisier than other models
If you want a great water fountain for your cat that is also easy to clean, opt for the Wonder Creature Pet Water Fountain. The free-falling water and cupcake design are enough to entice any cat and help them increase their water intake.
As I said, this fountain makes for hassle-free cleaning. How? The internal surface is super smooth so you can easily wipe off any grime. You can also easily disassemble the fountain to clean all the interior pipes and, to make your life even easier, you get cleaning brushes included. These are small enough to clean inside the pipes to make sure the insides are just as clean as the outside.
This filter only has a dual filtration system, with a charcoal filter purifying the water and a foam filter catching larger particles and hair. While this is not as advanced as some other fountain's filtering capabilities, the water is still clean and safe to drink, and odors are minimal.
This is also a fantastic product if you have more than one kitty in your home. It holds up to 2.1L of water, and its spherical design and multiple free-flowing streams mean more than one cat can drink from it at once!
Pros
Multi-directional streams so more than one cat can drink at once
Large capacity to reduce the number of refills required
Great for multi-cat households
Comes with a cleaning brush
Minimal noise while running
Cons
Only has a dual filtration system
For anyone on a tight budget, the Aolnv Cat Water Fountain is your best option for the cheapest price. It may not be the fanciest piece of kit on this list, but it's far from the worst product on the market. And for the money, it is definitely worth it.
To start with, one of its many benefits is its beauty. Made from white ceramic and decorated with delicate fish, both you and your cat will appreciate how good this cat water fountain looks in your home. The faded blue bottom and center further make this product one of the prettiest on the list.
Of course, as the fountain is made from ceramic it makes it super easy to clean thanks to this being a scratch-resistant material. The manufacturers have even put a clear glaze over the top so that any dirt and scum can quickly be removed. Not to mention, this makes it much safer and more hygienic than other options.
This pet water fountain's main benefit though is its sound – or should I say lack of! The fountain is ultra-quiet when running so it won't disturb you or your family, or scare off a timid cat. The only noise you'll hear coming from this product is the gentle dripping of water into the bowl which I find quite relaxing.
So far so good, but this water fountain doesn't come without its issues. Unfortunately, it only holds 50.8oz of water. This makes it unsuitable for use in multi-cat households and you will need to remember to fill it up more regularly.
Moreover, it only offers double filtration rather than offering advanced filtration like some more expensive options. Nevertheless, for the money and aesthetic, I can't complain!
Pros
Extremely affordable product
Beautiful aesthetic design
Small and can fit into tight spaces
Super easy to wipe clean
Ultra-quiet pump that can hardly be heard
Cons
Only holds up to 50.8oz of water
Too small for multi-cat households
Dual filtration system only
Have you got one or more fussy felines? How about cats of different ages or different health conditions? If so, the PetSafe Creekside Ceramic Pet Fountain is a great choice.
What I love about this product are the options it gives your cats. They can choose to drink both from the tower at the top or from the bowl at the bottom. While arthritic cats may find it easier to drink from the top, kittens can drink from the bottom bowl. The gentle flow as opposed to a large falling stream also won't scare off any timid or shy felines either.
Whichever they choose, both can be accessed from all 360-degrees. This means it is perfect for multiple cats to drink at once in the way that they want to. The large 60oz capacity further makes it great for anyone with more than one cat. It's also large enough to supply drinking water for small dogs – if you have both pets, why not save space and money by letting them drink from the same fountain?
Although I do love the more ornamental-looking fountains, this is a fantastic product for anyone after simplicity. All white and with a smooth undecorated tower, its modern design works seamlessly into any home. With no ridges, all parts of the fountain are also easy to wipe clean, or simply stick in the dishwasher for super simple cleaning.
However, this cat water fountain isn't perfect and could do with an extra level of filtration as it only contains a carbon and foam filter. With that being said, other aspects like its whisper-quiet motor and clever design undoubtedly overshadow this fact and I still think it's a valid purchase choice.
Pros
Cats can drink from all 360 degrees
Choice of drinking from the bowl or stream
Gentle flow perfect for timid cats
Super quiet motor barely audible when running
Simplistic modern design
Suitable for both cats and dogs
Large 60oz capacity
Easy to dismantle and clean
Cons
Only has a dual filtration system
Next, I bring you the Aolnv Saplings Shape Pet Fountain. Like the #6 Aolnv Cat Water Fountain, this product does have a small capacity of only 50.8oz and may need refilling frequently. But it's perfect for one small cat and can easily fit into any home.
I also love the green sapling shape design. Many ceramic water fountains have a generic design, whereas this is wonderfully unique and playful. Two streams of water jet out of the green saplings themselves, while cats can choose to drink from the water basin if preferred.
Another positive of this product is how quiet the fountain is to run. According to the manufacturer, the pump used in this fountain is silent so that it doesn't cause any disturbance while you sleep. However, there are mixed reviews about how quiet the pump actually is. Nevertheless, it seems to only be when the fountain empties that the pump becomes noisy, so top the water level up before bed and you shouldn't have any issues.
The fountain does also have a dual filter which is the minimum filtration I would recommend going for. This is made of a foam filter and a carbon filter to catch all dirt and purify the water. This is effective in keeping it clean and tasting nice, but I would ideally like to see a triple filter. However, for the price, there are no complaints here!
Pros
Cute and unique saplings design
Two streams and a basic for drinking
Uses a silent pump as to not disturb
Easy to separate and clean
Filters help to keep water clean and tasty
Cheaper than many other products
Cons
Fountain becomes loud when water levels get too low
Small capacity that needs frequently refilling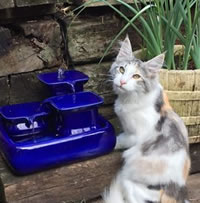 For anyone that wants to go above and beyond with their purchase, the Miaustore Dog & Cat Ceramic Water Fountain is a must. If you've tried a simple fountain before and your cats weren't interested, this could be the level-up your fountain needs.
This is the most extravagant design on this list, comprised of three separate levels with cascading water falling from one to the next. This provides eight different drinking areas for your cats to choose from. With a huge 115oz capacity, multiple kitties can enjoy drinking from here at once. What's more, the multi-tiered design is also bound to capture a cat's attention.
The overall look is extremely elegant, available in four colors to go with any home décor. Additionally, the fountain has a high-gloss finish that looks great while also making the fountain easy to clean. It is also easily dissembled and is dishwasher safe, making your life even easier.
Unfortunately, there is one big feature that this cat water fountain is lacking: a filter! Therefore any dirt and debris that ends up in the water will stay there until you wash the fountain yourself. This means the pump can easily get clogged with hair and you must stay on top of changing the water each day and cleaning the entire fountain regularly. Otherwise, the lifespan of this fountain sadly won't be long at all.
Pros
Extravagant three-tier design with eight drinking options
Perfect for multiple cats to drink at once
Sure to interest all cats
Comes in four different colors
High gloss finish for added beauty
Easily dismantles and is dishwasher safe
Huge 115oz capacity great for multi-cat households
Cons
No filtration system at all
Water needs relacing every day to keep it clean
The pump needs changing more frequently
Considerations for Choosing a Ceramic Water Fountain
These are just some of the products that I have tried and love myself, or that have been recommended by friends. However, you might want to shop around yourself to see what else is on offer.
Here are some considerations to remember when purchasing a water fountain for your cat.
Enticement
The most important question to ask yourself when purchasing a water fountain for your cat is this: will this fountain encourage my cat to drink more?
We aren't cats, so this can be a tricky question to answer! Generally, cats prefer fountains that have free-flowing streams that they can drink directly from without getting their whiskers wet. Some fountains have additional features to attract your cat's attention, like bubbles or moving parts. While some owners find these effective, they can scare timid cats, so think of your cat's behavior before spending your money.
Size & Capacity
This is an important one, and you can quickly narrow down your search by deciding what size water fountain you want. If you have space in your home, a larger fountain means you will have to replenish the water less frequently, maybe even once a week. Larger fountains are also ideal if you have more than one feline.
However, smaller fountains are daintier and often look better in your home. They will also encourage you to refill them more regularly, which will give you cat fresher and cleaner water.
Noise
Noise for me is a big one. With a fountain, a little bit of noise is expected, but a loud pump is not what I want to hear. Really loud fountains could deter your kitty from getting too close too! I suggest you look for fountains that are ultra-quiet so that they don't disturb you or your pets.
You also need to consider the sound of the falling stream as well, not just the motor. If you know the sound of trickling water is going to bug you, choose a design that has a much gentler stream. This will make less noise and cause fewer disturbances. This is also the best option for nervous and timid cats.
Cost
Ceramic water fountains aren't cheap. Considering that you can pick up a water bowl for a couple of bucks, spending over $50 on a fountain seems steep. However, cats often don't drink enough water, and fountains can dramatically increase their water intake – is there really a price tag on your cat's health and wellbeing?
If you are on a budget, you can find cheaper water fountains available. However, if doing so you may need to compromise on size or filtration power. Are these things worth paying extra for or not? Only you can decide what is most important to you when purchasing a ceramic fountain and base the product and cost off of this.
Filtration
Water fountains for your cats don't need filters to function, but they are beneficial at reducing nasty odors and tastes, keeping water clean, and helping reduce dirt building up, thus making it easier to clean. They also help to prolong the life of the filter by protecting the pump from any debris.
At the bare minimum, you'll be looking for a fountain that has at least two filters – one foam filter to catch hair or pieces of larger debris, and a charcoal filter to help purify the water from nasty contaminants. When buying a top-of-the-range fountain, you can get filters with additional layers that will help to soften hard water and remove unwanted metal ions.
Why Cats Need a Water Fountain
Technically speaking, your cats do not need a water fountain – they need water. Water is essential to keep your cat hydrated. If they go without water for too long, they could develop kidney or urinary disease and will become very unhappy.
Unfortunately, successfully managing to get your cat to drink water can be a challenge. I struggle to drink 2L of water every day myself, and your cat's instincts telling them to drink could also do with a kick up the backside. Cats don't actually drink much at all, so they need a little extra encouragement, and water fountains provide exactly that.
Having a water fountain is preferred over drinking bowls by many picky felines. But why? In fact, there are several reasons your cat will prefer to drink running water than still water.
Cats See Running Water as Safe
Cats are naturally drawn to running water over standing water due to their wild instincts. In nature, a still pool of water is a breeding ground for bacteria. Therefore, still water can indicate to cats that the water is contaminated and animals that drink it will become ill, and so they avoid it. On the other hand, running water is seen as safe.
Domesticated cats still have these wild instincts and associate standing water with unsafe and stagnant liquid, whereas running water is seen as refreshing and safe. If your cat isn't drinking from their bowl, a fountain could be the answer.
Cats Cannot See Water Levels
Have you ever looked into your cat's water bowl and struggled to see how much water is in there? Seeing water levels can be difficult for us, and even harder for cats that are notoriously known for their poor vision. Often, cats won't drink from their bowls as they cannot see any liquid in it an assume it is empty.
Cats do, however, have a wonderful sense of hearing. If they can hear the running water from the fountain, they will easily be able to find their water supply and will know where there is fresh water available. Even fountains that are whisper-quiet to us humans can still be heard by cats, so they will always be able to locate their next drink.
Cats Hate Their Whiskers Being Touched
This is not true for all cats, but many cats get stressed and anxious when their whiskers get touched. Cats use their whiskers to learn about their surroundings and judge distance – they are what lets your cat know whether they can squeeze through a tight spot or are walking too close to something. In other words, they help your cat navigate the world to avoid danger.
When drinking from a bowl, cats' whiskers often touch the bowl or the surface of the water. To some cats, this is uncomfortable and makes them feel stressed. Water fountains avoid this entirely allowing them to drink in peace without their whiskers being stimulated.
Ceramic Water Fountains Vs Plastic Water Fountains
You may be wondering why a ceramic water fountain is better to purchase than a plastic one, and if it is worth the extra cost. I personally love my ceramic fountain, as do my cats. But alongside encouraging them to drink more, ceramic fountains have several obvious benefits compared to their plastic counterparts.
Durability
Firstly, ceramic is a much more durable material than plastic. The material is hard and resistant to scratches from your felines. It is also less likely to snap when cleaning and has fewer fragile parts, meaning if you invest in a ceramic fountain it will stand the test of time. I have had my ceramic cat water fountain for three years and it's still going strong!
However, drop a ceramic cat water fountain from a height and it may break. On the other hand, a plastic fountain would probably be fine. Therefore, you do need to be a little more careful when picking up and moving ceramics, but this is only a minor disadvantage that takes next to no effort.
Hygiene
As well as being more durable, ceramic water fountains are also a lot more hygienic, meaning your cat isn't going to be slurping up nasty bacteria with their fresh water. As an alternative, stainless steel cat water fountains also score highly in this category.
Cat water fountains can become infected with bacteria if your cat scratches the fountain. This leaves grooves that bacteria love for a place to breed rapidly. Plastic can easily be scratched which makes it a breeding ground for bad bacteria that can contaminate the water. On the other hand, ceramic and stainless steel is difficult to scratch, reducing the likelihood of contamination. It is also dishwasher safe, and the smooth surface makes it really easy to clean.
Smell
Plastics love to cling on to unpleasant odors that can travel around your home. The stench can also be off-putting for your cat, whose sense of smell is around fifteen times as strong as ours! If the water fountain smells bad to us, imagine the stench our felines can smell as they take a drink. Your cat will use the fountain less and less as the smell worsens, slowly becoming more and more off-putting.
However, thankfully ceramic does not retain odors at all. This means your house will stay smelling sweet and your kitty will continue to love and use their fountain. Again, if not sold on ceramics, stainless steel water fountains are another great option guaranteed not to cling onto nasty odors.
Weight
Finally, ceramic fountains are a lot heavier than plastic ones. This is great if you have rowdy and energetic cats who could knock lightweight fountains over, leaving a puddle on your floor! My old plastic fountain used to get knocked over daily by my cat trying to scratch it, so prevent this from happening by opting for a heavier ceramic fountain for your cats.
FAQs
Q: Will the water fountain increases my cat's water consumption?
A: Whether your cat will drink more from a fountain is different for each individual cat. Often cats prefer drinking from water fountains and so they will increase your cat's water consumption.
Q: Do cats prefer water fountains?
A: Yes, generally cats prefer water fountains over a bowl of standing water. This goes back to when cats were non-domesticated and associated running water with cleanliness, and standing water to be unsafe.
Q: How do you keep a cat water fountain clean?
A: Vinegar works great to keep your cat's water fountain clean and remove any build-up. Simply pour vinegar over the fountain and wait for the scaly build-up to dissolve, then rinse with water and return to your kitty.
Q: What is the best water fountain for cats?
A: In my opinion, the best water fountain for cats is the iPettie Tritone Ceramic Pet Drinking Fountain. This fountain has a free-flowing stream that my cat loves, triple filtration to keep the water clean, and makes next-to-no sound while running.
Q: How often should I change the water in a water fountain?
A: You only need to change the water in your cat's water fountain every 2-3 days to keep it fresh. However, make sure you check the water level every day, especially if you have a multi-cat household, and keep it topped up as needed.
Q: Do cat water fountains use a lot of electricity?
A: No, water fountains don't use much electricity at all and to run the fountain for a month would only cost you around 10 cents in energy bills.
Q: Do cat water fountains need filters?
A: You can use a water fountain without a filter, but they do help for the fountain to last longer before breaking by reducing the build-up inside the fountain. Therefore, I'd always recommend using one.
Q: Can I leave a cat water fountain turned on all the time?
A: You can leave a water fountain on all the time as long as it does not run dry of water and the pump is submerged at all times. Make sure you top it up regularly to prevent this from happening and you should have no issues with leaving it running constantly.
Q: Are ceramic cat water fountains better than plastic ones?
A: Yes, ceramic cat water fountains are better than plastic ones as they are easier to clean and are more hygienic. The material is also durable so they will function correctly for longer without breaking.
MY FINAL THOUGHTS
If you're having a tough time getting your cat to drink from their bowl, I would definitely recommend purchasing a cat water fountain. Cats much prefer moving water and it can encourage them to drink the amount of fluids they need for optimal health.
Ceramic fountains are top of the range and help keep drinking water clean and bad bacteria at bay. By buying one of these fountains you'll have a happier healthier cat while spending less time topping up their water bowl. What more could you want?!