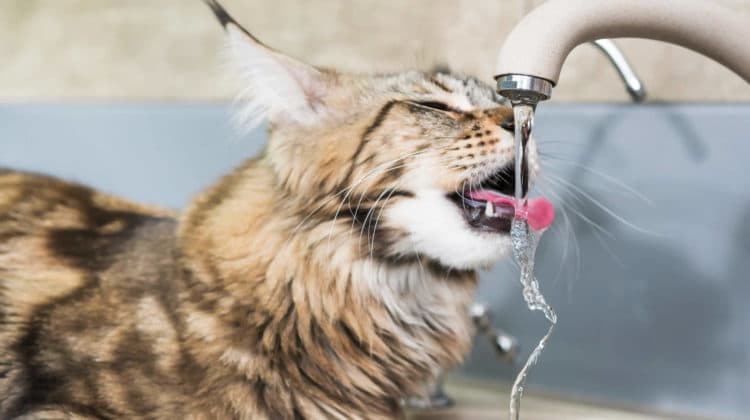 Cats are marvelous and intriguing creatures that never cease to amaze! These stunning felines have so many cute and strange things that they do every single day, leaving their owners searching for answers. Are you also one of those people who's been wondering "Why do cats like running water?". Well, you're about to find out all there is about cats and their fascination with running water.
As it turns out, the main reason cats like running water is because they see it as safe. Still and stagnant water is more likely to carry diseases and bad bacteria, whereas running water is fresh and clean. Also,  domestic cats are descendants of desert cats. This feline species is known for its low thirst drive, and when they do drink, they often opt for running sources.
So, the fact that your cat rushes to the bathroom every time they hear running water is not strange. So many cats love sipping on the cool, fresh faucet water but don't even want to get near their bowl. There are several more reasons why cats do this too, so keep reading to find out about them all, as well as what you can do to make your cat drink more water!
Reasons Why Cats Like Running Water
1. It's An Instinct
As you can already guess, your cat's ancestors did not have a fancy bowl for drinking water. For them, it was all about staying safe and healthy by opting for running water sources that are less likely to be contaminated with bacteria. Up to this day, domestic cats have preserved this instinct that tells them that running water is much safer to drink than stale water. They like a cold, fresh drink, and so they turn to the faucet instead of the bowl.
2. They Love The Sound Of Running Water
The sound of running water is amusing and attractive for cats. These fabulous creatures can be creeped out by still surfaces because they can't see or hear them well. That won't happen with running water since the sound is so appealing to felines. It's more like a fun game for them!
3. Running Water Is Fresh
Cats love the taste of fresh water, which is another reason why your feline might be obsessed with faucet water. These creatures are very sensitive to taste, meaning that still bowl water doesn't always taste fresh for them, even when it's been in the bowl for an hour. Also, food and dirt can easily get in the water bowl, especially if your cat loves tapping it with the paws.
On the other hand, running water is cooler, fresher, cleaner, and contains more oxygen, characteristics that make it better-tasting for your furry friend.
4. Still Water Touches Their Whiskers
Cat's whiskers aren't just a cute physical trait. They are part of a complicated sensory system that keeps your cat aware of its surroundings. Each time that whiskers sense something located nearby, they send signals to the cat's brain which helps them to better navigate the world around them. Whiskers are extremely sensitive and they can even detect tiny currents in the air!
Unfortunately, whiskers can pose a problem for cats when they are drinking from a water dish. The bowl and water level are likely too close to the whiskers or touching them, so they get overstimulated and constantly send signals to the cat's brain. This is known as whisker fatigue. The stimulation will turn the feline away from the bowl, and the cat will run to the nearest source of running water instead.
5. Cats Don't Like Where Their Bowl is Placed
Bowl location matters! If your feline's water bowl is right next to a wall or in a corner, they can feel unsafe when drinking, which could be another reason why your cat prefers running water. In nature, cats prefer open and running sources where they can have insight into their surroundings.
Felines are predators; they don't want to have their back unprotected facing towards an open space while they have limited movement options in front of them. This is also an instinct that survived the evolution and was transferred to domestic cats. They hate feeling vulnerable, cornered; hence they look for a different source… your running faucet!
6. They Love Playing With Running Water
By now, you probably already know that cats are full of surprises. If you've been wondering why cats like running water, there's a possibility that the answer is quite simple: your furry friend thinks it's fun to play with! Many cats love playing with tap water, so they run to the faucet every time they hear the sound of it on. You may find this hard to believe when you've bought your cat plenty of toys for entertainment, but cats are unpredictable creatures!
7. Cats Can't See Water Well
Although cats have several heightened senses, seeing water is a problem for them. They have great night vision but seeing things located too close to them can be extremely difficult. You'll often see your furry friend tap their paws into the bowl, which means they are checking to see if there's water there and are checking the levels.
Running water, on the other hand, is much easier for cats to see. Therefore, felines may not only feel more comfortable around running water, but they can also see it better.
Signs That Your Cat Doesn't Drink Enough Water
It can be hard to know whether your cat is drinking enough water throughout the day since you can rarely see them near the bowl – especially if your cat has a preference for running water! So, it's important to look out for signs of dehydration to ensure your cat is happy and healthy. Some of the most common signs that your cat is dehydrated include:
Fatigue
Loss of skin elasticity
Refusing to eat or drink
Dry gums
Vomiting
Diarrhea
Panting
If you see any of these signs, you should act fast and talk to your vet. Dehydration can be extremely dangerous for cats and without the correct medical care they may not survive. To prevent dehydration, it's important to encourage your cat to drink more water each day so they can live life to the fullest.
Effective Tips To Get Your Cat To Drink Water
1. Move The Water Bowl
As I mentioned before, bowl location can be one reason why your cat prefers running water.
Avoid placing the bowl in a corner or right next to a wall. This can make cats feel unsafe, so they will avoid drinking from it. Another spot that you should avoid is next to the litter box. Cats have a heightened sense of smell, so they don't like to eat or drink with the smell of their litter box nearby. There is also a high chance of contamination from the litter, meaning the location is also not safe.
Instead, you should find a place in your home where the cat will feel comfortable and not threatened. There should be extra space between the wall and the bowl and away from its litter tray. You can also put it in an area of your home where you know your cat loves spending time.
2. Size, Material, Shape
Aside from the location, the drinking bowl's size, shape, and material are also important. This means that that the bowl shouldn't be too small or too big. If it's too small or too narrow, it can trigger whisker fatigue. Thankfully, there are special cat bowls for whisker fatigue that you can purchase.
There are also numerous cat bowl materials, but you can never know what your cat likes best. Some of the options include plastic, ceramic, glass, and stainless steel. Often, the smell of plastic can be offputting to felines. Other cats may be scared from their expression on a stainless steel or metal bowl. You'll need to try various options to see which one works best for you.
3. Buy A Water Fountain
Alternatively, water fountains are one of the best investments you can make for your beloved feline. Fountains come in so many shapes and forms, and they're all equally efficient and entertaining for cats. It doesn't matter whether you'll go for stainless steel cat water fountains or ceramic cat water fountains – as long as you have one your cat won't need to rush to the faucet. They'll have a steady stream of running water to drink from instead.
4. Clean The Bowl Every Day
If you don't want to invest in a new bowl or a water fountain, but you want your cat to drink more water, you should wash the one you have every day. It's the best way to prevent bacteria, food, and dirt accumulation, plus the water will taste fresh and clean.
You can use just a little mild soap and warm water. Ensure that you rinse the soap entirely, otherwise, it will leave a strange, lingering smell and taste, and your furry friend won't want to drink from the bowl. Soap can also cause a burning sensation to your cat's tongue!
5. Add Flavor
Flavored water can work wonders! I'm not talking about lemon or cucumber water; instead, add a flavor that your cats are obsessed with. This can be chicken broth or a little tuna juice. If you're using tuna, make sure that it's water and not tuna oil! While you can't overdo this and shouldn't do it often, it's a great trick on hot summer days when your cat is at higher risk of getting dehydrated.
6. Don't Overfill The Bowl
Yes, this is another thing that proves how picky cats are! Even the water level in their bowl needs to be perfect for them to drink it. If you overfill the bowl to the top, they might feel scared. Also, a low level might distract them from drinking water or make it more difficult for them to see the water. Make sure that you keep a constant level that's not too low or too high.
7. Feed Them Wet Food
Dry cat food contains very low levels of water, whereas wet cat food has a much higher water content. If you want to boost your cat's water consumption, you can consider adding wet food to their menu. Make sure to talk to a veterinarian before you decide to make any dietary changes. Professionals will tell you which foods are the best and how to provide your felines a balanced diet.
8. Add Ice
Adding a couple of ice cubes to the bowl can also work wonders. This is a simple trick that encourages cats to drink from their bowl because it will be colder and better-tasting. It will remind them of the cool, fresh, running faucet water.
Cats will also find the ice cubes in their water fascinating. While they're drinking, the cubes will move, and the cat will continue drinking to move the cubes even more. They also love the sounds that the cubes make. Ice works best in a spill proof cat water bowl. If your cat plays with the ice cubes, it can make drinking time extremely messy! However, spill proof cat bowls will ensure that the water is contained.
Reasons Why Drinking Fountains Are Great
While all the above options can encourage your cat to drink more, purchasing a cat water fountain has to be the easiest and most effective. It's an excellent investment that you should consider. Your cat will love drinking from it, and it will make your life a lot easier too! Let's find out what the benefits are.
1. Lower Chances Of Bacterial Growth
Water in running fountains contains fewer bacteria compared to water in bowls. Since this water is constantly moving, bacteria find it harder to create large colonies. As you can see, this is definitely something that will benefit the health of your feline. Bowls can quickly become a breeding ground for bacteria, especially if you don't wash them every day.
2.  A Constant Source Of Clean Water
Fountains contain filters that clean the water. These filters will remove impurities, dust, dirt, and other particles that will get into the water. They will also keep the water fresh by eliminating unpleasant odors. Your cat will feel like they're always drinking running faucet water.
Keep in mind that the fountain needs to be appropriately maintained according to the instructions. The filters need to be changed regularly so that they can do their job properly.
3. Easy To Use
Although some cat water fountains can look quite complicated, they're all straightforward to use. They are time-saving for pet owners, plus safe for pets. Thanks to the fountain, you won't have to top up the bowl every few hours, making sure that the water is fresh. All you need to do is fill the fountain and let it do its magic. Most fountains hold large quantities that can be left for several days!
4. Fountains Look Good
Let's admit it, water and food bowls are not flattering! If your cat loves drinking from stainless steel or a plastic bowl, the chances are the bowl doesn't fit in with the rest of your home décor. Great aesthetics is another great benefit of water fountains, which come in a variety of shapes, colors, and sizes!
You can also find a battery operated cat water fountain that is cordless and so can be positioned anywhere that looks good in your home. Switch to a fountain and you won't have to deal with unflattering bowls, and you'll be able to place the fountain in any room without hating it. Your furry friend will be happy, and you'll be satisfied!
5. More Enjoyable Experience
A lot of cats experience whisker fatigue due to the shape of the bowl, but fountains provide a wide surface that cats can drink from without their whiskers being touched. This can make drinking a much more enjoyable experience for your feline.
Besides, drinking water from a running fountain is more fun! They love the sound and the taste, and seeing bubbles will make them happy and excited.
FINAL THOUGHTS
So, to answer the question "Why do cats like running water so much?" there are several reasons why. Aside from the fact that it's in their genes, felines feel much safer while they're drinking water right from the source. And they're entirely correct! Running water is less contaminated with bacteria, besides, it's cooler, fresher, and more oxygenated.Some other reasons your cat avoids the bowl are because t
hey find it harder to see still water, the bowl is in the wrong location, or the bowl water touches their whiskers, causing them whiskers fatigue. Feel free to try the tips I listed above, and you'll see that your cat will start drinking more water than before.
The most important takeaway of this article is that your cat needs to be adequately hydrated. It doesn't matter if you find a bowl that the felines love, buy a fountain, or let them drink from the faucet, as long as they get their daily dose of hydration!