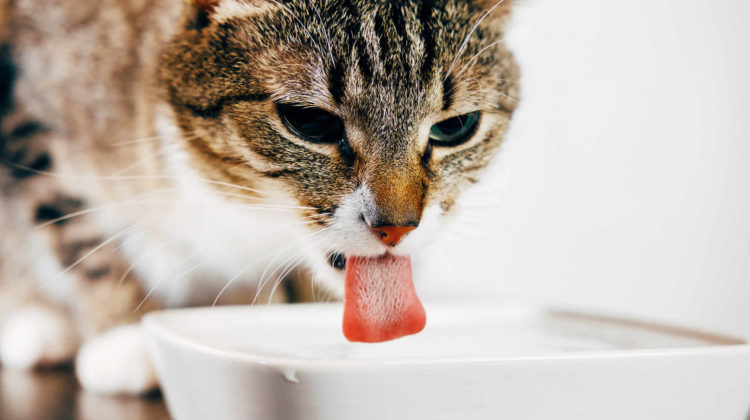 Are you fed up with your cat tipping the water out of its water bowl? This is a common issue amongst cat owners but one that isn't discussed much. Compared to cats not using their litter trays and clawing the furniture, crying over spilled water seems trivial. Nevertheless, it's exceedingly frustrating when you're frequently mopping up spills and replenishing your cat's water.
Luckily, this is a problem that comes with an easy fix; simply replace your regular water bowl with an anti-spill cat bowl! However, as with all products, there are both incredible and terrible options out there. While some untippable water dishes do a fantastic job, others are a waste of money.
Having a playful cat myself who thinks splashing around in her water bowl is a great idea, I made it my mission to find the best spill-proof cat water bowl that actually works. In my opinion, the Modern Artisans Heavy-Weight Splash Free Water Bowl is by far the best, but I have also reviewed 11 other options so that you can choose the dish that is right for you!
Keep reading to discover all the best no-tip cat bowls and spill-proof dishes, a handy buying guide and reasons why your cat loves playing with their water.
My Top Pick
The best no-spill cat water bowl is the Modern Artisans Heavy-Weight Splash Free Water Bowl. Not only is this bowl extremely durable, but it is also weighted to help avoid spills and has a lip around the edge to contain splashes. I use this bowl with my messy cat, and it works wonders! Not only that, but it is also easy to clean and built to last.
I also have some other great alternative products to recommend to you, so keep reading for the low down on these so that you can make your cat's drinking habits hassle-free.
Best Spill-Proof Cat Water Bowls
Before I go through my favorite non-spill water bowls for cats, I just wanted to highlight exactly what I was looking for in my ideal product. Here are all the features that the best untippable and splashproof cat water bowl should have.
Weighted: The top quality of a no-spill pet water bowl is that it is weighted. Weighted cat bowls make it near impossible for your cat to tip over by themselves, so the heavier, the better! Your cat also won't be able to push a heavy bowl around the room as easily.
Non-Slip: Bowls with special non-slip material on the bottom also helps to keep the bowl in one place and prevent spills from being pushed around the room. Usually, rubber or silicone bases work well for this.
Shape: The shape of the bowl also helps to reduce spillages. Some have a wider base which makes it harder for your cat to tip over, and others have a lip over the top to protect against splashes from going all over the floor.
Easy to Clean: You need to keep your cat's water bowl clean so that no bad bacteria or mold starts to grown, so opting for a design that is simple to clean is a must. For this reason, bowls that are dishwasher safe are preferable.
Material: When it came to material, the dish has to be durable to ensure the product would last, and BPA-free so that is safe for cats to drink from. Stainless steel or ceramic are two of the best options, but durable plastic also works okay for a water bowl.
With all these factors taken into consideration, here are the best spill-proof water bowls available today.
The bowl I have started using alongside many other pet owners is the Modern Artisans Heavy-Weight Splash-Free Water Bowl. It hits all of my requirements to make a product that successfully stops cats from tipping their bowls or splashing their water on the floor.
Firstly, this is a weighted water bowl for cats weighing in at 2lbs. This is much too heavy for cats to tip over by themselves, no matter how hard they try! The reason the bowl is so heavy is that it is made from solid stoneware clay. This is an effective solution if your cat frequently tips their water bowl over.
As the bowl is made from clay, it is also extremely long-lasting. You may be worried about chipping a clay bowl, but the water dish has also been covered in a chip-resistant glaze, making it survive the wear and tear of everyday life, as well as being scratch-resistant. Plus, it is lead-free, calcium-free, and food-safe.
What I love most about this bowl is that the clay has been crafted into a smart shape with an inverted curved lip. So long as you don't fill the water level up to beyond the interior rim, if your cat does splash around with their paws, the water will simply hit the lip and fall back into the bowl!
The only downside of this product is that it is hard to thoroughly clean the underside of the lip. Nevertheless, there are three draining holes to help water escape the rim, and the bowl is dishwasher safe, making cleaning more convenient; simply put the bowl in to wash along with your other dishes.
Pros
Made from durable and long-lasting clay
Smartly designed lip to prevent splashing
Dishwasher safe
Chip- and scratch-resistant glaze
Untippable cat water bowl weighing 2lbs
Lead-free, calcium-free, and food-safe
Handcrafted on the potter's wheel
Cons
Difficult to clean under the lip
The second bowl I recommend is the Petmate No Spill Water Bowl for Cats. Made from sturdy and long-lasting plastic, this bowl is great at stopping splashes of water fall onto your floor. It also holds up to 6 cups of water to keep your cat hydrated throughout the day.
This bowl is pretty lightweight and so, in theory, can still be tipped over. However, because of the intelligent lip design, the lighter weight doesn't make a difference. The lip is large and makes it difficult for cats to hook their paws underneath and tip the bowl over.
I also love the lip as it is incredible at protecting against splashes, so if your cat likes to dip their paws in the water as mine does, this could be your ideal product. Because of this design, it is also amazing for car journeys or when traveling. You can set the bowl in the car and know that there will be minimal spillages regardless of how windy or bumpy the roads are.
This spill-proof cat water bowl is also easy to clean as the lid comes off, meaning you can wash inside just like any other bowl. It is also dishwasher-safe for added convenience.
Pros
Durable and long-lasting plastic material
Lip to prevent splashing
Removable lid for easy cleaning
Dishwasher safe
Cons
Not weighted, so there's a possibility it can be tipped over
Made from plastic which can harbor bacteria
Another fantastic product is the Bonza Double Cat Bowls With Non-Spill Silicone Base. As the name suggests, this product has two bowls, which are perfect for one cat to use for food and water or for two cats to share.
These bowls work to avoid mess as they fit snuggly into a silicone base that has a raised outer lip and catches all mess that falls outside the bowl, whether that's dry food or water splashes. This means it is a great water bowl for cats that splash water! If you're bothered about your cat causing water damage to your flooring, this product offers excellent protection.
While catching spills, the silicone mat also does a great job at preventing spillages too. It is non-slip, so your cats won't be able to drag the bowls around the room with their paws, and as they sit snuggly inside the silicone base, they are untippable. This makes this water bowl an ideal solution, whether you have a tipper or a splasher!
Both the bowls and the mat are made from high-quality material; the bowls are made from stainless steel and the base from high-grade silicone. In addition, they are BPA-free and food-safe, so you can rest assured knowing it is safe for your cat to eat from these dishes; plus, they're long-lasting.
When it comes to cleaning, you can pop out the bowls from the base and wash all three parts separately, either in the sink or the dishwasher, due to them being 100% dishwasher safe.
I think the only downside to these bowls is that the silicone could be thicker to make the base more sturdy. I've found that if your cat manages to spill a lot of water that accumulates in the base, it doesn't take much effort for them to step on the silicone lip and create a small puddle on the floor.
Pros
Ideal for multi-cat households or as a feeding station
Non-slip design helps prevent spillages
Silicone base captures and contains any mess
100% dishwasher safe
Bowls made from durable stainless steel
Cons
Sturdier base needed for determined cats
If you're after a pocket-friendly solution to water spillages, take a look at the Bergan Stainless Steel Non-Skid Pet Bowl.
This untippable cat water bowl is great if you have a cat that likes to drag its bowl around your kitchen, leaving a trail of water behind them. The bowl has a non-slip rubber seal on the base, making it difficult for your cat to push around.
Due to the rubber seal, you'll also find this product successful if you have a cat that tips over its entire water bowl. Besides, the shape of the bowl makes flipping it more challenging, as it is wide and flat at the base and curved on the inside. This makes it harder for your cat to hook its paw and cause a mess!
Unfortunately, if you have a cat like mine that likes to splash in the water and create ripples with its paws, I've found that this bowl won't cut it. There is no splash-proof lip nor any silicone base or protection for the floor.
Anyone considering this option will also be pleased to know that the bowl itself is made from stainless steel. This material is designed to last and will not rust. It is also scratch-resistant, meaning no harmful bacteria will be able to grow in deep grooves, and it's easy to clean.
Pros
Very affordable price
Prevents flipping and spillages from dragging the bowl
Non-skid rubber seal
Made from hygienic and long-lasting stainless steel
Easy to clean material
Available in multiple sizes (1 to 9 cups)
Cons
Does not prevent splashes
Another way to help reduce the number of water spillages your cat makes is by opting for an elevated bowl, such as the Seoul Homeware Raised Ceramic Cat Water Bowl.
A raised design such as this elevates the bowl so that your cat doesn't need to bend down to drink in it. This is ideal for cats that splash the water in their bowls, as elevating the dish will discourage splashing.
What's more, this raised water bowl also makes drinking more comfortable for cats and helps to reduce the chance of vomiting. Furthermore, older cats will benefit from an elevated bowl; you will probably see their water intake increase as it may hurt them to continually bend down for a drink.
Aside from the height, this product is also a heavy water bowl for cats, weighing in at 1.2lbs. Therefore, this bowl also helps to prevent your cat from tipping its water dish over or dragging it around the room.
These weighted cat water bowls are more high-end than my previous recommendations and are made of premium porcelain. While easy to clean, this material is also 100% safe and more hygienic than plastic due to its scratch-resistant properties. Porcelain can easily smash if dropped, though, which is the product's only downfall.
Pros
Made from premium porcelain
100% safe for cats and hygienic
Raised design discourages splashing
Heavyweight (1.2lbs) to prevent tipping and dragging
Helps make drinking more comfortable
Can reduce vomiting
Cons
Easily smashed if dropped
Next up, I have a no-spill cat water fountain: the Cosmart Cat Water Fountain. While it technically isn't a water bowl, it does a fantastic job of keeping spillages at bay.
Often, cats splash in their bowls to see ripples in the water's surface and get the water moving, helping them feel more comfortable drinking from a still pool of water. By purchasing a cat fountain or water dispenser, you may find that this splashing behavior disappears altogether. Plus, with this fountain, the water does not pool in the tray and instead flows through the holes directly back into the basin, further avoiding spillages.
This specific cat water fountain is fantastic; it has a water level window so you know when it is time to refill, an ultra-quiet pump so you can hardly hear it working, and three different flow settings so that you can find one that your cat likes. It also has a capacity of 2.4L!
In terms of material, the bowl part of the fountain is made from stainless steel, which is safer compared to plastic fountains. The water also has a triple filtration system ensuring it stays fresh for your cat, and the pet fountain is BPA-free.
I found the only downside of a water fountain over a bowl is that they are more difficult to clean. With this cat water fountain, you must clean the bowl and inside the pump once per week and purchase replacement filters when necessary.
Pros
Flowing water deters cats from splashing
Cannot be knocked over
Made from stainless steel & resin
Changes cat's behavior rather than physically preventing spills
Cons
Deeper clean required once per week
Filters need replacing
Another great product is the All Fur You Splash Proof Water Bowl. In my opinion, this is one of the best water bowls for cats that splash water. This product has three parts – the main water bowl, the floating cover, and the fixing ring to secure the other two parts in place.
The floating cover goes over the top of the water bowl and lowers as the water level decreases. This means your cat cannot possibly get her paws in all the water and can only drink the small pool at the top. This new way of drinking can take a little while for cats to learn. However, it won't be long before your cat does know how to use this bowl; you just need a little patience.
I love that this product is easy to take apart and clean, and the setup is intuitive. It's also great for cats with whisker fatigue as the bowl is wide and flat, plus the water levels are easier to see than in a regular cat water bowl.
The only downside is the size. This is intended for cats and dogs and holds 1l of water, so it is a fair bit larger than a regular water bowl. Therefore, small cats and kittens may struggle to drink from it, especially when the water level is low. On the other hand, the larger capacity makes it great for a multi-cat household where your kitties will all be sharing.
Pros
Ideal for splashing cats
The floating cover prevents all splashes and spills
Large capacity ideal for multi-cat households
Easy to take apart and clean
Can help with whisker fatigue
Can make water levels easier to see
Cons
Large so unsuitable for small cats and kittens
Rather than getting a spill-proof cat bowl, you could consider purchasing a water dispenser, such as the JUNSPOW Pet Water Dispenser, instead. These are bigger units that hold a larger volume of water which gradually flows into a bowl thanks to gravity.
This water dispenser holds up to 2.5l of water and is extremely heavy when full. It will not be possible for your cat to knock over the dispenser, thus reducing mess. However, I found that cats can still splash the water using their paws, so it isn't a great solution for this issue.
Water dispensers are an excellent option for busy owners, though. It will take your cat several days to drink this amount of water, so you won't have to remember to refill your cat's water bowl as regularly, and you'll have more time back in your day.
What I love specifically about this water dispenser is the clear bucket enabling you to conveniently see the water levels and the large, wide drinking tray, which helps with whisker fatigue. Moreover, it is made from food-grade ABS material, is super easy to disassemble and clean, and means your cats will always have fresh water.
Pros
Great for busy and forgetful owners
Holds up to 2.5l of water
Too heavy for cats to move or knock over
Made from food-grade ABS material
Easy to disassemble and clean
Wide water dish which avoids whisker fatigue
Always gives access to fresh water
Cons
Doesn't stop pets from splashing water
When purchasing a spill-proof cat bowl, I've discovered you do not need to compromise on aesthetics. This Ceramic Pet Bowl with Stand by AG-UNICORN is the perfect compromise between functionality and appearance.
This is a marbled ceramic cat bowl that comes in a wooden stand. Ceramic is a heavy material and thus much harder to tip over than lightweight plastic bowls. The stand then further secures the bowl to prevent your cat from spilling water all over the floor while raising the bowl slightly so it is more comfortable for your cat to drink from.
Ceramic is also a great material in terms of hygiene and cleanliness. It does not get scratched easily like plastic and is less likely to harbor any harmful bacteria. You can even pop this bowl straight in your dishwasher. Plus, with its straightforward design, there is no need to clean multiple parts.
Of course, the downside of ceramic is that it does break easily if dropped from a height. So, if you're clumsy like me, maybe give ceramic bowls a miss! It is also quite a deep bowl measuring 2.6" high. This is great as it can contain a lot of water without it spilling over the edges but can cause whisker fatigue.
Pros
Heavyweight and hard to tip over
Made from durable and hygienic ceramic
Easy to clean and dishwasher safe
Wooden stand elevates bowl for comfort
Beautiful and stylish marble design
High sides to prevent water from escaping
Cons
Cats can still paw at the water and splash
High sides can cause whisker fatigue
Ceramic breaks easily if dropped from a height
For my 10th product recommendation, I am going to talk about another water fountain – the iPettie Tritone Ceramic Pet Drinking Fountain.
I think that this fountain is perfect for cats that splash as the water bubbles and ripples on its own. This removes the need for your kitty to put her paws in the water to create a splashing effect. Water fountains can also help cats with whisker fatigue and help those that find it difficult to see the water level in a bowl.
Moreover, this product is made from ceramic, making it hygienic, safe, durable, and easier to clean. I love that it also has a three-stage purification filter which helps to keep the water in the fountain clean and fresh. Additionally, this removes foul odors and tastes, helping to encourage fussy cats to drink more water.
The ceramic construction also means the fountain is heavy and cannot be tipped over. It is even heavier when filled with water and takes up to 2.1l, enough water for a cat to drink for several days. This means you'll benefit from this fountain too, and you can leave it to run all week.
This product is also incredible as it is whisper quiet and is virtually inaudible when running. You can leave the fountain running at all hours with zero disruption. Plus, it won't scare off timid cats.
Pros
Flowing water deters cats from splashing
Made from heavy ceramic so difficult to tip
Moving water is easier for cats to see
Hygienic and durable ceramic material
Three-stage purification
Whisper-quiet so it can run throughout the night
Cons
Filters need replacing regularly
More aspects to cleaning than a simple water bowl
The Neater Feeder Express Elevated Pet Dish is another fantastic option. It helps prevent spills from happening in the first place, but also catches any mess your cat manages to make. This means no more messy floors and less time spent cleaning!
The feeding station essentially consists of two bowls that sit inside an elevated platform. Already the elevated platform can help to discourage splashing while making it more comfortable for your cat to drink. By combining the two bowls, the unit is also larger, heavier, and untippable. The rubber feet further prevent your cat from sliding the feeder around the room, again minimizing spills.
If your cat manages to get its paws inside the water bowl, the high back and sides will keep it all contained in the surrounding tray. The water will then drip through the holes into a reservoir below. I really like this feature, as it means the water can be easily emptied rather than you needing to continuously mop your floors.
The bowls themselves are made from stainless steel. As already mentioned, this is a much better option than plastic as it is scratch-resistant, doesn't cling to nasty odors, and is 100% dishwasher safe. The two bowls are also perfect for providing food and water for one cat or making a water station that two cats can share.
Pros
Elevated to help prevent splashing
Rubber feet to stop skidding and sliding
High sides and water basin to catch any spills
Successfully saves time cleaning up
Safe, hygienic, and dishwasher-safe stainless-steel bowls
Available in multiple color options
Cons
Platform made from plastic which damages easily
Finally, we have the Emfogo Wall Mounted Cat Dishes. As the name suggests, this product consists of a wall-mounted pet bowl holder and two stainless steel bowls.
I think the main selling point of this product is that it is wall mounted. Because the holder mounts to the wall, it is impossible for your cat to tip the bowls over. They also cannot nudge them around the room as they drink, splashing water onto the floor. Moreover, the shelf can be installed in an elevated position which makes it more challenging for your cat to paw at the water as well.
In terms of aesthetics, I love this product. The pet bowl shelf is made from natural solid wood with black metal anchors. Plus, there is a second shelf included which acts as the ideal spot to store your cat's food or treats.
The bowls are super easy to clean as well. Simply pop them out of the holder and wash them as usual. They can also go in the dishwater! The stainless-steel material cleans easily, doesn't hold onto nasty smells or odors, and is much more durable and long-lasting than plastic alternatives.
The main downside of these spill-proof cat water bowls is that they need to be wall-mounted. This is great as you can position them at precisely the right height for your cat. However, it means they're not portable and could be a pain to change the height as your cat grows. They're also not a great option for rented apartments.
Pros
Fixed position so cannot be moved or tipped
Elevated to help prevent splashing
Height can be customized for any cat
Bowls made from safe and hygienic stainless steel
Easy to clean and 100% dishwasher safe
Comes with an additional shelf for food storage
Attractive natural wood design
Cons
Fixed position once installed
Might not be suitable for rented apartments
Spill-Proof Cat Water Bowl Buying Guide
Although I think these are some great products, the best non-spill water bowl for you may be totally different. This is because we each have different things that are important to us and different reasons why our cats are making a mess.
Therefore, I have written this buying guide so that if you do decide to shop elsewhere, you can find an amazing product. Here are my tips for finding an incredible anti-spill cat water bowl that works.
Shop Within Your Budget
Cat water bowls come at a range of different prices. Therefore, before you even start reading product reviews, set yourself a price range and only look at products that fall within this bracket. You do not have to buy the most expensive bowl for it to be effective. Likewise, some of the cheapest options out there may be all you need!
If purchasing something like a cat water fountain rather than a bowl, you'll need to consider future costs too. For example, I often forget that these will have filters that need regularly replacing. Plus, there will be the cost of the power needed for the fountain to run, be that electricity or batteries.
Choose The Right Design
What design is right for you will depend on what your cat is doing to make a mess in the first place. Are they splashing their paws in the bowl to create spills as my cat does? Are they pushing the bowl around the room, causing water to spill over the sides? Are they tipping the bowl over completely?
Choosing a water dish whose design is specific to the issue is key. Here are the different types of anti-spill cat water bowls you can buy, and in which situation I think each will be effective:
Weighted Cat Bowl: These are heavy bowls that weigh over 1lb and help prevent spills caused by your cat tipping their entire water bowl over or pushing it around the floor. However, they don't protect against splashes.
Lipped Design: To protect your floor from cats that love to splash, bowls with a lip around the top can help prevent the water from getting on the floor. These bowls are also great for travel or long journeys.
Silicone Base Bowl: Bowls with a silicone or rubber base are great for cats that drag their bowl and help prevent it from tipping over. They won't stop your cat from splashing in its bowl, but if you choose a product with a large base, it can effectively catch spills.
Elevated Bowl: Elevated cat water bowls are raised above the ground and can help deter cats from splashing as they're higher up. By opting for a heavy raised bowl with grips on the bottom, you can avoid spills from tipping the water bowl over and dragging it along the floor.
Water Fountain: Although not technically a bowl, water fountains are a great solution for cats that love to splash. By providing them with flowing water, they're less likely to splash and cause a mess. If you do opt for a fountain, consider whether you want a battery-operated cat water fountain or one that plugs into the mains.
Of course, you can buy a combination of these products. For example, my top-rated product is a heavy and untippable cat water bowl that also has a lip to protect from splashing. Similarly, my 5th recommendation is an elevated cat bowl that is also weighted.
Whichever type of cat water dish you opt for, make sure it matches your needs.
Select a Safe & Durable Material
As cats will be drinking from their water bowls, the material the bowl is made from is also important as it needs to be safe. Always look for products that are BPA-free and food-safe. The best products are made from stainless steel, ceramics, or BPA-free plastics.
Of these three materials, either stainless steel water fountains or ceramic bowls are preferable. This is because these are both scratch-resistant, whereas plastic could easily get claw marks on its surface which can act as a breeding ground for harmful bacteria. However, this is more important when choosing a food bowl for your cat, as these must withstand more wear and tear. Therefore, plastic water bowls are safe, just watch for scratches and replace the bowl if needed.
The material also needs to be durable so that the product lasts a long time. Thankfully, all three materials are long-lasting. However, ceramic is the most easily breakable as, if dropped, it is prone to smashing. That said, it's still a fantastic option unless you're clumsy like me.
Why Do Cats Splash Water Out of Their Bowls?
You may be interested in why your cat keeps splashing water out of the bowl, especially as cats have a reputation for being scared of water. Don't cats want to avoid getting wet?
There are a few reasons why your cat could be splashing water everywhere. These include:
FAQs
Q: How do I get my cat to stop tipping over their water bowl?
A: The easiest solution is to swap their dish for a weighted water bowl for cats that is too heavy for them to tip. Ideally, you want a bowl that weighs at least 1lb.
Q: How can I stop my cat from splashing in its water bowl?
A: If your cat splashes the water in their bowl using their paws, you can either purchase a splash-proof bowl with a lip to help contain spills or swap to a cat water fountain and see if this helps the issue.
Q: Why do cats move their water bowl?
A:Cats move their water dish to see whether there is any water in it. Once they see ripples on the water's surface, they usually stop moving their bowl and start to drink. Cats also play with their bowls when bored.
Q: Why does my cat tip over their water bowl?
A:Often, cats tip over their water bowl as the water is not fresh enough. However, it could also be that they are trying to get their owner's attention or that they see their water bowl as a toy and flip it over for enjoyment.
Q: Can cats see water in a bowl?
A: Cats struggle to see still water in a bowl as their close-up vision is weak. This is often why they splash in their bowls or move them around; they are trying to make the water ripple so that they can see it better.
Q: What is the best spill-proof cat water bowl?
A: In my opinion, the best spill-proof cat water bowl is the Modern Artisans Heavy-Weight Splash-Free Water Bowl. It is too heavy to tip and prevents mess from splashing due to its curved lip design. I use this bowl with my cat and I've not had to clean a puddle up since!
Q: Is ceramic or stainless steel better for cats?
A:Both ceramic and stainless steel cat bowls are a great choice, and veterinarians recommend both as they are harmless to cats and scratch-resistant. However, stainless steel is your best option if you're clumsy or are worried about the bowl smashing.
Q: Can cats drink from plastic bowls?
A:Cats can drink from plastic bowls, but the plastic can get scratched, and the grooves can be a breeding ground for harmful bacteria. That being said, drinking out of plastic bowls tends to be fine; it is using plastic bowls for food where the real issue lies.
MY FINAL THOUGHTS
Whether your cat splashes in its water dish, pushes it around the room or flips it upside down completely, there is a spill-proof cat water bowl out there that can act as an effective solution! The most important thing to consider is how your cat is making a mess and select a product that works to stop it.
The Modern Artisans Heavy-Weight Splash Free Water Bowl is my favorite product as it protects against all kinds of spillages, but if you do choose to shop around, my buying guide will hopefully make the job easy. Water spillages may seem trivial compared to other problems, but it has a super simple solution, so I'd swap your bowl and rid yourself of these frustrations today!