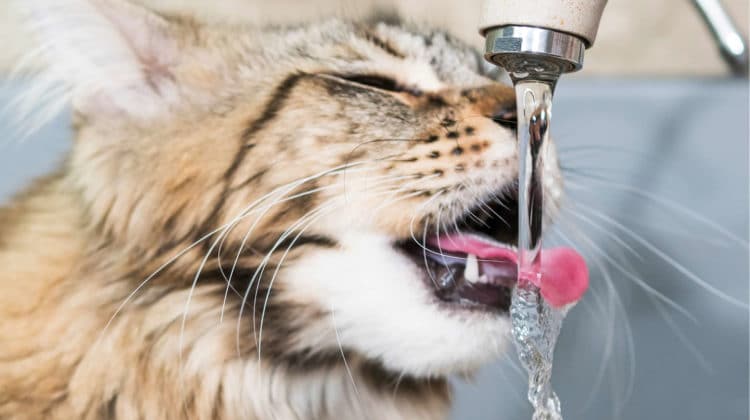 As a cat owner, it is important to ensure your little furball is getting enough water. This helps to keep them hydrated and also helps keep and urinary or kidney issues at bay. However, as notoriously finicky creatures, getting your cat to drink can be a challenge. My cats never drink from their bowls, which led me to try new find new ways to encourage them to up their water intake.
Cat water fountains are a great option as they provide flowing drinking water rather than standing water which some cats can be wary of. They also don't need topping up as regularly as water bowls, which is great for busy owners. However, there is a huge range of fountains for pets available, making deciding which one to buy an overwhelming task.
Stainless steel water fountains, although being a little more expensive than plastic ones, are one of the best options as the material is durable, hygienic, and won't hold onto any nasty odors. In this article, I will review some of the best metal water fountains available to help you find the perfect product and encourage your cat to drink a healthy amount every day.
My Top Pick
The stainless steel cat water fountain I rated top was the PETKIT Stainless Steel Water Fountain.
This has an ultra-quiet pump that automatically turns off when the water levels are too low, triple filtration for super clean water, and handy indicator lights to inform you of when you need to refill the fountain and replace the filter. Chuck in the fact that this product has dual power technology and that my cats absolutely love it, and we've got ourselves a winning product!
For a full review of this product and some other great picks to suit all budgets, homes, and cats, keep on reading.
Best Stainless Steel Cat Water Fountains
Before I start my extensive reviews, I want to let you know how I decided on the best products to list. Cat water fountains need to obviously entice your cat to drink, but there is a range of other factors that also contribute to how successfully the product works and how long it will last. Let's take a closer look at these considerations.
Flow Styles: Not all cat drinking fountains are the same; some have gentle bubbles whereas others have free-flowing streams. To ensure I found a fountain that enticed my cat, I wanted one with adjustable flow rates I could tailor to my cat.
Low Noise: Cats need to have access to their water at all hours of the day, which means searching for a quiet cat fountain was important so it caused the least disturbance to me, especially at night. Timid cats can also be scared of noisy fountains.
Easy to Clean: Stainless steel is a great material for pet fountains as it is easier to clean than plastic. However, I also wanted a design that could easily be dissembled for cleaning and that has no hard-to-reach places.
Triple Filtration: The more advanced the filtration system, the cleaner the water will be. This not only helps with preventing limescale and dirt building up and makes cleaning easy but also makes fussy cats more likely to drink. Triple filtration is the most advanced type and what I wanted to see in a cat fountain.
Refilling Indicators: Although water fountains can be left for a few days without needing to be topped up, you need to know when water levels are low to top the fountain up before the pump burns out. So refill indicators are essential, and pumps that automatically shut off if the water gets too low are even better!
Capacity: Finally, capacity is a key consideration. The larger the capacity, the longer you can leave the fountain before the water needs replenishing and the less likely it will run too low without you noticing.
As you can see, there are a lot of things that need weighing up when looking for the perfect cat drinking fountain! Finding a product that ticks all these boxes while also being affordable is a challenge, but below are the best contenders on the market right now.
The best product on the market has to be the PETKIT Stainless Steel Water Fountain. This is the fountain I use at home and I swear by it!
Firstly, I love this fountain as the pump in it is amazing. It is ultra-quiet making noise of less than 30dB when running so isn't a nuisance to me, even at night. You also don't need to worry about the pump burning out if the water levels get too low, as it will shut off automatically below a specific water level. This is extremely important, especially if you'll be out of the house for long periods.
The filtration system is another benefit of this product. It uses a fur-proof mesh to firstly trap bits of hair and other large debris, then passes the water through an activated carbon filter and finally an ion exchange resin to purify the water, making it hygienic, safe, and as tasty as possible! There is also a handy indicator light informing you of when the filter needs replacing.
In terms of power, this water fountain also has a dual power supply. The fountain has a USB cable that plugs into the wall, but there is also a back-up battery for if there is a power outage. I love this feature as it means my cat will always have access to fresh running water.
If there was a downside to this metal cat drinking fountain, it would be that there is only one flow setting. However, the 360-degree design pumps water gently in all directions, so even timid cats should enjoy drinking from it. Mine certainly love it and they both drink much more than before!
Pros
Ultra-quiet pump making sounds of <30dB
The pump shuts off automatically when water levels get too low
Dual power supply in case of power outages
Triple filtration for pure and clean water
Status indicator lights for water level, filter, and battery
Easy to disassemble for cleaning
360-degree drinking
Cons
Only one flow setting to choose from
If you're looking to pick up a stainless steel fountain for cheap, try the Comsmart Cat Water Fountain.
I love this water fountain as it has three different flow settings, allowing you to choose the one that is best for your cat. Two of the designs have freefalling water streams which should really help encourage your cat to drink, and the more gentle option is great for timid cats.
While holding up to 81oz of water which will be enough to last a few days, monitoring the water is also extremely easy. There is a window on the side of the fountain that allows you to view how much water is inside. You can even check the water levels at night thanks to the handy blue LED light.
The pump on this fountain is also good and great value for money. It is ultra-quiet when running and has a low 1.5W power consumption, helping to keep energy bills down. Besides, there is a pre-filter around the pump which traps any large debris and helps keep the pump functioning for longer.
The main filter is also made from three different layers. The first helps to trap larger particles in the water, the second removes chloride and any metal ions, and the third helps to improve the taste and smell of the water; a huge perk when trying to encourage your cat to drink more.
Pros
Extremely affordable compared to other products
Can easily monitor water levels with the blue LED light
Cute flower design to attract attention
Comes with three replacement filters
Multiple freefalling streams for easy drinking
Holds up to 81oz of water
Runs extremely quietly
Three different flow designs to suit all cats
Cons
Only the tray is made from stainless steel
For anyone who has several pets, you'll love the Pioneer Pet Big Max Drinking Fountain. With a staggering capacity of 128oz, this fountain is ideal for providing fresh water to multiple cats at once.
This fountain is made entirely from stainless steel, making it extremely durable and sturdy. You can even place it in the dishwasher for cleaning! Cleaning is also easy as unlike some cat drinking fountains that have multiple parts, this is only made from the main basin and the top flow bowl which can easily be taken apart – simple!
Thanks to the open design of this bowl, it is also straightforward to keep an eye on the water levels and replenish the liquid when needed. However, this design does mean that more dirt will likely fall into the water than with more closed designs. Thankfully, this product uses high-quality filters, which are essential for keeping water clean and fresh, even if bits of dirt and debris do fall in. The filters used have three layers including a carbon filter to remove all impurities.
I also like that you can adjust the flow speed simply by using the lever on the front panel of the pump. This allows you to find the optimum speed to suit your cat's preferences, helping to encourage them to up their water intake.
Pros
Extra-large and great for multi-cat households
Made from only two parts for easy cleaning
Adjustable flow to suit all cats
High-quality filtration system
Easy to clean and dishwasher safe
The water level can easily be monitored thanks to the open design
Cons
The open design means more debris could contaminate the water
No auto-shutdown if water levels are too low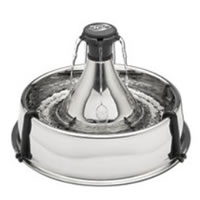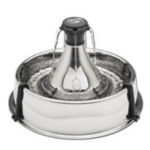 If your cat prefers drinking from a stream of flowing water, they might enjoy drinking from the Drinkwell 360 Stainless Steel Pet Fountain. Many cats find streams of water more enticing than fountains that bubble, so this is a great choice for any fussy and finicky cat.
This is also another great product for multi-cat households. Holding up to a gallon of water and having streams spurt out in all directions provides 360-degree access to fresh water, encouraging pets to stay hydrated.
Whereas free-flowing water fountains are great at encouraging your cat to drink more, the sound of the falling water is typically loud. However, the manufacturers have clearly thought of this, adding in a receiving ramp to help limit the splashing sounds. You can also adjust the flow to reduce splashing while also helping find the ideal setting for your feline.
You'll also be pleased to hear that the pump is near-silent when running. Unfortunately, the pump doesn't shut off automatically, but the open design does mean keeping an eye on the water level is straightforward. The filtration system also keeps the water clean and prevents dirt from building up.
Finally, the fountain is easy to clean and is dishwasher-safe, excluding the pump which needs cleaning separately. Mess and puddles around the fountain will also be minimized thanks to the rubber feet which prevent it from sliding across your floor.
Pros
Free-flowing streams accessible from 360-degrees
Ideal for multi-cat households as holds up to 1 gallon of water
Receiving ramp to limit noise and mess from splashing
Ultra-quiet pump
Adjustable flow speed to suit all cats
Easy to clean and dishwasher safe
Non-skid rubber feet to minimize spills
Cons
More expensive than other products
The pump doesn't shut off automatically
Another awesome option is the Catit Fresh & Clear Stainless Steel Cat Water Fountain, especially if you have limited space in your home. This fountain holds up to half a gallon of water but thanks to its super compact design it takes up next to no space.
While encouraging your cat to drink more, the product also continually circulates water to help keep it fresher for longer. There is also a triple filtration system in place to trap large debris, odors and impurities, and metal ions, keeping bacteria at bay and ensuring the water stays clean and tasty. Made from high-quality stainless steel, this product can also easily be dissembled and washed in the dishwasher.
This fountain is also a bubbler rather than a free-flowing stream design, creating calm water movement which is perfect for most cats. Unfortunately, the flow isn't adjustable, so if you have a particularly finicky cat, perhaps try another product.
Another drawback is the water level monitor. There is no clear indication of how much water is inside the fountain and so will need to be more closely monitored than other products. With no auto-shutdown when the water depletes, it is even more important you watch the fluid levels at all times.
Pros
Holds up to half a gallon of water
Compact design and takes up little space in your home
Calm bubbling water movement to suit most cats
Triple filtration system to remove all impurities and odors
Easy to clean and dishwasher safe
Cons
Flow is not adjustable
Difficult to monitor the water level
No auto-shutdown function when water levels get low
The WOPET Cat Water Fountain is a great option for any owner looking for a stainless steel fountain.
Firstly, this product has two different flow designs; a bubbling fountain and a gentle fountain. This allows you to choose the setting that is best for your cat. Timid cats will prefer the gentle flow setting, whereas others may be more enticed to drink from the bubbling fountain.
The capacity of the fountain is also large, holding up to 67oz. This means you won't need to remember to top up the fountain too regularly and should be enough water to last one cat several days. The capacity is also good for multi-cat households, though you will probably need to refill it daily if you have a lot of cats. Keep an eye on the water levels as this product does lack a refill indicator.
I also like that this water fountain has a charcoal filter, which is essential for keeping the water clean by removing hair and other debris, as well as any odors. Plus, you'll get three replacement filters with every purchase! However, it would have been nice to see a double or triple filtration process for additional cleanliness.
Lastly, this water fountain is great as it is easy to clean. The top part of the fountain lifts off for simple cleaning, and the pump pulls apart too so that you can easily clean inside. This really helps to enhance the life span of the fountain and should be done every 2 weeks.
Pros
Two flow designs to best suit your cat
Hold up to 67oz of water
Charcoal filter to remove hair, debris, and odors
Three replacement filters included
Easy to clean both the fountain and the pump
Cons
Filtration could be more advanced for added hygiene
No indicator for when the water needs refilling
No auto-shutdown is water levels get low
Finally, I bring you're the PetSafe Stainless Steel Cat Water Fountain. This fountain holds up to 60oz of water and has 360-degree drinking access, making it a great choice if you have 2 or more cats.
Aside from the size, I also love the bubbling mechanism of this product. It creates a gentle stream that won't scare away timid felines but gives your cat the choice of drinking from the bubbling tower or directly from the bowl. An adjustable flow setting would be nice to see, but overall I am happy.
The shape of the fountain also makes for easy cleaning. The basin and tower are both smooth with curved edges, meaning there are no hard-to-reach places that make cleaning difficult. Being made entirely from high-quality steel, you can also place the entire fountain minus the pump into the dishwasher.
The main drawback of this fountain is the filtration system. It uses both a carbon filter to catch impurities and odors and a foam filter to catch large debris and hair which helps to prolong the life of the carbon filter and pump. However, there is no ion exchange resin like many fountains have which provides tastier water for your cat to drink.
However, the benefit of this filtration system is that the filters are separate. Often, the filter layers will be combined into one big filter, but the manufacturers of this product have decided to keep them separate. I think this is really useful as it means you can replace each filter when it needs it, rather than having to replace the whole filter when only one of the layers is worn out.
Pros
Has a 60oz water capacity
Softly bubbles so won't scare timid cats
360-degree drinking access
Can safely be cleaned in the dishwasher
Foam and carbon filters can be replaced separately
The open design makes monitoring water levels easy
Cons
Only has dual filtration rather than triple
Flow is not adjustable
No automatic shut off when water levels run low
Stainless Steel Cat Water Fountain Buying Guide
I understand that there is a lot to consider when purchasing a pet drinking fountain, and the best fountain for you and your cat may be totally different from what suits me! So, I have developed this buying guide to help you find the ideal fountain for you.
Here are all the questions you should ask yourself and things to consider before making a purchase.
Your Cat's Temperament
Is your cat confident and boisterous? Or are they timid and get startled by the tiniest of noises?
Timid cats can easily be scared of water fountains, especially if there are large free-flowing streams that create a lot of noise or splashing. Additionally, the whirring of a pump could deter a shy cat from using a water fountain. If you have a more timid cat, be sure to purchase a fountain with a gentle stream and with a little noise as possible.
On the other hand, large streams of free-falling water and a little noise is unlikely to put a confident cat off drinking, so the flow types are a less important consideration. However, you may benefit from a fountain that has non-slip feet to prevent overexcitable cats from moving the fountain around the room and spilling water on your floor.
The Number of Cats You Own
The number of pet cats you have will determine the size and design of the water fountain that you need.
A fountain with a large capacity is best suited for households that have more than one cat. This means that the water won't need to be replenished as regularly and will ensure there is always enough water for all of your cats. Additionally, fountains with 360-degree access are a good idea so that your cats can all drink at the same time if needed.
On the other hand, a small stainless steel cat water fountain will be large enough for one cat. You shouldn't get a large fountain for one cat as this can mean the water doesn't get changed as regularly as it should be. Plus, bigger fountains typically have bigger pumps, meaning you'll be using more energy than needed.
Your Lifestyle
Are you often away from home or out of the house for long periods? If so, keep your eyes out for a pump that shuts off automatically if the water levels get too low. Fountains left running empty can break and come a potential electrical hazard, so you must have this safety measure in place if your cat will be home alone.
Also, fountains with dual power are good for owners who aren't home much. This means that if your power went out for whatever reason, your cat fountain can still run on the battery alone, ensuring your feline is never without access to fresh running water.
The Fountain's Placement
You should also consider where you will be placing the fountain in your home.
Wherever it goes, your cat needs to have enough space to comfortably drink from it. Therefore, if you have a small home, smaller water fountains are sometimes better. Similarly, if you know you'll be placing your cat fountain in the corner of a room, then 360-degree access isn't necessary. Your cat won't be able to reach two sides of the fountain if it's in a corner, so a different design might be better.
The room it is going to be in is also important. If your cat water fountain will be in the same room that you work or sleep in, finding a quiet pump is more important than if it will be placed in a room that you don't spend as much time in.
Metal Water Fountains Vs. Plastic Water Fountains
Stainless steel water fountains are a great option, but you may be wondering how they compare to cheaper and more readily-available plastic ones. Both provide your cat with running water, which is great for encouraging them to drink a healthy amount. However, choosing a great material like stainless steel or another similar metal has other advantages too.
Let's take a closer look at what these perks are.
Increased Durability
First and foremost, stainless steel water fountains are better as they are more durable than plastic and designed to last a long time. Unlike plastic that can snap and break when being cleaned, steel is much less likely to break and is way more sturdy. They are also rust-resistant.
Additionally, plastic can become morphed over time or when being washed in hot water, but stainless steel fountains can withstand a range of temperatures without losing their shape and functionality. This means you can usually clean stainless steel fountains in the dishwasher, which is great for busy owners!
More Hygienic
Another benefit of opting for a stainless steel fountain is that they're more hygienic than their plastic counterparts.
The surface of plastic fountains can easily become scratched over time, either through cleaning or through your cats pawing at and playing with their water. This leaves small grooves on the surface which are the ideal spot for bacteria to thrive. The scratches also make the fountain harder to clean, and so bacteria can build up over time.
On the other hand, stainless steel is scratch-resistant and so doesn't cling onto as many germs. This means your cat won't be ingesting anything nasty! Of course, the fountain will still need to be cleaned regularly to prevent bacteria from building up, but they are much more germ-resistant and any bacteria on the surface can easily be washed away.
Doesn't Hold Onto Smells
You may also notice that plastic starts to cling to nasty smells and odors over time. This is because plastic is a porous material and so smells can become trapped in the material. Not only is it unpleasant to have bad smells floating around your home, but they could also deter your cat from drinking.
Stainless steel and metal, on the other hand, are non-porous materials that will not cling to odors, avoiding these issues completely. This further helps to encourage your cat to drink more water.
Why Are Cat Fountains Better than Water Bowls?
You might be wondering why cat fountains are all the rave, but there are several reasons why you should consider switching to a cat drinking fountain.
1. Running Water is Preferred by Cats
Many cats prefer drinking running water to standing water. In fact, a cat's preference for running is the main reason people look into purchasing cat fountains.
It is thought this is an instinctive behavior that stems from wild cat's drinking habits. In nature, flowing streams of water are safer for cats to drink than standing pools of water that could be stagnant or contaminated. Therefore, it is thought cats innately have a preference for running water as it has been passed down through years of evolution.
2. Avoids Whisker Fatigue
Many cats also suffer from whisker fatigue. This is where their whiskers are overly sensitive and anything touching them can cause a huge influx of sensory information and a lot of stress.
Water bowls often aggravate cats that suffer from whisker fatigue as their dishes don't have enough space to accommodate their whiskers. The sides are too tall and the bowls are not wide enough, so their whiskers press against the rim every time they take a drink.
Although whisker fatigue bowls are available that are a more comfortable shape for cats to drink from, fountains are also a good solution to this common problem.
3. More Hygienic
Cat water fountains always contain a filter, which serves to protect the pump and keep it functional but also to clean the water from any contaminants and dirt. This makes drinking from a pet fountain much more hygienic than drinking from a water dish as any impurities are removed.
Additionally, the constant circulation of water around the fountain also helps to keep the water clean and fresh. In moving water, it is a lot harder for bacteria to thrive and breed when compared to a standing body of water. You don't want your kitty to be consuming any bad bacteria or germs, so fountains are a great way to make this less likely.
4. The Water Tastes Better
Have you ever taken a sip of water from a glass that has been sitting out all day? If so, you'll notice immediately that the taste is flat and dull in comparison to fresh flowing water that comes from the faucet. This is because when water is circulated, oxygen and other gases in the air get mixed in and dissolve in the water. And the more oxygen in your water, the better it tastes.
Cats have a much stronger sense of smell and taste than humans do, so if standing water tastes strange to us, you can guarantee it tastes horrible to cats! Therefore, they will appreciate flowing water more as the taste is drastically improved, especially with a bubbling fountain that puts even more oxygen into the water.
5. Less Regular Refilling Required
Finally, water fountains are also great as they typically have a large capacity, usually holding upwards of 60oz. On the other hand, water dishes hold substantially less liquid. Plus, because the water in a bowl will be standing, it should be replaced at least once per day to keep it fresh.
Therefore, cat fountains are great as you can fill them up and leave them for 2-3 days, rather than taking time each day to replenish the water in your cat's bowl. There will be plenty of water for them to drink and thanks to the filtration and circulation it will still taste just as good on day three as it did on day one.
FAQs
Q: Are water fountains good for cats?
A: Yes – water fountains are great for cats! They provide continual fresh water throughout the day which cats rely on to stay hydrated and often encourage cats to drink more than still dishes of water do. This is great for keeping your cat's urinary tracts in good condition and helps flush toxins out.
Q: What material is best for a cat water fountain?
A: Stainless steel is the best material for a cat water fountain to be made from. It is durable and will last longer before breaking, and it is easy to clean which helps to keep the fountain and water inside it hygienic. Ceramic is also a good option, but plastic water fountains aren't great.
Q: Do cats prefer drinking from water fountains?
A: Yes – many cats prefer drinking from fountains as they are used to drinking running water in the wild. They see running water as safe and clean, whereas standing water is thought of as being less hygienic with a higher chance of contamination.
Q: What is the best stainless steel water fountain for cats?
A: In my opinion, the best stainless steel water fountain for cats is the PETKIT Stainless Steel Water Fountain. My cat's water intake has increased substantially since using this fountain. With an auto-shutoff function, advanced filtration, and ultra-quiet pump, it's hard not to love it!
Q: How regularly should I change the water in a metal cat water fountain?
A: You should change the water in a cat fountain every 2-3 days. This will help to keep it fresh, encouraging your cat to drink. If you have more than one cat, you may need to fill the fountain more regularly, so be sure to keep an eye on the water levels.
Q: Is it safe to leave a cat fountain on permanently?
A: Yes – cat water fountains are designed to run continuously so that there is always a supply of fresh water for your cat. However, be sure to keep an eye on the water levels as the pump needs to be submerged in water at all times or it could become dangerous.
MY FINAL THOUGHTS
If you're struggling to get your cat to drink more water, stainless steel cat fountains are a fantastic option. Compared to other drinking fountains, they're way more hygienic, durable, and don't retain nasty odors, making them even more encouraging for cats to drink from.
It can be difficult trying to find the right product, but these stainless steel cat water fountain reviews and my handy buying guide should help you out. Try purchasing one today and you'll have a happier and healthier cat, plus you won't need to continuously top up your cat's water bowl.