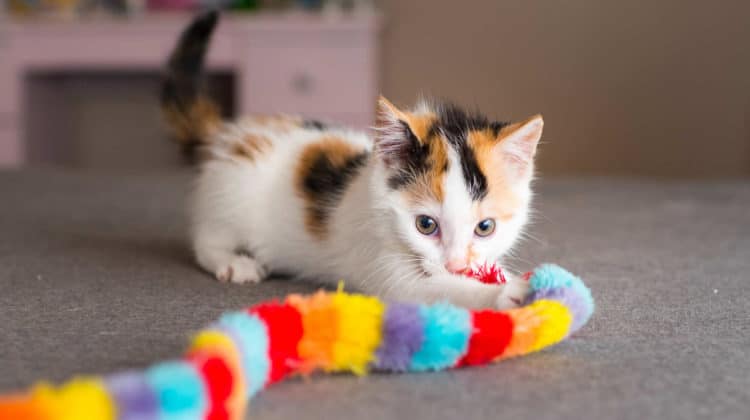 Cats need some form of entertainment, because as much as they love to curl up on your windowsill and sleep all day long, they also love climbing curtains, bringing mice in just before bed, and zooming around your house in the middle of the night.
Motorized toys are the perfect solution. In fact, before I invested in some fun and interesting toys for my cats, they had a whole host of behavioral issues like these because they were bored.
Cats don't only need toys for entertainment, but also due to their natural hunting instincts. In the wild, all cats rely on skills like stalking prey and catching dinner to survive, and even though you present your furry feline with a nice bowl of cat food every evening, these basic instincts persist. It is ingrained in their brains passed on through years of natural selection.
Motorized toys are the best entertainment you can get for your cat, as they are interactive and can be used even when you're not home! However, not all cat toys are on par, with some providing endless entertainment, whereas others get forgotten about within seconds. That's why I have reviewed the best motorized cat toys available so that you can invest in a toy that your cat will love!
My Top Pick
My favorite motorized cat toy is the K-Berho Remote Control Interactive Cat Toy. This is a remote control ball for cats which has three different wand attachments for added fun; a feather wand, a butterfly, and a rainbow ribbon! You can also switch to automatic mode for tons of fun when you're not home, plus it's durable, safe, and my cats play with it for hours. It is also rechargeable and runs well even on thick carpets, ticking all of my boxes.
In case this isn't the toy for you and your cat, I've also reviewed my other top picks so that you can find a toy that you and your cat love, so that you have a happy and healthy feline.
Best Motorized Cat Toys
When rating all of the motorized toys I found, there were some factors that I always looked out for. I want to share these with you so that you understand exactly why both my cat and I love these products.
Safety: The most important thing to consider is whether the toy is safe for cats, so I made sure there were no small parts and that it was made from non-toxic and chemical-free material.
Durability: Cats have sharp teeth and claws, and any toy will get ripped to shreds in no time unless it is made from durable material. I wanted a toy that lasted a long time so that I didn't need to keep replacing it and so that my kitty would never have a boring moment again!
Entertainment: Obviously, the perfect motorized cat toy must be entertaining, which usually best works by facilitating an active playtime to help cats channel into their hunting instincts.
Means of Power: Motorized cat toys need a power supply, be that either battery operated or through USB charging. Both have their perks, but I prefer chargeable toys as then there is not a frequent need to buy and replace batteries.
Sensor Activated: Toys that have automatic motors that switch on when your cat is close or swats the toy are preferable, as this means toys will never accidentally be left running while the batteries drain. Also, this means your cat can play with their favorite toy while you're out of the house as you don't need to be there to switch it on or off.
Now you know what it was I was basing my search on, let's kick it off with the best motorized cat toys available on the market today.
My all-time favorite motorized cat toy is the K-Berho Remote Control Interactive Cat Toy. I bought this months ago for my cats and they still have fun playing with it today!
Firstly, this is a remote control ball for cats that comes with three different accessories; a feather wand, a butterfly, and a rainbow ribbon. Therefore, there are four different ways to play; either just as a ball, or with one of the three fun attachments. On top of this, there are also color-changing LED lights that entice your cat to play, which are especially effective at night for attracting your kitty's attention.
While this toy does come with a remote control, which is great when you wish to play with your cat and help form a strong bond, you can also switch the ball to automatic mode. When in this setting, the toy moves automatically around the room in random and unpredictable directions, ensuring your cat never becomes too familiar with the movement. This makes it a wonderful toy for both playing with together, and for entertaining your cat when you're not home.
You don't need to worry about the ball getting lodged in a corner when running automatically either, as the toy uses smart technology to avoid obstacles and get itself out of tricky spots. Also, when on self-moving mode, the toy automatically shuts down after 10 minutes and only turns back on 1.5 hours later. This is great at conserving battery life and means your cat won't become too hooked!
This toy is also conveniently rechargeable, saving you money on buying batteries time and time again. Once fully charged, the toy lasts for 8 hours. With its durable and safe ABS food-grade material, endless fun, and multiple play options, this toy is worth every penny.
Pros
Remote control or self-moving settings
Comes with three different attachments
Only active for 10 minutes out of every 1.5 hours
Safe and durable material
Rechargeable and lasts up to 8 hours
Irregular rolling to keep cats entertained
Cons
Next is the HEXBUG Mouse Robotic Cat Toy, which is a fantastic toy as it is realistic and makes lifelike movements like a real mouse. If your cat is constantly bringing and showing off their latest catches, this toy could be the ideal distraction.
This motorized mouse cat toy is entertaining for nearly every cat out there as its similarity to a real mouse means it hones in on cats' instincts. The movements are also random to keep your cat entertained, plus it can detect nearby objects to find its way out of corners or flip over if it lands on its back.
This toy is battery powered which is a minor downfall as these do need to be replaced, however, the toy only turns on when swatted by your kitty's paw and turns off automatically after a long period of no use. Therefore, no charge is wasted as it cannot be left on accidentally, yet your cat can still have heaps of fun while you're not home.
The toy is also made of rubber with a soft fur coating, making it durable enough to last several cat attacks, while being soft enough for your feline to sink their claws and teeth into without causing any pain. However, there are some small parts attached, so when your cat does eventually start to rip it apart, be sure to throw it away and purchase a new one.
Pros
Mimics realistic and random mouse movement
Durable yet soft and safe material
Only turns on when swatted to conserve battery life
Channels natural hunting instincts
Interactive smart technology to navigate around objects
Cons
Not suitable for use on rugs or carpets
Requires batteries
Another great realistic motion-activated cat toy is the ZALALOVA Moving Fish Cat Toy. This provides non-stop entertainment for my cats time and time again, and they never seem to get bored with it.
This is partially down to the realistic design, looking and moving just like a real fish which will fool any cat into thinking they have just caught a fresh catch for dinner. It does not move around the floor like the other toys on this list but instead flips and flops like a lifelike fish. The toy also comes with 100% organic catnip pouches, and if you slip one inside, then your cat will go crazy for it!
I also love that this toy is rechargeable, meaning I don't need to spend money on batteries, and motion-activated, meaning that no charge is wasted by leaving the toy on accidentally. Plus, this way my cats can play with this toy even when I'm not home.
You can also rest assured that this flopping fish cat toy is safe, as there are no small or chokeable parts, and the material is soft so cats can sink their teeth and claws into it without getting hurt. However, despite being soft, this toy is also super durable. To make things even better, there are two fish in the pack, so if one did break or needed recharging, there's a backup at hand.
Pros
Looks like a real fish
Motion-activated cat toy
Great value with two toys included
Durable yet soft and safe material
Catnip scented to encourage play
USB chargeable
Cons
Can be noisy when running
Another fantastic cat toy is the Pakoo Interactive Motion Ball & LED, which my friend brought for her cat, and he is now obsessed with it.
This toy is a self-moving cat toy that roams freely around your home, changing direction randomly, and using smart technology to avoid getting stuck on obstacles or in corners. As well as the random motion attracting your cat, it also has an LED light to draw attention and encourage play. It will run well on most floors but does get stuck on thick carpets, which is a minor downfall.
Unfortunately, this ball is not sensor-activated and has to be turned on manually, meaning it cannot provide entertainment while you're not home. However, the toy does turn off automatically after 40 minutes which does help to conserve battery life, as well as ensuring your kitty doesn't get too addicted!
I also love that this toy is rechargeable, meaning I don't need to remember to replace or purchase more batteries. It conveniently comes with a charging cable and, once fully charged, provides up to 4 hours of fun before the batteries run out.
This is also one of the best motorized cat toys in terms of safety, as there are no small parts or bits your cat can choke on. What's more, it is also made of high-quality ABS plastic which is non-toxic and completely fine for your cat to play with, while being exceptionally durable. The super-smooth surface also makes cleaning the toy easy, again elongating the toy's lifespan.
Pros
USB rechargeable so no more batteries
Lasts up to 4 hours when fully charged
Automatically shuts down after 40 minutes
Random movement and LED light for entertainment
Smart technology to avoid obstacles
Made from high-quality ABS and non-toxic plastic
No small or chokeable parts
Cons
Doesn't work on thick carpet
Doesn't turn on automatically
Another great product is the PetSafe Automatic Cheese Cat Toy. This offers a peek-a-boo game for your cat to play, with little yellow mice randomly popping out of either side of a block of cheese.
This style of play can really help kittens perfect their reflexes and hunting skills. There are also no small parts that your kitty could choke on, such as feathers or pieces of string; it is made from safe and durable plastic that even extremely playful kittens will struggle to break.
For the same reason, it is a fantastic option for your cats to play when home alone as it doesn't require supervision. It further has an auto mode that sets off three separate 15-minute play sessions throughout the day with a two-hour break in between. Therefore, it is ideal for keeping your cat entertained while you're at work.
The only minor downside of this product is that it requires 3x AA batteries and cannot be recharged at the mains. These batteries are a common size and easily sourced, but it does mean there is an ongoing cost after purchasing this motorized cat toy.
Pros
No small parts and great for kittens
Helps perfect reflexes and hunting skills
Auto-mode to play while you're away
Durable and long-lasting design
Random movement so your cat can't learn the sequence
Cons
Only runs using battery power
The PetFusion Ambush Interactive Cat Toy is another peek-a-boo style game that cats and kittens will love! It simulates prey popping out and helps your cat fine-tune their reflexes and hunting capabilities.
This time, there are colorful feathers that pop out of six entry holes randomly. You can then choose from one of two speeds to best suit your kitty – blue is the fast mode whereas green is the slow mode. The motorized toy then shuts off 8 minutes after use to avoid overexertion.
Another great feature of this toy is its LED lighting. This adds an extra layer of excitement for your cat and means it is great for both day and night. It also has anti-skid feet to prevent it from moving as your cat leaps and pounces. Plus, it comes with one backup feather for enhanced longevity and a 12-month warranty.
Like the previous product, this motorized cat toy does require batteries to run. However, this product has batteries included and the auto-shutdown will help preserve the battery charge. Nevertheless, bear in mind you will need to purchase replacements in the future.
Pros
Random movement simulating prey
Two different speeds
Auto-shutoff to prevent overexertion
Batteries included
Anti-skid feet to avoid movement
LED lights for fun day and night
Comes with a 12-month warranty
Cons
Batteries will need replacing
Does not turn on automatically
Next up we have the Pet Craft Supply Wiggle Pickle Cat Toy. This is a funny take on a traditional flopping fish cat toy. Rather than watching your cat kick and play with a fish, they'll be playing with a giant green pickle!
The pickle has a zipper down the side which the power pack and the motor are stored inside. There is also a built-in motion sensor. Whenever your cat starts playing with the pickle, it will automatically start to flop, flip, and wiggle, enticing your cat to play.
Most cats will immediately be drawn to this toy as well. For starters, it is a bright green color that immediately stands out. More importantly though, it comes with catnip pouches and is silvervine infused to really get your cat excited and starting to move.
I also rate that this is a USB rechargeable toy, helping you save on batteries. Besides, it is made from a soft yet durable plush material that is perfect for your cat to sink her teeth and claws into. The only thing I would say is that the motor is pretty loud which may scare kittens or timid cats off.
Pros
Funny and unique pickle design
Turns on and off automatically ideal for busy owners
Flops and wiggles to mimic live prey
Catnip and silvervine infused pouches
USB rechargeable
Made from soft yet durable plush material
Cons
Makes a lot of noise when running
Could scare off kittens or timid cats
Finally, we have the Flurff Interactive Butterfly Cat Toy. I love butterflies and so think this toy is adorable! The butterfly rotates and spins 360-degrees simulating the movement of butterflies flying in nature.
Cats are instinctively drawn to movements such as this, encouraging them to play. The 360-degree movement really makes your cat run and move around rather than simply using its paws. This can help give your cat the proper exercise they need while also stimulating them mentally.
The base of the toy is sturdy and durable, with non-slip feet that hold it in place. However, the butterflies are a little flimsy. Nevertheless, this product comes with two butterfly replacements and a 1-year warranty, so it should be fully functional for a while. Moreover, the butterflies glow in the dark to provide fun all hours of the day and night.
Unfortunately, this cat toy does not have an automatic setting and needs to be turned on and off manually. For this reason, this isn't the best choice for busy or forgetful owners. It also requires batteries which will easily go flat if the toy is left on for too long.
Pros
Super cute butterfly design
Mimics the movement of real-life prey
Encourages cats to run and properly exercise
Non-slip feet to keep it in place
Comes with a 1-year warranty
Two replacement butterflies included
Glow in the dark for fun day and night
Cons
Needs to be manually turned on and off
Requires batteries
Motorized Cat Toy Buying Guide
I understand there is a huge range of motorized cat toys on the market, and despite these being both mine and my cat's favorites, they may not be for everyone. Therefore, I have also pulled together this handy buying guide so that if you do shop around, you can find a toy that is safe, entertaining, and worth your money.
Here are the different factors you should consider when on your search for the best motorized cat toys.
Cost
When it comes to choosing an interactive toy for your cat, there are a huge variety of products, and with that comes a large range in price. Always determine your budget before searching for products.
It is important to remember not only the upfront costs but also any potential costs that could arise in the future. For example, if you choose a battery-operated cat toy, you should factor in the cost of replacement batteries. Likewise, if the toy breaks, you may also wish to pay for repairs, so always search for a toy that has lower maintenance costs and always try to get a toy that comes with a warranty and guarantee.
Additionally, while generally more expensive products are of higher quality and vice versa, this is not always the case, so bear this in mind when shopping around.
Safe & Durable Material
The material of the toy is important first and foremost as it must be made from a material that is safe to play with. The material should also be non-toxic and chemical-free so that it is safe for your cat to chew and lick without causing any adverse effects.
You should also check that there are no small parts that could come loose and pose as a choking hazard, such as sewn-on eyes or bells. You can let your cat play with toys like this, but they should be supervised just in case they break. If you are looking for an automated toy to keep your feline entertained while you're not home, steer clear of these toys.
Also, if you choose right and get a toy that your cat loves, it is going to need to withstand a fair amount of swatting, clawing, and chewing. Therefore, the toy must be made from a durable material, such as plastic or rubber, so that it can stand the test of time.
Highly Entertaining
If going to be at all successful, the motorized toy you choose must be entertaining.
Toys with colorful lights or sounds can provide extra excitement for cats, as can random movement over predictable pathways. This leaves your cat guessing which way the toy will travel next, which helps them get more fun from their toy. Also, some toys come with catnip pouches that can be a great way to provide extra encouragement for cats that need it.
Many toys that cats like best are also realistic, or at least mimic the act of hunting, which uses their instinctive behaviors. You probably already know what toys your cat responds well to, and which they just stare at from afar, so base your search off of this to find a toy that they'll love.
Rechargeable Batteries
Ideally, you should also opt for rechargeable motorized cat toys over battery operated cat toys. Rechargeable toys may be more costly upfront, but you won't need to constantly buy and replace the batteries of rechargeable toys, which is so frustrating! Instead, just charge it at the mains and the toy will be good to go again.
This is great for saving money, but it is also fantastic for people with busy lifestyles who don't have time to pop to the store each week to pick up more batteries. Therefore, your cat will have less time to wait before their favorite toy is fully functional again. For this same reason, the quicker the battery charges, the better.
Battery capacity is also something to consider. The greater the capacity of the batteries, the longer the toy will run before it needs charging again, which makes things easier for you. Therefore, the ideal toy should store a good amount of power so that it doesn't constantly need recharging. Also, this will mean that if your cat is by themselves, the toy will last them throughout the day.
Self-Moving Cat Toys
Want to keep your cat entertained even when you're not at home? This is where cat toys that move on their own are fantastic. I always opt for automated cat toys nowadays, as they provide constant entertainment for my pets.
Motion-activated cat toys are the best option, as these toys will only turn on after you or your kitty swats them, helping reserve their charge while allowing your cat to play with them all day long. If not, toys that only run for a certain timeframe, such as for 10 minutes every 1.5 hours, are the next best thing, as they will provide intermittent fun throughout the day.
Why Do Cats Need Toys?
Some people are surprised to find out that cats need toys. Don't they just like to sleep all day or curl up on your lap?
While this is largely true, with cats sleeping an average of 16 hours each day, they do also need stimulation, exercise, and excitement. Here is why both you and your cat will benefit from purchasing some fantastic cat toys.
Promote Good Behavior
Ever wondered why your cat has started clawing your furniture to pieces, pulling up the carpet, and being a downright nuisance? As frustrating as this is, the most probable cause for their bad behavior is boredom.
While cats in the wild don't have toys, they do need to hunt to stay alive, and as these skills are central to a cat's survival, they are strongly ingrained in their brains and an instinct which still exists even in domesticated cats. When these hunting needs are not met, your cat tries to find entertainment in other ways. Much to our annoyance, this tends to be through clawing our home furnishings.
However, entertain your cat with a few exciting toys and you'll likely see this bad behavior melt away.
Exercise & Physical Wellbeing
Cats also need a lot of exercise, especially domesticated cats who have no real need for running around, apart from to satisfy their hunting instincts. It follows that most pet cats are not as active as they should be.
Keeping your cat active is essential in promoting good health, ensuring they stay a healthy weight, and keeping their bodies young and agile. Toys are an excellent way to encourage your cat to exercise more, especially motorized toys. As these toys move around the room and urge your cat to chase after them, they promote more activity than still toys such as a stuffed mouse.
Mental Wellbeing & Entertainment
An active cat is also a happy cat, so while toys promote good physical wellbeing, they also make your cats happy and have more enjoyment from their life. Cats are naturally curious creatures, and so having toys to play with helps ensure good mental health. As an owner, what more could you want!
To provide your cats with the most entertainment, have several different toys and switch them up constantly, providing continual new stimulation. Motorized toys are also great for this as they can provide fun and play even when you are not home.
Motorized Toys vs. Soft Toys
Okay, so you're with me on the fact that cats need toys of some description so that they stay happy and healthy, and so that your home doesn't get destroyed by scratches and claw marks. But why are motorized toys better than soft toys?
Mimic Live Prey: Motorized toys are better than still ones as they often mimic live prey. In the wild, a cat's toy equivalent is their prey, and so making toys as similar to their real-life counterpart is key to their success in providing entertainment.
Move Without Help: Motorized toys also move of their own accord, which means your cat can still have hours of fun even if you don't have the time to dedicate to playing with them. Motorized toys can be a great source of entertainment even when your cat is home alone.
Promotes Exercise: As motorized toys tend to travel more, they encourage cats to be more active than still toys do. This is great in promoting good health.
FAQs
Q: How can I keep my cats entertained when I'm not home?
A: A great way to keep your cats entertained while you're out of the house is by purchasing a motorized cat toy that is self-moving. You can purchase cat toys that are sensor-activated or work on a timer to ensure that they are not unnecessarily running all day long.
Q: What is the best motorized cat toy?
A: In my opinion, the best motorized cat toy is the K-Berho Remote Control Interactive Cat Toy, as it comes with multiple attachments, and can be set to respond to the remote control or on self-run mode. It is durable, safe, and my cats love this toy!
Q: Do cats get bored?
A: Yes, all cats can get bored if they don't have exciting stimuli to entertain them. They are natural hunters and are inherently curious creatures, so it is important to give cats appropriate toys to keep them entertained, especially house cats.
Q: Do cats prefer motorized toys over still toys?
A: Yes, generally cats do prefer motorized toys over still ones as they are more alike to live animals, which is how cats "play" in the wild while hunting their prey. Each cat is different, so this may not necessarily be the case with yours, but overall, motorized toys are likely to provide more entertainment.
Q: Can I leave my cat's toys out when I am not home?
A: Cat toys are fine to be left out when you are not home, as long as they don't have any dangerous small parts attached that could come loose and become a choking hazard.
MY FINAL THOUGHTS
This is the end of the best motorized cat toys that both you and your cat will love! If you do decide to shop around, be sure to use my buying guide so that you purchase a toy that is safe and fun for your cat, while making your life easier too with features like self-moving motors and rechargeable batteries.
Obviously, every cat is unique, so while my cats love these toys, yours may prefer something totally different. Try a few different toys with your cat and see what they respond to best. It is worth putting the time into finding the perfect toy, so that your cat isn't bored, is mentally stimulated, and is active and healthy.