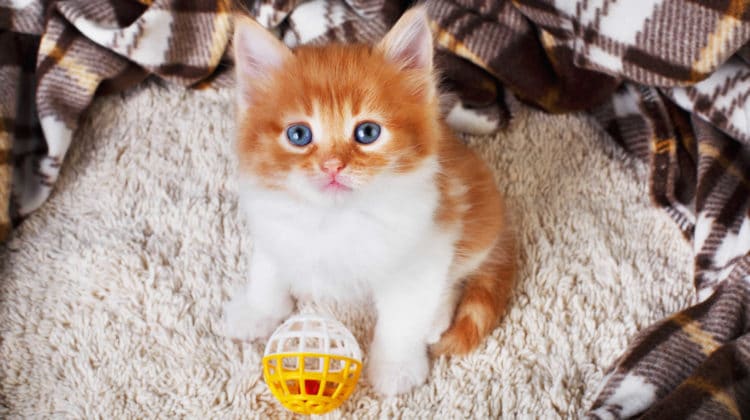 Many people associate chew toys with dogs, but kittens also need chew toys for when they are teething.
If you have never had kittens before, you may be surprised when their teeth start coming through at a few weeks old. These baby teeth will then fall out and you'll have teething kittens again as their adult teeth come through a few months later.
Just like humans, this can cause your kitten pain, and having something to chew on can put them at ease – plus, they won't be chewing on things they shouldn't be! Kitten teething toys are great for this, as they're designed specifically for kittens, meaning they're safe while also providing them with some pain relief.
While chew toys are great when it comes to teething, playing with your kitten is also essential for providing mental stimulation and physical exercise to help them develop into happy and healthy cats. So, if you haven't got a chew toy already for your kitten, you should!
My Top Pick
In my opinion, the best kitten chew toy is the Petstages Catnip & Dental Health Cat Toy Chew Wheel.
I love this toy as it is made from rubber, the perfect material as it is gentle on the gums while also being durable. It can also be put in the freezer for additional soothing powers, and the spiked surface helps remove tartar and encourages good dental health as your kitty grows.
I would always recommend getting more than one teething toy to allow your cat to decide what they like best.
In this article, I will review some of the best kitten chew toys on the market for when your kitten is teething that I have tried and tested myself. You're sure to find one that you and your kitten will love.
Best Kitten Chew Toys
Before I give you the run-through of all the best kitten chew toys, here are the factors I looked at that were important when finding safe chew toys that helped with teething.
Material: The best kitten chew toys are soft and gentle on your kitten's gums, but also firm enough to give them something to bite down on. Materials like rubber, wood, and soft plastic are great options.
Durability: Get the right toy and your kitten will be chewing it a lot! Although no cat teething toy is totally indestructible, I searched for toys that were durable and designed to last.
Safe for Kittens: The toys also have to be safe for kittens, which means that the material has to be non-toxic as it will be in your kitten's mouth a lot. Also, I wanted to avoid toys with small parts that could come loose and become a choking hazard.
Catnip: Although not essential, I also rated toys that were infused with catnip more highly. From my personal experience, this encouraged my kittens to interact and use the toy, instead of chewing and destroying other things around my home.
Soothing Ability: The best kitten toys for teething are also great at soothing kittens. This is down to the material used and the size and shape of the toy. The ideal toy will vary from cat to cat, but as a rule of thumb, it should be soft yet firm and small enough for your kitten to comfortably fit its jaw around.
With all these things considered, here are my reviews of the best kitten chew toys to help your teething kitten.
The best kitten chew toy has to be the Petstages Catnip & Dental Cat Toy in the "chew wheel" design. I love this toy as it ticks all the boxes I was looking for, providing effective relief for my teething cat.
This toy is made from non-toxic rubber, which is one of the best materials for a cat teething toy. It is soft and gentle on your kitten's sore gums, but is also extremely durable and can withstand a lot of gnawing and nibbling. This means you won't need to keep buying replacements.
Rubber toys are also fantastic as they can be put in the freezer without getting damaged and will become cold to touch. When chewing on a chilled teething toy, this will provide extra pain relief for your kitten.
The shape of the toy is also perfect for kittens. It is ring-shaped so they can easily get their mouth around it, and its surface has soft spikes. These may look like they'd be painful, but they actually feel great on your kitty's teeth and gums. However, they can break off if chewed a lot to keep an eye out for this – it's best suited for kittens whose first teeth are just coming through.
For some added fun and to help encourage your cat to chew this toy and reduce destructive behavior, it is also infused with catnip oil. Plus, there are two little ribbons attached to grab their attention and encourage play.
Pros
Made from durable rubber that is safe for cats
Gentle on the gums of teething kittens
The shape is comfortable for your kitten to chew
Soft spikes feel great on their gums
Infused with catnip oil for extra enticement
Can be chilled for added soothing abilities
Ideal for kittens whose first teeth are coming through
Cons
Can become damaged with excessive chewing
Must be supervised when in use
For the environmentally-conscious owner, the WoLover Cat Catnip Sticks are a great choice.
These are 100% natural silvervine sticks that have no additives or preservatives, making them extremely safe for cats and great for the planet. This plant is also known to be a cat attractant and the smell will naturally entice your cats.
According to the manufacturer, 80% of cats and kittens will love these chew toys, so they are also a safe bet if you're overwhelmed with the options of kitten teething toys available. This is also reassuring if you have a destructive kitten that chews everything, as these will likely be much more appealing.
Wood is also a great material to chew on as it is soothing on your cat's gum while also having a gentle exfoliating effect to help keep your kitten's teeth clean. Therefore, these sticks are not only great for kittens but throughout your cat's whole life to ensure good dental health.
You can purchase these sticks in a pack of 10 or 20, and although they won't last forever, they are pretty durable. The lifespan of the sticks can also be prolonged by shaving the outer used layer off, ready to be used again. Plus, you get a catnip mouse toy included which is great for playing together and forming a close bond with your kitten.
Pros
Made from 100% natural silvervine sticks
No additives or preservatives
Natural cat attractant and 80% effective
Gentle on kitten's gums while exfoliating their teeth
Available in a 10 or 20 pack, plus an additional catnip mouse toy
Lasts a long time
Cons
Around 20% of cats won't be affected by the plant
Another of my kitten's favorite chew toys is the Leaps & Bounds Little Paws Teething Mouse, which is a catnip-stuffed plush mouse toy with chewable ears.
This toy really is the whole package – it has textured rubber ears ideal for teething kittens to chew on, an oversized plush head ideal for cuddling, and an enticing tail making it a great cat kicker toy. The body of the mouse also has a mesh surface which is a unique texture designed to help develop your kitten's curious and inquisitive side while helping to floss its teeth.
Although all these features are great, its ability to help your kitten teething is most important. Thankfully, it does the job perfectly. The mouse ears are flat so ideal for kittens of all ages to get their jaw around. They also have a bumpy texture to exfoliate and massage the gums, helping to soothe.
However, they are made from plastic which is a little hard for some kittens. Additionally, while it has great durability if your cat has little to no teeth, older cats could break the ears quite quickly. If your cat has an extremely strong need to chew, perhaps purchase another chew toy alongside this.
Pros
Acts as a chew, cat kicker, and cuddle toy
Designed specifically for kittens
Flat and textured ears are great for teething cats
Stuffed with catnip to encourage play
Mesh body can help to floss teeth
Cons
Ears are made from hard plastic
Will not withstand excessive chewing
Another great option is this super cute three-pack of plush catnip toys – the AINOLWAY Interactive Cat Kicker Teething Chew Toys.
These are made from a soft plush fabric that has been stuffed with PP cotton, making them extra gentle on your kitten's teeth and gums. Whereas some of the harder toys are great to help exfoliate and clean, if your kitten is having a particularly hard time teething, something extremely soft like these toys may be your best bet.
These toys are stuffed with catnip, really helping to encourage your kitty to play with them. As they are designed for kittens who will be teething, the plush fabric has fine suture too to help enhance their durability and ensure they won't easily be chewed up.
I also love that these can be used as cat kicker toy or something for your kitten to cuddle up to as well, meaning they're multi-functional. However, as it is not specifically designed for teething, it may not be as effective as some other products.
Pros
Pack of three and great value
Soft plush toy and great for super sensitive gums
Stuffed with catnip to help encourage play
Doubles up as a cat kicker toy and cuddle toy
Fine suture plush designed to last
Non-toxic and a safe chew toy for cats
Cons
Not designed exclusively for teething
Will not clean or exfoliate to promote good dental health
In terms of durability, the Pioneer Pet Nip Nibbler Catnip Toy comes out on top.
This is a three-pack of woven nylon pouches that are a lot firmer than cotton-stuffed plush toys but are still gentle on your cat's gums. The nylon material is extremely durable and as this toy is not made from rubber or plastic, no pieces can snap off. This makes them both super safe and ideal for any kitten that is teething.
Your cat will also love that these three toys have catnip inside which is released a little at a time. Catnip not only acts as a natural stress reliever which is great for teething kittens but will also encourage your kitten to play with their new kitten teething toys instead of chewing everything else in your home.
These are also the perfect size for kittens and the rod-like shape is wonderful for chewing. However, some reviews online say that the ends where the nylon is joined can be sharp. I never had this issue, but you can easily take a pair of scissors to the toys and trim off the sharp corners before giving it to your kitten for added safety.
Pros
Made from extremely durable woven nylon
Soft but firm material that is perfect for teething kittens
Slowly leaks catnip to relieve stress and encourage play
Rod-shaped which is idea for chewing
No small parts that could come loose
Cons
Some reports of sharp corners that will need to be trimmed
Not exciting if your cat doesn't respond to catnip
Not all cats respond well to catnip, and some owners don't like giving it to their kitty as it makes them go a little crazy! If this sounds like you, try the Leaps & Bounds Little Paws Teething Ring Kitten Toy, which is totally catnip-free.
While some people may be concerned that it would be difficult for a toy without catnip to catch your kitten's attention, with this kitten teething chew toy, you don't need to worry. This toy has four fabric strings with balls attached which will attract your kitten and encourage them to play, with no catnip in sight! If you don't want these attached, they are also removable.
The strings are attached to a soft plastic ring, which is great for teething. The plastic material is hard enough to be long-lasting and can withstand a lot of gnawing and nibbling, but it is soft enough for your cat to comfortably sink its teeth into.
The chewable ring also has a textured surface which is satisfying to chew on. Plus, the ridges can help massage and exfoliate your kitten's teeth and their sensitive gums without being too harsh. The plastic is also completely safe for cats!
Pros
Best catnip-free kitten chew toy
Four strings and balls to spark your kitten's interest
Made from durable plastic that is safe for cats
Soft yet firm and ideal for teething
Strings are removable and the length is adjustable
Textured surface for gentle exfoliation
Cons
Doesn't contain catnip to help encourage play
Very small and only suitable for kittens
If your kitten's favorite toys are balls, then try the Leaps & Bounds Teething Balls Pack of 2 for your cat's chew toy.
These balls roll in unpredictable movements and are also bouncy. Your kitten will love chasing after the balls and chewing on the soft plastic to help soothe their gums. This tackles two birds with one stone – encouraging your cat to exercise and helping them while they're teething.
The balls also have a spiny texture which makes chewing even more satisfying. The spikes are not sharp and will help to gently massage your kitten's gums and clean any teeth that have already come through. However, the ball shape does make these toys slightly more difficult to chew than rod- or ring-shaped toys.
The only other downside is that these kitten chew toys do not have catnip in them, which can make it more difficult to spark your kitten's interest. That being said, most kittens will love chasing after these balls, and there are ribbons attached to each for even more fun.
Pros
Rolls and bounces, great for chasing and chewing
Promotes exercise and helps with teething
Ribbons attached for even more fun
Made from safe and durable soft plastic
Cons
Does not contain catnip to help spark interest
Ball shape is harder to chew than rods or rings
Kitten Chew Toy Buying Guide
As you can see, there an overwhelmingly large range of teething toys for kittens on the market. I would always recommend purchasing a few anyway – they are relatively cheap and as every kitten is different it helps to trial a few to find a product that really works. However, I have also written this buying guide to help you source the best chew toy for your cat.
Durability
Durability should be an important consideration when purchasing a teething toy for your kitten. The toy needs to be able to withstand being chewed and nibbled by your cat's sharp teeth.
All toys designed specifically for kittens and for teething should be durable, with little to no parts sticking out of the main body of the toy that could be chewed off. Likewise, all fabric toys will be double-stitched at the seams to help stop them from falling apart.
Aside from the toy's design, all chew toys should be made from a durable material, such as rubber, soft plastic, or wood.
Type of Toy
There are also loads of different types of toys to choose from, so think about what toys you already have that your cat loves. If you can replicate this in chew toy form, then it's likely your cat will take to their new toy.
For example, if your cat loves chasing balls, try the ball-shaped chew toys. However, if your cat seems to have a preference for plush toys, these are also likely to be the most effective chew toys. If you're unsure what toys your kitten likes, it is best to purchase a range and go through a little trial and error.
Catnip
I love catnip toys as it encourages my kittens to play with their toys and gives them a little burst of energy while helping to alleviate stress. Whenever I get a new toy, catnip always seems to get my cats interested.
However, your cat may not respond to catnip or they could have a bad reaction. If this is the case, there are plenty of catnip-free cat teething toys that are a better option for you. If you do purchase a toy that is not stuffed with catnip, it's advisable to ensure it has other features that will grab your cat's attention, such as ribbons or strings.
Material
The main three materials that chewing toys are made of are rubber, soft plastic, and plush. You can also purchase some that are made from durable nylon, and even natural wood is a great option for your kitten to gnaw on.
All these materials will feel completely different in your cat's mouth and which they prefer is largely down to personal preference. Harder toys are great as they gently massage your kitten's gums as they chew, whereas softer plush toys are more comforting and more gentle on sensitive gums.
Again, it may take a little trial and error to see what your cat likes best, but you can use their current favorite toys as an idea for what they may like best.
Safety
Looking after your kitten and ensuring they stay out of mischief is a full-time job, and when it comes to purchasing chewing toys, their safety has to be a top priority. All teething toys for kittens need to be made from a material that is safe for cats, is non-toxic, and doesn't contain any dangerous dyes.
If getting a soft toy, check that the stuffing is safe for cats too in case they manage to rip it open. With all toys, you should also avoid any that have small pieces that could come loose or bits that look like they could easily break or fray.
How Do I Know When My Kitten Is Teething?
You should play with your kitten regardless of whether they are teething or not, to provide mental stimulation and physical exercise.
However, knowing when they are teething is important so you can keep a watchful eye on them and encourage them to use their teething toys.
There are a few ways you can tell if your kitten is teething.
Your Kitten's Age
The easiest way to know your kitten is teething is to pay attention to the timeline – How old is your kitten? If they are between 2-4 weeks old, their first set of teeth will be beginning to come through their gums, which will continue until they are around 2 months old.
Your kitten will then keep these baby teeth for another 1-2 months, but when they are 3-4 months old their baby teeth will start being pushed out as their adult teeth begin growing. This will be teething round two, and this stage can last until your kitten is 7 months old, but varies from cat to cat.
As you can see, teething can last from 2 weeks right the way up to 7 months, with only a small break in the middle while your cat has its baby teeth. So, if your kitten is between these ages, your kitten could be teething.
Changes in Behavior
You could also notice changes in your kitten's behavior, especially if they are having a bad teething spell or a particularly painful day. This includes things like being whining, refusing to eat as much, or grooming less frequently, so keep an eye out for these behavioral signs.
Your kitten could also show signs of pain, such as flinching or moving away from you when you try to touch their face. They may also be rubbing their face or chewing on their gums or other soft items they can find if they're teething. Electrical cables seem to be a kitten's favorite thing to chew, so be especially careful to watch for this as it is extremely dangerous.
Physical Signs
As your kitten's teeth are pushing up through their gums, they may start to bleed a little. This won't happen in all kittens, but if it does it is nothing to worry about. You will probably notice the blood either on the gums themselves, in their food or water bowls, or on their toys.
Although bleeding gums are no sign of concern, if there is a lot of discharge coming out of the gums, take your cat to the vet as there could be an infection. Also, while your kitten's gums may swell a little as their teeth come through, excessive swelling should be looked at by a vet.
You may also see the odd tooth on the floor if your kitten is losing its baby teeth. However, this probably won't come as a surprise as you'll have likely have noticed other signs before this.
How Can I Help a Teething Kitten?
If you notice signs of teething, of course you want to help your kitten so that they aren't suffering alone. Thankfully, there are a few things you can do to help a teething kitten to ensure this period in their life is as easy as can be.
Provide Soft Chew Toys
As mentioned, soft kitten chew toys are a great way to help ease the pain your kitten is feeling when they are teething. Teething toys will not only help reduce discomfort but also discourage your cat from chewing on other soft items that they can find around your home.
As you can see from my recommended products, there is a huge range of teething toys for cats available. The best thing to do is provide your cat with as many as possible. This will allow them to find one that feels best. Chew toys that can be put in the freezer are especially effective at alleviating sore gums.
You can also make homemade teething toys easily at home. For example, freeze a wet washcloth and let your kitty chew on this, then wash and re-freeze ready to use again. DIY teething toys are a great way to cut costs while still helping to soother your cat's gums.
Provide Wet Food
By the age of 3-4 weeks, your kitten should begin to start eating solid food. However, during the teething period, it is important to feed your kitten with soft food only. Hard kibble can press uncomfortably into their gums as they eat. Not only will this be causing them additional pain, but it could also encourage them to eat less.
Kittens need the correct nutrients so that they can grow into healthy and happy cats, so they need to be eating a good amount. Providing wet food can make a huge difference when your cat is teething. Make sure it is designed specifically for kittens so that it contains everything they need for healthy development.
Perform a Weekly Dental Check
You should also get into the habit of checking your kitten's teeth regularly, weekly if possible. To do this, get your kitten in a comfortable position and gently ease their mouth open with your hand and observe their gums and teeth.
This is especially important if your kitten is losing its baby teeth and their adult teeth are coming through. Sometimes, though not often, the adult teeth can make their way through, but the baby teeth never fall out! You will need to be checking regularly to ensure this isn't happening.
You should also keep an eye out for extremely swollen gums or any discharge that is being released. If you notice any of these three things, take your cat to the vet. They may be causing your kitty to suffer more, but your vet will be able to prevent overcrowded teeth and infection, to ensure teething is as stress-free as possible.
What Other Toys Should I Get My Kitten?
If you have got a kitten, chew toys aren't the only option available to them. In fact, you should surround your kitten with as many different exciting toys as possible, helping them to learn about the new world around them and develop into clever and curious cats.
There are loads of different toys available, but they can be split into a few different categories. Here are a few different types that you could consider purchasing to promote good health and wellbeing:
Laser Toys: My kitten goes crazy for laser toys and you can get both automatic or interactive lasers, ideal for playing together or solo play. Lasers are a great option for kittens as there are no small parts that they can accidentally choke on, and they will last forever as long as you replace the batteries. They are also great at promoting exercise.
Cat Kicker Toys: Cat kicker toys are any long soft toys that your cat can bat around the floor and also cuddle up to. These can vary from simple material pouches stuffed with catnip, to a cat fish toy or other funky designs.
Motorized Toys: Motorized cat toys are great for solo play, either when you're out of the house or too busy to wave your cat's toys around. These vary from rechargeable balls to flopping fish cat toys and are a great way to stimulate your cat.
Puzzle Toys: To help provide your kitten with mental stimulation, puzzle toys are fantastic. These could be mazes or balls that feed your kitty treats, or a range of other intelligent designs. They're great for encouraging your cat to use all their senses and will help a kitten develop well mentally.
Interactive Cat Toys: Of course, playing together is so important to help form a close bond between you and your kitten. Interactive cat toys are any toys that you can play with together, such as feather wands, toy mice, or anything in between.
When you have a kitten, you need to enrich their life as much as possible to help promote good development and ensure they're healthy, both physically and mentally. Therefore, while purchasing toys is so important when it comes to teething, all the above toys are only going to benefit your kitten more, helping them to grow into a fabulous cat.
FAQs
Q: How do I help a teething kitten?
A: The best ways to help a teething kitten are by providing soft chew toys for teething and feeding your cat wet food. Toys will help to soothe their gums while the soft food will reduce the pain and discomfort when eating.
Q: What do kittens like to chew on?
A: Kittens like to chew on anything soft as it will help to soothe their sore gums. This could be something made from fabric, rubber, or soft plastic. If your kitten is teething, be careful they don't try to chew on trailing electrical cables as this can be extremely dangerous!
Q: How do I stop my kitten from chewing everything?
A: To stop your kitten from chewing everything, give them something else to chew on. The best kitten chew toys will easily distract them from chewing other items around your home. Most kittens will grow out of chewing once their teeth come through.
Q: What toys should I get my kitten?
A: You should get your kitten a variety of different toys to help them develop and provide them with mental stimulation. Chew toys are fantastic for teething kittens, but you should also try them with wands, interactive toys, or even puzzle toys. As kittens are growing and developing, the more different and unique stimuli, the better!
Q: Do kittens need chew toys?
A: Yes! Kittens need chew toys to help soothe their teething gums. If you don't give your kitten a toy, they may be in additional discomfort. They also might chew on other things around your home and become destructive.
Q: When do kittens start teething?
A: Kittens can start teething as young as 2 weeks old. This will be their baby teething coming through, and they should have all their baby teeth by the time they're 2 months. From the age of 3-4 months, these baby teeth will fall out and their adult teeth will come through.
Q: What is the best kitten chew toy?
A: In my opinion, the best chew toy is the Petstages Catnip & Dental Health Cat Toy Chew Wheel. It is soft yet durable and perfect for chewing, and my kitten loves it. It is also infused with catnip and has ribbons to help encourage play.
MY FINAL THOUGHTS
If you have a teething kitten, teething toys are a must. They can help soothe your kitten's gums and relieve any teething-related stress, and it will give them something else to chew so they don't nibble their way through electrical wires, blankets, or anything else soft in your home.
Ideally, you should try a few toys until you find the best one for your cat. Each cat will have its own preference, and it's important to find one that they love. The products reviewed in this article are all great and vary hugely, so try a few and see which your kitten likes the best. You'll have a happier and healthier kitten and no nibbled belongings!