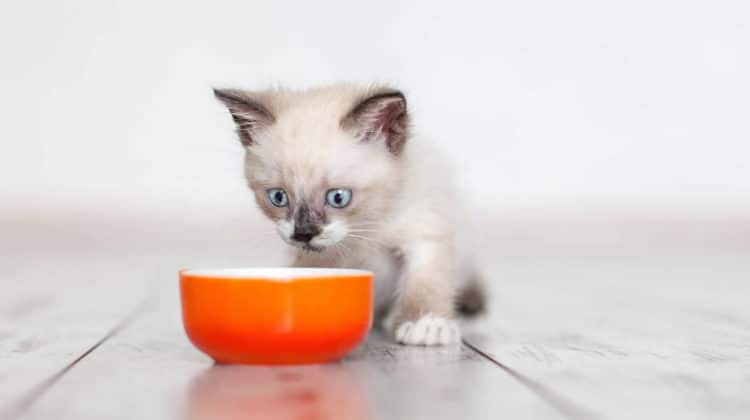 Kittens reach three-quarters of their adult size by the time they are six months of age and their full adult size at 12 months. This is an incredibly fast process, especially when you compare them to human toddlers! And to facilitate this healthy growth kittens need a specialized diet packed with nutrients.
Their mom's milk will support them when they are very young. However, they should start to wean off their mother's milk at about 4-8 weeks old. From this point, their diet falls into your control. You need to help them transition to solid foods and make sure they have everything they need for healthy growth.
One question I am asked all the time is "Do kittens need wet food?" The answer is yes, kittens need special wet food or softened dry food diet to aid their astonishing rate of growth. Transitioning from their mom's milk to solid foods is a gradual process. Wet food helps to smooth the transition while ensuring your kitty gets all the nutrients it needs to grow into a strong adult cat.
But with so many wet kitten foods out there, which is the best to help support your tiny little cat? There are thankfully many great options, all of which I share with you on this page. Plus, keep reading for other diet tips!
My Top Pick
The Instinct Original Kitten Grain-Free Recipe is my choice of wet kitten food because it satisfies essential criteria. This includes it being grain-free, having a smooth paté consistency, and not containing any meat by-products or artificial flavorings. Besides the chicken, it also contains salmon and meat liver, as well as whole foods such as carrots, cranberries, blueberries, cabbage, and broccoli. This means it is well nutritionally balanced and perfect for growing kittens.
Other popular and top-quality alternatives of wet kitten food include Blue Buffalo Wilderness, and Wellness.
Below you'll full reviews of these three top products and why I love them so much. You will also find why wet food should be your kitten's initial solid food, what a healthy kitten diet looks like, and how you can best aid your kitten's transition to solid food. I even share a selection of homemade recipes if you prefer a little DIY.
Why Do Kittens Need Wet Food?
The fact that kittens need to be fed wet food during weaning is independent of how you are planning to feed them in the future. You can choose to go for a diet of raw meat, wet food, dry food, or a wet-dry food hybrid, as long as these diets have the necessary nutrients in the appropriate amounts. However, at first, kittens need to be fed wet food as they start to wean off their mother's milk.
There are a couple of reasons for this:
Kittens Can't Chew Properly: At about 4-8 weeks, kitten teeth are so small that they may not be able to chew dry food. The switch from an all-liquid diet (mother's milk/milk replacers) to a diet of dry, crunchy kibble is very extreme. Even if you plan on having your kitten on an all-dry food diet in the future, there needs to be a transition period of wet food at least until she reaches 8-10 weeks of age.
Keeps Kittens Hydrated: A wet food diet will increase your kitten's water intake due to the high amount of moisture it contains. Cats are notorious for not drinking much, and kittens have never had to drink water before. All their liquid previously came from mom's milk. As such, it's a great way to ensure they stay dehydrated while they learn how to drink from a saucer or cat water fountain.
Encourages Kittens to Eat: Wet food is often tastier and smellier (in a good way!) than dry food. In fact, because of this reason, wet food is usually recommended for cats that have lost their appetite to motivate them to eat more. Kittens may also need some tasty encouragement as they transfer to the realm of solid food, so opting for wet cat food is a great way to provide this added push.
Helps Maintain a Healthy Weight: Dry food has more calories per unit when compared to wet food because it is more condensed due to a lack of moisture. Therefore, free-feeding your kitten with dry food can increase her chances of unnecessary weight gain. On the other hand, it's easier to feed your kitten the correct amount when using wet food.
Best Wet Cat Food for Kittens
Now we understand why wet cat food is vital for kittens. However, choosing the right wet food is extremely important in facilitating your kitten's healthy optimal growth. Purchase cat food not intended for youngsters and they might struggle to grow into healthy adult cats. Therefore, you need a specific kitten formula packed with everything your kitty needs.
You should ideally steer clear from pouch food when feeding kittens because most of them are not a replacement for real meals. They are usually high in sodium and may contain flavor enhancers. The majority of pouch foods are more suitable for adult cats as food toppers, treats, or to boost their appetite. Therefore, canned food is a much better and more nutritious option.
Here is a special selection of the top choices for wet kitten food on the market. I have tried and tested these all with my kittens, so see which you like the look of and give it a go. They're healthy, delicious, and a great first step on your kitten's journey to solid food.
My favorite cat food for kittens is the Instinct Kitten cat food, which is an ideal option for weaning kittens. This is chicken-based cat food, which is a crowd-pleaser that most kittens will enjoy eating. Plus, chicken is packed full of good protein. Cats are obligate carnivores, so a high protein food is essential for good growth and development.
Other ingredients in this wet kitten food are salmon and meat liver. By adding additional protein sources, your cat is consuming a mixture of different amino acids. This is better than just sticking to one protein source and gives your kitten all the building blocks the body needs to make new protein.
There are even carrots, cranberries, blueberries, cabbage, and broccoli in the mix. Fruits and vegetables provide necessary vitamins and minerals that help strengthen the immune system and facilitate growth. All these ingredients are blended into a pate which is easy for kittens to swallow with minimal chewing. This is another perk seeing as kittens struggle to chew while they are teething.
You won't find any grains in this formula either, which is another advantage. Grains are added to commercial cat foods as a filler. They make cats feel fuller without carrying much nutritional value. Therefore, by sticking with wholesome ingredients and high protein sources your kitten can take more from this food. Grains are also known to cause allergies in cats, so not including these in the recipe means your kitten is less likely to suffer.
Pros
Pate-like consistency which is easy for kittens to eat
Contains high protein from chicken, salmon, and liver
Vitamins and minerals from fruits and vegetables
Lower risk of food allergies as no grains are in the recipe
No filler grains, just 100% goodness!
Cons
Quite expensive wet cat food
Another great option is the Blue Buffalo kitten food. This is pretty similar to the Instinct Kitten cat food. It has a paté consistency, which provides the ideal smoothness for recently weaned kittens. Its main ingredient is also chicken which is high protein meat that kittens love the taste of. There are also no chicken by-products in its content.
Similarly, the Blue Wilderness kitten food is grain-free. This means that it doesn't contain wheat, soy, or corn, all of which can be difficult on a cat's digestive system and trigger allergies and intolerances. You desperately want your cat to form a good association with solid food, so keeping discomfort and stomach upset to a minimum is essential.
To help strengthen your cat's internal systems, this food has added vitamins. However, there are no artificial flavors. This is again exactly what you are looking for – kittens should be eating natural goodness instead of artificial and unhealthy additives. As you can see, this kitten food ticks all the boxes.
Another alternative to the Blue Buffalo Wilderness is the Blue Buffalo Healthy Gourmet Kitten Chicken Paté. This is similar in many ways and still has chicken as its main ingredient. Yet it also has the addition of cranberries, carrots, and fish oil for a more varied and balanced diet. This formula is also grain-free and in paté consistency.
Pros
Made from tasty chicken with no chicken byproducts
Smooth pate consistency that is easy for kittens to eat
Added vitamins for strengthened internal systems
No artificial flavors or colors
A gourmet alternative is also available
Doesn't contain any grains which can cause digestive discomfort
Also available in salmon flavor or a variety pack
Cons
Quite expensive unless you bulk buy
Finally, another good option is the Wellness kitten food. This is in the form of "smooth loaf", which describes the consistency of a relatively coarser paté with small chunks of chicken meat. This is lumpier than the other options and is better to feed your kitten once they have been eating pate-style food for a while. It's a great way for them to get used to chewing larger chunks.
It has an assortment of vitamins and minerals, as well as cranberries, carrots, and flaxseed. Moreover, the Wellness kitten food is grain-free and doesn't contain any meat by-products or artificial flavors. I think it is a great choice for recently weaned kittens getting used to eating larger chunks of meat.
Pros
Contains a lot of protein to help facilitate healthy growth
Perfect for kittens learning to chew small chunks
Added vitamins, minerals, fruits, and vegetables
No grains in the recipe to minimize digestive discomfort
Cons
Not a great option for a first kitten food due to the chunks
Best Dry Cat Food for Kittens
Kittens require wet food or softened dry food in their first 2-3 weeks after being weaned. But after this, you can start introducing your kitten to dry food. This happens around the 8-10 week old mark once their teeth start to come through. A balanced diet can include both wet and dry food that can also be served simultaneously. Therefore, it can be beneficial to introduce your cat to dry food early on.
This doesn't mean that you should start giving your kitten adult cat kibble right away though! If you switch to dry food at 8-10 weeks of age, it should be kitten-specific dry food until she becomes a 1-year-old kitty.
Here are some nutritious, kitten-specific options for dry food on the market you can try:
This is a chicken-based dry food with small-sized kibbles suitable for kittens. Because the pieces are small, your kitten can eat them without the worry of her choking. The pieces are also pelleted and have fewer sharp corners and edges, so won't hurt your kitten's teething gums. Kitten teething toys can also help soothe the gums and make eating dry kibble easier.
I also love that this cat food contains fish oil and whole foods such as carrots, cranberries, apples, and broccoli. Along with the chicken, these ingredients provide all the essential proteins, vitamins, minerals, and healthy fats that kittens need for healthy development.
However, this Hill's Science dry food is not grain-free, as it contains whole grain oats and barley, as sources of fiber. By the 8-10 week mark, your kitten's digestive system should be able to handle this small amount of fiber. But I advise keeping an eye on any intolerances or digestive discomfort just in case!
Pros
High in protein and made from chicken
Contains fish oil and whole foods for well-rounded nutritional value
The pieces of kibble are small and easy for kittens to chew
Pelleted pieces which are gently on kittens' teething gums
Cons
Contains grains and can cause digestive discomfort
If you would prefer to stick with a grain-free option, the Instinct Original Kitten Food is a great product. This kitten food is largely chicken-based with the addition of turkey, white fish, and lamb. By using multiple protein sources, your kitten gets a variety of amino acids to build proteins in the body. It also makes for an awesome flavor combination that my kittens loved!
Like most other wet and dry kitten foods, it contains an assortment of whole foods such as carrots, cranberries, and apples. These provide all the vitamins and minerals kittens need to thrive. It also has round, easy to chew pellets. This makes it a great first dry food option for kittens.
Pros
The round pellets are easy for kittens to chew
Made from 81% real meat sources
Uses a mixture of chicken, turkey, fish, and lamb
Additional wholefoods to supply your kitten with vitamins and minerals
No-grain formula to avoid digestive discomfort
Cons
Flavor combination might not be liked by some cats
Finally, I bring you this dry kitten food from The Wellness. This is also a grain-free choice so you don't need to worry as much about food allergies, intolerances, and digestive discomfort.
Its main ingredient is tasty chicken and it doesn't contain any meat by-products. In addition to the usual whole foods such as cranberries and flaxseed, it contains rosemary, spearmint, and green tea extracts for their antioxidant contents. This helps to strengthen your kitten's immune system, as well as provide them with energy and nutrients for growth.
The formula of Wellness also includes salmon oil. Kittens need to have a healthy amount of fats, and natural oils from fish are the best way to get this into their diet. It also contains chickpeas as a nutritious source of carbohydrates and fiber, without the use of grains.
Pros
Doesn't contain any grains whatsoever
Made mostly of chicken without meat by-products
Added whole food for increased nutritional value
Contains antioxidants to strengthen the immune system
Addition of salmon oil for a healthy dosage of fats
Cons
Slightly larger pellets than the other options
A Healthy Diet for Kittens
The kitten stage of cats lasts from 0-6 months.
By the end of this period, kittens will grow up to be about 75% of their adult size. When you think about it, this is a lot of growth in a very condensed period. It is no surprise that kittens need a special diet to facilitate this amazing growth.
To choose the ideal wet food for your kitten, you should be aware of their dietary needs.
An ideal diet for your kitten should accomplish the following:
Support optimal growth
Boost their immune system
Lay the grounds for healthy eating habits
Prevent future obesity
Nutrients: Which Ones, Why, and How Much?
To support optimal growth, a kitten's diet requires appropriate amounts of protein (35-50%), fat (18-35%), and calcium (0.8-1.6 %).
Kittens need to consume more protein in their diet than adult cats, especially during their weaning stage. That's why most kitten-specific foods are higher in protein when compared to adult cat food. As with any healthy cat diet, they need to consume animal-based quality protein.
Fats are necessary for a kitten's diet because they provide lots of energy. Fats also contain fat-soluble vitamins which are A, D, E, and K. These vitamins aid the development of their brains and eyes. Be careful though – too much fat content in a kitten's diet will lead to unhealthy weight gain.
Calcium is a mineral that helps the growth of bone and teeth, muscle functions, blood coagulation, and neurotransmissions of cells. Therefore, kittens need to have calcium in their diets, and as they grow up to be adult cats they should continue consuming calcium as 0.6% of their diet. Calcium should not be overlooked as its deficiency in kittens will lead to hyperthyroidism.
Many kitten foods also have added vitamins and minerals to support their growth in addition to calcium such as magnesium, phosphorus, and vitamins C and E.
You should not feed adult cat food to your kitten under no circumstances. Even though their protein contents may suffice the needs of kittens, the other ingredients may not. It is always wiser to opt for products specific to the age group of your cat.
How Many Calories Should Kittens Consume Daily?
Kittens will naturally start weaning off their mother's milk at around 4 weeks of age and be completely weaned off by 8-10 weeks of age. Transition to solid food can begin around the time when they are beginning to wean at around 4 weeks, as their nursing periods start to shorten.
Once your kitten starts eating solid food, you should keep track of how many calories she consumes daily to maintain her optimal growth rate.
4-8 weeks old (weighs 1 – 2 lbs)
Kittens start eating food and drinking water at the age of 4 weeks. Kittens at this stage need three times as many calories per pound of body weight when compared to an adult cat. This means somewhere about 60 calories per pound, which is about 60-120 calories daily depending on their weight.
8-16 weeks old (weighs 1.5 – 5.5 lbs)
Depending on your kitten's breed, kittens at this stage require somewhere between 250-300 calories daily. Kittens can leave their mom at 12 weeks, so if you are adopting a kitten this is usually the calories you will need to provide your newest family member.
4-6 months old (weighs 5-7 lbs)
During this period, kittens need almost twice the amount of calories per pound as adult cats do! Their intake should be about 35-40 calories per pound, which would mean that they should be consuming about 200-280 calories per day. This might seem like a lot, but it ensures your kitten is strong and healthy. If your kitten is weak and sleepy, check you're feeding it enough.
6 months and older (weighs 6+ lbs)
After they have reached 6 months of age, kittens will finally require as many calories as adult cats, which is about 20-30 calories per pound – depending on their activity levels and breed.
Keep in mind that overfeeding your kitten or keeping her on a high-fat diet will maximize your kitten's growth rate, which will increase their chance of becoming overweight or obese in the future. An increased growth rate is not healthy: kittens should grow at their optimal rate, neither too fast, nor too slow.
How Often Should Kittens Be Fed?
Since kittens have a very high metabolism and relatively smaller stomachs, they should be fed 4-5 meals a day, rather than 2 meals a day like adult cats are fed. As your kitten reaches 6 months of age, you can reduce her meals down to 2 times a day.
You may also try free-feeding with dry food when they are older than 10 weeks of age. It can urge under-weight kittens to eat more. It will also help kittens avoid having digestive discomfort from eating set meals all at once. On the other hand, free-feeding can cause unnecessary weight gain. Portion control as opposed to free-feeding may help prevent a potential habit of over-eating in the future.
If you want to try free-feeding, it is best to observe your kitten's eating habits and weight fluctuations during that time to determine whether or not free-feeding suits her. However, do not ever attempt free-feeding with wet food because it will go bad when it sits out for extended periods without refrigeration. This can cause sickness and stomach upset, which is a pain for you and your kitten.
Transitioning to Solid Food
Transitioning from their mother's milk (or a milk replacer) to solid food marks an important stage in the growth of kittens.
Solid food doesn't only mean dry food, it means food that is not in the form of a liquid, like their mother's milk. Transitioning from a full-liquid diet like milk to solid food is better facilitated with wet food or softened dry food.
If your kitten is being nursed by her mother, the weaning process occurs naturally over a few weeks, which typically takes place when kittens are between 4 and 8 weeks old. During this period, you may occasionally place them in a separate area from their mother to minimize their dependence on their mother's milk and to encourage them to start eating solid wet food.
When separating kittens from their mother, make sure to do it only a few hours a day. If it can be avoided, don't separate them indefinitely at once. This should be a gradual process in which the kittens slowly gain independence from their mother. They should continue being nursed until they reach 8-10 weeks of age.
You should also make sure that the kittens have plenty of water, their litter box, and wet food in the space where you place them away from their mother. As long as the food is tasty (and nutritious!) and the kittens are comfortable in this area, the weaning process will be as smooth as can be.
Introducing Solid Food to an Orphan Kitten
If your kitten is an orphan, the introduction of solid food is a similar process: you should gradually decrease bottle-feeding while introducing wet food into their diet during the course of a few weeks.
The weaning process of orphan kittens can happen a little earlier, between 3-6 weeks of age.
The major hurdle in this situation is to overcome your kitten's dependency on being fed from a bottle. Just like kittens nursed by their mother are dependent on their mother's presence, closeness, and the physicality of being fed by her, orphaned kittens also grow dependent on their milk bottle and being held by you. Therefore, you should first familiarize them with drinking milk replacer from a convenient bowl.
The way to go about this is to lead your kitten to the bowl by using the bottle. Dip the tip of the bottle into the bowl with the milk replacer and have her lick it. This way, your kitten will grasp that the bowl is the source of the milk. Have her follow the tip of the bottle into the bowl. You may also use the tip of your finger and repeat this process until your kitten grows familiar with the bowl.
Make sure you choose a shallow bowl that is easy for your kitten to eat/drink from. Don't ever push her head into the bowl. In addition to scaring her away, this can also be dangerous if your kitten accidentally ingests the milk through her nose.
You may keep nursing her with the bottle even when she starts using the bowl, but make sure to shift fully to the bowl by gradually inverting her bowl-feeding and bottle-feeding ratios.
Switching From Milk to Solid Food
As your kitten starts weaning, you should give her either wet canned food or a mixed gruel made up of extremely softened dry food. This is an essential step that will ease your kitten's introduction to solid food.
A hybrid of dry or wet kitten food with milk replacer can make an ideal gruel. In the 1-2 weeks following her weaning, you can slowly reduce the amount of milk replacer in this mixture so that your kitten gradually switches to eating proper solid food.
If you start by giving your kitten undiluted wet canned food, you should choose one that has a very fine consistency or mash it with a fork or a blender yourself.
Make sure that you don't serve the food cold – fresh out of the fridge. You can leave it out for about half an hour before you serve it so that it reaches room temperature. Not only will it be easy for your kitten to eat, but it will also prevent digestive discomfort.
Home-made Kitten Food
When a kitten is in the process of being weaned, she should gradually start eating solid food, ideally in the form of gruel.
This gruel is a mixture of wet or dry kitten food softened with milk replacer to the consistency of a viscous soup. Eventually, you can start to decrease the amount of milk replacer in the mixture so that your kitten transitions into eating actual solid kitten food.
Instead of softening wet or dry food with milk replacer, you may also choose to use plain drinking water, goat's milk, or a nutritious broth. A simple broth recipe is to boil chicken with its skin and bones and process it to a fine consistency.
If you are going to use a milk replacer for softening food, you can choose from a variety of options available on the market. Kitten milk replacers such as this one are perfect to soften wet or dry kitten food. Kitten formulas on the market usually come in powder form, which should be mixed with warm water, but there are also liquid options such as this one.
Another direction to take is to make your own kitten formula and mix it with store-bought wet or dry kitten food:
How to Prepare Kitten Formula
Kitten formula, a.k.a milk replacer has the purpose of providing kittens with essential nutrients for growth.
They are especially crucial for orphaned kittens that don't have access to their mother's milk. Kitten formulas replicate the queen's milk by containing ingredients such as taurine, various vitamins, minerals, prebiotics, probiotics, protein, fat, and carbohydrates – in the necessary amounts.
Instead of buying it, you can also make a kitten formula at home.
Here's a simple recipe with modifications:
Heat 4 cups (about 1 lt) of goat's milk and mix it with 1-4 tbsp of unflavored gelatin. (If your kitten is 1 week old, use 1 tbsp of gelatin and increase up to 4 tbsp with each week.)
As the gelatin dissolves, turn the heat off and add 1 egg yolk.
Add 2 tsp Karo syrup, a kind of corn syrup that smooths the consistency and gives it flavor.
Optionally, you can add a drop of pediatric vitamins.
You can alter this recipe by taking out the gelatin and corn syrup and adding another egg yolk and 1 tsp of olive oil (or any other salad oil of your choice.)
Do not use cow milk when preparing a kitten formula or to soften their food. This will cause digestive problems and diarrhea. Cats do not have the necessary enzymes to break down cow milk.
CONCLUSION
Cats can thrive on a diet of both wet and dry food as long as its contents meet their nutritional needs. However, kittens in the process of weaning will require kitten-specific wet food or softened dry kitten food until they are 8-10 weeks old. This will ease their transition to solid food and fuel them for their incredible rate of growth.
I know that reading this article may make it sound like feeding kittens is a lot of hassle, but it actually isn't.
The safest way to go about feeding your kitten is to opt for high-quality foods that have been formulated to facilitate the optimal and healthy growth of kittens.
During weaning, this should be wet food or softened dry food, and later on, you can choose between kitten-specific wet or dry food – or both.