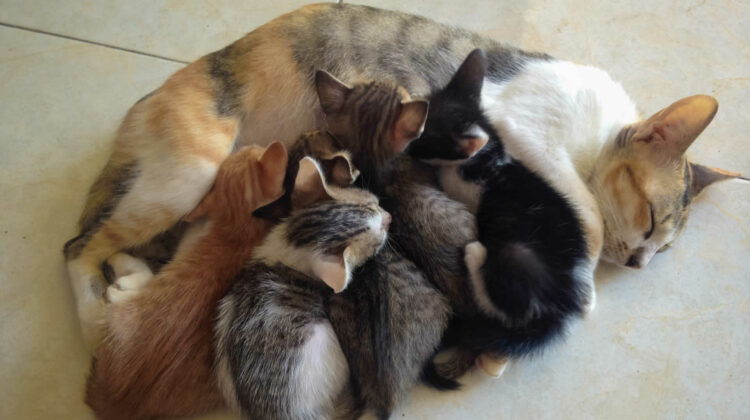 Are you a breeder who has a fresh litter of kittens? Are you looking to adopt a kitten and welcome them into your family? Have you found a stray kitten on the street that you don't know what to do with? If any of these apply, it is vital to know the age at which kittens can be separated from their mom and why this is crucial to the kittens having a healthy and happy life.
When adopting a kitten, sadly many breeders give extremely young cats away for sale.
Some may do this unintentionally due to a lack of knowledge. In other cases, the breeder is more concerned with financial gains than giving their kittens the best possible start to life. Others may be unaware that cats can get pregnant while nursing and now have more kittens than they can reasonably take care of.
However, only adopting or giving away a kitten of the appropriate age is vital. In this article, I answer the question "When can kittens leave their mom?" based on advice from veterinarians. I also run through why this is so important, how you can tell if your new kitten was taken from its mother too early, and what you can do to help kittens that are separated too young.
When Can Kittens Leave Their Mom?
The ideal age to adopt a kitten is around 12 weeks of age and shouldn't really leave their mother before this point. This is all to do with the development timeline of kittens. Before reaching this three-month-old mark, kittens are reliant on their mothers and still learning to become social creatures.
To better understand this, here is an overview of what the first 12 weeks of life look like for a kitten.
0 to 4 Weeks Old
When kittens are first born, they are considered neonatal. At this stage of life, they are entirely dependent on their mother. Within the first week of life, your kitten's eyes will stay shut, making it difficult for them to navigate their environment and fulfill their basic needs.
Therefore, kittens rely on their moms around the clock to:
Regulate Their Body Temperature: Kittens cannot regulate their body temperature until they are at least 3 weeks old. Without their mom, they would struggle to keep warm. By staying close to her body that radiates heat, she huddles her kittens close to provide them with warmth and comfort.
Keep Them Clean: Kittens rely on their mom to keep them clean after eating and going to the bathroom. This is important to ensure they steer clear of any illnesses or infections during the most vulnerable few weeks of their life.
Provide Them With Milk: A kitten needs to be kept with its mom while the kittens are still nursing and drinking her milk. Kittens less than 10 days old need to drink milk every 2 hours to grow and stay healthy. Moreover, dehydration is one of the biggest risks to neonatal kittens.
Stimulate Their Bathroom Activities: Kittens less than four weeks old need stimulation to go to the toilet. Their mother does this by licking their private areas multiple times every day so that they urinate or defecate with ease.
As you can see, during the first month of life kittens do need to be around their mother. However, if you are breeding kittens and notice their mom is slacking in any of these areas, you'll need to step in. Having kittens this young is a full-time job!
During weeks 2 to 4, your kitten's first teeth will also start to break through their gums. This shouldn't cause them too much pain, but I suggest purchasing kitten teething toys so they don't nibble on other items around your home. You shouldn't really adopt a kitten until it has all of its baby teeth.
4 to 8 Weeks Old
When kittens reach 4 weeks of age they are old enough to start learning skills and behaviors from their mother. Although this is less imperative to survival than the first four weeks of life, it is still important in their development and means your cat won't have difficulties carrying out typical cat-like behaviors in the future.
Some of the things mother cats will teach their kittens at this age include:
Going to the Bathroom: At this age, kittens can start to go to the bathroom independently. You'll need to get a shallow litter tray that they can climb in and out of with ease. Following their mother's guidance, they should learn how to use their litter tray in no time – a vital skill you definitely want your new kittens to have perfected before taking them home.
Hunting: Mother cats will teach her kittens how to hunt by bringing in dead mice and showing them what prey is and allowing them to play with it. Although domestic cats will be fed, hunting is an intrinsic part of being a cat and they need to learn these basics from their mom.
Eating: The mother cat is also responsible for teaching kittens what is edible and what isn't by hissing or yowling at different food supplies. This is crucial later on in life to help prevent your cat from ingesting toxic substances. At this age, kittens start eating wet food and need their mothers to teach them to wean off their milk.
Communication Skills: At this age, the mother cat starts to teach her kittens vital communication and socialization skills. They also learn this from the other kittens in their litter. Cats are known for being solitary and dominating over territory, so this is crucial for a seamless transition into adulthood.
8 to 12 Weeks Old
There is a common misconception that kittens can leave their mother at 8 weeks old. At this age they can groom and care for themselves, should know how to use a litter box, are weaned off their mother's milk, and are becoming more and more self-sufficient. They should even be able to run and jump and be extremely playful.
However, although it may seem like it, kittens at this age still aren't quite ready for adoption. Yes, they may be able to look after themselves if they tried, but they would still benefit from having longer around their mother and littermates. This gives them more of a chance to perfect the skills they have already learned.
By allowing this extra month of maternal love and care, your new kitten will be able to adapt better to their new environment and live happy and healthy lives. In particular, these final few weeks help with proper socialization and communication skills.
Why Is It Important Kittens Stay With Their Mom?
As I have just explained, keeping a kitten with its mother for 12 weeks is the ideal timeframe. This ensures they have learned fully how to be independent and will survive happily in their new home on their own with your love and care.
If your kitten is separated too early, there are some serious consequences. These consequences affect how they see life and navigate the world, as well as making them more prone to illness. Here is a look at all of these issues in more detail.
1. They May Become Aggressive Cats
Before cats become domesticated, they were wild animals and these wild tendencies persist in cats today. However, most domestic cats learn not to use their sharp teeth and claws on humans and other animals. They learn this from their mother by mimicking her tame behavior towards others.
Therefore, if a kitten is taken away too soon, they may not know this is the correct way to interact. Instead, they can become aggressive if they feel fearful or threatened. This could see them lashing out towards other pets in your home or even you and your family!
For example, when getting my second cat, it took a while for my cat to stop hissing at the new kittens. However, kittens that are removed from their mother too soon would be more likely to fight with your old cat. There are higher chances of pet-on-pet conflict and much more work would be needed so your two beloved animals can live happily and in peace.
2. They May Become Highly Fearful and Timid
Kittens also learn to gauge what they should fear and what is safe from their mother. She encourages them to explore new sounds and sensations with confidence, knowing that they have her there to protect them. This helps the kittens become confident in navigating their environment and less sensitive to change.
Therefore, kittens that are separated before 12 weeks of age are often more fearful of their surroundings as they don't have their mother's protection when learning about their world for the first time. Without these lessons, your cat may be timid and lack confidence.
As such, your kittens will find it much harder to adapt to your new home. They will likely respond to changes in their environment unfavorably, too. Things like having a new person or animal in your home or loud noises on fireworks night could cause severe anxiety. They may even be so timid that they don't like being around people and run away from you.
3. They Are More Prone to Sickness
Kittens taken away from their mother too soon are more prone to sickness. This is because a mother's milk is made especially to give young kittens all the nutrients they need to grow into healthy and strong cats. It helps their bones become strong and their organs to form properly.
As such, a kitten that is taken from its mother too soon may not develop quite as it should. This could have immediate health implications, but can also cause issues much later on in life. For example, they may suffer from more joint conditions or eye issues as these never developed fully in the first place.
The milk also contains antibodies they need to fight off infections they may run into later on in life. Therefore, weaning kittens away from their mothers too soon can make them more prone to falling sick regularly as they don't have this biological protection.
4. They May Exhibit Behavioral Issues
Mothers also teach their kittens lifelong lessons about how to be a cat. For example, kittens learn to use their litter box from watching their mother. Kittens that have not learned this behavior completely before being taken into a new family may struggle to become properly litter trained and fail to bury their waste.
Similarly, the mother cat teaches kittens how to groom. As such, a kitten removed too early may have trouble grooming itself. This then requires extra work from you throughout their life and their coats may be more unkempt and matted as a result. Other behavioral issues such as rough play or the inability to hunt may also persist.
What to Do if a Kitten Is Separated Early From Its Mother?
If you have found a stray kitten or adopted one that you have since realized is younger than 12 weeks old, don't panic. Your new family member can still easily become integrated into your family. However, it does require more time and effort and you will have to take on the job of their mother to teach them many skills and behavior they have yet to learn.
The amount of care you need to provide depends on what age your kitten is. If they are between 0 to 4 weeks old, they will need you to do everything for them. This takes a lot of energy and patience as you'll need to:
Keep your kittens warm while they cannot regulate their body temperature. Knowing where kittens should sleep at night and providing plenty of cozy bedding can make this job easier. Also, move the kittens to a warmer room in your home that is free from drafts.
Feed your kittens special kitten formula milk from a bottle. Kittens younger than 10 days old need to be fed every 2 hours and less frequently in the weeks after this. You should speak to your vet about the best kitten milk replacement formula available.
Help your kittens eliminate by stimulating their genital and anal areas. The mother cat usually does this with her tongue, so you'll need to mimic this by rubbing your kitten's private areas with a warm and damp cloth. You need to do this after every feed.
Keep your kittens clean and hygienic until they can self-groom. This again needs to be done with a damp cloth. Ensure you clean your kitten after feeding and after they go to the bathroom. Also, clean away any discharge or dirt to prevent illness and infection.
If you have made it past the first four weeks successfully, congratulations! This is the hardest part that requires the most care. Although some of the care listed above will still be needed, your job role does get easier after this point. It shifts from basic care to teaching your kitten essential life skills and socialization. As such, you'll need to:
Help your kitten transition to solid food. This usually occurs over the period between 4 and 7 weeks of age. To start with, mix a little wet food with the formula and gradually increase the amount until they are eating happily. At 5 to 6 weeks, you can use soft dry cat food to help with the transition to them eating kibble.
Teach your kitten to use the litter box once it can eliminate independently. Set up a shallow litter box and put your kitten in the tray to help them get used to the feeling of cat litter and the smell. Keep doing this after your cat eliminates until they start to associate the two.
Teach your kitten how to socialize by interacting with them daily. You should also play with your kitten regularly and handle them so they're used to human touch. This also helps to set important boundaries with biting and scratching from a young age.
Help your kitten gain confidence in their environment. Introduce them to as many sights and smells as possible so they learn how to deal with new situations early on. You should also play with your cat so they get used to different forms of stimulation and start channeling their hunting instincts.
If you follow all these steps, your unweaned kitten that has been separated early should settle into its new life relatively well. By 8 to 12 weeks of age, they should be on their way to becoming happy, healthy, and confident kitties that can't wait to explore life!
MY FINAL THOUGHTS
So, when can kittens leave their mom? Ideally, kittens should stay with their mom and other littermates for a minimum of 12 weeks. This gives them enough time to grow into fierce, confident, and independent felines. They are fully versed in how to use the litter box, how to self-groom, and how to hunt and play. They've also developed social skills with animals and other people.
However, if you have found an orphan kitten or adopted a cat before they are ready, there are things you can do to help them adjust to adult life. It will require a little extra love and care, but with enough hard work, you can replicate the care their mom gives them. Before long, your kittens should be happy, healthy, and thriving!