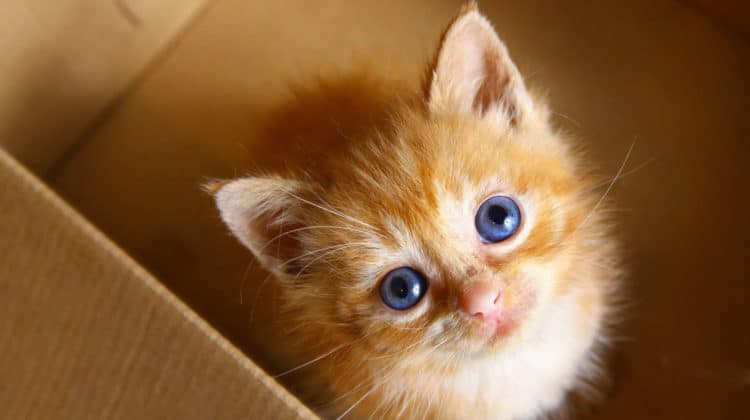 Taking a new kitten home marks the beginning of an incredible relationship between the two of you. However, while extremely exciting, it can also be a daunting experience. You are now responsible for the life and happiness of this tiny feline, and you want more than anything to get it just right!
Your kitten will be very nervous too. This will be its first night away from its mother and siblings, and everything about your home is new and confusing – the sights, smells, and sounds. Throughout the day it will slowly get used to its new surroundings and start to relax, but when night-time falls and your kitten is left to sleep, it can be a very scary experience.
To help them feel at ease and stop your new kitten from crying at night, you'll need to give them a place to sleep where they can feel secure and comfortable. But, where should kittens sleep at night? They need a space that is cozy and warm for them to relax, ideally close to you and with everything they could possibly need close by.
In this article, I will talk you through how to set up the perfect sleeping arrangement for your kitten's first night in their new home, as well as the dos and don'ts of helping your new kitten settle in.
Where Should My Kitten Sleep on the First Night?
Where to Put a Kitten Bed
When bringing your kitten home, you should confine them to one room to begin with to help them gradually become accustomed to their surroundings. This helps make the transition from their old home to their new home that bit easier. As your kitten gets more comfortable, you can gradually introduce them to more of the house.
The single room should contain their water and food bowls, litter tray, and toys, but it should also be where they sleep at night. The room that you choose to keep your kitten in needs to be kitten-proof.
To do this, make sure that you:
Check the room for any trailing wires or dangerous items
Remove any poisonous plants
Take breakable objects off of shelves and other surfaces
Keep the windows securely closed
Try not to use a room with floor-length curtains
If you want to make your kitten feel as comfortable as possible, it is a good idea that you choose your bedroom as their area of confinement, as long as it is large enough. Having you close, especially on their first night, can help ease them in gently. Remember, having been with their mother since birth they've never had a night alone before!
Finding the perfect spot in this room is also crucial. Their bed needs to be away from any drafts, so avoid putting it by any doors or windows. Having it tucked next to your bed is a great idea, or if using another room then placing the bed in the corner can help them feel safer.
How to Set Up a Kitten Bed
Now that you have got the room ready, you need to set up their bed for your kitten to sleep in on the first night. Having a good night's sleep is vital in helping your kitten to settle in easily. Although this is the area they will be sleeping at night, they will also appreciate having a place to retreat to in the day if they are feeling shy. Therefore, you should have their sleeping area set up ready for their arrival.
The bed itself needs to be warm, cozy, and comfortable. Pet beds from your local pet store are a great option but ensure you choose one that is small in size and designed specifically for kittens. If the bed is too large, they can feel as if they are out in the open and will struggle to relax.
Choosing one that has high sides is also best. This gives your kitten something to snuggle up against in replacement of the bodies of their brothers and sisters and helps them to feel protected. It also helps to keep warmth inside.
Also, opt for a fluffy material for the ultimate comfort, and you can add blankets too to make it more snuggly. If you can get a blanket that smells of your kitten's old home then even better! Ask the breeder or shelter you got your kitten from if you can leave a blanket there a few weeks before you pick them up. The familiar smell will help them feel at ease on their first night in their new home.
You can also make your own kitten bed using an appropriately-sized box with high sides and line it with lots of blankets or towels to make it more comfortable. For extra warmth, you could even place a hot water bottle underneath the blankets to heat them up ahead of your cat's bedtime.
Should I Leave a Light On For My Kitten?
Whereas most adults are comfortable sleeping in the dark, many children like sleeping with a nightlight, which leaves many owners confused as to what kittens would prefer. Do cats like to sleep in the dark? Or should I leave a light on for my kitten at night?
While cats are known to have much poorer vision than humans, they can actually see much better than us in low light levels. Their whiskers also help them to navigate around even entirely unknown environments in the pitch black. With this in mind, the answer is no – you shouldn't leave a light on for your kitten at night.
That being said, it is probably a good idea to leave a hallway light on or a dimmed lamp if your cat is sleeping in your bedroom so that you can see them. The last thing you want is to wake up in the middle of the night and accidentally step on or trip over your new kitten! They could have crawled out of their bed or be anywhere in your room, so low light is good for safety reasons.
Should My Kitten Sleep in My Bed?
Although you may think your kitten will love curling up next to you in bed, it is a good idea to give them their own sleeping area, especially on the first night. Your bed is quite clearly a lot larger than a kitten bed and the vast open space can make them feel scared and unsafe, even with you next to them.
They may also struggle to navigate around your bed and fall off in the middle of the night and hurt themselves! Besides, when getting a new kitten, they will also usually be litter trained. However, being in a new and stressful environment can cause your feline to have a few accidents. The last thing you want is your kitten to urinate on your sheets!
Many owners still choose for their kittens to sleep in their beds with them, but it is best to wait until they are a little older and give them their own space at night for now. To compromise, let your kitten sleep on you during the day. My cat sleeps on my chest or beside me when watching television, but we have our own space at night.
Can I Put My Kitten in a Cage at Night?
There are several reasons why owners deliberate over keeping their kitten in a cage at night. Kittens can get into all kinds of mischief at night when the beady eyes of their owners aren't there to watch. They can chew on cables, knock objects over, or claw at your furniture. Besides, some kittens are extremely playful and can keep their owners up all hours of the night.
Many owners think putting their kitten in a cage at night is a good solution, as it can help to keep them safe and out of trouble while you're asleep. However, you should never shut your kitten in a cage at night. Besides, if you have prepared the room and ensured it's kitten-proof, moving dangerous objects out of harm's way, there is only so much mischief they can get up to anyway.
When locking your kitten in a cage they can feel trapped and claustrophobic, which is the opposite of the calming environment we are trying to make. What's more, shutting your kitten in a cage may make them cry more at night. This can be upsetting for owners and also a nuisance when trying to sleep.
Kittens that are shut in cages also won't have access to their litter tray or fresh water, which are both essential. However, if you have a crate, you can place their bed in this or transform the cage into a sleeping spot by adding blankets and hot water bottles, as long as you leave the door open so they can come and go as they wish.
Do Kittens Sleep Through the Night?
You've kitten-proofed your room and made it safe for their arrival, you've gone to the pet store and bought the best kitten bed you could find, you've found the ideal spot for it in your home, and you have even got a blanket that smells like their mother. Yet, your new kitten is as active as anything at night time and won't settle down. This begs the question, do kittens sleep through the night?
While it is true that cats love snoozing and kittens will spend around 16 hours every day getting some shut-eye, they don't necessarily like to sleep at night. Cats are not nocturnal but are crepuscular. This means that they are naturally most awake at dawn and dusk, which can be misaligned with your sleep schedule and can mean your kitten doesn't sleep through the night.
On top of this, with the anxiety of moving into an entirely foreign environment, kittens are even more likely to stay awake, especially on the first night in their new home. However, cats can and will sleep through the night once they have gotten more comfortable in your home and established a good bedtime routine.
How to Get a Kitten to Sleep at Night
Getting your kittens to sleep at night relies on three things: providing them with a safe space to sleep, making them feel comfortable and relaxed, and establishing a good bedtime routine.
Having gone through where kittens should sleep, I assume you've already got the first one nailed and have set up the perfect sleeping area for your kitty. This leaves making them feel at home and forming a strict schedule.
As all kittens have completely different personalities. Some are more confident and will settle in easily, sleeping through the night once you establish a good routine. On the other hand, more timid cats will need extra encouragement to adapt. If your kitten is feeling anxious and scared at night, you'll know as they will constantly cry out for attention.
So, if your kitten cries like a baby at night, they made need an extra helping hand to fall into that peaceful slumber all night long. Here is how you can stop a kitten crying at night and train them to go to sleep at the same time you do, ensuring you both get some shuteye.
1. Tire Them Out With Playtime
Chances are you cannot wait to play with your kitten when you bring them home. Not only is this great for keeping them mentally stimulated, physically healthy, and helping to form a bond between the two of you, but it also helps them get to sleep at night. The more you can exhaust your kitten, the more likely they'll drift off as soon as their head hits the pillow.
Exhaustion aside, playing with your cat can help them feel more comfortable in your home rather than being scared, which is key to a good night's sleep. Try having a designated time set aside for play right before bed which can start their nighttime routine.
2. Change Their Feeding Times
Developing a good feeding routine that remains consistent throughout your cat's life is essential, and feeding your cat too early could be why they're crying out at night. If you are feeding your kitten too early, it may get hungry throughout the night and want food, calling out for you to feed them.
Pushing their mealtime back later can keep them fuller for longer. Plus, feeding them a late meal can help them get to sleep. Cats often go to sleep as they digest food, so feeding them right before bed can help them fall asleep without any issues. After you have played with your kitten, then is the perfect time to feed them.
3. Show Lots of Love and Affection
Cats and kittens usually cry out for attention. When you bring a new kitten home, it will likely be the feeling of anxiety that is driving this attention-seeking behavior. By showering your kitten with love and affection as they drift off to sleep, they will be able to relax and won't cry so much.
Having a new kitten is comparable to having a child who wants a story read to them before bed. After playing with your kitten and feeding them their dinner, try putting your kitten in its bed and stroking them gently as they fall asleep. Once they've nodded off, you can then get into bed yourself and hopefully, the both of you will have a good night's sleep.
4. Offer Time & Patience
Moving into a new home is extremely scary! If you have done everything you can for your kitten, the best thing you can do now do is to be patient and know they will settle in, it may just take a few days or weeks. They will stop crying out for their mother and for you once they feel settled.
How long it takes for your cat to reach this point varies from kitten to kitten. Some kittens will adjust quickly and feel at home within a few hours, but those are the lucky ones! Most take a few days at a bare minimum, while extremely shy and timid cats can take up to a month or two to feel comfortable in your new home. Just be patient, show them love and affection, stick to their routine, and time will work its magic.
CONCLUSION
So, where should kittens sleep at night? On their first night in your new home, you want to set them up in a single room that has everything they need. Ideally, this will be your bedroom as they'll feel more reassured having you close by. Get a small and high-sided bed that is cozy and warm, and keep it close to your bed away from any drafts.
Even when doing this right, many kittens will still cry at night. You can train them to sleep by encouraging them to play and tiring them out during the day, showing them lots of love and affection, and pushing their feeding time back. However, the best thing you can do is be patient. Over time, your kitten will love you and its new home.