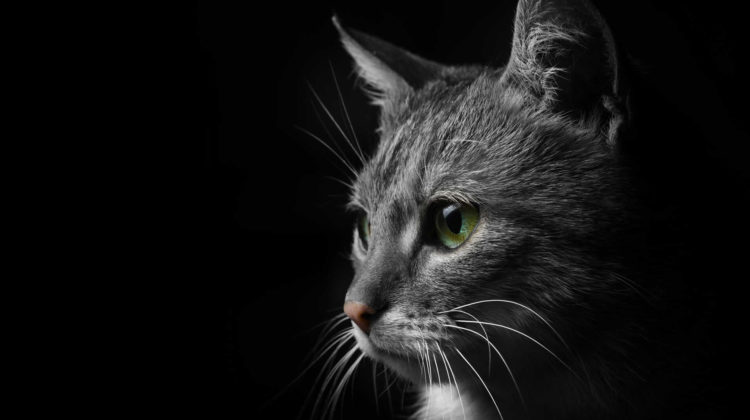 At night, cats are in their element. As crepuscular creatures, who thrive at dawn and dusk, cats typically also are up much of the night.
In the wild and outside, they use this time to catch their prey like mice, and they use it to explore.
Inside, your house acts like your cat's personal jungle gym. Unless you've trained your cat better or if they have adapted to match your sleeping patterns, nothing in your house is safe.
Cats will bounce off the walls, knock plants from end tables or books from shelves, and run after their fur siblings. And, even though you're most likely sleeping, you're not completely safe.
Your toes that happen to be uncovered or your eyes as they move under your eyelids might attract the unwanted attention of your cat as they search for something to do.
Attacking you is not the only annoying habit cats have at night. For some breeds, like Burmese, Siamese, or Oriental shorthairs, who are especially vocal, night time might be the best time to use their voices.
Cats might yowl or meow or even wail and cry like babies. Not only does this disrupt our sleep patterns, but it can be quite troublesome when it happens night after night.
So, let's answer the question: Why do cats cry like babies at night?
As cats can be pretty confusing creatures, our best guess for why cats cry, almost like babies, at night is because they are hungry.
Or, they want you to think that they're hungry.
Why Cats Cry at Night
While hunger is a good reason why cats will be so vocal at night, it's not the only reason why cats will cry out. Keep reading for more information about hunger cues and other reasons why cats will cry during the night time.
It might also be beneficial to know some strategies to help your cat be a good citizen at night.
More on Cat Hunger
Cats are needy creatures even if they tend to ignore us sometimes. They also have different meows and yowls depending on what they need or in most cases, what they want.
As a cat parent, you probably know your cat's meows by now. You know that their low growls often mean agitation and growing anger. You know that sharp yowls are characteristic of being scared or super angry.
And, you probably know that a high-pitched and inquisitive call means that they are likely hungry.
In addition to making this call if they are truly hungry, he or she will find themselves right next to your face or in your room. This will likely happen because they are trying to get your attention.
Your cat could be being dramatic and want your attention, but you should rule out whether or not they are actually hungry. You don't want to starve your poor kitty!
If your cat is making this hunger call at night and hovering close to you, then you should check into your cat's nutrition.
Calories
Depending on the breed of your cat, he or she will require a certain amount of calories. The average kitty will need around 300 calories of food per day, give or take. Small breeds like munchkin cats will need less food, and larger breeds like Maine coon cats will need more food as they expend more energy.
There are about 300 calories per cup of dry food, whereas with wet food, a 6 ounce can will be around 250 calories.
Luckily for us cat parents, there are feeding recommendations on the cans and the food bags. Usually, these recommendations are based off of your cat's weight. You can get your cat's weight by going to your vet, or you can use an at-home trick.
Using your human scale, step on and get your base weight. Once you get that, pick up your kitty and step on again. Your weight will increase by about however much your cat weighs. This will at least give you a starting number.
Based on this number, you should make sure that you're getting your cat the recommended amount of calories in some way.
Feeding
There are also a couple of ways in which you can feed your cat.
You can do traditional feeding, which means that you will feed your cat two meals a day, splitting their 300 calories into two 150 calorie meals. Usually, pet parents who feed their cats traditionally will give their cat one meal in the morning and the second meal in the late afternoon or early evening.
This feeding schedule can be the easiest for you and one of the more natural for your cat as they would hunt in the morning and in the late evening, which goes along with their natural sleeping and hunting patterns.
Another option for pet parents would be to feed their cat throughout the day by simply placing the allotted food out for the day. This feeding schedule is especially convenient for people with busy schedules.
With this feeding style, you only have to put the food out once a day, and then your cat is at liberty to eat it whenever they most feel like it. While this feeding schedule might be convenient for you, it also works well for active cats who are independent.
The one downfall with this type of feeding is if your cat eats all of their food right away. Even though cats need a specific number of calories a day, if they eat them all in the morning, they might actually be hungry by the time night falls.
To alleviate this, you may choose to put your cat's food out in the evening or late at night. This way, they will be able to eat as they play and explore throughout the night. If they have access to their food, they probably won't cry out.
Slow Eating
In the wild, cats eat frequently as they use large amounts of energy when they explore and hunt. You can replicate this feeding style by using food puzzles.
Food puzzles not only go along with your cat's natural eating patterns, but they challenge your kitty, giving them some mental stimulation and enrichment. Basic food puzzles involve you putting treats or your cat's meal in different slots. Then your cat will have to figure out how to open these compartments in order to get their food.
These frequent meals might be enough to keep your cat from getting hungry at night because you can time it so they are feeding near the end of the evening.
In addition to food puzzles, you may also choose to get an automatic feeder for your cat. These automatic feeders might be adjustable, so you can put the food inside and then set timers for when you want your cat to be fed.
You can do two meals a day or perhaps do up to ten with the last small meal just before bed. However, it's good to keep in mind that cats get much of their water from their food.
No matter the feeding schedule you choose, it's important to make sure that your cat is, indeed, getting enough food and the proper nutrition, so they are not actually hungry when you're trying to sleep.
Let's say you're curling up to get some good sleep and your cat has just been fed, but as you start to drift off, your cat lets out a long yowl, then there might be other reasons beyond hunger that's causing him or her to cry like a baby.
Boredom
If your cat is sufficiently fed and fed at the proper times to fit in with your sleeping schedule, but your cat is still crying out at night, boredom might be another cause for their excessive noise.
Cats need the proper amount of exercise and mental stimulation throughout the day. If your cat is an only child or if they are indoor kitties, they will need more time with you in order to get the enrichment they need.
Depending, of course, on your cat's breed, size, and age, the amount of exercise they need will vary. Like with food, bigger cats will need more exercise, while smaller cats will need less. Young cats and kittens will take a long time to tire out, whereas older cats will become tired quite quickly. In general, your cat will need frequent play sessions throughout the day.
You can choose to have shorter but more frequent playtime. This is beneficial for you and your cat as you'll get more breaks, and your cat will have less time to feel bored.
Otherwise, you might want to do less playtime sessions, but you'll need to make them longer. If you're busy, this might be a good option for you.
If your cat is an outdoor kitty as well, they might be able to entertain themselves by exploring and by hunting. In addition, if you have multiple cats, then they might tire each other out, eventually.
Just as feeding your cat before bed is beneficial to temper their crying at night, giving your cat a long playtime session near bedtime could keep them from getting bored, and they'll choose to nap instead of crying out all night.
If boredom and hunger aren't the causes for your cat crying like a baby, then there could be other reasons your cat is being vocal.
Trapped Outdoor Kitties
If your cat is an outdoor cat, it might feel trapped if it's inside at night. This is actually a common reason for cats to call out at nighttime.
Instead of being hungry or bored, your cat might be trying to get your attention to let it outside. This is usually a quick fix as you can get up to let your cat out.
However, if your cat wakes you up for this after you've been sleeping for a while, this not only can get annoying, but you may be able to prevent the problem by putting them outside before you go to bed.
The opposite problem might occur as well, where your cat wants in during the middle of the night. In this case, your cat's schedule might need to be rearranged with some training and adaptation.
Mating Calls
Cats have natural feeding and sleep schedules, and cats that are not spayed or neutered might be following their natural mating urges as well. This means that cats might be calling out in order to find a mate or because they heard another cat calling out for the same reason.
In addition to preventing excess cats out on the street, spaying and neutering your pet can prevent cats from behaving this way. If your cat isn't spayed or neutered, is properly fed, and has had enough exercise, this is a likely reason your cat is crying at night.
If mating calls, boredom, hunger, or being trapped indoors aren't the causes for your pet crying out, the reasons might be a little more serious.
Aging Cats
Sadly, as cats age, they might start to develop mental problems, such as cognitive dysfunction syndrome, which can make your cat disoriented, so they will call out because they don't really know where they are or what to do.
They might be seeking your help in this case as well. If they have hearing or vision problems, they may also need guidance at night, and calling out is how they get your attention.
Other problems that come along with age, like arthritis and dental issues, may also be causing your cat to cry out because they are in pain.
Best Ways to Stop a Crying Cat at Night
There are many ways you can keep your cat from crying out at night. As long as you have ruled out any serious medical conditions, you should try some of the following techniques.
As mentioned before, if hunger is the cause, you'll need to make sure that your cat has proper nutrition, and you can try changing up their feeding schedule, so they get more food before bed.
For boredom, you can make sure that they have had enough exercise and have plenty of toys to play with whenever they want.
You can also try to switch your cat's schedule. Even though cats are naturally more awake during dawn and dusk, you can work with your cat to start sleeping through the night. This is much easier with social cats as they will want to be with you when you're awake and snuggle with you when you're dozing.
For cats that have vision impairments or are older and have dementia, you can add a couple of nightlights throughout the house to help them find their way around. These additional lights will keep them from getting scared.
Lastly, you may consider ignoring your cat's behavior. If they cry out, and you always show them attention, they may learn that they can get what they want by calling. If you ignore them, they will usually move on to something else.
FINAL THOUGHTS
While cats can cry like babies for a number of reasons, the most likely causes are that they are hungry or bored.
Serious medical conditions can cause excessive crying out at night, so make sure that you have a good wellness plan for your cat, especially as they age.
Make sure you figure out the cause for your cat's nighttime crying before you try to solve the issue with any of our tips. Over time, you'll either get used to your cat's calls, or you will successfully fix its behavior.