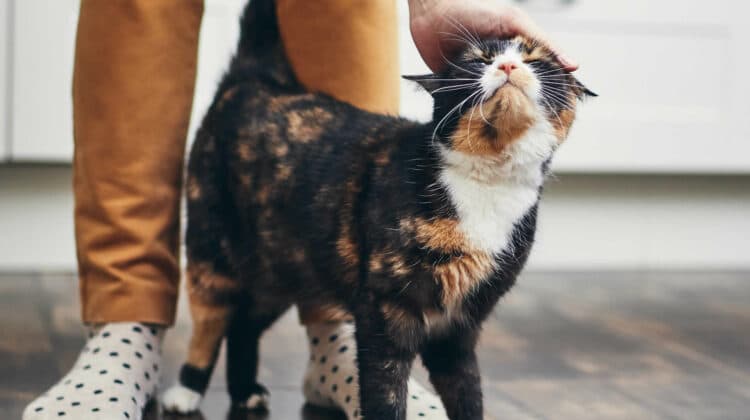 Some cats are super needy and affectionate towards their owners, whereas others are more independent and aloof. Other cats fall somewhere in the middle, following their owners or seeking physical affection only on their terms.
There is no right or wrong way for a cat to be – all cats are different. However, if you are thinking "My cat follows me everywhere and sleeps with me… that can't be normal", you're right. This behavior isn't typical for cats and usually indicates that there is some form of attachment issue.
Separation anxiety is more common in felines than we think, especially those that have had past trauma to do with being abandoned or have been rehomed multiple times. In this article, I'll answer all your questions on this and offer advice on what to do with a cat that is so attached to you lately.
I'll also list some other reasons why your cat might follow you everywhere you go. The better we understand how and why our cats behave as they do, the better we can work towards giving them a happier and more fulfilling life.
Why Does My Cat Follow Me Everywhere & Sleep with Me?
It is normal for cats to follow their owners occasionally. They are curious to see what you're up to and follow you to take a look. Alternatively, they might know it is nearing their dinner time and follow you around in the anticipation of food.
However, if you thinking "Why is my cat so attached to me lately?", it is not typically a good sign. Cats do like independence, and even the most affectionate cat will appreciate some time by itself occasionally. If your cat sleeps with you as well and can't bear to be apart from you for a second, you can be pretty sure it is due to separation anxiety.
Separation anxiety is common in cats and usually happens if your cat has been separated from an owner or other animal that they had a strong bond with in the past. They are so scared to leave their owners' sides as they are deeply worried that if they let you out of their sight that you won't come back! They'll follow you everywhere, sleep with you, and greet you excitedly as you arrive home.
In this section, I am going to talk a little more about the causes and signs of separation anxiety. I also make some suggestions on how you can make your cat feel more at ease and trust that you'll be there for them no matter what.
What Causes Separation Anxiety in Cats?
It is not fully known what causes separation anxiety in cats. Like many human mental health issues, it is complex to track the changes in the brain which cause these negative feelings and emotions. However, scientists believe that it is due both to environmental factors and a genetic predisposition.
Some of the environmental factors and triggers that could cause a cat to develop separation anxiety include:
Lack of socialization as a kitten with both people and other cats
Being orphaned or repeatedly rehomed throughout their lives
Living strictly indoors with only one person
Not having any other cats or pets in the home
Something more minor can also trigger separation anxiety in cats, such as going on vacation for a couple of weeks. You might come back and think "Why is my cat so affectionate all of a sudden?". It is likely because she missed you and was fearful you weren't ever coming back. This could trigger separation anxiety and your cat might follow you everywhere from here on out.
Similarly, a sudden change to your routine could cause separation anxiety in cats. The most common example is owners that previously spent all day at home but recently have started working full time and are out of the house all day. This can make a cat fear that they are being abandoned.
It is important to note that these things won't 100% cause separation anxiety – there is just a strong correlation between the two. Some cats will be totally fine even if they live indoors just with you and you've just come back from a two-week vacation. This is where the genetic predisposition comes in because how a cat responds to these situations is entirely dependent on its genetic makeup.
Work has not been done to see precisely what genes might be linked with separation anxiety. However, one thing experts do know is that female cats are diagnosed much more frequently than males, so this could be a genetic link. Still, it is these environmental and genetic factors together that are responsible.
What Are The Signs of Separation Anxiety?
It is vital to know the signs of separation anxiety so that you can help your cat if needed. When my cat follows me everywhere and sleeps with me, I know she is feeling anxious. This hyper-attachment and constant need to be together is the number one sign of attachment issues.
Other symptoms you can look out for include:
Urinating outside of the litter box, often on the owner's bed
Excessive meowing and other vocalizations
Destructive behaviors such as digging up houseplants or scratching the furniture
Excessively self-grooming to the point of hair loss
If you see any of these symptoms – especially if you see multiple of them in combination – there is a high chance your cat does suffer from separation anxiety. Take them to the vet for an official diagnosis to make sure.
How Can I Help My Cat With Separation Anxiety?
If your vet has diagnosed your cat with separation anxiety, don't despair! Although it isn't nice to know your cat is feeling anxious about being abandoned, there are things you can do to help. Here are some of the things I tried that when my cat was so attached to me lately that helped her relax and trust that I was always going to love her.
Provide Mental Stimulation: Providing something to keep your cat mentally stimulated while you are out of the house can work wonders. Try getting some automatic cat toys, puzzle ball treat feeders, or even leaving the TV or radio on for background noise.
Ignore Attention-Seeking Behaviors: Cats will try all kinds of things to get your attention. Does your cat get in your face while you sleep? Does she meow at you constantly? Is she knocking objects off of surfaces? These are all typical attention-seeking behaviors you might see in cats, and they need to be ignored. This will just make your cat needier as they think what they're doing is effective.
Create Consistency: Cats hate change and thrive off routine. Make sure you stick to a schedule when it comes to feeding, playtime, and even bedtime. This can really help to reassure a cat that they are in safe and loving company.
Reward Calmness: If you ever notice your cat being calm and relaxed, you need to reward them by giving them a treat. This will teach them that it is okay to be relaxed. Once they have learned this behavior, they should stop following you everywhere and sleeping with you.
Use Medication: In severe cases or where cats cannot remain calm even with all the above suggestions, your vet may recommend an anti-anxiety medication. How effective the medication is depends on your cat, but there should be a 50% improvement in their stress levels. You may need to administer the medication regularly or exclusively before leaving the house for an extended period, such as right before going on vacation.
Overall, these tips should have your cat feeling happier and calmer. They will be able to cope will stressful situations much better and old stress triggers won't affect them anymore.
Why Does My Cat Follow Me Around the House?
If your cat is quite literally inseparable from you, you should take them to the vet to find out whether or not they do have separation anxiety. As its number one sign, it's best to get your vet's advice and diagnosis for peace of mind.
However, if your vet decides your cat doesn't have separation anxiety, why are they still following you around?
Here are a few possible explanations that could be true.
1. They're Attention Seeking
Cats try all kinds of things to get our attention, from behaving poorly to being increasingly vocal. So, if you're asking yourself "Why does my cat follow me everywhere I go and meow?", attention-seeking is likely. It's trying to figure out what your cat is trying to get your attention about is the tricky bit!
I always advise getting up and follow your cat to see where they take you. This will usually tell you a lot about what they need your attention for. For example:
Food: Does your cat lead you to her food bowls? She's probably asking for her dinner! If it is mealtime you can go ahead and feed her, but don't give her extra kibble just because she's asked for it. Alternatively, my cat wants me to watch her eat sometimes. Your cat could want the same and has led to you her bowls so you can watch her enjoy her food.
Water: Likewise, your cat may be asking for more water. They always need to have access to a fresh supply of water, so many sure you are keeping their bowl clean and topped up. If your cat's water bowl is full and they keep leading you to it, you might want to swap to a water fountain to help encourage them to drink.
Litter Tray: If your cat leads you straight to its litter box, they're probably asking you to clean it. Cats hate a smelly litter box! You need to make sure you scoop out all of the feces and urine clumps each day and completely change the tray each week.
Toys: A cat that leads you directly to their toys is asking for you to play with them. Try to set aside at least 15 minutes each day to spend playing with your cat. This will help the two of your form a tighter bond, while simultaneously helping to keep your cat a healthy weight and mentally stimulated.
On the other hand, your cat might not lead you anywhere. They could just be asking for some affectionate cuddles and a bit of love, so make sure you give them a good scratch in their favorite spot!
2. They're Stressed About Something
Separation anxiety is a form of stress – your cat is stressed and anxious that you will leave them and never return. However, it is far from the only cause of stress in felines. If your cat follows you everywhere and sleeps with you, there is a chance they are stressed about something else.
Some of the possible causes of stress in cats include:
Moving to a new home
Making changes to their routine
Switching to a different brand of cat food or litter
Introducing a new pet or person to the family
Loud noises such as fireworks or a party
Unfamiliar cats in the neighborhood
Changes to your routine
Of course, some of these are much more permanent stressors than others. For example, a cat that is stressed on bonfire night because of the loud noises will be calm once the fireworks have stopped. This type of stress is normal and not anything to worry about.
However, ongoing stress can be more detrimental. For example, if you have just got a second cat that your old cat hasn't taken a liking to your cat might permanently be anxious. My cat sits next to me but not on my lap since I got my second kitty last year. She's still adapting to the change, and you need to provide lots of comfort and reassurance to get them to trust and accept the new normal.
Regardless of the cause, a stressed cat may want to be close by to you possible. I always have my cat sleep between my legs when she's stressed at night and follow me around the house in the day. Your cat might do the same! We make them feel safe and offer reassurance, helping them to feel more at ease and cope better with the change.
However, this isn't always the case! When a cat is hiding and acting weird, this too can be an indication of stress. Instead of retreating to their owners, they have retreated to themselves. Finding a small and enclosed space has a similar feeling of safety and security.
If your cat does follow you around the house when it's stressed, you could try putting more hiding places in your home. This way, they will hopefully retreat to these rather than become attached to you. Introducing changes slowly can also help a cat deal with them much better, helping to prevent them from feeling stressed or anxious in the first place!
3. They're Pregnant or in Heat
When female cats are pregnant or in heat, they have huge hormonal changes in their bodies. This can make your cat so affectionate all of a sudden. They might want to follow you everywhere and sleep with you as a result.
You'll easily be able to tell if your cat is in heat. When in heat, cats are increasingly vocal and will make yowling-like noises to try and attract a mate. You'll also see them rub up against everything, often rolling around on the floor. This is them trying to spread their pheromones, again signaling to male cats in the neighborhood that they're after a partner.
Pregnancy can be somewhat harder to notice in cats. The "baby bump" only becomes visible right toward the end of the pregnancy, and if your kitty is overweight already you might not notice. However, you should hopefully notice a break in their estrus cycle. They'll also eat more and will gain a little weight, besides sometimes suffering from morning sickness.
Interestingly, cats get clingy when you're pregnant too! Experts believe cats can detect changes in your hormones thanks to their highly attuned sense of smell. Our body temperature also increases during pregnancy which cats can pick up on, and there is a possibility cats can hear your baby's heartbeat through your stomach! Having sensed new life inside you, it is common for cats to be more affectionate. They are being protective and want to help you.
But, as always, there are exceptions to the rules. Some cats hate the idea of you being pregnant as they want you all to themselves. This can lead to aggression towards the baby when it is born. You must try to prevent this from happening by showing your cat just as much love as before so they don't feel pushed out when the baby is born.
4. They're Sick or in Pain
Some cats will follow you around when they are sick. As with stress, their pain and discomfort are causing them to seek constant reassurance from the human they love the most – you!
If your cat is sick, there will usually be other obvious symptoms of illness. Of course, which clinical signs show depends on the type of illness or disease your cat has. For example, a cat with an injured leg will quite obviously be limping and hobbling around. On the other hand, you might notice blood in the litter box of a cat that has a urinary tract infection.
However, there are some more general signs of sickness that apply to many illnesses that you can look out for.
These include:
Sudden loss or gain of appetite
Unexplainable weight loss or gain
Increased lethargy and no inclination to play
Much more or less vocal than usual
If you think your cat could be sick, note down any symptoms and call your vet. Depending on what symptoms your cat has, your vet may suggest they come in for a physical examination. At the appointment, they'll be able to confirm whether or not your cat is sick and what treatment options are available.
MY FINAL THOUGHTS
Most cats that do this suffer from separation anxiety, which is the fear of abandonment. You can try the tips I have gone through in this article to help your cat feel more trusting and should see an improvement in their behavior over time.
However, there is also a chance that your cat follows you around the house and sleeps with you for another reason, such as stress, sickness, pregnancy, or as a form of attention-seeking. Pay close attention to try and work out what they are trying to communicate.
If in any doubt about your cat's physical or mental health, always call your vet. Even if nothing is wrong with your cat, it is great to have peace of mind that your furry friend is happy and healthy.