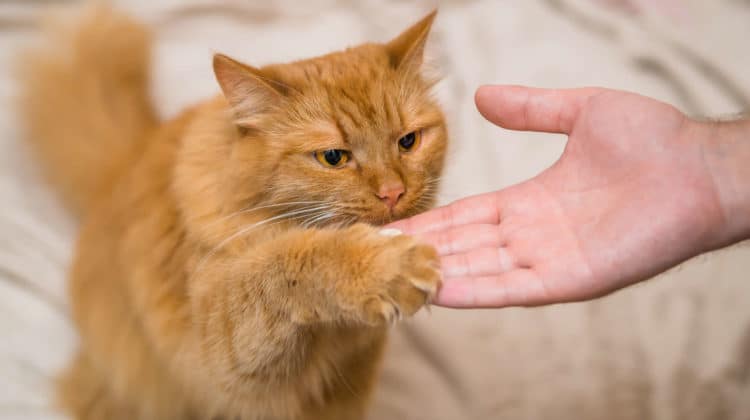 When you hear the word training, you immediately think about dogs, right?
Most of us do, but it is also possible and even necessary to train cats.
Think about it – using the litter is something that cats learn to do, and that's why it's called litter training. Apart from this essential skill, there is a variety of other skills that can improve the way you and your cat interact and live together.
Cats are incredibly intelligent animals that can pick up a wide range of skills if you use the right tools combined with the correct approach.
Below, you will find information on motivating your cat, how to approach training, skill-specific training tips, and ways of overriding some undesired habits.
Cat Training
Many people wonder if it is even possible to train cats. The short answer is, yes, of course!
Cats have an unfounded reputation for being stubborn and uncooperative because of their seeming nature to do whatever they like. This is very unfair to cats because their cognitive abilities are more than enough to make them excellent candidates for learning to do all kinds of stuff.
The vital issue is whether or not they have sufficient incentive to learn them. The way you should approach training your cat is by understanding what motivates and lures her and using that tool effectively.
Whatever it is you are training your cat to do; you should adhere to a few simple rules.
Always keep your training sessions:
Reward-based, with lots of praise
Enjoyable, pleasing, stress-free
Short (a few minutes maximum) but repetitive
Punishment-free
The key is to be patient. Let your cat take her time, and don't try to teach her more than one thing at a time. Be persistent and don't give up easily – which doesn't mean to take your cat hostage for a full day trying to teach her something. What matters is to keep the training sessions enjoyable and not letting them become irritating or frustrating for your cat.
Of course, each cat has a different temperament and varying speeds of learning new things. So, there is no standard timeframe and I can't say to you things like, "you'll see results if you put in x hours of training."
The only thing I can tell you is the way you should approach training your cat. Hopefully, with the essential things in mind, you can expect to train your cat to do almost anything – within reason!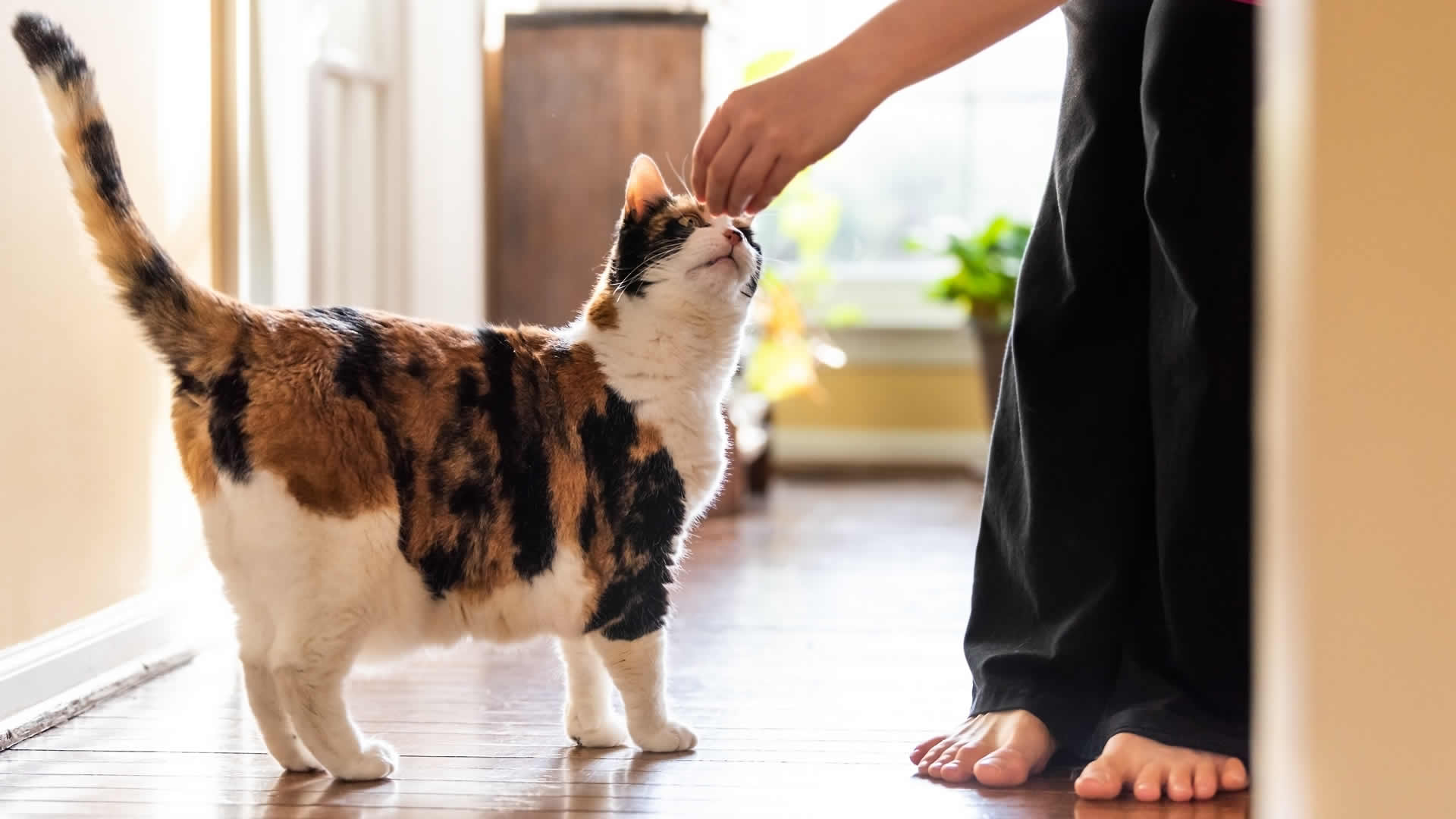 Tools in Training
You will need some tools to be able to train your cat effectively and efficiently.
Treats
As I've said before, cats need a strong incentive to perform the tasks you will be asking of them. They are usually food motivated, so your most helpful tool will be edible treats.
Some cats may also be motivated by a favorite toy or some such thing, but usually, it is food that gets them going. This food will come in the form of tasty treats that can be administered easily during your training sessions.
Choosing the right treats is essential in getting you the results you want. Of course, each cat has a unique taste, so there is no "best" treat I can recommend for you.
However, what I can offer you are a few things you can keep in mind when choosing a treat.
What Kind of Treats Should You Use?
It should be bitesize.
It should be easy to offer rapidly and suitable to carry in your palm and your pocket (you may put them in a plastic bag.)
Whether you should choose a wet or dry treat depends on the taste of your cat, but most treats come in dry "kibble" form. There are also semi-dry treats that are softer and chewier.
Try to choose a treat that has good nutritional value. Look for treats that include real meat in them.
If you are going to be doing a lot of training, you may want to choose a lower calorie treat.
The smellier, the better. Your cat should be attracted to the treat before she gets to eat it so that she is motivated to get it. This is also why you should have your cat smell the treats and take notice of them before the training starts.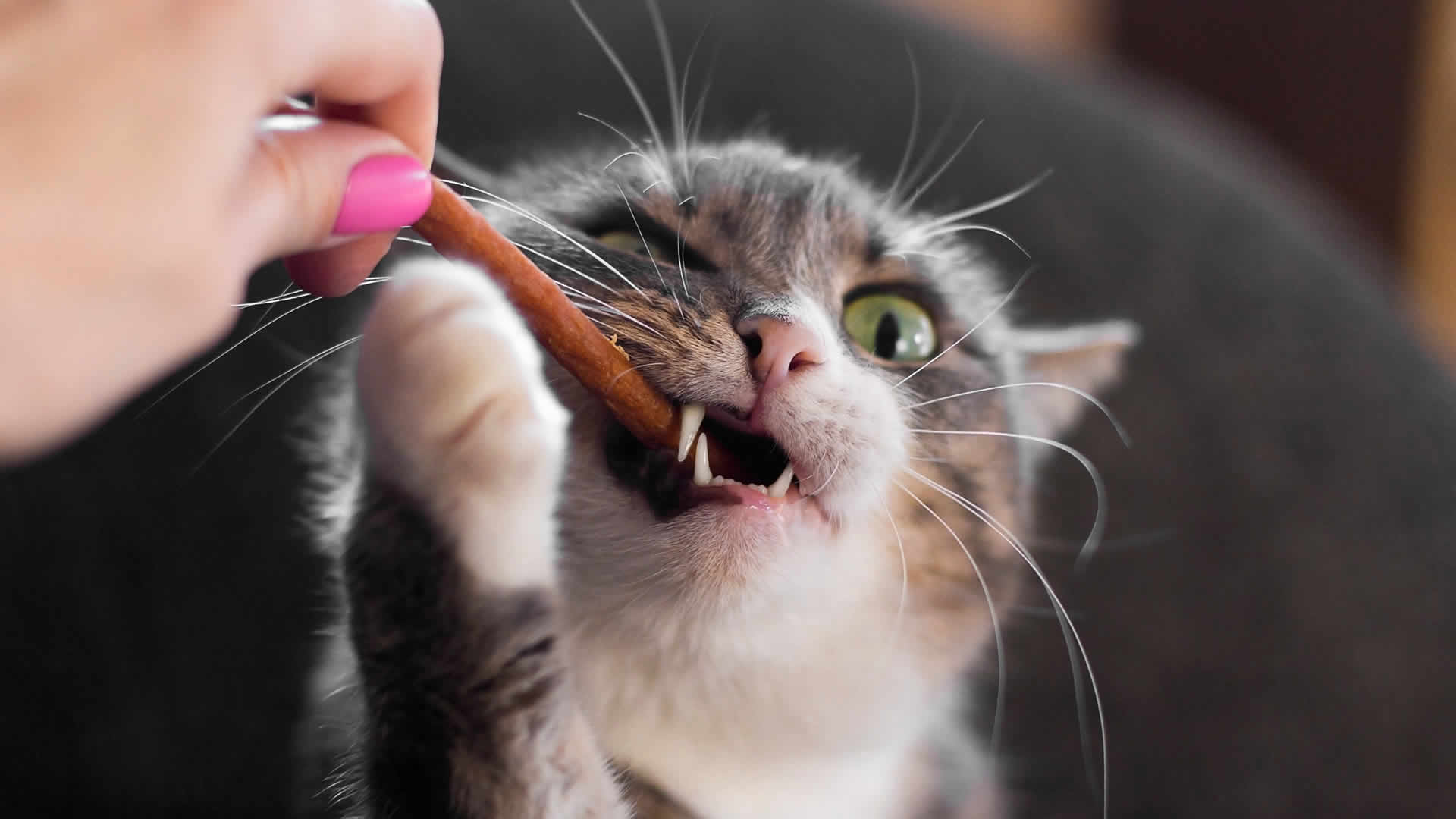 Instead of buying a commercial treat, you can also:
Make your own treats by cutting up pieces of meat, chicken, or fish. This can work pretty well because they will be smelly and mouth-watering for your cat. They will also have better nutritional value than commercial treats. However, it may be harder to keep them at hand and issue them during training.
You can use your cat's normal dry food as a treat, but I would recommend using commercial treats because they are tastier and out of the ordinary for your cat. They can be a lot more motivating than your cat's everyday kibble. Using something that she doesn't always get to eat will also help condition your cat into associating the treats with the task you are training her to do.
Keep in mind: Having the training sessions on a full stomach may not be a very good idea. Since you are motivating her with food, it will work better if she wants to eat. However, never starve her or skip meals to do training sessions!
Clicker Training
Clicker training is a popular method of pet training. It works by conditioning your cat to associate the clicker sound with the desired action you are asking of her.
A clicker is a very simple gadget that makes a distinct "click" sound when you press the button on it. You don't need to have a clicker to utilize this type of training.
You can simply word your command ("sit!", "stay!", "fetch!"), rattle a bell, blow a whistle, shake a tambourine, or do any other thing you can think of that will make a distinct sound.
The basic idea of clicker training is to have your cat associate the sound with the action. Whenever you catch your cat doing the thing you want them to do, you can just hit the clicker and offer a treat. This will help reinforce the behavior and condition your cat to perform it when she hears the click in the future.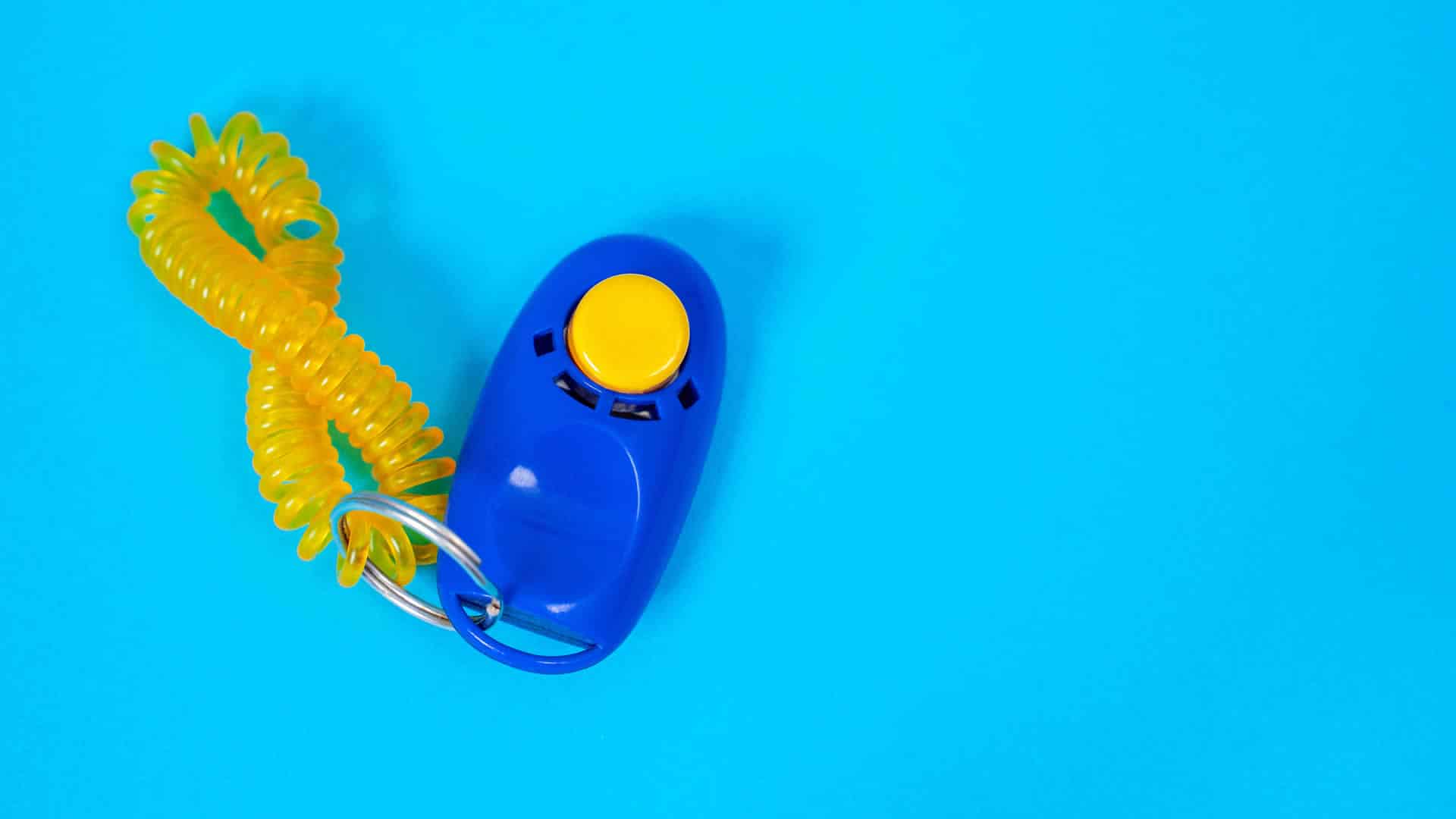 Kitten Training
Common sense tells us that training a younger cat is easier than an older one.
While this is true, it doesn't mean that adult cats are a lost cause. You should not be discouraged to teach your adult cat things that will improve her quality of living. In most cases, having the correct approach and being patient will get you the results you want.
With this being said, if you happen to adopt a kitten, you should benefit from the advantages of her malleability and openness to learn. You may consider starting to teach your kitty some important skills as soon as she hits 3 weeks of age.
You can benefit greatly from the advantage of kittenhood and get your kitty trained in things that will be useful for them (and you) for the remainder of their life.
As soon as they are 3 weeks old, you can slowly start introducing them to the litterbox.
Between 3-7 weeks old, you should try to introduce them to other pets and people if possible. This is a great window to teach them essential social skills. The more they get used to other animals and people, the more comfortable they will be around them throughout their life.
Discouraging destructive habits such as chewing on furniture and objects, scratching carpets, biting, and/or scratching you and others excessively and violently. These formative kittenhood months will establish your kitty's lifelong habits.
You should train your kitten to use the cat carrier. Since they will most likely be visiting the vet occasionally throughout their life, cats must get used to being carried in a carrier.
If your kitten is a breed that needs regular bathing, get them used to water and bathtime.
Optional skills include walking on a leash, responding to commands such as "sit", "stay", "stop", etc.
Keep in mind: Don't overload your kitty by trying to teach her everything at the same time. Start with the essentials and teach one thing at a time. Make sure one skill sticks before you move onto another.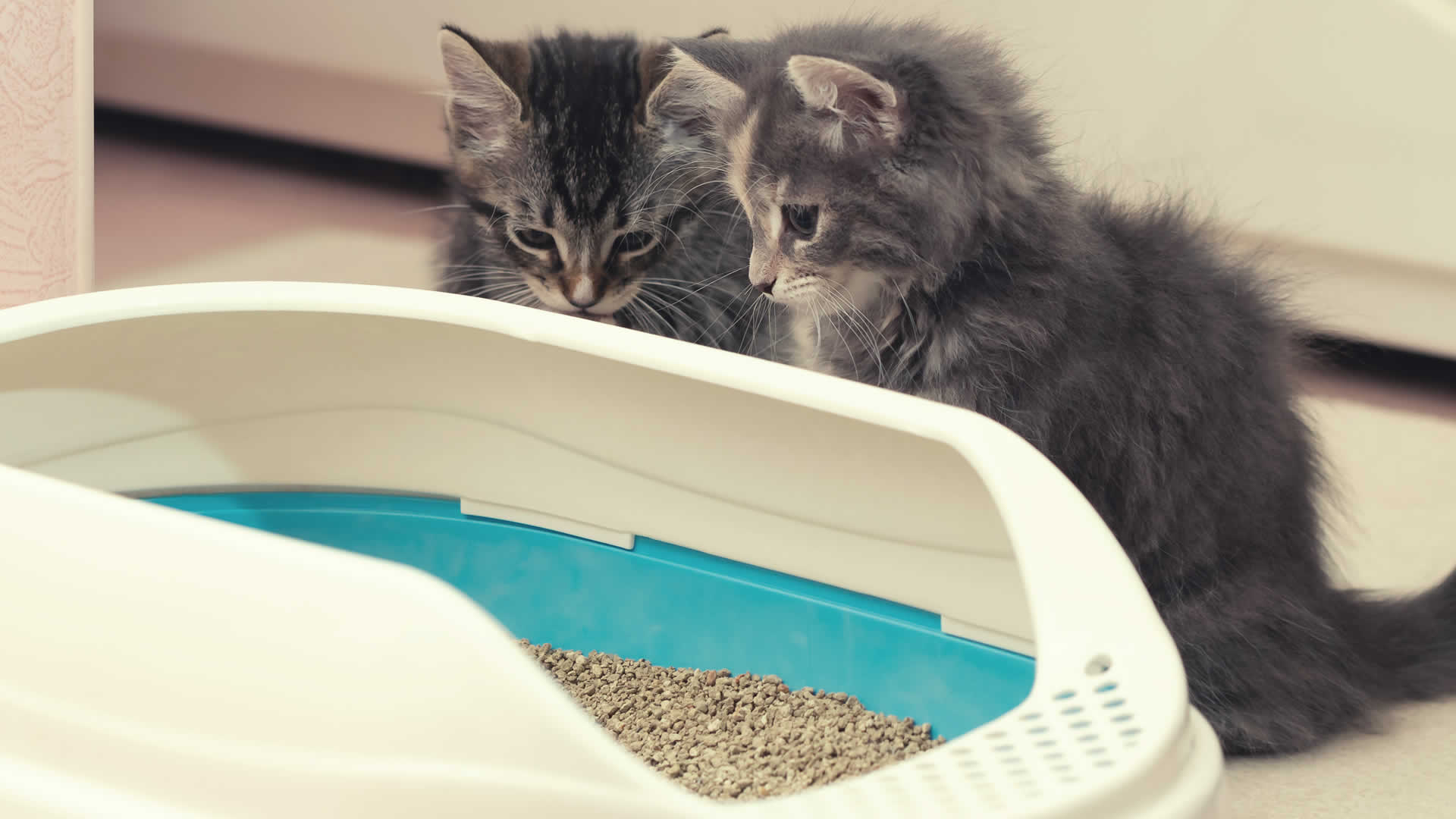 Litter Training
The first thing that comes to mind when talking about cat training is litter training.
Every other area of training in this article is more or less optional, but this is a must. Indoor cats must be litter-trained to maintain hygiene in the environment that you share.
Using a litterbox comes quite naturally to cats. In nature, they like to keep their business private, often using places that are secluded and convenient for covering up their feces. So, this is the easiest training you will ever have to do!
Litter training is ideally done in the kitten stage of cats, but there can be exceptions. Follow the steps below either way, and it will most likely yield good results.
Purchase a suitable litterbox and litter for your cat. Consider the size and decide between covered and uncovered. You may get a covered one initially and remove the cover later on. Make sure you put enough litter and that it is fragrance-free and hypoallergenic.
Place the litterbox in a place where it is very easy to access. Make sure your cat knows where it is and can get to it very easily. There should be no obstacles along the way, like a piece of large furniture or a door blocking its entrance. It should also be placed in a spot that is quiet, secluded, and away from any distractions.
Get your cat accustomed to the litter and litterbox by having them smell it, examine it, spend time in and around it. If you have to, put your cat on it or near it to introduce her to the litterbox. You may even run your hands through the clean litter to demonstrate its quality.
Once your cat uses the litterbox, reward her with a treat and lots of praise!
P.S. If your cat is already litter-trained but refuses to use it, it may be due to a variety of causes varying from psychological issues to urinary tract problems. If you suspect any of these to be the case, observe your cat's litter activities closely and consult your vet as soon as possible.
Training to Use the Toilet
Some cats have successfully been trained to use the toilet that we humans use.
While training your cat to use the toilet is not as difficult as it seems, there are several indisputable reasons why you shouldn't teach your cat this particular skill:
Flushing cat feces down the toilet has serious environmental implications. Cat feces are often carriers of a bacterial disease called toxoplasmosis. This bacteria cannot be filtered in sewage treatment facilities and gets released into the environment, causing health threats to wildlife. This is also why it is not safe to use cat feces as compost, especially for edible plant growing.
In fact, all flush-safe and compostable litters put a disclaimer on their package that warns against flushing down cat poop or using it as compost.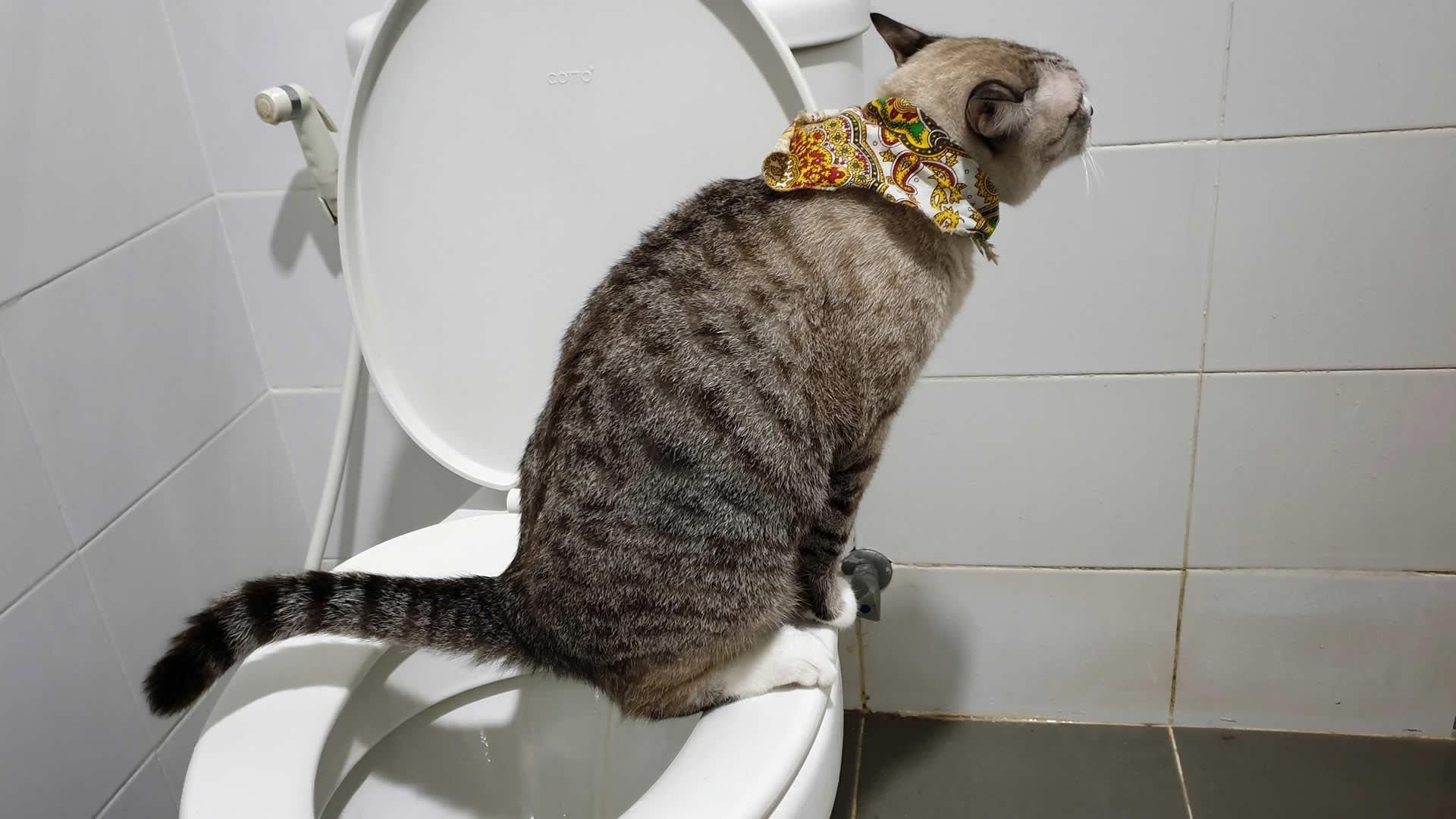 Using a toilet goes against your cat's natural ways of doing her business. There is no litter to dig up, and everything disappears with a flush.
Having access to the toilet may not be as easy as using the litterbox. Someone else may be using the toilet just when your kitty must go, the door to the bathroom may accidentally be left closed, or the toilet seat may have been left upright.
You will be unable to observe your cat's litterbox for tell-tale signs of possible medical issues. If your cat is suffering from things like a UTI, constipation, internal parasites, or kidney problems, checking their litterbox is the most important way of telling if something is out of the ordinary.
With all these things to consider, I would strongly advise against training your cat to use the toilet.
Litter boxes are much safer, healthier, natural, and eco-conscious.
Leash Training
Walking your cat on a leash is certainly not a necessity but may end up being very useful when you need to take your cat someplace like the vet.
It is also an amazing thing to be able to go to a park or run errands with your cat by your side! Think about it, instead of leaving her home alone for hours on end, she gets to enjoy the outdoors with you.
Of course, leash training is one of the more difficult things you may attempt to teach your cat.
There are many variables to consider. For instance, is your cat used to the outdoors? Is she a more active cat or would she prefer to stay home and chill? Will she be open to putting on a harness or is she too defensive? All these factors will play a part in whether or not your cat is suitable for leash training.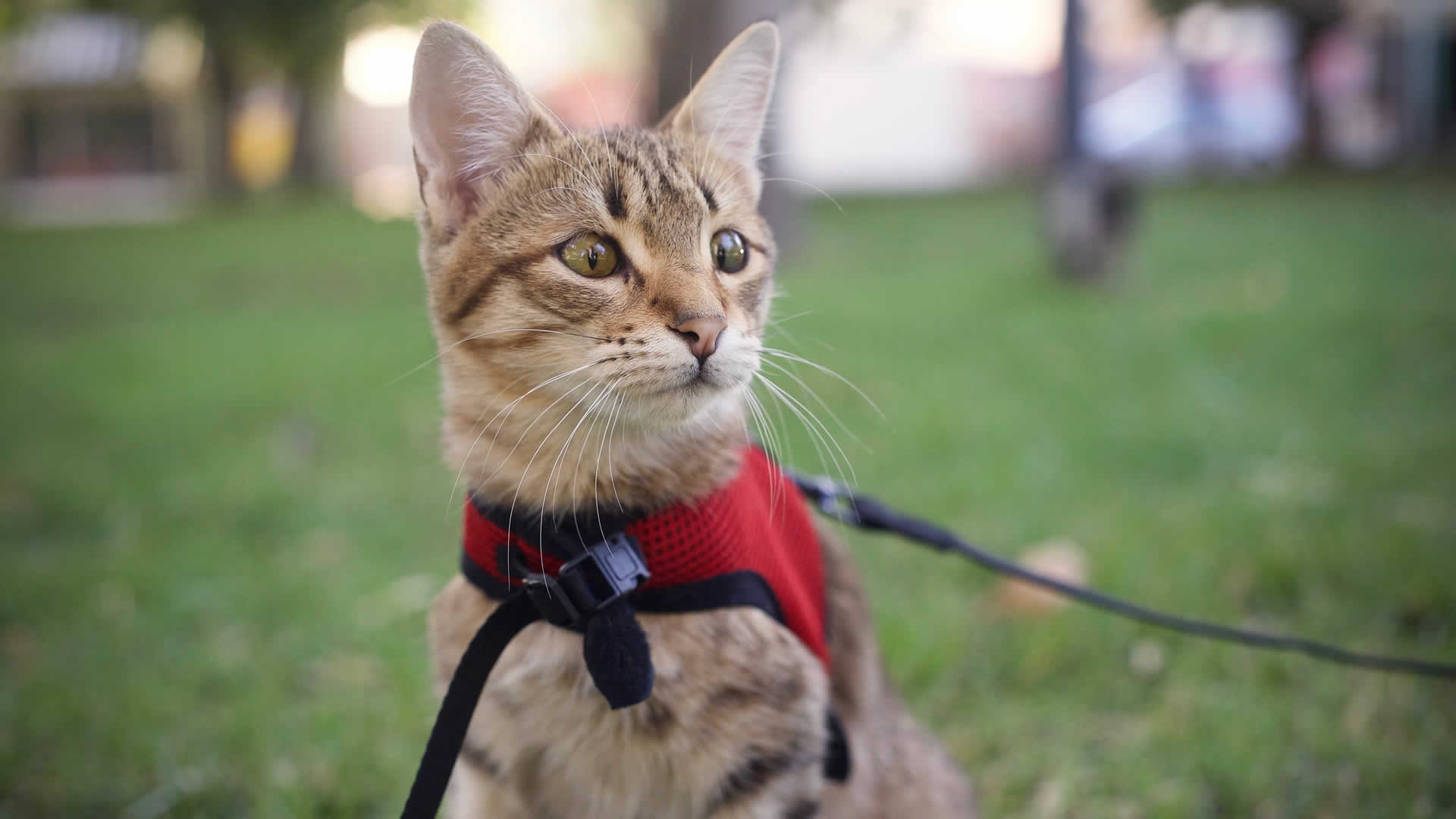 If you think your cat can benefit from this and that she is open to learning, then here are the steps you need to go through to train her for a leash:
First, you need to find a harness that works for your cat. Only using a collar like on dogs is not convenient for cats. It may hurt their neck and they can get out of it quite easily. If you can, take measurements of your cat's torso (around the chest, in between and around the front legs) so that you can purchase a fitting harness.
Introduce your cat to the harness. Let her sniff it and play around with it, get her comfortable with the object itself. Slowly try to put it on her in the guise of playtime. You can utilize treats or things like catnip to make the process easier.
Get her used to wearing the harness without attaching it to a leash. Put the harness on indoors and have your cat spend some time with it on. It is a smart idea to put it on before mealtime so that your cat is distracted while it's on her. See if you need to make adjustments to the straps or try a different harness. Make sure that it is secure and safe so that you don't encounter any surprises when outside.
Give the previous step some time. See how long your cat can go before trying to get the harness off. When she does, release the harness to try again another time. Always use your treats as an incentive and make the whole process as enjoyable and stress-free as possible. Don't pressure your cat into wearing and keeping on the harness.
Still indoors and ideally in a vacant, safe room, attach the leash to the harness. Do not pull on it or apply any pressure. Just hold the other end and follow your cat around. Have your treats at hand and if you can, take a tour around your house.
Keep on practicing the previous step until you feel confident enough to take your cat outside. Practice gently pulling on the leash and calling for your cat. When she responds to your pull, reward her with a treat. You can also use clicker training during this process.
Once you feel confident enough in your training, try it outside in a safe and ideally familiar spot for your cat. If you have a backyard, bingo! If not, go to a peaceful, uncrowded park, away from traffic, close to your house, and don't forget to bring your treats. (Make sure you put the harness and leash on inside.) Also, bring with you a towel and a carrier in case of any panicky reactions where you might have to wrap her up and take her home.
Remember to be patient and take it slow. Don't rush your cat into it and make sure she is comfortable with everything before you attempt leash walking outside.
Training for a Cat Carrier
Getting used to a cat carrier is one of the most useful things you can teach your cat.
It will make life easier for both of you. Not only will it save you time, but it may also increase your likelihood of visiting the vet even for the smallest things, which is always a plus.
So, without further ado, here's a step by step guide to training your cat to get used to her carrier:
Choose a good carrier that is suitable for your cat. Don't try to use anything that is not an actual cat carrier, such as a cardboard box, a laundry basket, a big bag, etc. Your cat should be comfortable, stable, and safe. The carrier should have secure locks, sufficient air entry, and enough room for your cat.
Place the carrier in a place where your cat likes to spend time. Leave its entry open and place some luring things inside, like a favorite toy or a pillow or blanket that your cat likes. Since cats already enjoy enclosed spaces, your cat will likely want to go inside it and explore.
Give it time. Let your cat get acquainted with the carrier as an object. Let her see it as a plaything. If you are playing with your cat, guide her towards the carrier with a wand toy or by throwing a things towards it to fetch. Whenever she enters it, praise her and offer a treat (or utilize clicker training.)
Once your cat starts entering and spending time inside the carrier, try closing the door for a couple of minutes. Open it back up if she reacts negatively, don't insist on keeping her in there. Each time she stays inside awhile with the door closed, give her a treat immediately after.
With your cat inside and the locks closed, pick up the carrier off the ground and walk around indoors. Don't forget to give her a treat after each session. If you find that your cat is doing well with this step, you are ready to try the carrier outside.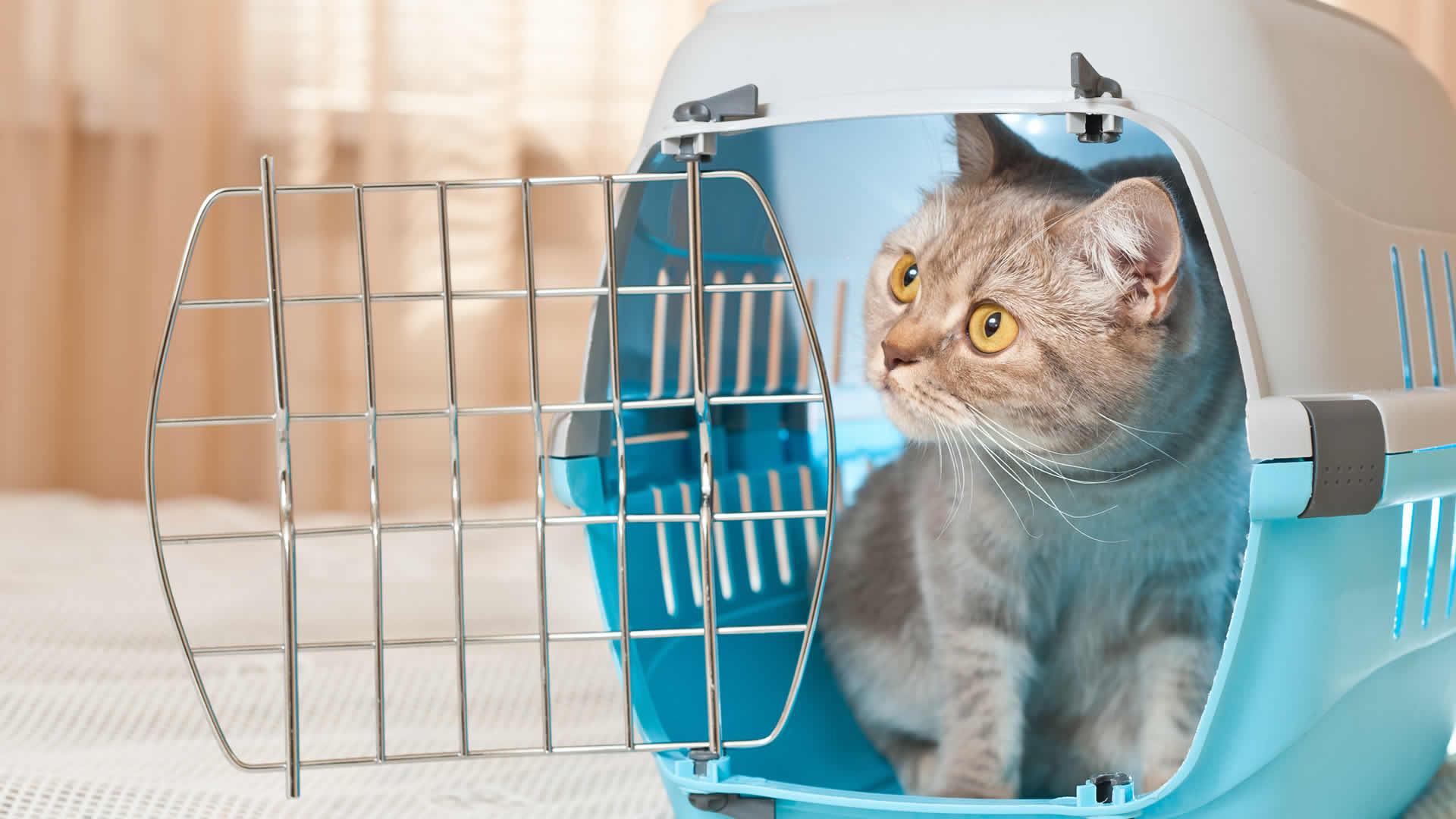 Overcoming Biting and Scratching Habits
Excessive Biting and Scratching
Biting and scratching are typical cat behaviors.
They are a crucial part of playtime, keeps their nails and teeth in good shape, and in some cases even signify affection. However, if these behaviors are excessive in amount and to the point of becoming violent, you will need to deal with the situation.
Usually, these types of behavior displayed in exaggerated frequency are symptoms of an underlying problem. Behavioral problems such as excessive biting and scratching can be a reaction to stress due to environmental dissatisfaction or any type of health issue that may be causing your cat pain and discomfort. Therefore, it is a wise idea to try and figure out what that problem may be, before searching for ways to train your cat out of doing them.
How Can You Discourage Excessive Biting and Scratching?
When displayed excessively, biting and scratching can become permanent destructive habits if you do not change anything. Most likely, your cat has become accustomed to interacting with you through this type of behavior, so you need to adjust your reactions.
Here are some things you can do:
Don't use your hands as toys. If you are playing with your cat, use an actual toy. When your cat tries to attack your legs or arms, do not continue playing. Pull away slowly and voice your pain. Your cat will understand the negativity on your end. If you continue playing as if nothing is wrong, your cat will not know the difference.
Make sure everyone else that engages with your cat also adheres to this rule to make it stick.
Don't agitate your cat during playtime. Playing rough will encourage violent reactions from your cat. Agitating your cat also includes holding and not letting go of her when she doesn't want to be held, or petting her too much. Biting and scratching are things your cat does when she is overstimulated and doesn't want to engage with you anymore.
If your cat starts biting or scratching you out of the blue, be very clear in your discomfort and pain. Even if it doesn't hurt you, you may still exaggerate your pain vocally. Do not interact with her for a while and she will get your point.
All in all, this is a process that may take some time, because you are essentially changing the way you communicate with your cat. Be patient and stick to the rules!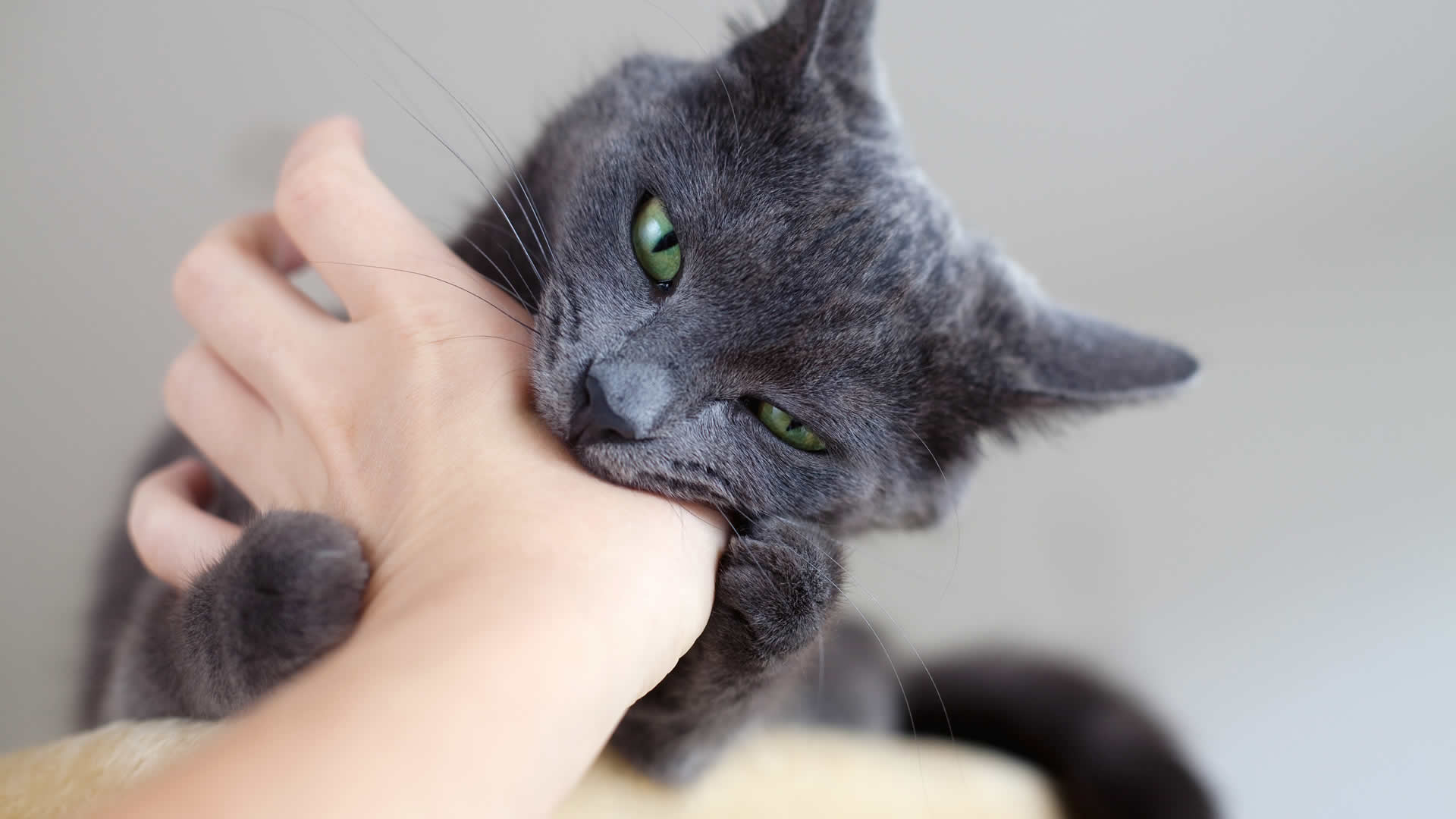 Biting and Scratching Objects and Furniture
When it comes to your cat's habit of scratching and biting inanimate things such as your sofa, phone cords, and rugs, there are a few methods of discouraging her from doing these things.
Purchase a scratching post. A scratching post is useful in replacing your sofa or carpet as your cat's main scratching subject. However, utilizing it effectively may be difficult and take time to get right. You may end up trying different products to find one that your cat likes. You should ideally purchase more than one and place them strategically around places that your cat likes to spend time. You may encourage your cat by offering her a treat whenever she uses the scratching posts.
You may use a variety of cat deterring aids such as repellent smells, and tape strips for furniture. (These methods will also work on phone or electrical cords.)
Make electrical cords inaccessible by covering them up with PVC pipes or blocking them with other furniture.
P.S. You might have heard that some cat owners declaw their cats to stop their scratching. Declawing is a horrible thing to put your cat through because it is essentially an amputation of a part of their digits. You may consider clipping your cat's nails regularly if she is a strictly indoor cat. Cats need sharp nails to defend themselves, so if your cat spends time outside you should not clip her nails.
Training for Simple Commands
It can be hard to believe but training your cat to perform simple actions on command is possible and many people have done it.
These commands may include things such as sitting, fetching something, rolling over, jumping through hoops, or even giving you high-fives!
Training to Sit
It is a smart idea to start with a simple and basic task, such as sitting. This trick can come in handy in a variety of situations and can be the first step in teaching more complicated movements.
The logic of teaching a simple movement such as sitting is to get your cat to take that position by guiding her with the treat.
To get your cat to sit, you should hold the treat a few inches above and slightly in front of her head so that she can see it. After you make sure that you have her attention, move it slowly towards the back of her head. This way, she will follow the treat with her eyes and naturally take a seated position. As she sits, say "sit!" and give her the treat. You can also use a hand signal in addition to vocalizing the command to reinforce your message.
Don't forget to use the command regularly so that your cat doesn't forget it and it sticks with her.
P.S. If you choose, you may also use the aforementioned clicker training technique as a part of this process and all the others listed below. The only thing you need to do is use your clicker whenever your cat performs the desired action, and then give her the treat.
Training to High-five
The same method can be extended to turn sitting into high-fiving.
Once your cat is sitting, initiate movement in her paw with the help of another treat. Even if the movement is a tiny lift of her paw off the ground, praise and offer her the treat.
After a while, keep the treat closed up in your fist and let your cat attempt to reach it with her paw. Whenever she touches your hand, open up your fist, and give her the treat. Keep practicing perfecting the trick.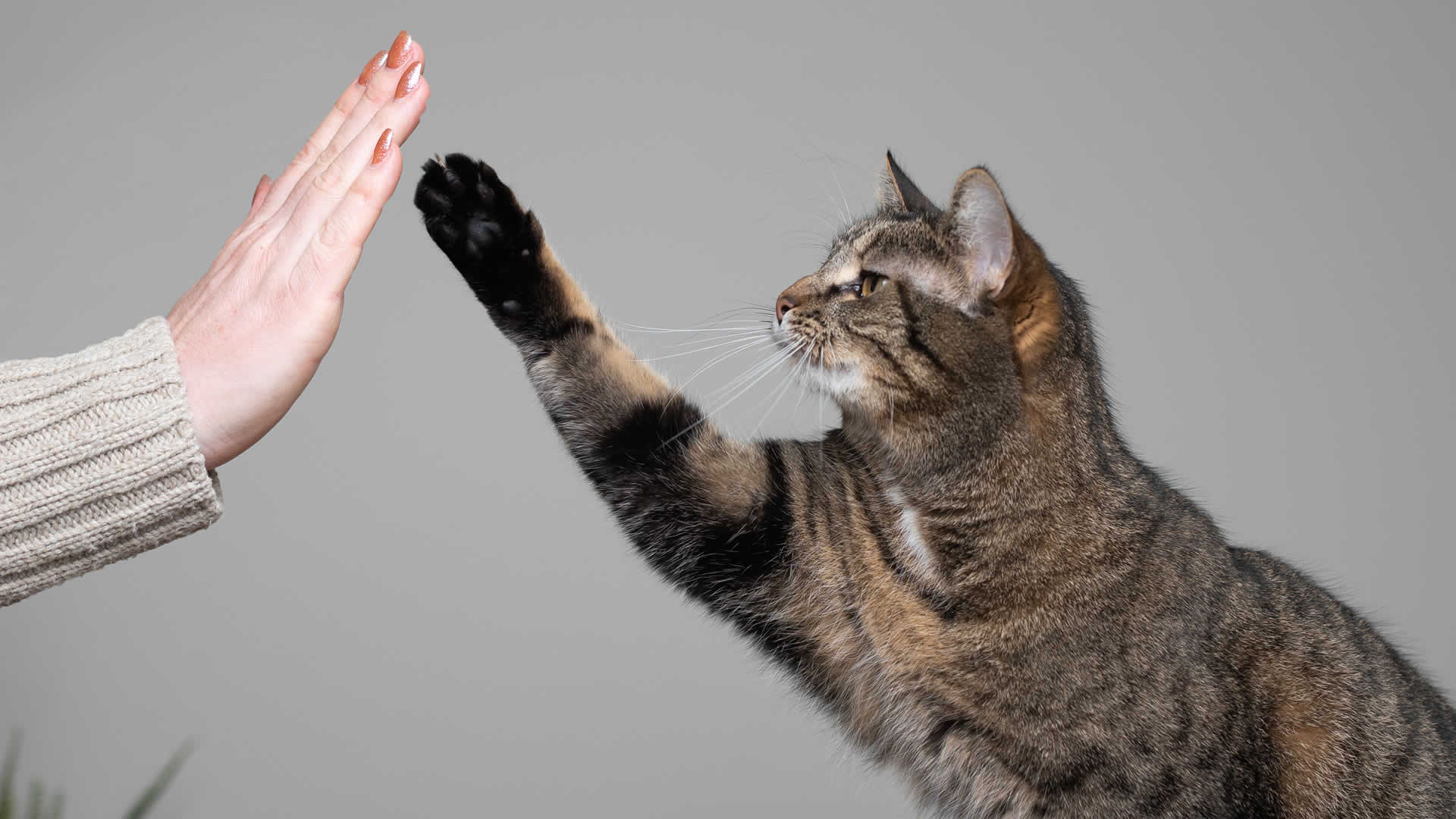 Training to Fetch
This is the typical dog trick, but cats are perfectly capable of fetching too.
The first thing you need to do is choose a luring object, like a favorite toy or a simple crumpled up plastic bag. Then you can make this object even more attractive by smearing something like tuna oil on it. Affiliate your cat with the object and make sure she is interested in it.
Once you have got her attention, throw the object not too far away but a bit out of reach and say "fetch". If your cat goes towards it and grabs it, call her back to you. To make her come to you, you can lure her with a treat. Once she comes back with the toy, give her the treat, and praise her.
Gradually increase the distance of your tosses and always have your treats at hand. After a while, your cat will learn to associate the word "fetch" with bringing back the tossed object and getting the reward.
Acrobatics(!)
I've used the term acrobatics to mean things like jumping through hoops and going under, over, or around certain obstacles. These tricks sound way harder than they are to teach. All you have to do is to manage to lure your cat with treats into whatever you want them to do.
If you want to have your cat jump through a hoop, simply hold the treat close enough but out of reach from her and pass it slowly through the hoop. Make sure you have your cat's full attention and that it is easy for her to follow the treat.
Once she goes through the hoop, reward her with the treat, and don't forget to praise her. Practice makes perfect!
Training to Respect Physical Boundaries
This area of training is about establishing boundaries around places you want your cat to avoid, like on top of the kitchen counters, the coffee table, your bed, any outdoor area outside of your backyard, etc.
Training your cat to adhere to rules about certain boundaries is mainly about being able to deter them from the places you want them to avoid and their inclination to obey your commands.
There is a variety of deterring methods you can consider using:
In outdoor spaces like backyards, you can make sure your cat doesn't leave the premises by utilizing technologies such as ultrasonic outdoor cat repellents or radio wave fences.
For indoor areas, you can also use indoor radio fence for cats.
You can benefit from cat repellent sprays that utilize odors that cats hate like citrus smells. Spraying these on surfaces may help in deterring your cat.
In addition to these deterring aids, there are some training tools you can customize to guide your cat away from unwanted places:
Training your cat to respond to a few simple commands such as calling them to you or having them sit when told will prove useful in avoiding unwanted escapes. For instance, if you want your cat to stay indoors while you exit through the front door, you can command her to "sit" and "stay" while you do so.
To keep your cat off of surfaces like kitchen counters, dinner table, or your bed, you can utilize clicker training. Whenever you catch your cat on the undesired surface, call her to you. Once she responds, click and give a treat. Eventually, your cat will know to leave that surface and come to you at the sound of the click.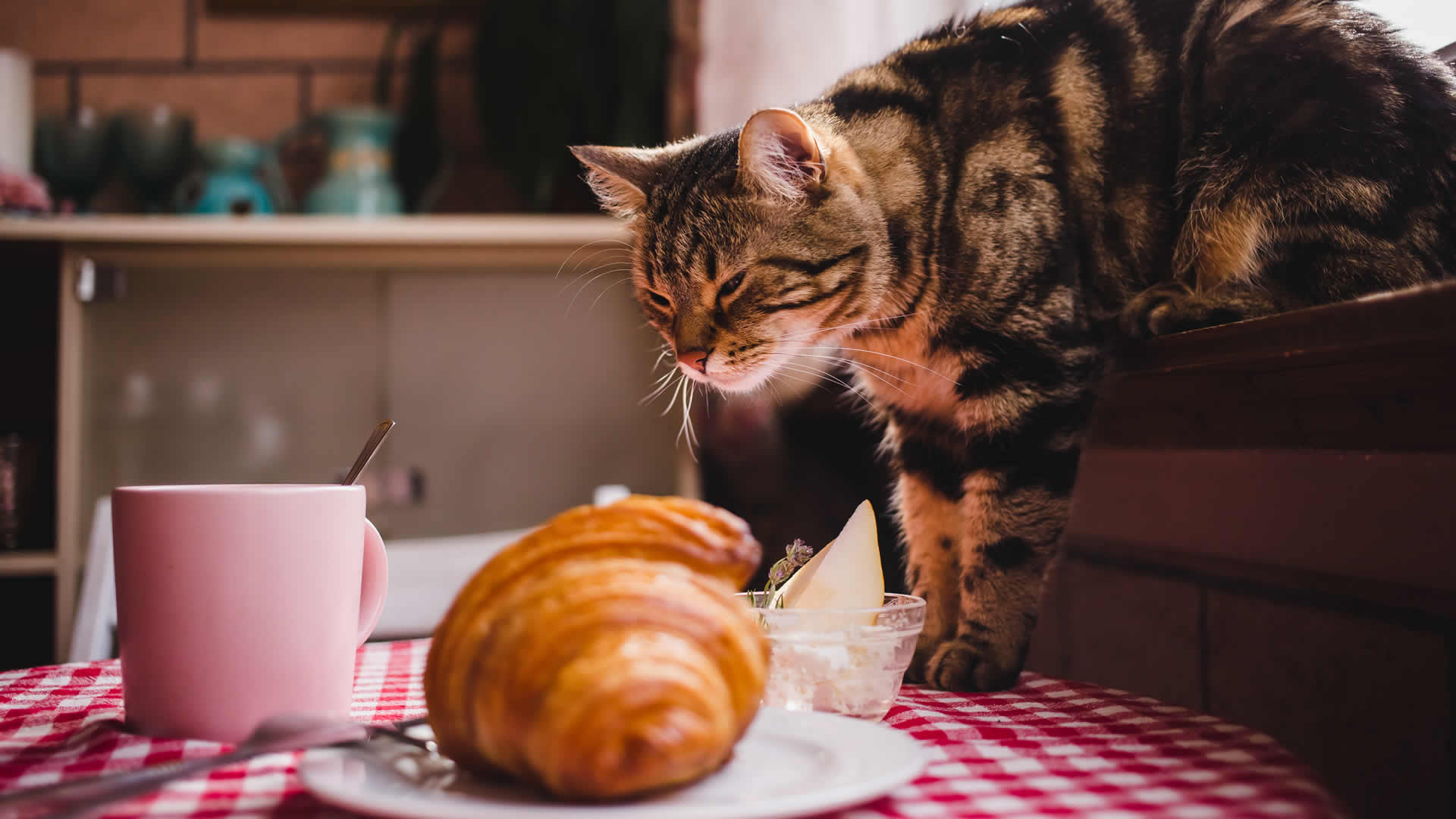 CONCLUSION
As you can see, it is possible and -dare I say- easy to train your cat to acquire a variety of skills that can make life easier for both of you.
Especially if you have a kitten, I would very much advise you to take advantage of her young age and teach some of these skills that will benefit both of you in the future. Things like being comfortable with a carrier, responding to a few simple commands, respecting boundaries, and learning to interact without biting and scratching are wonderful habits for your cat to possess.
As I've said before, adult cats are also perfectly capable of learning new skills. If you think teaching them a skill will improve their quality of life (and yours), go for it! As long as you have your cat's favorite treat and a bit of patience, you can teach her almost anything.