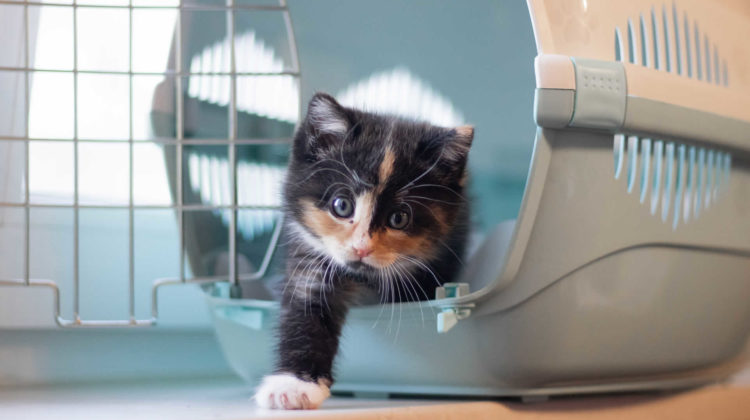 When traveling with your cat, whether it is a trip to the vets, a vacation, or you moving house, you need to use a cat carrier. However, trying to get your cat into their carrier can be challenging and stressful for both you and your cat.
If your cat runs away at the sight of their cat carrier, you're not alone. Many cats get nervous and agitated when being forced into their carriers, and some are more difficult than others. My cat gets extremely nervous and distressed when traveling, whereas some cats will get aggressive and lash out in fear.
Choosing a cat carrier that is right for your cat can help make traveling with your pet easier and less stressful. Unfortunately, knowing what cat carrier to buy can be difficult as there are so many products on the market, from cardboard carriers to sturdy wire ones and everything in between!
Luckily, I have done the hard work for you and found the best cat carrier for cats who hate carriers to make traveling easy, along with some other great products. Take the stress out of traveling you're your cat and try one of these cat carriers for difficult cats today!
My Top Pick
In my opinion, the best cat carrier for cats who hate carriers is the Petmate Two Door Top Load Cat Carrier. With two doors for easy loading, hard and durable sides to withstand escape attempts and long journeys, and lots of ventilation, this cat carrier is ideal for all cats, but specifically for ones that get nervous when traveling. I use this carrier for taking my difficult cat to the vets and switching to this product made the whole experience much less stressful for both of us!
In case this isn't the ideal cat carrier for you and your pet, I've also reviewed some other wonderful products down below.
Best Cat Carrier for Cats Who Hate Carriers
Before I review each of my top products and tell you why they are so great, I want to talk you through how I came to form this list. When choosing a cat carrier for difficult cats, there are a few things you need to consider.
Size: Cat carriers need to be large enough for your cat to at least lay down comfortably and move around freely. However, cats do enjoy enclosed and cozy spaces, so I didn't want a carrier that was too big either.
Opening: How the carrier opens can also make putting your cat inside the carrier much easier. Top entry carriers are the easiest for putting your cat in from above, whereas it is easier to train your cat to use their carrier if it is a front entry design.
Material: The carrier also needs to be made from a strong and sturdy material. This helps your cat feel safer and more secure which can help lower their stress levels, as well as being more durable if your cat gets aggressive when traveling.
Ventilation: I also looked for a cat carrier that had good ventilation, which is important to stop your cat from overheating. This could cause them more stress, and the more comfortable they are in the carrier, the better.
Easy to Clean: I also wanted a carrier that was easy to clean. This will help lengthen the lifespan of the carrier and ensure your cat won't pick up any infections. If your cat gets super nervous and vomits or urinates on the journey, having an easy to clean carrier is also a top priority!
Now you know what I was basing my search on, here are the best cat carriers for cats that hate carriers.
The best cat carrier for nervous cats is the Petmate Two Door Top Load Cat Carrier. This carrier is made from durable plastic with a metal grate, making it strong enough to last a lifetime and safely transport your pet from A to B. The plastic also wipes clean exceptionally easily.
What I love most about this carrier is that it has both a front and top entry door. This means if your cat is being difficult, you can easily load them into the carrier from the top. However, you can also easily train your cat by using the front door, which is great! Both entrances are extremely large, so your cat won't feel claustrophobic having to squeeze in and out of the carrier. Plus, this makes it easy to reach inside and clean.
Both doors also have secure lock mechanisms that also conveniently open and close using one hand. This is ideal if you've got your hands full, as you can easily put your cat in the carrier hassle-free. You can also rest assured that the locks are secure enough and know that your cat won't escape.
On top of this, I also love that this carrier is huge and there's plenty of ventilation, so when using this carrier your cat will be much more comfortable and relaxed. My cats are always nervous about traveling, and while this carrier can't work magic, they are definitely less stressed in this.
Pros
Large in size measuring 24" by 15"
Durable and easy to clean plastic material
Secure one-handed locking mechanism
Top and front entry doors with large openings
Extremely well ventilated
Cons
Hard material so best adding a blanket or cushion for comfort
If your cat tries to claw and bite their way out of their cat carrier, then the Petmate Sky Kennel may be the best product for you. This carrier is designed for use in an aircraft and so is made to be extremely durable, meaning it can easily withstand a few escape attempts from your kitty.
For me, the door is again a strong point. Whereas this carrier does only have a front entrance which makes it slightly more difficult for loading your cat inside, the door has a four-way vault for maximum security. This means no matter how much the carrier or your cat moves around, the door is prevented from sliding out of place and accidentally falling open.
It is also made of durable plastic and a steel wire grate on the door and sides for heavy-duty protection. The ventilation also creates a breathable environment to help destress your kitty, while the robust plastic is easy to clean.
This carrier is designed for cats and dogs, and so it comes in a range of sizes, from 21" up to 48"! Whereas the 21" carrier is still plenty large enough for most cats, if you have a Maine Coon or another large breed, knowing that there are bigger sizes to choose from is another huge perk.
Pros
Four-way vault door for added security
360-degree ventilation for fresh air and visibility
Meets most airline cargo specifications
Durable plastic material and steel wire door
Available in a range of large sizes
Cons
Next up we have the Richell Double Door Pet Carrier, which is perfect for anxious cats who hate carriers due to its two-door design. You can use the top-loading door to easily place your cat inside their carrier, and the front entry door for letting your cat out the box when at the destination, or when training them to use their carrier.
The mechanisms behind the doors are also great, as the front door can be opened from either left or right for convenience. Alternatively, the front door can be removed completely, meaning the carrier can double up as a pet house too!
I also love that the top entry door is clear. This is great for you as it allows for easy loading of your cat and dog, and great for your cat as it lets light into the carrier and helps animals that feel claustrophobic experience less stress. A seatbelt strap also attaches through the handle on the top door for safe transportation when driving.
There is also ventilation on all sides of the carrier, helping to prevent your feline from overheating. Plus, the carrier is made of durable plastic and is easy to clean, especially with the double door design.
You can purchase the cat carrier in three different colors and have the choice of a small or medium size. If choosing a carrier for cats who hate carriers, opt for the larger size which measures in at 20.7" by 13". This is slightly smaller than other cat carriers, but should still be large enough for the majority of breeds to comfortably use.
Pros
Double door design for easy loading
Clear top door with a seatbelt attachment
Removable front door to double as a pet house
Ventilation on all sides
Wipe clean durable plastic material
Available in multiple colors and sizes
Cons
Medium size is smaller than most carriers
Cat carriers can be expensive, but if you're on a budget, the AmazonBasics Two-Door Top-Load Pet Travel Carrier is your savior. This 23" cat carrier has a range of great features that are must-haves for nervous or aggressive cats but at a bargain price.
This cat carrier again has a smart two-door design, making it perfect for nervous cats as it is much easier for you to load them into the carrier. The top door can be opened from either side for added convenience, and the front door is made from steel for added strength and security. Plus, the doors have spring-loaded latches to make opening and closing smooth.
If you've got a cat that makes a mess when traveling, you'll also love how easy this cat carrier is to clean. The top and bottom half unclip and detach from each other completely. This means you can easily clean up any accidents and ensure your cat always has a clean carrier to travel in. What's more, it is made from an easy to clean plastic material that doesn't cling to dirt and that is super durable to withstand all the knocks and bumps with traveling, or a particularly riled up kitty!
The only downside of this cat carrier is that it does not offer much visibility once your cat is inside, other than through the front door. This can make it more difficult for you to keep an eye on them and check they are doing okay.
Pros
Bargain price for owners on a budget
Top and front-loading doors
Two halves unclip for easy cleaning
Durable plastic material and steel wire door
Top door conveniently opens left and right
Large in size measuring 23" by 15"
Cons
Poor visibility apart from out the front door
Next up is the Sport Pet Foldable Travel Cat Carrier. If you are tight for space at home and are worrying about where you are going to keep a large cat carrier, this product could be ideal as it is collapsible. However, because the carrier is collapsible, I wouldn't recommend this for difficult cats that get aggressive.
That being said, if your cat is difficult in the sense that they get nervous and distressed, this carrier is perfect. Cats feel comfortable walking into the carrier as it has an ultra-wide side opening door, and you can purchase it with a waterproof bed for added comfort. I'd recommend leaving the carrier out open overnight for your furry feline to curl up in, then in the morning close the door and you're good to go!
The waterproof bed is also ideal for nervous cats as if they do have any accidents, the bed will not be ruined. Plus, you can easily take the bed out and wash it in the washing machine for easy cleaning. The carrier itself is made from durable plastic, so this is again ideal for convenient cleaning.
The shape of this design is also unique and less claustrophobic for cats, which is fantastic news for owners of cats who hate carriers. It is a slightly smaller design, but because of the wide entrance and the well-ventilated space, it is comfortable enough for cats of up to 25lbs. If you have more than one cat or a large breed, there is also an XL version available.
Pros
Collapsible so perfect for smaller spaces
Comes with a comfortable waterproof bed
XL size available
Easy to clean plastic and machine washable bed
Ultra-wide side opening door
Cons
Collapsible means it's not as suitable for aggressive cats
If you can't find a traditional cat carrier that your kitty likes, why not try the Beikott Backpack Carrier for Cats? Unlike normal handheld cat carriers, this product is worn on your back just like a normal backpack. Many cats will find this more stable and thus feel less stressed when inside.
For this same reason, I also recommend this carrier for anyone that is going to be traveling with their cat frequently. As the carrier conveniently fits on your shoulder you will have your hands free to carry the rest of your luggage. This makes traveling easier for both of you. Plus, it is approved by most major airlines and can fit under the seat in front of you.
Another reason why this carrier is great for cats that hate carriers is that the entire front of the backpack is a clear dome. By allowing your cat to have a clear vision of what is happening in the outside world, they'll more likely feel at ease. Besides, this bubble-like part is solid and scratch-resistant, ideal for aggressive cats and their sharp claws.
I also love that the entire front of the backpack unzips. This gives your cat plenty of space to climb in and out to help them relax more. In case of accidents, the base is removable and can be washed. There is also plenty of ventilation holes so your cat can breathe easily.
Pros
Unique carrier design which your cat may prefer
Ideal for traveling and airline approved
Scratch-resistant so great for aggressive cats
Large entrance point as entire front unzips
Completely transparent front side
Mat is removable and washable
Cons
Can only hold cats weighing up to 12lbs
Are you looking for a cat carrier for nervous cats but have a large breed such as a Maine Coon? If so, the Frieq 23-inch Large Hard Cover Pet Carrier could be for you. Designed with bigger breeds in mind, this product can carry cats weighing up to 26 lbs!
This product is great for any cats that are nervous of cat carriers. Firstly, it is made from a premium quality hard material that can withstand a few attacks from difficult kitties. It also has a top and front entrance, so you have two options for coaxing your cat inside.
Additionally, the base of this product deserves a special mention. It is waterproof so if your cat does have any accidents on the journey you don't need to worry. It also comes with a comfortable bed to help your cat get cozy and relax. This is removable for easy cleaning and helps with shock reduction for a smoother transit from A to B and less stress for your cat.
Another perk is that that carrier easily disassembles into four parts – the top, the middle, the bed, and the base. This means it is very easy to clean as you can clean each part separately. At the same time, it takes up little storage space in your home.
Your pet will also love the see-through door so they can see the outside world. Moreover, there is ventilation on all four sides and a soft-grip handle to ensure it's easy to hold. However, the clear mesh window can be a means of escape if you have a particularly aggressive or persistent cat.
Pros
Can hold cats that weigh up to 26lbs
Disassembles into four for easy cleaning
Waterproof base and washable bed
Foldable design for easy storage
Great ventilation on all sides
Mesh door to see the outside world
Cons
Mesh window can be chewed through
Many cats hate carriers as they feel super unstable when riding inside them. For this reason, the Petsfit Rolling Pet Breathable Carrier might be a good solution. Unlike traditional handheld cat carriers, this product has wheels and a retractable handle. It can be rolled along the floor for a stable and bump-free ride.
This is also a great carrier for difficult cats as it offers both top and front entry. The top entrance makes it easy to put a scared cat inside, whereas you can train your kitty to use the front entrance over time. Equally, these dual doors make it easier to get your cat out when you reach your final destination.
A few other perks of this cat carrier include that it can hold cats weighing up to 28lbs, is foldable for easy storage, and has a handy side pocket to store extra bits and pieces. There is even the option to remove the wheels and use this product as a handheld carrier if you wish.
However, there are a few drawbacks. For one, it is a soft-sided carrier and so isn't great for aggressive cats. They might be able to break their way out and rip the material. Additionally, its large size means that it isn't appropriate for use on airplanes and smaller breeds might prefer a cozier space.
Pros
Has wheels for a smooth bump-free ride
Option to be used as a handheld carrier
Foldable for easy storage
Can carry cats weighing up to 28lbs
Two-way entry design
Cons
Not suitable for use on airplanes
Soft-sides and inappropriate for aggressive cats
One of the features a cat carrier for scared cats needs to have is a good view of the outside world. This can help cats feel assured that they have nothing to worry about. The Yafeco Pet Carrier Space Capsule is great for this reason – with two totally transparent sides it offers and an unparalleled view of the outside world that's bound to settle your cat's nerves.
The carrier itself is made mostly of a polymeric EVA material. This means the carrier is lightweight and portable yet durable. You also won't have any issues with cleaning as the material wipes clean with a damp cloth. Plus, the product is waterproof. This is great for keeping your cat dry and containing any nervous bathroom accidents!
Another great aspect of this cat carrier is its ventilation system. There are holes to allow for the passage of air on both sides of the bag and the top. There is then a mesh panel to further enhance breathability. However, this mesh panel is less secure than other options on this list, so I suggest choosing another product if you have an aggressive cat.
The only other downside is the size. This cat carrier is only really suitable for cats weighing 10lbs and under. It isn't sturdy enough or large enough to comfortably house cats any larger than this.
Pros
Two transparent sides for great visibility of outside
Lightweight and portable material
Waterproof design and very easy to clean
Super stylish and allows you to show off your pet
Well-ventilated and breathable
Cons
Not suitable for large breeds or overweight cats
Not as secure as some other carriers
Finally, I bring you the Aiwo Pet Hard-Sided Carrier. I like this product as it has several innovative features that make this product more practical than others. One example is the hidden food container in the front window so you never need to worry about your cat getting hungry when on the road. You can even pop this out and stroke your cat while they're safely inside.
Another practical feature is the battery-powered night light. This makes the carrier perfect for nighttime travel and can comfort scared and nervous cats when on the move in the dark. You can also keep an eye on your cat more easily, even in low light levels.
Because this product is hard-sided, it is a great cat carrier for difficult cats. The majority of this carrier is made from high-quality ABS material, a hard and durable polymer. Even if your cat does try to scratch at the walls and escape, they'll have a hard time being successful. Additionally, this product isn't collapsable or foldable so is more durable and long-lasting.
I'm also a fan of the advanced ventilation system used in the design. It doesn't have typical vents usually seen in cat carriers; instead, there is a 3v whirlpool fan and three air outlets, one located on each side. This manually ensures air is circulating consistently so your cat can breathe easy. In fact, all the air inside the carrier is replaced every 30 seconds!
Finally, this innovative carrier has curved edges on the inside. This means your cat can roll over at will for a more comfortable experience. Plus, it's airline-approved and comes with a shoulder strap and top handle. Unfortunately, the carrier does only have one entrance, but with all the other perks I still think it's a fantastic product.
Pros
Hidden food container
Nightlight for nighttime travel
Hard-sided and durable
Innovative and advanced ventilation system
Easy to clean ABS material
Non-foldable and more secure
Cons
Cat Carrier for Cats Who Hate Carriers Buying Guide
Finding a great cat carrier is hard work, and finding a carrier that is suitable for difficult cats who despise traveling is even more difficult. My favorite products are fantastic and provide a sturdy and safe means of transport while reducing stress both for your cat and yourself.
That being said, I understand you may wish to shop around and search for products yourself. If so, here are some important things to keep in mind so that you can find the best carrier for nervous cats.
Material
What the carrier is made of is such an important consideration for several reasons, and I would always opt for a hard carrier where possible.
Hard carriers are more durable and provide a sturdier and safer space for your cat, so if anything was to fall onto the carrier, they are protected. They are also much easier to clean as most are made from robust plastic and dirt can easily and conveniently be wiped off.
The material of the door is also important, and you should opt for a steel-wire door or another strong metal so that your cat doesn't manage to break free. The hinges and functioning of a metal door are also more likely to stand the test of time.
Other options for cat carriers are cardboard carriers or soft carriers. Cardboard carriers are a terrible option, especially for difficult cats as they can easily scratch and rip through the material and manage to breakout. Nervous cats may also have accidents in the carrier, and urine, vomit, or any other liquids will make the cardboard soggy and the carrier will disintegrate.
Soft carriers are also a poor option as distressed cats can tear through the mesh ventilation panels. These carriers also zip up rather than having hinged doors, and if you have an agitated cat, then trying to do the carrier up could lead to caught tails which will cause even more upset for your kitty.
Size
Size is also an important factor. You need to choose a cat carrier that is large enough for your cat to comfortably stand up in and turn around. This will make them feel more comfortable and reduce their anxiety, plus it will be easier for you to place your cat in a carrier that is the correct size.
However, don't opt for the biggest carrier possible. Cats like enclosed and cozy spaces, which is why they often curl up in empty cardboard boxes or underneath furniture. Therefore, if your carrier is too big, it can make your cat feel even more afraid! It can also be unsafe using a larger cat carrier than needed as your cat could tumble around during the journey.
Obviously, every cat is unique with some breeds larger than others, so only you will be able to determine the perfect size. As a general rule of thumb, you want a carrier that is 1.5 times the size of your cat.
Ventilation
You will also want to only use carriers that have good ventilation, ideally on all sides of the carrier but on two sides as a bare minimum.
Well ventilated carriers are safer for your cat as they prevent your cat from overheating or suffocating. By creating a comfortable environment, anxious cats are more likely to settle down in the carrier throughout the journey. Ventilation also makes it easier for you to keep an eye on your nervous cat as you travel.
Entry
The entry of a cat carrier is also an important thing to think about. I personally think a top entry design will make the best cat carrier for cats who hate carriers as it is much easier to load your cat in from above than front on.
However, when training a cat to use its carrier, a front entrance design with a removable top is preferable. You can take the whole top half of the carrier off to get them used to it. These carriers are also great for nervous cats who don't like the vets, as the vet can remove the top half of the carrier and examine your pet from there, rather than causing more upset by taking your cat out of the carrier, only to go back in it again for the journey home.
Therefore, where possible, opt for a design that has both! This way, it will be easy for you to get your cat in and out of their carrier, easier for you to train them to like it, and better for anxious cats who don't deal with vets well.
How to Set Up Your Cat Carrier
Although finding the best cat carrier for nervous cats is the biggest hurdle to climb, you also need to set your cat carrier up correctly. This will make your cat feel as comfortable as they possibly can and makes them less stressed and anxious. Use these tips to make your carrier as inviting as possible.
Bedding: Place bedding on the base of the carrier to help your cat feel comfortable and to catch any toilet accidents en route. Even just an old towel can give your cat something comfier than a cold plastic carrier, and it does a good job at catching spills. If you do use a blanket or bed, make sure it is machine washable just in case.
Pheromone Spray: You can also spray a pheromone spray which sends happy "messages" produced naturally by cats into the carrier to help calm their nerves and produce happy thoughts. If your cat responds to catnip, this will also produce similar effects.
Cover: Covering the cat carrier with a familiar blanket or towel can also provide added reassurance to your cat as the familiar scent is comforting. Plus, cats like hidden spaces and so the darkness can help frightened cats feel secure.
How to Put a Nervous Cat in a Carrier
Once your carrier is set up, you will need to put your cat inside it. However, this is where the real challenge comes in!
Luckily, by following these steps to perform the towel wrap technique, you'll be able to make the process as smooth as possible.
Have the cat carrier open and ready, but try to avoid letting your cat see it.
Calmly approach your cat from behind and in one quick motion, place a blanket over them entirely, including their whole body and their head.
Pick up your cat from their shoulders and tuck the end of the blanket up underneath them.
Place the cat directly into the cat carrier and shut the door.
Cover the carrier immediately with a large blanket.
This is an ideal way to put your nervous cat into a carrier safely. By wrapping them in a blanket, you are avoiding them seeing the carrier before and getting nervous prematurely. You are also protecting yourself from any scratches if your cat gets aggressive when they're scared.
How to Train a Cat to Use a Carrier
Although the above technique works well, long term you should look at training your cat to use their carrier so that they have a less stressful life.
After first purchasing your carrier, leave it open in a quiet space in a room they usually go in and leave them to explore it at their own pace. This is why side entry designs are best for training, as they are more likely to explore inside and view it as less of a threat. If you have a really nervous cat, unclip the top half while they are still getting used to it.
Once they have had an explore, move their bed to inside the carrier and spray it with catnip or place a treat in the cat carrier. This will help your cat to associate the cat carrier with positive outcomes, rather than being anxious and stressed out about vet appointments or car journeys. Repeat this process and give more treats to your cat while they are happily in the carrier to encourage them to spend longer inside.
When they can happily spend several minutes in the carrier, try closing the door on them. However, don't rush this step or it could undo the whole process so far! Repeat this a few times until your cat is unphased by it, and then start lifting the carrier so that they can get used to the feeling of being transported. You can cover the entrance with a towel or blanket if this helps calm their nerves.
By following this process, you should help diminish any worries your cat feels about traveling in their carrier, and make traveling with your cat easy and stress-free! Remember, even if you are not using your carrier, leaving it out in a visible location and giving them treats in it from time to time can really help the positive associations stick.
FAQs
Q: Do cats prefer hard or soft carriers?
A: Cats prefer hard carriers as they feel more safe and secure, and for cats that are anxious and aggressive when traveling, hard carriers will also withstand biting, clawing, and scratching much better. Some passive cats that are good at traveling already may be comfortable in a soft carrier, but generally hard carriers are best.
Q: How big should a cat carrier be?
A: Cat carriers should be 1.5 times the size of your cat to give them enough space to move around while still being cozy and safe. For example, if your cat is 18 inches long not including the tail, the cat carrier should be approximately 27" long.
Q: Can two cats travel in one carrier?
A: Yes, two cats can travel in one carrier as long as it is large enough to hold two cats. However, if you know your cat gets aggressive when traveling, it is best to use two separate carriers.
Q: Why do cats hate their carriers?
A: Cats don't like their carriers as they carry bad connotations as are often involved with going to the vets. Most cats will only see their carriers when they have an appointment at the vets, and so it isn't actually the carrier that your cat hates, but rather what they know is coming next.
Q: What is the best carrier for cats who hate carriers?
A: In my opinion, the best carrier for difficult cats who hate traveling is the Petmate Two Door Top Load Cat Carrier, as it is durable and scratch-resistant, has two entrances for easy loading, and is simple to clean.
MY FINAL THOUGHTS
Taking your cat on a journey is never going to be a fun experience, especially if you have a nervous cat that gets sick or aggressive every time you pull out their carrier. However, purchasing one of these products will undoubtedly help make things easier, meaning both you and your cat will be less stressed.
Whether you choose one of the cat carriers I have reviewed or use the buying guide to find the best cat carrier for cats who hate carriers, be sure to use the other tips and tricks I've mentioned to make traveling with your cat even easier! It doesn't need to be stressful, so don't let it be.