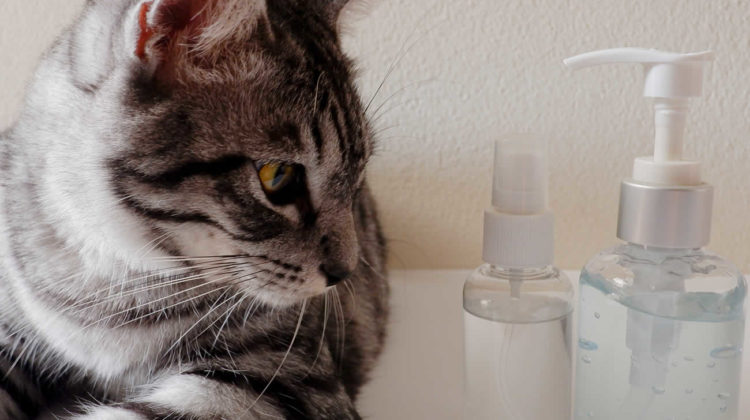 "What smells do cats hate?" is a question many owners ask. Some time ago, my first reaction to this question was another question: why would I need to know smells that cats hate? Is it out of pure trivial curiosity that people research this topic, or does it have a practical implication?
Later on, circumstances put me in a situation where I found myself typing this question into Google. As it turns out, knowing which smells repel cats can help set some boundaries around your house. It's also useful knowledge for non-cat owners who want to keep neighbors' cats from entering their garden.
As much as I don't like the idea of subjecting my cat to a smell that she doesn't like, it can be a handy tool in keeping her away from certain places, as long as it doesn't harm her in any way. In this article, I run through twelve smells cats hate and suggest how these scents can be used as repellents.
Besides cat repellent sprays, there are many other methods of deterring cats for different circumstances, both indoors and outdoors. If you're after a quick and effective solution, here are my top picks for cat repellent sprays, indoor and outdoor invisible fences, and furniture strips:
My Top Picks (Commercial Cat Repellents)
Nature's Miracle is a cat deterrent spray with a simple formula containing cinnamon, lemongrass, and rosemary oils. It smells great to people (but cats hate the scent!) and proves to be effective when applied consistently. It is suitable for both fabric and hard surfaces and reasonably priced.
The NaturVet is a cat deterrent spray that contains clove, garlic, and thyme extracts. It is specialized for indoor and outdoor plants but can also be used on fabric surfaces (but I suggest you test the product on a small surface area before using it on your furniture). The NaturVet spray is a very budget-friendly option, too.
The Panther Armor is a physical deterrent rather than a scent repellent that focuses on stopping cats from scratching your furniture. It is double-sided tape that comes in 8 large pieces and 64 safety pins. It is very useful for covering large surface areas but also suitable for cutting up to custom shapes and sizes. It is transparent, works on any soft or hard surface, and is reasonably priced.
The PetSafe Barrier is a dependable and budget-friendly indoor radio fence that works with a transmitter and a receiver collar for your cat. It has an adjustable range, and more than one cat can be added to the loop by getting an extra collar. It gently shocks your cat when they pass an invisible fence to control where in your home they have access.
The PetSafe outdoor wireless fence is great because it is specifically for cats, with a receiver collar designed to be comfortable for your furry friend. It has a large range of up to 3 acres which can be widened further if you purchase extra wire. Waterproof, durable, and battery-operated, this wireless fence is perfect for giving your cat safe outdoor freedom.
Below, you'll find more information encompassing ways to make your own homemade cat repellent spray, a list of smells that cats usually hate, some natural oils that repel cats that are safe to use indoors, and some plants that you can grow in your garden that can avert cats.
What Smells Do Cats Hate?
Before delving into the methods of making a DIY cat repellent spray, I'd like to offer some brief information about which smells cats generally dislike.
Two of the smells that I have noticed that my cat hates are vinegar and lemons. Apart from these two, an abundance of plants (and their respective plant oils) repel most cats effectively. In fact, most strong odors are overpowering for cats' sensitive noses and instantly turn them away.
However, it is essential to remember that all cats are different! Certain smells will be more effective on your cat than others, so it might take a little trial and error to find an effective option. Nevertheless, let's take a look at twelve common smells most cats turn their noses up at.
1. Vinegar
Vinegar is a magical substance. It really is! If you've read my article on how to get rid of cat pee smell, you'll know that vinegar is used in almost every homemade method of cleaning pee-stained areas and ridding them of the awful ammonia smell. It is also used as an effective overall cleaning product around the house that is safe and organic.
However, vinegar can also be used as a cat repellent. We can all agree that vinegar has a strong and overpowering scent, even for humans. Cats' noses are fourteen times as strong as ours, so the pungent smell does deter cats. Of course, you are not to spray it in their face, but it is a safe and non-toxic option when used correctly.
2. Citrus Fruits
Citrus fruits such as lemons, grapefruit, tangerines, and oranges have a very strong smell that offends cats unspeakably. To us humans, the citrus scent is wonderfully sweet and zingy. But to cats, this odor is pungent and acidic.
The fact that citrus fruits smell wonderfully fresh to us is a big advantage when using them as a repellent in your home. You can keep your home smelling clean and fresh while still preventing your cat from damaging plants and furniture. As an all-natural product, using orange peels in the garden is an effective way to keep kitties away from your flowerbeds.
However, citrus essential oils are a huge no-no. These essential oils are toxic to cats and can cause poisoning if you're not careful. Stick with the peels of citrus fruits instead, and you'll not run into any issues.
3. Plectranthus Caninus
The Plectranthus canina or coleus canina or "Scaredy Cat Plant" is one of the plants cats do not get along well with. However, the name can be kind of misleading. It's just as effective as all the other plants I've listed here, not considerably more.
This plant belongs to the mint family, but it doesn't have that fresh minty smell you might imagine. Instead, many people think that the smell resembles that of dog pee. So, outdoor use will probably be more appropriate for this natural repellent for cats. Plant a few of these shrubs in your garden to deter neighborhood cats from pooping in your flowerbeds effectively! According to research, it is effective on roughly 70% of cats.
4. Peppermint
Like the plectranthus caninus, the peppermint plant also belongs to the mint family. This is the same family (Lamiaceae) as our favorite catnip but has almost the opposite effect on cats. This only goes to prove that there is a very thin line between love and hate!
Joking aside, mint can be harmful to cats when ingested. It is a good thing that your cat probably won't go near this plant because she hates it so much. The refreshing peppermint smell is delicious to most people, but the scent is overpowering for cats' acute sense of smell.
Peppermint essential oils have the same overpowering scent and are also effective deterrents. However, you should never use peppermint for this purpose. Like citrus essential oils, peppermint essential oils are toxic to cats. Both ingestion and skin exposure can have severely damaging effects, especially if your cat is in contact with high quantities.
5. Pennyroyal
Pennyroyal is another plant that your cat is bound to hate, which is also a part of the mint family. As you can see, a pattern is forming here – cats generally dislike plants from the mint family. The one exception, of course, is catnip!
As another plant, this is a good option for keeping cats out of your garden. Its strong and pungent smell ensures most cats want to avoid it, so they'll tend to leave your garden alone. It is a favorite among gardeners looking for a natural cat deterrent that adds to their garden foliage.
6. Citronella
Most of us are aware that citronella is an effective mosquito repellent. However, did you know it also effectively repels cats? Citronella plants have a citrus smell that offends cats greatly. And as I have already mentioned, citrus scents are hated by the majority of cats.
Cats equally hate citronella essential oils, sprays, and candles. They have the same citrus scent as citronella grass. However, as you might have guessed, these oils are not safe for cats. Stick with citronella for repelling insects and use a safer option for your pet.
7. Cinnamon
Cinnamon is my favorite spice in the whole world. However, the strong smell irritates most cats. It has a distinctive spicy smell that irritates the sensitive receptors in your cat's nose and can be used to ward off cats. The same goes for other spices such as capsicum and cayenne pepper.
Spicy aromas can be used as deterrents, but cinnamon is likely to cause allergies in cats and be potentially toxic in larger quantities. Besides, many liquid varieties, such as cinnamon oils, are poisonous. The same is true for capsicum and cayenne pepper – don't use chili or pepper flakes to deter your cat. If your furry friend gets these spicy substances up their nose or in their eyes, it can cause a horrible burning sensation!
8. Rue
Rue is another plant that cats hate the smell of; its strong and pungent aroma is too much for cats' sensitive noses! Planting rue in the garden can therefore be an effective way to keep nosey and disruptive cats out of the yard!
However, rue can be toxic to humans. The plant causes skin rashes when handled, so always approach with caution. For this reason, rue can also be unsafe for cats. If they brush past, it can cause a rash on their skin. However, this only enhances its repelling effects – its smell and irritating surface make it extra effective in keeping cats away.
9. Lavender
Lavender smells wonderfully fresh to us humans. We love the distinctive smell and often use it in relaxing bubble baths or night-time aids. As a child, I used to love rubbing the lavender flowers between my palms and breathing in the delicious scent!
However, lavender smells horrible to cats for some reason. It might have something to do with the strength of the smell, like citrus fruits. Planting lavender in your backyard is an excellent and pet-friendly way to protect your flowerbed. Yet avoid using lavender essential oils in the home as these – like all other essential oils – are toxic.
10. Rosemary
Rosemary is another plant that smells wonderful to us but offends cats greatly. Its leaves are also rough, and cats hate their texture as they brush against their skin. Therefore, rosemary is an excellent garden repellent! Its odor and texture repel almost all cats.
Unlike many other plants on this list, rosemary is also not toxic for cats. You can plant it in your garden or have some herb pots in your kitchen without worrying you'll cause your cat harm. You could even sprinkle dried rosemary in your flowerbeds or around your home to keep destructive behaviors at bay!
11. Wintergreen
Wintergreen is also commonly used as a cat repellent. It is yet another plant from the mint family that has a mint-related odor. Like many other mint plants, this aroma is unpleasant and overwhelming for their fine-tuned sense of smell.
Wintergreen essential oils should be avoided, as ingestion or direct skin contact can be harmful. The leave and berries of the plant are also toxic to cats as it contains the glycoside saponin. Therefore, despite being an attractive, colorful, and effective addition to your garden, it isn't the best idea if you have pet cats.
12. Coffee
Finally, coffee is another smell that cats hate. This one might be the most surprising of them all. Most people love the aroma of coffee, especially first thing in the morning. However, it does have a pungent odor that is overwhelming for cats. There is a reason your cat doesn't join you for your morning cup of coffee!
Many people use their used coffee grounds as a cat repellent. It is effective for most cats and can quickly be sprinkled in plant pots and flowerbeds for instant cat-repelling powers.
Homemade Cat Repellents
Understanding what smells cats hate helps you know your cat better. However, these scents can also be used as tools to help control your cat. Use these smells effectively, and you can safely deter your cat from entering certain parts of your home, climbing your furniture, scratching the carpets, and carrying out all other destructive behaviors.
However, can we make a smell that can repel cats but not offend ourselves in the process? The answer is yes! In fact, many commercial cat repellent sprays are made with natural, standard plant oils that you can obtain easily. But homemade cat repellents are equally as effective.
The most important thing to pay attention to is to use non-toxic ingredients and apply them effectively using the minimal amount possible. This is so that both you and your cat will not be harmed. Keep reading to learn about some of my favorite homemade cat repellents you can try at home.
Homemade Cat Repellent for Indoor Use
One option for indoor use is to place citrus fruit peels around the places you want to block entry by your cat. This method can be effective, but it may not look very pleasant to have orange peels on the floor of your house. Also, these peels will start decomposing, so you need to renew them now and then.
A more practical method for indoor use is to make your own cat repellent spray.
There is a straightforward formula for this: 1 part oil to 3 parts water. Any one of these essential oils or a combination of them can be your main ingredient:
Citronella
Peppermint
Lavender
Citrus
Pennyroyal
Rue
Rosemary
Cinnamon
For easy application, you can keep this mix in a spray bottle. Spray it on any surfaces you want to stop your cat from destroying.
You can also make a cat repellent spray by using vinegar instead of the essential oils mentioned above. You can dilute the vinegar or not, but I recommend you try it out first with diluted vinegar. You can use the 1:3 ratio again, or maybe half and half.
Below are some essential things you should keep in mind while you are preparing and using your homemade cat repellent spray:
Never Spray Directly on Your Cats: First of all, do not, in any circumstance, spray cat repellent directly at a cat! Direct contact with it can cause serious harm, not to mention that it is a horrible way to treat an animal. Repellent sprays should be used only on surface
Never Overuse Essential Oils: Please do not overuse the essential oils! Never change the 1:3 ratio to increase the oil content under any circumstances. You can tip the balance in favor of water. As I've mentioned, high exposure to essential oils is toxic for your cat.
Spray on Furniture with Caution: If you use vinegar indoors, you should probably be careful about issues like staining on fabric surfaces. Instead of making a spray solution, you can also try wetting cotton balls or rags with vinegar and situating them around places you want to keep safe from your cat.
Aromatic candles can also be an option because they are readily available standard household items. Any candle scented with the above-mentioned aromas will deter a cat from a room.
Since candles can be pretty intense and their scent can spread to a wide area, your cat will most likely avoid the room with the candle. So, make sure you do not place these candles where your cat's litter box or sleeping place is. Don't make your cat's life a living hell!
Homemade Cat Repellent for Outdoor Use
If you want to protect plants in your backyard from getting eaten by your cat or stop your cat from using your garden as a huge litter box, there are some natural options. These methods will also work for stray cats and other feral animals that may enter your garden from the outside.
Your first option is to plant some of the plants cats hate the smell of. There are some plants that I've already mentioned above, which you can situate around the sections of your garden that you want to protect from your cat. Here's some information on how they can be utilized best and some other tips on their planting and treatment:
Plectranthus canina ("The Scaredy Cat Plant") is an easy option because it is simple to look after and does exceptionally well in drier conditions. The effectiveness of this plant in deterring your cat is not one hundred percent. You will have to try and see for yourself!
Rosemary can only grow in warmer weather, so it might not be an all-year-round choice. Instead of planting it in your garden directly, it may be wiser to plant it in a pot so you can move it inside when the weather gets colder.
Pennyroyal is very advantageous both as cat repellent and as a garden decoration because it is a ground cover It spreads easily and covers up empty patches of soil.
Lavender works to repel insects as well as cats. If you plant a tall version of this plant in a line around your garden, you can be sure that no cat will neither come in nor go out. Plus, your garden will smell amazing!
Citronella is a mosquito repellent as well as a cat repellent. As its name gives it away, it has a strong citrus smell that cats hate. This plant prefers drier soil and warmer climates, so you may want to pot it like rosemary to move it inside during the colder months.
Lemongrass also has a citrus scent, but it may be harder to accommodate because it enjoys a very hot climate with little moisture in the soil. However, if the weather allows it, it is an effective option and can be used in your cooking!
In addition to these plants, blackberry and rose plantscan block entry because of their thorned, prickly quality.
Another method is to spray the plants in your garden with cat repellent spray. Not too much, of course, or this could damage your plants! Alternatively, put any of the below substances in your flowerbed to help keep cats away:
Citrus Peels: Using citrus peels in outdoor areas can also be an option. If your cat likes to pee on a particular spot in your garden, you can place a few orange peels on that spot. However, you should renew them frequently because they will degrade into the soil.
Coffee Grounds: Coffee grounds are also known to repel cats. You can sprinkle them around the places you want to protect, just like with the citrus peels. I have never tried this method, but it might be a good idea since it is pretty straightforward.
Gravel or Pinecones: Apart from utilizing smell, you can try patches of gravel and pinecones because they can annoy cats with their texture. This can be an aesthetically pleasing method too!
Where Can These Smells Be Used?
The sky is the limit when it comes to where these repellents can be used!
Personally, I had a use for this information to deter my cat from entering a room in my house that I use as a studio. There are many things that I do not want my cat to topple over and I keep materials in there that would be unsafe for my cat to mess around with.
However, a wide variety of places may need protection from your cat, or your cat may be safer not to enter.
Here are a few examples:
Garden/backyard might need protection from your cat and other stray cats and animals.
A room that you don't want your cat to enter – like a studio where you work or your home office work area where you might have important things and delicate electronic equipment around.
On top of the dining table, kitchen counter, coffee table, or work desk.
Couches and chairs you don't want your cat to scratch or leave fur on.
On objects like phone and computer chargers, so your cat doesn't devour their cords.
In and around trash cans and recycling bins for organic waste.
Possibly dangerous places like a space with heavy machinery, such as a gym or a garage.
Things to Keep in Mind When Preparing a DIY Cat Repellent Spray
Since you are preparing something that will directly affect your cat's olfactory senses, you should be very careful when preparing and using your DIY spray.
As with almost everything in nature, a species' aversion to certain things has most likely developed as an evolutionary advantage. Being disgusted, scared from, or drawn to certain things is a way of ensuring safety, health, and survival. The reason why cats hate certain smells is largely to protect them from dangerous situations or unhealthy things they shouldn't be ingesting.
As you might have noticed, various plants make up the majority of smells cats hate. There is a reason why the scent of these plants repels cats. These plants can be potentially toxic to cats, and their sense of smell acts as a preventative mechanism so that they do not get near or ingest them.
Essential oils are made from:
Ylang Ylang
Wintergreen
White Fir
Vetiver
Thyme
Tea Tree
Sweet Birch
Spearmint
Rosemary
Roman Chamomile
Pine
Petitgrain
Peppermint
Pennyroyal
Pennyroyal
Oregano
Green Mandarin
Fennel
Eucalyptus
Douglas Fir
Dill
Cypress
Clove
Clary Sage
Citrus (D-limonene)
Cinnamon
Cheer
Ingestion of these oils can happen both orally and through the skin.
The cat liver doesn't have the necessary enzymes to break down these essential oils. Therefore, when ingested, they might cause symptoms of vomiting, drooling, and difficulty breathing in cats. Excessive amounts of ingestion can even lead to liver failure!
Even when cats do not ingest these essential oils, respiration can affect them negatively. If cats are exposed to these essential oils excessively and frequently, they might suffer from respiratory difficulties.
This is why you should be very careful when preparing your DIY cat repellent spray. Make sure you stick to the recommended ratio of oils to water and never use your spray excessively or directly on your cat. As long as you adhere to these precautions, there is no harm in using repellent sprays to establish boundaries around your house and garden.
Commercial Cat Repellents
If you don't want to make your own cat repellent, fear not! Thankfully, many commercial products are available to help make your cat stay away from certain places.
These can include the delicate plants in your garden that you don't want your cat to eat, a couch you don't want your cat to demolish by scratching, or anywhere in your home that other cats have access to enter and leave their mark.
The most popular of these products is the cat repellent spray, but with the advancement of new technology, other options have been developed. This includes ultrasonic cat repellents especially useful for larger outdoor areas or radio wave cat fences that can be used indoors and outdoors.
Here is a selection of different types of products for indoor and outdoor use, with the pros and cons explained. I hope this will be helpful in selecting the appropriate product for your needs.
Commercial Cat Repellents & Deterrents for Indoor Use
Best Cat Repellent Sprays
You have a lot of choices when it comes to cat repellent sprays. Here is a selection of my top three:
The NaturVet is a cat deterrent spray that is most suitable for applying on plants, both indoors and outdoors. Its active ingredients include clove, garlic, and thyme extracts.
Although it is advertised to use on plants, it can also be used on fabric surfaces because it is stain-free. However, it is always a smart idea to test it out on a small, hidden area of the fabric first.
The NaturVet is also a budget-friendly option.
This deterrent spray is best for use on furniture and sofas, although you can spray it on a variety of surfaces, including counters, phone cords, and plants.
The key for its effectiveness lies in using it consistently. It is recommended that you use it about 4 times a day on the same surfaces. It is a very effective repellent when used consistently as advised.
The one drawback seems to be that it can cause respiratory distress for you when applied in an unventilated area, so spray with caution! The Segminismart spray is also a bit pricey, but has a strong yet pleasant smell.
Nature's Miracle is a cat deterrent spray that contains cinnamon, lemongrass, and rosemary oils as its active ingredients.
It is suitable for any surface, including fabrics, hardwood floors, and carpets. However, as with any of these sprays, it is recommended that you test it out on a small spot first to see if there's any staining.
It is also advised to apply it consistently on the spot you want to deter your cat from. Once you do that, this spray is very effective. The Nature's Miracle is also reasonably priced, great for anyone on a budget.
Important Factors to Consider When Buying a Cat Repellent Spray
Good cat repellent sprays are non-toxic, safe-to-use products with an abundance of natural ingredients. They usually contain a selection of the plant oils I've mentioned above for homemade repellent sprays, such as lavender, rosemary, orange, lemon, citronella, and peppermint.
Products that are natural will boldly advertise this fact, so it is easy for you to select them. However, I would still advise you to read their ingredients labels and ensure they are all-natural. However, remember that all-natural does not necessarily mean safe! Spray in well-ventilated areas and never directly on your cat, or the essential oils in their recipes can cause damage.
Repellent sprays should not only be harmless to your cat, but also to you and other people living with you, especially infants. Therefore, you should choose products that don't have any mystery chemicals in them.
Commercial products urge you to use them frequently (even daily) because they will be more effective if the smell is constantly present on the surfaces you wish to protect. This is true, but make sure not to abuse the sprays as too much exposure may harm your cat.
Indoor products such as these should ideally not leave an obvious mark or stain on the surfaces they are recommended to be used on. Before you buy the product, make sure to read the instructions very carefully and select a product that suits your purpose. Most repellent sprays can be used on almost all surfaces like fabric, hardwood floors, plants, and plastic. I would still advise you to test them out in small amounts first to see if they do any damage.
P.S. If your cat is peeing on a spot outside of her litter box and you want to repel her from that spot, odor removers may be a better idea than using repellent sprays. This is because you need to eliminate the pee smell completely, which the repellent spray doesn't do. If this is the case, you can refer to my earlier article titled how to get rid of cat pee smell to see a selection of effective odor remover products.
Best Indoor Wireless Fences for Cats
This option doesn't involve any smells cats hate, but since our issue at hand is effective methods of repelling cats, I should mention the radio fence. Here are three indoor wireless fence products that I can recommend:
PetSafe is the dominating brand in manufacturing wireless fences for pets with a variety of products. This one is a standard radio fence that includes a transmitter and a receiver that your cat wears around its neck. The collar is not particularly heavy, although it depends on your cat whether she'll feel comfortable wearing it.
If you have more than one cat, don't worry! More than one pet can be added to the loop as long as you have an extra receiver collar. Almost all PetSafe collars and transmitters are compatible with each other, and as a budget-friendly option it won't cost too much to purchase multiple devices.
The maximum range of the transmitter is 6 feet and it can be customized. You may need to buy a number of transmitters if you want to protect a larger space or multiple spaces not close to each other. But again, the affordability of the device means this isn't too much of an issue.
The transmitter is like a round-shaped internet Wi-Fi modem, so not too big and distracting. However, if you're using the device in a large room, you may not be able to cover it completely if the transmitter is not placed in the very center of it – which might look a little unsightly!
This product is also by PetSafe, but it has a different system of operating. It is a more specialized kind of radio fence for indoors.
The threshold barrier is a narrow mat that can be placed in front of doorways, stairs, or window ledges. It gives correction to your cat whenever she gets within 3 feet of the barrier. The mat is battery operated, so no need to look for convenient sockets.
This system also requires a receiver collar that your cat needs to be wearing. When your pet gets within range, there is a series of beeps and a safe but unenjoyable correction from her collar. It is extremely effective, but the PetSafe Threshold Barrier is kind of pricey.
Is your cat always losing its collar? The Amtek Scraminal doesn't require a collar. Instead, it detects your cat's presence with its heat detector and gives a sonic correction to avert her. The corrections are high-pitched and very irritating for your cat. There are two settings for the loudness of the beeps.
The Amtek's detection radius is 15 feet and it is battery operated, meaning you don't need to worry about sockets. It also covers a large floor space, ideal for bigger homes or if you want to keep your cat out of an entire area.
The one drawback with this product is that it will not differentiate between animals and humans. So, it will also beep for you or other people living with you. Thankfully, the high-pitched noises are not audible to humans, but it could send your cat crazy! With this drawback, the Amtek Scraminal is reasonably priced and great for anyone on a budget.
How do radio fences work?
Let me just tell you a little bit about how indoor radio fences work and some things to pay attention to when purchasing one. Radio fences are also referred to as invisible fences. Most radio fences have two basic components: a transmitter and a receiver.
The transmitter has a custom radius around it set by you. The receiver in your cat's special collar is activated whenever she crosses the threshold of this radius from the outside. The activation can be one of three things: small electric current, a vibration, or a sound. If you have more than one cat, you can purchase multiple receivers that all work with a single transmitter.
The receiver gives a warning sound as your cat approaches the threshold. If she crosses it, the "correction" is activated. Radio fences usually offer different intensities of shock as corrections that can be selected by you. I strongly advise that you try it on yourself first to see the different intensities and choose accordingly.
Many customers have reported that their cats have learned the boundaries and do not move further once they start hearing the warning sound. However, I was kind of skeptical about the idea of using electric current as a method of repelling your cat. Yet as I read the comments, I began to understand that this ends up working more like a training tool.
The main goal of a radio fence is not to electroshock your cat constantly but to teach her to avoid it by not going to certain places. Ideally, they should experience the electric current only a handful of times before they learn not to cross the threshold.
With that being said, you should still be very careful if you are considering buying a radio fence. Do not forget that electric currents physically hurt your cat and some cats may be more sensitive to it than others.
Radio fences should never be used on a cat with a heart condition, so I would recommend you consult your vet before you try this method out. As a safer and more pet-friendly option, you may consider radio fences that use vibrations or sound as their correction method.
Best Furniture Strips
Furniture strips are specifically designed for deterring cats from scratching surfaces or climbing on top of tables.
Cats attempting to scratch a surface with the tape on it will immediately stop because their paws will get sticky, and it will be an extremely unpleasant experience for them. Alternatively, some products work by protecting your furniture instead. Your cat may still scratch the surface, but the protective layer prevents any damage.
Here are my top three furniture strip picks to deter cats from delicate surfaces:
The Panther Armor contains 8 pieces of large patches of tape to cover a large surface area like the side of a couch. It also comes with 64 twist pins that you can utilize to secure the tape in place. Since the patches are very large (17"x12" and 17"x10"), you can cut them to the size or shape you want.
The Panther Armor is fully transparent and can be used on any surface, although soft furniture like sofas are best to utilize the safety pins on. The Panther Armor is reasonably priced, so you can purchase several and put them on multiple surfaces in your home.
The Focuspet tape comes in 10 large pieces that are 17"x12 and 17"10 (exactly the same as the Panther Armor tape.) So, it is very suitable for covering large areas or cutting up in custom shapes and sizes for your specific use. It similarly works well on couches and is a budge-friendly option, but the tape cannot be used on leather.
The Focuspet tape is fully transparent and very thin. It is also quite easy to peel off and doesn't leave any adhesive residue on your furniture. I recommend trying a small patch before sticking it over a huge surface though, just to be safe! And remember, leather is a no-no.
Besides having a witty brand name and a lovely packaging design, this cat deterrent tape is also quite effective. This tape has a sticky surface that feels uncomfortable on your cat's paws. As such, they'll avoid touching whatever surface it is covering.
The Sofisti-Cat tape comes as a roll that is 2.5 inches wide and 3 yards long. You can cut it up as long as you want. It is fully transparent and works on all types of fabric except for leather. This tape is best for smaller surface though, such as lining window ledges. The only downside is that the Sofisti-Cat is kind of pricey.
Important Factors to Consider When Buying a Cat Deterrent Furniture Strip
Here are some things you should pay attention to while you are choosing the furniture strip that will work best for your home:
Fabric Suitability: Furniture strips usually work on both hard and soft surfaces like floors, fabric, and plastic. An important thing to consider when choosing a product is to make sure that it doesn't damage the surface beneath. It should be easy to peel off and leave no sticky traces.
No Residue: You probably will not want to keep the furniture strips on forever, so make sure they don't leave any residue once you peel them off your furniture.
Transparency: Transparency can be important. Most furniture strips are transparent or semi-transparent so they're less visible on your furniture. However, they do appear glossy from certain angles so do not expect complete invisibility from any product. That would be magic!
Frequency of Renewal: You should also be aware that these strips will not last forever. On the contrary, they will probably need frequent renewal. Adhesives lose their stickiness the more you touch them, but some naturally last longer than others.
Strips vs. Tape: Some furniture strips come in the form of a tape roll while others are pre-cut patches. You can choose the form that suits your purpose best. The width of the tapes can also vary. You may need wider or narrower patches depending on the surface you're covering.
Last but certainly not least, make sure that the product you buy is hypoallergenic, non-toxic, and safe for you and your cat!
Commercial Cat Repellents & Deterrents for Outdoor Use
Animal Repellent Tablets
If you have a backyard or garden with plants that you need to keep safe from your cat and/or other animals, animal repellent tablets claim to serve this exact purpose. Before I go into further detail about how they work, here is my top picks for an animal-repellent tablets:
Repellex is the leading brand of animal repellent tablets. They're effective in deterring not only cats but other animals like rabbits or deer as well. This means they provide all-around protection for your backyard, keeping your flowerbed looking fantastic.
How many tablets to use depends on the size of the plant. The Repellex advises the use of one tablet per 1-foot-tall plant, so use this to calculate the correct dosage. An important thing to keep in mind is that these tablets should not be used on edible plants.
How Do Animal Repellent Tablets Work?
Animal repellent tablets are not a cat-specific product. In fact, its most common target animal appears to be the deer! You do not need to have a deer problem to use this method though, as it works on a variety of animals. Of course, this includes cats.
The way these tablets work is that you plant one near the root system of the plants you want to keep safe. The plant absorbs it within a few weeks to a month and becomes protected for about a year. The tablets have capsaicin as their active ingredient, which is basically chili pepper extract.
The obvious advantage of this method is its durability. It doesn't wash off like spray repellents and doesn't need to be reapplied constantly. You also need only one tablet per plant, so the bottle will probably last you a long time. Indeed, most customers seem very satisfied with the outcome of animal repellent tablets and say that they are very effective.
One thing you need to keep in mind is that the tablet takes a while to be absorbed by the plant, so it is not an instant repellent. You will still need to use repellent spray on your plants for up to a month. After that, you're safe.
It does not appear to harm plants or the soil in any way. However, the product may cause eye irritation so please handle it safely. Wear gloves when touching the tablets and do not rub your eyes. Additionally, you should also avoid using animal repellent tablets on edible plants.
Outdoor Cat Repellents
Outdoor wireless fences are the best option for repelling your cat from a large outdoor area or to keep her safely inside the perimeters of your garden or background.
Here are my top three picks for outdoor wireless cat fences:
This product by PetSafe is specific to cats over 6 lbs. This fence comes with a wire of 500 feet and its range covers up to 3 acres. If you purchase additional wire, the range can go up to 25 acres.
Both the transmitter and the collars are waterproof and durable, perfect for outdoor conditions. It has options for static correction and also a sonic one for training purposes. Moreover, the collar is safe and comfortable for cats, as it was specifically designed for cats. You can choose to add more cats to the loop if you purchase more collars.
This product is very reasonably priced, ideal for anyone on a budget. Yet despite being affordable, it is still extremely effective.
Just as with indoor radio fences, outdoor fences are also dominated by the PetSafe brand. Just like its indoor counterpart, this wireless fence also works with transmitters and a receiver collar for your cat. So it can give static corrections but you may choose to use only sonic corrections too.
Since it is specific for outdoor use, the material is durable, waterproof, and rechargeable. The PetSafe wireless fence comes with flag posts to mark the boundaries of its range. Its range is also quite large, covering up to 4 acres of land – perfect for anyone with a lot of outdoor space.
The PetSafe fence is quite pricey but the most effective option. And, unlike using scents as a deterrent, sonic or static corrections work on all cats of all ages, shapes, and sizes!
The Predatorguard is motion activated, so it doesn't require a collar. Instead, it has an ultrasonic correction that deters any intruding animals, including your cat. These ultrasonic corrections are only audible to animals, so don't worry, it won't be like an annoying car alarm.
This product has a range of 40 feet, so it is perfect for most backyards.
The Predatorguard is very pocket-friendly when compared to fences that require receiver collars.
How Do Outdoor Wireless Fences Work?
Just like indoor wireless fences, outdoor fences also generally work with a transmitter and receiver collars. They cover a larger area of land so that your cat can play outside safely. You may set the boundaries around plants that you want to keep safe too.
Outdoor wireless fences also have ultrasonic versions specific for intruding animals. These protect the perimeter of your property and detect animals via motion or heat. Once they do, they give out an ultrasonic correction only they can hear which drives them away.
The advantages of wireless outdoor fences are that they don't utilize any unpleasant odors, fragrances, or chemicals. They don't bother humans and they also do not physically harm the animal. Instead, they operate on the basic tactic of scaring them so that they learn to avoid a large spot of land.
You should pay attention to a few things if you are considering buying this product:
Range: Depending on the size of your garden, the range of the repellent is an important aspect to consider when buying this product. Most products offer about a 30-40 feet range with a horizontal influence angle of about 100-180 degrees.
Outdoor Suitability: Since it is for outdoor use, the product should ideally be waterproof and durable in all weather conditions. This prevents the fence from breaking in adverse conditions, saving you money on replacements.
Power Source: Most products work with batteries, but many also offer a charging option. You may want to have both options available just in case. There are even products that can be charged by solar energy, as well as having batteries and standard charging options.
Ease of Installation: It is also important that the product is easy to install. Make sure that you read reviews about the product you are considering buying. Other customers will tell it like it is!
Cats' Sense of Smell Explained
In my earlier article on can cats see in the dark, we focused on cat sight and established that their recognition of other cats, animals, and humans actually depend on smell rather than sight.
However, smell is an even more important sense! Cats' sense of smell is very strong when compared to ours because the sense of smell is their most reliable sense in knowing the environment around them.
Here is a closer look at their impressive ability to smell and why it is so crucial for their survival.
How Do Cats Smell Things?
Cats, like dogs and humans, have olfactory receptors in their noses. When odor-causing molecules enter the nose, they bind to these specialized receptors. In turn, this sends signals to the brain informing your cat of what it is they are smelling.
While we have about 5 million, cats have about 200 million olfactory receptors, and dogs have about 150-300 million. This explains why a cat's sense of smell is so much more powerful than ours.
However, aside from a high number of scent receptors in their nose, there is another thing that aids cats' superior sense of smell called the vomeronasal organ. Also called Jacobson's organ, this is a collection of sensory cells located on the roof of their mouth.
Therefore, in addition to their nose, cats also use their mouth to receive odor particles. This is why you probably have observed that after smelling something with her nose, your cat leaves her mouth open for a while. When smelling in this way, the odor molecules bind to the Jacobson's organ and given them even greater precision about what they're smelling.
Cats also have an effective way of rapid and abrupt sniffing, which allows the smell to gather in their nose without going down to their lungs. The air is trapped in their nose and gets analyzed by their many olfactory receptors for a longer length of time.
Smell as a Form of Communication
Cats have such a strong sense of smell as they rely on it heavily as a form of communication. There are a number of messages that can be delivered and received by smell, including the following:
Territory: One message is regarding territory. They announce a particular space as theirs and make this clear to other cats and animals through smell. They also grasp the ownership of other cats' territories.This territorial smell they leave is often done through rubbing themselves on a spot. They may also spray a spot with their pee, or leave their litter uncovered in certain situations.
Family: If you've read my earlier article on how to introduce cats, you will know the importance of smell as getting to know another animal and also as a healthy method of boundary establishment in cohabitation. Cats that live together share the same scent through rubbing against each other, marking each other as part of the pack.
Self-Soothing: Cats also send themselves a message when they leave their smell somewhere. They reassure themselves by the calming effect of their own familiar smell. They may even leave their smell on you by rubbing their face against you.
Mating: An additional message of leaving a smell on a spot is to signal their wish to mate. Unneutered cats will do this often and it may smell kind of funky for us. However, unspayed females will identify this smell as a mating call and run to meet their potential match!
What Smells Do Cats Love?
We've looked extensively at smells that cats hate, but maybe you are wondering about smells that cats love.
1. Cat Food
The obvious one is probably the smell of their food. It can make the laziest of cats get up from their favorite spot and walk to their food dish. Cat food smells horrible to me and I often block my nose when I am pouring some into her dish. However, this funky smell drives my cat nuts.
Cats' relationship with their food is amazing. When given options, they will choose the food that has the most protein (the nutrient they need the most), and food that hasn't gone bad. Cats can also very easily distinguish between fresh meat and meat that has gone bad. Just like us, they will be averted by rotten food, but they are much more sensitive to it than us.
Although they love the smell of meat, rotting fish or meat smell will repel your cat! If you give your cat rotten meat without realizing it, chances are your cat won't even go near it. Their sense of smell and aversion mechanism puts them at an advantage and prevents them from having food poisoning. Still, always make sure to give them fresh food in case.
2. Catnip
Catnip is another obvious favorite of our feline friends. This is a plant that belongs to the mint family. Although it does nothing for my own cat, I've seen other cats go crazy for it. Catnip is so loved by cats that it is often included in cat treats or cat toys.
There is also catmint, a close cousin of catnip. They are both from the same mint family but have a few differences in their appearance. The catmint has purple flowers and is deemed more aesthetic than the catnip which has white flowers and generally appears bushier and weed-like.
Another distinction is that catmint is not as effective on cats as catnip. However, cats are also pleased with catmint and are certainly not deterred by them if you plant them in your garden.
3. Ammonia
Not necessarily love, but ammonia smell reminds them of their pee, and they are drawn to it to use as a peeing spot. They are also interested in smelling other cats' pee to get to know them.
However, too much of this ammonia smell in a closed space will disturb cats: hence their aversion to dirty litter boxes. For more information on cat pee, check out my earlier article on how to get rid of cat pee smell.
CONCLUSION
Now you know twelve smells cats hate! You can use these to help deter your cat from exhibiting destructive behaviors, such as digging up plants, scratching your furniture, peeing on the couch, or climbing your bookcase.
But remember, each cat is wonderfully unique. Repellents that work with utilizing the smells that cats are supposed to hate might not work on every cat. Or they might work but not be one hundred percent effective. Believe it or not, there are some cats that have no problem with lemons!
I suggest that if you are looking to make your own cat repellent spray or are considering buying it online, first see how your cat reacts to these smells by having her smell the scents. You can buy a few of these essential oils in very little quantities and have a go. Don't force your cat to smell them, just place a scented rag or towel next to her and see how she reacts.
Once you know which smells your cat doesn't go near, you can make a spray or buy one online with the active ingredient being the plant that works for your cat. Alternatively, physical deterrents or wireless fences are a more predictable in their efficacy – a great option if you can't seem to find a smell that truly repulses your kitty.