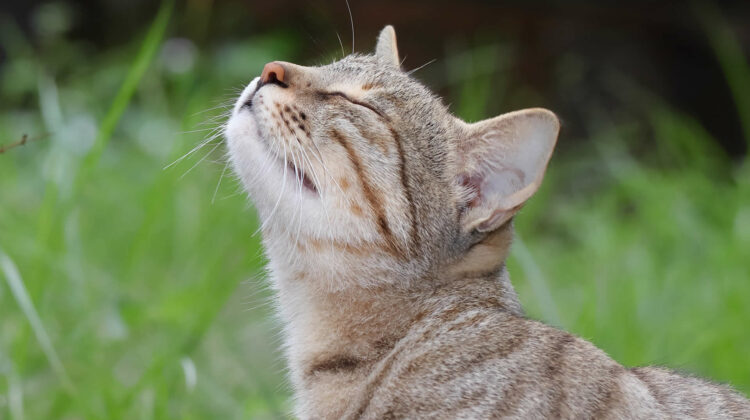 There is nothing more frustrating than a cat peeing where it shouldn't. Perhaps you are fed up with your neighbors' cats sneaking into your yard and peeing in your flowerbeds. Or maybe you have a pet cat of your own who has recently decided to start peeing on your couch.
A great way to fix either issue is to find a great cat repellent. Putting a repellent in your cat's new favorite bathroom spot will deter them from using this area to do their business. Vinegar is often used for this, with owners swearing this strong-smelling liquid keeps cats at bay.
But does vinegar deter cats from peeing? If so, why? And how can we use vinegar as a cat repellent? In this article, I answer all these questions and more. Keep reading to discover all there is to know and put your cat's inappropriate peeing habits to bed for good using nothing but vinegar!
Will Vinegar Stop Cats from Peeing?
The simple answer to this question is yes!
Many owners swear by using vinegar as a cat deterrent because of just how successful this product is at keeping cats away. But why is vinegar so effective in deterring cats from peeing? Well, there are two reasons for this.
1. Vinegar Smells Bad
You can probably guess the first reason why vinegar is such a good product to use – it's because of the strong acidic odor that all vinegar releases. Along with scents like citrus and coffee, this vinegary odor is one of the smells cats hate!
I couldn't agree more with my kitty on this one; there is no denying that it has a sharp and unpleasant scent. In fact, I think we can all agree that vinegar doesn't have the nicest of smells! But while we humans find vinegar to be strong and pungent, it smells even worse for your cat.
This is because a cat's sense of smell is around fourteen times stronger than ours. Imagine smelling a bottle of vinegar that smells fourteen times as strong as normal. That's enough to make anyone turn their nose up and recoil as fast as possible. Therefore, most cats will steer clear of vinegar at all costs, which makes it an excellent cat repellent.
I say most cats rather than all cats as there are exceptions to every rule. For one, some kitties are more sensitive to smells than others. Cats also have different opinions of smells, such as how you might love the smell of petroleum gas, whereas I hate it. As such, there is a slim chance that the cat you're having issues with won't respond to vinegar. But most will run away as fast as possible!
2. Vinegar is an Excellent Cleaner
The second reason why vinegar stops cats from peeing where they shouldn't is that it is an excellent cleaner. It has a high acidic content which easily breaks down stubborn dirt and debris, including stains and odors from cat urine.
Cats with litter box problems often pee in the same spot again and again. This is because even after you have cleaned the area, cats can still detect their urine thanks to their incredible sense of smell. These lingering urine odors tell cats that it is okay to urinate here. In other words, they will continue to assume this is a place they can pee until the urine smells are eliminated.
There are several ways you can get cat pee out of a couch. You might use an enzyme cleaner for cat urine, which you bought from a pet store, or use a DIY cleaner such as baking soda. However, vinegar also works exceptionally well in removing nasty urine smells, stains, and bacteria.
Therefore, vinegar is one of the best deterrents when you want to stop a cat from peeing. It repels cats with its strong and pungent scent, while also cleaning away lingering urine odors and preventing future toilet accidents.
How to Use Vinegar to Stop Cats from Peeing
As we've established, vinegar does deter cats from peeing. It can be used to stop a cat from spraying indoors or all over your flowerbeds outside. But just how can we use this versatile household product as a cat repellent? The below sections reveal all you need to know.
Using Vinegar Outside The Home
If you're trying to stop neighborhood cats from peeing in your garden, vinegar is a great and effective option. There are two main methods for using vinegar in your yard. You can either spray vinegar on areas outside where cats keep peeing or hang vinegar-soaked rags in your garden.
1. Spraying Vinegar
Your first option is to pour vinegar into a spray bottle and spritz the places in your garden that cats keep using as their toilet. You can use straight or diluted vinegar for this. Focus on the areas where you keep finding cat pee and poop, or on the areas that you most want to protect. Be sure to spray every few days so the smell is pungent enough to keep cats away!
You should also spray the perimeters of your backyard every few days to try and keep cats out, such as the tops of fences and gates. The last thing you want is the cat finding another vinegar-free spot to use. Protecting your garden perimeter is usually quicker and easier than spraying everything within it.
You can also spray vinegar directly into flowerbeds and onto your plants. However, vinegar is acidic and can cause damage. The acid can dissolve cell membranes and cause your plants to die! As such, only spray acid-loving plants, and even then spray in moderation. You might prefer to avoid spraying the plants directly and instead target the surrounding soil.
On the plus side, cats aren't the only animal vinegar repels! Vinegar is an excellent insecticide and can keep pests away from your plants. This includes creatures such as ants, mosquitos, and fruit flies. You can also spray it on weed-ridden areas to kill those pesky intruders.
2. Using Vinegar-Soaked Rags
If you're worried about damaging your plants by spraying them with vinegar, stick to spraying the walls and fences and keep your flowerbeds vinegar-free. In your flowerbeds, you can place rags soaked in vinegar instead. Simply immerse any old cloths in neat vinegar and place them on stakes around your plants to deter any cat from peeing.
As the clothes are hung above the ground, they don't pose any risks to your plants. However, they still successfully release a nasty odor that keeps cats and insects away. The rags will hold onto the vinegar scent for around one week, after which you simply need to rinse, soak, and repeat!
Using Vinegar Inside the Home
Vinegar can also be used as an effective cat repellent inside the home. But anyone who is going to be deterring indoor cats with vinegar needs to be a little more cautious. Firstly, you need to be careful with the type of vinegar you choose. Darker varieties might stain carpets and furniture, so white vinegar is the best type for indoor use.
You also need to dilute any vinegar before applying it to avoid damage to the surfaces you're spraying it on. For this, you will need white vinegar, dish soap, water, and a spray bottle. Once you've got these things handy, dilute your vinegar by using this process:
Take your spray bottle and pour in equal parts water and white vinegar
Put the lid on and gently swirl the bottle to mix the two liquids together
Open the cap again and add a drop of dish soap to the mixture
Screw the lid back on and give the bottle a proper shake this time so everything is mixed
Once you have your diluted mixture, perform a patch test by spraying a little of the mixture onto the surface your cat keeps peeing on. In most cases, the diluted vinegar won't cause any damage or staining, but you should always test a little before covering your carpet or furniture – you could end up causing more damage than was there in the first place!
If the vinegar stains or damages the material, you'll need to find another way to deter your cat. Alternatively, use the soaking method described in the section above. Place the rags soaked in vinegar in containers to prevent any damage, then place this container near the target surface.
Other Ways to Use Vinegar with Cats
As we have established, vinegar is an excellent cat repellent. It can be used to stop cats peeing in your garden, or as a deterrent to help cats with litter box problems. But vinegar is so much more than that! You can use vinegar to solve a whole host of other cat-related issues, and here are just a few examples.
1. Eliminating Litter Box Odors
As I mentioned earlier, one of the ways vinegar stops cat peeing is by removing urine odors from carpets and furniture. However, vinegar is also effective in eliminating litter box odors. Using your diluted vinegar solution, spray the litter box each time to clean it to remove the smells. You can even leave the litter box to soak in vinegar overnight to remove stubborn odors.
If doing this, make sure you wipe with a pet-friendly litter spray after you have cleaned the vinegar away. The last thing you want is the box to smell like vinegar – this could deter your cat from using it and cause more bathroom accidents.
2. Cleaning Soiled Clothes & Blankets
Have you ever experienced your cat peeing on your clothes? Bathroom accidents aren't limited to furniture and carpets! Cats can pee on anything they can find, and laundry and blankets are often common targets. Their soft and comfortable texture makes them a great surface to pee on.
If your cat has peed on your clothes, it is pretty gross. However, you can use vinegar to help remove that nasty ammonia smell and leave your clothes smelling fresh. Simply pour half a cup of white vinegar into the washing machine and put it on a normal cycle. After it's finished, put your clothes on a second cycle with regular detergent.
If you're dealing with this issue regularly, you should also put other measures in place to stop your cat from peeing on clothes. Removing the urine odor will help, but you should also rule out medical conditions, ease stress, neuter your cat, and use synthetic pheromone products.
3. Generalized Cat Deterrent
Lastly, you can use vinegar as a more generalized cat deterrent. For example, perhaps your cat always scratches at your couch or carpets and you want it to stop. Simply spray these target areas with your diluted vinegar solution to keep your kitty away. Remember to do a patch test first!
The same is true for cats that love to dig up your houseplants – vinegar can be used as a repellent. However, as mentioned earlier, the acid in vinegar can kill some plants. Therefore, you're best to use the soaking method and place the vinegar-soaked clothes around the plant, rather than spray the leaves of your houseplants directly.
MY FINAL THOUGHTS
So, does vinegar deter cats from peeing? There is only one answer here: yes! With its horrible pungent odor cats will quickly be repelled from the scene of the crime. Where cats have peed before, vinegar also helps to remove any lingering ammonia smells to teach your kitty this isn't a toilet.
You can use vinegar inside and outside the home safely, but make sure you do so the right way. When using vinegar in your yard, avoid spraying directly on your plants. And when using it in the home, only use white vinegar, always dilute it with water, and carry out a patch test before use.
Vinegar can also serve many other purposes in a household with cats, from cleaning litter boxes to deterring cats from scratching your furniture. You could even wash pet beds and toys – get creative and see how else you could use vinegar in your home.