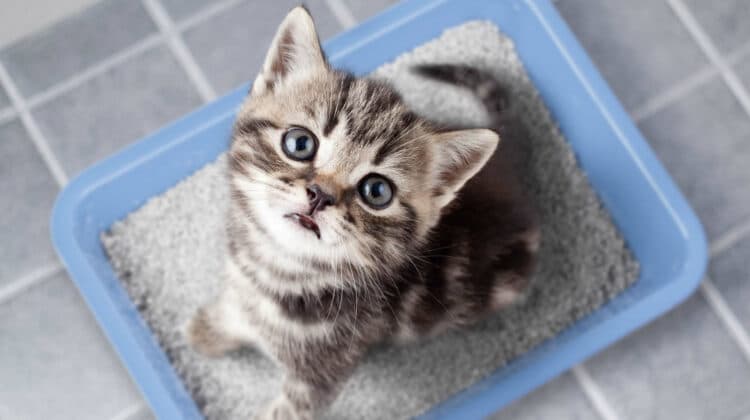 As a cat parent, you're probably no stranger to bathroom accidents. Even though we all love our gorgeous felines to death, the nasty smell that lingers after they pee somewhere they shouldn't is one of the worst things ever!
If you've been trying to get rid of the stains and smell with soda water, hydrogen, vinegar, or baking soda, but you've had no success, this article will help you'll learn why. Finding the best enzyme cleaner for cat urine should be your priority in cases like this. Unlike other cleaners, enzymes can break down organic matter and eliminate odor and stains.
There is no need to expose your family and pets to harsh chemicals anymore because you just stumbled upon a solution! In this article, we'll discuss enzyme cleaners and how I found my favorite product. I also share my honest review of some of the best cleaners on the market, so if you keep reading, you'll find out how these enzymes get rid of odors and why they're so powerful.
My Top Pick
The Sunny & Honey Pet Stain & Odor Miracle Enzyme Cleaner is the best cat urine remover I've ever tried! This enzyme solution is easy to apply and suitable for all types of surfaces, including tiles, floors, upholstery, furniture, plastic, toys, rugs, leather, and more! It's also available in three scents and two different sizes.
This enzymatic cleaner is one of the most powerful I've tried, and I'm not changing it any time soon. The ingredients are non-toxic, pet and child-safe, and the cleaner is biodegradable. As you can see, this is a company that cares about its consumers and the environment.
Keep reading for a full review and other must-try cat urine cleaners.
Best Enzyme Cleaner for Cat Urine
How do you find the best cat urine remover? Although it can be quite a ride, every moment you spend looking for a quality enzymatic cleaner is worth it. This solution can save you from stains all over the house and spare you from odors.
So, before I start with the detailed reviews, I wanted to mention the crucial factors and features that make a cleaning solution excellent and worthy of your money:
Scent: The scent you'll choose down to personal preference. However, some cleaners have such harsh smells that it's hard to be around them. Most cats aren't always fond of intense scents either, especially citrus and lavender.
Use on Multiple Surfaces: This is the most important factor when picking the best enzyme cleaner for cat urine. The product you buy should be multi-purpose and gentle for all surfaces. If the cleaner is not fabric-friendly but is only meant for the floors, you'll need to buy different products and spend more money.
Easy to Apply: Everyone loves a product that's easy to apply. Most people prefer getting enzyme cleaners packed in spray bottles because they're so easy to use. The bottle ensures precise application and is ideal for smaller areas, cracks, and hard-to-reach spots. However, when you need to target larger spaces, a spray bottle won't do the job. In that case, you need to mix the cleaner with water before covering the large area and treating the stains.
Non-Toxic Ingredients: The ingredients a solution contains should be safe for the entire household. This includes you, the pets, kids, and everyone who lives in the house. Another thing to think about is allergies. If your feline or any other family member is prone to allergies, you should choose an unscented enzyme cleaner.
Timeframe: Can your new cleaner remove old stains, or is it only meant for new stains? Most cleaners claim they can target all stains, whether old or new. Despite this fact, you should read each packaging carefully to determine if this product fits your needs. Old stains are tougher to remove and might require several applications.
Now that we went over the basics, it's time to get familiar with the best enzyme cleaners for cat urine I could find on the market. I dive deep into these products, thinking about the needs of every one of you to find the top performers. Below you can read the detailed reviews and choose the enzymatic cleaner to fight against the stains and pet odor.
The Sunny & Honey cleaner has been around for a while, so it's safe to say that it's a proven way to take care of pet messes around the house. I always buy the one-gallon size, but if this is your first time trying it you can opt for the 32-oz bottle.
Like most other cleaners and odor removers, this one has a strong scent. But this scent doesn't just mask smells; the cleaner removes all cat odors around the house and targets stains without an excuse. In addition, the solution works wonders for pet vomit, urine, feces, and other organic liquids. This multi-purpose use is one of the main benefits and a must-have for any pet parent.
I also love that this is a biodegradable, non-toxic, and cruelty-free product. The brand donates parts of the proceeds to cats in need, so why not support such a great cause? You can keep your home clean while helping other cats in need – win, win!
Another excellent product about this cleaner is that if you don't like it or if it doesn't meet your expectations, the brand will give you a full refund. So, if you like what this review says, you can get the cleaner, test it, and decide whether it's a good fit for you.
One downside of the cleaner is the strong scent. There are three options to choose from and all smell nice, but they can be a bit strong for people with sensitive noses. In addition, you have to be careful when treating light-colored materials with this cleaner because it can potentially leave oily stains.
Pros
Available in two size bottles
Choice of three scents: lavender, spring, and fall
Works on all surfaces (floors, upholstery, rugs, furniture, leather)
Safe for cats, other pets, and children
Biodegradable, non-toxic, and cruelty-free
Part of the proceeds are donated to charity
An established brand that has been around for years
Enzymes remove many pet smells and stains
Cons
The strong scent can be overwhelming
Can leave oil stains on light-colored materials
The Simple Solution Extreme Stain and Odor Remover has been a staple in my cleaning cabinet for a while. There are two scents to choose from and two bottle sizes. What I love the most about this enzymatic cleaner for cat urine is that it works instantly and targets all the issues on my carpets.
Aside from using it on carpets, you can also feel free to apply it to upholstery, toys, bedding, and other fabrics. There's no need to worry about pets or kids because it's safe for everyone. The bottle offers three application types, so you can either use spray, mist, or foam. With so many options, it suits all pet owners with varying preferences.
Once you apply the clever, it will target even the toughest stains and odors. It will take care of feces and vomit in addition to urine and leave the surfaces clean. This is the brand's strong formula with three times the enzymes that penetrate deep into the fibers and break down the stains. This makes it one of the most powerful products on the market!
I also have to mention it has a long-term effect because I noticed that my cats never go back to the crime scene again. So, if you've been wondering how to stop a cat from spraying indoors, using this cleaner can be a part of the process because it prevents repeat markings. In other words, it won't only help you get cat pee out of the couch, but it will stop your cat from making the same mistake there.
Pros
Extremely affordable enzyme cleaner for cat urine
Instantly targets urine stains and odors
Also works on feces and cat vomit
Ideal for carpets, but you can use it on bedding, toys, upholstery
Two scents to choose from
Non-toxic and safe for pets and children
Three-in-one packaging that can spray, mist, or foam
Cons
The smell can be a little strong for some
Another must-try enzyme cleaner for cats is the Rocco & Roxie Stain & Odor Eliminator. It is one of the best carpet solutions tested and approved by the Carpet and Rug Institute. This means that the cleaner will eliminate stains and odors without damaging your carpet, no matter the material.
So, if your living room rug is a mess and your carpet is constantly a target, here's a fast solution to the problem. The price tag is slightly higher than the other contenders on the list, but I can guarantee that it's worth every single penny. And it's a lot cheaper than forking out on a whole new carpet!
When it comes to the application, the brand recommends that you first dilute the stain with water, then coat it with the solution. According to them, this is how you save product and target the stains the right way. Then, you wait for 30 to 60 minutes and blot the area! This application might not be the easiest, but it is extremely effective.
The enzymes will penetrate deep into the fabric, remove the stains and leave it smelling fresh and clean. Moreover, the solution is chlorine-free, making it safe for any material and color out there. It also has a fresh, minty smell. If you're not a fan of minty smells, this one can be a bit overwhelming. It's not too harsh, but you can still feel it and I personally think it's great.
Pros
Is suitable on any type of rug or carpet
Available in two size bottles
Chlorine-free and color-safe
Targets old and new stains alike
Approved by the Carpet and Rug Institute
Fresh minty scent
Cons
Slightly more expensive than the other alternatives
The application is a little lengthy
The Super Strength Commercial cleaner is what you should grab when you need serious help. This commercial-grade solution will target the most stubborn stains and eliminate the worst urine smells. I first got the smaller bottle to try it out, and since then, I've only been getting the large one.
If you've found yourself wondering, "Why is my cat peeing everywhere all of a sudden?", this is the enzyme cleaner for you. It's one of the most powerful on the list, and it is safe for all fabrics, except for light-colored materials; this is where you should be more careful and apply it with caution.
Another perk is that this is a multi-purpose product. It is an excellent spot treatment. Just locate the issue, spray the cleaner, and wait for it to work its magic. You can also spray it on materials, toys, and clothes, before throwing them in the washing machine to eliminate all lingering smells for good.
Finally, you can also tackle the floors with the BUBBA'S Super Strength Cleaner. You have to mix it with water, then start cleaning your hardwood floors or tiles. If you want to target old stains, remember that you might need to use the cleaner more than once before the stains are gone.
Pros
Available in two sizes
A powerful commercial cleaner
Meant for all surfaces, including carpets, wood, fabrics, etc
Certified by the Carpet and Rug Institute
Can be used as a spot treatment or floor cleaner
Cons
Can cause stains on light fabrics
Imagine getting rid of all the unpleasant odors around the house with a single product. This Angry Orange product is a best-seller among pet owners because it does exactly what it promises.
After a friend recommended it a few months ago, I bought it, and I haven't stopped using it since!
My favorite thing about this cleaner is that it is safe for different surfaces. This means I can apply it to furniture, carpets, toys, clothes, floors, mattresses, tiles, or anywhere else my kitty has had an accident. Once I read the instructions and tried it, I could see exactly why my friend loves it so much.
Unlike other odor eliminators that only temporarily remove the smells, this one removes them once and for all. Unfortunately, although I've used it on my carpets and it hasn't caused any damage, the solution isn't approved by the Rug and Carpet Institute. Another downside I want to mention is that it's a bit more expensive than other products I reviewed.
Another thing to note is that the Angry Orange Pet Odor Eliminator has a light citrus smell that cats hate. This powerful smell will make cats recoil, so they'll want to turn away each time they come near the area. This is one of the reasons why this odor eliminator is so successful at its job of preventing future accidents.
Be cautious about using it everywhere in your home though or your cat might feel overwhelmed. If everywhere smells of citrus, they won't have anywhere they can relax and enjoy! The only other downside is that it only comes in one size.
Pros
A multi-purpose cleaner you can use on many surfaces
Pleasant citrus smell that keeps cats away
Works on fresh and dry urine stains
Non-toxic and safe for pets and children
Cons
More expensive than other alternatives
Only comes in one size
This is a slightly different product from the ones I reviewed before, but it does the same job. Unlike the previous enzyme cleaners mainly meant for the home, this one is for your yard. The Simple Solution Yard Odor Away! is another affordable find that will care for your outdoor area.
This is one of the easiest yard cleaners to use because you can attach your garden hose directly to the container. One container covers around 5,000 square feet of your outdoor area. The price is unbeatable for what you get with a single container.
The cleaner contains enzymes and bacteria that fight unpleasant odors from pets. Another great thing is that it works on old and new odors, so your yard will be as good as new once you're done. The enzyme cleaner is also safe for plants, meaning that there's no need to worry about your beautiful garden being damaged.
One of the cons of this product is that it's not safe around pets. In other words, when you're cleaning your yard, it's recommended that you keep the cats at dogs at home to protect them. Nevertheless, it is a great solution if you have indoor cats and want to keep other neighborhood cats away from your outside area.
Pros
Easy to use and attaches to the hose
Neutralizes urine odors using enzyme power
Large container to cover an entire yard
Targets different surfaces with ease
Affordable for the amount of product your get
Will not damage your grass or plants
Cons
You should be careful with the pets when using it
Only suitable for outdoor use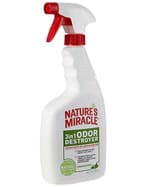 Nature's Miracle has pulled it out of the bag with this great enzymatic cleaning formula. As the name suggests, this has advanced triple-action – it eliminates airborne, fabric, and hard-surface odors with ease. This is great as you can use it all around your home and save from spending on multiple products.
Some of the surfaces you can use it on include carpets, couches, and in the car. You can also use it to clean pet products as well, such as litter box cleaner or to refresh old pet beds and clean cat carriers. It can essentially be used to clean anywhere your pet has been!
Like all enzymatic cleaners, this solution eliminates odors rather than masking them. This is great for providing long-term results and helps avoid repeat offenses. It also has a fresh, clean scent to replace the nasty ammonia smell commonly associated with cat urine. Simply spray the product on the urine-covered surface and let it work its magic.
This enzyme cleaner for cat urine is also super effective against stains. Wipe away as much urine as you can and then spray with this product. After five minutes, start scrubbing with a bristle brush to work the cleaner deep into the material. Repeat as needed to remove even the toughest stains.
Pros
Advanced 3-in-1 action
Can be used on almost any surface
Eliminates odors and replaces them with a fresh scent
Effective at removing though urine stains
Extremely easy to use
Cons
Only one bottle type is available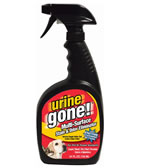 Finally, we have the Urine Gone Pet Stain & Odor Eliminator. This enzyme-based solution works into the deepest layers of your carpet or couch to remove stains and smells for good. As it works at a deep level, it is a must for anyone struggling with remarking and repeat offenses.
Alongside carpet application, this pet cleaner can also be used on wood, tiles, beds, and litter boxes. No matter where your cat makes a mess, this cleaner can budge the odors and stains for good. Besides, being specifically designed for cat urine, it contains all the right enzymes to precisely tackle the compounds found in cat pee.
Another perk of this cleaner is that it is 100% non-toxic and pet-safe. It is also safe for use around children and other animals, though you'll want to keep them away while the cleaner is in action.
Thankfully, it is super easy to use – spray and wait! As soon as the product has dried, it will take all nasty urine smells away with it.
Pros
Effectively removes urine odors and stains
Can be used on multiple surfaces
Very easy to use – just spray and wait to dry
100% non-toxic and safe for pets and people
Clean and refreshing scent
Cons
Cannot be used on leather products
Enzyme Cleaner Buying Guide
I put together this shopping guide to help you pick the ideal product for your budget and needs.
Surface Application
Enzyme cleaners can be used on multiple surfaces without causing any types of damage. This includes hardwood floors, mattresses, bedding, upholstery, leather, plastic, and more! It is important as you'll otherwise have to choose separate cleaners for each surface in your home, which ends up costing a lot of money.
Therefore, always consider where you will be applying the solution. Does your cat pee all over your home? Or exclusively on the couch or carpet? If the former is true, getting a multi-surface cleaner is a must. Whereas if your cat only ever pees in one area, consider how well the cleaner works on this specific material before purchasing a bottle.
With that said, even the best multi-purpose cleaners leave slight olive stains on light fabrics, especially if they contain essential oils or chlorine in their ingredient list. This is why you should learn more about each cleaner and be careful when applying them to your favorite cream armchair. If they won't work on the problem surfaces, the cleaner is essentially redundant!
Pleasant Smell
Many cleaning products have artificial smells to help distract from the nasty urine stench in your home. Ensure you choose a product that has a scent you like. Most manufacturers offer multiple scents, and some even have unscented versions.
Which smell you'll choose depends on personal preference, and it's tough to trust other people's words when you haven't smelled something before. Although one smell can be ideal for one person, it could be nasty and irritating for another. I recommend avoiding overly strong scents; these are irritating for most people, especially if they last a long time around the house.
Citrus scents are refreshing and an excellent alternative for people who struggle with repeat offenders. If you often see your cat peeing over the edge of the litter box or are tired of frequent marking, you need to opt for citrus scents because they are repelling for felines. However, cats hate these smells so make sure you have a citrus-free zone in your home too.
Method of Application
Not all enzyme cleaners are the same in the method of application. Most of the ones I reviewed come packed in spray bottles. Spray bottles are ideal for at-home use because they're small, can cover smaller areas, and don't cost a lot. This is my favorite style of cleaner because it can be used in seconds and leaves my home smelling fresh.
However, if you need to cover a larger part of your home, then you should consider getting a bigger size of the product. The content in these containers generally needs to be diluted with water before use. All manufacturers list steps about how to use their products, so you should always read the instructions before getting into action.
Stain Removal & Odor Elimination
The most important factor in this entire guide is the ability of a cleaner to successfully remove stains and get rid of odors. Stains can be such a hassle, especially if they're in the middle of your living room carpet. Unfortunately, many stains seem impossible to remove, but this is where enzyme cleaners step in and remove these stains for good.
The cleaner you get should also eliminate odors. Sadly, many solutions promise to take care of smells, but they only hide them temporarily. In other words, they mask odors rather than removing them. Cats have an extremely strong sense of smell and can smell their urine under the cleaning product, targeting the same spot again and again.
When searching for a cat urine remover for carpet or any other surface, you must ensure that it prevents repeat markings by eliminating urine smells. To be effective, it needs to contain the right enzymes for breaking down cat urine. Check this before investing in any cleaning product to avoid disappointment.
Health & Safety
Whichever product you choose has to be safe to use around your cats, kids, and other family members. Always opt for non-toxic ingredient lists that are mild but powerful enough to eliminate stains and odors.
However, although enzyme cleaners are much gentler than traditional chemicals, there are still warnings that you should read before using them. For example, applying a cleaner to a stain while your cat is very close to it is not recommended. This is because felines are so curious that they will explore any new scent and want to get as close as possible.
Therefore, you should always cover the area while the cleaner is doing its job. You can use a paper towel and aluminum foil, or surround the area with objects so that the cats and kids can get to it. The enzyme cleaner will remove the stains and odors as long as everyone is protected.
Type Of Product
Do you prefer a spray cleaner, liquid, or powder? Although I mostly included spray products in the review, you should know that you can find these cleaners in other shapes as well. Choose which one works best for you! Here is some information on each to help you make the decision:
Spray Cleaners: Spray cleaners are the most convenient to use, and they're perfect for homes. All you need to do is press a handle, saturate the stain and wait. You should opt for a spray cleaner if you need to remove stains from furniture, carpets, bedding, floors, mattresses, and other home surfaces.
Powder Cleaners: Powder cleaners are a bit trickier because you need to mix the right amount of water and powder for the cleaner to start working. However, they are a good option if you don't like any of the spray cleaners available.
Liquid Cleaners: Liquid cleaners that don't come in a spray bottle usually need to be diluted with water before use. They are more suitable for large stained areas and are harder to use than spray bottles. You should know the right amount of water to mix with the cleaner and measure them beforehand.
Concentrates are more affordable than spray bottles because you dilute them down to make a lot of product. You can also get a concentrate for home use, like stains around the house. However, getting a spray bottle will save you a lot of time. Overall, concentrates are better for shelters and other families with multiple cats.
Cost of the Cleaner
Enzyme cleaners aren't an expensive purchase. Most of these cleaners are within a similar price range, so you should mostly focus on finding a cleaner that will do all the things you need instead of looking for the cheapest one.
Moreover, the price you pay isn't always a guarantee of quality. This is why you have to do your research, think of the other factors I mentioned before, and then decide.
How Do Enzymatic Cleaners for Cat Urine Work?
Why should enzyme cleaners be your go-to purchase when you need to deal with cat urine around the house? Although most people are under the impression that vinegar or baking soda will do the job, that's not quite the case. Urine smells and stains are much more persistent!
Your cat's urine contains urea, uric acid, sodium, urobilin, pheromones, bacteria, creatinine, and electrolytes, among other components. The bacteria in the urine break down the odorless urea into ammonia. It is this that gives cat pee its horrible ammonia smell, which is commonly associated with the litter box and accumulates in hooded or top-entry litter boxes.
Most of the ingredients in cat urine, such as urea, sodium, urobilin, pheromones, and creatinine can be dealt with by using common household cleaning products as they are all water-soluble. This means commercial cleaners will remove the horrible ammonia smell readily. Therefore, you might think they are doing a good job.
However, the same cannot be said for the uric acid and salts found in cat pee. The uric acid binds tightly to whatever surfaces it touches. In other words, once your cat pees, the uric acid glues to fibers, and as time goes by, it becomes harder and harder to remove it.
Conventional cleaners simply aren't capable of breaking these surface bonds and removing the uric acid. Each time the acid gets in touch with water, it starts creating crystals which only makes it harder to budge. Therefore, the uric acid sits here and breaks down naturally over time – a process that takes years and years!
While you're waiting for the uric acid to break down naturally, you might not notice a smell. However, that doesn't mean that your cat won't. Felines have sharper senses, and that's why they go back to the same spots again and again. This leads to repeat accidents and spraying all over the home.
However, enzyme cleaners can break the uric acid bonds and effectively remove all traces of cat urine. They do this by transforming it into ammonia and carbon dioxide. Both of these will evaporate, so there will be no new formation of crystals. The only thing you have to remember is that you should let the cleaner air dry completely for it to be effective.
It is important to note that different enzymes break down different types of molecules. Therefore, for an enzyme cleaner to work on cat urine odors and stains, it needs to have the right type of enzyme inside. Otherwise, it will be just as redundant as regular chemical cleaners in removing uric acid.
Cleaners containing proteases are what you're looking for here. Protease enzymes, as the name suggests, break down proteins. This is therefore the best choice for cat parents because it targets urine, along with other bodily fluids such as feces and vomit.
Enzymatic Cleaners vs. Standard Cleaning Products
I have just explained why enzymatic cleaners are much more effective at removing urine smells and stains than standard cleaners. But what other benefits do they have? Here are some of the most significant advantages these cleaners offer over standard cleaning products to better understand why you shouldn't waste your money elsewhere.
Long-Lasting Odor Control
Enzyme cleaners don't work just when they're applied to the area. Instead, they keep on being active hours after the application. Actually, enzymatic cleaners work while the affected area is damp, and they keep fighting uric acid until the spot is completely dry. Most other standard cleaning products aren't as long-lasting and don't achieve the same results.
Multi-Surface Usage
Instead of applying harsh chemicals all over your home, you can turn to enzyme cleaners. As I already mentioned before, these cleaning solutions are a more natural alternative that contains enzymes and good bacteria. The lack of harsh chemicals means enzyme cleaners can be used on almost all surfaces.
Safe for Pets & People
Chemicals can be dangerous for the entire family and are not recommended for homes with people who struggle with allergies, asthma, or skin conditions. On the other hand, enzyme cleaners are more gentle and safer for pets and children.
Eliminates Bad Microbes
Enzymatic cleaners only destroy bad microbes! The microbes present in these cleaners fight the bad bacteria, meaning that they protect your home on a larger scale. On the other hand, standard cleaning products are not specific and will destroy good and bad microbes.
Better For The Planet
These cleaners are much more gentle to nature and don't cause as much harm. Using these cleaners can reduce the planet's waste and pollution. In addition, these cleaners don't produce as many harmful byproducts. They turn uric acid into very small amounts of water and carbon dioxide that aren't as destructive to the environment.
Very Powerful
Enzyme cleaners for cat urine are amazing at what they do. This is because the enzymes break down the uric acid and eliminate smells and stains for good. They also usually contain microbes that break down the bacteria in the urine. By doing so, less urea will be converted into ammonia and your home will smell pleasant and fresh.
Fight Stains & Odors
The main issue with standard cleaning solutions is that they only temporarily resolve the issue by masking nasty pet smells. On the other hand, enzyme cleaners target urine stains and remove them permanently. These cleaners are also powerful enough to eliminate persistent odors from cat urine.
How to Use an Enzyme Cleaner for Cat Urine
Now that you know the science behind these cleaners, it's time to find out how to use them properly. Although different manufacturers list separate instructions for their products, most enzyme cleaners are used the same way.
Here is a rough guide so you know what to expect:
Blot, Blot, Blot!
The first thing you need to do is blot as much urine as possible. You don't want the urine to get deep inside the carpet or material fibers, so you should grab paper towels and start blotting immediately. If you don't have paper towels, a clean towel or rag will do the job.
You should also know not to apply too much pressure because that can push the urine deeper into the carpet fibers. So, be gentle and get as much urine as possible. Moreover, enzyme cleaners work well on wet surfaces. Therefore, you can leave the surface a little damp for optimal results.
Apply the Enzyme Cleaner
After the blotting, you should cover the entire affected area with the enzyme cleaner. Be generous with the application and ensure that the entire area is fully saturated. You want to make sure the cleaner gets right down into the deeper layers of the surface, especially for old stains.
However, avoid spraying the cleaner all over the carpet or furniture, especially if it's not chlorine-free. This could damage the carpet or piece of furniture. Instead, stick to the precise area where the pee is located. Or if you have a carpet covered in urine stains more widespread application is okay.
Wait for the Cleaner to Work
Now all you can do is sit and wait. Some products state that you should wait for 10 to 15 minutes, while others will ask you to wait for 30 to 60 minutes. There is no specific rule in this case because you should follow the instructions on the bottle. Since these solutions take time to work, you must be patient and understand that rushing it won't help your issue.
While you're waiting for the cleaner to work, you should cover the area with something to avoid the cat or kids stepping into it. You can use anything you can think of as long as there's air circulation for the material to dry. Unfortunately, some cats are so persistent that they'll try to pee on the same spot again while the cleaner is working.
Blot Again
It's time to blot again! Grab more paper and blot the enzyme cleaner when you're done waiting. You can also use clean clothes or towels. You'll need to blot until the area is as dry as possible. This will speed up the drying process and ensure the cleaner works to its full potential.
You then need to wait for the area to air dry completely. Once it's dry, it will be clean, so you can start using the carpet and/or furniture again. Old urine stains are more persistent and will probably require you to repeat the same process at least twice. But if you're lucky enough, the stain will disappear after the first try.
FAQs
Q: What enzyme breaks down cat urine?
A: Protease is the enzyme that breaks down cat urine. Although there are numerous enzyme cleaners based on different enzymes, if you want a cleaner that will target cat urine, you should look for a product with protease.
Q: What is the best enzyme cleaner for cat urine?
A: The best enzyme cleaner for cat urine is the Sunny & Honey Pet Stain & Odor Miracle Enzyme Cleaner. This affordable cleaner works on all types of surfaces, comes in three scents, tackles odors and stains right away, and is very easy to use.
Q: Do enzyme cleaners work on old cat urine?
A: Yes, enzyme cleaners work old cat urine. These cleaners work on fresh and old stains alike. Just ensure the surface is damp and always apply a generous amount. While the area is damp, the cleaner will break down the uric acid, and the stain and smell will be gone.
Q: What is the main benefit of using enzyme cleaners?
A: The main benefit of using enzyme cleaners is that they remove cat urine stains and unpleasant odors altogether. Other household cleaners might remove odors, but the effect will only be a temporary fix. This often causes cats to pee in the same spot over and over.
Q: What can you clean with enzyme cleaners?
A: You can clean almost everything you can think of with enzyme cleaners. Aside from pet urine, feces, vomit, and odor, you can clean different stains around the house, including stubborn wine, oil, chocolate stains, and much more.
Q: How long does it take for an enzyme cleaner to work?
A: How long it takes for an enzyme cleaner for cat urine to work depends on the exact product you choose. Most require you to wait for at least 15 minutes, whereas others recommend waiting for up to an hour. For stubborn odors and stains, leaving the solution on longer is beneficial.
MY FINAL THOUGHTS
It's time to forget about classic cleaners and make your job easier with the best enzyme cleaner for cat urine. There are so many amazing enzyme cleaners out there that it took me a while to put together a curated list of the top performers. However, after carefully reviewing each product, I can finally say that there is a little something for everyone in the review section.
Enzyme cleaners are so beneficial because they successfully remove cat urine stains and eliminate odors, unlike conventional cleaners. In addition, they are affordable, safe for kids and pets, better for nature, and protect you from bad microbes. So, are you ready to get your favorite cleaner?