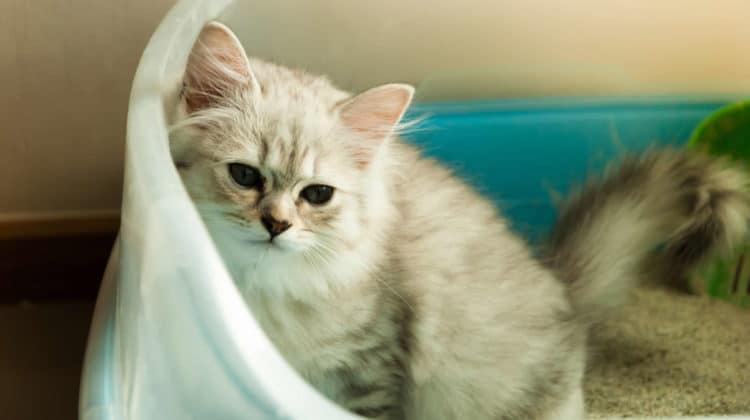 Cats are wonderful, curious creatures, but their litter boxes are one thing that all owners hate!
Daily scooping and weekly cleaning have to be some of the worst things about having a cat, and matters get even worse if your cat starts peeing over the edge of the litter box.
There are several reasons why your cat could be peeing outside its tray. They may have health issues, you may need to start cleaning it more regularly, or perhaps your cat is just being finicky and has decided it doesn't like its litter box! Pinpointing the reason why your cat pees over the edge of the litter box is essential in putting a stop to this bad habit.
In this article, I will run through all the possible reasons why your cat is making such a mess when going to the toilet. I'll then run through some things you can change to prevent this and some of my favorite products for stress-free toilet time.
Why Is My Cat Peeing Over the Edge of the Litter Box?
1. Your Cat's Litter Box is Too Small
The most common reason why your cat is peeing over the edge of its litter box is that the litter box you're using is too small for them. Think about it, if your cat cannot fit inside the litter box, then its rear will likely be handing over the edge when doing its business. It's no surprise your cat is getting pee over the sides of the tray!
This can be frustrating for owners, but it really isn't your cat's fault. They have gone to their litter box and tried their best to go in the right place. Yet, unbeknown to them, they are actually peeing outside their tray. This can also be a problem with pooping on the floor too.
Having a litter box that is too small is more of an issue if you have a large breed of cat, such as a Maine Coon or a Persian. As larger felines, they naturally need more space to assume the correct position when going to the bathroom. Obese cats will also need extra room to climb in, move around, and dig about.
2. Your Cat Doesn't Like its Litter
It is also possible that your cat simply doesn't like their cat litter. This shouldn't come as a surprise, as cats can be extremely fussy creatures! If so, they may be balancing on the edge of the box so that they don't have to touch the cat litter with their paws, and their urine will likely end up spilling outside the tray.
You will likely be able to tell if this is the reason by watching your cat when they go to the bathroom. Are they balancing precariously on the edge of the tray? If so, and if you're sure your litter box is large enough, it is usually the type of litter that is the culprit. You can also try giving your cat a second tray with a different type of litter in and seeing if they stop peeing over the edge.
There are many different types of cat litters – including clay clumping litters, wooden pellets, silica crystals, recycled paper, and more! Besides the material, litters also have different scents which could be deterring your cat. There will be a cat litter out there that your cat is happy to use, so keep trying until you find one they get along with.
3. Your Cat's Litter Box is Too Dirty
Another common litter box issue comes down to cleanliness. Cats are notoriously clean creatures and spend a large portion of their day self-grooming. It follows that when it comes to using their litter box, they have a huge preference for a clean tray and will always try to find an unsoiled spot to urinate on.
If your litter box is full of clumps of soiled urine, your cat will struggle to find a clean area. Alternatively, they could refuse to use the litter box altogether!
Keeping a clean litter tray is even more important if you own more than one kitty – with more cats, there will be more pee and so you'll have to spend more time cleaning up. Besides, whereas cats don't like urinating on top of their own pee, urinating where another cat has peed is even worse!
4. Your Cat is Urine Marking
It is also possible that the urine you're finding outside your cat's litter box is not them fully relieving themselves outside the tray, but rather them spraying. Spraying is a form of urine marking that cats use to communicate and is when cats pee on vertical services. So, if your cat is spraying outside the litter box you don't have a litter box issue at all, you have a communication problem.
Although female cats can urine mark, it is much more commonly seen in unneutered males. Moreover, it is typically seen in muti-cat households. Cats use urine marking as a way to mark their territory and communicate to other cats that this is their vicinity. Cats also spray if they are in conflict with another cat. It follows that the more cats you have, the more likely spraying will be an issue.
Cats will also mark their territory more when they are stressed. Smelling a familiar scent can make them feel comforted and at home, besides acting as a defensive mechanism to ward off other animals that are causing them to feel stressed.
5. Your Cat Has Arthritis
It is also possible your cat is missing its litter box as it has arthritis, which is an extremely common condition in older felines. This is much like human arthritis, where your cat's joints become swollen and inflamed. The bones will start rubbing against each other instead of smoothly moving past each other, making movement more painful and difficult.
The reason arthritic cats often pee over the edge of their tray is that it causes them more pain. They first have to climb into a litter box, many of which have high entry points. Then, they have to move around and risk bumping their swollen joints on the sides of the box, making the pain worse.
Although arthritis is commonly linked to age and is down to the normal wear and tear of your cat's joints throughout life, younger felines can also develop the condition. It is also more common in some breeds, including Maine Coons, Persians, and Siamese cats.
6. Your Cat Has a Urinary Condition
There are also a whole host of urinary issues that your cat could be suffering from. Common feline urinary issues include:
Bladder Stones: Crystal-like mineral deposits in the lining of the bladder or anywhere along the urinary tract. They can damage the surrounding tissues and cause inflammation.
Urinary Tract Infection (UTI): More commonly seen in older felines, bacteria can enter and travel up the urinary tract causing infection and inflammation.
Cystitis: Otherwise known as inflammation of the bladder, cystitis can cause frequent and painful urination. Often, there is no underlying cause, meaning the inflammation is idiopathic.
Although these diseases and conditions all have different causes, they all increase the amount your cat needs to urinate. Frequent urination can mean your cat doesn't quite make it to its litter box in time. Or, as your cat is peeing more regularly, their litter box may be dirty which can also deter them from using it. As a result, they may pee over the edge instead.
7. Your Cat has a Metabolic Disease
Metabolic diseases such as diabetes or hyperthyroidism can also cause an increase in urine production, meaning your cat has to go more frequently. This feeling of suddenly needing to urgently pee again explains why they pee outside their litter box instead. Besides, as they are urinating more their litter box will also become dirty faster than you can keep it clean!
8. Your Cat Has a Pawpad Injury
There is also a chance that your cat is peeing over the edge of their litter tray as they have injured their paws. Litter can be quite harsh and abrasive on their delicate paws, especially if they have an open wound or another injury. Instead of going inside their tray to urinate, they will likely balance on the edge and end up missing or finding somewhere else to pee altogether.
There are a few common types of paw pad injuries that are seen frequently in cats:
Overgrown Claws: When a cat's claws get too long, they can curl back and grow into their paw pads, puncturing the surface. This is more common in indoor cats or older cats who both not as active as young, outdoor felines and spend less time filing their claws down.
Bite Wounds: If your cat has gotten into a fight recently, the other cat could have bitten its paw and caused an open wound. This is more likely with outdoor cats who have the potential to fight with other cats in the neighborhood over territory or mating partners.
Damage from Sharp Objects: Your cat could have also have trodden on something sharp, such as a piece of glass, a jagged stone, or prickly plant or thorns. Shallow wounds won't cause major issues, but if the paw pad has been cut deeply it can be painful.
Burns: Although the least likely of the four, your cat could have walked across a hot surface and burned its paws. This could be something like your stovetop which hasn't quite cooled down yet, or a wood burner.
How Do I Stop My Cat Peeing Over the Edge of the Litter Box?
Here are some questions you can ask yourself to help figure out what is wrong to then find an appropriate solution:
1. Is the Litter Box Large Enough?
As a general rule of thumb, your cat's litter box should be at least 1.5 times their length so they can comfortably move around and pee inside it. Even an extra large litter box may not be big enough for some breeds, so always measure and don't rely on the name of the product for clarification. Upsize if necessary, and make a litter box out of a storage box if you can't find one big enough in pet stores.
2. Does Your Cat like Their Litter?
If you have recently changed your cat's litter, try swapping back to the old type and see if they start using their tray again. Also, try setting up a second litter tray with different litter in to determine whether this makes an improvement. If so, it's the litter that's the issue. This can be solved by simply changing brands, types, or fragrances.
3. Is the Litter Box Clean?
You should be scooping your cat's litter box at least once per day and completely emptying it, cleaning it, and refilling it at least once per week. If you notice a lot of urine and feces when you are scooping daily or a foul smell coming from their tray, you need to clean more often.
4. Is Your Cat Urine Marking?
If your cat is urine marking, they will pee up the side of the litter box and likely other vertical services in your home. If you have an unneutered male cat, you could speak to your vet about getting them castrated, which could put an end to the spraying. Alternatively, a litter box for high spraying cats could be your friend. These have high sides and will help to contain the urine inside the box.
5. Does Your Cat Have Arthritis?
Early signs of arthritis include reduced mobility, such as your cat struggling to jump onto ledges or climb the stairs, as well as limping, resting more frequently, and poor grooming habits. Your vet will be able to confirm whether your cat has arthritis or not and prescribe pain relief. You should also look for a large litter box with a low entry point to make it easier for your cat to use without worsening their joint pain.
6. Does Your Cat Have a Urinary Condition?
Signs of urinary diseases include frequent urination, excessive licking of the genitals, and sometimes blood in the urine. Take your cat to the vet if you are suspicious and they will be able to prescribe effective treatment, which should stop your litter box problems.
7. Does Your Cat Have a Metabolic Condition?
Cats with diabetes will also need to urinate more, but this will also be accompanied by increased thirst. Any cats with hyperthyroidism will also have these symptoms, along with increased appetite and weight loss simultaneously. Again, your vet can provide a treatment which should, in turn, see better litter box behavior.
8. Has Your Cat Injured Its Paw?
If you notice your cat limping, take a look at your cat's paws and keep your eyes peeled for signs of injury. If there is a foreign object stuck in its foot, you can try pulling it out, and an ingrown claw can be clipped. You should also see your vet who can provide painkillers and antibiotics if the wound is infected.
What Other Products Can Help?
All of the above solutions are designed to stop your cat from peeing over the edge of the litter box. However, some other products can limit the mess your cat makes, which may also be a worthwhile investment.
High-Sided Litter Box: High-sided litter boxes make it more difficult for your cat to accidentally miss their litter tray – if they are angling themselves slightly wrong, the urine will simply hit the wall of the litter box and slide down into the tray. This is also a great litter box for messy cats as it also prevents litter from being kicked over the edges.
Litter Box Wall Protector: If your cat is spraying up your wall next to your litter box, you can purchase spray guards to prevent the urine from being deposited onto your wall directly. This can limit the mess and make the cleanup much easier.
Waterproof Large Litter Mat: To protect the floor around your litter box, try getting a waterproof litter mat. This product will also help to prevent litter tracking around your home, making your whole house cleaner.
Cat Litter Attractant: To make your litter box more appealing to your furry friend, you could also buy cat litter attractant. The power contains a blend of herbs that cats like and is usually used when training kittens, but can also encourage adult cats to use their litter tray.
CONCLUSION
As you can see, there are many reasons why your cat is peeing over the edge of the litter box. You may need to change their litter box or the litter in it, or if their behavior is related to a medical condition your vet will be able to prescribe treatment that should curb the bad behavior. There is also a range of products that you can purchase from pet stores to help limit the mess your cat makes and make the odd accident easier to clean up.