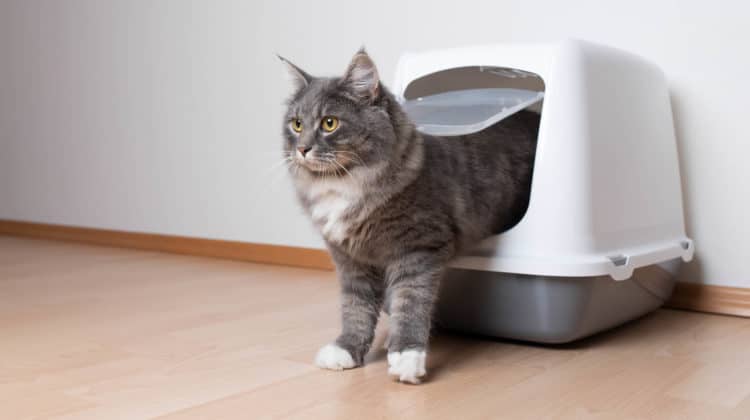 Many pet parents choose cats over dogs because of their cleanliness. Felines love to self-groom and keep things clean! However, there is still one messy task all cat moms must deal with: the litter box.
If you find the correct litter box for your furry friend, the task of cleaning is made easy. However, cats are notoriously finicky over their litter boxes. Finding the perfect design becomes even more challenging if you have a high-spraying cat. You need to consider enclosed boxes or high sides to help contain all mess your cat makes.
I have a cat that sprays, and it took me a long time to find a litter box that (1) my cat liked and (2) contained all his pee. But I finally found the solution! If you're struggling with the same issue, keep reading. I reveal fifteen fantastic litter boxes for spaying cats on this page.
I also have a handy buyers guide down the bottom. This guide will help you avoid making the same purchasing mistakes I did and (hopefully) mean you buy the correct litter box the first time around.
My Top Pick

My top choice is IRIS USA Top Entry Cat Litter Box. My cat always aims high and simple litter boxes don't work for him, but the IRIS USA Top Entry Cat Litter Box is a lifesaver. Apart from having a modern design, this litter box keeps all pees and poops where they should be, making my house cleaner.
If you own a dog, you know how it enjoys playing in a cat's litter box. IRIS USA's litter box doesn't allow it to happen. This BPA-free litter box gives your cat enough privacy to do its feline business. The box is easy to clean due to its round corners, and there are two size options to suit all breeds!
Best Litter Boxes for High Spraying Cats
Before revealing the best litter boxes for high spraying cats, I want to show you what selection criteria I used. Below are all the factors that each of my top-rated products needs to satisfy:
Size: Choosing the correct size is critically important. The box must be long and wide enough for your cat to do its feline business in comfort. Many cats refuse to use a litter box of the wrong size. Your cat must also have enough space to avoid any possible "deposits" remaining from your pet's earlier visits.
Height: The sides of a litter box must be high enough to prevent your cat peeing over the edge of the litter box. However, a cat should still be able to easily get into and out of the box. If you have a high spraying cat, the litter box must have extremely high sides or offer an enclosed design so that no pee escapes!
Entrance Type: If your "sprayer" has mobility problems like arthritis, one side of a litter box must be low. The 2.5-3.5″ entry side is typically enough to let your cat get into and out without pain while still keeping "deposits" and peeing inside. On the other hand, younger cats are happier with higher entrances or even top-entry designs.
Covered or Uncovered: Both covered and uncovered boxes work for high-spraying cats, but most cats prefer uncovered. The closed lids can trap smells inside and make the litter box an unpleasant place for your cat. However, some cats like privacy when peeing, so I have included enclosed litter boxes, too.
Material: A litter box must be top-quality BPA-free plastic is one option as it is safe for cats. However, materials such as stainless steel are arguably superior. Steel litter boxes are less resistant to scratching, don't retain odors, and are more durable.
Ease of Cleaning: All owners want a litter box that is easy to clean. I searched for designs with rounded corners and smooth surfaces you can effortlessly wipe clean. I've also recommended a few self-cleaning litter boxes. These are great for busy owners but aren't recommended for timid felines.
With all these factors in mind, I've come up with a list of some of the best litter boxes for high spraying cats.
Read through each review and see which you think could be best for your cat and your situation. No two cats are the same, so there is no "one size fits all." Take your time and use the buying guide down the bottom if you're struggling to make the right decision but are desperate to stop your cat peeing everywhere all of a sudden!
My top pick – the IRIS USA Top Entry Cat Litter Box – astonishes everyone with its super stylish design. Its neutral color scheme matches almost all home interiors, and its enclosed design means you never have to stare at your cat's pee and poop again!
The top-entry design also makes it ideal for high spraying cats. Their pee hits the tall sides whenever your cat sprays and falls into the litter below. These high sides also ensure it is suitable for pet owners who have a cat and a dog; the IRIS USA Top Entry Cat Litter Box gives your cat a lot of privacy, and your dog is less likely to create a mess with the litter.
To further minimize the mess your kitty makes, this litter box features non-skid rubber feet, so there's no fear of it being knocked over. The grooved lid – aside from looking super stylish – also doubles as an anti-tracking mechanism and ensures any pieces of litter from your cat's paws won't fall onto the floor.
Additionally, this litter box has been made with quality BPA-free plastic and is extremely durable. It also has rounded corners, a comfortable opening, and a high-quality litter scoop hanging right outside the litter box. This means that the IRIS USA Top Entry Cat Litter Box is incredibly easy to clean, so you'll barely smell any cat odor in the room!
Despite all these perks, this litter box might be too difficult for cats with health problems or mobility issues to climb in and out of.
Nevertheless, younger cats generally have no issues when getting accustomed to it. And, despite a sleek design, IRIS USA Top Entry Cat Litter Box is still budget-friendly and can serve you for years.
Pros
Made from BPA-free plastic
Innovative design that contains all pee
Dog-proof design to further reduce mess
Available in two sizes – medium and large
Non-skid rubber feet to prevent knocking over
A big top opening for comfortable entrance and exit
Features an attachable hook and a litter scoop
Grooved lid that helps to eliminate litter from the paws
Easy to clean
Great for small apartments
Cons
Not suitable for overweight cats, older cats, and cats with mobility problems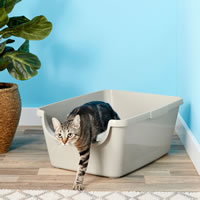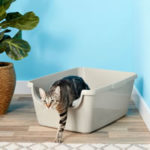 This extra-large high sided cat litter box is for large cat breeds like Maine Coons that tend to aim high when peeing. It is much bigger than your average litter box, ideal for bigger breeds. It also features extremely high sides to help stop a cat from spraying indoors.
The primary thing I like about this litter box is its size. It's challenging to find a litter box large enough for Maine Coons. My mom spent hours cleaning the walls full of our cat's pees, and many litter boxes with high sides didn't work for our larger furry friend. Yet this litter box from Frisco is the perfect solution! With its XL design, it works wonders for bigger breeds.
Of course, this does mean the litter box takes up a lot of space and isn't ideal for small apartments. However, it provides a protective effect, not to mention that it's an excellent and comfortable litter box for a large cat as there's enough space for digging around in while doing its business.
The entry side is lower than the other sides of the box. This allows a cat to get in and out with ease – even if your cat suffers from arthritis or other mobility issues. Being spacious and durable, the Frisco High Sided Cat Litter Box is made of high-quality BPA-free plastic. It's also an eco-friendly option; the litter box can be recycled once you stop using it.
It's available in two colors – warm gray and navy – and is budget-friendly. If you have a larger furry friend that keeps making a mess, this could be the ideal litter box for you.
Pros
Lowered entry side ideal for older or less mobile kitties
High sides and back for preventing spraying
Durable and made of top-quality plastic
Simple tray design that is easy to clean
Large enough for giant cat breeds like Maine Coons
BPA-free and eco-friendly
Cost-friendly
Available in warm gray or navy colors
Cons
Extra spacious and unsuitable for small apartments
The price tag is the first thing that might shock you about this product, but the litter box is worth it. This self-cleaning version is perfect if you're a busy cat parent who doesn't have time to clean, scoop, and refill the litter box. Just set a cleaning cycle to start 5, 10, or 20 minutes after the safety sensor identifies that a pet left the box.
No worries about the odor, either. The odor control option involves using crystal litter that eliminates smell by dehydrating poops and absorbing urine. This litter also doesn't stick to the paws and is 99% dust free, better at preventing tracking, and easier on your cat's respiratory system.
The PetSafe litter box is also covered and thus ideal for high spraying cats. All high-spraying pee hits the walls and falls straight back into the tray! Disposable trays guarantee leak protection thanks to their plastic lining, so you don't have to worry about your cat's urine ruining your floor. Every tray has a lid for fast disposal – just remove and throw it away.
PetSafe Self-Cleaning Hooded Cat Litter Box is also notable for its health counter and motion sensors, which let you know how often your cat uses the litter box. The box is easy to set up and there are three styles to choose from. There's also U.S. based customer service for any extra questions you have.
Pros
Covered design that contains all pee
Available in three styles
Self-cleans for weeks
Leak-proof disposable trays
Easy to setup and use
Five times better odor control than regular trays
99% dust-free low-tracking crystals
Motion sensors and health counter
U.S.-based customer service
Cons
Expensive compared to regular litter boxes
Self-cleaning sounds can scare timid cats
The Hidden Litter Box will satisfy a high spraying cat and a pet parent who loves plants simultaneously. It's a great choice for stylish owners who don't want their cat's litter box ruining their home design.
Apart from looking beautiful, this unique litter box effectively protects your walls and floors. It is made of durable polypropylene and comes with moss, filter, and plant. The filtered vented system controls odor and dust, making odors less likely to accumulate.
The Hidden Litter Box is spacious, designed for large cat breeds and multi-cat households. It also gives your feline privacy; if you turn it, your guest will never know it's a cat litter box!
There's even one-year limited warranty in case something happens with the box. However, cleaning can be a little more challenging as the plant part can get in the way. You must also be careful not to let your cat eat any plastic plant leaves, as this can be a hazard for your cat.
Pros
Suitable for large cat breeds or multi-cat households
Beautiful design that's perfect for plant lovers
Perfect for small apartments as it can be used as a piece of home decor
Highly durable and comes with a warranty
A filtered vented system that keeps out dust and odors
Cons
The plastic plant can be dangerous if your cat chews and swallow a piece of it
This covered cat litter box is for picky cats who aim too high when peeing. Constructed of high-quality material, the Purina Tidy Cats litter box is easy to clean, and your cat won't have trouble getting in and out. Therefore, this litter box is suitable for cats with mobility issues, older cats, and even playful kittens.
The Purina Tidy Cats litter box is yet more versatile as it has a removable hood. If your cat refuses to use a covered litter box, you can make it open in a matter of a few seconds. There's also a money-back guarantee in case you or your pets don't like the litter box.
Another huge perk is the effective odor control due to the pellet system, which works by separating solids and urine. Non-clumping pellets let the urine pass through to the absorbent pad below, keeping liquids contained and preventing odor. The litter pads are ultra-absorbent and can last a week for a single cat.
Pros
Made of sturdy plastic
Can be covered and open
Spacious interior
Odor control due to the pellet system
Excellent entry/exit side
Easy cleaning
Money-back guarantee
Cons
Love your cat but hate scooping? Omega Paw Roll'N Clean Cat Litter Box is an ingenious solution for this problem.
The box self-cleans super-fast while eliminating odors and dust. The litter box features a unique patented grill, which catches all of the clumped waste, placing it into the pull-out tray. Simply spin the handle to sift the waste within seconds! Since this litter box uses no electricity, you don't have to worry about it breaking down.
The manufacturer recommends using silica or clumping litters for the best results. This is a slight limitation as you may need to change litters. Yet compared to a traditional litter box, the Omega Paw Roll'N Clean Cat Litter Box uses less litter as it never spoils clean litter – great for saving money and producing less waste!
This manual self-cleaning litter box is ideal for high spraying cats thanks to its hooded design. The sturdy plastic clips keep the top and bottom halves together, ensuring leak protection. As a covered cat litter box, it also offers privacy for your feline.
It's also huge, which is great for large cat breeds and multi-cat households The opening is wide enough for a cat to get in and out quickly, albeit it might be too high for older cats with health issues. If you have two cats, they can comfortably share this litter box together. Plus, the shape of this box is stylish and unique.
Pros
Covered design that contains urine
Patented grill inside
Self-cleaning feature
Requires less litter
Perfect for large cat breeds and multi-cat households
Odor and dust control
Leak protection
No electricity needed
Spacious interior
Cons
Not for small spaces
Not suitable for older cats with mobility issues
May have to change cat litter
The Amazon Basics covered litter box is a budget-friendly option for your high peeing cat. It aids in keeping litter inside while providing your cat with extra privacy. The swinging door ensures comfortable entry and exit for your pet, while a lowered front side makes it easier for older cats to get in and out.
The litter box is constructed from stain- and odor-resistant polypropylene plastic. It's quick and simple to clean by using a damp cloth only. You can lift the hood to speed up the cleaning process, making your life even easier!
The box features one carbon filter that you can regularly replace to prevent odors. This filter is great for enclosed litter boxes, helping to encourage your cat to use its tray. The top handle of the litter box also allows you to carry it around the house or when cleaning a room, and there are several styles and sizes to choose from.
Pros
A dome-style cover and swinging
Made of rugged polypropylene plastic
Easy to clean
Replaceable carbon filter
Large opening suitable for older cats
Limited one-year warranty
Cons
Unattractive design compared to others
Some urine may leak where the hood and tray join
The Van Ness litter box is simple, cheap, and effective. It's ideal for high sprayers and cats who enjoys digging around since the litter box is slightly taller on the back and the side. However, depending on how high your cat sprays, some pee may escape!
What I like about this cat litter pan is the stain- and odor-resistant high polished finish and the box bottom shape that makes this litter box super easy to clean. The corners are also rounded, making scooping simpler.
Since it's not hooded, it's not the best option for cat owners who have a dog in the house. Moreover, it's too small for large cat breeds like Maine Coons. Seniors or cats with mobility issues may also struggle with the high entry point. But if none of these apply, it's an effective and affordable solution.
Pros
Simple and budget-friendly
High sides help contain spraying urine
Stain- and odor-resistant finish
Easy to clean
Cons
Not suitable for large cat breeds
High entrance point is unsuitable for older cats
Petmate's Basic Litter Pan is well-known for its wide range of sizes, which means it's ideal for cats of all sizes. No matter how large your furry friend, they'll comfortably be able to fit inside this tray! This litter box is also great for cats that refuse to use covered litter boxes.
Constructed from durable plastic, Petmate's Basic Litter Pan features low sides, which allow your pet to get in and out with ease. Plus, the wide profile base of the litter box aids in preventing litter scatter and unwanted spills. The unique design-break pattern helps to enhance structural stability for extra durability and strength.
Unfortunately, the product does have some drawbacks. This extra large litter box for big cats requires large quantities of litter, which can end up costing a lot of money. Scooping is also needed daily as there is no odor control, and the huge size might be too big for small apartments.
Pros
Available in 4 sizes, including large and jumbo sizes
Suitable for cats of all sizes
Rimmed sides for easy moving, cleaning, or lifting
Made of durable plastic
Cons
Requires a lot of litter
No odor and dust control
Not as effective in protecting against spraying
Perfect for cat below 15lb, Pxyz Hooded Cat Litter Box is one of the best litter boxes for high spraying cats. As a full domes design, there is no place for any urine to escape. Plus, the lid of the tray extends down to the floor, ensuring no pee leaks through the joining cracks.
I love its design. The litter box is fully covered, providing your cat with privacy – especially if there's a dog living in your house. The drawer drag also makes cleaning a breeze. The Pxyz litter box is easy to use, hygienic, and labor-saving. And an added bonus: it holds odors.
This litter box doesn't require too much litter, so it's efficient and budget-friendly. However, it is an expensive product outright and not ideal for anyone on a budget. Yet if you only have one small cat, it's a great option that is durable enough to last a lifetime!
Pros
Fabulous design
Requires less litter
Odor control
Covered for extra privacy
The drawer is easily pulled out for fast cleaning
Ultra-hygienic
Cons
Only for small cat breeds
More expensive than other litter trays
The Nature's Miracle litter box is an excellent choice for high peeing cats. The covered design keeps litter and urine inside the box, ensuring that your floor is always clean. This litter box is ideal for small spaces the convenient corner design.
What I like the most about this cat litter box is that it features the non-stick antimicrobial surface, which prevents litter buildup, caking, and makes the cleaning process as simple as possible. The odor-block technology and a replaceable charcoal filter also eliminate odors for more than 3 months!
The downside is that this corner box might be a tight squeeze for larger cats. But if you have a smaller cat, it's worth the investment. Besides, the Nature's Miracle litter box is cost-friendly despite all the features it offers.
Pros
Hooded litter box to contain pee
Non-stick surface for fast cleaning
Antimicrobial coating for warding off bacteria
Replaceable charcoal filter with odor-block technology
Convenient corner design for tight spaces
Great price for all the features
Cons
The top-entry design of the Clevercat litter box helps to ward off over-the-edge spills, remove tracking, and fight odor. You can tell this product was created for cats that tend to pee over the edge of the box and cats that enjoy digging and kicking litter in mind!
Moreover, the Clevercat litter box is ideal for a multi-pet home where dogs and cats live together. No dog – no matter how big or small – will be able to gain access to your kitty's litter tray. It is also a better option for homes with young children, and keeps all your cat's waste out of sight.
Even though the manufacturer claims that no training is required, some cats might have trouble using this top-entry litter box. The box isn't recommended for large cat breeds, cats with mobility problems, and older cats.
Pros
Top entry litter box for maximum leak protection
Ideal for multi-pet parents
Prevention of over-the-edge spills
Grooved lid helps to eliminate tracking
One-year limited warranty
Cons
Not recommended for older, disabled, and large cats
Some training might be needed
If you can't train your cat to use a top entry or fully covered litter box, consider investing in a high sided litter box like this one from Nature's Miracle.
This cheap litter box has tons of features and is one of the best options for high spraying cats. The high sided design ensures litter stays in the box and your high peeing cat does his business without ruining your floor or walls. Older cats or cats with weak joint health still use this litter box as well thanks to the lowered front side.
The non-stick antimicrobial surface of the Nature's Miracle cat litter box stops bacteria from developing inside the box as well as prevents litter caking and buildup. This spacious litter box is easy to clean and is suitable for large cat breeds. If you have two small cats, one Nature's Miracle cat litter box will be enough for both of them.
However, as a spacious design, it won't fit into a very tight corner. You'll also need to use more litter to fill it. Nevertheless, simplicity yet efficiency make the Nature's Miracle cat litter box an excellent choice for cat parents.
Pros
High wall design perfect for sprayers
Non-stick surface for hassle-free cleaning
Good for large cat breeds or multi-cat households
Antimicrobial coating for bacteria prevention
Lowered front side for easy access to the litter
Budget-friendly
Cons
Requires more litter
Large and may be unsuitable for smaller homes
Want to spoil your purr-fect cat? Splurge on this incredibly elegant litter box furniture. I've never seen such litter box furniture in the vet stores, and I'd certainly purchase it if I lived in a big house. There are two colors to choose from based on your interior design, and you can even use the top as a shelf or coffee table!
The Zoovilla litter box furniture is simple to assemble, and it can serve as a cat house. It stops litter from spilling, protects your floor and furniture from urine sprays, and reduces odor. Even if your cat aims too high, you can quickly clean the wall of this litter box furniture.
It can fit cat pans or litter boxes up to 16.00″ deep and 17.5″ wide which need to be bought separately. This is large enough for small breeds only, but the Zoovilla litter box furniture is suitable for cats of all ages. It's possible to use disposable litter boxes for faster cleaning.
Pros
Functional and elegant design
Protects floors and furniture from spraying
Hidden litter box or cat house
Available in 2 colors – black and white
Easy assembly
Prevents litter spilling
Cons
Too spacious yet not suitable for large cat breeds
An additional litter box is required
Available in four colors, Catit Hooded Cat Litter Box is designed for the pickiest "sprayers".
The hood ensures privacy and house aesthetic, while also effectively redirecting any sprayed urine back into the tray. The overlap mechanism and elevated backside of the box wards off leaks caused by spraying or urinating. Litter is also neatly kept inside the box so you're less likely to find soiled cat litter around the house.
The size of this litter box is large, and it can be used for multi-cat households or large cat breeds. The huge door opening also allows any cat to get in and out effortlessly. Plus, its spacious entry point makes cleaning easy. You can even lift the hood to clean the box faster.
This litter box is constructed from BPA-free materials and features a carbon filter that helps to eliminate odors. A sample of the popular Magic Blue Litter Box Filter is included for free. You'll need to replace the filters occasionally to remove unpleasant smells.
Pros
Jumbo-sized box for large cat breeds or multiple cats
Built-in overlap mechanism for maximum leak protection
Paw-safe front door
Made of BPA-free materials
Slider locks for extra security
Carrying handle
Carbon filter for odor control
Easy to clean
Large door opening for all cat breeds
Suitable for older cats
Available in four colors – gray, white and blue, pink and white, and white tiger
Cons
Carbon filters should be replaced regularly (extra cost)
Not for small apartments
How to Choose the Best Litter Box for Your High Spraying Cat?
If your high peeing cat tends to ruin your walls or ends up spraying or even pooping on your bed or laundry, it's a sign you're using the wrong litter box. Following these simple tips to make sure you're investing in the right litter box for your "sprayer."
Size of the Litter Box
Choosing an extra-large litter box with high sides might sound like an amazing idea for high spraying cats. The more space your kitty has, the less mess they'll make, right? Well, not exactly!
The size of your cat's litter box is arguably the most important feature and needs to satisfy three criteria:
Be big enough for your cat to use comfortably
Be small enough for your cat not to feel vulnerable
Be the correct size to fit in your home
Consider your cat breed and your bathroom space – or the space where a litter box will be placed. Ideally, the box should be as long as a cat (from a nose to the extended tail tip) and as wide as your cat's body length with the unextended tail. There should be enough space for your cat to move and a couple of poops to be properly dug.
Height of the Litter Box
The height of the litter box is also crucial for high spraying cats. You want the sides to be as tall as possible to prevent your cat peeing over the edges – get this factor right, and you won't need to pick up that enzyme cleaner for cat urine any time soon!
At the same time, the height of a litter box for high peeing cats should be comfortable for your cat to get into and out of. For most cats, litter boxes with wall heights of about 8-12″ with a 5-6″ entry side work best. If your cat has any mobility issues yet aims high, opt for a litter box with a 2.5–3.5″ exit side.
Covered vs. Uncovered Litter Boxes
Covered litter boxes are the best litter boxes for high spraying cats in terms of containing mess. No matter how much your cat sprays, their urine will always fall back into the litter below. The same goes for any litter that is kicked as your cat digs to cover its waste. Other benefits include:
Providing your cat with privacy for doing its business
Preventing dogs from accessing the litter tray
Stopping small children from playing with the litter
Keeping your cat's pee and poop out of sight
There are two main types of covered litter boxes: hooded litter boxes and top-entry designs. You can learn more about these two types of litter trays in the following section.
Your second option is an uncovered litter box. These litter boxes are less practical at keeping mess inside; as there is an opening at the top, urine can still escape. However, many cats prefer open litter boxes. Nasty smells can accumulate in enclosed designs, which can deter cats from using their litter tray altogether!
Other advantages of uncovered litter boxes include:
More comfortable for cats with arthritis or mobility issues
Easier to clean and scoop up your cat's waste daily
Must be used for cats suffering from asthma or respiratory issues
More likely to be cleaned on time as waste is on show
If you have an opportunity to test both types of these boxes, it would be great. All cats are different, and although most prefer uncovered litter boxes, others love enclosed designs. If you don't have the opportunity to try them out, opt for the one you believe your cat will like.
Front vs. Top Entry
As mentioned, top-entry litter boxes are a type of enclosed design. The litter boxes with the door on the top are all the rage. There are two reasons why people are obsessed with this type of cat litter box. Firstly, there's a lower chance of waste or litter getting outside of box. The second reason is the design looks sleek and modern.
However, if your cat is used a litter box with the front door for a long while, it can refuse to use the box with the top opening. It might take a little while to train your cat how to use their new litter box. This could lead to a few accidents while they adjust, but you could use cat diapers for spraying cats to help minimize mess throughout the process.
Some cats never warm to their trays, and you'll have to swap back to a front entry design (either hooded or open). Also, remember that top-entry litter boxes aren't suitable for older cats or felines with mobility issues.
The Number of Litter Boxes
Just because you own one cat doesn't mean you need one litter box! Vets recommend a rule known as N+1, which means you should ideally have one more litter box than the number of cats.
For example, vets recommend having two litter boxes if you have one cat. Similarly, anyone with two cats should purchase three litter boxes. If you live in a multi-level home, placing a litter box on each floor is better. This is important to know as it can affect your budget and the size of the appropriate litter box for your home.
Regular vs. Self-Cleaning Litter Boxes
Self-cleaning litter boxes save you time and keep your space free of any cat-related odors. They are a brilliant choice for the busy owner! They're also a good option for small apartments with multiple cats – as they are cleaned immediately after use, cats are less opposed to sharing.
Nevertheless, these boxes are more expensive than regular ones and aren't great if you're on a budget. Self-cleaning litter boxes also cause noise that might scare your furry friend away. Many are also unsuitable for kittens, and there aren't many XL designs, so you might struggle to find an appropriate self-cleaning tray if you have a bigger breed.
Another downside is that an automatic litter box prevents you from seeing changes in your pet's pee and poo, which might warn you about potential health problems, including constipation, kidney disease, and diabetes.
You also must use self-cleaning litter boxes with a particular cat litter for the mechanism to work. Some cats are picky about their litter and might refuse to use it. For high spraying cats, it might be better to use a regular tray and fill it with litter for cats who pee outside the box.
Other Solutions for a High-Spraying Cat
If you have a high-spraying cat, you need to pay particular attention to the litter box area. Replacing a litter box is one effective way to deal with a high peeing cat (unless you have a male cat with marking issues). However, other litter box factors are also crucial! Consider all the following when making adjustments, rather than just changing the litter tray.
Litter Box Maintenance
Another reason why your cat pees around the house is poor litter box maintenance. Cats love to be clean and find somewhere else to pee if their litter box is dirty! Many owners find their cat keeps peeing in the same spot – they find somewhere that prefer and make this their litter spot instead!
To prevent this from happening, clean the litter box daily by scooping away waste. You'll also need to completely empty, clean, and refill the tray around once per week, but don't use any scented washing products. This will help your cat smell its urine in the litter box and associate this area with going to the bathroom. Keep the area around the box clean as well.
A litter box should also be replaced every two years or whenever your cat's needs change. Keep in mind that urinating outside the litter box isn't expected. This way, your cat is trying to tell you something is wrong.
Placement of the Litter Box
When choosing the perfect litter box for your cat, consider where you want to set it. There are a few rules to abide by here:
Avoid placing a litter box near your cat's water and food bowls. Cats begin to associate this region of your home with food rather than peeing, or it might deter them from eating!
Don't place the litter box in a dead-end location like your closet that provides one way out. Your cat might feel scared in the dead-end location and shy away from it at any cost.
Place the litter boxes in open areas – especially if you have a high-spraying cat. This ensures that any urine escaping doesn't spray onto the couch or ruin your furniture.
If your cat has health problems and you don't feel like using cat diapers, place several high sided litter boxes around the house. Your cat will less likely pee on your sofa or bed when there's a litter box nearby.
Don't place the litter box in loud areas of your home. Often, pet owners place litter boxes in loud places, like the laundry room or next to a loud appliance which can scare off cats.
Additional Pet Products
You can purchase additional products from extra protection around your cat's litter box. These accessories don't prevent your cat from spraying, but they can make cleaning up your cat's mess easier. Below are some of the litter box accessories to consider:
Litter Mats: Litter mats protect the floor around your cat's litter box. If your kitty accidentally sprays, you can rest assured your floor won't be damaged. These mats also have rough surfaces that capture litter from your cat's paws and prevent tracking, saving you more time that would otherwise be spent cleaning.
Air Purifiers: Air purifiers trap and eliminate nasty odors from their air, including that unpleasant cat pee smell. If your furry friend has an occasional accident, these units can help ensure your home doesn't start to smell.
Litter Scoop: If you have a litter tray, you need a litter scoop. However, investing in a quality scoop is worthwhile if your cat is a high sprayer. As the urine hits the sides of the tray and falls back in, clumps can accumulate at the edges. A good scoop makes getting these clumps easier and facilitates cleaning.
Is It Possible to Teach a Cat to Stop Peeing High?
While cats are smart, you can't teach them how to stop peeing high. This is just how your cat pees! As far as they're concerned, they're peeing in their litter box as they should be.
Therefore, choosing a high-sided or enclosed litter box is the only way to accommodate this issue. Choose the right pet products, and your kitty's spraying habits shouldn't be an issue. All mess will be nicely contained, and your house never needs to smell!
With that said, you can stop your cat spraying as a marking behavior. This is when cats purposefully spray outside of their litter box. They're not aiming a little high and accidentally missing their litter tray, they're purposefully spraying urine on upright surfaces around your home. As they spray, their tails will stand erect and start to quiver.
When cats spray in this way, it is because they're marking their territory or establishing boundaries within the home. Males and females also often spray when looking for a mate. Extreme stress such as moving home or losing a family member can also result in spraying.
If you're dealing with this behavior, here are some tips to help reduce it:
Use shop-bought sprays or vinegar to deter cats from peeing
Ensure you thoroughly get cat pee out of a couch or other surface to remove all remnants of the odor
Use calming pheromones (collar or diffusers work best) to help calm a stressed or anxious kitty
Keep your cat mentally and physically stimulated with lots of environmental enrichment
Provide hiding places for your cat to retreat to when scared
THE FINAL WORD
Purchasing the best litter box for high-spraying cats is one of the most effective ways to keep your house clean and your pet happy. Their high sides help keep all urine and litter inside the tray, making your life easier.
However, there are many factors to consider when choosing a litter box, so make sure you buy the box that meets your cat's needs. I also suggest you consult your veterinarian if your cat has health problems or is older than ten – senior felines have different needs and must be catered to appropriately.