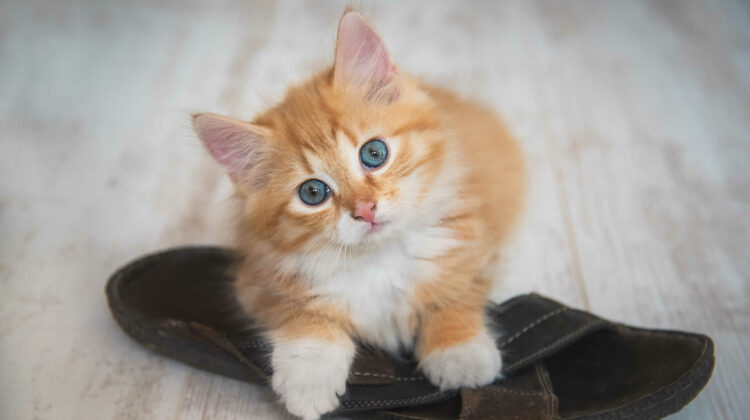 Litter trays have to be one of the worst things about keeping a pet cat.
No one enjoys cleaning and scooping up their cat's mess daily. But there's something worse – a cat that doesn't use their litter tray and pees elsewhere in your home! This is incredibly frustrating, unhygienic, and frankly pretty gross.
There are many reasons why cats refuse to use their litter trays, including the size, location, entry type, and cleanliness of the litter box. But did you know that some cats pee outside the box because they don't like their litter? That's right, something as simple as changing your cat's litter can solve all your toilet training issues.
In this article, I share the best litter for cats who pee outside the box and reviews of all the top-rated products. From hypoallergenic litters to ones that are gentle on your cat's paws, you're sure to find a litter your cat loves! Plus, you'll find other tips to help ensure your cat pees where it's supposed to.
My Top Pick
Anyone searching for a litter for cats who pee outside the box needs to try the original unscented World's Best Cat Litter. It is 99% free from dust, has no artificial fragrances, and won't stick to nor feel uncomfortable on your cat's paws. These are all features that make a big difference to fussy cats.
What's more, this litter is also biodegradable so good for our planet. All urine is rapidly absorbed by the corn kernel pellets and forms clumps that can be scooped and flushed down the toilet in seconds. You can find a full review of this litter and more further down this page.
Best Litter for Cats Who Pee Outside the Box
There are several reasons why cats don't like the particular litter they use. They might not like how the litter smells, how it feels on their paws, or how it gets stuck to their fur. Cats can also turn their noses up at litters that are too high in dust or trigger allergies. With this in mind, here is everything a litter for cats who pee outside the box should have:
Fragrance-Free: Many cat litters have additional artificial fragrances to help cover up the smell of urine and feces. However, most cats hate these artificial smells. They will smell overwhelming thanks to their ultra-sensitive noses, and can even cause allergies in both cats and humans.
Effective Odor Contol: Neither you nor your cat will appreciate a litter box that smells gross! All good cat litters are effective at controlling odors and trapping nasty smells before they escape into your home. This is also important when choosing a litter for cats who pee outside the box; the better the box smells, the more likely your cat is to use it.
Low Dust: I used to use clay clumping litter but couldn't cope with the huge clouds of dust every time I scooped or emptied the tray. It was horrible to breathe in! And cats don't appreciate clouds of dust every time they try to go to the bathroom either. A low dust litter is much better for finicky cats.
Texture: The perfect litter texture is a difficult thing to pinpoint as all cats will have their preferred litter type. Usually, this is the type of litter they are used to; anything outside of the ordinary feels "weird" and they don't like it. With that being said, it needs to be comfortable on their paws and not stick to their feet.
On top of these features, I also considered more general characteristics all cat litters should have. It needs to be easy to clean, low-tracking, and long-lasting. I also always look for biodegradable litters which are better for the planet.
The cat litter that I use that my cat loves is the original unscented World's Best Cat Litter. Or, if you have more than one cat, they also stock a Multiple Cat Unscented Litter. The two are essentially identical, but the multi-cat litter has even better odor control properties.
So, why is this a good choice for cats that don't like their litter? Firstly, this litter is 99% dust-free and has no artificial fragrances. These are two must-haves of litter for cats that pee outside the box, so we are off to a flying start. These two features also make it one of the best hypoallergenic cat litters. Indeed it's a great cat litter for cats with asthma or allergies.
I also find the odor control of this litter amazing. It absorbs all pee rapidly before any nasty ammonia smells can release into the air. This is a clumping litter which makes cleaning the litter tray easy as well. Simply scoop up any clumps of urine each day and the litter box will keep its fresh smell for weeks, which you and your cat will appreciate.
This litter is also made from corn kernels. Now, this is quite an uncommon litter substrate and so cats might initially find the texture a little strange. However, it is soft and comfortable on their paws so you can expect the transition to be smooth. Plus this litter won't get stuck to your cat's paws. Not only is this great for fussy cats, but reduces litter tracking as well.
The choice of corn kernels is also great for our planet. In fact, the litter is 100% biodegradable! This also means the litter is flushable, which makes clean-up extremely easy. Moreover, a bag of this stuff lasts twice as long as traditional litter, saving you cleaning time and money.
Pros
An unscented litter that is 99% dust-free
Effectively eliminates odors immediately
Soft and gentle on your cat's paws
Lightweight and won't stick to your cat
Low-level tracking around your home
Lasts twice as long as standard cat litters
Clumping litter which makes cleaning easy
Made from biodegradable corn kernels
Flushable litter for easy cleaning
Multi-cat household litter is also available
Cons
More expensive than other litters
The texture might feel unusual to start with
Although not as good for the planet, clay clumping litters are a good choice for cats that pee outside the litter box. This is because clay litters are common and so most cats like the texture of clay. Clay also more closely resembles sand and dirt that cats would use to bury their waste in the wild.
Of all the clay clumping litters, I would recommend Purina Tidy Cats clumping cat litter for any picky cats. This is a hypoallergic clay litter, that is 99.9% dust-free and has no artificial fragrances. This not only makes it great for cats and people with allergies but means your cat doesn't have any reason to turn its nose up at this litter.
The clay used in this litter is medium-grain clay. This feels soft and gentle on your cat's paws and means it forms hard clumps quickly. Through this process, all ammonia smells are eliminated almost immediately so the litter box stays fresh and clean. The clumps that form are extremely solid as well, making for easy scooping and disposal.
With its superior odor control, the Purina cat litter is great so single or multi-cat households. Though if you want to take things to the next level, Purina also offers a 4-in-1 Strength Cat Litter as well. Yet, there is a little tracking with both of these products, which isn't great for your or your cat.
Pros
9% free from dust and no artificial fragrances
Great for cats (and people) with allergies
Texture closely resembles cat's natural litter substrates
Feels soft and gentle on your cat's paws
Effectively eliminates odors right away
Proven 10-day odor control when used correctly
Soiled litter forms hard clumps for easy cleaning
Cons
Does track slightly around your home
Clay litters are not biodegradable or flushable
I personally prefer clumping litters as they make cleaning super simple. However, non-clumping litters often offer superior odor control as they can absorb large amounts of urine. If you're a fan of non-clumping types, you'll want to try the Naturally Fresh Walnut Litter.
This is a pellet litter made from walnut shells. Now, this will feel a little strange on your cat's paws initially if they are used to more grainy or clay-based litter. Make sure you introduce the pellet litter gradually so your cat responds well to the change. Once they are used to it though, the texture is quite nice. The pellets are smooth and shouldn't cause too much discomfort for healthy cats.
The real reason this litter is good for fussy cats though is in its incredible odor control. It can absorb up to 7 times as many ammonia odors as other leading non-clumping litters. In fact, walnut shells are more absorbent than both pinewood and wheat, besides being an eco-friendly option. It also doesn't have that natural woody smell that some cats hate.
This litter is also perfect for cats that pee outside the box as it is virtually dust-free. The large pellets also won't stick to your cat's paws. This is great from a comfort perspective but also keeps litter tracking to a minimum. However, the non-clumping can make cleaning more difficult. But, if that is a major concern for you, try their Clumping Walnut Cat Litter instead.
Pros
Virtually free from dust so no respiratory irritation
Free from artificial fragrances
Made from eco-friendly and biodegradable walnut shells
Absorbs 7x as many odors as other non-clumping litters
Large pellets won't stick to your cat's paws
Essentially no litter tracking
A clumping version is available for those who prefer
Rounded pellets that shouldn't hurt your cat's paws
Cons
Pellets can take a little time for cats to adjust to
Non-clumping litters make cleaning harder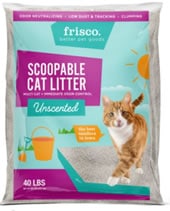 If you have more than one furry friend, I suggest you try the Frisco Multi-Cat Unscented Clay Clumping Litter. This litter offers superior odor control that is so strong it can keep ammonia smells from several cats under wraps. It works hard to neutralize smells rather than masking them with artificial and overpowering fragrances.
This litter is also dust-free which is great for cats with allergies, besides being better for your lungs. Plus, as a low-tracking and low-dust litter, there will be minimal mess around your home no matter how many of your cats come and go. However, the granules are super small and might get stuck in the fur of longhaired breeds.
Nevertheless, these small clay granules are a natural litter substrate for cats so most won't have any issues with the texture. They're extremely soft and gentle on your cat's paws and are great for cats with any injuries or sensitive skin.
This is yet another clumping litter too. The clumps that form are hard and won't break apart when you try to scoop away the waste. This makes the task of cleaning that little bit easier. However, clay is not the most environmentally-friendly option and waste has to be thrown away.
Pros
Small granules are very gentle on your cat's paws
Texture replicates natural materials cats use to bury waste
Low-dust and unscented formula
Effectively eliminates all odors quickly
Superior odor control makes it great for multi-cat households
Forms solid clumps for easy scooping and cleaning
Won't get stuck to your cat's paws
Low tracking around your home
Cons
Granules can get stuck on longhaired coats
Not biodegradable or flushable
Wood is becoming a popular substrate for cat litter thanks to its eco-friendly and sustainable qualities. However, many people find their cats don't like wood pellet cat litter. The pellets are often hard and feel uncomfortable to step on. But there is a solution – wood fiber cat litter, such as the OKOCAT Natural Wood Super Soft Clumping Litter.
This cat litter is still made from wood, so has all the environmental perks of wood pellet cat litter. Yet rather than large pellets, this litter has a similar texture to clay litters. This is a huge perk as most cats love the feel of clay litter on their paws. Plus, this super-soft version is made specifically for cats with sensitive paws in mind.
When your cat pees on this litter, the wood fibers immediately stop the enzymes responsible for creating ammonia odors in their tracks. This effective odor control can make all the difference between your cat using its litter tray and not. The wood fibers form easy-to-scoop clumps in the process so that cleaning is quick and simple.
Moreover, this is a dust-free formula, made only from wood that has been screened and de-dusted. There are also no artificial fragrances. Yet some cats may not be a fan of the faint wood smell – cats do have highly sensitive noses and some will like the scent more than others. This is something you'll just have to discover for yourself.
Pros
Made from eco-friendly and sustainable wood fibers
Only made from screened and de-dusted wood
Same texture as clay litters which cats love
No additional artificial fragrances
Forms easy-to-scoop clumps when soiled
Effectively prevents ammonia from being made
Biodegradable, compostable, and flushable
Cons
Superfine pieces track more than other litters
Some cats won't like the natural wood scent
Buying Guide
As you can see, there is a huge variety of different litters to choose from, and no litter is 100% perfect. Besides, all cats have their preference when it comes to cat litter. The litter that my cat loves, another cat might hate! You've then also got to balance out your cat's preferences with yours.
To help you find a cat litter that you can your cat both love, have a read through this buying guide.
Clumping vs Non-Clumping
The first easy way to narrow down your product search is to choose between clumping and non-clumping cat litters. In terms of your cat's preference, most felines show a preference for clumping litters. This is because the hard clumps make it easier for your cat to bury their waste.
Moreover, you also benefit from opting for a clay clumping litter. Here are just some of the reasons why I prefer using clumping cat litters:
The formation of clumps makes it easy to scoop out waste
It is easier to see and monitor your cat's waste and spot issues
Clumping litter typically needs to be changed less frequently
However, clumping litters aren't perfect! They tend to have more dust and track more around your home. You do also have to scoop the litter tray daily, rather than just one big clean at the end of the week. Moreover, some cats do prefer non-clumping litter, especially if this is what they have used their entire life.
Clay vs Natural Litters
Another easy way to whittle down your product choices is to choose between clay litter and natural litter. A natural litter refers to any product made from a natural source, such as wood, corn, nutshells, recycled paper. The difference between the two is pretty self-explanatory: natural litters are sustainable and compostable but clay litters are not.
For anyone that cares for the planet, natural litters are preferable for these environmental benefits. That's not all though – natural cat litters also tend to be a healthier option for your cat. Unlike clay litters, they don't contain silica dust which can cause respiratory issues and is a known carcinogen. However, natural litters are usually more expensive.
In terms of your cat's preference, they don't really mind either way. They are much more concerned about the smell and texture than they are about where their litter came from. However, some cats are sensitive to natural scents. But again, this is all down to personal preference.
Pellets vs Small Granules
The final decision you need to make is whether to choose a cat litter that has a granular texture or a pellet litter. There have been several studies into this, and cats overwhelmingly prefer granular cat litters over pellets. This is thought to be for several reasons:
Pellet litters can be hard and uncomfortable for cats to walk on
Granular litter is more like sand and dirt, which is where cats choose to defecate in nature
It is easier for cats to bury their waste using granular litters compared to pellets
While this applies to the majority of cats, some cats will be in the minority and prefer pellet litters. Also, just because some cats prefer granular litter, it doesn't mean they won't happily use pelleted varieties. Usually, cats will initially turn their noses up because pellets are new and foreign. And we all know that cats hate change! But if introduced correctly, pellet litter is usually accepted.
There are a few perks to using pellet litter that might persuade you to make this change. For one, they don't track so there is less mess around your home. Many natural litters are pellets, so they're often better for the planet. Plus, they're super absorbent and better at trapping odors.
What Litter Do Cats Like Best?
Choosing a litter that your cat prefers is crucial in preventing litter box avoidance and bathroom accidents around your home. But what litter do cats like best?
As you've seen, there is no simple answer to the question. No two cats are the same and each of our furry friends will have its own opinions about what litter is best. With that being said, there has been a lot of research into cat litters and what the majority of kitties prefer. Below are the main findings:
Unscented: Cats prefer unscented litter over fragranced litter. This is because their sense of smell is 14x as strong as humans, so scents easily become overwhelming. This includes litters with strong artificial fragrances. However, some cats are also sensitive to naturally occurring smells too, such as pine. Most cats want their litter to smell of nothing whatsoever.
Clumping: Most cats prefer clumping litter over non-clumping litter as it's easier for cats to bury their waste. Non-clumping litters can also get wet once the litter has absorbed its maximum amount, and a wet litter tray is a big no-no. Though interestingly, cats don't like clumps of litter being in their tray. They would rather use a box that smelt of urine than one with clumps in it. This highlights how important it is to scoop clumps of waste away daily.
Fine-Grained: Cats seem to prefer small granules over pellet cat litters, as pellets can be sore on their paws. This is especially true for cats with sensitive paws that are recovering from injury. Bigger breeds and overweight cats will also find pellets more uncomfortable. However, the litter can't be too fine – this can stick to your cat's paws annoy them.
It is important to note that the above is a generalization. The only way to truly find out what litter your cat likes best is to give them options and see what they prefer. Set up multiple litter boxes next to each other, each filled with a different litter, and see which your cat uses the most.
Why Is My Cat Peeing Outside the Litter Box?
Switching the type of cat litter you choose might solve all your litter box problems. However, the litter is only part of the equation. Cats are extremely fussy creatures! The cleanliness, size, location, and design of the litter box can all be enough to cause litter box avoidance.
Below I look at all the reasons why your cat could be peeing outside its box in more detail. Get all of these factors right and your troubles will melt away!
Litter Box Cleanliness
You need to ensure your cat's litter box is kept permanently clean. As cats have a super-strong sense of smell, the nasty odors inside these trays can be truly horrific. If you think your cat's litter box smells bad, it's so much worse and more intense for your poor cat!
Of course, the only way to ensure a truly clean litter box is to keep on top of scooping and cleaning. You'll want to remove all waste at least once per day, preferably twice. The litter tray needs to be emptied, cleaned thoroughly, and refilled every 1 to 2 weeks as well. Though, this does depend on the litter you use and the number of cats you have.
A few other tips to help keep your cat's litter box clean are:
Use baking soda as a litter deodorizer to help absorb nasty odors from the box
Use stainless steel cat litter boxes over plastic ones as these won't stain nor retain odors
Use an open-top litter box that is well-ventilated to prevent odors from accumulating inside
Have enough litter boxes for at least 1 per cat so waste doesn't build up too quickly
Put at least 2 inches of litter in the base of the tray so it can effectively absorb urine and odors
Size of the Litter Box
The size of your cat's litter box is vital. It needs to be large enough for your cat to comfortably fit inside. They also need to be able to turn around with ease. Too small and you might even see your cat peeing over the edge of the litter box by mistake.
As a general rule of thumb, litter boxes should be at least 1.5x the length of your cat. Extra-large litter boxes are available if you have a Maine Coon, Persian, or other large breeds. These will take up more space in your home, but you'll need to find the room or face the messy consequences!
Seniors will also benefit from bigger litter trays than you might expect. Older cats often have mobility issues and knocking their joints on the edge of the tray can cause pain and discomfort. This can be enough for them to refuse to use the litter box and they'll find somewhere pain-free to urinate instead.
Location of the Litter Box
Your cat's litter box needs to be placed in the right location in your home or it can also lead to litter box avoidance. The ideal spot for a litter box will be:
Away from areas that receive high footfall so your cat has privacy
In a corner or against a wall so your cat feels safe and protected while doing its business
Within a quiet room in your home so your cat won't be disturbed
In a room that they have permanent access to
Away from their food and water, cat toys, and pet bed
Close to where they usually spend a lot of their time so they never have far to go
Type of Design
There are so many different styles of litter box it can be difficult to know where to start! This is probably the least important factor to consider and some cats won't have a preference at all. Other cats might show more of a preference for particular styles.
For example, senior cats might not like top entry litter boxes as their weakened joints can make it difficult for them to get in and out of the box. The best litter boxes for senior cats tend to be shallow, wide-entry designs. Moreover, some timid cats might not enjoy going through the door flap of hooded boxes and prefer a straightforward tray.
If your cat doesn't seem to care, choose a litter box that works best for you. For example, high-sided litter boxes are one of the best types of litter box for messy cats. They contain the mess your cat makes when kicking litter or spraying, so you won't spend as much time cleaning up.
Physiological Issues
If you have gone through all the above points and made changes where needed but your cat still won't use their litter tray, there is probably something more serious going on.
A range of medical conditions can cause changes to bathroom habits, including:
Urinary tract infections
Kidney failure
Liver disease
Bacteria cystitis
Diabetes
Feline cognitive dysfunction
Speak to your vet and get your cat looked over. If there is an underlying physiological problem, your cat is in the right hands. Your vet will be able to talk you through the treatment options and your cat will be back to its old self in no time at all.
FAQs
Q: Can cats be picky about their litter?
A: Yes, cats are finicky creatures and can be fussy about the litter they use. Many will like what they are brought up using as a kitten and will struggle with alternatives. Cats can also be fussy about the scent, dust levels, and texture of cat litters.
Q: How do you know if your cat doesn't like its litter?
A: If your cat doesn't like its litter, it will stop using its litter tray. You might also spot your cat peeing over the edge of the litter box and balancing on the edge of the tray. This could be your cat trying to avoid stepping on the litter.
Q: Why is my cat so picky about cat litter?
A: Cats are picky about litter as either it smells heavily perfumed, smells dirty, feels uncomfortable to stand on, or gets stuck to its paws. Old cats in particular tend to be fussier as they are more set in their ways about what litter "should" feel and smell like.
Q: How long does it take for a cat to get used to new litter?
A: It will usually take 3 to 5 days to get your cat used to a new litter. The switch from old to new needs to be done gradually. Mix a small amount of the new litter in with the old brand for several days until you have completely swapped over.
Q: What type of litter do cats prefer?
A: This is all down to personal preference! However, most cats generally prefer unscented, low-dust clumping litters with medium to fine granules. A good way to tell is to put multiple litter boxes with different litters in and see which one your cat keeps using.
Q: Do cats prefer clumping or non-clumping cat litter?
A: Most cats will prefer clumping litter. This is because it is easier for them to push to one side so that they can effectively bury their waste. However, some cats prefer non-clumping litters – it is all down to personal preference.
Q: What is the best cat litter for cats who pee outside the box?
A: In my opinion, the best litter for cats who pee outside the box is World's Best Cat Litter Unscented Original Litter. This is an unscented litter that's 99% dust-free and has a gentle texture. It also forms hard clumps for easy cleaning and is flushable, biodegradable, and great for the planet.
MY FINAL THOUGHTS
If your cat is peeing outside the litter box, changing their cat litter might solve all your issues. In general, cats like unscented fine-grained clumping litters best of all. But this does depend on your cat! Try some of the options I have reviewed in this article and let us know what your cat thinks. One simple switch is all it takes!