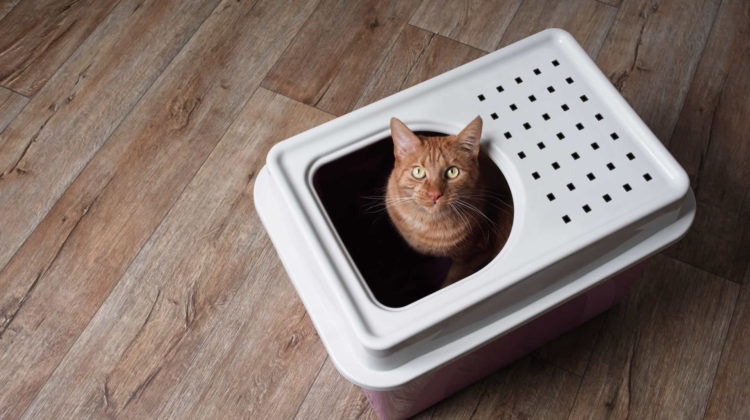 Finding the right litter box for your cat can be a challenge. Some cats are so messy!
When I first got cats, the number of times I found litter scattered all across the floor is uncountable. So, I put in some solid research and went on a quest to find the best litter boxes with minimal mess.
From my findings and years of trial and error, I found that top entry litter boxes are great. They completely solve the issue of overflowing litter and come at a very affordable price.
Unfortunately, top entry litter boxes are not all the same. Some are great, whereas others don't work quite as they should. If you have a large cat as I do, it is a whole new ball game. You need a litter box that is big enough for your cat to do their business in peace.
My Top Pick
The Genenic Large Foldable Litter Box is my all-time favorite box for many reasons! But the main one is that my Maine Coon enjoys doing its business inside thanks to the spacious design. Despite its size, it is also lightweight and foldable character, so I can take it anywhere.
I also love that I can clean it with ease because of the removable lid and extra scoop. You can forget about dust and sand all over the house as well because the cat can only exit from the top and will shake most of the particles on its way out, preventing litter tracking.
So, with all things considered and with an extra thought for those big pussy cats, here we have the 14 best top entry litter boxes for large cats.
Best Top Entry Litter Boxes for Large Cats
Deciding what was important when searching for the best top entry cat litter boxes was easy. I wanted a litter box that solved all the problems I had experienced from using different litter trays over the years.
Here is what I considered when searching for the best top entry litter box for our larger feline friends:
Large in size: Having got a pretty large Maine Coon mix myself, I needed to find a litter box that had a large enough entry hole and a big enough tray for her to use comfortably.
Odor elimination: One of the reasons I wanted a top entry litter tray was to try to contain the smells inside, so how well each box did this was important.
Minimum mess: I want a litter box that creates the minimum mess possible to keep my house clean.
Ease of cleaning: Top entry litter boxes can be a pain to clean, so I wanted one that made cleaning it as easy as possible.
Aesthetics: For me, I want a litter box that was neutral in color and that blended into my home.
The best litter box for large cats has to be this one! It is super spacious so my Maine Coon can easily fit inside and do her business. However, despite being large, it is still great for travel. This is thanks to the intelligent foldable design, so you can store it with ease and take it wherever you go.
In addition, you can completely disassemble the litter box and deep clean all parts separately. This is great in terms of hygiene, but also ensures the litter box lasts longer before picking up any nasty odors. The mess around your home is also kept to a minimum, and you won't ever see your cat peeing over the edge of the litter box – the high sides ensure everything is well contained.
I also love that this litter box has an entry door in the front and an exit door in the top part. The top part of the box features five-millimeter holes, so most of the sand the kitty got on her paws will get back into the box when she exits. This is great for preventing litter tracking. However, the front entry means that owners of cats that hate top-entry litter boxes can still receive these benefits.
This is also a dog-proof cat litter box as it is fully enclosed and durable. If you have a canine companion, this is essential. It means your dog won't be able to mess with the litter or interrupt your feline's privacy during those moments. However, one of the few downsides that are also possible with most enclosed litter boxes is your cat being afraid to enter.
Pros
An intelligent one-way design
The tray makes cleaning a piece of cake
Comes with an extra scoop
Available in four color options
Quite spacious and ideal for large cats
A foldable design ideal for traveling
Dog-proof litter box ideal for multi-pet homes
Lid helps prevent litter tracking
Cons
It might take time for your cat to get used to it
Next on the list is the PetSafe ScoopFree Ultra Automatic Self Cleaning Hooded Cat Litter Box.
This one had to make the list as it is the most advanced litter tray I have ever used. In terms of smell and cleaning, this litter box makes it a dream. Here's why: this top entry litter box is self-cleaning!
You load litter into the tray and then a sensor on the hooded litter box lets it know when your cat has been inside. The litter box then self-cleans 5, 10, or 20 minutes after your cat leaves the tray. You can leave the litter tray to do its thing for weeks, and when you want to put fresh litter in, simply dispose of the old tray with the lid provided and insert a new one.
Because of this super speedy cleanup, this litter box is amazing at eliminating odors. The litter used in the trays are also crystal litter, which is 5x better at controlling bad odors than your typical litter. It also leaves fewer particles on your kitty's paws to stop them from treading remanence around your home.
Unfortunately, a fancy piece of kit like this doesn't come cheap, but if you can afford it it is a worthwhile investment.
Pros
Self-cleaning and can be left for weeks
Crystal litter which is 5x better at eliminating smells
99% dust-free so no litter tracking
Cons
Needs power to be functional
Taking the next spot on my list is the IRIS Top Entry Cat Litter Box which is an absolute bargain and still does a pretty good job at keeping smells and mess inside. The grooved lid helps with this by reducing litter tracking and removing most of the dust from your cat's paws.
The design of this cat litter box is great. It is available in multiple colors so no matter what color scheme your home is, there will be a design to suit. The curved edges also look stylish while making cleaning 10-times easier – no more pesky bits of litter betting stuck in the corners.
As well as coming in multiple colors, the IRIS top entry litter box comes in two sizes. If you have a big cat then order the largest size and rest assured there is plenty of room inside for your cat to do their business. Coming with a pretty sturdy scoop than convenient hooks off the edge, this is one of the best litter boxes for large cats and at a great price.
Pros
Stylish and comes in multiple colors
Grooved lid to prevent litter tracking
Bargain price
Rounded corners make it easy to clean
Cons
Not outstanding quality
Lid is difficult to remove until you get used to the design
Coming in at number 4 is the Modkat XL Litter Box which sits on the more expensive side but, in my opinion, is worth every penny.
This litter box is great as it is a top entry litter box, but it can also be configured to a front opening box giving you one box, two ways! It is actually the only litter box on the market that can be configured both ways.
If you have not bought a top opening litter box before and are unsure whether your kitty will take to it, this box is the perfect solution. If it is not a fan of the top entrance, switch the design so that your cat can enter from the front.
Coming in the XL size, the Modkat XL Litter Box is made specifically for larger breeds and provides them plenty of space to go to the bathroom.
When it comes to cleaning, this design will make your life easy. The lid has a simple swivel mechanism so when cleaning the tray you can just swivel and scoop. You also get reusable liners with every purchase that are rip-resistant and very robust that are ideal for cats that love to dig and help with easy cleanup.
Pros
Can be configured as a top entry or front entry litter box
Swivel lid for easy cleaning
XL size made with larger breeds in mind
Stylish design
Successfully keeps in mess and odors
Cons
Have to purchase more liners once the initial ones start to wear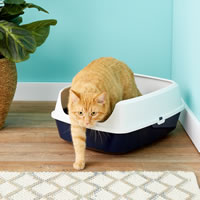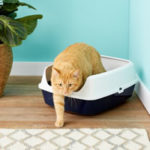 If you want a bargain buy, the Frisco Open Top Cat Litter Box is a great choice. It is also the top entry litter box that is closest to a usual litter tray, making it a great option for cats that have not used top opening litter boxes before. You can test out whether your cat will take to top entry designs without spending a fortune.
Unlike the usual top entry litter boxes, this litter box is not totally enclosed. Therefore, it doesn't do a great job at minimizing odors, but the high walls do help keep your house tidy by preventing litter from spilling out the sides. It is also super easy to clean due to its open design.
Because of the semi-open design, this is also a great option for kittens or elderly cats. They will have no problems from getting in the litter tray, but still get the additional privacy that is missing from regular litter trays. You can also know for sure large cats won't feel claustrophobic using this tray.
Pros
Bargain price
Great for transitioning from regular litter trays to top entry designs
Suitable for older cats and kittens
Prevents mess from spilling
Available in multiple colors
Cons
Does not reduce smells
Not a true top entry design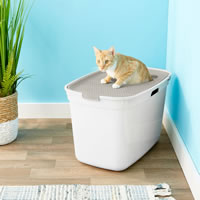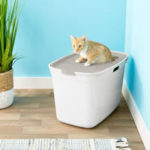 Another Frisco product, the Frisco Top Entry Cat Litter Box in the 23-inch size is also ideal for larger cats that want some privacy when going to the toilet.
The enclosed design does a good job at keeping smells and the litter inside where it belongs while keeping dogs and other pets out. The plastic also wipes clean easily and the rounded edges make getting into tricky corner parts no bother.
As with other designs, the lid is also textured to help catch dust from the litter and prevent litter tracking, saving you time cleaning up after your kitty. You do have to lift the lid whenever you want to clean up after your cat which is slightly inconvenient, especially as there are no holes in the top for extra litter to fall back in. This meant whenever I wanted to scoop the poop I had to sweep the excess litter off the top first which got slightly tedious.
I'd also like to see a scoop included with this product. When I first trialed this litter box, I didn't realize a scoop wasn't included and had to go back to the shop and get one later. However, the large size is great for my Maine Coon mix, and the litter box ticks most of my boxes.
Pros
Successfully prevents spills and traps odors
Non-slip lid with grooves to help minimize litter tracking
Handles to easily move the litter tray if needed
Spacious enough for large breeds
Cons
Does not come with a litter scoop
Need to sweep excess litter off the top before cleaning
The Petmate Top Entry Litter Pan is another favorite cat litter tray of mine and does a good job of keeping the litter inside where it belongs.
I think the lid of this design is also great. It is non-slip, so your kitty won't struggle to hop in or out of the box. It is also textured to help brush off any litter particles from your cat's paws and prevents them from treading dust around the house. The grates also mean any extra litter falls back into the pan, meaning you have less mess to clean up.
The generous size of this top entry litter tray also makes it a fantastic option for bigger cats, providing them with plenty of space to enter, exit, and move around. The lid also supports up to 30lbs in weight so big cats can safely sit on top without the worry of them falling in their toilet.
Pros
Great lid design for less mess
Can support 30lbs so no fears of your cat falling in
Traps smells inside so your house smells fresh
Great value for money
Cons
Does not come with a litter scoop
Only comes in one color
Next, we have the Go Fresh Top Entry Litter Box coming in at number 8.
With a large top entrance and volume, this litter box is ideal for a range of cats regardless of their size. The box is also simple yet stylish with a minimalistic design and neutral colors that blend into any home.
One really useful feature of this top opening litter box is the raised edging around the lid. While it may take you a little longer to train your cat to enter the litter tray, the lip means your cat is more likely to exit from the front, forcing it to walk across the textured surface. This surface helps stop litter tracking and has small holes, so the litter falls back into the pan. Whereas this is a common feature in top entry litter trays, the raised edging improves the effectiveness of the design.
I think how the lid clips onto the box could be improved on. Instead of simply being able to lift the lid up or swivel it around to clean up after your cat, this top entry litter tray has to have its entire lid removed.
Pros
Effective litter tracking
Large in size
Minimalistic and stylish
Easy to fit together and separate for cleaning
Cons
Need to detach the whole lid to scoop inside
Expensive for what you get
If you want a large top entry litter box that is guaranteed to work, you can trust the Clevercat Rop Entry Litter Box. This product has been so successful and praised among owners that it's won awards!
There's a good reason for it too. Firstly, the lid has zigzag grooves along its surface which nearly eliminates litter tracking entirely. The enclosed sides also help to contain all mess and odors, leaving your house looking and smelling fresh.
There are, however, a few drawbacks. Firstly, this litter box is not recommended for extra-large breeds such as Maine Coons. Although the litter tray is large, some really big breeds will struggle to get in and out. This can be problematic and deter your cat from using their litter tray altogether.
The second minor flaw is that there are no holes in the lid for the litter to fall back through. One owner found a solution to this by drilling holes through the surface, and you could do the same. Alternatively, brushing the litter back in manually isn't too much hassle, and still a huge improvement from it being all over around your home.
With that being said, this Clevercat product is still a good shout. It is made from durable plastic too designed to last, and dirt easily wipes away for stress-free cleaning.
Pros
Zigzag grooves on the lid to prevent tracking
Large enough for most breeds
Minimizes both mess and odors
Award-winning design
Easy to fit together and separate for cleaning
Made from durable plastic made to last
Cons
Not recommended for elderly cats
Not suitable for XL breeds
Although all these top-entry litter boxes are big enough for large breeds, the Petco So Phresh Top-Entry Litter Box is the biggest of them all. Its dimensions are 15.1 x 15.5 x 23.2 inches with a large 9-inch entry hole. This makes it great for all breeds, big and small!
As with all the other top-entry boxes on this list, the enclosed design also guarantees that mess from spraying and litter scattering is kept where it should be – inside the litter box! The high walls also provide privacy for your cat as she does her business.
The lid of this litter box again also acts as a tracking mat. Its textured surface knocks any litter particles or dust from your cat's paws before they jump down onto your clean floor. This means you'll spend less time cleaning up after your cat as all the mess is contained in one spot!
However, there are no holes in the lid and so any litter that is caught will sit on the top. It is your job to then manually brush this back into the tray. Thankfully, this litter box has a tilting lid so you can easily do this in one quick motion. This tilting lid also gives you easy access when it comes to scooping out your cat's waste each day.
The only downside of this design is that some clever cats may learn how to tilt the lid themselves. However, be careful to always ensure you attach it tightly back on and you shouldn't run into any issues.
Pros
Effective litter tracking for minimal mess
XL in size so great for really big breeds
Wide 9-inch entrance hole
High sides contain litter and urine
Tilting lid for easy cleaning
Cons
No holes in the tracking lid
Cat can tip the tilting lid
I've already recommended a Modkat litter box as my number 4 product. However, this brand seems to be king of litter box designs as they have another incredible option: the Modkat Top-Entry Litter Box.
My favorite thing about this product is the swivel lid. It again functions as a tracking mat to keep litter off of your floors. The textured surface helps cling to any bits of litter on your cat's paw pads and the holes in the lid mean it can fall straight back down into the tray.
Thanks to its innovative swivel design, you can also simply press a button and tilt the lid upward. This allows you to gain access to the litter in seconds for super simple cleaning. Plus, while the lid does have holes in, this also means any remaining pieces of litter can be put back into the tray within seconds.
Along with the litter box itself, Modcat also provides a reusable liner. These are rip-resistant and designed to last for up to three months. They not only make for effortless dirty litter removal but also help protect the litter box so that it lasts longer before needing to be replaced.
Lastly, I love the look of this litter box. It is incredibly sleek and the glossy white color chosen will blend seamlessly into pretty much any décor. The only downside is that it only measures 15.94" by 15.94", meaning some large breeds may struggle with this litter box.
Pros
Incredible litter tracking lid
Effectively keeps litter off the floors
Swivel design for easy cleaning
Sleek, modern, and minimalistic design
Comes with reusable litter liners
Contains all mess and odors
Strong enough to support cats up to 15lbs
Cons
Not suitable for extra-large breeds
Another great top entry litter box for large cats is the Amazon Basics No-Mess Top Entry Litter Box, and it's also an extremely affordable option!
As with all other top-entry litter boxes, the high walls help prevent litter scattering on your floor and urine leaking out. The lid also acts as a tracking mat, capturing stray litter as your kitty exits the tray. Thanks to the grid-like surface, all litter will then fall straight back into the litter box.
The lid also cleverly folds upwards in two halves. To scoop away any clumps of litter, you can easily fold one half up and access the inside. When it comes to cleaning and emptying the entire contents, the whole lid can be removed to ensure that no part of the tray goes untouched.
Another huge perk of this litter box is its extra-large size. Designed specifically with big breeds in mind, this litter box gives cats of all sizes enough space to move around and do their business in comfort. The entrance hole is also large and circular, making it easier than ever for your cat to climb in and out.
The only minor downfall of this litter box is that the box's fully grated lid is not as sturdy as solid designs. However, in my opinion, the perks of the litter falling back into the tray are worth this slight flaw. Besides, it is still strong enough to support larger breeds.
Pros
One of the most affordable options
Large tray and entrance hole
Simplistic design for easy cleaning
Fully grated lid prevents litter tracking
Contains mess within the box
Folding lid to make daily scooping simple
Cons
Grated lid not as study as other designs
The Dymoll Large Cat Litter Box isn't technically a top-entry design. Instead, it is a top exit litter box, but it is a great alternative that comes with many of the same benefits.
This product has a front entrance comparable to a hooded litter box, but this door only opens in one direction. To get out of the litter box, your kitty has to climb through the hole in the roof. This forces your cat to step on the grated lid which removes all the stray litter from her paws and eliminates litter tracking.
By being completely enclosed, this product is also effective in keeping messy cats tidy. With this product, there will be no more urine or stray litter ending up on your floors! Besides, it also helps to keep odors contained, while the gridded top provides ventilation and ensures they aren't too highly concentrated.
Another perk of using this litter box is that the front entry will be accepted by many more cats. Often, cats refuse to use top entry litter boxes. If you haven't used a top-entry litter box before, this could be the ideal product used to help your cat transition.
This large litter box is also big enough to fit cats weighing up to 15lbs. However, I also love that this litter tray folds down to a fraction of the size. This is an amazing feature for anyone who travels regularly – it's portable and can be assembled and disassembled in minutes!
Pros
Suitable for cats weighing up to 15lbs
Portable and great for travelers
Effectively prevents litter tracking
Contains litter, urine, and odors
Front-entry better suits many cats
Cons
Not suitable for XL breeds weighing over 15lbs
Last but not least, I bring you the Large Capacity Top Entry Enclosed Litter Box.
Just as the previous product, this litter tray has a front entrance and a top exit, perfect for kitties that are a little wary of jumping into their toilet from above. Therefore, this is another good option if you've yet to try a top-entry design before.
One of the main advantages of this litter box is how easy it is to clean. Rather than having to lean inside and scoop through the top, this box has a drawer at the bottom where the kitty litter sits. To clean, simply slide the drawer out, scoop up your cat's excrement, and slide it back inside again.
Cleaning around the litter box is also easier as the mess is kept to a minimum. The high sides contain all litter and urine within the confines of the tray. Plus, the front entrance and drawer are leak-proof so no liquid can escape. The lid again acts as a litter tracking mat, too. Its textured surface helps to capture litter particles from your kitty's paws which then fall back through into the tray beneath.
The only downside of this litter box is the size. It measures a pretty reasonable 19.29″ by 15.96″ which suits most larger breeds. However, if you have an extra-large cat, a bigger box may be better. The entrance hole is again large enough for most cats with a 7.48" diameter, but you can purchase bigger alternatives if needed.
Pros
Effective litter tracking lid
Large enough for the majority of breeds
Drawer litter basin for easy cleaning
Leak-proof front door and drawer
Front-entry which many cats prefer
Cons
Unsuitable for XL cat breeds
Top Entry Litter Box Buying Guide
Although these fourteen extra-large litter box products are my personal favorites, you might decide to shop around yourself. If so, there are some important things you need to consider before making a purchase.
Cost
The first decision you need to make when buying a new cat litter tray is how much you can afford to spend. Top opening litter boxes range in price. There is no point in reading reviews on litter boxes that cost hundreds of dollars if that is too much of an investment. Likewise, if you can afford a higher-quality litter tray, don't waste your money on cheap low-quality products.
Size
Next, you should think about the size of the top entry litter box. All cats want a large and comfy space where they'll do their business. If you have a Maine Coon, you should try even harder to find a huge litter box where the feline will find its privacy. You want your cat to be as comfortable as possible when going to the bathroom, which means they need a large enough tray to move around in.
Additionally, make sure you have space for a large litter box in your home. Top entry litter boxes specifically designed for larger breeds do take up a fair bit of space, so consider this before making a purchase. When purchasing a top entry litter box, you also need to consider the size of the entrance so that your cat can enter and exit easily.
Cleaning
I love my cats, but I hate cleaning out their litter trays. Therefore, always think about how easy the litter box you are thinking of purchasing will be to clean. Are there corners where dirty litter can get trapped? How easily does the top come off? Can I easily get inside the tray to wipe the sides down? Can I afford to get a self-cleaning litter tray?
Self-cleaning litter boxes are one of the newest advancements. If you want to save time and need a helping hand around the house, these self-cleaning boxes are an excellent investment. They are especially great for households with multiple cats and or busy cat parents.
However, self-cleaning litter boxes usually come at a higher price than regular litter boxes. These automatic boxes can vary from a hundred dollars to a few thousand for the newest robot models. I suggest trying one of the more affordable designs, and if you're happy with the performance, you can upgrade to a more expensive try.
It is also worth considering what design features have been added to help stop litter tracking. If there is a litter mat or specialized lid design, opt for this litter box over another. This also helps reduce the time spent cleaning up after your cat. For example, top lids with holes or grooves will gather most of the litter that falls from your feline's paws, and it won't get all over the floor. Most people love top entry boxes because of this feature.
Ability to Eliminate Odors
Aside from mess and overflowing litter, top entry litter boxes are a popular choice as they help keep odors trapped inside. When purchasing a litter box, always see what others have said about how successful the product is in doing this. Remember to never let the odors accumulate inside the tray though and always stay on top of regular cleaning.
Color Options
Are you obsessed with the way your house looks and how the litter box doesn't fit in with the interior? For some people, a variety of colors is an essential factor. They will only settle for a design that looks stylish. This might be even more important to you if you plan on keeping the litter box in the hall or entryway, and you should definitely try to find a matching color.
Thankfully, in most cases, you can find the design and colors you like. Although I prefer neutral shades to fit well with my interior, some cat parents love buying black, pink, and blue litter boxes. All these hues are available on the market; all you have to do is scroll through various products.
Age Of Your Cats
Top-entry litter boxes have many benefits. However, they aren't suitable for all ages. Before purchasing one, consider whether your large cat will be able to use it. For example, young kittens usually find it hard to climb on top of top-entry litter boxes, so these designs aren't the best solution for them. However, you can find an open one with high walls to ensure additional privacy.
Elderly cats, cats with mobility issues, and sick cats are also not the biggest fans of top-entry boxes, no matter if small or large. They have trouble hopping up, so you should opt for a front-entry and exit box.
Additional Features
Many top-entry litter boxes for large cats come with a free scoop and have a special spot where you can store it. Some even include free litter, which turns out to be a sweet deal. In other words, you can get the litter box you like and save money on additional things that are essential in a household with cats.
Another thing to think about is that buying a scoop separately means that the scoop won't match with the litter box, and that's something I can't stand. If it's not an issue for you and you don't mind buying the scoop separately, then you don't have to look for a box that comes with a free scoop.
Material
Many litter boxes are made from plastic. This is a perfectly good material for litter boxes as it is lightweight and easy to wipe clean. But if you want to be conscious about the materials you use around your cat, you can opt for stainless steel litter boxes.
Stainless steel litter boxes are much more durable and will last you a lifetime. They also don't retain any nasty urine smells or stains. Plus, steel is a scratch-resistant material. This means your cat won't scratch the base of the tray when covering up its waste, again helping with longevity.
Top Entry Litter Box vs Regular Box
You now know my personal tried-and-tested favorites and what to consider when buying a top entry litter box for your large cat. But how do they actually compare to regular litter trays?
All top entry litter boxes have an enclosed design with a hole in the top for your cat to enter and exit. These come in different styles, colors, and sizes, but the basic principle is always the same. In comparison, regular litter trays have open sides and your feline can enter from any direction.
However, how top entry litter boxes compare to regular litter boxes largely depends on your cat. Usually, most cats can easily be trained to transition from a regular litter box to a top opening litter box, so this should not be a problem. I have found that taking the lid off until your cat gets used to using the new tray can help the transition.
When it comes to kittens, as long as the box is small enough that they can easily jump to the entrance, they should have no issues using top entry litter boxes. Elderly cats might also struggle to jump up each time they need the bathroom, so if you have an older cat that has bad health, I will always suggest sticking to a regular litter box.
With that being said, the Frisco Open Top Cat Litter Box I reviewed in the previous section is an excellent litter box for senior cats. It features an open design that the feline will find much easier to enter. The walls are high enough to offer your cat privacy and prevent anything from bothering her when she's doing her business.
Put simply, whichever litter box your cat likes best is the one that is best for them. With cats being the sassy creatures they are, personal preference is everything.
Benefits of Top Entry Litter Box
That being said, there are some obvious benefits of using top entry litter boxes over regular ones.
Here are the main benefits:
Helps Reduce Mess: Top entry litter boxes are designed to help contain the litter inside the box. If you have a cat that loves to dig, top opening litter trays are a huge help in reducing mess from litter spillages.
Hides Litter Mess: It is not nice seeing a box of waste sitting on your kitchen or bathroom floor. Top-entry litter trays have high walls that hide this mess until you have time to clean it up.
Minimizes Odors: The enclosed design helps to keep unsavory smells trapped inside and minimizes the odors released into your clean home. Did you know that cat urine can cause headaches? If you want to stay safe and keep your home odor-free, using a top-entry box is one of the best solutions.
Dog-Proof Design: If you have a multi-pet household, top entry litter boxes stop your other animals from entering the litter tray and making a mess. My pug used to love digging up my cat's litter, but he can't now I've swapped to a top entry design.
Gives Privacy: No one wants to be seen doing their business, so your cat deserves privacy and security too so they can go to the bathroom in peace.
Stylish Design: I think top entry litter boxes look much neater in the home than open-topped boxes and take up less space.
Minimizes Noise: Cats often scrape around in their litter trays which can make loud and annoying sounds. Top entry boxes reduce the noise by trapping it in and also hold more litter which stops your kitty from scraping the base of the litter tray.
Reduces Litter Tracking: The lids of top opening boxes usually have grooves and holes to help reduce your cat from walking dust around your home.
FAQs
Q: Is a top entry litter box better?
A: Top entry litter boxes have many benefits such as reduced mess and odor, providing your cat with privacy, and coming in stylish designs. Whether the top entry litter box is better than a regular litter box largely depends on what your cat prefers.
Q: Do top entry litter boxes smell?
A: No, top entry litter boxes are designed to reduce smells and prevent any odors from escaping around the room. As long as you clean it regularly, your top entry litter box won't smell.
Q: Will cats use a top entry litter box?
A: Most cats will use a top entry litter box without any issues. However, if you have kittens make sure they are big enough to reach the entrance. Older cats will also struggle with getting in and out of the litter box, so top entry litter boxes are not advised for elderly or unwell cats.
Q: Do cats like large litter boxes?
A: Yes, cats like to have enough space to move around and do their business comfortably. If you have a large cat breed, buying a big litter box is essential. Even if you only have a small cat, if you have the space to accommodate a larger box, you should do to give your feline more space.
Q: Can a kitten use a top entry litter box?
A: Yes, most kittens can use top entry litter boxes. As long as your kittens are old enough and big enough to jump on top of the box, they should be able to use to litter tray without an issue.
Q: Do cats like top entry litter boxes?
A: Cats generally will use both open and closed litter boxes happily as long as they are left clean. Some cats may prefer one over the other, but it is not a black and white answer and rather is down to personal preference.
Q: Do top entry litter boxes work at reducing mess?
A: Yes, the enclosed design means litter is kept inside the tray. If your cat is a sprayer, top entry litter boxes also help the urine to stay inside the litter tray and keep things clean.
Q: Where should I keep my cat's litter box?
A: I like to keep my cat's litter box in the bathroom but know friends who prefer to keep it in their kitchen. It is whatever works best for you, just make sure the door to the room is kept open so that your kitty can have access to its toilet at all times. For top entry litter boxes, also make sure there is enough room above for the cat to jump up.
Q: Should I get a top entry litter box?
A: I think top entry litter boxes are by far superior to regular litter boxes, so yes, you should get one. If you are struggling with litter mess and odors, a top entry litter box is definitely recommended. Don't get a top entry litter box if you have an old cat or kittens too small to reach the entrance.
MY FINAL THOUGHTS
Choosing the right litter box is important for you and your cat, so make sure that you take the time to choose the correct one. While these are my eight favorite top entry litter boxes for large cats, there are other options out there, but be sure to use my advice to find one that ticks all the boxes.
I personally love top opening litter boxes and using them has made my life a breeze by reducing cleaning time and unpleasant smells. What's more, my cat seems to love them too!