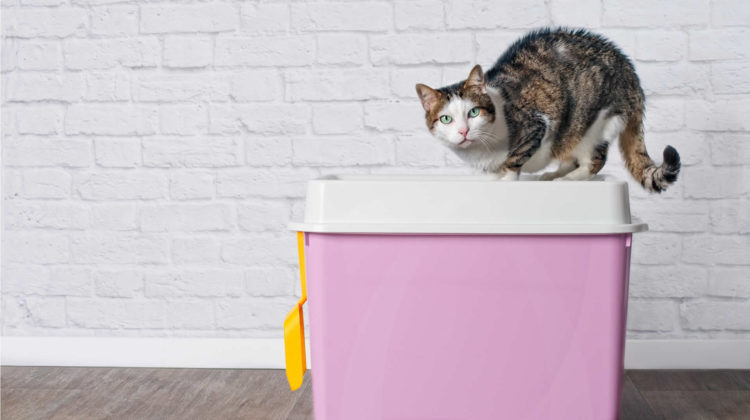 Finding the perfect litter box for your cat can be a challenge, one which if you don't manage to get right has some nasty and smelly surprises that come with it.
For larger cats, finding the perfect litter box is even more of a struggle. They need one they can comfortably sit in so they can do their business in peace. As a general rule, we are talking about a litter box that is at least 1.5x the length of your cat, but the bigger, the better.
I have a Maine Coon mix who is as big as domesticated cats get.
So, I set myself a mission to find the best extra large litter box for big cats. In this article, I'll walk you through my favorite finds, what factors I weighed up in my search, and how you can find the perfect litter box for your plus-size furry friend.
Extra large litter boxes aren't solely for bigger cat breeds. You might also find this article useful if you have a multi-cat household or an arthritic cat.
Whatever your reason for needing an oversized litter box, here are the best options on the market today!
My Top Pick
My favorite extra large litter box is the Petmate Clean Step Litter Dome. Not only is this litter box 50% bigger than usual litter pans, making it ideal for larger breeds, but it also has a ramp so is great for older cats that need a bigger place to go.
It comes in several colors, helps minimize odors, and easily fits my Maine Coon mix in comfortably.
Just in case this isn't the litter box for you, keep reading for all my other top oversized litter boxes for cats. There is bound to be one that you and your pet will love!
Best Extra Large Litter Boxes for Big Cats
When looking for an extra large litter box for my cat, there were a few factors I took into consideration when trialing them out.
Large Size: An obvious one, but if the litter box wasn't big, it simply didn't make the cut. I wanted a spacious litter box so that my cat could do her business in comfort.
Minimizing Odors: As with all litter boxes, I want one that will reduce as many odors as possible so that my house is left smelling nice.
Reducing Mess: My cat absolutely loves to kick litter out her tray when she's going to the bathroom. Does she do it just to annoy me? Probably! But I wanted a tray that helped keep mess to a minimum.
Ease of Cleaning: Nobody enjoys cleaning out a litter tray, so why add any unnecessary hassle? I wanted a tray that was easy to clean so that this chore was as stress-free as possible.
Aesthetics: Lastly, a litter box that was pleasing on the eye was important to me.
So without any further ado, here are the top large litter boxes designed especially for bigger breeds, multi-cat households, or fussy felines who will only do their business if they have loads of space.
The litter box that came up top in every category was the Petmate Clean Step Litter Dome. Firstly, this extra large covered litter box is big. Really big! In fact, it is 50% larger than regular litter trays making it perfect for big breeds or multi-cat households.
The only downside is I would not suggest buying this litter box if you have a small dog – my friend brought his chihuahuas with him when visiting and they loved climbing in and out of this litter box. Heaps of fun for them, but not ideal for me or for my kitty who has just had strangers digging up her bathroom!
Other than size, the dome shape of the litter box also helps keep nasty odors inside, further helped by the built-in charcoal filter, in while providing my large cat with some privacy while she does her thing. The high sides also kept mess to a minimum, and the ramp inside helped reduce the litter tracking around my home.
For large elderly cats, this box is also ideal as the ramp provides an easy way for them to enter the litter tray without having to jump inside. If you have a large elderly cat, this is the ideal box.
What's more, I love how easy this box is to clean. The circular shape means there are no nooks and crannies that are difficult to get into, and the top half easily unclips in one so I can empty the tray. The plastic wipes clean easily, and the design comes in three different colors, ideal for any home.
Pros
50% bigger than most cat litter trays
Large enough for the biggest cat breeds
Ramp entrance make it ideal for senior or arthritic cats
Dome shape and charcoal filter minimize smells
Shape reduces mess from overflowing litter
Ramp helps minimize litter tracking
Cons
So large that small dogs can get inside
Next up we have the Sfozstra Cat Litter Box. In fact, before my Maine Coon mix got too old, this was her litter box for years.
If you're looking for a top entry litter box for large cats, this is my go-to. Finding a top opening litter box that has an entrance hole big enough for large breeds can be a challenge, but this litter tray does it perfectly. The tray itself is also jumbo-size, giving my cat enough space to comfortably do her business in privacy.
This litter box is entirely enclosed, meaning mess and unpleasant smells are kept to a minimum. There is also a textured lid designed to help wipe your cat's paws free from litter particles and reduce the mess that gets trodden around your home. Any litter box that keeps my house looking and smelling fresh while requiring minimal effort receives a yes from me.
I also love the design of this litter box and think it looks sleek and stylish. Because the design is entirely contained you almost wouldn't realize it was a litter box unless you knew.
The main downside of this box is the scoop. I thought it was too flimsy and made picking up my cat's mess more difficult than it needed to be. However, pick up another scoop for a couple of bucks and you've got an incredible extra large, odorless, mess-reducing litter box. Win-win!
Pros
Large enough litter box and entrance for big breeds
Removable lid makes it easy to clean
Stylish design and neutral colors
Prevents litter scattering and keeps smells contained
Lid helps prevent litter tracking
Cons
Scoop is flimsy to better off purchasing a separate one
Not suitable for large senior cats
If you are looking to grab a bargain, Nature's Miracle Advanced High Sided Corner Cat Litter Box is the tray for you!
While researching some more expensive products, I trialed out this large litter box because of its great value for money. While I only used this before choosing another model, if you're on a budget, this tray does a nice job of providing a large toilet for your feline while keeping mess to a minimum.
Firstly, this is an extra large litter box with high sides. I found the sides to be a lot higher than other "high-sided" products, and the litter scattering from my messy kitty was much better than usual. Litter tracking was still a problem, but you can overcome this by purchasing a litter mat.
This litter box is also 26″ by 23″ meaning it is spacious enough for large breeds or multiple cats. Arthritic cats also need a larger space so that their legs don't touch the sides of the pan and cause discomfort, and this tray can be used as the entrance is low to the floor for easy access.
If you have a large cat but a small home, this could also be your solution for space-saving. The litter box is corner-shaped, so it can easily slot into the corner of any room without taking up too much space. Whereas people short of space may struggle to find the room for a large enough litter box, this tray works at both being big for your cat, but convenient for you.
The surface is non-stick so cleaning in a breeze. Oh, and there is also an antimicrobial coating to prevent the build-up of bacteria! This makes my job easier and gives my cat a cleaner toilet which she prefers.
Pros
Super affordable
Huge tray so great for large cat breeds
High sides keep mess to a minimum
Corner design so ideal for smaller homes
Low entry point so suitable for senior felines
Non-stick surface and antimicrobial coating
Cons
Does not minimize odors
Has to go in the corner of a room
If you are looking for a litter box that will last a lifetime, try this XL Cat Litter Box by iPrimio.
This is the litter box that my best friend uses and throughout the many years I have known here, she has only ever used this litter tray. Unlike the other litter trays on this list that are made from plastic, this product is made from stainless steel and so stands the test of time without rusting.
The stainless steel material is also great for several other reasons. Firstly, it doesn't hold onto odors or stains, and so despite not having a closed top, minimal nasty smells are escaping. It is also easy to clean and you can wipe dirt off with minimal effort.
The high sides of this tray are also ideal to help contain the mess from litter scattering or spraying, and the tray is 12″ deep, a lot deeper than other pans. However, whereas the tray is large and is perfectly big enough for most cat breeds (23.5″ by 15.5″), if you need a large litter box for Maine Coon cat breeds, you may wish to opt for a larger product.
I also don't mind the style of this tray. Yes, it's basic, but it is sleek and modern, and being smell-free is a big plus for me.
Pros
Made from stainless steel so lasts a lifetime
High 12" sides reduce mess from litter scattering and spraying
Material does not absorb odors or stains
Easy to clean
Large enough for most big breeds to use comfortably
Cons
Not as big as other XL models, so not ideal for Maine Coons
If a hooded cat litter box is more your style, I recommend purchasing the Jumbo Hooded Cat Litter Pan. This jumbo cat litter box is huge and provides plenty of space for your large cat to do their business. I have never tried this product myself, but from talking to friends and reading reviews online I definitely think it is a worthwhile purchase.
Firstly, the fully enclosed design means your cat gets some privacy when going to the bathroom, but also helps prevent any mess from being made. Whether your cat is a sprayer or a digger, all litter and urine will be kept inside this tray and off your floor, making your life easier.
The hood also helps to keep smells inside to leave your home smelling fresh, or you can opt for a built-in carbon filter to help remove odors even more successfully.
If you are searching for an extra large litter box with a hood, the common concern is that the flap will not be large enough for your cat to get in. The door opening for this litter box, however, is 10.4" by 9.6" so is ideal for even the biggest of felines. Oh, and the front door helps to prevent litter tracking too!
So that you can have easy access to their litter, the door also lifts up. This means you can conveniently scoop up their mess without having to unclip the top of the tray, or having to put your hand uncomfortably though the door.
Pros
The enclosed design minimizes mess
Door helps reduce litter tracking
Large enough tray and doorway for big breeds
Smells are contained and the carbon filter helps to remove any odors
Easy access to the litter for scooping and cleaning
Cons
Some cats prefer open litter boxes and need to be trained to use the door
If style is top of the agenda, try Whisker World's Designer Plastic Extra Large Litter Box.
This litter box is made to look great in your home – in fact, you'll want to show it off! Not only is the clear design attractive, but it also helps when cleaning. You can easily spot where your cat has urinated or pooped and clean it up quickly helping to keep smells at bay.
This litter box is also great for most large breeds, but despite being called an "Extra Large" box is closer to a large size. Therefore, if you have a Maine Coon I suggest you go with one of my XXL cat litter box recommendations.
If you have tried your cat with a top entry or hooded cat litter box with no success, this could be the perfect litter box for you. Some cats simply don't get along with flaps and small entrances. The design of this box means your cat can easily jump in from the top, making your life easier as there are fewer missed toilet accidents.
The high-sided design also keeps litter in the pan where it belongs and not on your floor!
Pros
Super cute design for cats with style
Top entrance so easy for most cats to access
Large enough for most breeds
Clear sides and floor aids in spotting waste
High sides and back for minimal mess
Cons
Smaller than other XL litter boxes
Is your feline a high spraying cat? If so, you may like the MEEXPAWS Extra Large Stainless Steel Litter Box for Cats.
For one, this is a stainless steel cat litter tray. Metal litter trays are superior to plastic trays as they are extremely durable and long-lasting. They also won't absorb any nasty odors over time, nor will they retain any stains or rust. If you want your cat's litter box to last a lifetime, stainless steel is the way to go. And this litter box is the largest stainless steel litter box currently available on the market!
Alongside this perk, this XL litter box comes complete with a splash guard and a litter mat to help contain any mess. This will make your life easier, and thanks to the non-stick coating, this litter box for large cats is also easy to clean.
The main downside is that the splash guard does only cover two sides of the litter box, leaving two open and vulnerable for spills. However, the litter box is 5.9" tall, which will do its bit to help contain the mess. Plus, the additional parts that come with the litter box are extremely useful.
Pros
Largest stainless steel cat litter box on the market
Won't absorb any odors or smells
100% rust free and designed to last
Much more durable than plastic litter trays
Comes with a spray guard and litter mat to help contain mess
Non-stick coating for easy cleaning
Cons
Splash guard only covers two sides of the tray, allowing for some spills
For any owner who is mainly concerned about the smell of their cat's litter box, try the Catit Jumbo Hooded Cat Litter Pan.
As the name suggests, this is a hooded design. I love enclosed cat litter boxes like this as they completely contain all mess, while also helping to contain any nasty odors. This litter box is also available with a carbon filter, which can too be brought separately, to further keep litter odors to a minimum. They work by absorbing and eliminating the smells, rather than just trapping and concentrating them.
Unlike the other hooded cat litter box on this list, this large enclosed cat litter box has a door. This could deter some timid cats from using the tray, but most will be comfortable with it. The door also does a great job at taking litter particles off your cat's paws and helping to reduce litter tracking around your home – meaning less mess for you!
The clever design also ensures that the door won't be in your way when it comes to scooping. You can lift the entire door, making your life much easier! Besides, the tray is very easy to disassemble by unclipping to two halves, meaning weekly cleaning is also straightforward.
Pros
Large litter tray dimensions and wide entry point
Enclosed to help contain mess and reduce odors
Simple to disassemble and clean
The door helps to limit litter tracking around your home
Comes with a carbon filter to neutralize odors
Cons
The door can put off some timid cats
Do you travel a lot? For anyone that does, transporting a litter box from place to place can be a nightmare… that was until the GENENIC Large Foldable Cat Litter Box came to the market. This litter box can be folded, transported, and assembled easily, great for any travelers.
This litter box also has a unique one-way design – cats can enter through the front and exit through the top. Although this is a little different, you and your cat might grow to love it. Plus, it is also an XL litter box, ideal for most large cats and big breeds, measuring 20" at its widest. Both the front entrance and top exit are also wide, allowing even fat cats to climb in and out with ease.
The special design also helps to limit mess made around the litter box and throughout your home. The box is enclosed which prevents mess from kicked litter or spraying ending up on your floor. Plus, the lid of the tray is textured to help remove litter particles from your cat's paws and prevent litter tracking.
Daily scooping has also never been easier. The entire base of the tray acts as a door and you can simply pull it out and scoop up any waste, sliding the clean litter back in.
Pros
Foldable and portable design
Special one-way system designed to reduce litter tracking
XL in size with wide entry and exit points
Pull-out drawer for easy cleaning
Cons
The one-way system takes longer for cats to understand
Overly complicated if you don't travel often
The KittyGoHere Senior Cat Litter Box is a great option for any owner with a large elderly cat.
As well as measuring an impressive 20" long by 24" wide, this XL litter tray is only 3" high at the entry point. This is designed especially with senior cats in mind who may experience pain and discomfort when using a litter tray that is hard to climb in and out of.
The shallow design does come with some limitations, most notably being poor at containing any mess around the litter tray, such as litter particles or urine from high spraying cats. Nevertheless, if you need a litter tray to give your large elderly cat comfort, this is the one.
You also have four different colors to choose from, which is great! You can select the one you like best, that most suits your home, or is best suited for your kitty. Also, thanks to the straightforward design, cleaning is easy. There's lots of room for you to move around when scooping, and no disassembly is required when cleaning the entire tray.
That being said, the inside of the tray is slightly textured, which means litter and dirt can get stuck here, but this is nothing regular cleaning can't fix.
Pros
XL litter tray great for big cats
A shallow entry point to aid senior cats
Super simple design makes cleaning easy
Range of colors to choose from
Cons
Textured surface can collect dirt if not cleaned regularly
Low sides mean it won't contain mess very well
Considerations for Buying an Extra Large Litter Box for Big Cats
I understand that these extra large litter boxes for big cats may be great contenders for me, but that you may also like to shop around yourself.
When doing so, there are some considerations you need to take note of so that you choose the right large litter box. This way, you'll end up with the litter box that both you and your cat love!
Cost of the Litter Box
There is a huge range in the cost of litter boxes. Some simple tray designs can be picked up for under $20, but more fancy models are upwards of $100. Therefore, before researching what litter box you should buy, you need to determine your budget.
There are great value extra large litter boxes for big cats, so don't feel like you have to spend a fortune. Alternatively, if you can afford the high-end products it may be a worthwhile investment.
Size of the Tray & Opening
Once you have narrowed down your price range, the most important thing to consider is size. If you have a large cat, you need a large litter box!
All of the litter boxes I have recommended are big enough for most breeds, but always check the dimensions of the product before purchasing, especially if you have a Maine Coon. These are the largest domesticated cats and even some XL litter boxes are too small for them. These babies need the biggest litter boxes going so that they can do their business comfortably.
If you are buying a top entry litter box or a hooded litter box, always check the dimensions of the door too to check your feline friend can access the litter tray easily.
High Sides
Another consideration is how much mess your cat will make when using the litter box.
Generally, the higher the sides of the litter tray, the better. This helps reduce the mess made from kicking litter out accidentally and from spraying, saving you time and effort that would usually be spent cleaning up after your cat.
As an alternative to high sides, you could also look at purchasing a top entry litter box, or an extra large litter box with a cover. On the other hand, if your cat is generally quite tidy when they do their business, having an enclosed litter box or one with high sides may not be a priority.
Other Considerations
Lastly, you need to think of any other considerations that need to be taken into account.
Are you purchasing an extra-large litter box for multiple cats to use? If so, how big are your cats? Do you have senior cats?
If you have two large breeds, you will need to buy two separate large litter boxes for them to use. If you have smaller breeds, then one large litter box may be enough for them to share. However, it is recommended to have one litter box per cat, plus one. For example, if you have three cats, you'll have four litter boxes. This may not always be feasible with space, but if you have the room to give your cat a litter tray each, then do so.
Also, often senior cats prefer larger litter boxes as touching the sides of the pan can cause them pain, especially if they have joint problems. If you need a large litter box for a senior cat, the ease of access into the litter tray is important to consider.
How to Know if Your Cat Needs an XL Litter Box
Big cats need big litter boxes.
If you have a large breed, you're probably already pretty certain that your cat needs a bit of extra space to go to the bathroom. But what if your cat isn't a big breed? What is even considered a large breed? And how do you know if their litter tray is too small?
Large Cat Breeds
Most domesticated cats weigh around 10lbs, therefore, a large cat is one that weighs over 12lbs. However, some of the biggest cat breeds easily weigh upwards of 20lbs. Here are some of the biggest breeds of cats that we can have as pets.
Maine Coon: Typically weighing in at 15-25lbs, Maine Coons are huge felines. My Maine Coon mix is 22lbs and she is a big girl, so definitely needs a large litter box
British Shorthair: Another monster of a cat is the British Shorthair who typically weighs up to 22lbs and will benefit from having a large litter tray
Ragdolls: Ragdoll cats are on the line between average and large cats when it comes to size. Females can be as light as 10lbs but can weigh up to 20lbs! If your Ragdoll is on the larger size, opt for a bigger litter tray
Some standard-sized breeds can also be considered large cats if they are overweight or obese. If you think your cat is overweight then you should take them to the vet and ask for advice. There can be many health complications with overweight cats such as diabetes or arthritis.
Signs Your Cat's Litter Tray is too Small
Aside from the size and breed of your cat, there are other signs you can look out for that can indicate that their litter box is too small.
Your Cat Doesn't Use Their Litter Box
The first and most obvious sign that your cat's litter box is too small is that they don't use it. Usually, cats are not making a mess on your floor to be annoying – they simply don't like the litter box you have given them.
This could be for a variety of reasons such as them preferring an open litter box to a covered one, or them experiencing difficulties getting in and out of the box.
However, the litter box being too small is another common reason it is out of use. Cats are fussy creatures, and they like having space to dig around and turn around in their litter tray. If their litter box is too small, they'll inconveniently poop on your floor instead.
You Never Upgraded Their Tray
If you have not upgraded your cat's litter box since they were a kitten, it's probably time to buy a bigger one. Commonly, owners forget that when their cats grow, they need to upgrade their litter box with them.
Look at it this way – as an adult, you wouldn't want to go to the toilet on the same potty you used as a child. The same goes for your cat. As they grow, they need more space.
There's Mess on Your Floor
Some cats are a lot messier than others when they do their business. However, one tell-tell sign that your cat needs an extra large litter box is if they are pooping on the floor right next to their tray. This indicates that, despite their best efforts, they can't go in their tray.
Having a tray that is too small is the usual culprit – they might even be sitting in their tray with their backside unknowingly hanging off one end, obliviously going on your floor.
While some cats like to dig more than others too, if there is an excessive amount of litter on the floor, they are probably kicking about in a tray that is too small for them. Save yourself this mess and invest in a larger litter tray for your big kitty!
FAQs
Q: Are bigger litter boxes better for cats?
A: Yes, cats will prefer going to the bathroom if they are given plenty of space to go. This is especially true for big breeds or multi-cat households who will need larger litter trays than most, but any cat who is being fussy with their litter tray may benefit from a larger one.
Q: Can I use a large litter box for multiple cats?
A: Yes, you can use a large litter box for multiple cats. However, if you have space it is always advised to have at least one litter box each, plus an extra one. For example, if you have two cats, you should have three litter boxes in your home.
Q: How big should my cat's litter box be?
A: The size of your litter box largely depends on the size of your cat. As a general rule, the litter tray should be at least 1.5x the length of your cat.
Q: What is the best extra large litter box for big cats?
A: In my opinion, the best extra large litter box for big cats is the Petmate Clean Step Litter Dome. This litter box is big enough for even the largest breeds, suitable for elderly cats, and helps contain smells and mess. My Maine Coon mix loves this box and so do I!
Q: Can a cat's litter box be too big?
A: From all the litter boxes on the market today, you will not find one that is too large. Most cats, even smaller breeds, will enjoy having the additional space to dig around and go to the bathroom with plenty of room.
Q: My cat won't use their litter box – is it too small?
A: Often cats won't use their litter boxes as yes, they are too small. However, there are also other things to consider such as whether your cat is having difficulty climbing in and out of the litter box, or whether they have forgotten where the litter box is! You can often tell whether your litter box is too small just from looking – if your cat looks uncomfortable or cramped in there then it's time to upsize!
MY FINAL THOUGHTS
If you have a large cat, it is so important that you buy the right products for them and not products designed for other standard breeds that are a lot smaller. By purchasing the right litter tray you will have to clean up fewer toilet accidents and reduce the mess your cat makes in your home. You will also have a much happier kitty!
These extra large litter boxes for big cats are my personal favorites and make going to the bathroom easy for my bigger kitty. If you have a large cat, give them the comfort they deserve and buy an XL litter tray today.