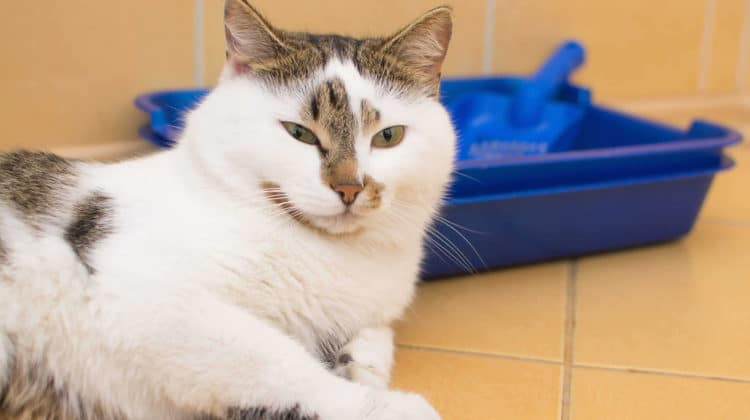 If you have a senior cat that despite being well trained for its whole life has started doing its business on the floor, chances are you need to change your litter tray.
It can be confusing and frustrating at first when your cat starts behaving badly. I know when my first cat started peeing on the floor I had no idea why she suddenly started acting up. When she started pooping there too, I knew something had to change! So, I did a lot of research and discovered my cat was not suddenly misbehaving or acting out on purpose – she was simply old, incontinent, and couldn't climb into her litter box.
I did some more digging and trialed a few different litter box products specifically designed for older cats. If you're having problems with your senior cat's toilet routine, try one of these litter box solutions for older cats. You'll be surprised how successful they are in making life easier for you and your pet!
My Top Pick
Having tried a few different litter boxes, this is the one that came out on top. The Petmate Clean Step Litter Dome has a grooved step into the litter box so my elderly cat could easily access the tray to go to the bathroom without needing to jump inside. The domed shape also gave her privacy while preventing nasty odors from spreading around my home.It also comes in three different colors and looks pretty fancy for a litter box.
In case your cat doesn't get along with this litter box, I have got the next top contenders so that you can find the perfect litter box for your senior feline.
Best Litter Boxes for Senior Cats
Before I get into the top products, I just want to let you know what factors I considered when finding the best litter box for older cats.
Ease of Entry: First and foremost, the litter box needs to be easy for my senior cat to get in and out of. This could be solved by buying a low sided litter box for older cats or one with a ramp – as long as my cat could get into the tray with minimal effort I was happy with the product.
Minimal Mess: When purchasing a litter box, it is frustrating when litter gets scattered out onto the floor. I wanted a litter box that made minimal mess so that my house was kept as clean and tidy as possible.
Reduced Odors: When my cats were younger and more agile, I preferred to use a top-entry litter box to contain the smell of litter and urine from spreading into my home. Therefore, when swapping to a litter box for senior cats I wanted to try to keep as must odor from escaping as possible.
Aesthetic Appearance: I wanted a litter box that looked good in my home.
Ease of Cleaning: Cleaning a litter box is not an enjoyable job for anyone, so I want a litter tray that is easy to clean.
Alongside these considerations which apply to everyone, it is also essential to consider the size of your cat. If you have a larger breed, the litter box you buy needs to be easy for your cat to climb into, but also big enough for them to turn around in the tray comfortably.
Cats with arthritis can experience additional discomfort from touching the sides of a litter tray that is too small for them. I've made a note of the size of each litter box so you can determine whether it is big enough for your kitty.
This litter box was great for my senior cat and she took to it straight away, meaning no more bathroom accidents on my kitchen floor! If you try this litter tray, it will too help your cat stop having embarrassing accidents.
To access the litter box, there is a shallow ramp that your cat can walk up easily to get into the litter box dome. This ramp also doubles up as a cleaning mat and helps take any litter particles off their paws when they exit which reduces litter tracking around your home – functional as an easy access route and helps to keep my house tidy.
The dome shape of the litter box also stops my cat from kicking out any litter accidentally onto the floor while proving her with privacy while she does her business. If you have a multi-pet household, this will also help prevent dogs from digging up the litter. What's more, it is also effective at trapping odors inside, helped even further by the in-build charcoal filter, so my house was kept smelling fresh.
The shape of this litter box is perfect. Its round edges and plastic material mean it is super easy to clean and no annoying corners to dig into. It is also large in size at 21" by 21" so it is great for cat breeds both large and small. The only downside is small dogs can get inside!
Lastly, it also comes in three different colors and looks pretty fancy for a litter box. This really is a litter box that ticks all the boxes for me. Not only did this box work at keeping my home clean, but my beloved kitty seems miles happier and in less pain! Win-win!
Pros
Ramp for my senior cat to easily climb in and out
Ramp also acts to reduce litter tracking
Dome shape & charcoal filter minimizes odors escaping
Minimal mess from spilling litter
Multiple colors and an aesthetic design
50% larger than most litter boxes so great for bigger breeds
Cons
Small dogs can get inside as it is large
It is a tough one to top, but before purchasing the Petmate Clean Step Litter Dome I also tried Nature's Miracle Advanced High Sided Corner Cat Litter Box for a month. It is super affordable, and for that price worth trying!
This litter box has a low entry point which was great for my senior cat to climb easily in and out of the tray. However, unlike many low sided litter boxes for senior cats, this one still has high walls which help reduce the mess from spraying and overflowing litter. This high sided low entrance litter box gives us the best of both worlds!
The size of this litter box is also huge, coming in at 26" by 23" so is suitable for even big breeds or multi-cat households. The design is also made to fit inside the corner of the room, so despite being big it is also easily tucked away, making it ideal for smaller homes. Although this litter tray looks basic, the black design is sleek and can work well in any home while looking neat and tidy.
In terms of cleaning, this litter box makes this job a breeze. The bottom of the tray is flat which makes it easier to scoop up excrement and the low entrance point doubles as a spout so you can easily clean the tray. The non-stick surface and antimicrobial protection also make for hassle-free cleaning.
Pros
Super affordable
Low entry point for easy access to the tray
High sides to help minimize mess
Large so perfect for bigger breeds or multi-cat households
Fits in the corner so great for smaller homes
Easy to clean
Cons
Has to go in the corner of a room
Doesn't protect against smells
Another go-to litter box for senior cats is the Lucky Champ Cat Litter Pan. I haven't actually used this litter pan, but my friend raves about how good it is for her Persian cat who has arthritis in his hips. The low entry point at the front of this tray makes it ideal for older cats who have reduced mobility. It is also great for kittens as they can easily climb into the tray too.
Combined with the low entrance are high wells to help to keep litter in the tray and off your floor. The litter tray is also simple to clean as the plastic wipes clean easily and the corners are slightly curved on the inside to stop things from getting stuck.
The only thing I don't like about this litter box is its aesthetic design. I personally think the tray looks like a potty and think there are more stylish options out there. However, it does fully function as a litter tray for elderly cats and would definitely be a good option for less mobile kitties.
Pros
Low entry for less mobile older cats
Rubber grip handles so can easily be moved around your home
High back wall to prevent litter scattering
Large enough for most breeds (25" by 16.75")
Curved corners so easy to clean
Cons
Less attractive design and looks like a potty
This is your typical shallow litter box for senior cats designed especially for older felines in need of a bit of help getting into the tray.
The entry point for this litter pan is only 3" and which helps to reduce any pain your elderly feline could be feeling if they have poor health and joint problems – they can easily make this step with minimal discomfort.
However, the sides of the tray are only 5" tall, which does somewhat prevent litter from spilling out, but depending on your cat's bathrooms habits you may still end up with splashes or litter on your floor. I found this a bit annoying, but it does depend on your cat.
What I do love about this box is that it comes in three different colors to work well in any home, and two different sizes. If you're short for space in your house, the smaller size is ideal coming in at 20" by 15". However, if you have a Maine Coon or another large breed, you can purchase a larger 24" by 20" tray so that they can comfortably do their business.
Pros
3" entry point so minimizes discomfort when entering the tray
Comes in two different sizes
Available in multiple color designs
Convenient for senior cats to access their bathroom
Cons
Cats can scatter litter over the low sides
Does not eliminate odors
If you have a bit more money to spend, why not make your life easier and purchase a self-cleaning litter tray like the LitterMaid Self-Cleaning Litter Box? I love the look of this litter tray, but personally I don't have that much money to spend on the cat's bathroom. However, if you can afford to spend more I think this looks like a great solution for senior cats.
First and foremost, there is a gentle ramp that your less-mobile kitty can walk up to give them easy and painless access to their litter tray. This ramp is also textured and helps to reduce litter tracking around your home – no more nasty dust pawprints everywhere! To also help reduce mess, the high sides of the litter tray keep everything contained.
The winning feature of this litter tray though is that it is self-cleaning. There are motion sensors on the machine that take note of when your cat uses the litter box. The built-in rake will then clean the litter box after use so there is no scooping required. If you're crazy for cats but not crazy for mess, this litter pan will do the dirty work for you. Cats also prefer clean litter trays!
Because any waste is scooped up almost immediately, this litter box also claims to help reduce nasty odors spreading around your home, further helped by the built-in carbon filters. The result? A clean and fresh smelling house with minimal work on your behalf, and a happy kitty!
The only downside of this tray other than the cost is the size. Unfortunately, the litter tray can only support cats that weigh up to 15lbs, so it is not a good product for larger breeds. Also, the actual litter area is only 14" by 13" which is a lot smaller than other designs.
Pros
Entrance ramp to help older cats access their toilet easily
Ramp also prevents litter tracking
Low maintenance and requires no daily scooping
Carbon filters and automatic waste removal to reduce odors
High walls to prevent litter scattering
Cons
More expensive product
Only suitable for small cats under 15lb
May need to buy a different cat litter to facilitate self-cleaning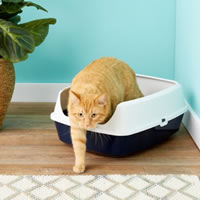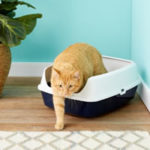 If you're after a bargain purchase that will still ensure your elderly feline can go to the bathroom in comfort, try the Frisco Open Top Cat Litter Box.
This is an open top litter pan, which is much easier for elderly cats to use than top-entry or hooded designs. Also, there is a low entry point to further aid any old cats with joint or mobility issues. They will be able to enter and exit their litter box without discomfort, meaning no bathroom accidents!
However, the entry point is slightly higher than other models suited for senior cats, and so smaller cats with severe motility issues may be better suited to using a litter box with an even lower point of entry. That being said, most elderly cats will reap the benefits!
Also, despite the low entrance, the back and sides of this low litter box for older cats are still raised. These raised sides really help to contain as much mess from kicking litter and spraying inside the tray as possible. This will not only help to keep your house cleaner and tidier but will also give you time back in your day that you'd usually be spending cleaning!
Made from BPA-free, recycled plastic and having a curved shape, this litter box is also easy to clean. There are no hard to reach corners and you can easily wipe the surface clean in one swoop.
Pros
Most affordable option available
Low entrance point to help senior cats
High back and sides to contain mess
No 90-degree corners, making cleaning straightforward
Made from BPA-free recycled plastic
Cons
The low entry point may be too high for small and severely arthritic cats
Just because your cat is old, it doesn't mean they need to compromise on style! The WHISKER WORLD Designer Plastic Large Litter Box is a great option for old or arthritic cats and it is also really stylish.
This product works perfectly as a low litter box for older cats as the entrance is only 4.5" tall. This is a comfortable level for nearly all cats to climb in and out of their litter tray. Both the back and the sides, however, are an impressive 8" tall which keeps all mess contained.
I also love that this is a large litter tray and measures 21" wide at its largest, which is big enough for most breeds of cat to comfortably fit. This is especially important for arthritic cats, as it means they have the space to move around without knocking the sides of the litter tray, which can cause avoidable pain and discomfort.
What you'll notice straight away with this litter box though is that it is made from clear plastic, which is uncommon for litter boxes. While the design is striking and unusual, it is also extremely convenient when it comes to cleaning. Thanks to the totally transparent base, you will be able to spot all waste hiding at the bottom, helping you to keep the litter box clean.
Pros
Low entrance point suitable for senior cats
High 8" sides to contain litter and urine
Unique clear design that looks stylish in your home
The clear base makes spotting waste easy
Large enough for most breeds and arthritic cats to use comfortably
Cons
An open design that doesn't contain odors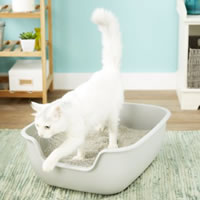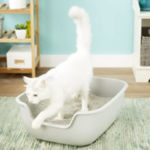 Another low sided litter box for older cats is the PetFusion BetterBox Non-Stick Cat Litter Tray.
As with the other products on this list, this litter tray has a low entrance point, making access to the litter box easy for young and old cats alike. Even cats with arthritis or limited mobility will be able to climb into the litter box easily and with no pain.
It does have an open top which is not ideal when it comes to containing smells, however, the high 8" walls ensure no mess gets anywhere it shouldn't. Plus, the dimensions are large, so your cat won't be uncomfortably pressing against the sides of a litter box that is too small for them.
The best thing about this low entry cat litter box is that it has a special non-stick coating which reduces up to 70% of sticking. This means cleaning just got 10 times easier! The coating is also antimicrobial, helping to reduce odor and bacteria build-up too. Win-win!
Pros
Low entrance point ideal for senior cats with limited mobility
Large dimensions (22.6" by 18.1") for added comfort
A non-stick coating which reduces sticking by up to 70%
Antimicrobial coating to reduce odors and bacteria build-up
High back and sides to contain mess
Cons
Open design, leaving your cat's waste on show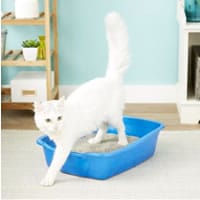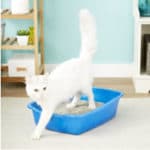 Last but not least, we have the Van Ness Cat Litter Pan. This is a great litter box for arthritic cats or older felines with mobility issues, as it not only has a low entrance point – it has low sides the entire way around.
While this is not good in terms of containing mess, it is great for your cat. It means they can easily enter the litter box from any side or direction without discomfort. If your elderly kitty never seems to make it to the litter box on time, this feature is hugely beneficial.
Additionally, this tray is also large enough for most breeds and big enough for old cats to use comfortably. They do also do an XL size if you have a big breed like a Maine Coon, or smaller sizes if you don't think you need such a large litter tray.
Because of the simplicity of this design, it is also straightforward to clean. Nothing needs to be taken apart or put back together again – simply tip out the old litter and wipe or spray clean. The material the litter box is made from is also resistant to staining and it's made from 20% recycled content. This is great news for any environmentally-conscious owners out there.
Lastly, the price is super affordable, so it's well worth trying this box out to see if it helps improve your cat's life.
Pros
Low-sided cat litter box for older cats
Large enough for all breeds and ages
Available in a range of sizes
Super simple design
Easy to clean and resistant to staining
Made from 20% recycled content
Cons
All the sides are low which won't contain any mess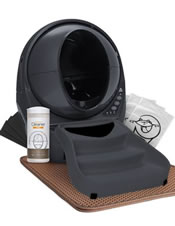 Are you into your technology? If so, the Whisker Litter-Robot 3 Connect Clean Bundle could be the product for you. This is a self-cleaning litter tray that automatically scoops out waste and excrement for you.
Doing so saves you from carrying out this nasty job and gives you time back into your day. It also helps to limit smells as the litter box removes the waste immediately and puts it into a carbon filter-lined waste tray. These filters trap all odors before they spread around your home.
What's more, this product connects to Wi-Fi. Via an app, you can then keep tabs on the waste levels inside the waste drawer so you know it needs emptying. This makes for super easy maintenance!
In terms of suitability for older felines, this litter box is perfect. It also comes with a detachable ramp. This improves the accessibility into the tray so even cats with arthritis and other mobility issues can use it with ease. The domed shape is also amazing at containing mess while the ramp helps to prevent litter tracking.
Within this bundle, you don't solely get the litter tray either. It also comes with three carbon filters, 100 liners for the waste drawer, cleaning wipes, and a litter mat. These items all help to keep your litter tray even cleaner! The only thing I would say is that all these perks do come with some price tag.
Pros
Automatically scoops waste immediately
Reduces litter usage by 50%
Waste drawer lined with carbon filters to reduce odors
Gives you time back into your day
Comes with a ramp for easy accessibility
Bundle includes litter mat, cleaning wipes, and liners
The dome-shaped design contains all mess
Monitor waste levels using a mobile app
Cons
Very expensive for a litter box
Have you ever used a stainless-steel litter box? This material carries many great perks over traditional plastic litter trays. It doesn't stain, won't hold onto odors, and is designed to last much longer. The material is also scratch-resistant, so no bad bacteria gets trapped in tiny grooves you can't clean.
Speaking of cleaning, this litter box has completely rounded edges. This means no pieces of litter get stuck in the corners. Plus, there are no sharp edges on the tray. You can hold can carry it with ease without hurting your hands. You won't need to worry about your cat hurting itself on it either.
This is a good litter box for senior cats as it has sides that only measure 6" high. Most adult cats will be able to climb in and out relatively easily. The total tray dimensions measure 23.5 x 15.5 inches, which is also large enough for most breeds. This will also up the comfort when your cat is inside the tray.
Unfortunately, the low sides aren't great at containing the mess. Once the base of the tray is filled with litter, only a few inches are keeping the mess inside from your floor. If you know you have a spraying cat or one that loves to dig, another litter box might be better.
Pros
Extremely long-lasting as made from stainless steel
Scratch-resistant, odor-resistant, and doesn't stain
Low 6" entry, suitable for most older felines
Large in size so great for most breeds
Curved edges for easy cleaning
No sharp corners so safe for people and cats
Cons
Low sides don't contain mess
Can get litter boxes with a lower entry point
Litter trays don't have to be fancy. Simplicity is clearly what Hartz has in mind when they designed this litter tray. It is as basic as it gets – a simple low-sided square litter box that does the job.
Because all the sides of this litter box only measure 4" tall, all senior cats can easily climb in and out with minimal discomfort. There are no high sides for your cat to bump their legs on either. This means they should be able to turn around in the tray and do their business without any difficulties.
Sadly, the shallow design does mean mess isn't well contained at all. I would recommend getting a litter mat if you do opt for this product. This can help at least contain the mess. However, if you have a messy cat or one that sprays up the side of their litter tray don't choose this option – the amount of cleaning time on your hands wouldn't make it worth it.
This litter box is made from plastic which easily wipes clean. Plus, the simple design makes weekly cleaning super simple. Pour the dirty litter out, wipe the tray clean, and pour new litter in. Daily scooping is also straightforward. This use of plastic also means the tray is very lightweight and portable.
Pros
Low-sided design perfect for older felines
Extremely affordable price
Plastic easily wipes clean
Lightweight and portable litter tray
Perfect for cats that don't like enclosed trays
Cons
Shallow litter box that won't contain mess
Choosing the Best Litter Box for Your Senior Cat
When buying a litter box for your elderly cat, there are some key features that you always need to look at. I have highlighted these features in the products I have recommended, but here are the considerations you should take into account if shopping around for different products.
Ease of Entry
The reason your cat is suddenly not going to the bathroom in his or her litter tray is probably that they cannot get into the tray easily or without pain. This may be because the walls of the litter box are too high and as your feline has gotten older their joint mobility has deteriorated.
To help your cats go to the bathroom pain-free, look at either open litter boxes for older cats that have a low entrance point, or ones that have a ramp. Avoid any top-entry litter boxes or pans that have a higher entry. This can be painful and challenging for senior cats to climb into.
High Sides
My cats love to dig up their litter and scatter it everywhere on the floor. If this were a problem you had before your cat stopped using the litter box, it could still be a problem now.
Just because the litter box needs to have an easy entry point, it can still have high sides which helps to reduce the mess your cats make. You can also buy domed litter boxes with a roof like my number 1 recommendation that totally prevents any litter from spilling out and contains nasty smells.
If you know your cat doesn't get on with enclosed litter boxes, one without high sides will be better. There may be mess surrounding the tray, but at least your cat is using it! A litter mat is a great idea to at least contain any pieces of litter in one area.
Cost of the Litter Box
Before reading up and researching any products, it is also important you determine what your price range is. If you can afford a high-end product like a litter tray that automatically cleans up after your cat has done their business, then I believe this is a worthwhile investment.
On the other hand, if you do have a low budget you can still purchase a great value litter tray that can give your cat added comfort and reduce the mess made in your home. Always shop around for the best prices to find a product that is right for you!
Size of the Litter Box
The size of the litter tray you select is also crucial. Too small and your cat won't be able to turn around inside very easily. This is not good for cats of any age but is even worse for seniors with mobility issues. If their legs bump into the sides, it can be extremely painful for their joints.
As a general rule, your cat's litter box should be at least 1.5x the length of your cat. Measure from the tip of their nose to the base of their tail, not the tip! Get the size right and your cat will be much more likely to use their litter tray.
Why Senior Cats Don't Use Their Litter Boxes
You may be wondering why it is that your older cat is not using their litter box all of a sudden. The most common reason for this is reduced mobility, but other factors can affect your kitty which also makes them start peeing on the floor.
Here's a detailed breakdown so you can better understand your cat's behavior. The more you understand, the more effective solution you'll be able to find!
Pain Climbing In & Out
The number one reason cats stop using their litter boxes at an old age is not that they have become stubborn and miserable old creatures. They're simply experiencing a lot of pain climbing in and out of the litter box.
The most common cause of pain is arthritis which affects up to 70% of senior cats, especially Main Coons, Persians, Siamese, and Himalayan breeds. However, it can affect all breeds of cats, especially overweight kitties. Being heavier puts extra stress on their leg and hip joinst which can cause the bones to rub against each other, destroying the cartilage and exposing the nerves. When moving with arthritis it can be very painful.
As cats age, the cartilage also wears away naturally which is why older cats are particularly prone to problems like this. However, younger cats can also get bad joint health, so if your younger cat is avoiding the litter tray, head to the vets and see if this could be why.
To avoid being in pain, cats will choose to poop and pee on the floor or anywhere else that is not painful to access. Invest in litter boxes for old arthritic cats to help reduce the pain.
Deterioration of Internal Muscles
Your cat may also have stopped using the litter box due to incontinence. If your cat is incontinent, you will find that they leak on the floor accidentally rather than purposefully choosing to go to the bathroom all over your house.
As cats get older, the muscles in their body deteriorate and get weaker, including the muscles in their vital organs around the bladder and bowels. As a result, cats struggle to hold in urine and feces and can end up going without meaning too, and before they have got to their litter tray.
To help this issue, you can try to move your litter box to a more central and accessible position in the home. This can shorten the time it takes your cat to work their way to the litter box, and those valuable seconds can mean that they do their business in the litter pan and not on your floor. You could also invest in cat diapers which help reduce accidental leakages and missed toilet trips.
Cognitive Impairment
As cats age, their brain function also deteriorates and can cause cats to feel disorientated and act forgetful. In fact, cognitive impairment occurs in 80% of cats older than the age of 16 and could be the cause for them not using their litter tray.
The reason for it? They simply forget where it is. If the litter tray is tucked away in a corner or a room they don't often use, it will probably get forgotten about. Try moving your litter tray into a more obvious and noticeable position so your cat can find it with ease.
Other Ways to Help Your Senior Cat
As well as upgrading your litter tray to a litter box for geriatric cats, there are several other ways that you can make it easier for your cat to go to the bathroom and make less mess in your home.
Type of Litter
The type of litter, as well as the litter tray itself, can also help influence your cat's bathroom habits.
If you think your cat could have a cognitive impairment, then switching up their litter could cause even greater confusion and result in even more accidents, so I don't recommend this! However, if your cat has arthritis or is not using its litter tray because of mobility issues, using the right litter can have a significant impact.
Senior cats with reduced mobility often find it more difficult to groom themselves. When they use a litter tray, litter that is lightweight and very dusty can stick to your kitty, which they then struggle to clean off themselves. Opting for a heavier litter can help this problem.
However, don't choose a litter that is too heavy. Your cat's muscles aren't as strong as they used to be, so they don't have as much power to dig around. Buying a heavy cat litter can make digging too difficult and painful, and your cat will be deterred from doing their business where they're supposed to. A comfortable middle ground makes all the difference.
Move the Litter Box or Buy Two
Have you purchased and open litter box for older cats and found a great litter, yet still have problems with your cat going to the toilet on the floor? It is time to move the litter box!
This works especially well with cats that have cognitive impairment as they may forget where their litter box is kept. Try moving the box to somewhere near their food or a favorite spot of theirs to curl up in. This way it will be close by most of the time.
You should also do this if your cat has reduced mobility meaning they can't move quickly. If your litter box is kept far away from where your cat likes to hang out, no matter how fast they try to get themselves there, they may not make it in time.
You can also help your cat reach the toilet in time by giving them two or more litter boxes. This way, no matter where they are in your home a toilet is never far from reach.
Buy a Litter Mat
The main problem with litter boxes designed for senior cats is that the low entry point and shallow sides can mean a lot of mess ends up on your floor. To help combat this, purchase a litter mat. This will catch any litter that does overflow and will also help reduce litter tracking.
While this great for your home, it also helps your cat stay clean. Cats are naturally clean animals and will prefer to go to the bathroom when they can stay clean in the process. They also prefer doing their business in clean litter trays, so the more inviting the area is as a whole, the more likely they'll pee and poop where they're supposed to!
Litter Boxes for Senior Cats FAQs
Q: Why does my older cat not use the litter box anymore?
A: Older cats stop using litter boxes either because their litter box is painful to get in and out of, cognitive impairment makes them forget where it is placed, or their bladder and bowel muscles aren't as strong as they used to be.
Q: Can you litter box train an older cat?
A: Yes, you can litter box train an older cat, but it is more challenging. You can make the process easier by opting for an appropriate litter box and training the cat as you would a kitten.
Q: Why would an older cat start pooping on the floor?
A: An older cat is probably pooping on the floor as they have arthritis or other joint problems that make climbing into their litter box painful, and the journey to the litter box slow. They may also have forgotten where the litter box is!
Q: Why is my elderly cat peeing in the house?
A: Elderly cats usually pee in the house because they can't access their litter box anymore. This may be because they don't have a litter box with a low entry point, so climbing in and out causes pain. They may also become disorientated and not know where their litter box is or have to travel too far to get to the litter box, causing toilet accidents.
Q: What is the best litter box for senior cats?
A: In my opinion, the best litter box for senior cats is the Petmate Clean Step Litter Dome. This has a ramp so my elderly cat can easily access her tray in comfort and the dome design prevents spillages and traps odors. I love this box and it's really helped with my senior cat who stopped using her litter tray!
MY FINAL THOUGHTS
As cats age, it is so important that we adapt their surroundings in line with their needs to make their lives as easy as possible. Buying a litter box that is made specifically for geriatric cats will make older kitties much happier and in less pain when going to the bathroom.
Not only this, but it will make our lives easier! With less mess to clean up and a happier kitty cat, I would highly recommend purchasing a litter tray for your senior puss.
These are my personal favorites, but feel free to shop around. Just make sure it ticks all the boxes so that you have a happy kitty and an easy life!