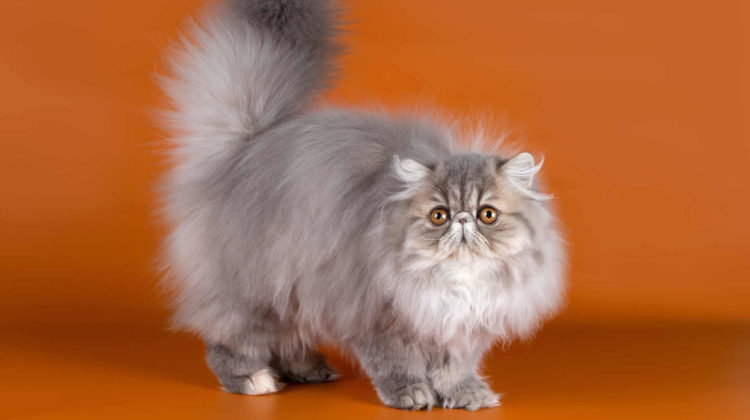 I'm sure you'll have no problem recognizing the adorable face of a Persian cat that somehow manages to exude an expression of dissatisfaction juxtaposed with a heartbreaking mournful gaze.
The Persian is a truly special breed that has been known to us distinctively for about 400 years. During this time it has evolved into its modern-day version which we can recognize so well. The Persian is one of the most beloved, popular breeds of cat in the world because of its adorable look and easygoing personality.
Whether you are thinking of adopting a Persian cat or are merely interested in what this furry ball is all about, read on to find out all there is to know about the members of this special breed, including their history, personality traits, and the proper way to take care of them.
History
Like all modern-day domestic cats, the Persian breed is a descendent of the Felis silvestris lybica, a wildcat originally from the Middle East and North Africa. Wildcats were first domesticated around 9000-10000 years ago in the Fertile Crescent and Ancient Egypt.
As their name suggests, Persian cats are originally from Persia, more specifically from a town called Khorasan, which is in modern-day Iran. Persian cats are a branch of the larger group of breeds that are known as long-haired cats.
The history of the Persian breed is somewhat cloudy. They have first appeared in Europe in the 17th century but their lineage goes well beyond that, merging with other long-haired breeds such as the Angora.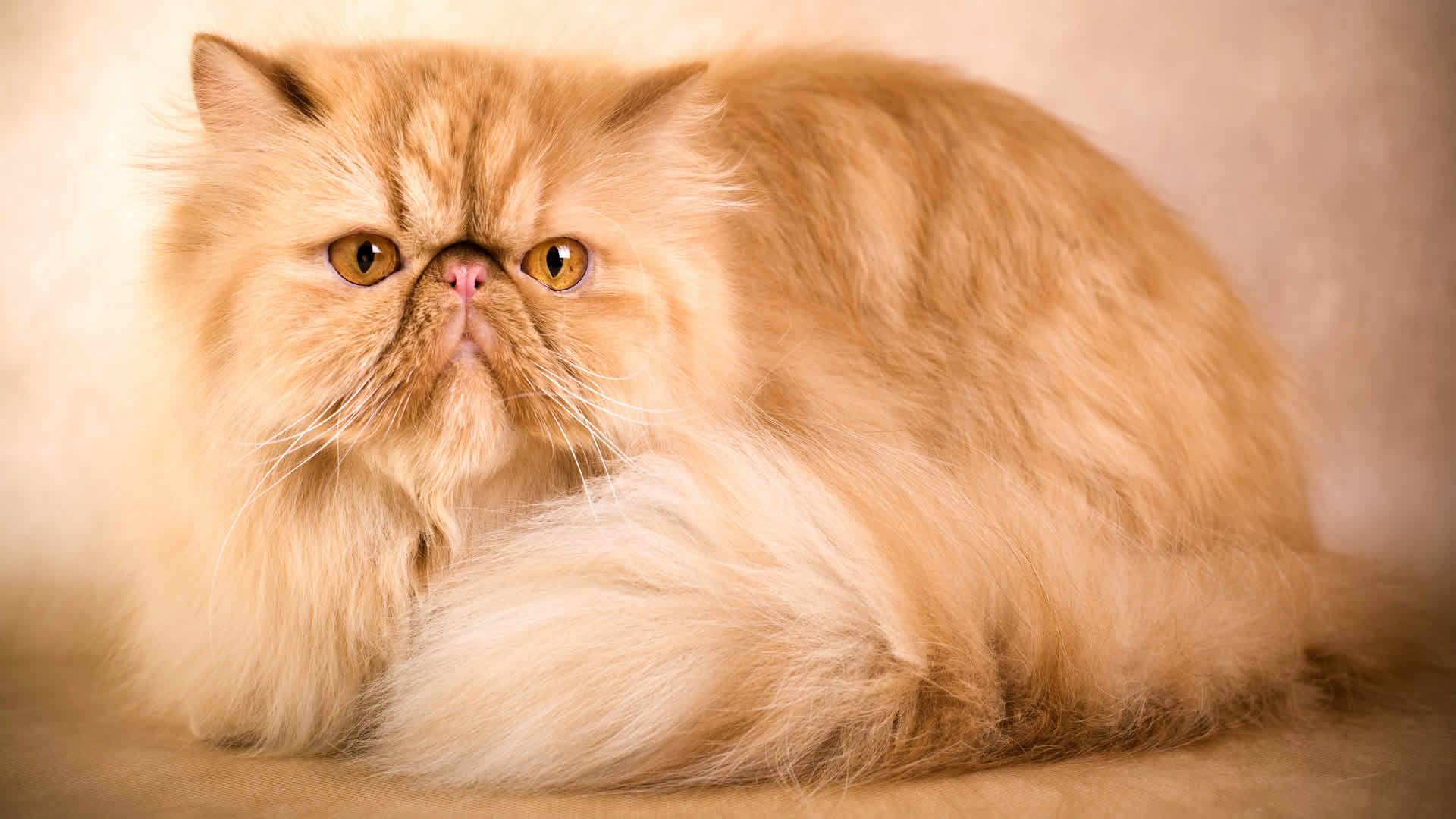 Angoras and Persians
Persian cats are closely related to Angora cats (also a version of long-haired cats), which is a breed named after Ankara, the capital of modern-day Turkey.
In fact, the Turkish Angora and Persian breeds had so little distinction between them that they were often seen as one breed (Angora) up till the 19th century.
It is recorded that the original long-haired cats from Persia (a.k.a. Khorasan cats) that were brought to Italy during the 17th century were cross-bred with Angoras from France to improve their coats by European cat breeders. Angoras have distinctive white coats, while the original Khorasan cats had gray coats.
The Persian cat was shown in a cat show for the first time in 1871 in England. This was actually the first cat show in the world, held at the Crystal Palace in London.
Subsequently, there were endeavors of differentiating the Persian from the Angora even more by way of selective breeding.
About two decades later, it was finally accepted as different from the Angora by relatively minute details like having a longer tail, a coarser coat, a rounder face, and less pointy ears.
Around the same time, Persian cats started becoming very popular in England also because Queen Victoria had a soft spot for them and had two Blue Persians in her court!
The Persian breed first came to North America in the second half of the 19th century, a few years after the first cat show in London. In the US, the silver-colored Persian was pushed to be recognized as a separate breed called the Sterling, but this did not hold.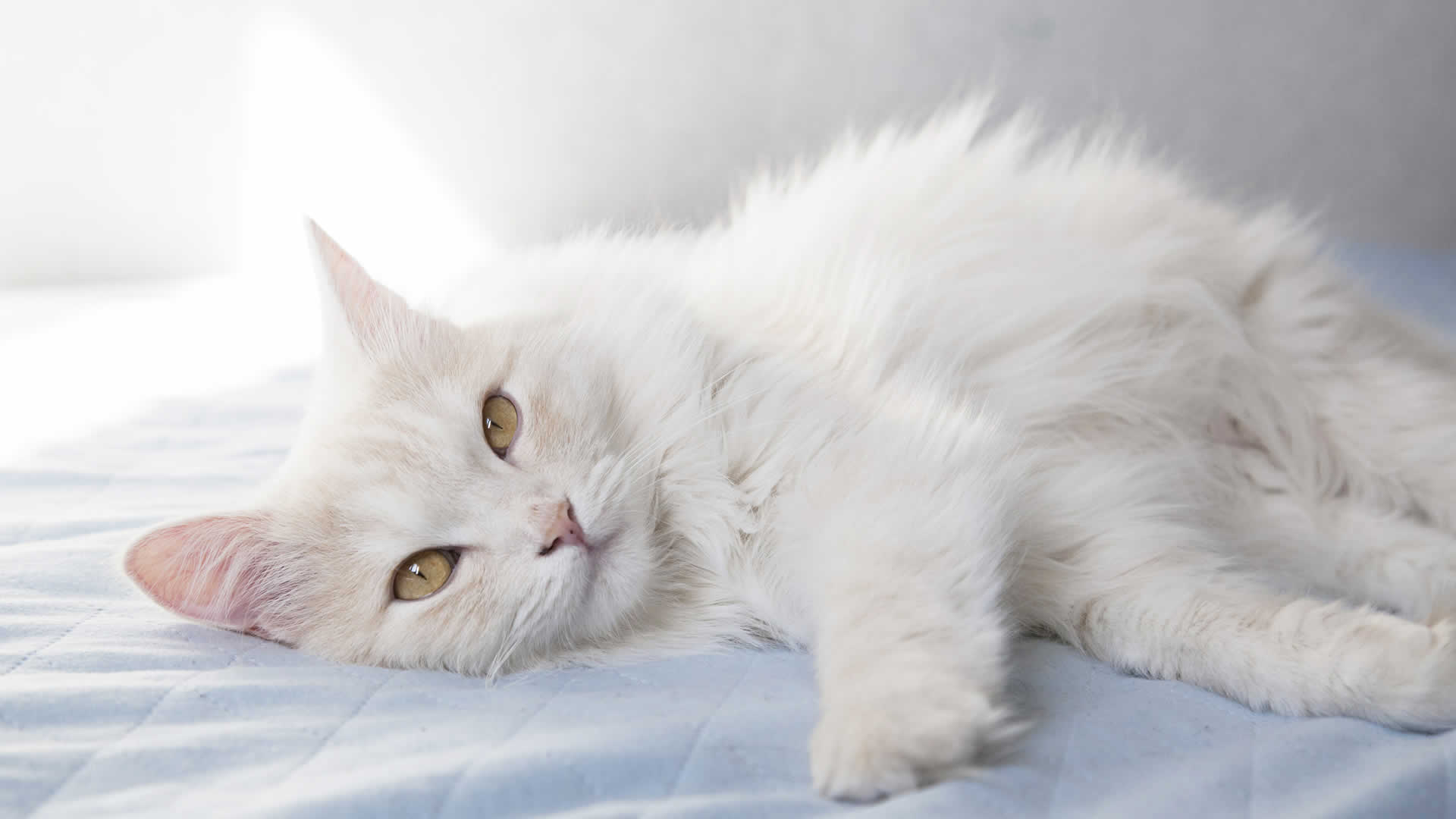 Peke-faced and Doll-faced Persians
Nowadays, Persian cats can have many coat colors and patterns while the typical Turkish Angora still remains solid white. In the last couple of decades, the two breeds have differed even more as Persians have been bred to become increasingly flat-faced. These flat-faced Persians are also referred to as peke-faced Persians, after a flat-faced dog breed called Pekingese. In fact, the original Persians that are not flat-faced are now more commonly referred to as traditional or doll-faced Persians.
The modern-day flat-faced cats have originated from a mutation that first appeared in the 1950s in tabby coated Persians. Even though it increases the likelihood of having problems in breathing, this mutation has been favored in appearance and encouraged through selective breeding.
The mutation has become so popular that one can easily argue that the peke-face has taken over as the quintessential characteristic of the Persian breed.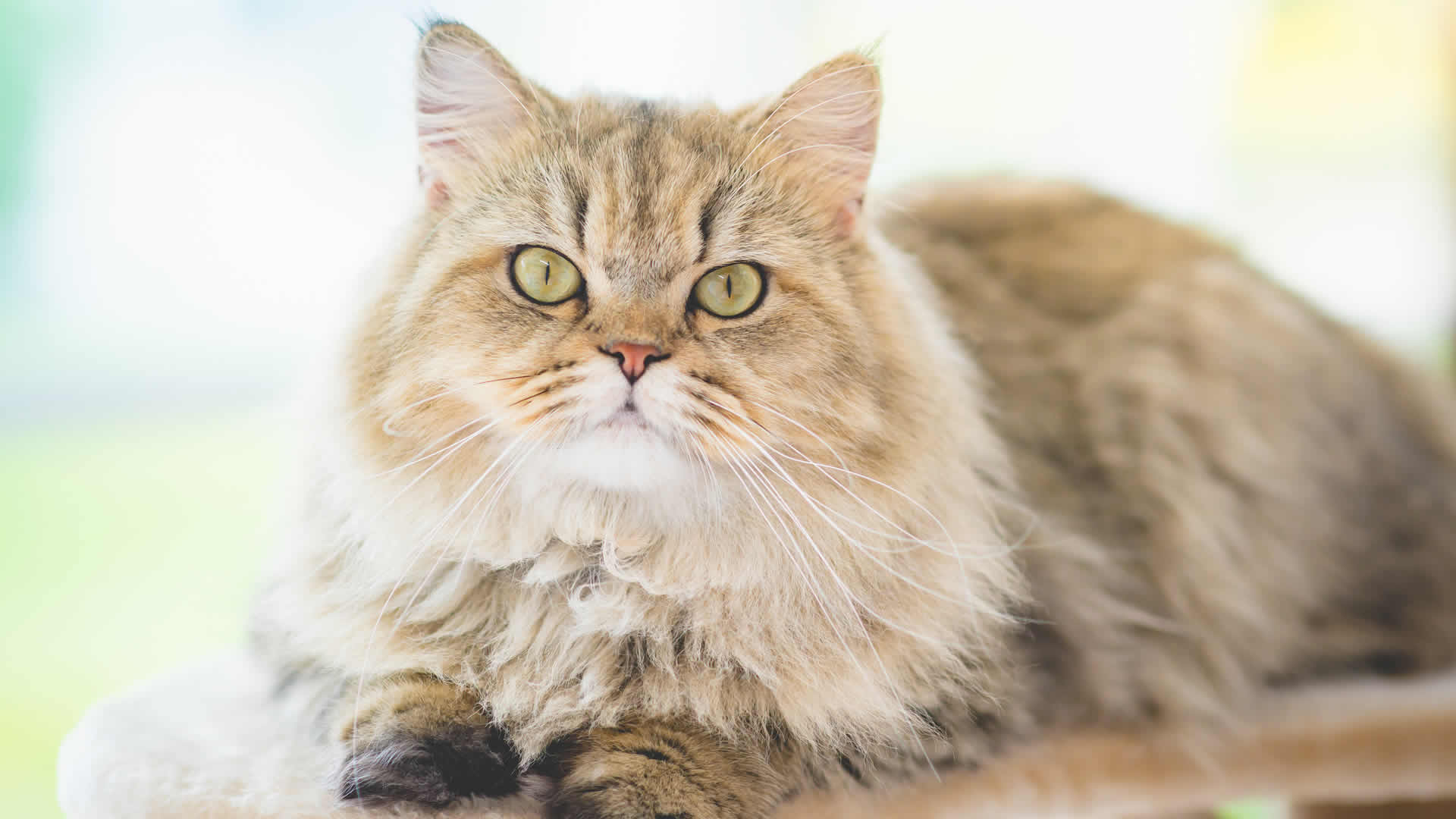 Appearance
Modern-day Persian cats have a very specific, recognizable appearance.
You can tell them apart from other breeds easily based on their characteristic round face with huge, bulging eyes and an almost flattened face. Of course, they do have variations amongst themselves in things like their coat color, eye color, and the degree of protrusion of their muzzle. Still, these differences do not change the fact that they are amongst the easiest cat breeds to identify.
So, here is a list of their most common characteristics appearance-wise:
Huge, round, protruding eyes
Very short or flat muzzle (doll-faced Persians not so much)
Rounded, small ears
Long, fluffy coat (individual hair length is between 4-6 inches / 10-15 cm)
A large variety of fur color, including solid colors and different combinations like tabby and colorpoint
Medium-sized body (7-12 pounds)
Thick and short legs
The tail is relatively short but proportional to her body.
The more recently accepted Exotic Shorthair breed is a crossover between the Persian and the American Shorthair. It looks exactly like a Persian cat (round and flat face, huge bulging eyes) with the exception of having a short and dense coat.
So, if you see a Persian cat with short hair, that cat would actually be called an Exotic Shorthair.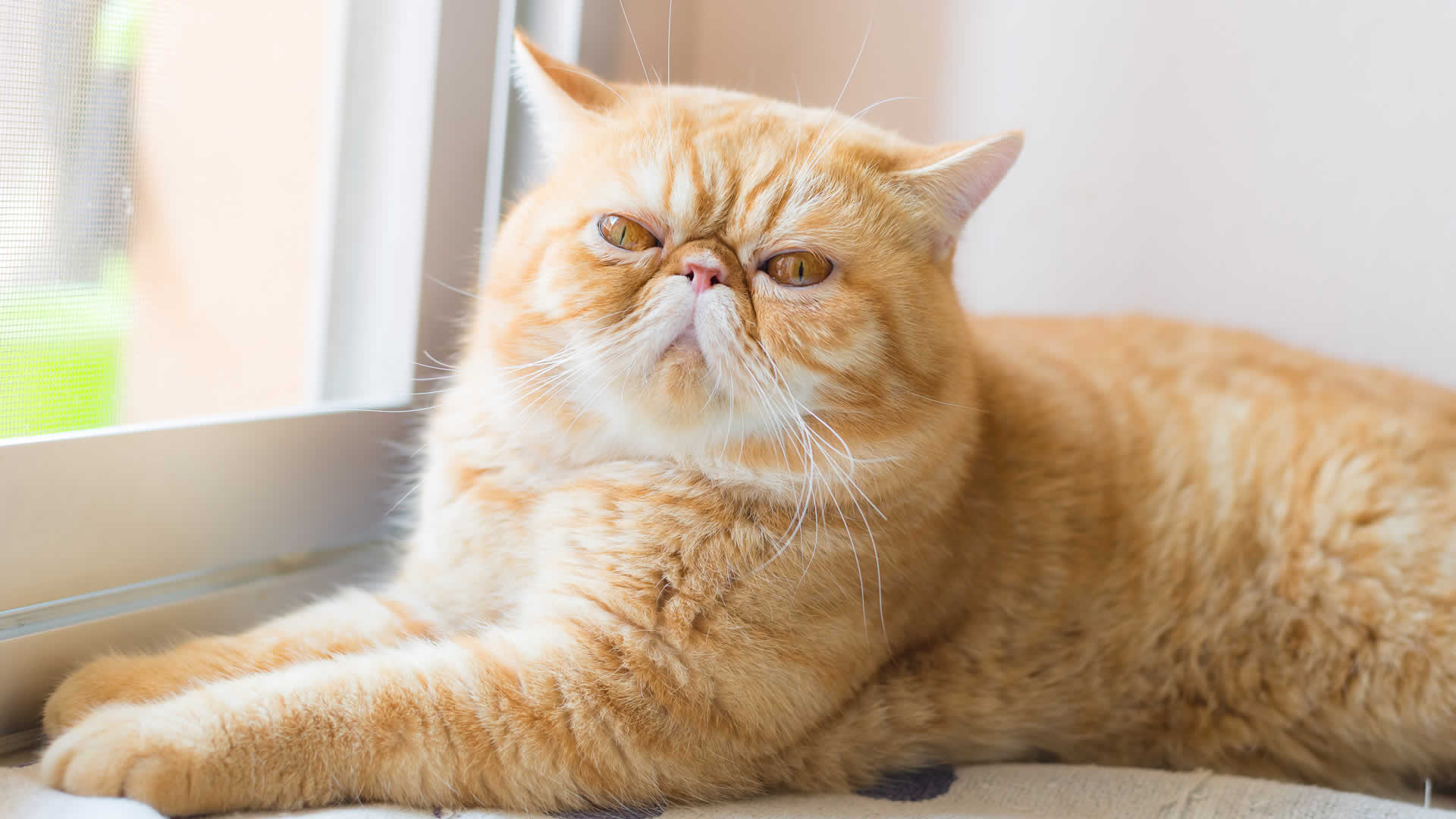 Colorpoint refers to what is known as point coloration, which is a term used for animal coats that are lighter in color around the torso and darker towards the extremities. The Colorpoint Longhair, also known as the Himalayan cat, is a crossover between the Persian and the Siamese cat, the result being a long-haired and short-muzzled cat with a colorpoint coat. It was recognized as a separate breed until 1984 but then moved under the umbrella of the Persian.
Personality
Persian cats are known for their easygoing, calm nature.
They can be described as a typical lap cat, open to extended periods of being held and pet. They are especially close to their owners but can at times be a bit distant to strangers.
Since they are generally quite calm and sedentary, Persian cats are not very ideal for households with lots of children and/or other pets. Although, since they are very adaptable, they can even become used to more crowded and unruly households with time and care. However, their tranquil nature will allow them to be happiest in calm, quiet, and uncrowded environments.
Persian cats are usually not extremely playful, and their energy level is typically quite low. They are not awfully social cats, so they are not ones to badger you for attention. However, they can be incredibly affectionate towards their owner and the people they are used to and will welcome shows of affection such as petting and being held.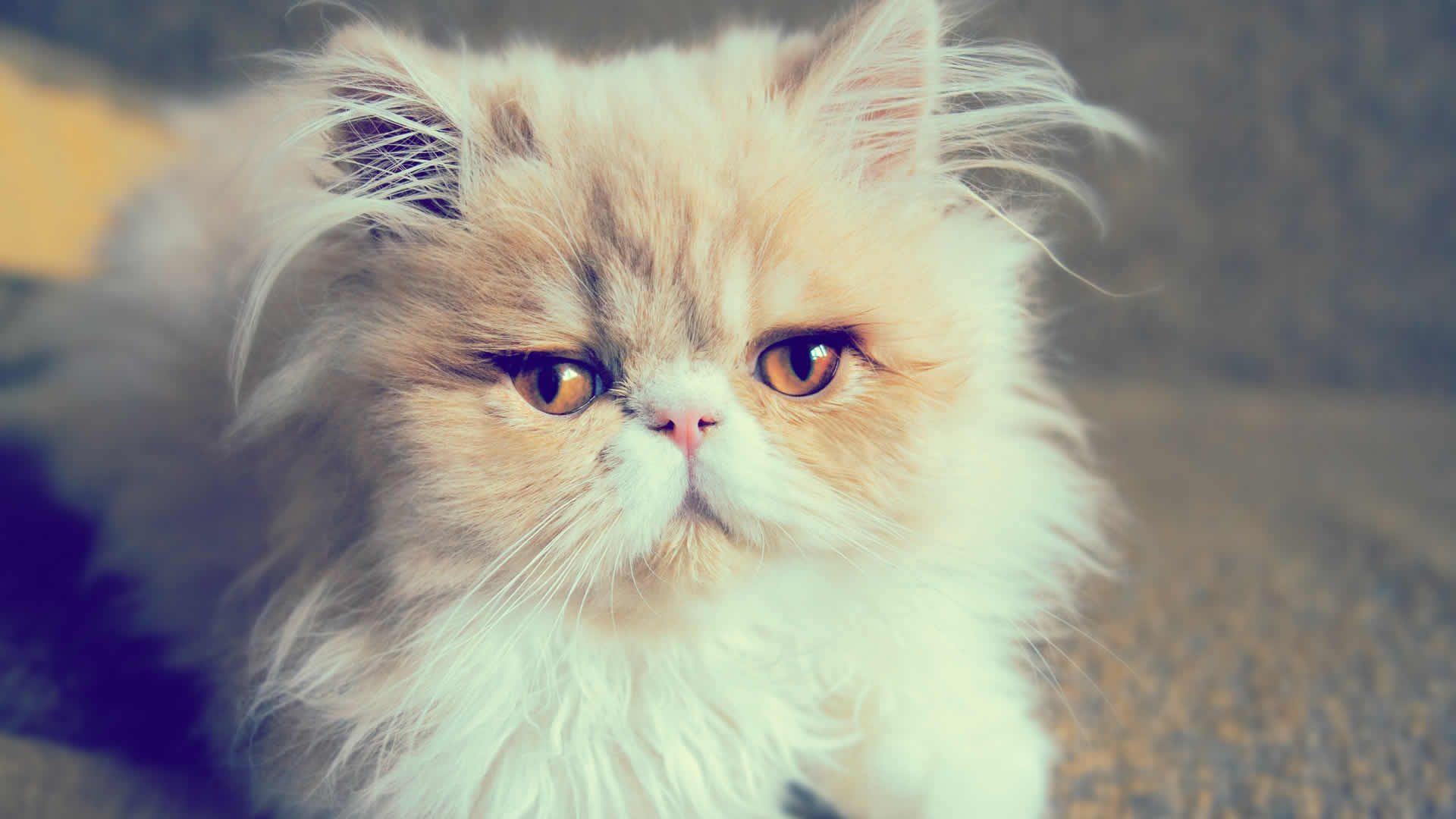 Persian cats are adequately intelligent, but they are not the fastest learners amongst the cat world. In fact, you may see that their intelligence is rated fairly low when compared to some other breeds on quite a few sources. These ratings are also based on survival and hunting skills which are considered to be important markers in feline intelligence.
Persian cats do not have good hunting skills and will likely have a hard time surviving outdoors.
Here's a list that sums up the personality traits of the typical Persian cat:
Moderate to low energy levels, sedentary, not very playful
Extremely easygoing and calm
Affectionate – likes to be held and can be described as a lap cat
Not very social, will not beg for attention
Adaptable because of her easygoing nature
Not a fast learner
Poor hunting and survival skills – they are ideal for indoors
Health
The Persian breed is a perfectly healthy breed when in their element – an indoors, clean environment with love and care. Their life expectancy is between 10 to 17 years, like most cats. They can live a long and healthy life in good conditions of living.
With this being said, as with other purebreds, there can be a few health problems that are more common among the Persian breed.
Common Health Problems in Persian Cats
The most notorious problem among the more peke-faced Persians is respiratory distress due to their facial structure. This is called the Brachycephalic Respiratory Syndrome. The syndrome is named after the term brachycephaly, which is a term used for the shortened structure of an animal's skull. The two most common issues Persian cats that have this syndrome are that their nostrils are too small, and their soft palate is too long, which blocks their trachea.
The more exaggerated peke-faced Persians (also known as Ultra Persians) are likely to suffer from additional health issues caused by their brachycephalic anatomy, while the traditional doll-face Persians are not as much at risk.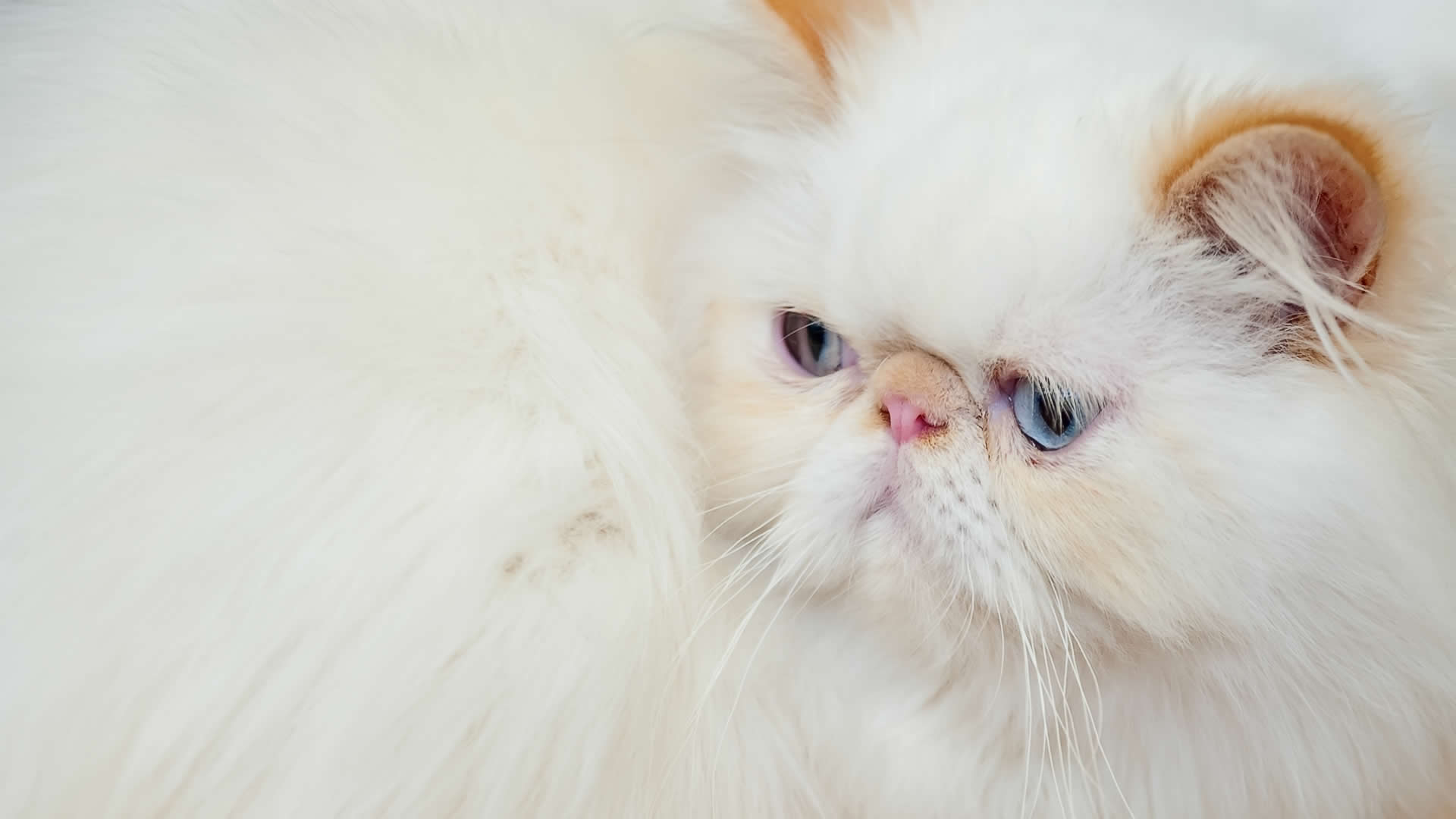 The brachycephalic anatomy of their head may cause dental issues because of problematic jaw structures. These problems may be that their upper jaw is too short or their bottom jaw has rotated upwards.
Because of their brachycephalic head shape, peke-faced Persian cats are also at high risk for various eye infections due to the shortness of their muzzle which causes their eyes to protrude. Their eyes are prone to excessive watering, also known as epiphora. Most peke-faced Persians have runny eyes that need constant care by cleaning and medication.
In more recent years, the exaggeration of the brachycephalic head shape of certain pedigree dogs and cats through breeding has been criticized in articles like this and this because of the health problems they cause.
Progressive Retinal Atrophy is another health issue concerning the eyes. This is a genetic disease that is hereditary amongst the Persian breed. It advances very quickly and causes eventual blindness as early on as 15 weeks of age.
Polycystic Kidney Disease is the most common hereditary disease amongst Persian cats. It is the condition in which one or both kidneys gradually lose function due to cystic degeneration. The signs of this disease usually occur in the mature stages of a cat, at about 7-10 years of age, but they can also show up earlier. Some of the more telling signs include excessive thirst and urination, nausea and vomiting, weight loss, and blood in the urine.
Bladder and urinary tract infections are also common among the Persian breed. Persian cats are more likely to form bladder stones. Also, male cats are more prone to urinary tract problems than females. Make sure you observe your cat's urine and litterbox activities closely if you suspect she might be at risk.
Care
If you are thinking of caring for a Persian cat, it is very important that you know what you are getting yourself into.
Here is some information you should definitely know beforehand:
Grooming
It is no secret that Persian cat grooming is an especially demanding endeavor.
In fact, the long, fluffy coat of the Persian is so hard to handle that some people call the Exotic Shorthair (the short-haired Persian breed) "the lazy person's Persian"!
The Persian coat should be combed daily (ideally with a stainless steel comb) unless you want mats (clumps) forming in her long, glossy coat. The Persian cat's coat is very long and a bit greasy, which makes it prone to getting mats. These mats will usually appear in places where the skin folds, such as under their legs (or armpits) and behind their ears.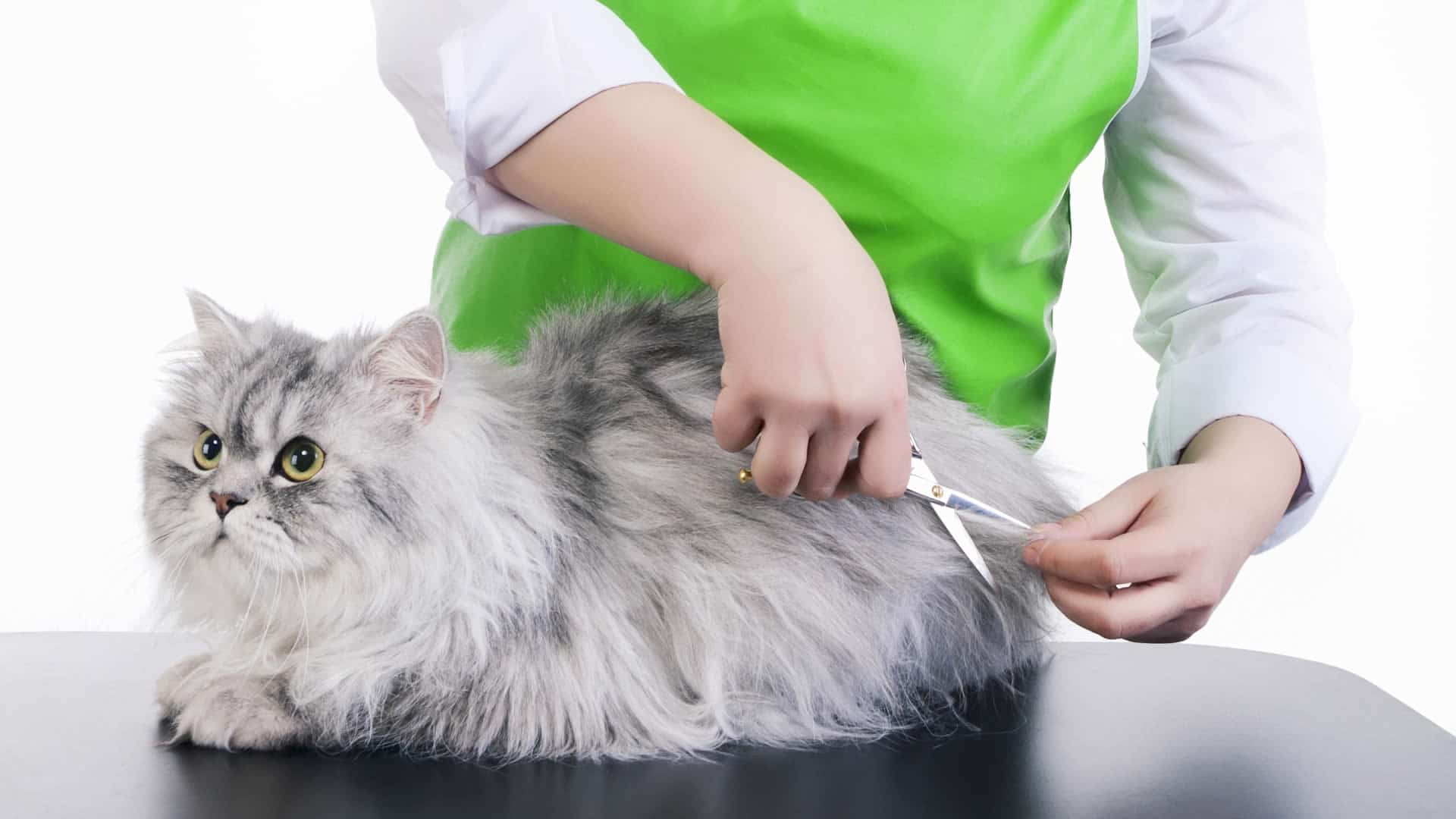 Some Persian owners trim their cats' fur seasonally and/or only around places prone to matting or unhygienic situations (such as feces getting stuck around their rear). The specifics of trimming is something you should definitely discuss with your vet.
Unfortunately, long hair also means lots of shedding. There will be enough hair around the house to make a second cat. The good news is, daily combing to avoid clumps will also decrease the amount of shedding!
We all know that cats can lick themselves impeccably clean. However, it is often recommended that a purebred Persian cat should be bathed regularly for coat maintenance. In order to get your cat used to regular bathing, it is advised to start early on in kittenhood.
The frequency of bathing will depend on a few factors including whether or not she goes outside. Although living strictly indoors is ideal for Persian cats, she may take little strolls outside from time to time. Bathing will help reduce shedding and knotting, however, make sure you don't overdo it. Bathing too frequently may cause issues such as dandruff and other skin irritations. When overdone, it may even hinder coat maintenance.
Feeding
Persian cats don't necessarily require a diet special to their breed.
However, there are some things about feeding a Persian cat that you should pay attention to.
As I've mentioned above, Persian cats are quite sedentary and this makes them prone to weight gain. This is why their diet should include high amounts of quality protein, moderate fiber, and very little carbs and fats. This is actually an ideal diet for every cat, no matter the breed.
Besides nutritional value, you should also pay attention to the amount of food your cat consumes daily. Make sure you establish portion control by giving out their meal 2-3 times a day instead of leaving out a lot of food.
It doesn't matter if the food is wet or dry; however, the Persian breed's facial structure may limit their food alternatives. You may find that they have a hard time eating food with a certain shape or size. If you suspect this is the case, try a different texture/size of food.
As long as your cat eats a healthy, balanced diet, her coat will be vibrant, shiny, and healthy. However, olive oil is a great supplement for coat care. Since Persian cats have especially long, lustrous coats, incorporating olive oil in their diet can be a good idea. If you want to offer your cat olive oil, you should check with your vet how much and how frequently you can do so.
Caring for Their Eyes
As I've mentioned above in the health section of this article, it is unfortunately very common for Persian cats to have issues with their eyes, the most common of them being epiphora, the excessive watering of their eyes. This situation requires extra care and attention from you.
The peke-faced Persian cats are prone to having their eyes tear up regularly because of the structure of their face. This usually results in mucus and tear stains around the eyes and towards the sides of the nose. To ease their discomfort and to prevent these stains, you should clean around their eyes by gently rubbing the area with a clean wet towel.
Visit your vet in order to make sure if your cat's eyes need more than just cleaning. They may require extra care such as eye drops.
Providing Ideal Conditions
Persian cats are strictly indoor cats that need optimal conditions for their well being. It is your job as their caretaker to provide these ideal conditions.
Especially the more flat-faced Persians are quite sensitive to heat because of their likelihood to experience respiratory distress. Therefore, regulating temperatures in your house accordingly is very important.
It is essential that you make sure your cat stays indoors. Of course, if you have access to a safe outdoor environment that you have control over, they can go out from time to time. However, Persian cats do not have good outdoor skills and are more at risk of danger than other breeds when they are outside.
Persian Cat Names
Sometimes you might need a little inspiration in naming something you love. Naming a companion animal is a very special thing but deciding can be just as stressful and intimidating. Think about it, once you name a cat, you will likely be calling out this name for over ten years!
Here are a few suggestions to make your name choosing process a little less frustrating. I've gathered these names based on popular ones chosen for Persian cats and names that many people over lots of time have ascribed to this special breed.
As long as your Persian is in a safe, clean, tranquil indoor environment with lots of love and affection from you, she will be more than fine!
Regal Names
Since they are the royalty of pedigree kitties, many people ascribe regal names to Persian cats. Remember, even Queen Victoria had Persian cats in her court! These names may even be inspired by fictional royalty.
So, you might consider names such as:
Sebastian
Sophie
Charlie
Princess
Simba
Loki
Jasmine
Sphinx
Sheba
Coat or Eye Color-based Names
Coat and eye color can provide lots of inspiration when naming your cat. Since Persian cats come in a variety of dazzling colors, the Persian breed has a lot of options for unique color-based names.
Here are some suggestions to get your creative juices flowing:
Gray coat: Smokey, Silver, Misty, Ash
Black or Himalayan coat: Pepper, Olive, Shadow, Inky
Tabby or ginger coat: Ruby, Cinnamon, Ginger, Honey, Peanut, Mocha, Lemon
White coat: Snow, Pearl, Ghost
Eye colors: Jade, Sky, Amber, Opal
Descriptive Names
The cute, characteristic face of the Persian breed may also inform your choice of name. Just hearing these names makes me picture the adorable face of a Persian kitty. So, you may also choose to go with these descriptive names:
Chewy
Grumpy
Furby
Bella
Furball
Tiny
Popular / Classic Names
Finally, here are some of the most popular Persian cat names in the world (in English). For some reason, these names really do remind me of Persian kitties. I guess they have become synonymous with the Persian breed after so much use. This means that these have become classic names and they probably will not go out of fashion!
Male: Gizmo, Max, Ollie, Sam, Oscar, Sebastian
Female: Princess, Precious, Sasha, Angel, Chloe, Sassy
Conclusion
There is no wonder why the adorable, easygoing, tranquil and affectionate Persian cats are among the most popular pedigreed cat breeds in the world.
The Cat Fanciers Association, which is the world's largest registry of pedigreed cats, has named the Persian breed the fourth most popular (registered) breed in 2017, 2018, and 2019. (2020 has not been announced as of yet.)
Even though caring for them may be relatively harder when compared to some other breeds, living with these loving and calm natured kitties is definitely worth it!