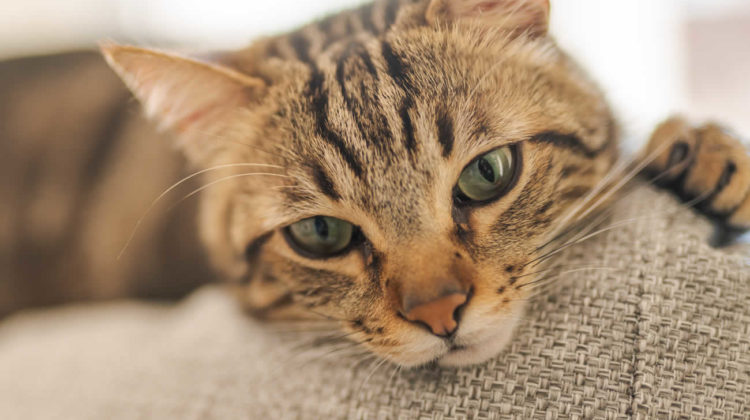 When I first heard the term "cat dandruff" a few years back from a friend with a cat, I thought it was something my friend made up as a joke.
After I quickly found out that it was a real thing that cats can have, I realized that this is very natural and probable – and very common, too.
When you think about it, most animals can have dandruff because it is basically just extra-dry skin that peels off in small pieces and hangs on to hair (or fur, in this case).
We as humans have dandruff on our hair because our scalp can get very dry from using the wrong kind of shampoo or eating the wrong kind of diet, and our hair holds on to these bits of skin. It is usually quite a similar situation when cats have dandruff as well.
Often, dandruff is a symptom of something else – it might indicate a medical problem ranging from parasites to arthritis.
Dandruff is not a problem in and of itself. However, do not panic if you notice your cat has a dandruff problem. Almost all causes of dandruff can be easily treated.
The important thing in dealing with this situation is to notice it early on and to correctly determine the cause.
Here are some pointers you might need in spotting, treating and preventing dandruff on your cat.
What Causes Dandruff on Cats?
The unnatural dryness in the skin that leads to dandruff on cats can have a couple of very different reasons.
Changes in your cat's diet
Poor grooming
Excessive sunlight
Stress and anxiety
External parasites
Skin infections
1. Changes in Your Cat's Diet
One of the most likely causes for dry and flaky skin is a change or lack in your cat's diet.
Make sure to monitor any changes in your cat if you change its flavor or brand of food.
You should keep in mind that if your cat likes to go outdoors, it might be eating things you won't know about. If you are suspicious about this, restraining your cat's outdoor visits for a couple of days might help you eliminate or verify street food as the cause.
Dry skin can also be caused by a lack of omega 3 fatty acids in your cat's diet. This nutrient is found mostly in fish, so make sure your cat's food includes a sufficient amount of it.
2. Poor Grooming
Dandruff is often a sign of poor grooming.
Like dandruff, poor grooming is usually a symptom of another problem and not a conscious choice that your cat makes.
Cats are very strict when it comes to maintaining their hygiene, so if your cat is doing a poor job with grooming, this might be a sign that something is wrong.
Poor grooming can be caused by any kind of pain or stiffness your cat might be having. For instance, an older cat with arthritis may fail to clean itself properly due to chronic pain. Cats may also experience pain as a result of an injury.
Another condition that restricts a cat's mobility and therefore grooming is obesity. Overweight cats are less flexible and this makes them have a harder time cleaning themselves thoroughly.
3. Excessive Sunlight
Your cat being over-exposed to the sun can also cause dandruff.
Cats can get sunburnt just like us, although it is harder because of their fur.
However, too much sun exposure can still affect your cat negatively. The tips of their ears, noses, and eyelids where their fur is thinner are especially sensitive to the sun.
The sunburn will cause dry skin, which will lead to dandruff. If you can, make sure your cat stays indoors during midday in the summer.
4. Stress and Anxiety
Cats are extremely sensitive animals. They like things to stay the same and avoid change at all costs. So if there has been a big change in their living conditions, they may experience stress and anxiety. This stress can very well be the cause of skin shedding and dandruff.
5. External Parasites
Skin problems that might lead to dandruff can also be caused by external parasites such as mites, lice or fleas. You should already be checking your cat's skin for these parasites regularly even though you do not suspect any medical problems with your cat.
For further information about dealing with fleas, check out the cat flea infestation post I wrote before.
These parasites will cause dry and itchy skin, which will inevitably lead to dandruff on your cat.
6. Skin Infections
Other triggers for dandruff include a variety of skin infections caused by bacteria, yeasts or fungi.
These types of skin infections can be distinguished from other causes of dandruff because there will usually be accompanying symptoms like hair loss and redness in the skin. If this is the case, you should pay a visit to your vet and get the necessary medications for these infections as quickly as possible.
As you can see, there are a variety of things that can cause dandruff on your cat.
If you can't identify the problem yourself right away, take your cat to the vet as soon as possible. Most of these problems are easily treatable so there is no need to make your cat suffer by acting slowly.
How to Tell if Your Cat Has a Dandruff Problem?
Noticing dandruff on your cat is pretty easy.
Dandruff appears as tiny flakes of white on your cat's fur; which is quite similar to how it appears on us humans.
If your cat has dark fur, it will be extremely easy to spot dandruff. If you have a white or very light-colored cat, make sure to pay attention to some telltale signs for dandruff mentioned below.
First, you might notice that your cat is itchy before you even see dandruff.
Cats like to scratch themselves quite frequently. However, itchiness that doesn't go away will make itself very clear. If you notice your cat continuously scratching throughout the day, it might be a good idea to inspect its skin and fur closely.
Dandruff will cause your cat mild discomfort and you can notice this in its behavior. Your cat might be reluctant to play games, appear less energetic and moody. For instance, if the cause for the dandruff is some sort of parasite like fleas, then your cat may be feeling drained and tired.
Look out for these signs and you will most likely spot dandruff and be ready to take the necessary action for treatment.
What is the Difference Between Cat Dander and Dandruff?
"Dander" and "dandruff" sound very similar and have similar meanings as well.
Therefore, it's very common and understandable that these two terms often get mixed up. I will admit to you here that I have also mistaken the two things for each other before.
Here is the distinction:
As I have explained above, dandruff is when there is an excess of dry, flakey skin hanging on your cat's fur.
The distinguishing word here is excess.
Dander is also dry skin, but it is a healthy amount that is naturally shed by cats as a part of the process of renewing their skin cells. Dander is merged with the proteins from your cat's saliva during the process of grooming and comes out naturally.
Unlike dandruff, you will not see dander on your cat. So if you see little white flakes of skin on your cat, you can be sure that it is dandruff.
How to Prevent Cat Dandruff? And Natural Remedies
Proper hydration
A balanced and healthy diet
Keep your cat active
Brush your cat regularly
Let your cat take care of its own hygiene
Keep the environment in ideal conditions
Pay attention to your cat's psychology
It is always a good idea to deal with certain medical problems before they even have a chance to arise. If you happened to stumble upon this article even though your cat does not or has never had a dandruff problem, this section might be quite useful to you in terms of preventing it.
If your cat does have dandruff, then paying attention to these tips below will help in rectifying the situation and preventing a recurring dandruff problem in the future.
First and foremost, make sure your cat has proper hydration. This is just a fancy way of saying "give your cat plenty of water."
Make sure your cat's water dish is always full, and that it is filled with fresh drinking water. Proper hydration is the number one inhibitor of skin dryness.
Be very strict in maintaining a balanced and healthy diet for your cat.
This is all on you because your cat will eat most things you put in front of it.
A good diet will keep your cat from becoming overweight, which as I have mentioned above is one of the causes of poor grooming and dandruff.
A balanced diet will also mean that your cat will have a sufficient amount of every nutrient it needs, which includes omega 3 fatty acids that prevent skin dryness.
Also, keep an eye out for any allergies your cat might have towards a certain type of food.
Take a look at 55 human foods cats can and can't eat article. There is a detailed section for "what your cat must have in her ideal diet plan."
While we are on the topic of food, I should mention that olive oil is a wonderful natural remedy that benefits cats greatly. It is a good idea to include olive oil in your cat's diet but you can also use it as a topical moisturizer. You can warm it up a bit before application so that it doesn't feel too cold for your cat.
Make sure to keep your cat active. This will increase your cat's energy and prevent it from gaining too much weight. I believe this is the most fun dandruff prevention method because you get to play with your cat!
Grooming helps prevent skin dryness, and you can help your cat groom further by brushing your cat regularly. This will also be useful in spotting anything out of the ordinary on your cat's skin, such as fleas, injuries, wounds, skin irritations, etc. Always pay close attention to your cat's skin and fur condition. 
This will sound pretty obvious but I'll still mention it: Let your cat take care of its own hygiene. You may wash your cat rarely in certain situations, but other than that there is absolutely no need to wash your cat!
Cats are way better at maintaining their hygiene than us. Their saliva provides all the necessary ingredients for their ideal cleanliness. So, there is no need for shampoos, conditioners, or anything else. Frequent use of shampoo and poor rinsing will make your cat's skin extremely dry.
To avoid extra dryness in skin, idealizing the conditions of your house is very important and effective. You should always keep the environment in ideal conditions for you and your cat, in terms of temperature and humidity. Fortunately, these are things you can easily control with thermostats and humidifiers!
Apart from the measures mentioned above, you should also pay attention to your cat's psychology. Skin problems can be caused by stress and anxiety.
You should, therefore, make sure that your cat is not under any stress by avoiding big changes as much as you can. These changes might include moving to another house, leaving your cat alone too often, introducing another pet, etc.
Products for Cat Dandruff
As I have mentioned before, a lack of omega 3 acids in your cat's diet will cause dryness in the skin. Fish is a natural source of this nutrient; therefore, you should regularly be including fish in your cat's menu.
However, if the dandruff is too much and you want effective and fast treatment, you can give your cat a fish oil supplement to make up for the current lack of the omega 3 fatty acids in its diet.
This sounded kind of funny to me when I first heard it, but there are moisturizers for cats!
They are very similar to what we use on our skin, and they serve the same purpose.
The obvious problem is that not every cat will be comfortable with this treatment. I can't even hold my cat for more than ten seconds, let alone apply moisturizer on her.
Here's a small trick: if your cat tolerates brushing, put the moisturizer on the brush and hope your cat doesn't notice the difference. If you can manage to do it, applying moisturizer on your cat is a very effective way of preventing and treating skin dryness.
These moisturizers actually come in many forms. You can choose whichever one is easier to apply to your cat.
Other than moisturizing dandruff creams, there are a variety of dandruff shampoos, brushes, and sprays.
Personally, the one that works best for my cat is putting cream on a brush. Sprays can also be easy to use but they could be a little startling and intimidating for your cat in my experience.
I do not prefer shampoos because proper rinsing and drying can be quite difficult and if you do a poor job at these, skin dryness will be an issue.
If your cat is sensitive to the dryness in the air and experiences skin irritation as a result of this, you can control the humidity inside your house to combat this issue. Air humidifiers can help reduce skin dryness and facilitate better breathing too.
You should adhere strictly to your routine of administrating internal and external parasite medication to prevent and eliminate fleas, mites, and lice if they are the cause of dandruff.
If the dandruff is caused by any other factor that you cannot identify or treat easily, you should visit your vet.
Your vet will know best what kind of medication to prescribe for your cat's specific condition.
Even if all your cat needs is a moisturizer or a fish oil supplement as mentioned above, you could still get advice from your vet on what kind or brand you should purchase.
Long story short, if you are undecided, going to the vet is always a good idea!
Other Dermatological Problems Cats May Have
We have tackled the dandruff issue, but what about other kinds of skin problems that your cat might experience?
You should keep in mind that most of these skin problems have dandruff as a symptom and so some of them have already been mentioned above as causes for dandruff. 
Allergic Dermatitis
The most common skin problem cats experience is allergic dermatitis.
This basically means an allergic reaction to some type of food, product, or environmental factor (like pollens, fleas or dust). Some symptoms include constant scratching, dandruff, bald patches, and skin lesions.
Fungal Infections
Fungal infections are also quite common in cats.
These may be caused by a fungus such as yeast and ringworm.
You will probably see a non-clear discharge, redness, skin lesions accompanied by persistent scratching.
Beware, fungal infections are highly contagious and can transfer to other pets, and even you!
Bacterial Infections
Bacterial infections are another skin problem in cats. These infections are usually symptoms of other skin problems. They can be treated with antibiotics but make sure you identify the underlying issue and treat that as well.
I have mentioned before external parasites like fleas, mites, and lice as possible causes of dandruff. These parasites can cause other skin problems like allergies and infections as well. I cannot repeat this enough: never skip your regular use of external parasite medication!
Cat Acne
An issue that is kind of funny (to me) but still important is cat acne.
Cats usually get acne around their chin area. This may be a result of poor grooming, stress, anxiety, or as a reaction to a product or medication. The treatment for cat acne usually consists of topical creams.
These are some of the more common skin problems that cats can have.
However, there are many other more specific and rarer issues that might be left out. For instance, if you observe any lumps on your cat's skin, they might be a sign of a skin tumor.
So, it is always a wise idea to visit your vet if you see symptoms such as lumps, redness, bald patches, discharges, persistent scratching, scaly skin, lesions, and dandruff.
Should I Be Worried if My Cat Has Dandruff?
Yes, and no.
First, dandruff is very common in cats and can be caused by a variety of reasons. So, there is no need to panic.
Keep in mind that dandruff is a symptom. There is almost always an underlying issue if your cat has dandruff. This may be a simple thing like mild sunburn or a more complicated thing like an infection.
Therefore, try to identify the reason for dandruff. If you cannot easily do so, go to your vet as soon as possible.
I hope this article has informed you about the most common possibilities for your cat's dandruff.
I wish you and your cat a dandruff-free, happy and healthy future!