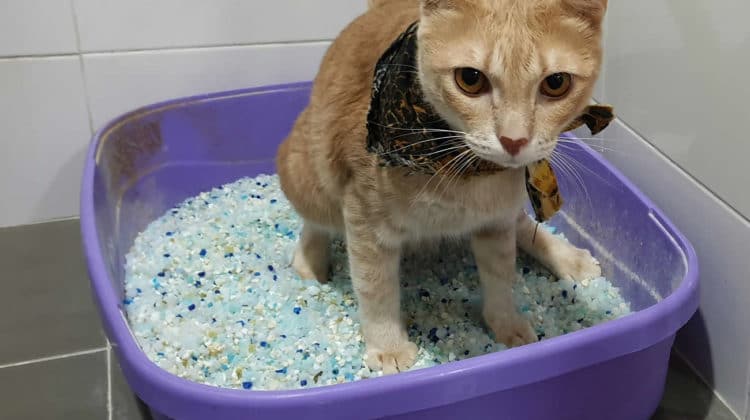 As cat lovers, everything about them appears to us as unbearably cute and loveable. We adore everything about them, including their bites and scratches which can at times be quite painful.
With this being said, one thing that is quite hard to love about cats is the smell of their pee.
It is super-strong and when you inhale it too deeply or for too long, it can make you light-headed.
Your cat's litter box is bound to be the place where this smell will be the most concentrated and persistent. However, there are ways to reduce this odor in your cat's litter box.
If for some reason your cat has peed somewhere other than her litter box, this smell will be quite difficult to get rid of.
Luckily, there are some natural ways as well as a wide range of commercial products you can try in order to deal with this stubborn odor.
Below are some suggestions for natural methods and a selection of product reviews to help you fight and prevent your cat's pee smell in unwanted places.
Natural Ways to Get Rid of Cat Pee Smell
Fortunately, there are some natural ways to cope with the smell of your cat's pee.
These natural ways also work on places other than your cat's litter box, such as carpets, furniture, floors, and shoes. These places are important to keep stench-free because being unable to eliminate the pee smell may cause your cat to pee on these spots again.
From Litter Box
It is very natural for your cat's litter box to smell of pee. After all, it's your cat's toilet! However, litter boxes can smell worse than they should if you do not pay attention to a few things.
I have mentioned this before: you should make sure you put enough litter in your cat's litter box. If you fail to do this, then the pee will reach the bottom of the box and create a pool, and this will cause the litter box to smell. The key is to be generous with the amount of litter you use depth-wise.
This is kind of obvious, but it bears repeating: the best natural way to repress cat pee smell in the litter box is to clean it as frequently as possible. As I've explained earlier, why cat urine smells really bad is due to a chemical reaction in its decomposition process. The more you let the pee stay in the litter, the worse it will start smelling.
So, being generous with the amount of litter you use and cleaning the litter box daily are the two things you should be doing.
If you pay attention to these two things, your cat's litter box will be relatively stench-free.
From Clothes, Carpet, and Fabric in General
If for some reason your cat has peed on a fabric surface, don't worry. Just be very quick to notice the pee and don't let it linger for long before you clean it.
Once you notice the pee, if there is still excess liquid (if it hasn't completely dried out) absorb it with a clean cloth or paper towel. Do not rub the stain! This will only make the fabric absorb the urine more.
After this, pour some club soda or plain cold water on the stain. Once it's dry, sprinkle a generous amount of baking soda on it and scrub it deeply with a clean cloth.
If you have some, you might also add a bit of hydrogen peroxide after sprinkling the baking soda and scrub thoroughly. Last but not least, vacuum the leftover baking soda.
An alternative method is to use a mixture of vinegar and water instead of club soda or only water after blotting the excess pee. You may then continue on with the same process of sprinkling baking soda and scrubbing.
If the stained item is removable, it might be a good last measure to throw it in the washing machine after you have pre-treated the stain as explained above. You should use cold or lukewarm water and no detergent. Also, make sure that you wash it separately from other items.
Do not use any cleaning products with ammonia in them! Since cat urine has ammonia in it, these products will leave a smell similar to cat pee and encourage your cat to use the same spot as a toilet again.
From Shoes
It may be hard with other spots, but it is possible for you to prevent your cat from using your shoe as a toilet.
If your cat has a habit of peeing in places other than her litter box for whatever reason, it may be a good idea to take preventative measures and place your shoes and slippers on a high rack or in a cupboard.
If you end up with pee-stained shoes anyway, don't worry, home remedies can help solve your problem.
For shoes of almost all materials (leather, fabric, plastic) a solution of vinegar, baking soda and an optional drop of alcohol-based mouthwash will do.
As with fabric, start out by soaking up the excess urine with a towel. Pour and rub a solution of one part of warm water and one-part vinegar to the stained area.
After it is dry, sprinkle a generous amount of baking soda and let it sit for a few hours. Vacuum the baking soda and air out your shoes until they are completely dry.
Hydrogen peroxide is another solution that is useful in cleaning cat urine. However, you should not use it with sensitive materials like leather and colorful fabrics. After soaking up the urine, just pour a little bit of hydrogen peroxide on the stained area and leave it to dry. Once it's dry, rinse with warm water and leave it to dry again.
From Hardwood Floor and Furniture
Vinegar is a magical substance that is very easy to acquire (you probably already have it in your house), extremely effective in cleaning many things, and very healthy to use. There are no problems for you to inhale it because it is a natural, non-toxic substance which you sometimes also put in your food.
A solution comprised of one-part water and one-part vinegar works wonders for cleaning hard surfaces like floors and walls. Cat pee has a lingering smell and is quite difficult to get rid of completely. However, as an acidic substance, vinegar can counter the alkaline salts in your cat's pee.
Vinegar has a strong smell of its own, but don't worry about it stinking up the spot you are cleaning.
After breaking down the pee smell, the vinegar smell too will fade away within a few days and leave the place completely odorless.
Vinegar does not work very well on marble and stone surfaces because it is acidic and may be damaging. With these surfaces, it is better to use hydrogen peroxide mixed with baby powder. To get rid of the smell, you can use water and baking soda just like I've recommended for the fabric surfaces.
Products That Will Help You Get Rid of Cat Pee Smell
Home remedies are easy to acquire and apply and are usually quite safe because they are almost always made with standard pantry items. However, sometimes you might need more professional and specialized products that will guarantee the result you want.
There are many products that you may purchase in order to deal with the cat pee smell. Here are a few selected products that I have gathered and grouped depending on their area of use.
You may find a summary of reviews and my overall opinion for each product, which I hope will make choosing the right one for your needs very easy.
Products for the Litter Box
Here is a selection of products that you may use for aid in preventing extreme urine smells in and around your cat's litter box:
This product is not specifically designed for use in cat litter boxes. However, one of its specialties is dealing with indoor odors caused by pets and many customers have used it for this purpose.
It is a somewhat popular and affordable product so I thought I'd look into it in terms of how successful it is in preventing pet odors.
The product claims to eliminate odors with its charcoal layer and that its effect lasts for up to 6 weeks. This claim holds up as far as I can tell, many users saying that it easily lasts them 4 weeks.
The Damp Rid Genie seems to work better in smaller areas, so it might be a good idea to have your cat's litter box in a small room as opposed to keeping it in a corner of your living room or any other open space. However, I wouldn't advise placing the odor genie inside the litter box because it is too small and the scent might be overwhelming for your cat in there.
I have to say though, I am not a fan of artificial scents. This one is lavender-scented and I am not sure if it appeals to cats as much as it does to us.
The problem with these scents is that they are usually used to mask unwanted odors. I need to be sure that what this product is aiming for is to eliminate the odor instead of masking it.
Looking at the reviews, I see that it does a fairly good job of removing the smell and that the scent is an extra touch that is meant to flatter our noses.
Many reviewers claim that the scent is not strong and heavy like a candle, which in my opinion is a good thing. A number of reviewers also say that the lavender smell fades away within a week or so. Although they see this as a negative thing, I think it's better that it doesn't have a fragrance as long as it keeps eliminating the bad odors.
All in all, the Damp Rid Odor Genie is a product I would definitely consider giving a try.
The negative reviews are all about the weakness of the lavender scent but for me, this is as a positive thing!
Pros
Lasts for up to 6 weeks
Eliminates odors rather than mask them
Fragrance not extra-strong (a pro for me)
Cons
Not specific for cat pee odors
Scented (a con for me)
This product is specifically designed for your cat's litter box. I myself have used this product so I can give you a bit more personalized information about it.
First of all, I love the fact that this product is fragrance-free, which is why I bought it in the first place. This means that there are no unnecessary chemicals or substances that might cause allergies in your cat or may harm her in the long run. It also means that the product is confident enough in itself that it doesn't feel the need to mask odors that it fails to eliminate with fancy scents.
When you smell the product while in its container, there is a faint bleach-like smell. This worried me at first, however, I quickly realized that once you put it on the litter, there is no smell.
I think NonScents Deodorizer is very easy to use. It is a powder that you just sprinkle over your cat's litter and you can use it on any brand.
For extra measure, I don't allow my cat to use her litter immediately after I sprinkle the deodorizer. I worry that there might be lingering particles in the air that might cause discomfort to her respiratory system. Once the powder settles, however, there were no problems for my cat.
I have only one cat, so I never suffered from an excessive amount of stench. Looking at the reviews for this product, I noticed that people who own a number of cats are especially very satisfied. They claim that the visitors they have over do not notice any pet smells, which is quite amazing if you ask me.
I scoop through the litter every day and completely change the whole litter out once a week. I use a moderate amount of deodorizer every time I renew the litter completely. I don't want to abuse the product and I think that this product enhances hygiene but is not the only thing responsible for it.
Cleaning the litter box regularly is the best way to maintain hygiene. So please do not expect miracles from this or any other product.
Many people claim that they have started to throw their litter out less frequently than before because of this product and so their litter lasts longer.
Although I agree that it does a great job of eliminating odor, I still think that you should keep cleaning your cat's litter as frequently as you did before. The absence of stench does not mean there is any less poop or pee in there!
Having all this said, I've seen a couple of bad reviews of this deodorizer online. This doesn't surprise me because every environment and every cat is different. Therefore I would advise you to buy a small amount first and give it a try.
If it works for you as it did for me, then great! I find that the only downside is that this product is a bit more expensive than other deodorizers out there. But I think it deserves this pricing because it is effective and does what it advertises.
Pros
Fragrance-free
Effective in eliminating pee odor
Biodegradable and non-toxic
Compatible with all litters
Cons
I haven't had experience with this product, but it seems to be a successful competitor to the NonScents deodorizer so I wanted to look into it.
The Prestige Pet Magic deodorizer is also fragrance-free, and thus gets a thumbs up from me. Its main ingredient is activated carbon which claims to be a natural substance that eliminates odor. Like the NonScents deodorizer, this one is also compatible with all types and brands of litter.
When I look at the reviews, I notice that this product has far less number of ratings when compared to NonScents, which can be deceiving when comparing the two products.
What I've observed is that most customers seem satisfied with its efficiency in eliminating odors. However, the main problem seems to be that its active ingredient charcoal can make a fair amount of mess around the house.
Many people have complained that the charcoal gets stuck on their cat's paws and gets trailed around their house, staining carpets and floors.
Customers with light-colored cats have also pointed out that their cat's paws are stained grey whenever they use their litter box.
I guess the Prestige Pet Magic deodorizer does a thorough job of eliminating odors, but you should be aware that it may make some mess in your house!
Pros
Fragrance-free
Compatible with all types and brands of litter
Effective in eliminating pee odor
Eco-friendly and non-toxic
Cons
Charcoal may soil your cat's paws
Charcoal may get trailed around the house
Special Non-odor Litters
Instead of using an extra product to add to your litter, you may want to change your litter with one that helps eliminate odor all in itself.
Here is a selection of specialized non-odor litter brands that I've gathered for you to choose from:
This litter contains activated charcoal for odor control, which was also the active ingredient in the Prestige Pet Magic deodorizer, as you may recall. However, it is scented, which I would not prefer.
A friend of mine is quite satisfied with this product in terms of its efficiency in removing odors, but I think the added scent is unnecessary.
She doesn't have a problem with it but I've been to her house and could smell the artificial fragrance. I think Febreze smells like a car-deodorizer. There wasn't a pee smell though, so I guess it really does work in terms of odor control.
If you prefer having some fragrance in the litter you use, this one does look like a pretty good option. There are two scent choices: Hawaiian Aloha and Mountain Spring.
Pros
Effective odor control
Good clumping
Dust-free
Cons
Scented, but at least has two options!
This litter is the one I use. What I like about it is that it has natural, non-allergenic ingredients (walnut shells), it is completely biodegradable and scent-free.
I am happy with its odor control, but I should point out that I have only one cat and this one is for single-cat households. However, this brand also has multi-cat versions too.
The single-cat one works pretty well for me, so if I had more cats I would definitely give the multi-cat version of this litter a try.
For those of you who would prefer scents, this litter has an alpine-meadow scented option.
It is relatively dust-free and doesn't trail too much as far as I can tell. The only thing is that the clumps are not rock-solid so scooping can be kind of hard.
The clumps don't disintegrate like sand but can break up to a couple of pieces on the shovel. I'm not bothered by this because the odor control is amazing. I've stopped buying deodorizer after I started using this litter.
With all this being said, the thing I appreciate most is that it is not harmful to the environment one bit like clay litters are.
Guys, I would really recommend you give this litter a try!
Pros
Single-cat or multi-cat options available
Fragrance-free but also has scented option
Effective odor control
Dust-free
Natural ingredients, non-allergenic
Biodegradable
Cons
Unlike the other litters I've looked at, this one is paper litter made from recycled paper. So it has its obvious advantages like no tracking and being completely dust-free.
Since it is paper, it also has the obvious disadvantage of not clumping. I personally do not care so much about good clumping but you might.
This one is a bit more pricey than other generic paper litter though. I've looked at the reviews and can see why. It seems the odor control of this thing is amazing.
It is also unscented, which you know by now is my favorite aspect of any cat product.
Pros
Effective odor control
Fragrance-free
Eco-friendly
Doesn't trail
Cons
This one is a clay-based litter, which I don't really like. As I've made clear, I prefer litter based on natural biodegradable products.
However, this litter seems to have efficient odor control and is quite inexpensive compared to the other litters I've listed here. It is also fragrance-free.
Many customers have agreed with the product's claim that it clumps really well, however, a number of customers have complained about the litter getting too sticky at the bottom of the box and that it becomes quite difficult to scoop out.
Overall, I'm guessing this litter is one of the best in relation to its price.
If you want a dependable, pocket-friendly option, this litter may be for you.
Pros
Pocket-friendly
Clumps well
Fragrance-free
Effective odor control
Cons
Clay-based, not eco-friendly
I know this doesn't say much about the product itself, but the packaging of this litter really alienates me. Everything about it makes me think that it's a super-strong bleach/detergent rather than harmless cat litter.
Anyway, this product claims to seal odor and customers seem to agree. However, it does have fragrance and some customers complain that the smell is too strong and irritating.
Most customers concur that this litter is quite dust-free and tracks less than other products they've tried.
This one is a bit more pricey than Dr.Elsey's but might be worth a try if you don't mind scented litter.
Pros
Dust-free
No tracking
Effective odor control
Clumps well
Cons
Scented, strong fragrance
Products for Clothes, Floors, Furniture
We have gone through home remedies for stain and odor removal from things around your house.
Although home remedies work just fine, you may want to try these specialized products for yourself and see if they work better for your needs.
After all, they were manufactured for the sole purpose of removing pet stains.
Here's a selection I've curated for you so that you don't spend time going through every product out there and comparing all customer reviews.
I wanted to introduce this product first because I have had experience using it.
It is for soft fabric surfaces such as carpets, couches, mattresses, etc. So it is essentially an extra-strong, anti-bacterial carpet cleaner. Its main ingredient is hydrogen peroxide, which is often recommended for urine stains as a home remedy as I've mentioned before.
Aside from treating pet stains, this product also works on things like ink, food, grease, and bloodstains. Many customers claim that it works on old stains as well as it does on fresh ones. I've only used it on relatively fresh ones though.
Just beware of discoloration as you would with any strong cleaning product. You can test the remover beforehand on a relatively hidden spot of your carpet. When you apply products like this over and over again on a surface, they tend to gradually damage it. Unfortunately, this is a reality that cannot be avoided because something strong enough to remove cat pee is also strong enough to remove some color from your carpet.
The product is quite easy to apply.
First, you need to take away the excess liquid (if the stain is fresh) with a clean towel. Then you can spray the Woolite and let it sit for 30 minutes to an hour. Finally, you can clean the spot with a carpet cleaner or a vacuum cleaner. You may need to repeat the process a few times if the stain is very old or persistent.
The only thing I didn't necessarily like about it is that it is scented. But hey, as long as it removes the pee odor, I can't complain. I would highly recommend this product for pet stains on fabric surfaces.
Pros
Effective odor and stain removal
Relatively easy application
Works on a variety of stains
Cons
Scented
May cause mild discoloration
Only for use on soft surfaces
This product is also by Woolite and it is also for fabric surfaces. I haven't tried this one yet, but product reviews suggest that it works quite well.
The most important distinction between the two Woolite products is that this one takes effect much quicker.
The "INSTA" in this product's name seems to hold up, according to most customers. Many of them claim that the stains could be removed in 30 seconds! Although, old stains still seem to need a bit more work. Reviews suggest that you may need to apply it a few times in order to get older stains out.
Another difference is that this one has a version that comes with a brush-head for easier application. I think this is a very smart idea because you definitely require brush-like equipment to really scrub the area thoroughly and you don't need to worry about obtaining it separately.
Unfortunately, this one is also scented, and some customers have complained that it is too strong. This is a bit of a turn-off for me.
On the plus side, the InstaClean is also multi-purpose in that it works on many other difficult stains such as blood, vomit, food, etc. Once my original Woolite is finished, I will definitely give this InstaClean Woolite a try.
Pros
Quick result
Effective odor and stain removal
Works on a variety of stains
Version with brush head available, easy application
Cons
Scented
Only for soft surfaces
May cause some discoloration
This is an enzyme-based cleaner.
As I've discovered from a lot of research on the topic, enzymatic bacteria is a preferred ingredient in pet odor removal. They say it works specifically on pee stains because it eats away at the ammonia. This is why I've given it a try to see how it works on cat urine stains.
Thankfully I haven't had the chance to use it too many times, I've only needed it twice. Both those times it really came through. I can be sure because my cat didn't pee on the same spot twice. If there were any odors left, she would choose to pee in the same spot again.
This one is not as quick as the Woolite removers (both of them). If the stain is fresh, you need to wait for at least an hour after you've applied it. The older the stain, the more you need to let the remover sit.
If you have a really nasty old stain, just keep the remover on it overnight. You can repeat the procedure a few times for better results. Personally, I don't care how much time it takes as long as it does the job. For me, it worked.
There are some cons that I should mention. First of all, it smells really strong and you may need to cover up your mouth while applying it. The other thing is that the procedure this product demands is not very easy. Before you apply it, you need to treat the stain with warm water and carpet cleaner.
Finally, beware if you are using it on carpet or fabric because it might lead to discoloration. I didn't use it on such surfaces, but I've read enough customer reviews to see that it is a strong product that may be damaging.
With all this being said, it does get the job done. So just be careful to apply it right and keep in mind that although it takes the stain out, it may damage the surface somewhat.
I found the Woolite much easier to use than this one, but the Rocco&Roxie works on surfaces other than fabric, whereas the Woolite is only for soft surfaces like carpets. Therefore you may choose to have both cleaners ready to use, as I did.
Pros
Enzyme-based, specific for cat pee
Effective odor and stain removal
Works on both soft and hard surfaces
Cons
Applying can be difficult and requires time
May cause discoloration
I'm guessing since most cats are repelled by citrus smells, an orange-scented urine cleaner is a smart choice to guarantee that your cat doesn't return to the same spot to pee once it has been cleaned with this product.
Most customers seem to enjoy the scent and claim that it smells natural and fresh rather than artificial. I must say, I gotta hand it to them with their fun tagline ("Smells like heaven works like hell") and attractive packaging design. I do love a handsome package!
The Angry Orange works on a variety of surfaces, both soft and hard. It is easy to apply, you only need to spray it over the blotted stain, let it sit for about fifteen minutes, and then wipe it off with a towel or carpet cleaner.
One drawback of this product is that it is a bit more expensive than the others listed here. However it does seem to work in eliminating odors and it has a characteristic, fresh smell which other artificially scented products do not have. I could not find out what the active ingredient in this product is, but there is also an enzyme-based version of this product.
Pros
Effective odor and stain removal
Easy application
Works on all surfaces
The orange scent smells fresh and natural
Cons
The active ingredient of this product is enzymes, which, as I've mentioned before, break away the ammonia in cat urine. This makes sense because this product is specific to cat pee.
Some pros of this product are that it is one of the cheaper ones listed here. It also works on a variety of surfaces like floors, furniture, and carpets.
Its application is quite standard and easy: soak up the excess liquid, apply the product generously by spraying, let it sit for ten minutes, blot it away with a clean towel and let it completely dry out.
The majority of reviews suggest that overall this product works pretty well. The key seems to be to use it undiluted and in generous amounts. Since it is an enzyme-based product, it might take a couple of days to completely neutralize the odors.
Some reviewers have reported using this item on stains other than cat urine and that it works on them too. Some of these include dog urine, pet vomit, sweat stains on clothes, and old dewy towels.
An important con of this product is that many customers have complained that it has an overpowering and extremely unpleasant fragrance.
A number of reviewers have claimed that the old formula of Nature's Miracle used to work a lot better and had a more pleasant scent. Although the strong-scent issue is off-putting, I would still consider giving this product a try.
Pros
Effective stain and odor removal
Enzyme-based, specific for cat pee
Works on all surfaces
Easy application
Cons
Why Does Cat Pee Smell So Bad?
Concentrated urine.
Cat pee is kind of notorious for smelling extra-bad. People say that dog pee doesn't even come close!
Cat pee smells extra stinky because cat urine is more concentrated than most animals' urine, including ours.
The reason why they have very concentrated urine is that their kidneys are extremely efficient.
Cats have evolved so that their kidneys absorb the maximum amount of water from their urine in order to stay hydrated for as long as possible without drinking water.
Because of this, they drink a small amount of water during the day. This also means that cats need to pee less during the day than animals with more diluted urine, such as dogs.
Think of your own pee. Whenever you drink less water than you should, your pee becomes darker in color and smells stronger than usual. For cats, this is the way their pee typically should be.
Another reason why cat pee smells so bad is that it is usually left to decompose in the litter box or wherever else she has peed on.
To understand why this is a problem, we need to go over a little bit of chemistry first:
Cat urine comprises of chemicals such as urea, uric acid, creatinine, sodium chloride, and various electrolytes.
Urea is the main component of cat urine and it is an odorless and colorless substance. When decomposition occurs, the urea in cat urine is broken down by bacteria that are present in the litter, which releases an ammonia smell. It is actually this smell of ammonia which is the main culprit in offending our noses.[/su_service]
There is an additional phase in the decay of cat urine which releases a foul-smelling gas called mercaptan. The smell of this chemical is often described as rotting cabbage and stinky feet!
Since domestic cats urinate in litter boxes, we are exposed to their pee. When you have a dog, you take her out for a walk when it's time for her to go. However, when you have a cat, her toilet is in your house and you are the one that has to clean it regularly.
No matter how frequently you may clean your cat's litter box, there is still time for bacteria to decompose her urine and make it smell funky. So essentially, it's not your cat's fault that her pee smells horrible!
Male cat pee smells a bit worse than female cat pee.
This is due to the presence of certain steroids in the urine of male cats.
Still, you should make sure that you clean your cat's litter box as frequently as possible. This will reduce the excess amount of odor for sure and both you and your cat will be more comfortable, healthy and happy.
Why Do Cats Pee Outside of Their Litter Box? 7 Reasons
It is not typical, but cats can pee in places other than their litter box on some rare occasions. This may have several reasons, but it is not a problem that can't be taken care of.
So, before you start worrying, read on to see if any of the conditions below may be the reason why your cat pees in places other than her litter box.
There is a common misconception among cat owners that cats pee in unwanted places when they feel angry with you and want to piss you off. This is certainly not true! Unlike humans, cats are not equipped with Machiavellian tactics for scheming to get back at you. They are usually very direct when you anger them and bite you on the spot.[
The majority of the reasons for cats urinating in unwanted places are to do with issues about your cat's litter and/or litter box:
1. Change in Litter
The quality of the litter you use is extremely significant.
It will determine how bad of an odor there will be and how much.
The litter you use should first of all be non-allergenic. Allergy is usually caused by perfume in the litter. If you have a good enough litter, there should be no need for a perfume to mask the smell of pee.
The litter you use should also be efficient in soaking up the maximum amount of urine. It should not remain too moist or muddy once your cat uses it.
The pee should harden up in blocks so that you will be able to scoop it up easily. This will ensure that the litter box stays cleaner because you will have scooped away almost all the waste.
2. Amount of Litter
You should make sure that there is enough litter for your cat to use comfortably.
If there is very little litter, even a very small amount of waste will make the litter box dirty and full very quickly. Your cat will also not be able to cover up her waste efficiently and leave it exposed. This will cause a stench and can be potentially unhealthy.
The important thing is the depth of the litter, rather than the area it covers. If the litter is deep enough, your cat will have plenty of it to cover up her waste.
3. Cleanliness of Litter Box
Cats are hygienic animals.
They do not want to have to use a dirty litter box that is constantly full of their feces.
If you neglect cleaning your cat's litter box, she will be extremely uncomfortable and might refuse to use it. Make sure that you scoop away urine and feces daily and change her litter completely every week.
4. Placing of Litter Box
If the entry to her litter box is difficult, your cat will be reluctant to use it.
Make sure her litter box has a wide entry and is not obstructed by objects such as furniture or clutter. If her litter box is in a room with a door, make sure that the door is always open. Make it easy and comfortable for your cat to access and use her litter box.
This is a true story: Once my grandmother placed her cat's litter box with its entry facing the wall by mistake. Her cat couldn't enter the litter box for a day and a half until my grandmother realized the problem. After meowing at my grandmother to get her attention but failing to do so, the poor cat had to pee on the carpet as the last resort.
This story also has a second message: always take notice of your cat's meows and try to understand what she's telling you. It's probably something quite important like this.
5. Sharing the Litter Box
If you have more than one cat in your house, it is always a good idea to allocate separate litter boxes for each cat.
If you do not have enough space in your house, you might be forced to have a single litter box for two or more cats.
Cats can share litter boxes but just keep in mind that this may have some setbacks. First of all, you will need to keep the shared litter box extra clean. When multiple cats are using it, the litter box will get dirty very quickly.
If you introduce a new cat to your home and she starts using the same litter box as your existing cat, this may cause some issues.
Your old cat may refuse using her litter box because she might consider it soiled (literally!) by the new cat.
To avoid these problems, it is essential for you to introduce cats very carefully. Even if you are thinking about downsizing to a shared litter box, you still need to start out with separate litter boxes so that each cat can establish their territory around the house and become used to it.
For more detailed information on these issues, you can visit my earlier article called how to introduce cats.
6. Stress and Anxiety
Stress and anxiety in cats are usually due to changes in their environment and what they have become accustomed to.
These changes may include moving to a new house or introducing your cat to another animal temporarily or permanently.
For cats, peeing is a way to mark their territory. If there is a threat to their territorial ownership, they will pee in places other than their litter box.
When another animal is introduced to your home, your cat will need to show that she is the boss of the house by marking her spot. Similarly, when you move to a new home, your cat will need to get used to the new space and make it hers by marking it.
7. Medical Problems
Medical problems that may cause your cat to pee in places other than her litter box can range from a urinary tract infection to arthritis.
If your cat cannot hold her pee due to a medical problem like a urinary tract infection, she might have to go on the spot. Or if your cat has trouble moving or walking due to conditions causing chronic pain such as arthritis, she may not be able to use her litter box comfortably and choose an easier place to pee.
Medical problems may also cause your cat to pee outside her litter box because she may associate the pain with her litter box, as it is the place where she experiences the most pain.
How to Train Your Cat to Pee Only in Her Litter Box?
Cats usually get easily accustomed to using a litter box.
When you adopt a kitten, it is fairly easy to litter train her because cats have the need to do their business in private and bury the evidence.
They will naturally want a closed setting with litter that can cover up their feces. However, you may need to introduce your newly adopted kitten or adult cat to her litter box because she might not be able to locate it on her own if she doesn't know her way around the house.
As soon as your newly adopted cat arrives at your home, take her to the litter box and let her smell it and get familiar with it. You may also place her in her litter box after meals.
Once she uses her litter box for the first time, it is most likely a done deal because now she has left her pee smell there. She will notice her own smell and start using her litter box regularly.
Keep in mind that if she marks another spot with her pee smell, you need to eliminate that smell completely so that she doesn't recognize and start using that spot regularly as a toilet.
Sometimes at the beginning of the training, your cat may need some positive encouragement with cat toys and treats. You can treat her whenever she uses her litter box, however, do not react negatively if she has mishaps. This will only cause stress and hinder the training process.
Apart from the successful introduction of your cat to her litter box, you should also pay attention to choosing a good litter box (along with its litter) and placing it conveniently.
The right kind of litter box is one that is large enough for your cat with plenty of litter in it. It should also be very easy to access: its entry should not be too narrow or too high up.
You should also try to understand whether your cat prefers an open litter box or a covered one.
You can try it both ways and see if you can observe a particular reaction from your cat. If there is none, you can decide for yourself if you prefer one over the other. Just keep in mind that although hooded litter boxes look tidier and give your cat more privacy, they may also keep in the stench and be unpleasant for your cat to use.
The placement of the litter box is also essential in making your cat's litter training successful.
I have mentioned this above, but it bears repeating: make sure the entry of your cat's litter box is not cluttered with objects or obstructed by furniture.
All in all, if you make things easy for your cat, there is no reason for her to refuse using her litter box!
Is My Cat's Urine Normal?
We have established that cat pee has a strong and distinctive smell and is very different from human urine. Since this is the case, how will you know if your cat's urine is normal if you have nothing to compare it to?
It is very normal for you to be wondering if there are any health problems with your cat and her pee is one of the best sources to tell you whether you should be worried or not.
Besides the smell, there are other tell-tale signs of health problems that can be detected from observing your cat's pee. These signs include the viscosity, color and amount of urine.
First, let's establish how healthy cat pee should be:
It might shift for each cat, but typically, cats will visit the litter box twice a day for urinating. Since they have highly effective kidneys that can absorb almost all the water from their urine, their need to pee is less when compared to us. Keep track of how many times your cat urinates daily and pay attention if this number goes up or down.
The physical properties of your cat's urine should be that it's a clear, bright yellow liquid.
It is not normal if there is any kind of spotting like blood, blood clots, mucus or lumps in the pee. There should absolutely be no cloudiness or high viscosity. On the other end of the spectrum, if the pee is too pale in color and appears diluted, this might also indicate a problem.
Here are some of the common medical problems which have symptoms that might show in your cat's pee:
Urethral Blockage
Since the urethra is thinner in male cats, they are more likely to experience this medical issue than female cats.
The most significant sign of urethral blockage is a decrease in the frequency of peeing.
If there is a complete obstruction of the urethra, the cat cannot pee at all. If this is the case, then the cat's kidneys will fail within 2-3 days.
So, if you suspect that your cat has not peed for a whole day, take her to the vet immediately!
Beware that your cat going into her litter box might not mean that she is urinating. If she suffers from a urethral blockage, she might be going into her litter box often to try and urinate but not succeed. So, if you observe your cat going in and out of her litter box frequently, make sure to check if she has really peed.
Urinary Tract Infections
Urinary tract infections are quite common in cats.
This problem is generally caused by bacteria that go up to their bladder through their urethra.
The symptoms include frequent attempts at peeing but failing to do so, experiencing pain while urinating (you may hear your cat yowling in the litter box), presence of blood in her urine, and a stronger than usual smell of ammonia in her urine.
Once you observe these symptoms, take your cat to a vet for the necessary treatment which will probably include antibiotics.
Encouraging your cat to drink more water may also help with a UTI, but it may be somewhat challenging.
Kidney Problems
If your cat is suffering from a kidney problem, you will definitely be able to tell from her pee.
Kidney problems may include kidney disease as well as a renal failure caused by kidney stones, inflamed kidneys, damaged kidney tissue, and trauma to the kidney.
Kidney disease causes your cat's pee to become more diluted. It will appear very light yellow, almost water-like. It may also cause an increase in the frequency of urination.
Renal failure and acute uremia will cause an unusual decrease in the amount of your cat's pee. This is because renal failure is the result of the kidney problems mentioned above which block urine output.
Older cats tend to have stronger smelling urine and this is actually true for all animals, including humans. This is because our kidneys also grow older and become less productive. Geriatric cats frequently suffer from chronic kidney disease.
Hyperthyroidism
Hyperthyroidism is a very common medical issue in geriatric cats.
It usually causes the above-mentioned chronic kidney disease and urinary tract infections.
Feline hyperthyroidism manipulates the metabolism of cats and is detectable through a wide range of symptoms, including an increase in urination. This is because the excess thyroid hormone urges the kidneys to produce more urine.
Even if you might not be able to detect the increase in your cat's urine, you may still be able to suspect a problem through her increased water consumption.
Your cat will drink a lot more water than usual in order to compensate for her excess urination.
Diabetes
Diabetes is quite common in cats and affects up to 1% of all cats.
One of its symptoms is excessive urination combined with increased thirst. Diabetes will cause your cat to urinate more than is usual. Her pee will be more diluted than usual, and it will appear paler in color.
Here's the reason why diabetes causes excessive urination:
Kidneys filter blood to produce pee. When a cat suffers from diabetes, her blood will have an excess amount of glucose, which will result in her urine having an excess amount of glucose.
In a healthy cat, the kidneys will be able to absorb this glucose back into the blood, but if a cat has diabetes this will not be possible.
Due to the high concentration of glucose in the urine, more water from the body will be exerted into the urine. This will cause an increase in urine volume, dehydration, and excessive thirst.
Conclusion
As much as we adore cats, I'm guessing we are all in agreement that cat pee smell is quite unbearable. It is essential that you have your ways of dealing with it.
The number one issue at hand is to figure out why your cat is having these mishaps in the first place.
First, you should eliminate any serious medical problems.
Next, you should check if there are any problems with her litter or litter box that may be causing her to use other places as a toilet.
Dealing with cat pee smell doesn't necessarily have to be hard. It is just that it takes time to figure out what works best for you.
Whether it be to reduce odors from the litter box or to clean up pee stains, you have a variety of choices including both home remedies and specialized products you can purchase.
Hopefully, you can select a formula that works best for you and for your cat from among these methods.
Just remember, mishaps can happen from time to time and there are plenty of effective ways to deal with them!