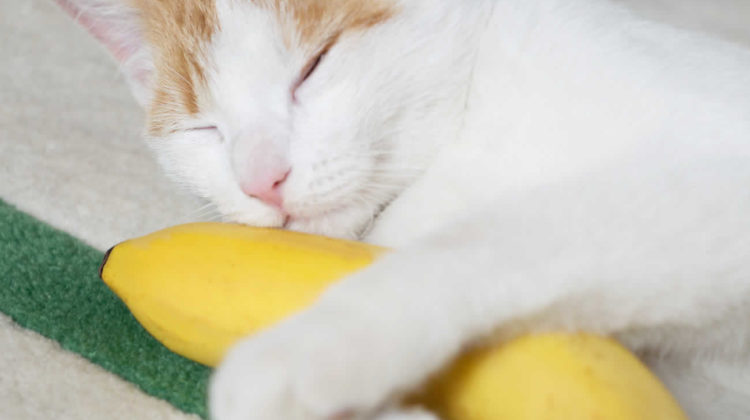 The short answer is yes, but there are many parameters to keep in mind when you decide to feed your cat things that they do not normally eat.
This article has a focus on bananas, but it will also offer you an overall look at the relationship between cats and fruits, cats and sweets, and some other dietary specialties of our feline companions.
Bananas are among my favorite fruits and I always have a tendency to have my cat try the things that I like. Of course, I do my research before trying out such things and see if there are any dangers for my cat.
Bananas are not necessarily dangerous for cats. Unless you feed your cat too many of them (I will clarify what too many is below) and completely disregard all her other basic dietary needs, a small piece now and then will not be a problem.
What Are the Contents of a Banana?
Let's first look at the contents of a banana.
Bananas are a great source of vitamins and minerals, and thus are beneficial for human health.
A medium-sized banana contains 422 mg of the mineral potassium. It also has 31,9 mg of magnesium, 10.3 mg of vitamin C and 3.1 grams of fiber. Bananas also contain important nutrients such as folic acid, phosphorus, and choline.
While all these vitamins and minerals are wonderful for human needs, they do not especially help cats become healthier.
Sure, potassium may help with heart and kidney health, but it is more dangerous for cats to consume too much of it than to not consume it at all. The same delicate balance is true with fiber too.
Fiber can help regulate digestion, but too much of it can cause diarrhea in cats.
One of the most important things that pose a health problem for cats is that a medium-sized banana contains 30 grams of carbohydrates of which 19 grams come from sugar.
Carbohydrates in a cat's diet should only make up a maximum of 2%. There really is no need for it at all because cats do not have the necessary enzymes to digest a lot of carbohydrates. Therefore, constantly feeding them a rich source of carbs is dangerous in the long run.
A healthy cat diet requires a lot of protein. Bananas have only 1.3 grams of protein and are nowhere near enough in aiding the protein needs of felines.
All in all, regular consumption of bananas will do more harm than good to cats.
Banana Rules
Yes, bananas rule!
But that's not what I meant by the heading of this chapter. This phrase refers to the fact that you should keep in mind a few rules about how much and how often your cat can enjoy the wonderful fruit that is the banana.
Peel the Banana
First of all, you should get rid of the banana's peel before you serve it to your cat. If you leave the peel, your cat will not know the difference and try to eat that part too.
The peel will pose problems for your cat's digestive tract. There is a reason why humans don't eat the peel too!
Cut the Banana
Do not just put a whole peeled banana in front of your cat. Yes, bananas are soft but your cat will still have a hard time chewing it off.
Cut the banana into small bite-sized pieces and serve a few in your cat's food dish.
Try a Small Piece First
Don't just dump a whole banana (even if it's chopped) in front of your cat because you can never know how she might react.
Your cat may be allergic to something in bananas. Watch out for symptoms of allergies whenever you give your cat food she has never tried before.
Common symptoms of food allergies in cats include excessive scratching of their head and neck area, followed by vomiting and/or diarrhea. In severe allergic reactions, your cat's throat may start closing up and cause wheezing. If you observe any of these symptoms, take your cat to the vet immediately.
Your cat may not be allergic to bananas, but her digestive track may be more sensitive to it than other cats. Trying a small piece first and observing her litterbox activities closely for the rest of that day is a smart idea.
Another possibility (although a rather slight one) is that maybe your cat eats the whole banana you put in front of her in one go. You may have assumed that your cat will act reasonably and try a small amount first. This might not be the case, and before you know it the whole banana can be gone – which is not good for her. So take control beforehand and set the portion.
How Many Bananas Should Your Cat Eat?
Your cat should not be eating a number of bananas!
Think of the ideal portion like you are giving her a little taste from the banana you are eating.
Don't give her a whole banana as well. Just about two to three bite-size pieces are fine.
How Often Can Your Cat Eat Bananas?
Well, your cat should not really be eating bananas regularly.
Keep in mind that you are not introducing bananas a staple into her diet. Your cat will be okay without ever eating a banana, so there is no need to regularly feed her bananas. Just once is more than enough!
Is Eating Bananas Beneficial for My Cat?
So, we have gathered that eating bananas is not necessarily harmful to cats.
With this being said, cats will be fine without ever trying a banana their whole life.
If you feed your cat with proper cat food that takes care of all her dietary needs, then there is no need to give her additional human food like fruits, veggies, and grains.
I have mentioned the basic nutrients in bananas such as potassium, magnesium, vitamin C, fiber and folic acids.
While these can be beneficial for your cat, she does not need to acquire these nutrients in the form of a banana. This is because bananas come with a lot of carbs and sugar which your cat does not need at all.
Good cat food will have all the necessary vitamins and minerals that your cat needs in the correct amount. You do not need to introduce any dietary supplements.
There is a reason why you probably never have heard that bananas are good for cats and should be a regular component of their diet.
Do Cats Like Bananas?
Maybe the first question we should be asking ourselves is if cats enjoy bananas in the first place.
You might be assuming that since it is sugary, a banana will be enjoyable for every animal in existence. We know that monkeys love bananas and that dogs go crazy for chocolate.
However, brace yourselves for this:
Cats cannot taste the sweetness!
Cats' tounges have not evolved in sensing sweet things. Therefore, they cannot tell if what they are eating is sugary or not. They do not get pleasure from sugar as we do.
So if you are considering bananas as a treat for your cat, you may like to consider treats with other things in them such as catnip or cheese.
Cats and Sweets
For some reason, we all know that dogs are at great risk when they've consumed the tiniest bit of chocolate.
Is it the same for cats?
As I have said before, cats cannot taste sweetness. Therefore, cats will not prefer eating sweets. It is quite fascinating that when given the choice, cats eat things that will provide them with the nutrients they need in the correct amount.
A cat's metabolism is designed for a low-carb, low-sugar diet, and she knows it.So, to answer my initial question, yes, it could be quite dangerous for cats to eat chocolate depending on the amount consumed.
However, your cat will not go for a box of chocolates like a dog would, so there is no need to worry about leaving chocolate around the house unattended.
What about cats' relationship with more healthy sweets containing vitamins, minerals, fibers, and even some protein – in other words, what about fruits?
Do cats enjoy fruits?
Cats and Fruits
Since fruits have a lot more nutritional value than processed sweets like most chocolate, cookies, or cake, cats do have a better relationship with fruits.
Although it is still absolutely unnecessary to offer your cat anything other than her regular food and the occasional treat, if you are adamant about having your cat try some fruit, there may be some fruits that are better than others to go with.
First of all, there are important things to keep in mind when you feed fruit to your cat, such as its sugar content and the properties of its peel and pit – whether they can be potentially poisonous for your cat or not.
Here are some of the fruits that are better than others for your cat:
Some Fruits That Cats May Enjoy
You should go for fruits that are relatively poorer in their sugar content and easy to eat (not a choking hazard). It bears repeating though: if you want to give your cat fruits, do it rarely and in small amounts.
Do not treat fruits as a staple in your cat's diet.
Blueberry
Blueberries are ready to serve to your cat because they are already perfectly bite-sized.
This fruit contains useful antioxidants and vitamins A and C in high amounts. It is useful in maintaining urinary tract health. You might have noticed that some cat foods and treats have blueberries in them.
Strawberry
Strawberries are high in sugar but are okay to give your cat in small amounts. They are rich in vitamin C and potassium.
Apple
Apples can make a good crunchy treat for your cat. They can eat the peel, but you should take out the seeds and make bite-sized pieces. If you are going to keep the peel, make sure you wash it well.
Watermelon
Watermelons are about 90% water. The remaining part contains potassium and various vitamins like A and C. Just make sure to take out the pits and cut up bite-sized.
Do not give your cat:
Grapes (and raisins)
Cherries
Plums
Citrus fruits (lemons, oranges, grapefruit)
For more detailed information on these, please read my article 55 Human Foods Cats Can and Can't Eat.
Healthy Treat Options for Cats
First, I should clarify this: you should make sure that treats do not take up more than 10-15% of your cat's daily calorie intake.
Treats are not to replace actual cat food because they do not compensate for your cat's daily nutrient needs. Your cat cannot survive only on treats. Treats should be offered as what they are: treats!
With this being said, treats are very useful in situations such as teaching your cat some necessary habits, showing your cat appreciation and love, boosting your cat's appetite, mood, and energy. Having a healthy and tasty cat treat available at hand is a very smart idea.
Because as humans we associate the word treat with sweet things, we automatically assume that cat treats should also be sweet and sugary. This is false and good cat treats are usually salty, meat flavored assortments.
Returning to the banana issue, you can offer small pieces of banana as treats, but I would much rather recommend some of the products I've selected below. These are special for cats, have good nutritional value, and are definitely delicious for cats.
Here is my selection of 5 treats that your cat is bound to enjoy a lot more than sweet things. These treats are among the most popular ones on Amazon, so I've ranked them starting from what I think is the overall best one.
Having good nutritional value is number one on my check-list.
Best Healthy Cat Treats
What I look for in a good cat treat is that it has a real nutritional value. This means that it is not artificially flavored and not full of useless "filler" ingredients. Of course, it should also be tasty enough for my picky cat!
The Wellness Kittles treat gets my endorsement on all the above-mentioned grounds. First of all, the fact that it is grain-free is a good thing because this means it doesn't exhaust your cat's digestive system. Grains are carbohydrates, and as I've underlined numerous times up till now, cats have a hard time digesting carbs. Grains may also cause food allergies in some cases and it is smart to skip taking that chance.
It has a lot of flavor choices including salmon, chicken, tuna, turkey, whitefish and duck. What really got me is that these are all accompanied by cranberries and blueberries.
Cranberries are effective in treating and preventing urinary tract infections, which can be quite common in cats. For more information on this, please refer back to my article how to get rid of cat pee smell.
I've tried these treats with my cat and can say that my cat found them tasty. These are not wet treats and are super crunchy.
Here are some summary bullet points to make comparison easier for you.
Pros
Grain-free
Has cranberries, which are preventative of UTIs
No artificial flavors, colors or preservatives
Tasty
Dry and crunchy
Cons
I haven't tried this treat but I will definitely do so. It checks everything on my criteria. First of all, it is grain-free. Secondly, there are no artificial flavors, colors or preservatives.
The Buffalo Wilderness is a treat with soft pieces instead of crunchy ones. It's not like a chowder but rather consists of chewy bite-sized pieces. It has four flavor options: chicken&duck, chicken&trout, chicken&salmon, and chicken&turkey.
Because it doesn't have preservatives, the bag must be finished within a week or so. Keep this in mind when you are considering how much to buy.
Looking at the reviews, I see that many customers were satisfied with their cat's reaction. So it seems to be quite tasty. However, a number of customers say that their cat didn't even approach the treat. I guess you'll never know unless you try because each cat is very different.
Overall, this is a very healthy option for a cat treat and it definitely has my vote.
Pros
Reasonable pricing
Grain-free
No artificial flavors, colors, and preservatives
Soft, chewy
Real meat, high protein value
The Feline Greenies treat comes in tuna, salmon, chicken, and catnip flavors.
In my experience, catnip just doesn't do it for my cat. For those of you whose cat goes crazy for catnip, this flavor might be a good option to try.
The main selling point of this product is that it claims to help with dental hygiene due to its special texture which prevents tartar accumulation. Therefore it also claims to freshen your cat's breath. The majority of the customers do report that their cat's dental hygiene has improved after switching to this treat.
Looking at all the reviews, Greenies seems to be kind of addictive for cats. They must be wonderfully tasty, which is kind of the whole point of treating your cat I guess!
This treat also has vitamin supplements added like vitamins A and B12. As I've said before, cats don't really need vitamin supplements if their diet is complete. So just keep this in mind and don't overdo it with this or any other treat.
Pros
Reasonable pricing (11 oz is 9.99 USD)
Has catnip flavor option
Promotes dental hygiene
Added vitamins and minerals
No artificial flavors
Dry and crunchy
Very tasty
Cons
I wanted to include a wet cat treat in here for some diversity. This one is among the top-rated ones on Amazon and thus got on my list. Let's have a look.
As far as I can tell from the ingredients at the back of the package, there is real meat in there. For example, the tuna&shrimp one really has tuna and shrimp, but there is also poultry flavoring. The tuna&chicken one has real tuna and chicken but also has additional artificial flavoring.
There are three types of this treat: bisque, stew, chowder. This can be important if your cat is picky or has dental issues due to old age, etc. The bisque is very fine puree, the stew has chunks of meat, and the chowder is in between the two.
The Hartz Lickable treat has a variety of options to choose from depending on the age of your cat. The senior cat version has potassium for kidney health (so there is no need for a banana!) and the mature cat version has vitamins B and E.
Many customers have said that their cat really enjoys this treat and that it has helped boost their cat's appetite. This one seems to especially be a hit with older cats suffering from a loss of appetite and energy.
I just want to make sure I make something very clear about wet cat treats. In some instances, I've seen wet treats given to cats as meals.
Please don't mistake wet cat treats for real wet cat food. There is a huge difference between the two in terms of nutritional value. Treats have way less protein then legit cat food.
Cats should have no more than one to two pouches of this treat a day, and it should in no way substitute a real meal.
Pros
Reasonable pricing
Wet treat
Bisque, stew, and chowder options
Has age group options w/ vitamin and mineral supplements
Tasty, especially for older cats w/ little appetite
Cons
Real meat present, but there are also artificial flavors
The Temptations MixUps has a special combination of flavors such as tuna-shrimp-salmon, chicken-liver-beef, chicken-catnip-cheddar. This treat has a crunchy outside layer with a creamy filling, which I have to admit kind of made my mouth water.
I looked at the ingredients of this treat and saw that it has vitamin supplements (A, B12, D3) although it doesn't advertise it on the label. Unfortunately, I also noticed that it contains some preservatives and artificial flavoring. This is really disappointing but does explain its low price and incredible tastiness.
Most customers have called it "kitty crack", due to its addictive nature. Although it is important that a treat should be delicious, I sense that there may be something off once it starts being described as "crack".
Some customers have complained that their cats have refused to eat their regular food because they became hooked on this treat.
To tell you the truth, I've put the Temptations MixUps on my list because it is very popular due to its low price and tastiness. However, it is not necessarily 'healthy' for your cat, though it can still be relatively healthier than feeding your cat bananas.
I do not think that there is a problem with giving these to your cat every now and then, but I just want you to be aware that it is more like junk food than a real healthy snack.
Pros
Pocket-friendly
Special flavor combinations
Vitamin and mineral supplements
Crunchy with soft filling
Tasty to the point of addictive
Cons
Artificial flavoring and preservatives
Not grain-free
All in all, every cat has a different taste for their treats. Some may prefer soft, wet ones, while others may like crunchy ones. Some cats can be quite picky and others will eat anything you put in front of them. You get the point.
So trying out a few of these treats may be a good idea before buying them in bulk. I hope this selection helps in narrowing down some options.
A Healthy Cat Diet
Here is an overall look at what a healthy diet should consist of for a cat.
Protein
Protein requires a whole heading for itself. Cats need animal protein. Lots of it.
Cats are obligate carnivores, which means that they are obligated to consume meat in their diet and cannot survive on a vegetarian or vegan diet. They must have animal protein in their food.
Dogs, on the other hand, do also depend primarily on meat but can survive on plant-based foods if necessary. Dogs are thus referred to as scavenging carnivores.
As is generally accepted, most humans are omnivores, which means that they can feed on both animals and plants. Adult humans can also survive only on plant-based food. Therefore, you can probably guess that our protein needs are nowhere near close to a cat's. We can also make do with plant-based protein, while cats require protein from animals.
The daily amount of protein adult cats need is roughly 20 grams. (More precisely, it should be 2 grams per pound of body weight.)
Cats should be on a diet of about 200-250 calories per day.
The protein makes up about 50% of their daily calorie intake.
Let's return to the banana question at hand.
As I've mentioned before, there are 1.3 grams of protein in one medium-sized banana. Keeping in mind that you won't (and shouldn't) give your cat more than a quarter of the whole fruit, think of how little the protein in a banana will help compensate your cat's protein needs.
Other Necessary Nutrients in a Cat's Daily Diet
Besides protein, cats require a daily intake of a moderate amount of fats and very little carbohydrates.
Carbohydrates should make up 0-2% of an adult cat's diet.
Therefore, make sure to give your cat quality food that doesn't overdo it with the carbs.
Low-quality cat foods tend to fill in their calories by boosting their carbohydrate content. Watch out for these tricks and don't be fooled by pocket-friendly prices that are too good to be true.
Cats also need some vitamins and minerals in their diet. However, these usually come from animal products and will be present in all decent cat food. There is absolutely no need to use supplements like pills or food such as fruits.
The only instance where a cat may need supplements is if she has medical problems like a deficiency. If that's the case, your vet will be the most trusted source in prescribing the necessary supplements for your cat.
Can Overweight Cats Eat Bananas?
If your cat suffers from issues like obesity and diabetes, she must have a special diet for her needs. Unfortunately, bananas or any other fruit will not be on there.
Overweight doesn't automatically mean your cat will develop diabetes.
However, keep in mind that it has a high chance of leading to obesity, and obesity will most likely cause diabetes. Therefore, if your cat is overweight, take the necessary measures now and at least prevent further weight gain.
So it would be a good idea not to feed your cat bananas or other fruit if she is overweight.
Diabetic cats need even more protein and even fewer carbs in their diet than a healthy cat's diet. If your cat is overweight and suffers from diabetes, a high protein – low carb diet will help her lose weight and this will enable better access to insulin in her body. This kind of diet can help her manage diabetes better. So, I would not recommend bananas for overweight cats and it is definitely prohibited for cats with diabetes.
Are Bananas Really a Good Idea?
So, I can sum this whole thing up by saying that yes, you can give some banana to your cat, but there is absolutely no need to.
Your cat really does not need it at all.
Why mess with her diet when she has almost nothing to gain from it and will probably not even enjoy it?
If you are worried about your cat not getting her necessary daily nutrient intake, it is a better idea to buy a good quality cat food instead of trying to make do with giving her various 'human' food like bananas.
You can consult your vet on what a healthy diet for your cat is based on her sex, age, weight, medical conditions and so on. Your vet can also help you choose a suitable type and brand of food.
If you are exploring bananas and fruits in general as a healthy nutritious treat option for your cat, then there is no need. There are plenty of options that are actually nutritious and tasty for your cat, as I've mentioned above.
So, no, bananas are not really a good idea. Although they are rich in vitamins and minerals, their high carb and sugar content will do more harm than good to your cat.
Don't be sad though, this is a good thing: more bananas for you!